Prepare Your Images for Format
This tutorial details the steps needed to ensure your images are displayed properly on Format.
Save for Web
If you're using Adobe Photoshop as your image editor, you will want to save your images using the "Save for Web" menu heading under File. This is because images that are not saved for web may have associated color profiles which are handled badly by major web browsers, resulting in poor rendering or odd colors on your images.
Convert to sRGB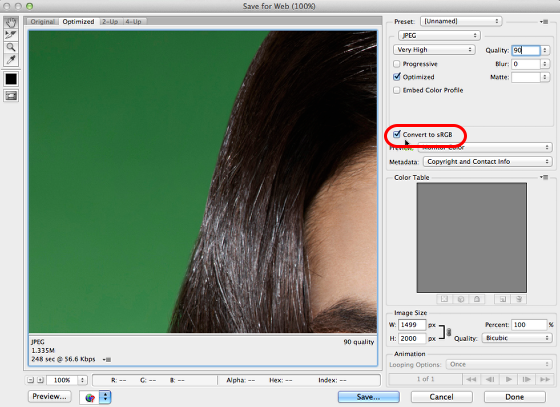 We recommend uploading .jpg files at 90 percent or higher quality, with the "convert to sRGB" checkbox ticked.
We suggest a minimum pixel dimension of 1200px on the shortest side, i.e. 1600x1200px. DPI is not a relevant measure for web images, as it is the raw output in pixels that matters, i.e. 5.3in = 1600px @ 300DPI.
General Points for Consideration
A few final notes:
We recommend using JPG image files on Format; however .png can work better for illustrators and designers.
We do not recommend uploading small images; they will not resize well and will not do your work justice.
Do not apply black or white borders to your images.
Upload only sRGB images, not CMYK.
Still Have Questions?
Please email info@format.com and a member of the Format team will get back to you with an answer.
We offer support 24 hours a day, 7 days a week.
We respond to every single support email within one day and typically get back to you within a couple hours.