Our latest addition to the Format theme roundup is called Spruce, and it's a big change from our current theme selection. With a unique grid-based layout and super-clean menu bar that seamlessly integrates navigation into your website without added clutter, Spruce is ideal for those who want all eyes on their work.
We've already seen some amazing results since releasing Spruce to our community. From photographers to artists, this theme is providing a backbone for some incredible online portfolios. We've selected a few of our favorites here.
Get inspired by these five well-designed portfolios, and try out Spruce for yourself.
For even more portfolio inspiration, see our huge roundup of the best portfolios built using Format.
Ronnie Alley
Designer Ronnie Alley is based in Philadelphia, where he spends his days working at a local design studio. In his spare time he takes on freelance projects, which can be seen on his perfectly put-together website. Alley's colorful design work is arranged into galleries showcasing different projects for an overview of his talents.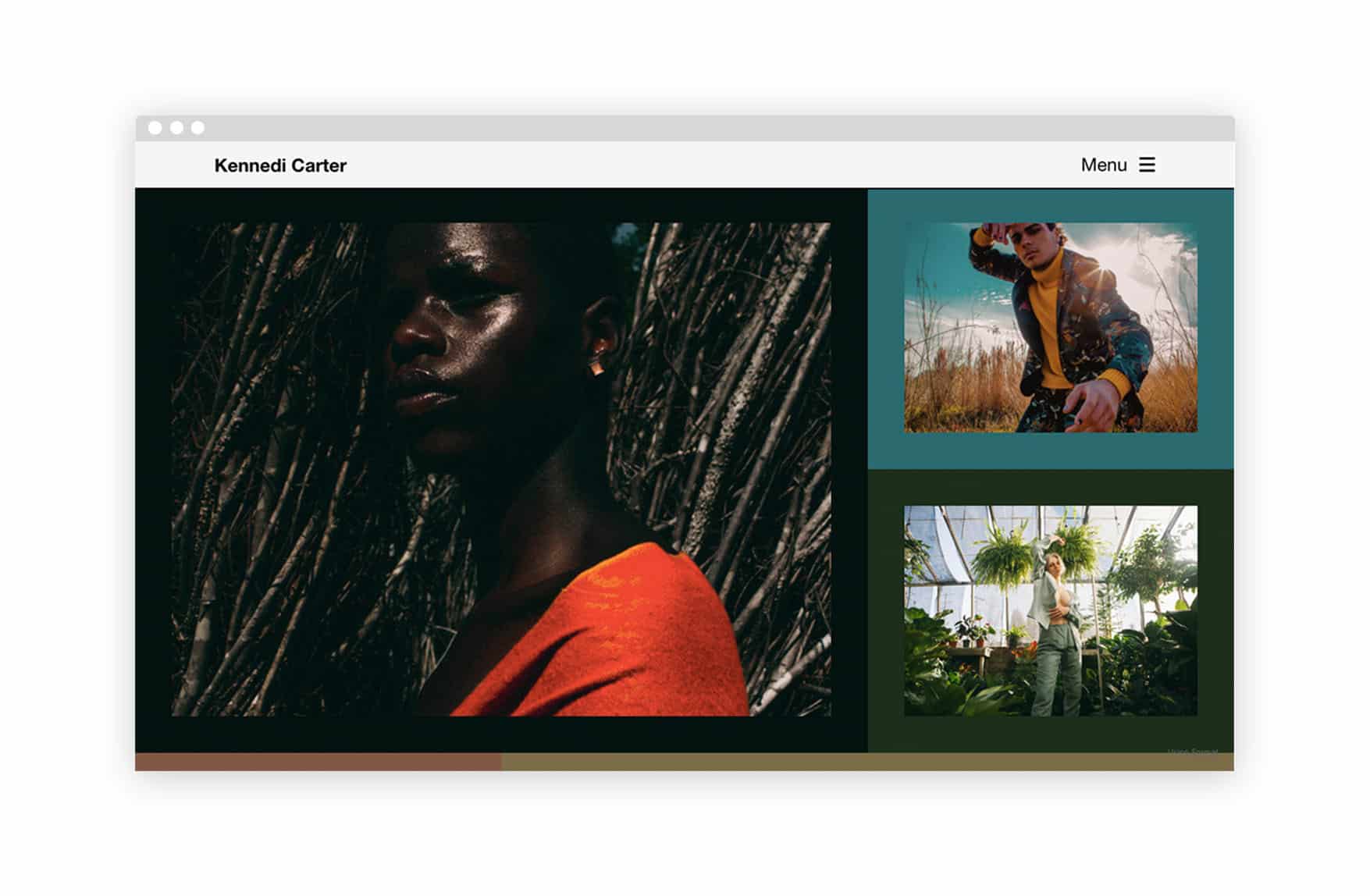 Kennedi Carter
Durham, North Carolina-based Kennedi Carter creates stunning portrait photography. Her portfolio is full of photos that capture the emotions and personalities of her subjects, with color-matched backgrounds that create a moody feel.
FK Segismundo
Brooklyn-based artist Frances Segismundo is exploring the space between tattoos and fine art, and trying to build a practice that bridges the gap between the two. Her website opens with a sample of her artwork, and also includes a gallery of completed tattoos, as well as various other multidisciplinary projects. The complementary color scheme of Segismundo's backgrounds lends a feeling of continuity to the entire portfolio.
Sergio Bosco
Photographer Sergio Bosco focuses on telling stories with his work. On his photography website, the homepage gives an overview of standout shots, quickly introducing the viewer to Bosco's style. Whether shooting black and white or color, his work always has a theatrical feel to it, which can be explored in the many photo stories included in his portfolio.
Bodgan Dreava
The minimal layout of the Spruce theme is a perfect match for the colorful patterns of Bogdan Dreava's work. Based in Timisoara, Romania, Dreava specializes in still life photography that's simple and vibrant. The color-matched backgrounds on his website emphasize the colorful nature of Dreava's photography.