If you're wondering, "How much should I charge for my photography?" then keep reading. Pricing can be a complicated topic but you can keep it simple when you're just starting out. The #1 thing to avoid: spending more than you make. This guide will help you make money, rather than lose it.
To be a successful photographer, it's important to price your images based on your time, effort, and market value. Use a cost-plus pricing model to determine how much to charge to cover your costs and make a profit. Remember to include production costs, shipping charges, and overhead in your pricing, and make sure you're making enough to support yourself. This guide can help you quickly calculate your rates.
Here's an example of a cost-plus pricing calculation: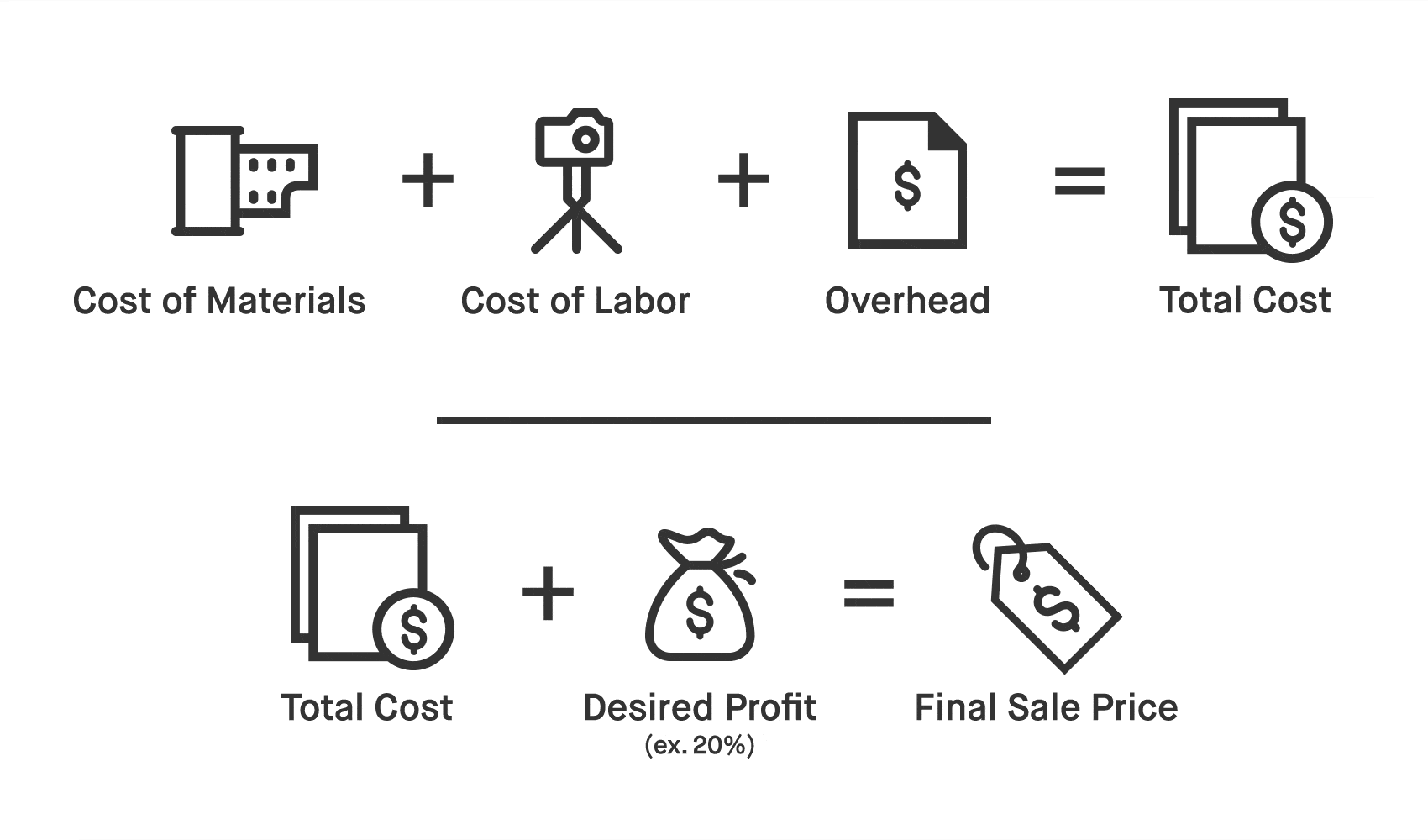 This pricing calculation has two steps because it's important to figure out your total cost before adding a profit percentage. Without knowing how much it costs to stay in business, you run the risk of miscalculating too much money as profit. You want to avoid costly surprises like expensive printing, broken equipment, or unpaid assistants.
Cost of Materials
For a photographer, there are direct costs to producing your final product. If your client wants prints or photo books, you need to factor in those hard costs. Don't forget to include packaging and shipping. The cost for materials shouldn't come out of your pocket.
Don't forget about costs associated with digital files. Keep track of your expenses when it comes to hard drives, cloud storage, and client gallery hosting. For clients that don't want physical prints but need digital space, remember that you still have billable items.
Because you're an expert, you might have some ideas for cutting material costs. Clients will always appreciate your advice, and it can be a great relationship-building tool. If you have recommendations that will save them the cost of materials, they'll be grateful and likely to send more clients your way.
Reducing the cost of your materials is an easy way to adjust your pricing model to include more profit. If you source materials from the same retailer, reach out to see if you can become partners. They might give you a discount if you use their product exclusively and help them promote it.
Buying in bulk also helps, but make sure you really need the materials. For new photography business owners, the last thing they need is a stack of materials without any clients in sight.
Selling Digitally
Focusing on selling your images digitally can significantly lower your material costs. As mentioned above, there are still expenses related to managing your digital files, but when compared to printing, packaging, and shipping physical prints—there's no contest.
The trick is to find the right place to sell your digital prints. There are online marketplaces for photographers and artists that will let you start selling your images relatively easily. However, they often charge commissions, and you end up competing with the many photographers whose images get listed alongside yours. That kind of competition tends to drive prices down and further complicate the question of how to price your photography.
For those reasons, it's best to set up your own online store. And doing it using Format is the easiest way to get started.
Using Format, you can set up an online store as part of your portfolio. That means you'll have a single place you can direct potential clients to, have them check out your work, and make it easy for them to place a purchase. There are no added expenses to include in your cost-plus pricing model because the option to set up an online store is included in every Format plan.
In addition, as opposed to an online marketplace, you have complete freedom over how your images are displayed and they aren't shown side by side with your competitors.
Build your professional portfolio website with Format
Cost of Labor
When you love your work, you can unintentionally undervalue the cost of your labor. That's the flip side of building a creative career. Just because you enjoy it doesn't mean that it isn't work. The time and labor you put into your work, whether that's on a photoshoot or retouching afterward, needs to be reflected in your total cost.
For every piece of work, a photographer needs to know how much time it will take him or her to deliver this product. Count up the hours and be realistic. Don't count the thirty-minute break you took to scroll through Instagram, but definitely count all the time you spent at a photo shoot waiting for everyone to get into place. When you're on the job, you're on the job, and you should be paid.
Consider all the time you need for pre-production (setting up your equipment, ensuring you have what you need for the shoot) and post-production (any editing or uploading of photos), including the time spent traveling and meeting with your client.
Photographers should ask themselves, "How much is my time worth?" and your photography pricing should reflect that. The more experience you get, the more you can increase your cost of labor. Ultimately you're worth what a client will pay for your time. What makes them agree to pay more? If you are professional and deliver high-quality images on time.
Freelance Photographer Tip: It can feel great to get lots of jobs but be wary of small gigs that chew up time with low profit. Instead, focus on booking fewer bigger jobs. One big job can be worth several smaller ones (and save you from burning out!).
Overhead Costs
Overhead costs can be scary for an entrepreneurial photographer. You want to start making money, but you need a lot of equipment to get started. In the photography business, the tools you use can affect the quality of your work and the management of your time.
This is a cost you just can't cut. Maintaining software, post-production equipment, lighting, backdrops, and buying camera lenses are all part of our overhead costs, plus the wear and tear. How often will you have to replace your camera?
If you choose to get some photographer insurance to cover damage to your equipment or business liability, the insurance fees are another overhead cost. Also, remember to include in your overhead costs any professional services you need to run your photography business, such as an accountant.
Advertising is an additional overhead cost. Depending on your photography business, you might need business cards and a spending budget for digital ads. These costs can contribute to the overall success of your business but you need to make sure you're getting a return on your investment.
Keep track of how many new clients or gigs your advertising costs are generating and consider if it's worth it. If it's working, maybe it's time to up the ante.
To cover your overhead costs in your pricing structure, add up your expenses for the year. Take that total number and divide it by the projected amount of jobs you'll work in a year. Add that percentage of the total cost to a photography job, and you'll start covering your total overhead, bit by bit.
Freelance Photographer Tip: If you're just starting out, an effective way to offer affordable prices is to lower your overhead costs. Decide what's really necessary to do a good job and stick to the basics.
A little bit more about expenses…
There are two types of expenses for a photographer: Fixed and Variable.
Fixed Expenses
These are your equipment costs, marketing, communication, and other photography business necessities. Profits should also be part of your fixed cost calculation, like a loan payment or payroll. The end goal of working as a photographer is to make a profit, not to break even.
Variable Expenses
Includes expenses that vary based on how many and what kind of shoots you do.
For example, if you are a wedding photographer, some bookings may have you spending money on travel, hotel, consultation, rental gear, and/or an assistant. Alternatively, suppose you are a fashion photographer. In that case, you may have to account for the expenses of location shooting fees or studio space, lighting, make-up, styling, casting, assistant fees, and retouching.
Photography pricing is more straightforward when you understand what it actually costs to run your business. This will get you to how much you'll need to charge to earn a profit. If the pricing for your product or service doesn't cover costs, consider yourself at a loss.
Our Photography Pricing Guide to Success
Now that you have your material costs, overhead costs, and labor costs all figured out, you should know how to price your photography for your next gig. Add your desired profit, and this cost-plus pricing equation will result in your suggested retail price.
It is also essential to gauge the costs of specific photography services that you might offer. For example, how much does a photoshoot cost to arrange? Will you be buying or renting your equipment? This will help you set a professional photoshoot price that works for both you and your clients.
Photography session prices should be calculated based on the number of hours, standard photography rates, and the equipment required. Use packages as a basis for pricing, but be flexible. Keep your photographer pricing list current by monitoring your costs.
By following this photography pricing guide, your final pricing model should:
Cover the hard costs
Pay for your time creating the final product
Leave room for overhead expenses and profit
Adding your profit can be very subjective. You need to have an accurate understanding of your photography's worth. Here are some points to consider when you're calculating your profit percentage:
The quality of your work and how you package your finished product
The perceived value of you and your products in the marketplace
How confident you are in your skills
Freelance Photographer Tip: To demonstrate that you are an active photographer, update your online portfolio frequently with current projects.
Industry-Specific Pricing Considerations
Commercial Photography Pricing
When it comes to pricing commercial photography clients, costs are above a basic and creative fee. These costs are unique to each client and cannot be applied to all clients.
It's possible to make $20k, 45k, $85k or more from a single commercial shoot. The rates differ greatly, and this is because photographer's fees should be based on their own expenses, resulting in variation.
Fees must be calculated based on the costs associated with doing business instead of averaging or pulling a number out of the air because it sounds good to you.
When setting your photographer day rate, speak to other local commercial photographers to get an idea of what companies are willing to pay. However, regardless of the competition, don't be afraid to be transparent about your photography day rate, as companies need this information to enlist in your services.
Event Photography Pricing
Depending on the size of your event, the location and the experience level of your photographer, event photography pricing can vary. Typically, however, you can expect a rate between $200 and $500 an hour.
Consider what you bring to the table: the equipment, lighting, backup equipment, expertise and more. Bringing these factors into the conversation upfront will help determine how much for a photographer event organizers might be willing to pay.
Event photography is a fun and rewarding way to earn money as a photographer. However, it's important to not get too carried away with the joy of being part of a fun event, and also set your photography prices per hour at a profitable level.
Portrait Photography Pricing
A portrait photography photoshoot and print package typically starts at $150-$300.
To understand the total cost, we have to factor in all the variables. Specific items to be aware of when setting your portrait photographer's pricing sheet are installation costs and the time involved with setting up. If you spend too much time setting up without getting paid, you could end up losing money.
Knowing how much to charge for portrait photography is crucial if you want to win over clients while making a good income. It is common for portrait photographers to offer industry-specific deals such as corporate, family, and/or school packages. Considering all of these into several different pricing scenarios will help you also determine how to price portrait photography packages.
Graduation Pictures Prices
Graduation picture prices can range from $100 per session to $400 per session, depending on the package the senior has selected.
How much to charge for graduation photos depends on what packages you're able to offer and if you have the equipment to provide the value expected per tiered package. It's common for a graduation package to include a graduation gown, cap, tassel, online proofs and digital images.
For higher tiered packages, the location and studio matters to the client and more photo options to choose from. The length of time spent at the studio to capture the perfect shot is part of the experience seniors expect from the shoot.
A simple gauge would be to speak with the school to find out how much they have paid photographers in the past. Given that schools are generally quite price-sensitive, it is recommended that you set your rates somewhere in line with their expectations.
Wedding Photography Prices
The average wedding photographer cost is around $2000 in the United States, but the actual price of your services will depend on the length and type of each wedding.
Vendor's experience, level of expertise, event guest count, date, and geographic region are some of the factors that influence pricing.
Wedding photographer prices typically include between six hours and unlimited coverage. The more time you need for your event, the more you should charge. Some photographers include prints in their wedding photography rates. In addition to the initial pricing, wedding photographers' packages may include expenses such as equipment, employees, marketing, and liability insurance.
The Different Approaches to Building a Pricing Model
While the cost-plus pricing model is a great place to start, it is not the only answer when it comes to how to price your photography. There are several ways of using value-based pricing that can help you ensure you get paid appropriately for what your photos are worth.
In the end, your pricing model can take into account multiple approaches. The cost-plus pricing model will tell you the minimum you should charge to reach your desired profit, and these value-based pricing methods will help you determine if you can ask for more.
Ways to Calculate Freelance Photographer Rates
Freelance photography pricing is difficult but critical if you want to ensure you get paid the right amount for your work. We've outlined some key methods for setting your freelance photographer prices correctly, so you can start earning a profit immediately. If you are looking for ways to find freelance work, check out our guide to finding fantastic freelance photography jobs.
Rates Based on Price Per Photography Use
Usage-based pricing is a typical method for setting freelance photography rates and is used for photography projects where the client is looking for just a few high-quality images of their subject, such as product photography or corporate portraits. This type of pricing model takes into account how your images will be used.
For instance, if the photos are going to be used in a national campaign, you can ask for more money than if they were to be used in a local newspaper. Also, this model takes into account how long your photos will be used, such as whether they'll appear once or be reused again and again over a certain period. If your photos are going to be shown to a wider audience, this is often a smarter move than simply charging photography rates per hour.
The Association of Photographers has an image usage calculator that can help you figure out how to price photography based on usage. It lets you input a base amount and then select the usage details such as the licensing period, types of media, and the territory where your photos will be used.
Hourly Rates
Charging an hourly fee is the standard for many types of event photography, such as weddings and corporate events. The photographer hourly rate model is useful because it ensures you get paid for all the time you invest in shooting an event. If the event runs long and you end up having to stay late, you get paid for it, as per the photographer rates per hour agreed.
If you decide to go down this route, think carefully about the photography prices per hour you wish to charge. Have a look at the average hourly rate for photographers in your area, so as to not price yourself out of the competition. Remember that your final charge can also include time spent before and after the event, such as for travel, client meetings, preparation, and post-production.
Costs of Paying a Photographer By the Hour
While it may seem the most straightforward choice, choosing to be paid as a photographer by the hour needs careful consideration and thought into the potential overheads. Make sure that your hourly rate factors in any additional costs required for the shoot so that you can avoid facing difficult discussions with your client further down the line. If your photographer fees are largely job-dependent, consider tailoring your hourly rate to each client's requirements. This approach will allow you to provide the most value while also retaining profitability on each project.
Flat Rates
Alternatively, photographers will sometimes charge a flat rate for shooting an event. This is best suited to photographers with a lot of experience. That's because to determine how to price photography at a flat rate for an event, you have to be able to accurately estimate how much work will go into it.
It's also standard for portrait photographers to offer a flat rate for a photo session. This helps you factor the professional photoshoot cost into the rate. Sometimes these sessions will be sold as packages based on the number of images. Have a look at how much are photo shoots in your area for guidance on this. As long as the photographer knows how long it takes them to capture and retouch that number of images, they can offer a flat rate with confidence.
However, there's more to it than just knowing how long it takes you to complete tasks. Do some market testing and discover how much photoshoots are currently being charged art in tour areas. This will help you set a pricing model that is both competitive and profitable.
Whenever you charge a flat rate for a project, it's essential that you and the client agree on what's involved beforehand. That includes things like the number of images, the number of client feedback rounds, whether the client wants prints, etc. If you don't take the time to outline the scope of the project, it's impossible to know what to charge. You could end up finding out halfway through the project that the client wants you to do much more work than you expected.
For this reason, you should write up a simple contract that outlines all of the work you plan to do for the project. It's the only way to ensure you get properly compensated and the client gets exactly what they want.
Rates Based on Experience
It should go without saying that experience is a major factor in how much photographers can reasonably charge for their services. But if you're looking for some specific examples, here is a brief photography pricing guide for different experience levels.
Beginners: Amateur photographers typically offer their services for between $25-$75 per hour. That's for taking photos that appear on blogs, small websites, or in local advertisements. However, these photographers usually lack basic photography knowledge. So if you understand at least the fundamentals and standard practices of photography, you're ahead of this group.
Students: There are a ton of photography students out there who are eager to start working. These photographers can usually ask for more money than hobbyists since they have some formal training. The typical hourly rate is between $50 and $100 an hour, depending on which school they attend, how far along they are in their studies, and whether they have any professional experience.
Entry-level photographers: Those who are just getting started in the world of professional photography after taking some formal education typically charge $50-$150 per hour or $25-$125 per image. Since their amount of professional experience is probably limited, the same factors that affect the rates of student photographers also apply here.
Professional photographers: Photographers who have some real experience under their belts can typically charge $75-$250 per hour. With the higher pay, clients expect these photographers to know all the ins and outs of the craft, including having great pre-production and post-production skills.
Top photographers: Those who climb their way to the top of the field to become high-end photographers can charge way more, from about $250-$500 per hour ranging up to as much as $10,000 per day.
Rates Based on Specialty
Choosing an area of photography to specialize in is one way to start earning higher rates. This is something that many new photographers shy away from. That's because there's a fear that if you limit yourself to a single area of expertise, you'll miss out on opportunities that fall outside of that category.
But by developing expertise in a specific type of photography, specialized photographers have their work valued higher than general photographers. There are many different areas photographers can specialize in, here are just a few examples.
Documentary
Portrait
Sports
Product
Fashion
Wedding
Some specializations are valued higher than others. Typically, the more specialized the skills required for the job, the more you can earn doing it. For instance, experienced wedding photographers tend to make more than general portrait photographers. That makes sense as weddings are one-time events where the photographer often has one chance to capture important moments. So there is little room for error. Since not every photographer is up to the task, skilled wedding photographers are always in demand and can ask for higher rates.
Also, when you choose a specialization, consider how many projects you'll be able to take on per year. This will help you determine how to price your photography. If you are a wedding photographer, work tends to come in seasonally, so you'll have to make sure you're earning enough to cover your costs and keep you going during the offseason.
How to Test Your Photography Pricing Model
Okay, so you have read through all of this advice and have decided on a photography pricing list; how do you know if it is correct? By now, you have probably realized that, after your costs have been factored in, photography pricing is fairly arbitrary, and it takes a bit of time to get the right price-market fit. The best way to determine if your photographer pricing list is right is by testing it in the market.
One way to test your pricing model is by putting up photography pricing list examples on your website and measuring the response from customers. For instance, if you offer photoshoots as one of your services, try placing a photoshoot pricing list on your photographer site. If you are struggling to make bookings, this could mean that your pricing model needs to be revised. Likewise, if your photoshoot costs end up being higher than what you make, you definitely need to rethink your rates.
Sometimes the model is fine, but you just haven't accounted for additional client requests and changes further down the line. In this case, be clear about your photographer's cost per hour rate so that your client is fully aware of the additional costs associated with the extra work. A well-developed contract can make this easy for both parties. You can also set fixed photographer fees for location work so that overheads don't eat into your profit margin.
If you perform a number of different photography services, there also could be certain elements of your pricing list that are eating away at your profitability. For example, your event photography rates per hour could be too low, or portrait photography cost simply too high. Whatever it is, try to pinpoint the problem and act upon it before these costs mount up and hurt your business.
Get the Low-Down on your Competitors
Any established photographer would tell you to take stock of the other businesses in your local area. You should conduct some market research within your photography niche (ex. wedding, portrait, commercial) to see how you compare photography pricing models. This is what your clients will be doing, so make sure you know what they'll see.
Depending on your photography business and location, your competitors could favor à la carte solutions, custom packages, or add-on options. What are your competitors charging? What are you offering? What does your pricing model look like in comparison? Just remember, photography cost is only one element of your model; you must also factor in distance, time, and your esteem value.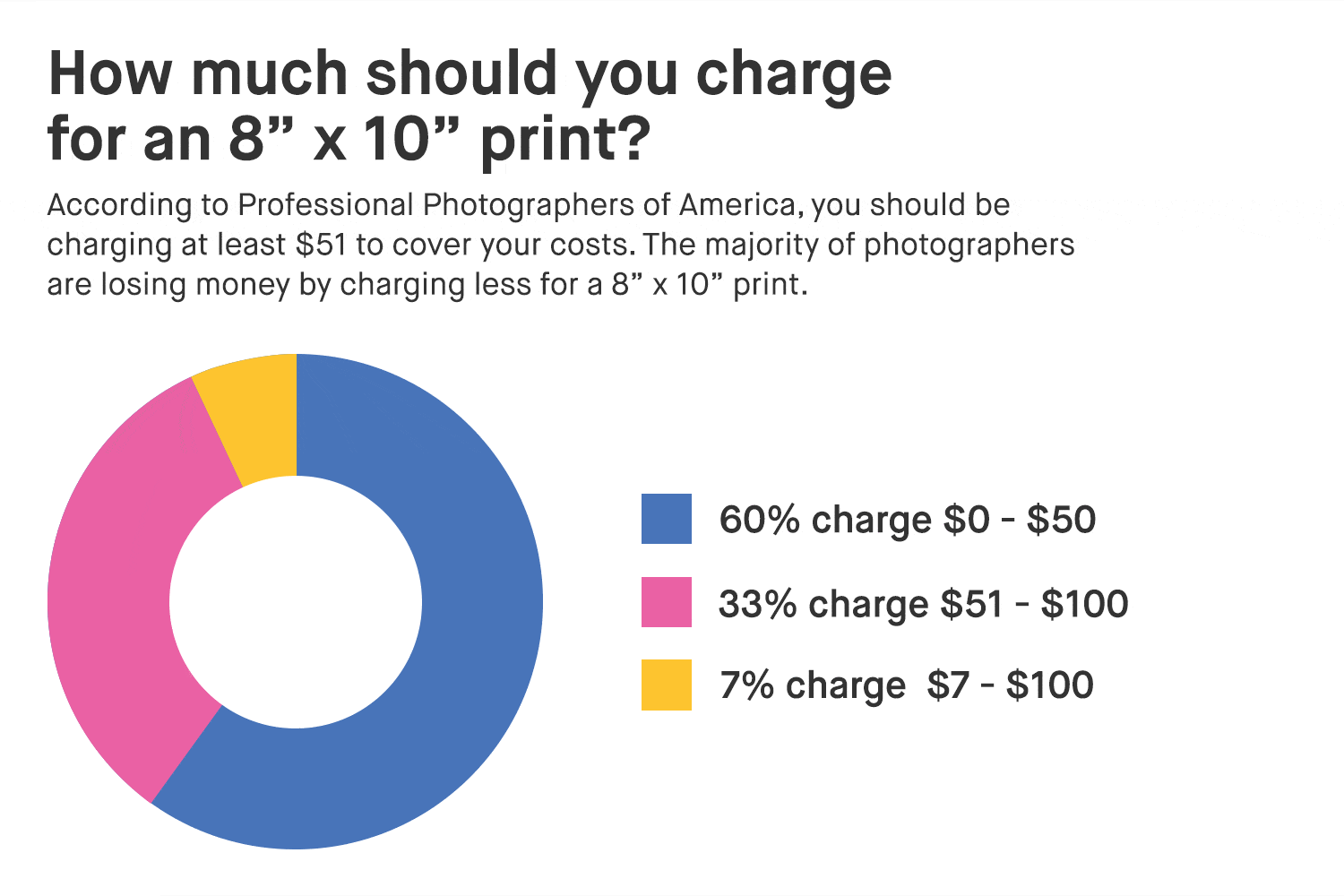 For some concrete examples of what pay rates other photographers are earning, check out this photography price list for beginners. It provides examples of how much photographers have been paid for various projects.
Don't feel obligated to copy your competition's photography pricing, though. While determining the average photoshoot prices of your competitors can help, don't be too afraid to value your talent, experience, and charisma for what it is. If you feel what you offer is worth more than your competitors, by all means, set the bar high with a photoshoot price list to match. The importance of market research is for you to at least be aware of your local market.
In some cases, your competitors' model will be "best practice" and indicate how it should be done. In other cases, you can develop a better way to be more disruptive in the marketplace. Regardless, photography pricing will vary depending on what kind of business model you are using as well as how many other players there are in the market. You need to be realistic and relevant to your local market. Do your research!
Freelance Photographer Tip: Determining your local market is vital to becoming a working photographer. If your photography pricing is too high, you will need to convince your clients of the value of your work enough to pay that price.