In the current political climate, artists are finding ways to be involved in politics. With an American administration that called the support of art and humanities not "prudent", the creative population are taking it upon themselves to prove that art plays a vital role in society.
The result has been everything from individual actions, like Richard Prince's denouncement of his work owned by Ivanka Trump, to exhibitions like The Knockdown Center's Nasty Women in Queens, New York that donated artwork sales to Planned Parenthood.
As people are called into action on the street, some artists may want to put down the brushes, shut their laptops, and join. But they can also use their talent and vision to aid a movement. For example, artist Christo decided to walk away from a project that has cost $15 million of his own money, as well as over 20 years to create, in what the New York Times called "the art world's biggest protest yet." Action from other artists seems imminent.
Could a move to snuff out art funding reveal a desire by the current administration to quiet critical voices? Throughout history, artists have participated as adamant reactionaries to unjust political actions. They've been outspoken protesters during the Vietnam War in the 60s and 70s, among endless other instances. They are often the first community to speak out on behalf of human rights and against oppression. In the last hundred years, artists and their actions have been incredibly important to LGBTQIA rights, Feminism, Pacifism, Immigration Rights, and Rights for People of Color.
The history of protest art is vast, and dense. In this brief overview, we're looking back at a selection of politically impactful artists of the last century to get inspired for artistic calls to action. From the Dadaists to Guerrilla Girls, here are the art movements and individuals that you should know about. It's a look back, in order to look forward.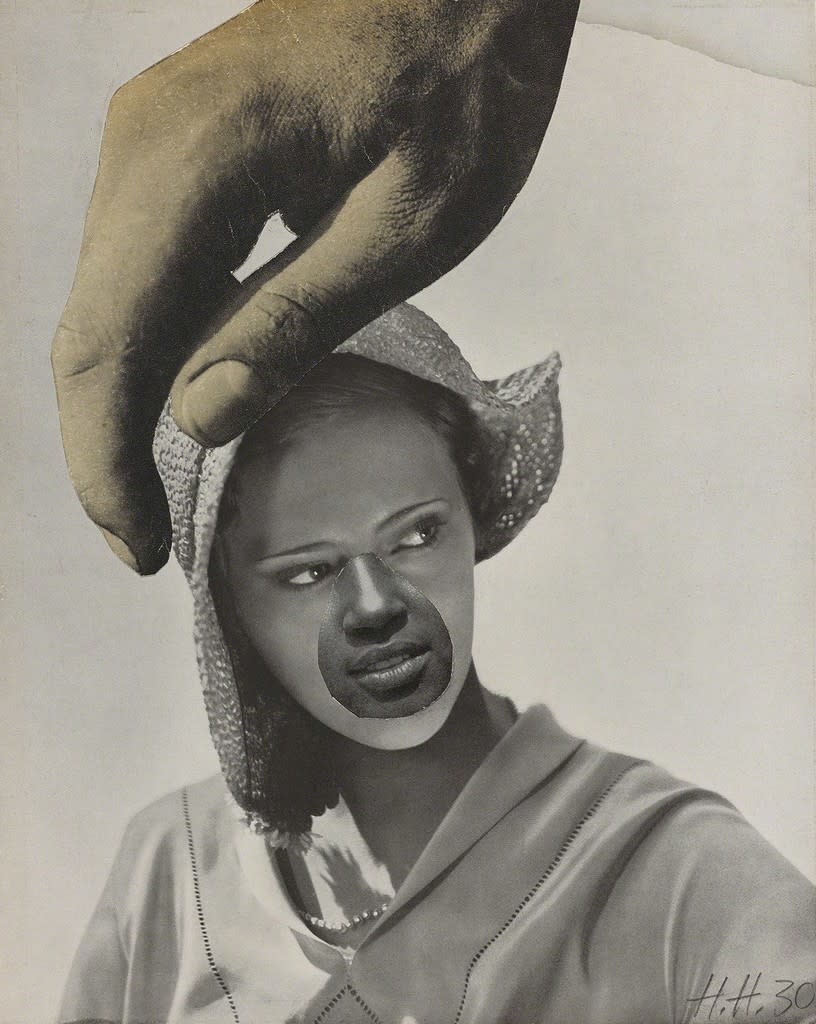 Hannah Höch, "Untitled (Large Hand Over Woman's Head)", 1930, Photomontage via Artsy
The Dadaists
Zurich-Based European Political Absurdists
In the 1920s, the Dadaists founded nightclub Cabaret Voltaire as a venue for experimental and political performance art. They also invented collage as an affordable medium. They used collage to appropriate from newspapers in reaction to World War I. The group webbed off into several disciplines: sculptors, designers, performers and poets. They united under the absurdity of war-torn humanity, and made full force unapologetic reactionary art. Some of the most influential Dadaist include Hannah Höch, Tristan Tzara, Marcel Duchamp, Francis Picabia, and Kurt Schwitters.
Diego Rivera, Detail of "The Uprising" 74 x 93 3/4″, 1931 via MoMA
Mexican Muralists
Muralists for the Mexican Communist Support
In North America during the 1920s, the Mexican Muralists were in revolution against tyrannical industrialization. Their intention was to protect workers' rights. Artists such as Diego Rivera, were painting large scale public frescos illustrating the strife of the proletariat. The group aligned under Leninist ideals and engaged with politics through the standards of the history of painting. They replicated traditional painting strategies most notably painting large scale frescoes. Like Renaissance artists, they communicated to masses of people through their didactic and powerful scenes.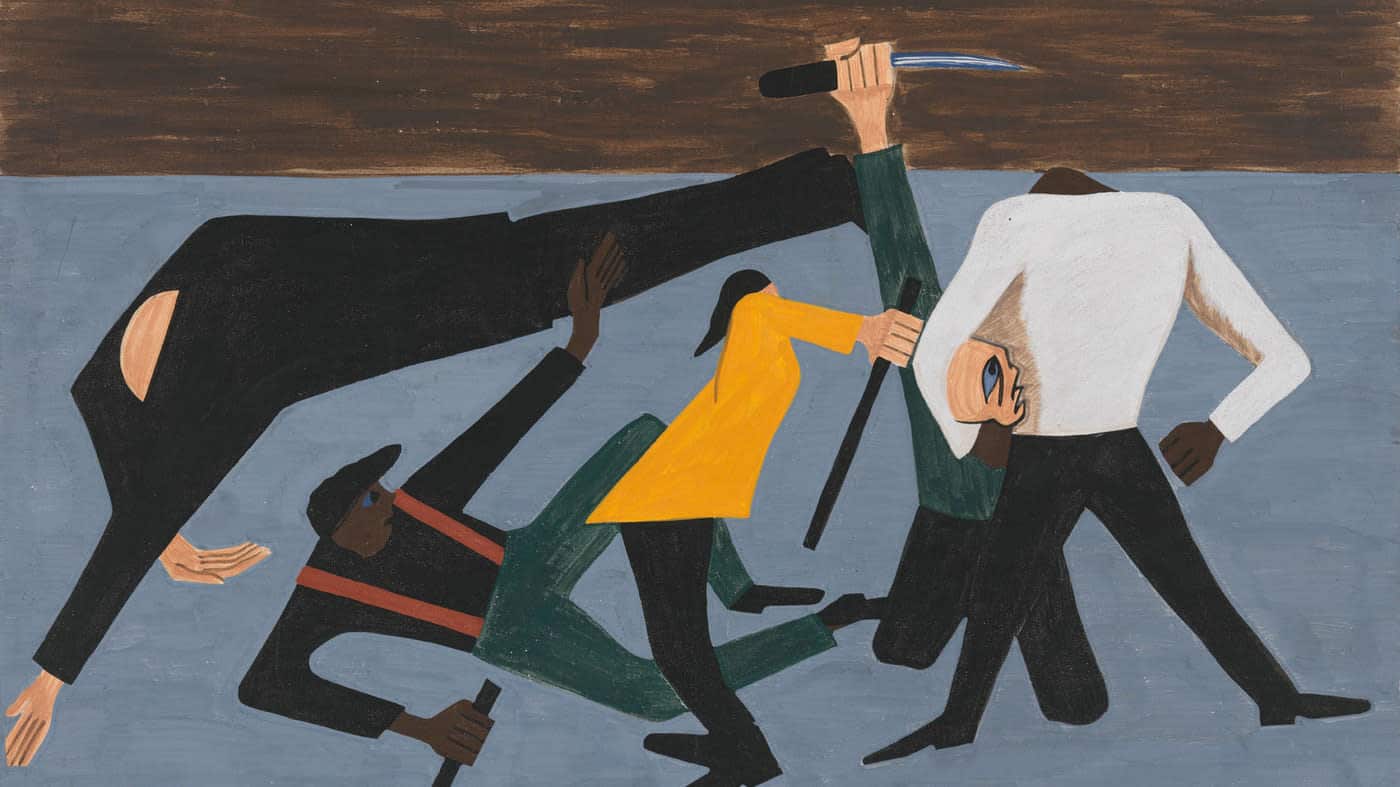 Jacob Lawrence, "One of the largest race riots occurred in East St. Louis." via NPR
Jacob Lawrence
African American Social Painter
Jacob Lawrence is one of America's most important visual artists. He made illustrative series of works focusing on historical moments capturing racial inequality. The image depicted above is part of his massive 60-piece painting collection called the The Migration Series. The series depicts the causes, turmoil, and results, of the great migration of African-Americans from the South to North Eastern/Central cities. The migration took place after Jim Crow threatened their lives, and equalities in the south. Lawrence painted tirelessly on cardboard and simple wood with colorful tempera paint. The paintings express moments of the journey including warmer moments showing family and camaraderie. But most powerfully, he described the moments of violence, and oppression both in the South and in the North. Lawrence went on to make several more series on social historical issues, and was a prolific contributor to American Art.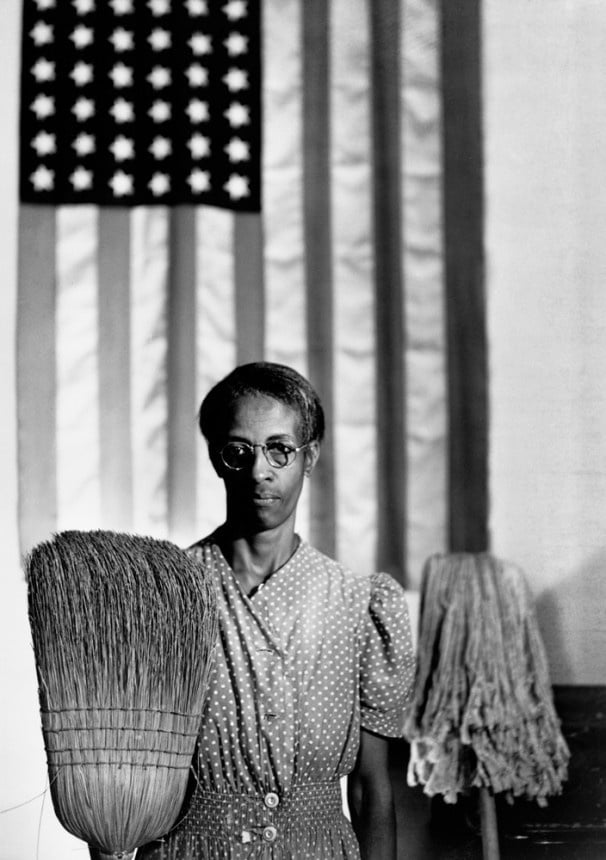 Gordon Parks, "American Gothic, Washington, D.C.", 1942, gelatin silver print via Metivier Gallery
Gordon Parks
African American Civil Rights Documentary Photographer
Gordon Parks was a prolific photojournalist, filmmaker, writer, and humanitarian. He was a prominent artist during the 1940s-70s and made work until he died in 2006. He documented civil rights, racial inequality, and poverty. As one of the first African American filmmakers, Parks was also quintessential in the development of the "Blaxploitation" film genre. Most of the films in this genre were essentially action films aimed at Black audiences. However, his most impactful political work was likely his images of black poverty taken during the 1940's. Formally composed, and haunting, the works describe an impoverished community that needed to be highlighted to effect change. Parks was seminal in the development of social and political photography. '
Danny Lyon "Arrest of Taylor Washington" Atlanta , 1963, Printed 1967, Vintage gelatin silver print – 10 x 8 inches (25.4 x 20.3 cm)
Danny Lyon
American Street Photographer
In the summer of 2016, Danny Lyon had a better-late-than-never retrospective called *Danny Lyon: Message to the Future at the Whitney Museum of Art. The gallery displayed historical photographs of people of color getting arrested at protests during the 1960s, images from the recent Occupy Movement, and an interview-style film called "One Man One Vote: Danny Lyon in Conversation with Julian Bond". Looking around at new images juxtaposed against images of the civil rights movement, it is clear that we have not made much progress. Lyon has spent the last six decades photographing some of the most socially-charged moments. Moments where people are fighting for their rights, and the reaction of communities against them. Many of his images are used as key reference photographs for the Civil Rights movement. As an artist associated with American street photography, his work stands out as providing necessary documentation for the movements from the 1960s to present day about racial issues, and human rights. He worked as rogue photographer unaffiliated with any major media publication. He was not only a photographer of activism but he also worked tirelessly with the movements as a participant and an organizer.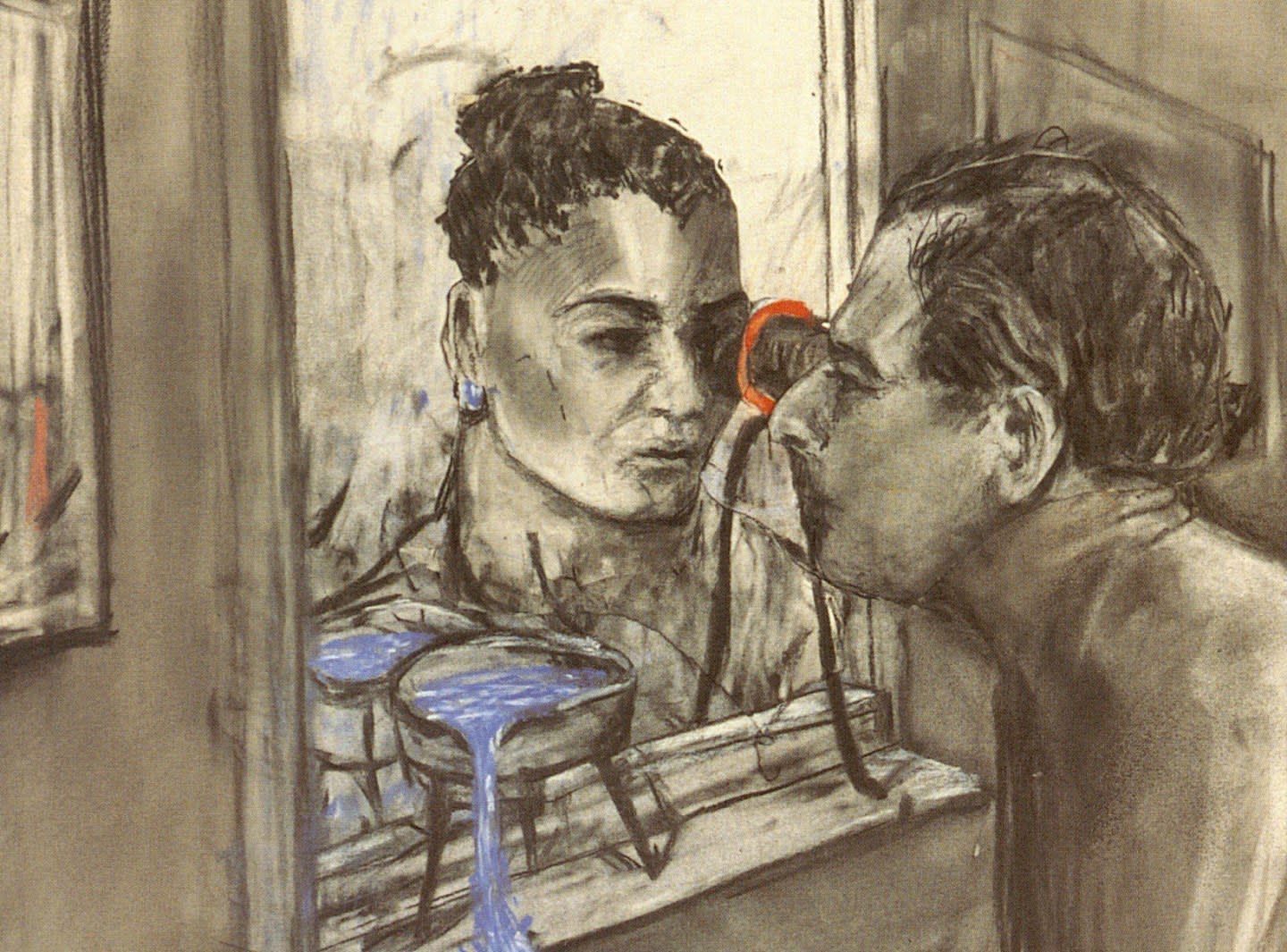 William Kentridge, Still from "Felix in Exile", 1994, Hand Drawn Animation via Serpentine Galleries
William Kentridge
South African Political Animator
William Kentridge is a South African artist. His drawing-based practice uses narratives and imagery to express concerns about human rights. He often focuses on Johannesburg, a place riddled with industrial, political and economic problems. The well-known work Felix in Exile is an animation that depicts a remorseful, criticism of the political landscape in the city. The short animation consists of over forty drawings that are erased and drawn over in succession to animate complex scenes. Kentridge illustrates a derelict industrial city that is rife with pain and suffering of black bodies. The film expresses deep concern, grief and loss about the consequences of the city's social and political state. This is only one work of many that Kentridge has made using his unique technique. He continues to create emotionally charged political works about the nuances of pain that result in the denial of human rights.
Ana Mendieta; Untitled; 1974
Ana Mendieta
Feminist Performance Artist
Ana Mendieta was born in Cuba but migrated to the US at age 12 to escape the Cuban Revolution. She was an important figure in the development of feminist body art. She often combined her body in land art installations and performances utilizing natural materials, plus her hair and blood. One of her well-known works is Untitled ( Facial Hair Transplants) (1976) in which she cut off the facial hair from male participants to adorn her own face with the remnants. The work comments on the performative nature of gender. Her work focused on issues of feminism, the body, cultural belonging, place, and mortality. Her oeuvre takes the form of performance, installation, film, bookworks, and sound pieces. Ana Mendieta died prematurely—it is popularly thought that her husband and artist Carl Andre threw her out the window of her New York apartment. However, charges were never made, and her death is officially considered an accident.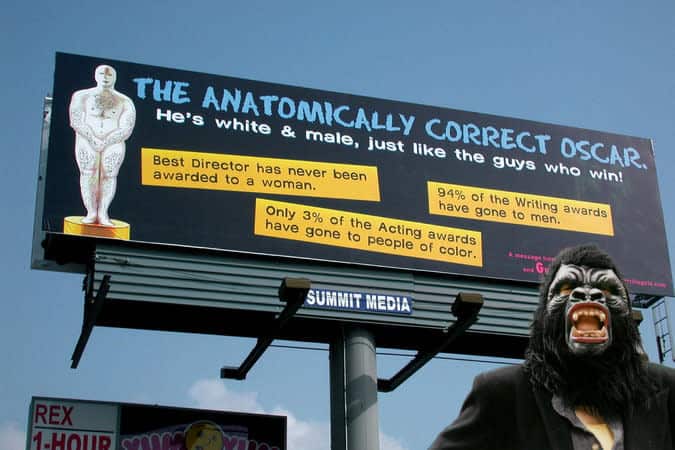 "A Guerrilla Girl poses in front of a billboard in 2002 that criticizes the Academy Awards not far from where they are presented in Hollywood." via NYT
Guerrilla Girls
Feminist Anonymous Artists
In 1985, the Guerrilla Girls sprung to action as anonymous, gorilla mask-wearing protesters. They fought the lack of recognition and inclusion for women and people of colour in the art world. The Guerrilla Girls are still active today, as we continue to face these issues, and the member identities are still concealed. The group of activists use pseudonyms of dead female artists to keep their work alive. The group protests, speaks, and performs publicly, in art institutions and private galleries. Their concealed identities helps to protect the members from ruining their primary careers as artists. They often criticize large publicly funded institutions and private galleries for their lack of pay, and inclusion for marginalized artists. They are most well-known for clever and humorous posters, bill boards, flyers and books. The work utilizes stylist graphic design to quickly present clear statistics about the deficit of support.
Judy Chicago "The Dinner Party", 1974–79. Ceramic, porcelain, textile, 576 × 576 in.
Feminist Studio Workshop
Organized by Judy Chicago,Sheila Levrant de Bretteville, and Arlene Raven
The Feminist Studio Workshop was a self-sustaining program run by the founders of the Woman's Building in Los Angeles. The founders included three women: Revered feminist artist Judy Chicago, who designed the famous quintessential 1970's feminist work The Dinner Party; Graphic designer Sheila Levrant de Bretteville who made endless images in support of feminism; And feminist art historian Arelene Raven, who in 1989 wrote "Art in the Public Interest" surrounding the same issues we are facing today. The Women's Building and the Feminist Studio Workshop existed from 1973 to 1991. The Feminist Studio Workshop was one of the first independent workshop-focused art school for women. The three founding members started it after they were fed up at working at male dominated CalArts. The space was an important initiative for the development of other feminist artists, and simply female-made art work. The space included a gallery, bookshop, cafe and workspaces.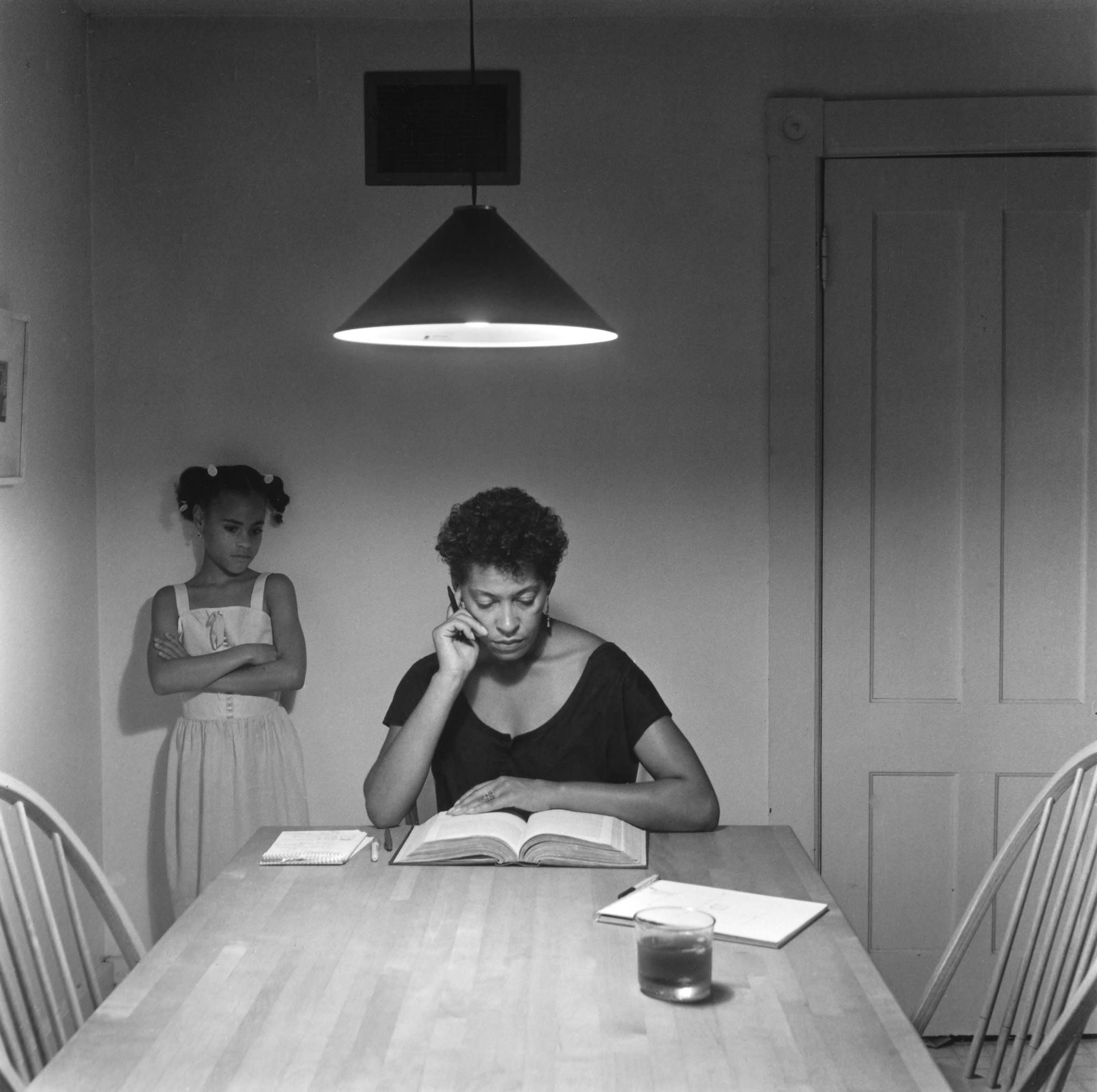 Carrie Mae Weems. From "The Kitchen Table Series", 1990
Carrie Mae Weems
Photographer and Video Artist
Carrie Mae Weems is one of the most important artists of our time. Weems has spent a lifetime pursuing work that explores race, gender, class, and activism. She works in photography, video, spoken word, and textile. Her work describes everyday issues with poetic visuals and astute clarity for the weight of the human condition. The Kitchen Table Series is probably her most well-known photography project. The piece describes the moments that happen within domestic interior spaces between gender, and family. Her work is rife with subtle descriptions of power, and intimacy. She captures beautifully how the personal is political.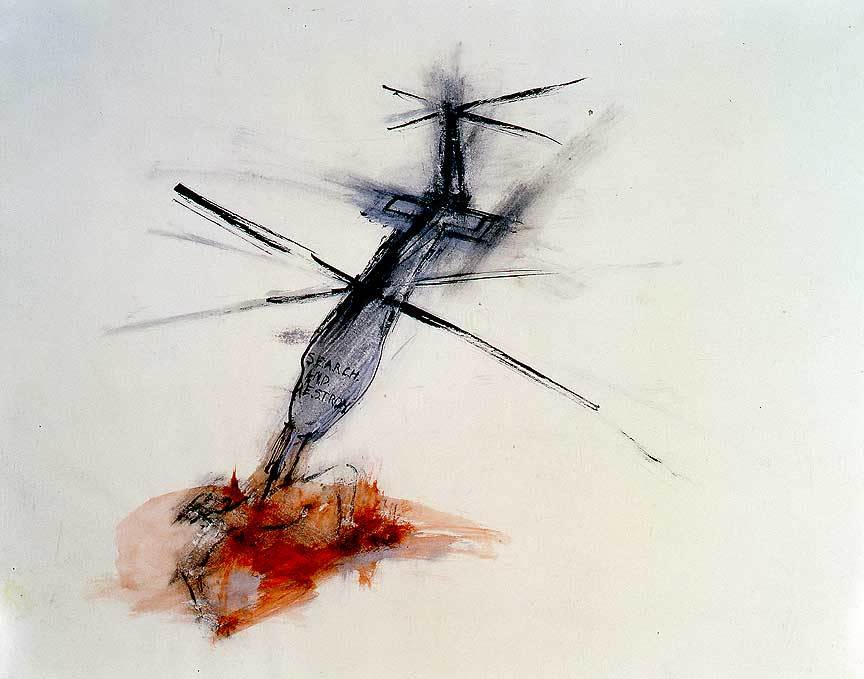 Nancy Spero. "Search and Destroy," detail, 1967 Gouache and ink on paper, 24 x 36 inches.
Nancy Spero
Political Feminist Painter
Nancy Spero was in the trenches as a feminist during the beginnings of the Women's Movement in the 1960s. Her large scale gestural paintings/drawings illustrate emotional reactions to war, and women's issues. Although she is considered a painter, the artist rejected the use of paint on canvas as it was synonymous with misogynistic male painters. Instead she opted for a variety of drawing materials to create intense, raw, and illustrative political works. Discussing her War Series works with Stephanie Buhmann for The Brooklyn Rail, Spero said, " With the War Paintings, I had to figure out how to paint 'manifestos' against the war and the violence. From 1966–70 I worked fast and furiously. No more laboring over oil paint and canvas. I used gouache, watercolors, drawing inks, and paper." She also threw pies in people's faces in protest, so we're a big fan.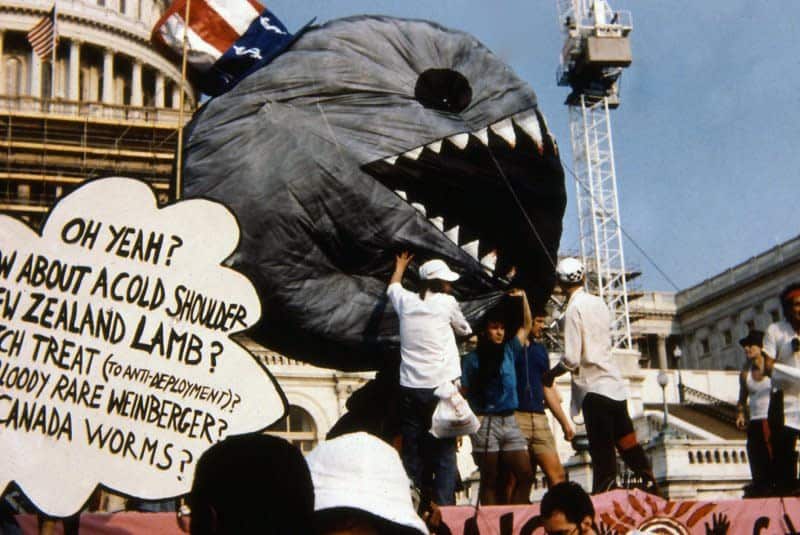 Archive image via
PAD/D
New York Based Artist Activist Group
In the 1980s the New York-based group PAD/D took to the streets and the archives. The group's name stands for Political Art Documentation and Distribution. The group had a mandate "to provide artists with an organized relationship to society, to demonstrate the political effectiveness of image making, and to provide a framework within which progressive artists can discuss and develop alternatives to the mainstream art system." They created events, distributed information, participated in protests, created art for use in demonstrations, published newsletters, held forums and were involved with anything that combined art and protest.
Martha Rosler. "Gladiators from the series Bringing the War Home: House Beautiful", 2004, Photomontage.
Martha Rosler
Clever Political Photomontager
Martha Rosler is an American artist. She works in photomontage, video, photography, text, performance and installation to create political commentary from a feminist view. The mandate that unites her multidisciplinary practice is her strong sense of politics and fervent eye on media. She often uses appropriation to create satirical and powerful images. Her work captures and comments concisely moments of injustice, nuances of violence, and issues of inequality. Her work became most popular in the 1970s but Rosler is just as active as ever. Without a doubt she will make work regarding the political climate in America right now.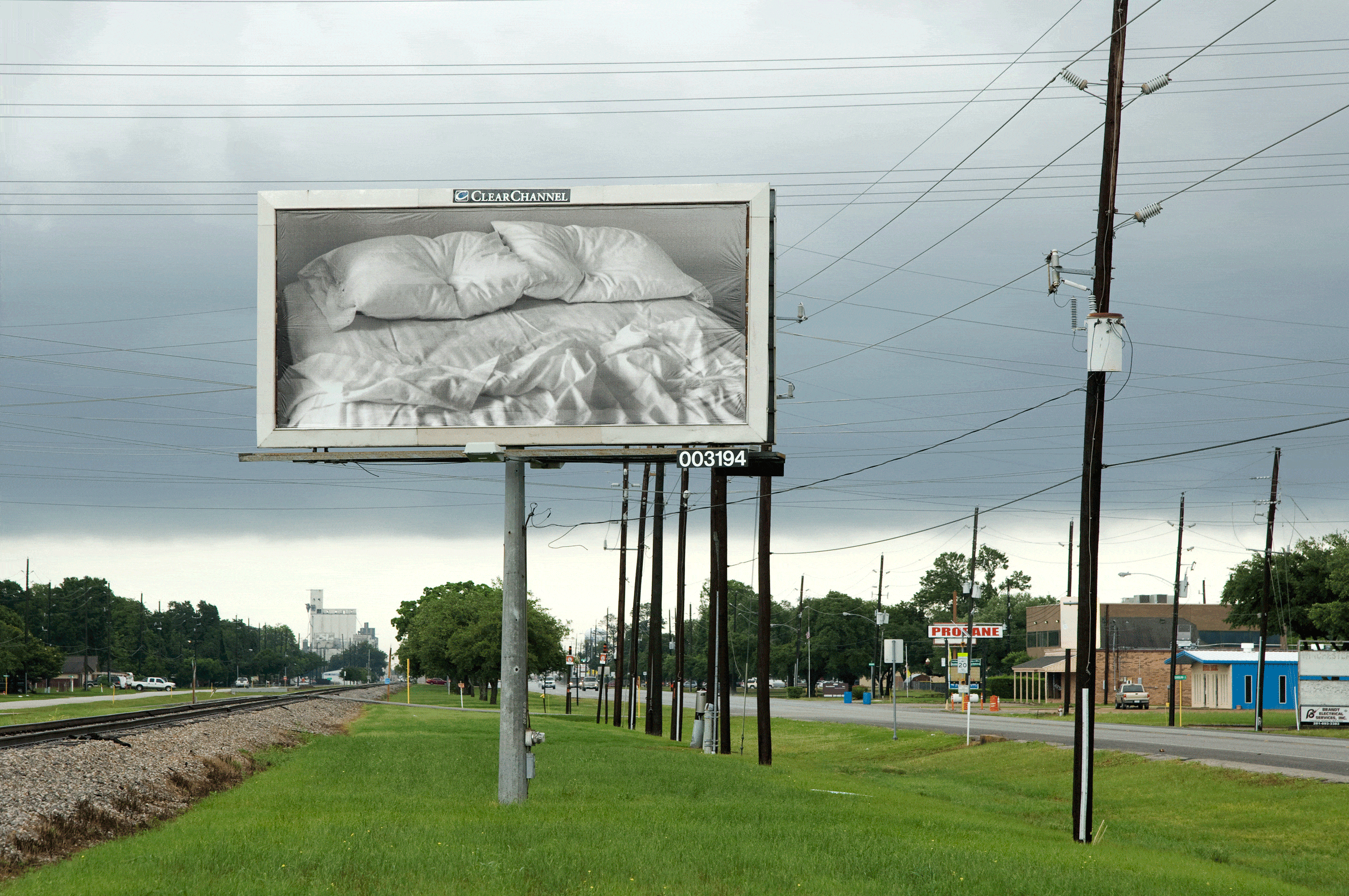 Felix Gonzalez-Torres, "Untitled," 1991. Billboard. Installation view of Felix Gonzalez-Torres Billboard Project.
Felix Gonzalez-Torres
Cuban-American Conceptual Artist
Felix Gonzales-Torres was a prominent conceptual artist who confronted social and political issues through minimalism. He employed a wide range of materials to express his visual conceptual premises using stacks of paper, candy, string lights, and puzzles. As a gay man living in New York City in the 1980s, he made many works that compassionately commented on the proliferation of AIDS in his community. His work used subtle, concise and powerful approaches to discuss mortality, and the fleeting nature of life. The piece above, Untitled (1991), depicts the image of an empty bed. This work in the most elegant simplicity discusses the loss of a lover, and how death surrounds us in everyday places in the wake of loss. His work often has this ability to use everyday materials and allusions and create profound emotional effect.
Want more politics and art? Check out:
Why Art Needs to Fight America's Nostalgia Problem
How to Photograph the Largest Demonstration in American History
What I Saw at Standing Rock Sioux Nation's Dakota Access Pipeline Protest