Format is pleased to announce the winners of the inaugural Format Career Launcher Prize in partnership with the RBC Centre for Emerging Artists and Designers at OCAD University (OCADU): Rand Al-Rubaye and Olivia Aguiar and runners-up Rashvena Khosa and Trinity Leon.
Since 2012, Format has partnered with OCADU, Canada's largest and oldest art and design institution, to provide free website hosting to students while they are enrolled and for six months after graduation. This ongoing annual award will be made available to one eligible graduating designer and one eligible graduating artist each year.
In addition to supporting these emerging creatives through a free life-time subscription to Format and a monetary prize, Format is featuring their websites within our community, celebrating their work and providing them with exposure to help jump-start their careers. This prize aligns with Format's mission to promote the future of art and design by giving students a launch pad for their professional journey. In 2022, Format and its parent company, Zenfolio, announced a pledge to give $1million worth of website subscriptions to students studying art, design, photography, and related fields.
Meet the winners:
In this article, we meet the inaugural winners of the Format Career Launcher Prize and hear about their visions for life after graduation. We hope you will join us in celebrating these talented graduates and visit their websites to follow their journey.
Best Design Portfolio: Rand Al-Rubaye
https://rand-al-rubaye.format.com/
My name is Rand. I was born in Iraq but grew up in the UAE (United Arab Emirates) and later Canada.
I started in design first through my interest in art. In high school I had an amazing art teacher who really encouraged me to keep exploring. He taught me about different architectural styles, interior design styles, and I was really interested in how historical designs differ from contemporary minimalism. I appreciate how much more detail was put into historical designs. It made me wonder, why did that change? How did design evolve? And whether one of these styles is actually better for us, for our human experience. These questions got me into environmental design.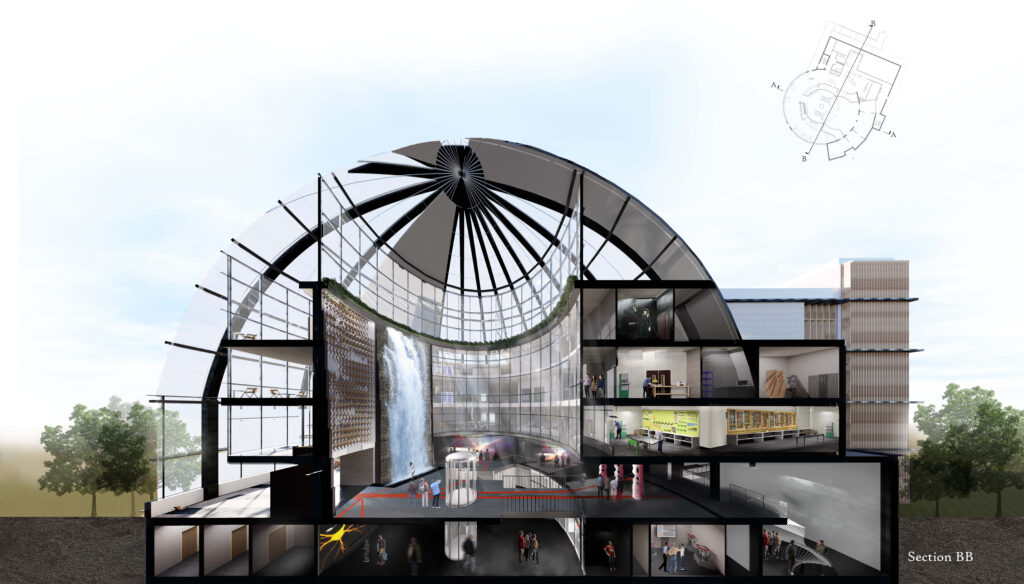 My program at OCAD U was Environmental Design. My third and fourth year were during the time of the pandemic shut down. It was a struggle on many different levels. It was much more difficult to study from home, making me question why my home environment, which is supposed to be calming, was so stressful to work in. One of many ways I tried to cope was to sit by a window to allow fresh air or natural light in while working. I began to realize that the space around me was influencing how I feel, my emotions, my behavior. During that time, I read an article about new architectural research suggesting that our environment influences our behavior on a neural level, that our brains react differently to varied surroundings and stimuli. These experiences and this research led me to my final project, which focused on bringing different stimuli and textures into our spaces to create a better environment for work and knowledge exchange.
My formal training helped me make sense of the kind of challenges that we're facing in the modern world and how design could help overcome these challenges. I've been working as a research and design intern with a startup company named A77inc. They are researching new innovative materials, building techniques, and technologies that can be used to build sustainably. It's exciting to learn about practical, sustainable tools and materials that can help us solve problems with design today.
I see Format as not only as a means to showcase my work, but also as a communication tool to allow me to get in touch with people who have similar interests, similar views, and help us collaborate to design for better quality of life; for an overall healthy environment.
I found the experience of using Format really interesting and easy. It was my first time building a website and a portfolio so having a set of templates and designs to choose from was really helpful.
The advice that I would give to aspiring and emerging designers is to always seek critical feedback from non-designers as much as from other designers. Sometimes we get so into a design project that we forget that these spaces, or products, are supposed to be used and experienced by people. When I seek critical feedback from non-designers, they provide a perspective that I would have never thought of.
Best Fine Art Portfolio: Olivia Aguiar
My name is Olivia Aguiar and I was born and raised in Toronto. I got started in the arts in high school. I had an art teacher who inspired me and pushed me to start exploring different artistic methods and to take the time outside of school to delve deeper. That guidance was really the catalyst that set me off on my path.
My program at OCAD U is Drawing and Painting. My focus in my final year of study has been to delve into my family archives. My grandfather left behind a vast digital archive. I started downloading the information from floppy disks and bringing them onto my laptop and then editing and remixing them on Photoshop. I then took those digital composites and translated them into painted works. The project is about me coming to understand who my grandfather was. He passed away when I was very young, so I didn't really get to know him. I'm trying to figure out who he was and how he generationally affected me through my family. I'm really interested in this idea of digital corporeality, which is the idea that we exist in a very real way online. I'm trying to break down the barriers between our online selves and our offline selves and illustrate how interconnected they are.
My formal training impacted my work by giving me the conceptual help that I needed. I knew that I was interested in art and making and I had this desire to build and paint, but I couldn't articulate a reason why I was doing it. My time in the program [at OCADU] has really been about learning how to build a conceptual framework around my artistic practice and connecting that to the contemporary art scene.
I found the process of making my Format site super logical and easy. As much as my practice is involved with the digital, I never really thought of myself as someone who was super tech savvy. Despite that, everything [on Format] just sort of made sense to me.
I see my Format site as the first place that someone will go when they learn about me. It's a digital business card, but also so much more than that, because you really get to see all different aspects of how an artist thinks and organizes themselves. I think it's an important, professional tool for disseminating your work. And also it's nice because, as opposed to social media where there is a predetermined layout, on your website (especially with Format), you really get to curate and choose exactly how your work is presented. It's just so much more informative about the type of artist you are.
The advice that I would give to aspiring artists would be to get to know your community and get out as much as possible. Go to art openings, see what is being made today in your area. It can be hard. I feel like a lot of people get into art because they have these big ideas that they want to express, but they're super shy. My first couple years of university, I was really really introverted and did not want to go out and talk to people. But once I made one really good friend in school, we started to go out to things together and then slowly we started to talk to more artists and I started to become more comfortable. Looking back, it's something I wish I had done earlier. I didn't realize just how much it would influence my practice.