This past July, Sotheby's announced its acquisition of the late David Bowie's personal art collection and plans to exhibit select pieces around the world before auctioning off the collection in three separate sales in early November. If you look at Bowie's career, in which his music was often accompanied by deeply developed visual components, with costumes and set designs changing drastically from one album to the next, it should come as no surprise that he was an avid and accomplished art collector.
In a 1998 interview with the New York Times, Bowie told interview Michael Kimmelman, "Art was, seriously, the only thing I'd ever wanted to own. It has always been for me a stable nourishment." And nourish he did. Before he passed away in January 2016, he amassed around 400 works of art, encompassing paintings, sculpture, and design pieces.
Bowies collection, like his discography, is not only vast in size, but in scope as well (though it is primarily comprised of British artists). His eclectic taste includes classic works ranging from Harold Gillman's quiet, muted "Interior with Mrs. Mounter" (1917) to Damien Hirst's aggressively colorful "spin painting" titled 'Beautiful, shattering, slashing, violent, pinky, hacking, sphincter painting" (1995).
While Bowie's collection includes a number of other household names (Auerbach, Basquiat, Duchamp), it also has its fair share of lesser known artists. Here is a guide to Bowie's favorite artists that you should know.
Art was, seriously, the only thing I'd ever wanted to own. It has always been for me a stable nourishment.
Alexandra, found objects (1995)
Bowie first discovered and purchased the work of Benin artist Romauld Hazoumé while attending the inaugural Johannesburg Biennale in 1995. Hazoumé is best known for La Bouche du Roi (2005), a large multimedia project based on the structure of a late 18th century English slave ship, but Bowie's collection of Hazoumé works is comprised of his smaller sculptural pieces.
Hazoumé's sculptures are created from found objects—detritus including cloth scraps, broken telephones, and, predominantly, plastic petrol cans. Out of these waste products, Hazoumé creates powerful pieces intended to resemble African masks, often with vaguely menacing or malevolent "facial" expressions. Hazoumé's masks carry a dual political message, addressing both the exploitative and dangerous black market oil trade between Nigeria and Benin as well as the eroding effects of global capitalism on his native Yoruba culture.
The Watering Place, acrylic on wire mesh (2013)
British artist William Tillyer has been working as an artist since 1956. His long career has seen him work in a number of different styles, from his ethereal watercolors to his mixed-media work and printmaking. Tillyer's work, regardless of style or medium, seems to exude a kind of meditative consciousness, inducing an air of calmness or contemplation.
Norbert Lynton wrote in his book on Tillyer, William Tillyer: Against The Grain, that the artist uses a variety of styles and mediums in order to "investigate and demonstrate ever more fully the artificiality of art."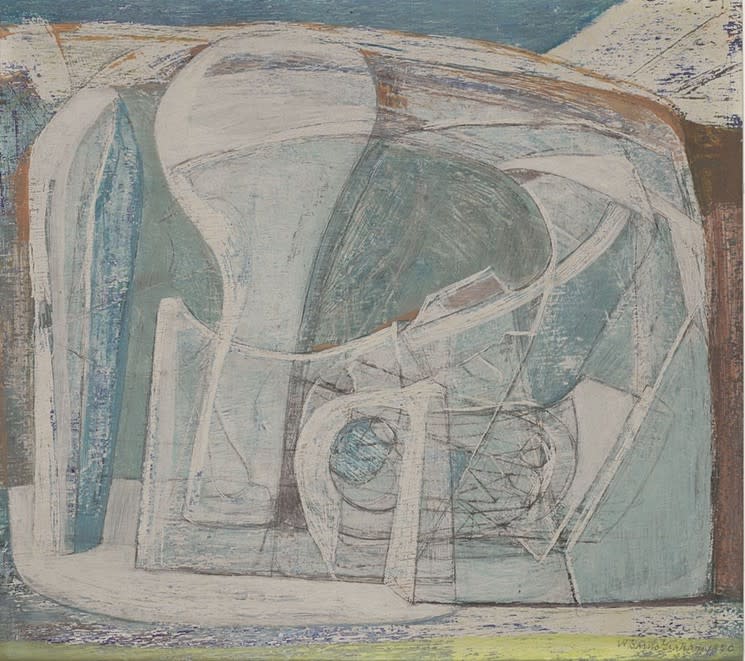 Glacier (Bone), oil and pencil on board (1950)
In their preview of the Bowie auction, Sotheby's points out that Bowie's collection "contains strong examples of work by female artists". One such artist is Wilhelmina Barns-Graham, a British artist who worked in St. Ives along the aforementioned Peter Lanyon, among others.
Barns-Graham, like Lanyon, drew inspiration from the Cornish landscape, often straddling the line between abstraction and figuration in her work. Glacier (Bone) (1950), the Barns-Graham work in the Bowie collection, was inspired by her trip to Switzerland's Grindwald glacier. Her glacier paintings are indicative of her attempt to render every aspect of an object, both inside and out, resulting in detailed, almost schematic abstract landscapes.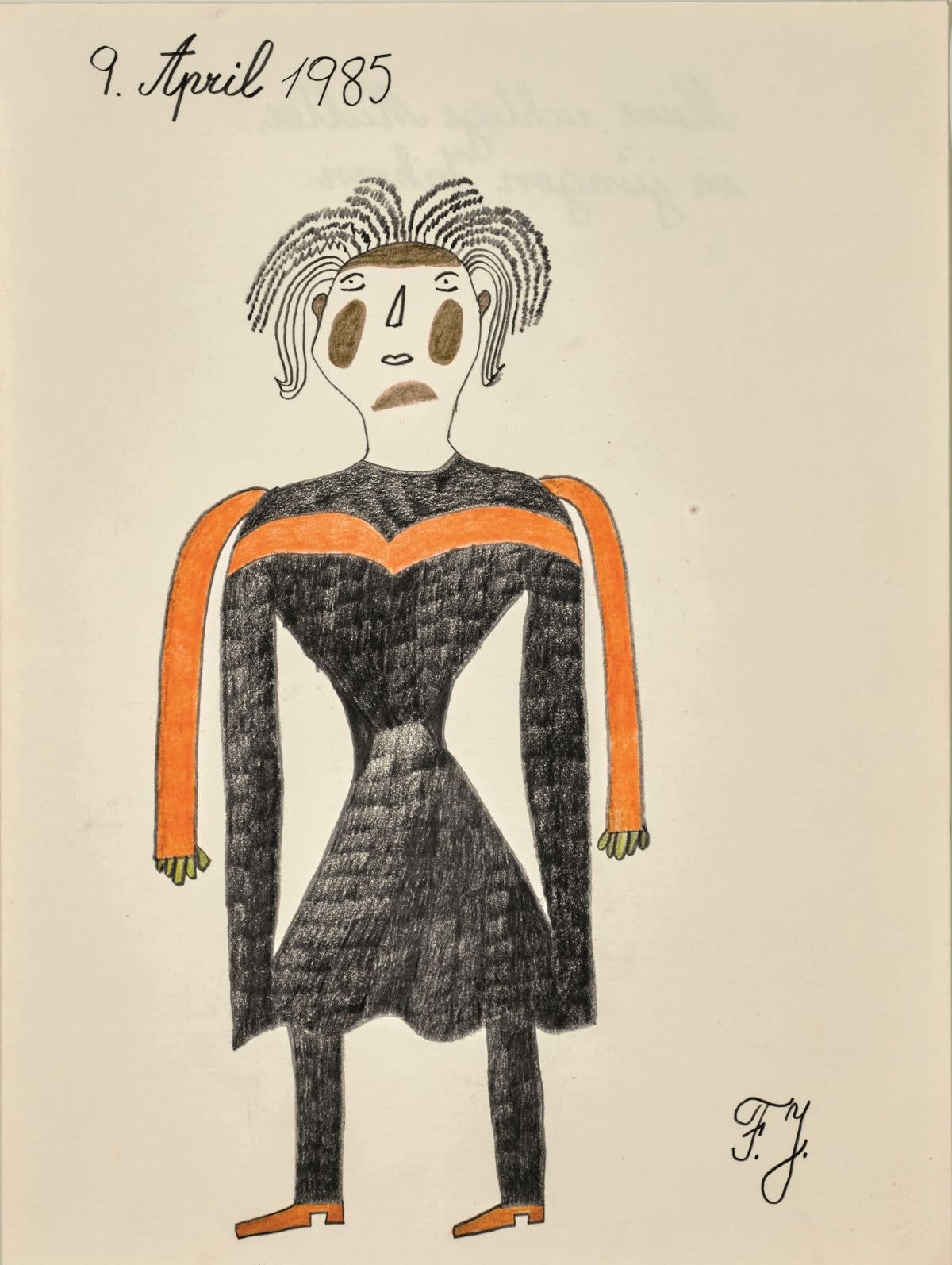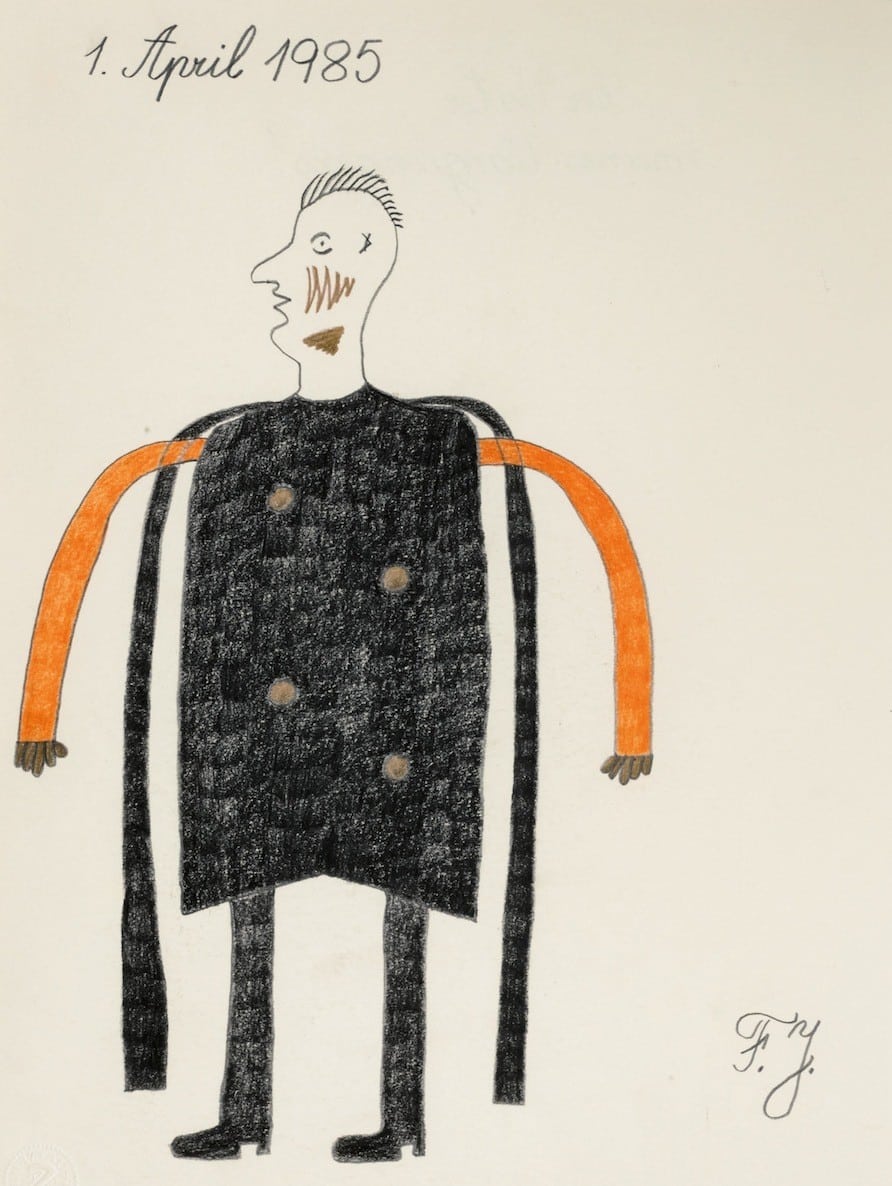 Dervater Meines Vorgangers (1985)
Bowie's obsession with the odd, theatrical, and undefinable is part of what made him the legendary cultural figure that he is today. Given his absolute individuality, it seems only natural that he should be fascinated by Outsider Art, that is, art produced by those outside of the artistic establishment.
Bowie's interest in Outsider Art led him to Johann Fischer, an Austrian born just after the First World War. After both serving in the Second World War and working as a baker, Fischer was committed to the Klosterneuburg Psychiatric Hospital in 1961. In 1982, he took up drawing and was invited to work at the prestigious Atelier Gugging. Fischer's drawings, which sometimes feature a textual element, often evoke German medieval art with their two-dimensionality. According to Sotheby's, Bowie occasionally visited Atelier Gugging to watch Fisher and other Atelier artists create their unique works.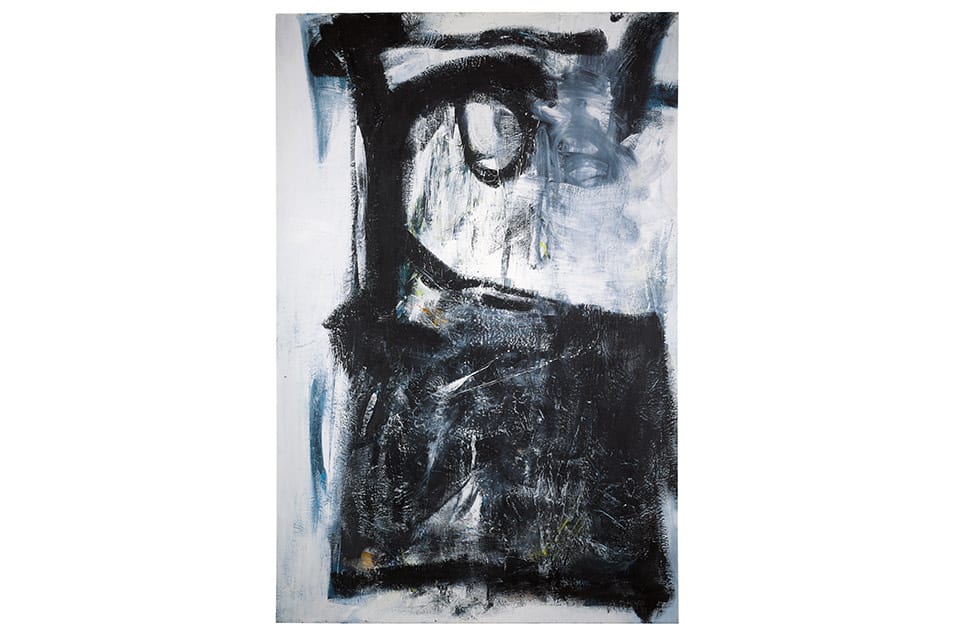 Witness, oil on canvas (1961)
While Lanyon is primarily known as a landscape artist, using the idyllic Cornish countryside of his birthplace in St. Ives as inspiration, his landscapes are startlingly abstract. Lanyon wanted to get to the essence of his beloved Cornish landscape, beyond the figurative. With large, gestural brush strokes combined with a distinctive color palate (dominant periwinkles and ceruleans) these landscapes are highly personal, expressionist affairs.
Lanyon took up gliding in the late 1950's (an activity that would later lead to his death in 1964) which led him to paint abstract impressions of his flights in addition to landscapes. David Bowie's art publishing house, 21 Publishing, released a book on Lanyon in 2000 entitled Peter Lanyon: At The Edge of Landscape.
Croatian and Muslim (1994)
Peter Howson is yet another British painter in the collection. Howson's paintings, which include a portrait of Bowie himself, distort the human form with grotesque, oversized body parts and intensely detailed and bulging musculature.
In 1993 he was appointed the official British war artist for the Yugoslavian conflict in Bosnia and Herzegovina. Croatian and Muslim (1994), the piece in the Bowie collection, comes from this period. The piece was commissioned by the Imperial War Museum in London, but the museum board ultimately decided not to buy the painting, deeming the subject matter (the gang rape of a Muslim woman), too brutal to display.
Header image via