In addition to being Ellen Page's co-host for Viceland's travel documentary series Gaycation, Ian Daniel is a creative polymath working in theatre, film and art. He met Page in 2008 at an ecovillage and when she pitched the concept of an LGBTQ travel show to Vice's TV channel co-president Spike Jonze, she wanted Daniel by her side because of their close friendship and his experience in documentary mediums.
The result is an on-screen dynamic that will make your heart burst wide open every episode. Whether they're confronting Ted Cruz at the Iowa State Fair or awkwardly witnessing a man coming out to his mother in Japan, the duo keeps a fine balance between sensitivity and strength. As they travel around the world exploring LGBTQ issues, they take care of each other and the people they encounter with profound tenderness.
When we found out about Daniel's curatorial practice, we reached out to see if he would put together an online gallery of artists who discuss similar issues highlighted in Gaycation. Who are the artists making important work about queer culture? Which LGBTQ-focused pieces have resonated with him recently? Daniel accepted the challenge and took time out of his busy schedule to send us an incredible collection of work that should be on everyone's radar.
From my experiences on Gaycation, I've gotten a much deeper understanding of how gender, sexuality, sex and race are expressed and treated globally and that has influenced the artists I'm paying attention to today.
Here's what he told us about the work he curated for Format Magazine:
"In 2013 I co-curated an exhibit with curator Sara Reisman called Still Acts that mainly centered on artists who engaged with stillness, stoppage, and slowing down as acts of resistance, protest, opposition. I think some of the themes from that exhibit have really stayed with me, and I feel they are more relevant than ever considering the anxiety surrounding this election and where America and many other countries are headed politically and socially. I've been looking at how art connects with political engagement and at artists who are provoking us to question how we all connect to larger social and political concerns.
"From my experiences on Gaycation, I've gotten a much deeper understanding of how gender, sexuality, sex and race are expressed and treated globally and that has influenced the artists I'm paying attention to today.
"In this list, I'm sharing some work from artists that I've been looking at more recently, artists who are using their work to connect the physical body, gender, sexuality, queerness, sexual freedom, identity and race, to the political present."
Number 19, 2015, color photograph. Courtesy of the artist and David Castillo Gallery
CODED by Xaviera Simmons
CODED is a conceptual work interdisciplinary artist Xaviera Simmons. It uses movement-based performance and photography installations to meditate on queer gestures in art and dancehall culture. It asks the audience to reflect on "the methods we use to construct gender roles as well as how we engage topics of sexuality, aesthetic freedom, sensuality." What is a "masculine pose"? What is a "feminine pose"? These questions are asked, and layered with the "sheer pleasure" of physical expression.
Gelatin silver photograph, 34 x 24″
##Xana Nyilenda, Newtown, Johannesburg, 2001 by Zanele Muholi.
Photographer Zanele Muholi is best known for her work Faces and Phases that profiles South Africa's lesbian and transgendered community. The series consists of eighty-seven portraits shot between 2007 and 2014. According to the New York Times, ''Faces and Phases began as a reaction to an escalation of homophobic hate crimes and murders in South Africa. Muholi believed that photography could normalize and quell fears of queerness, and in doing so, make life safer for women like her."
Performance trailer video. Berlin, Germany. KW Institute for Contemporary Art, March 3, 2016
CLAPBACK by niv Acosta
Trained in contemporary dance, New-York based niv Acosta pursues dance performance, sculpture, and educational forums as ways to consider political issues of race and gender. His new performance is conceived for the institution as a white, blank surface, which he aims to mark by means of his choreographic action, moving across—and against—his audience.
About his performance CLAPBACK he writes, "The rate of police killings of black folks in America in 2015 has brought us to a shocking number of 1,134 deaths by the close of the year. CLAPBACK is one part homage, the other part future-telling; One twerk for every death that occurs at the hands of police. CLAPBACK is about the power of black asses to shed our post-colonial oppressions, transcend the expectation of dying young, shift the earth's gravitational field and jettison evil trolls."
Performance view, Tatuare la storia, Zisa Zona Arti Contemporanee (ZAC), Palermo, Italy
Plague by Carlos Martiel.
Based in New York and Havana, Carlos Martiel uses performance art to confront the aggressive ethics of the world—past and present. He often uses his own body to demonstrate harm and violence. In this piece titled Plague, a pest exterminator fumigates his naked body with insecticide for cockroaches as a commentary on the historic European, and modern day, xenophobic policies generated against immigrants.
Video, March 2016, Recorded by The Laura Flanders Show
##"White Fetish" by DarkMatter
Known collectively as DarkMatter, Alok Vaid-Menon and Janani Balasubramanian are a trans-identified South Asian performance art duo who have recently decided to focus on their solo art practices. They've performed all over the world and extended their art to social media with an Instagram (now run exclusively by Vaid-Menon) boasting a following of 44k. In their work they push back against stereotypical narratives of the trans experience. It will be interesting to see what Vaid-Menon and Balasubramanian will create as individual artists.
In their funny and glib piece "White Fetish," Vaid-Menon and Balasubramanian interchange wordplay with hard truth drops. The power comes from both their strong voices and the real pain in their eyes. It confronts the viewer with realities that can easily be laughed away.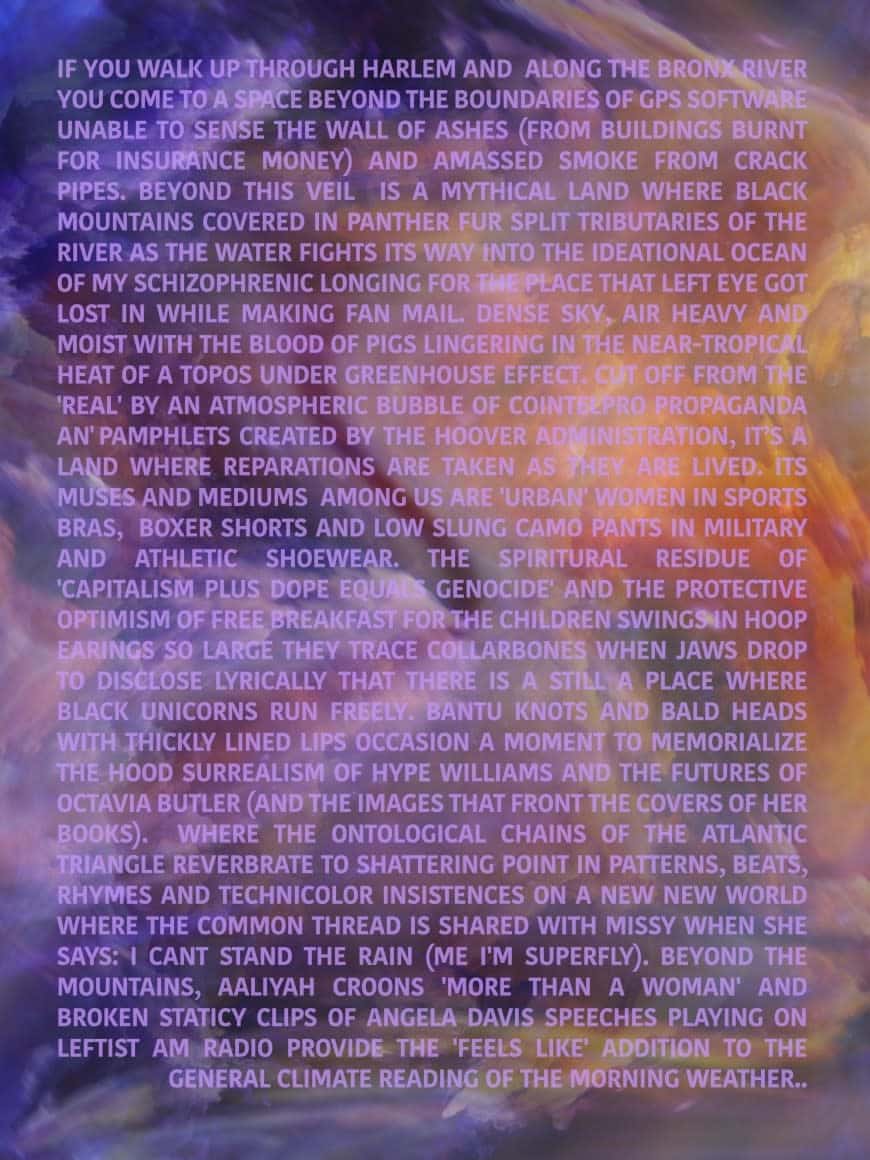 Inkjet print, 40 x 30 inches
Untitled (Casual Power) by Juliana Huxtable
The themes of Juliana Huxtable's work (race, gender, queerness, identity) are expressed through a diverse range of art mediums including nightlife, social media and text-based work. She uses her own body and experiences to criticize gaze and perceptions of norms.
In Untitled (Casual Power), Huxtable has printed a prose poem about issues faced by the black community of New York. Her vivid imagery threads pop culture references with philosophy. It's a piece that draws the reader in with text, and haunts with ideology.
Video of performance at the Broad Museum, Los Angeles, April 2, 2016
The Powers That Be by Heather Cassils
Using their body as a sculpture, Cassils was identified by the Huffington Post as a "one of ten transgender artists who are changing the landscape of contemporary art." Their live performances challenge the implicit truth of documentary. The physical training of bodies, in conjunction with gay male aesthetics and body art, are essential themes of the work.
The Powers That Be is a performance about "cyclical forces of violence which attempt to govern and regulate the bodies of 'others'". They use fight choreography with flashing headlights and radio signal audio noise to show the oppression of contemporary American culture.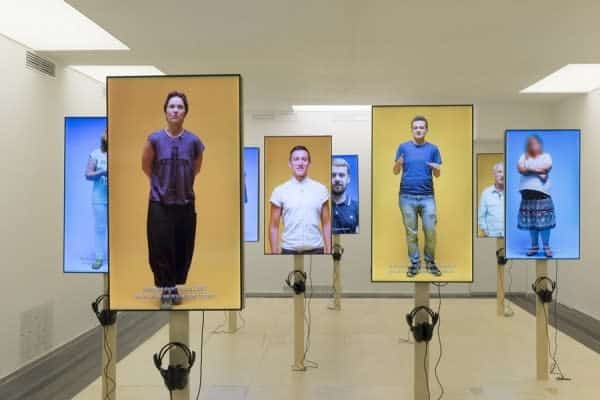 Installation view, PinchukArtCentre, Kiev, Ukraine 31 October 2015 – 17 April 2016
Patriots, Citizens, Lovers… by Carlos Motta
Winner of the 2014 Future Generation Art Prize, Motta developed Patriots, Citizens, Lovers… with Ukrainian journalist Maxim Ivanukha. The piece is comprised of "ten urgent interviews with Ukrainian LGBTQ and queer activists who discuss the critical and dire situation of lesbian, gay, trans and intersex lives in Ukraine in times of war." It gives voice to the vulnerable targets of violent homophobia that Motta believes is being overshadowed by Ukraine's economic and political crisis.
Bonus: You can learn more about the work's featured activists in Gaycation's Ukraine episode.
Performance view, The Kitchen, New York, May 5-6, 2011
A Gay Bar Called Everywhere (With Costumes and No Practice) by Emily Roysdon
Emily Roysdon is a New York and Stockholm-based interdisciplinary artist. She is editor and co-founder of the queer feminist journal and artist collective LTTR. The merging of politics with imagination is a frequent theme in her work. Lyric writing for bands The Knife and JD Samson & Men is just one example of the diversity of her art practice.
A Gay Bar Called Everywhere (With Costumes and No Practice) is a collaborative performance piece wherein Roysdon asks her performers to speculate a gay bar that's home to Susan Sontag. Time passes, and still she lives and works there. The "loose" style captures the "struggle and ingenuity of queer life." Roysdon uses set and light design to create a disjointed sense of time.
Leather, Rubber, 9.5″ x 16″, dimensions variable
Fucked Life Strap Ons by Xandra Ibarra
Xandra Ibarra is an Oakland-based performance artist from the El Paso/Juarez border who uses hyperbolized modes of racialization and sexualization to test the boundaries between her own body and coloniality, compulsory whiteness, and Mexicanidad. Her practice integrates performance, sex acts, and burlesque with video, photography, and objects.
Her piece "Fucked Life Strap Ons" takes a bottle of Tapatio hot sauce and places it in a leather harness. It's funny, burlesque and challenges our views of queer Latinx culture. In his paper "Spic(y) Appropriates," Ivan Ramos writes that this artwork "offers not a body without organs, but a jocular body that synthesizes and returns the contradictions of the Mexican body and her food, her mouth, her vagina, her spicy cock."
Diasec-mounted digital print, 39 2/5 × 21 7/10 in
Sorry for Real III/IV by Tabita Rezaire
For French-Guyanese and Danish artist Rezaire, the internet is a colonialized space. Her practice is aimed at calling out and resisting the online world's tendency towards racism, bigotry, and oppression—a form of digital activism that has manifested in neon-hued videos, ranging from self-care tutorials to explorations of homosexuality in Mozambique. Razaire's work was featured in a slew of shows in 2016, notably the 9th Berlin Biennale and Sorry For Real at the Museum of Contemporary African Diasporan Arts in Brooklyn. (In the latter, she imagined a series of texts from the Western world apologizing to those affected by, among other things, slavery, apartheid, and capitalism.) Next year sees the new media artist's first solo show at Goodman Gallery, and the conclusion of her current residency in the Netherlands with a commissioned work for the Impakt Festival in Utrecht.
Video. Directed by M. Lamar with animation by Sabin Calvert
Trying to Leave My Body by M. Lamar
M. Lamar is a composer who works across opera, metal, performance, video, sculpture and installation to craft sprawling narratives of radical becomings. For the New Yorker, Hilton Als wrote that Lamar "deconstructs the persona of the diva even as he wraps himself in divalike hauteur." His video "Trying to Leave My Body" is a noir music video-style short film that features Lamar backstage in a theatre. With minimal lyrics, it expresses tropes of anguish that are part sincere and part camp.
Check out Ian Daniel's portfolio for more of his curatorial work and watch Vice's Gaycation here.