Independent Art Fair captured the attention of the New York art world this spring. While many people refer to the March NYC art fairs as 'Armory Week,' in reference to the historic Armory Show that happens on the Manhattan Piers, this year, the well-curated Independent Art Fair outshone the better-known show. The fair received a lot more attention this year in part because two other fairs, NADA and Volta, were both canceled.
The fair succeeded because of the handsome assortment of work presented by well-selected galleries. It was as if Independent handed out a memo saying, 'Please no selfie art and treat this space like a museum'. With the one exception of live portrait painting on the top floor which felt like a circus act, the majority of the artwork was shown in meaningful ways. The galleries prioritized the best way to show their artists' work rather than focusing only on quick and dirty sales.
Below are six artist portfolios whose work shone brightest on the white walls of the Independent Art Fair.
Dona Nelson at Thomas Erben Gallery
Dona Nelson is a force. She makes freestanding double-sided multimedia paintings. Her works take up space in a way that feels like a political gesture. They unabashedly display a powerful aesthetic freedom and take on the history of both abstract painting and craft. Her frenetic mark making and sculptural improvisation is made without concern for what's correct or for who's watching. Her work is the painters' equivalent of dancing by yourself and singing in the shower—and doing it all in public.
Nelson is a badass senior female painter who should be getting a lot more attention than she is. Like Judith Linhares and Mira Schor, Nelson is part of a surge of female painters who are finally starting to get their due. I was happy to see two Nelson's work front and centre at the Thomas Erben Gallery booth, a gallery that has a knack for showing great paintings. And if you're still hungry for some tasty work as a bonus snack, check out their exhibition in Chelsea featuring the work of Jackie Gendel.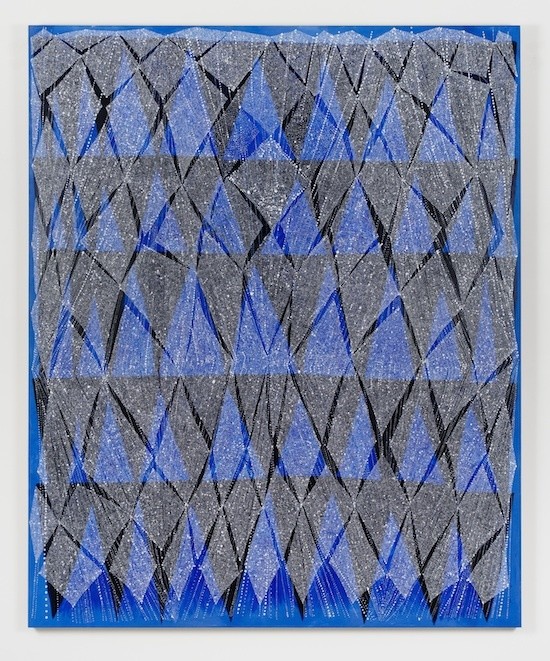 Sarah Gamble is an idiosyncratic painter based in Philadelphia. Her work is obsessive, elegant, and richly layered. Every piece she makes becomes a painted tapestry of dots, marks, and layered paint. The work on display feels as if Gamble is playing a celestial game of chess where all the game pieces are the stars. It becomes both an atmosphere and a message. It has the feeling of something ancient and something generating anew. It feels particular and imbued with a human desire to record and reflect the world that surrounds us. There's a powerful unknowable quality to her paintings. Instead of being dogmatic they are open-ended, allowing the viewer to explore, and get lost in their tiny details. They seem to describe both an energy and a map. This painting feels at once like a guide and the wind. I hope to see a solo exhibition of Gamble's work soon in NYC so I can be fully swept away.
Goutam Ghosh at Standard (Oslo)
I loved Jacob's Ladders as a child. My grandfather hand made these toy contraptions out of scrap wood. We used to play with them in his shop while he built furniture. In this simple device, I thought about the world regenerating, repetition, climbing through space and falling back down. Goutam Ghosh's subtle multimedia sculptural collages harkened back to these toys for me. The miniature framed works capture how toys can be simple, mysterious, and diagrammatic. I also thought about renaissance diagrams, manuscripts, textbooks, pictorial systems, flight patterns, anagrams, and abstract math.
The points of references in these scrappy gestural works are expansive and rich. Ghosh, who shows with Standard Oslo, lives in Prantik, where he moved after completing his artistic training in Scandinavia. His work takes a distinct and individual path to making, resulting in his small, modest pieces standing out at the fair.
Image: Goutam Ghosh, Gymnasium, 2016 Courtesy of the artist, the Renaissance Society, Chicago and STANDARD (OSLO), Oslo Photographer: Tom Van Eynde
Alex Kwartler at Magenta Plains
Alex Kwarlter's paintings at Magenta Plains embody his personal laissez-faire attitude. The large vertical work on view was simple in construction but manifold in effect. In this piece, Kwartler spreads undulating pastel gradient washes across the surface. Upon this field are masked out circles that reveal the raw canvas beneath. Circular painted shadow shapes of the same size as the recessed canvas are applied to the painted swoosh. This creates a visual experience that both confirms the material of the painting and confuses the optics of the described space. In three calculated moves, Kwartler creates a cheeky optical illusion and engaging atmospheric effect. His work champions simple and easy minimalist devices. He executes low labor in the service of high impact. To some, this may be frustrating, but only because you wish you had the gumption to do it or think of it first.
Julie Curtiss is a French artist working and living in Brooklyn. Her works recall the pop surrealistic vibes of the Chicago Imagists. In particular, it reminds me of the sign painter techniques of Jim Nutt and the strange figurative forms of Barbara Rossi. This adds up since she studied at the Chicago Art Institute in 2004. However, Curtiss does create her own distinct painted world—one that's filled with naked bodies, long sharpened fingernails, and most things are covered in hair. It's strange, beautiful, and unnerving. In her theatrical scenes we don't see explicit faces; instead, we see the female body depicted as peculiar, dangerous, gross, and alluring. For the most part, she chooses quotidian narratives to depict, like a day at the beach or slicing a birthday cake. The images seem sweet and simple but they become sinister through obsessive linear renderings and an insistence on covering up the female characters' identity. Each painting is like the tribal call of a Le Tigre song played looping on repeat: it's catchy pop fun but it's also dangerously subversive and saccharine.
Renate Bertlmann at Richard Saltoun
On the sixth floor, I found a collection of Renate Bertlmann's work at Richard Saltoun. Bertlmann is a 79-year-old Austrian feminist avant-garde artist who works in performance and sculpture. She often blurs the line between art object, prop, and sex toy. She also obfuscates male and female roles within her performances, objects, and costumes. Her work, some from the early '70s, has renewed energy in an increasingly less binary world.
She confuses gender roles in her work as a way to turn power in on itself. Her performative gestures are as simple as conflating the form of a phallus with a nipple in her latex body sculptures. The sexual, gendered roles we play are her main subject. Each sculpture seems to need to be touched, worn, picked up, or even inserted. The black and white photographs document how the sculptures were used in live-action performance. I was happy to read that Richard Saltoun was donating 5% of his sales to go to A.I.R. gallery, an almost 50-year-old, female-run, non-profit artist center in D.U.M.B.O. It's a perfect pairing for Bertlmann's work as she has helped pave the road for many younger female artists.
Want more art reads?
5 Galleries Shaping Barcelona's New Contemporary Identity
Artist Claire Scherzinger on World Building and Embracing What Makes You Different
Sarah Letovsky's Paintings Put the Female Muse in Charge