The Madrid Design Festival is now in its fifth year. Each year, from mid-February until mid-March each year it takes over Spain's capital city with a diverse collection of exhibitions, events and experiences that aim to redesign the world.
I always highly recommend Madrid as an amazing city to visit – with its gorgeous wide avenues and charming little streets, it's amazing culinary scene and seemingly never-ending list of cultural institutions. Much like the MDF itself, the city is a veritable buffet for the senses – a city to visit yearly, at least.
Format had the absolute pleasure of visiting Madrid Design Festival 2022, soaking up an international collection of design in this most beautiful of cities.
Product, fashion, environmental, interior, architecture, lighting, graphic – the exhibitions included in this festival are asking us, as consumers and as viewers, to consider the countless ways that design affects us.
Here are some of the most inspiring exhibitions we came across:
Matador Magazine: 25 Years
A Journey to the Heart of a Mythic Magazine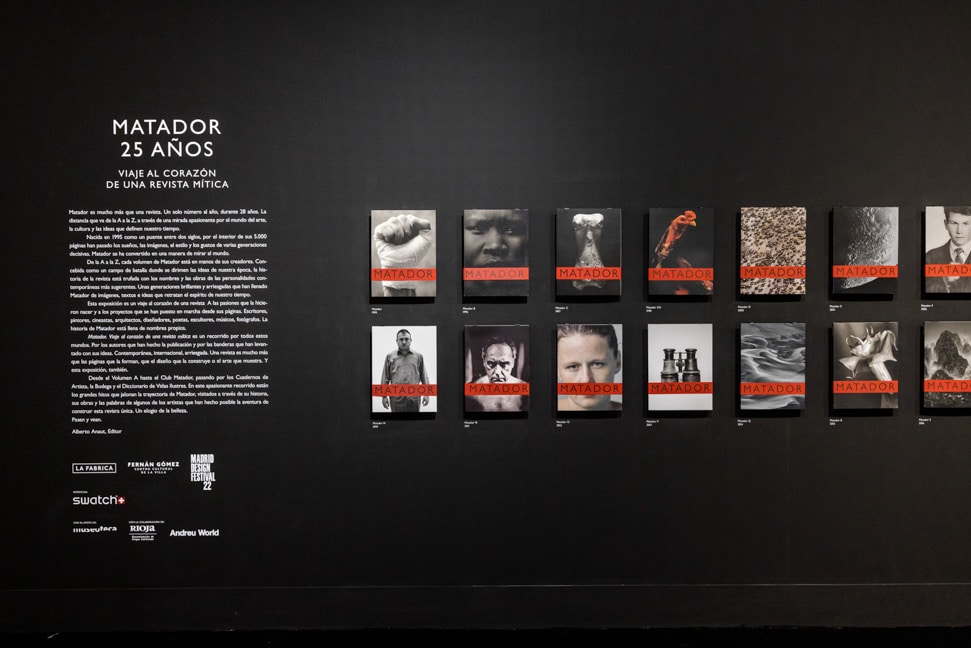 Matador Magazine's exhibition serves as the perfect jumping off point for this year's festival. This truly unique publication shares the same DNA as the Madrid Design Festival itself. Beyond both festival and magazine being the brainchild of cultural powerhouse La Fábrica, they also share a common purpose of pushing the boundaries of how we think about design and its effect upon our lives, internal and external.
Matador Magazine began in 1995, with its first annual publication. Rather than having numbered issues, each magazine bears a letter from the Spanish alphabet. From the beginning there was always a plan to have only 28 issues.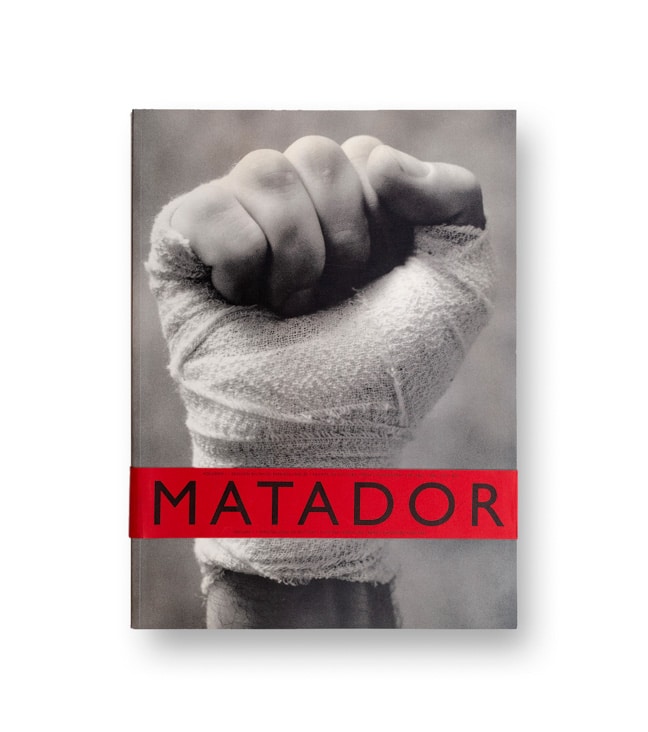 Issue A, Matador, 1995
Each issue of the magazine explores the impact of photography, art and design on our lives, and is beautifully crafted, becoming its own art object. The themes, writers, even the font of the magazine change greatly from issue to issue, ensuring each one provides a unique battleground of topics and debates about culture.
The exhibition features pieces by creators that were featured in the magazine – from writer Toni Morrison, to Spanish artist Miquel Barceló, to designer Jaime Hayón's textiles and ceramics.
Tugo Tapestry and Jarrón Matador, Jaime Hayon
The exhibition also calls attention to other ways the magazine pushes boundaries between design and life – like the Matador Bodega. The Bodega is a wine club, where each year a new and unique wine is created solely for this project. A label is created with the artwork of a different artist, and the wine is only produced that single year. It's an added bonus to your yearly subscription to Matador, which also includes an artist notebook, a special summer issue, a Matador dictionary and this unique wine.
Another fun aspect of Matador is its partnership with Swiss watchmaker Swatch, which has been in place since the beginning of the magazine. In the exhibition you can see a display of 25 different watches designed by visual artists, as well as a special collaboration between Seville artist Luis Gordillo. This watch titled 'Matador 25 Years' is available for purchase in a limited edition as well.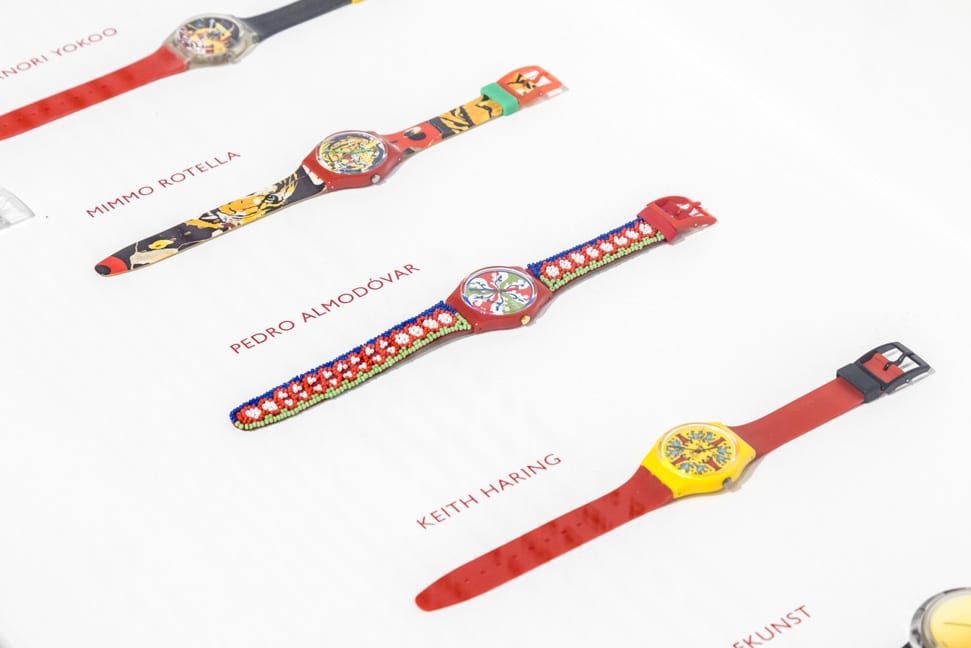 The entire exhibition provides a place for debate and discussion about relationships between art and design, designer and brand, life and visual culture – much like the magazine itself. A physical space embodying a brilliant concept of a magazine, this exhibition is one to visit and take your time going through.
"Inferences / Inferencias"
il.lacions Gallery, Fernán Gómez Cultural Center
This single-room exhibit packed a lot of punch. The show was curated by il.lacions, a Barcelona-based design gallery. They asked designers they represent to each invite an international designer to show a piece that inspires them. This created a show with 25+ co-curators that is widely varying in its content – from high-concept pieces, to elegant ceramics. The result is an entrancing dialogue of more than 50 designers of what is happening in product design right now.
Espiral, Flowerpot, Glass by Magdelena Hart and Opticks, Carpet, Lyocell and Bamboo by Ovidi Benet
The more than fifty authors include Max Enrich, Sanna Völker, Roger Coll Krasznai, Rosa Cortiella, Turbina, Josep Vila Capdevila or Jordi Ribaudí together with international names such as Raphael Kadid from Basel, Todomuta from Seville or Frank Chou from Shanghai.
Fiat Lux.3 Architectures of Light.
Collaboration between Antoni Arola and Simon Electric, Fernán Gómez Cultural Center
In a collaboration with Spain's Simon Electrical, Catalonian artist/designer Antoni Arola has created an immersive installation using only lazers, a fog machine and a tree.
The lasers and fog create architecture out of light, walls, rooms, hallways that don't exist but the viewer interacts directly with.
Link to short video of the installation
As we entered the curtained room, we were initially engulfed in darkness. Soon after, we were met with music and a spotlight on a lonely spinning tree. With a gasp and some nervous laughs from the crowd, the show then kicked into high gear. Using only minimal elements, it felt like we were being brought into a variety of imaginary architectures, futuristic and beautiful.
The structures appeared and disappeared, as we held our hands out to touch and interrupt the light like small children interacting freshly with the world before us. It felt like a flipping of your typical virtual reality – where the emphasis stays grounded here within our reality, but these structures are still created merely out of imagination and light. This created a much less claustrophobic interpretation of inventing a reality, one that felt optimistic and exciting – as well as just plain fun.
These three exhibits played very elegantly with each other, and made for a full morning steeped in various concepts of design. Matador, in its 27 years, has been continually pushing boundaries since its inception. It is this spirit that is present throughout the entire festival: where, if any, is the boundary between art and design? How do brands and designers grow relationships that inspire and improve each other? How do we best appreciate the importance of good design in our daily lives? These and so many other interesting questions were proposed throughout the three exhibits, and the entirety of Madrid Design Festival.
Matador Magazine : 25 Years, A Journey to the Heart of a Mythic Magazine, Inferences/Inferencias and Fiat Lux.3 Architectures of Light can all be viewed at the Fernán Gómez Cultural Center until March 13 in Plaza Colón, Madrid as part of Madrid Design Festival 2022.