Charlotte Heal, a London-based designer and art director, carries quite a bit of clout. In addition to running her own design studio, Heal's portfolio is packed with fashion editorials for magazines like Love, Lula and Town and Country and books for the Victoria and Albert Museum and Violette Editions. Perhaps most impressively, she was an integral part of Kinfolk's redesign, and can take credit for its refreshed look.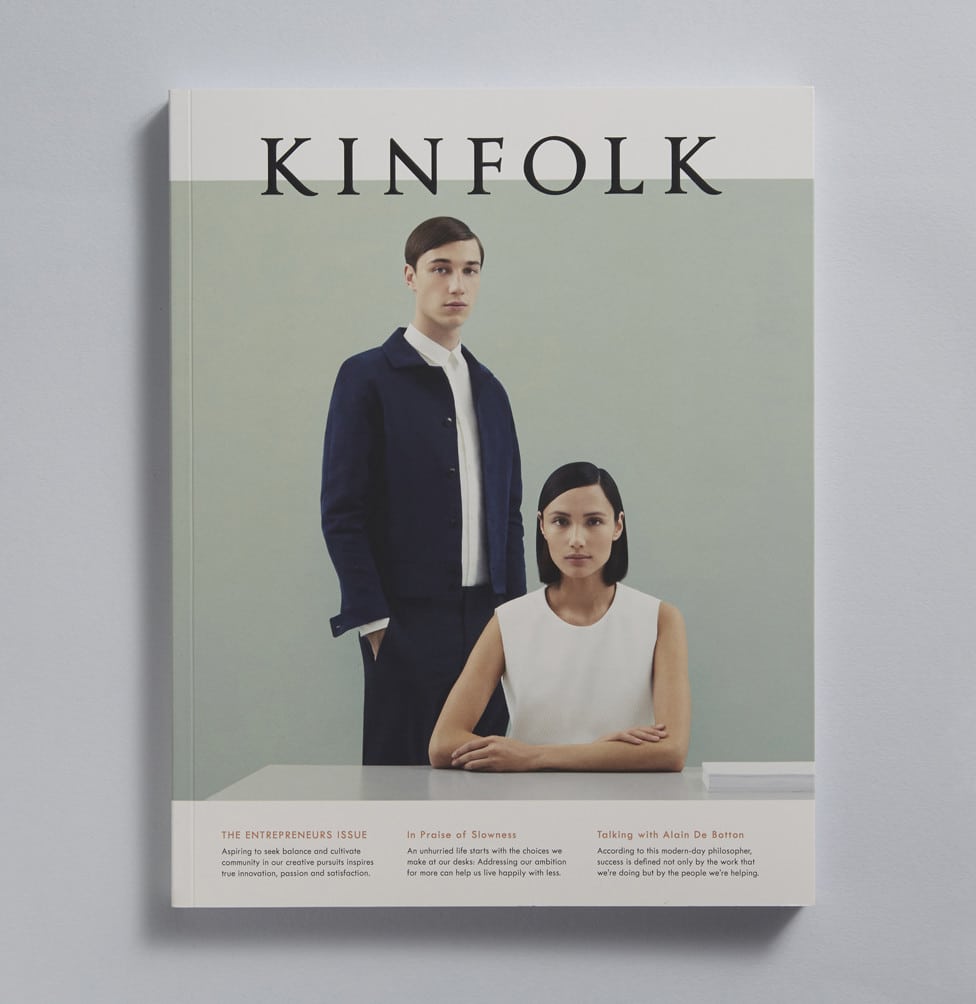 But to anyone who knows her, this all seems natural. The London native was born into a family of creatives, so from an early age she was encouraged to use her imagination to make things. Weekends were spent inside galleries and museums, or scoping out fascinating architecture. "I found it boring at times, but now I'm quite thankful," she admits. "It clearly rubbed off on me." Her interest in design piqued when she attended Wimbledon School of Art—where she thought she'd go into theatre design. During her Master's at the Royal College of Art, Heal realized that art direction was a way for her to combine her skills in photography, graphic design and image making. "It's been a very natural path," she explains.
She became involved with Kinfolk after meeting founder Nathan Williams in Copenhagen, where he commissioned her to direct its Ourr lookbook. He was a fan of her editorials and invited her to the States where they chatted about where the magazine was headed. "It was a very fluid process," says Heal. From there, she worked on a total structural overhaul, conceiving story ideas and sourcing all the right photographer sand illustrators.
I enjoy collaboration and working with talent that makes an idea come alive.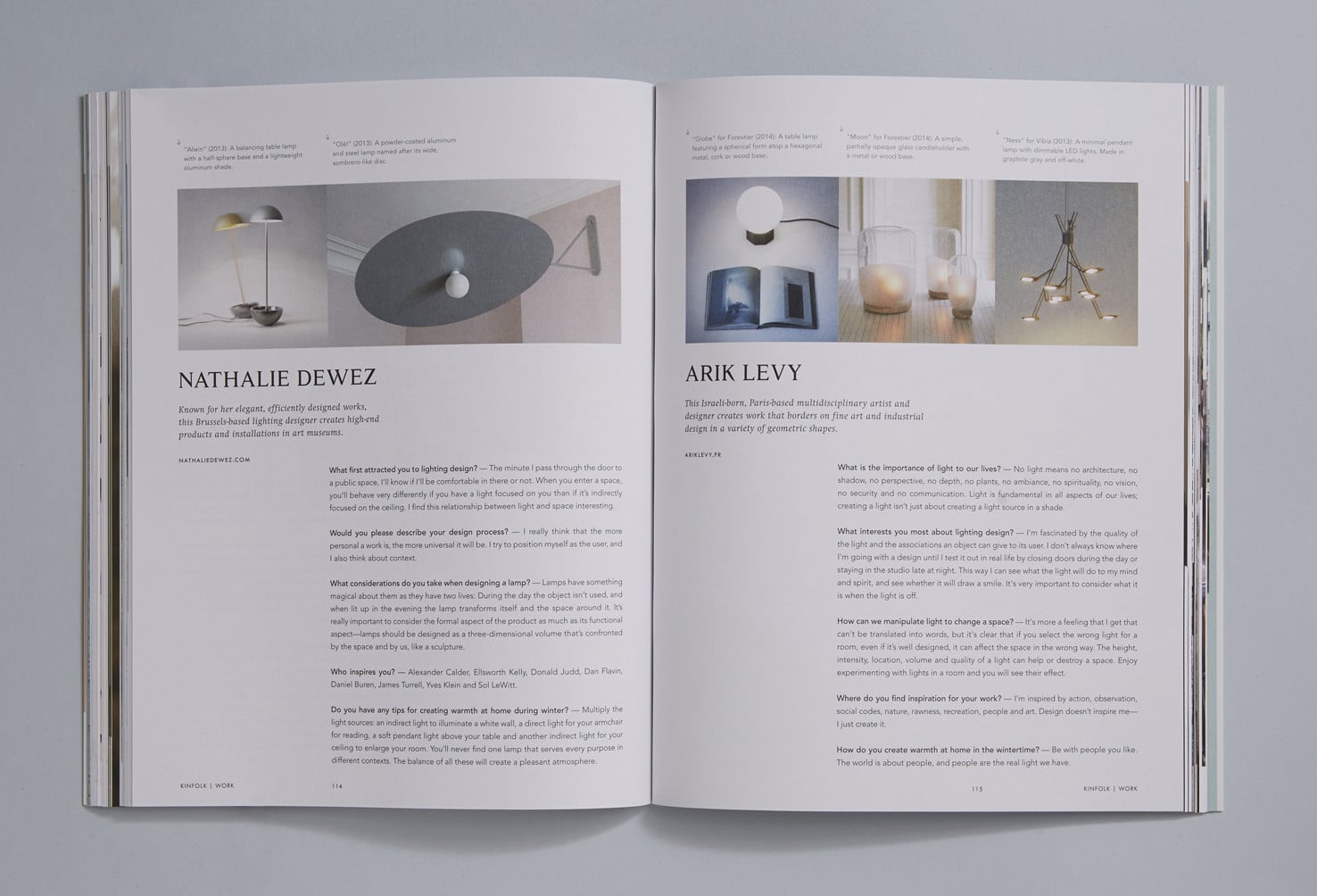 Through her work, she's become known for a distinct style that's stunning in its simplicity. "My own design aesthetic is often described as quite Scandi yet Parisian," she notes. "I like clean and calm design in which imagery can sing out." She's inspired by a particular "double take" quality in Dutch artist Viviane Sassen's work—something that can also be found in Heal's work. Ultimately, she's an expert at finding inspiration around her, whether it's in fashion, art, architecture or people.
One of her icons includes fashion designer Margaret Howell, who's known for creating impeccably crafted classic pieces with a focus on fine finishes. Of course, she also draws on the complexity of her hometown. "There's a grittiness to London that sets it apart." When it comes to sussing out new ideas, there's a piece of advice she lives by: "If you love a piece of work, don't copy it—find the essence of what it is you love in the work and use that to construct something."
On top of running her own design studio, Heal also spends her time teaching. She lectures at schools like Camberwell College of Art, Kingston University and Chelsea College of Art. "Watching talent grow is rewarding and very inspiring," she gushes. "It also makes you constantly re-evaluate your own working practice, and see how much you actually follow your own advice." As for the best advice the designer's received? "It's not a sprint, but a marathon." The quote was sent to her by a much more experienced designer, and it's advice she regularly turns to when she's impatient or anxious about work-related projects.
Find the essence of what it is you love … and use that to construct something.
Still, she always manages to take on new challenges. In a portfolio dominated by fashion editorials and lifestyle shots, she recently added a children's book to the mix. The Mushroom Picker is a quasi-art piece, and Heal had wanted to work with Violette Editions (the book's specialist publisher) since she was a kid. She says of author David Robinson: "Working with such a creative mind and soul was heaven." As an art director, working with various creatives is her ultimate talent. "Concepts are fundamental to my process—I enjoy collaboration and working with talent that makes an idea come alive."
Overall, Heal's work is about integrity: a dedication to craft, thoughtfulness and unique ideas. "I think work is about quality rather than being trendy." ("Trendy, in fact, is a word that makes her cringe.) As for what she wants to do next? Going back to her initial studies in theatre design is a possibility. "I think working on a live project would be very exciting." In any case, we know the London designer will continue to shine in the spotlight—whether on and off stage.