We spoke to the surprising set designer behind Director X's "Work" music video and sent a photographer to capture a normal Saturday night at the venue.
In the first scene of Rihanna and Drake's "Work" music video, they drive up to a restaurant called The Real Jerk and quickly turn it into a sweaty dancehall. The kitchen serves up chicken and the walls are covered in painted corrugated metal.
The set design captures the mood and spirit of the patois-laden song. It's particularly interesting because The Real Jerk is real. It's not a fake venue. It's an iconic building in Toronto's east side and Director X told The Fader that they barely changed anything for the video shoot.
"We added a bit but we were really working off of the art direction and theme of the restaurant, doing what they've got in there. They put those colors in the windows. They did the bamboo. The stuff is them, their style. We were taking them and expanding it more."
So who designed the aesthetic for Rihanna and Drake's music video? That would be Ed Pottinger, the owner of The Real Jerk's two locations for the past 30 years. We asked him about developing his restaurant's signature interior design, the artists who contributed and what Drake eats off the menu.
Photographer Brittany Carmichael visited on a Saturday night to see what The Real Jerk looks like without Rihanna and Drake.
Ed Pottinger in front of a painting of himself at The Real Jerk.
Format: The Real Jerk is an iconic landmark in Toronto. Whose idea was it to decorate the building in bright Caribbean colors?
Ed Pottinger: Well, I guess it was mine.
Bold move.
When I used to dine out, before I opened up The Real Jerk, I used to think to myself, 'How boring.' All you heard was the clatter of knives and forks. Everything was tranquil blue and beige colors. Those are supposed to be 'eating colors.' They make people motivated to eat.
I thought, with my restaurant I'll do the opposite. We dine with five senses so I want people to experience as much as possible. With my restaurant design, I went against the conventional way of doing things.
I painted the inside walls black, which was radical at the time. People told me I was crazy and that the business would shut down in six months because nobody would eat there. I also put up corrugated metal artwork and a bright-colored smiling sun on the outside with rays pouring everywhere.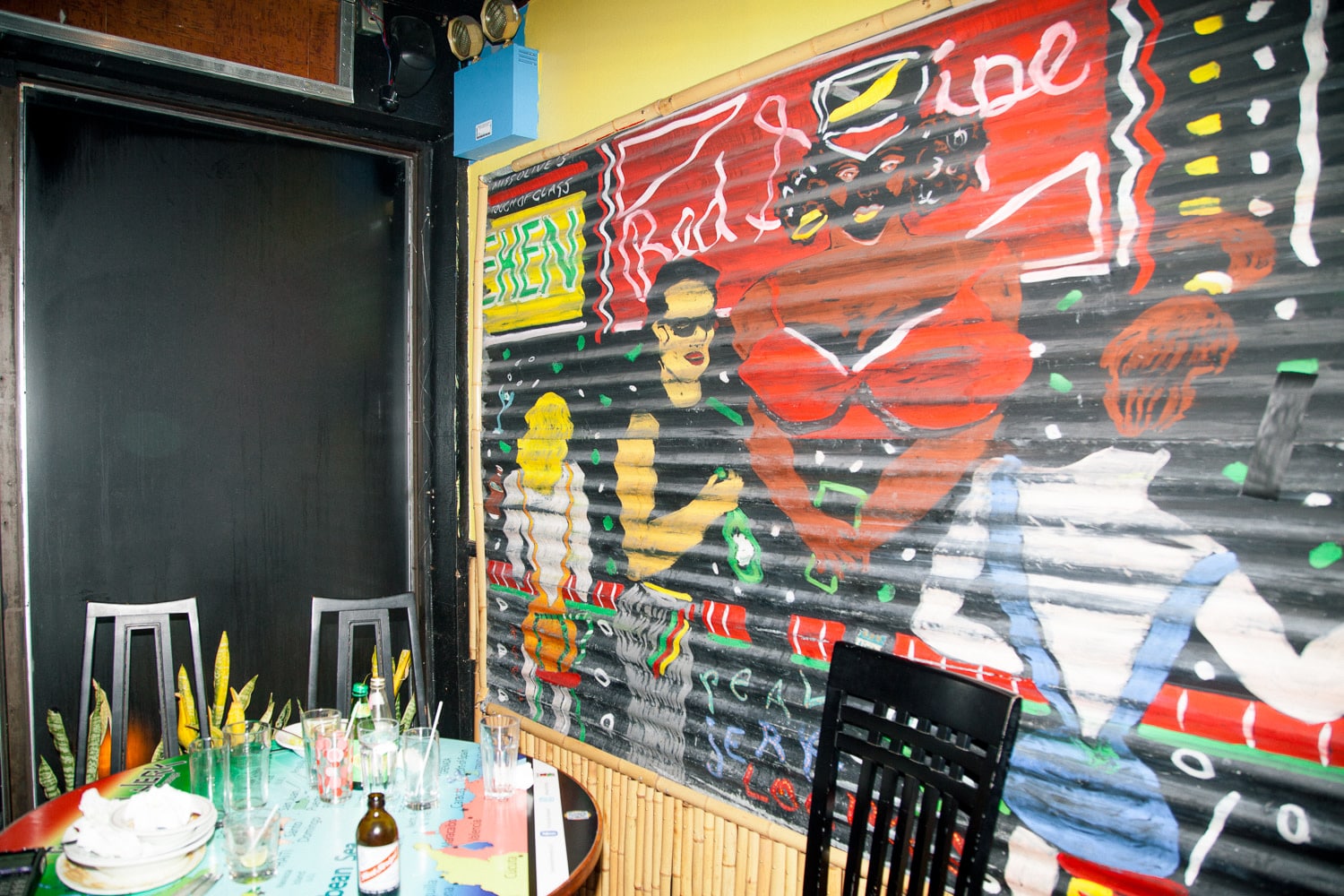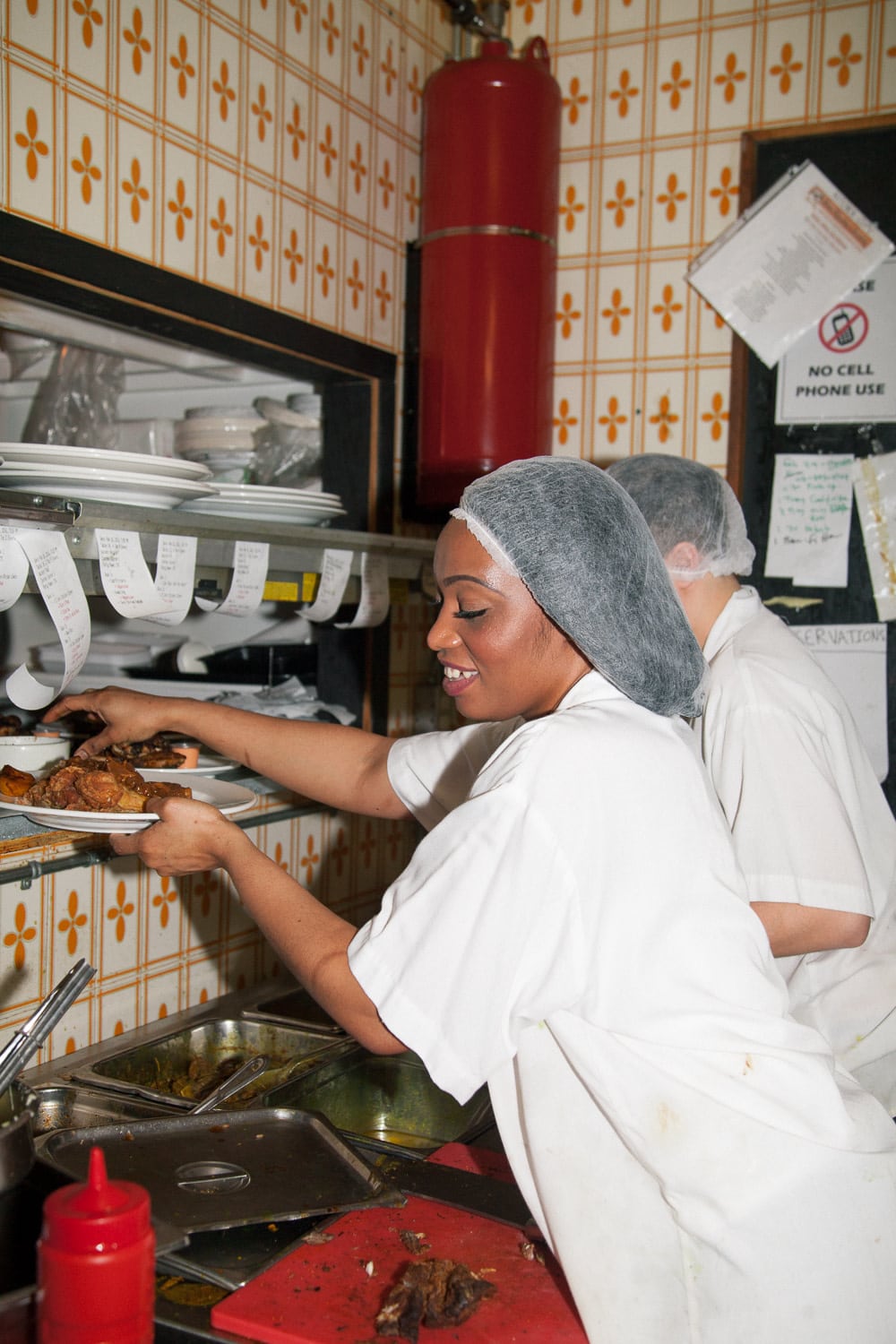 Who painted that big sun on the outside?
It was a young man who was a customer, Tony Green. He was going to school for art. He wanted to do it and I said, 'I'm not going to tell you what to do.' I wouldn't interfere with his design because I don't trouble art. He came up with that sun. It scared half the kids in the neighborhood but it got noticed.
Did he also do the art inside?
No, Paula Munch did that. She's a graphic artist. She was a customer and donated her time to put up those paintings. Paula had a big part to play in the look of The Real Jerk. She's a white Australian, which is very unique.
The artwork was not racy but I got a lot of comments at the beginning. They had problems with the bad gyals, but I wouldn't take them down. It's art. I refused to take them down or cover them up. When we moved locations, we took the art with us and expanded on it. Paula did more pieces and I kept the color.
Some of those paintings represent people, some of them have died, so it's more than just art work. There's one in there of me. It means a lot more than simple artwork. There's history to it.
What did they add to the restaurant for the "Work" video shoot?
There's very little they had to do. They just went along with the design and art in the restaurant. To cover the front window, they added cut up bamboo and colored Mylar. Around the bar they put some corrugated metal. They put in a little dance floor that they could dance on but they didn't change the design.
Do people usually dance like that in the restaurant?
Yeah we have a karaoke party every Thursday. We call it 'Irie-Okee' and it's not just people getting up and singing. It's interactive and people get up and dance. It's a way of expressing our joy.
Are you in the video?
No, but my wife is. She's the woman in the kitchen. I was there for part of the day but then I missed my granddaughter and went to visit her.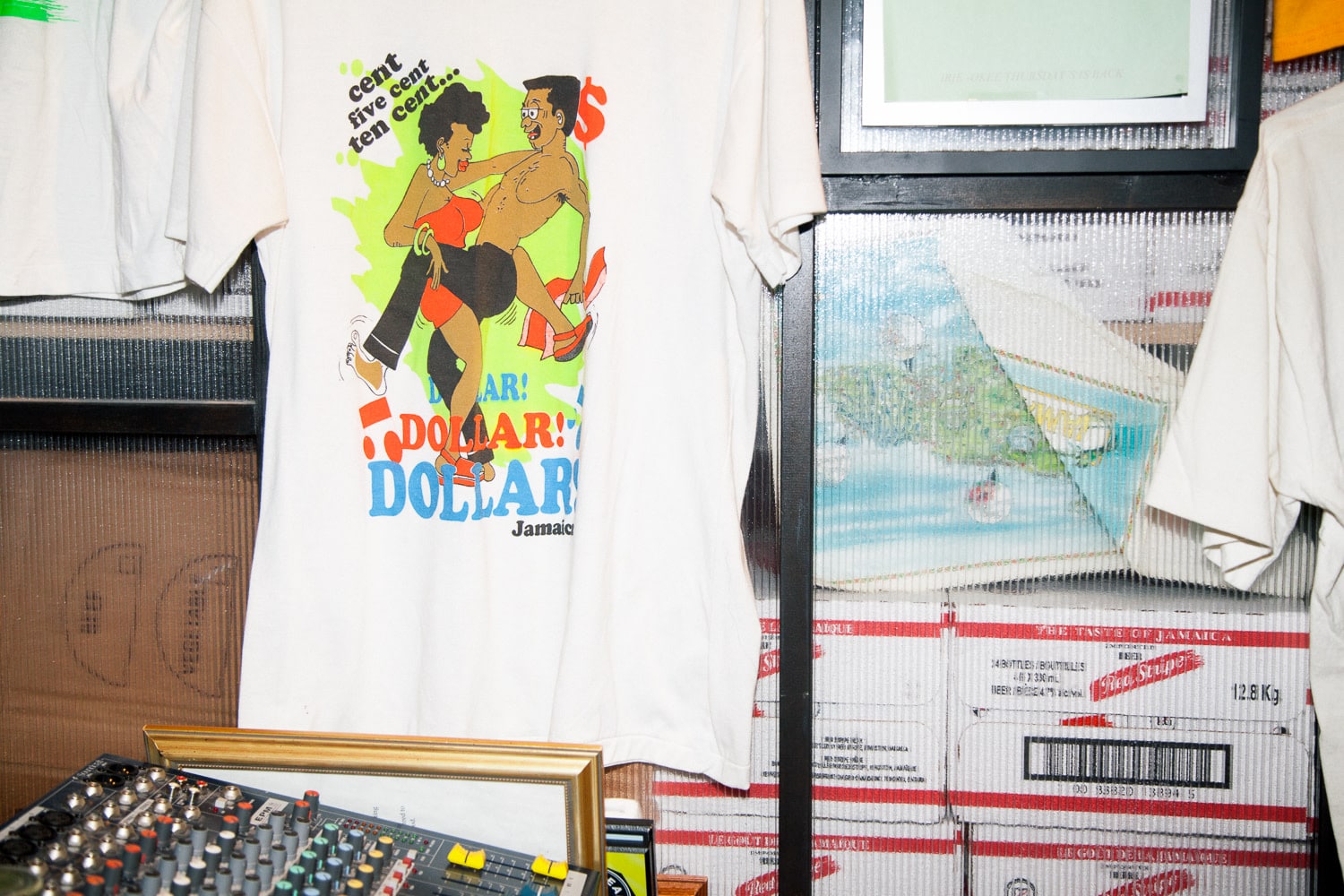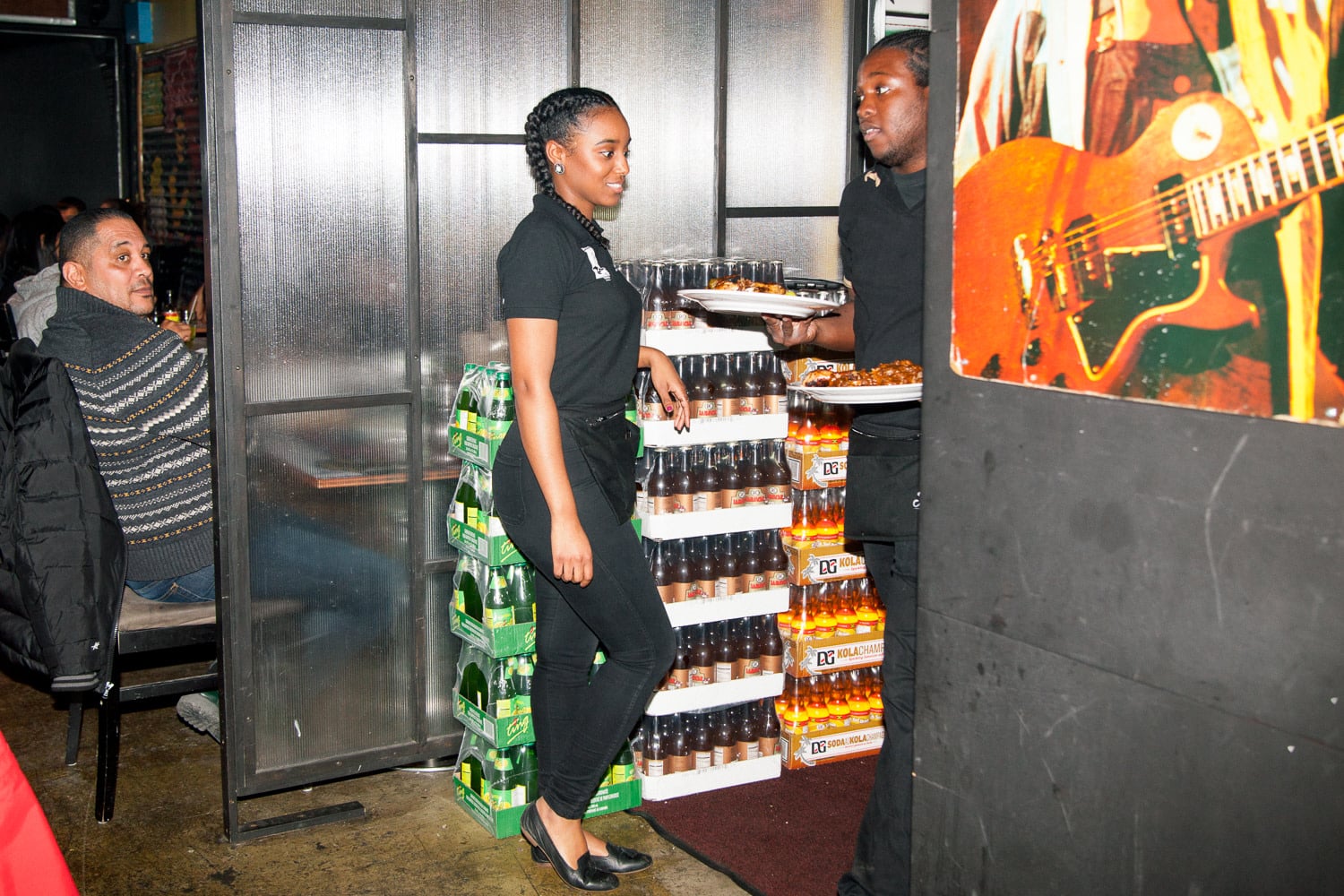 How did they choose The Real Jerk for the "Work" video?
Because Drake occasionally comes in, we thought Drake would have been the person who made that suggestion. But, to our surprise, he didn't actually know where the shoot was going to be until a day or two before. He thought we were catering and he was kind of disappointed when he found out we weren't doing the food.
Director X and his crew come in. They're regular customers, so they brainstormed and Rihanna wanted something Caribbean so it was natural to pick The Real Jerk. They feel the Caribbean vibe that they wanted and then they didn't have to do much.
What does Drake usually order?
Roti. On the day of the shoot, even though we weren't catering, we made a roti for him because he was so hungry. Chicken roti. He was starving.
They were there for 24 hours that day. As glamorous and sexy as they look, those dancers were dancing from 2 p.m. to 6 a.m. the next morning. Rihanna was there from 5 p.m. and they shot the last shot at 5 a.m. outside.
Used all that roti energy.
That's right. It's a wonderful carb.
All photos by Brittany Carmichael
Watch Rihanna – Work ft. Drake below: