Want to start your own design studio? We spoke to Doublenaut about what it's like to work with family, how you can grow a local business, and finding your first gig opportunities.
Twin brothers Matt and Andrew McCracken started out with band posters. In just a few short years they expanded to a full-fledged design studio that specializes as "equal parts poster designers, beer label creators, editorial illustrators and identity thinker uppers."
Their Toronto-based company, which now includes Ross Proulx, is called Doublenaut and you can find their work all over the city. Whether you're sitting on the patio at Bellwoods Brewery or cruising by Bikes on Wheels, their iconic flat graphic style is everywhere.
How can you work with your friends for your friends and love what you do? We caught up with the trio of designers at Doublenaut to find out more.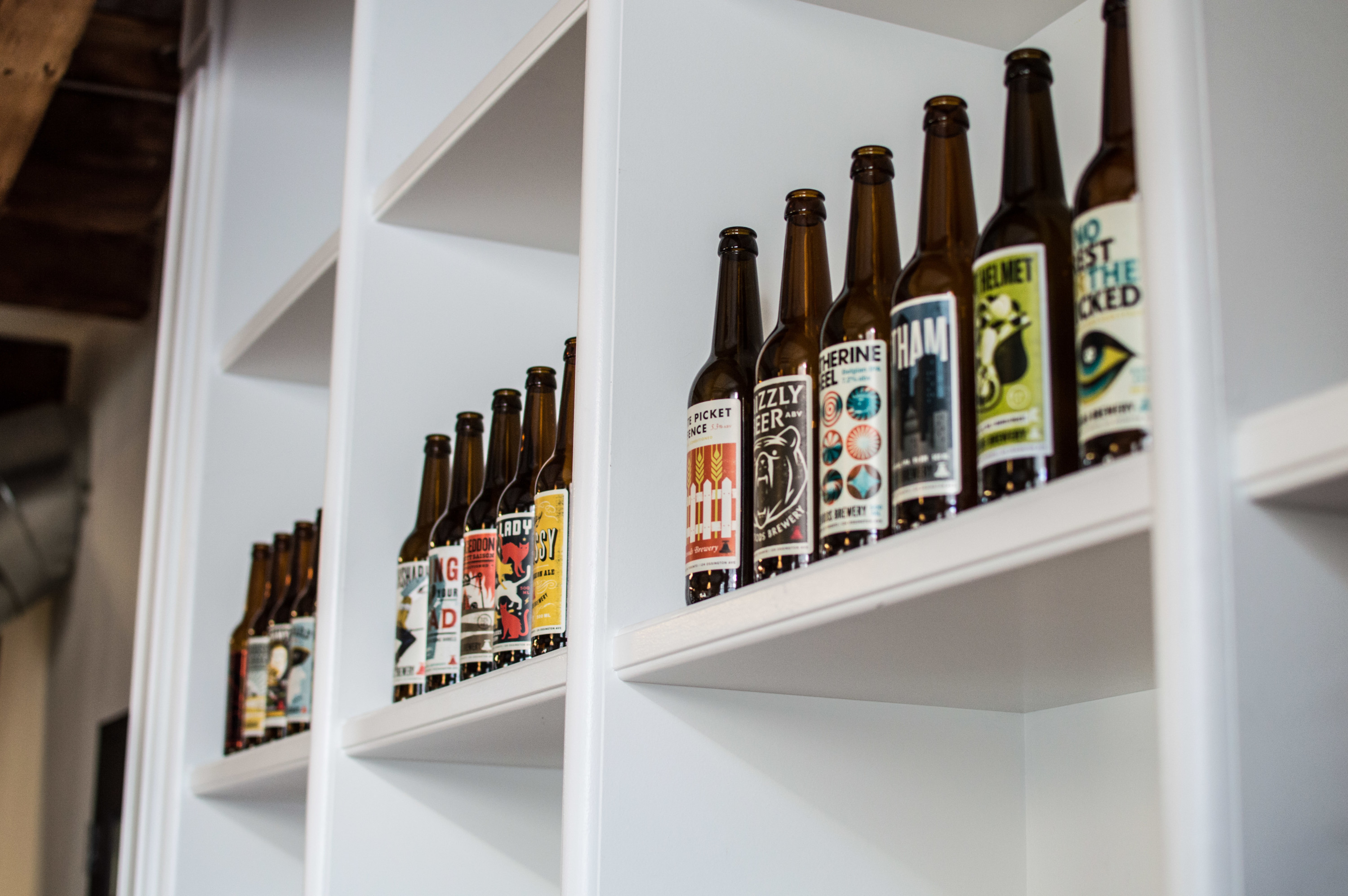 Start with what you know (and who you know).
Matt McCracken: The first bands we designed for were friends of ours. Andrew was in a band called Cancer Bats, who were on the same label as Alexisonfire, and once we did work for one of the bands, it just snowballed from there. Toronto promoters caught wind of us and started asking us to do work for them.
We started working above Town Moto [motorcycle shop], and we'd always go to Bellwoods Brewery afterwards to grab beers, obviously, and became friends with the owners. They started independently bottling their beer and needed labels—that's where we came in.
We did the first couple labels, and a friendship just turned into a really good work relationship. A lot of our best clients are our friends, actually, and vice versa.
A lot of our best clients are our friends, actually, and vice versa.
Eventually, even twins need space.
Matt: After a couple years of me and Andrew working together, including the time we lived together and worked out of our living room, we probably saw each other too much. We also thought maybe we shouldn't live together at the age of 30.
We found a new studio space for Doublenaut and I moved out, and it's been healthier, both professionally and personally, ever since. We both just needed to be able to have our own separate things sometimes.
Make time for free time.
Matt: I like to focus on one thing, and do it well. For me, that's design. When I'm solely committed to something, I feel like I'm more motivated to dedicate my time to making it work.
We all have hobbies and stuff, although Doublenaut and design is a big part of my life, but I'm trying to reel it back and not work as much. I started riding motorcycles, so in the summer I like to do that.
Ross Proulx: In the past I played music, which is a big reason why I got into design as well. I have a hard time trying to be jack of all trades in different creative spaces, so I've focused on design in the last little while.
When I worked at Huge—a digital agency that designs apps—I had a big interest in illustration. I'd do that on nights and weekends. The beauty of joining up with these guys full time at Doublenaut was that I could turn the thing that I did with my nights and weekends into my day job, have fulfillment all week long, and then enjoy my free time—and actually have free time.
It's hard to worry about growing your business when you're busy doing the work at the same time.
Focus on growth, even when it's difficult.
Andrew McCracken: It's hard to worry about growing your business when you're busy doing the work at the same time. You get caught up in just doing the work, doing the work, doing the work—not thinking about ways to expand the business and make your reach bigger.
Eventually, you'll get to a breaking point when there's no work, or the jobs you're currently taking on are small. There are a lot of times in the history of Doublenaut when we had to stop and think, "How do we get more of this, or that?"
There were always times where we wish we had thought about our company's future a bit more, and tried to grow it faster.
Matt: We were also very narrow with what we want the company to be at first. We had initially just wanted to do music. We thought we'd just do CD layouts, websites, band merch, posters—now that's only a small part of what we actually do, since even big bands we want to work with don't really pay that much.
There's not a lot of money in the music industry for design, at least not on the level that we're at. Once we decided going after illustration jobs and branding jobs for non-music companies, that helped a lot.
It was that moment when we realized, "Oh, we can still do fun work that we're proud of and that we like, but that can also sustain us and we can live off." We just had to be open to it.
Think big.
Andrew: I don't want all the stuff I currently have on my plate to discourage me from trying to think big. I'm always on the go because I work with a number of businesses, but there's always more things I want to do for each one, and I find that as busy as I am, I don't do a lot of the things I want to do, because I think I have to do everything, when in reality I don't.
So I have to just try and let people help me, like Matt and Ross, and my friends and employees at my other businesses—just help me do the things that I want to do, because it's only going to make their business more successful too.
I want to try and do all the little things we talk about doing, instead of just talking about doing them, and not let all the work that's coming in stop us from doing it.
doublenaut.com
@doublenautdesign
Original photos by Nathan Blackmun.