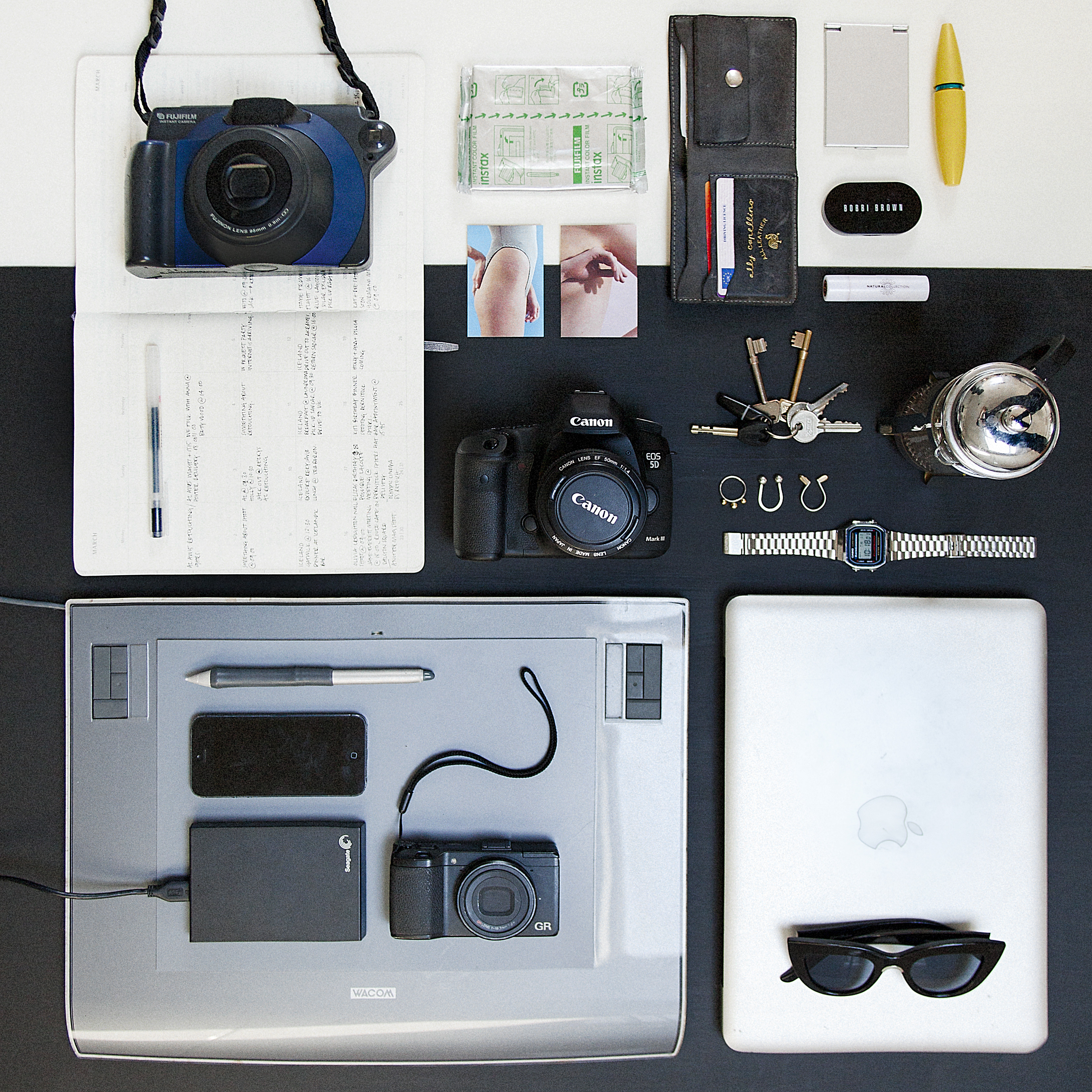 My diary comes everywhere — if it's not written down, it won't happen.
Instax 210
Instax Wide Film
Ally Capellino Wallet
Muji Mirror
Rimmel Mascara
Bobbi Brown Concealer
Natural Lipbalm
Moleskin Monthly Planner Diary
Muji Ballpoint Pen
Business Cards
Canon 5D MkIII
Canon 50mm Lens
Keys
Jessie Harris Rings
Cafetiere (inc Coffee)
Casio watch
Wacom Intuos 3 Tablet (+ pen)
iPhone 5
Seagate Harddrive
Pentax Ricoh GR
Macbook Pro
Jeepers Peepers Sunglasses
Who are you, and what do you make?
My name is Agnes Lloyd-Platt, and I'm photographer based in London. I work a lot in fashion and still life. I'm mainly freelance, so I can spend most days with my dog, Radish.
What do you keep on hand at all times?
I take my Ricoh GR everywhere with me; it's got a really nice wide lens and picks up great colours. It also has an EyeFi SD card in it, so I can transfer directly to my phone while I'm out. My diary also comes everywhere — if it's not written down, it won't happen.
What does a typical day in your life look like — take me from start to finish.
I tend to be up earlyish and out to walk Radish in Victoria Park. My day is fairly often controlled by my extreme superstitions regarding magpies — they can make or break it for me, so if I find two it should be a good day.
If I'm not on set (which is normally in London somewhere), I'll work on pre- or post-production from home. I tend to shoot a couple of times a week, so on the other days I'll have a few meetings Central or East, then spend a lot of time wondering what to make for dinner. There are lots of amazing Turkish supermarkets in Mile End so I eat a lot of fresh food — and also a lot of cookie dough.
You have a huge following on Instagram — how do you turn that attention into tangible career opportunities?
I think my love of shape and colour works well on small screens, so I get quite a few emails from me with jobs here and there related to work I've promoted through Instagram. It's a nice platform because you can mix work and personal items.