Professional and amateur photographers worldwide were invited to enter the second International Portrait Photographer of the Year competition for a chance to share in the prize pool of US$10,000 cash, and make it into the top 101 images to be included in the Awards Book.
The winner of the International Portrait Photographer of the Year is
Jatenipat Ketpradit of Thailand!
The Gun and Flowers
Jatenipat Ketpradit, Thailand
"Father and sons of Suri tribe warrior with his AK-47 rifle to protect his family."
Jatenipat says, "My name is Jatenipat Ketpradit aka JKBOY. "I'm a professional photographer. And also, CEO of interior design company in Thailand. I have been in photography for 10 years. "I have appreciated the histories and the story of legend. One day, I traveled to Mongolia and had the opportunity to live with them. They are vagabond aborigines. I felt impressive in their cultures, personalities, and uniforms. "I felt those things are very appealing. I appreciate those things very much. Like the geographies, the histories and the legends. Until, I saw those pictures appear in my real life. It more than reading books or watching in the documentary."
About the winning photo…
"I always stay with the tribal people at least one week per tribe. Spend first 2-3 days to find the location and the direction of sunlight. Then choose the subject by their character, outfits, and their story. "Some tribe, I return to visit them every year, we just like a family. That why they can be relax and be themselves while I shooting a photo. "The Suri tribe is one of the hardest to reach in Ethiopia. They live on a high mountain that is difficult to approach from the outside world. They take immense pleasure in their scars and traditions. "Most Suri women get their bottom teeth removed in order to prepare for piercing their lower lip. Following the lip piercing, a solid material will be injected to expand the hole and make it larger and larger until the hole is the size of a plate. This means you're ready to marry. They express art and beauty by using their own skin. They would get tattoos and wear natural accessories like flower and grass caps. "If you visit here, you must follow their rules and regulations by giving them gifts. This will instil trust in new visitors. They are still wary at first, but once accepted and convinced that you are not a threat, they will embrace you to show appreciation. "Throughout the journey, the visual of tribal warriors wielding a pair of guns became familiar to me.
"Whether it's an AK-47, a Carnaco, or an SKS rifle, they've all been chosen to fight to protect the hamlet's life and property. The weaponry is alleged to have originated from Cold War-era arms smugglers, tribal fighting, and even when Ethiopia was ruled by the Italian Axis during WWII.
"The introduction of firearms has generated a slew of issues for tribes. They had gone through the confusion of traditional life and the changing time throughout the past 20 years since weapons are cutting-edge technology that opposes their culture and customs. A weapon may be utilized to solve any problem. It can occasionally deteriorate into clan wars and guerrilla warfare. "I took this shoot to represent the conflict of their lifestyle. "Gun and Flower", "New technology and Old tradition", "The killer or the guardian"." What amazing portraits this year. And a huge congratulations to Jatenipat Ketpradit, the overall winner of the 2002 International Portrait Photographer of the Year. Jatenipat's portfolio of stunningly emotive portraits have taken him to the far corners of the globe and are cinematic in their presentation.
The overall first prize is US $3000, each category first prize $1000, with 2nd $500 and 3rd $250.
Other category winners are:
The Character Study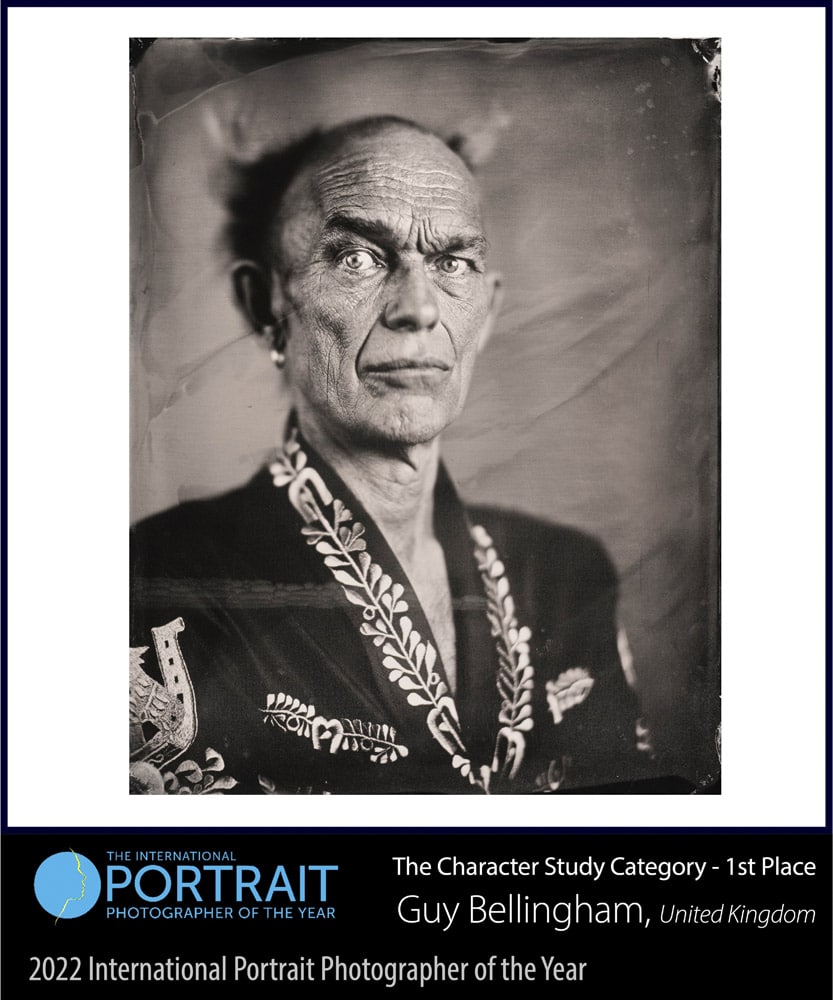 Kesha
Guy Bellingham, United Kingdom
8×10 Wet plate collodion tintype.
The Environmental Portrait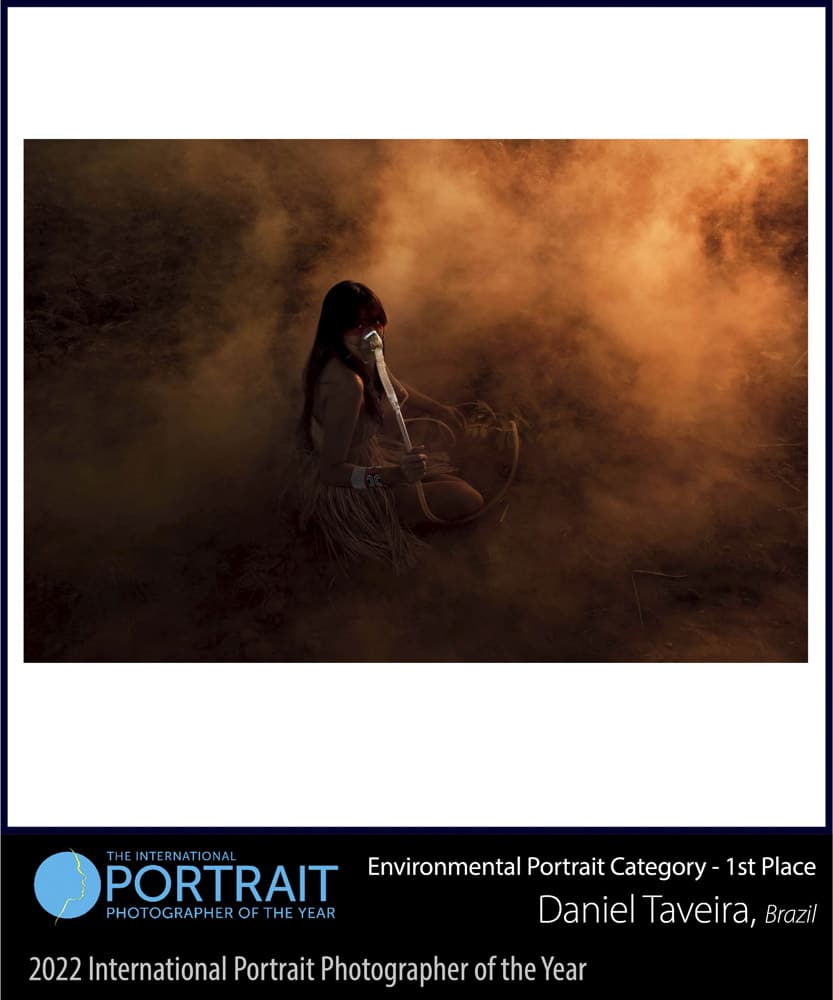 Anthropogenic
Daniel Taveira, Brazil
Anthropogenic is the result of past actions resulting in the constant climate changes of the present, defining our uncertain future. Being a Brazilian and have lived where the Amazon starts, my heart knows the importance of this "lung of the world". "Indigenous woman trying to breathe, Anthropogenic effects".
Portrait Story
Tenuous
Karen Waller, Australia
Claire reflects on the fleeting life of the tiny and fragile baby bird. Life can be tenuous and may last only for a moment. At 86 years of age, Claire describes her richly experienced life as being blessed. She continues to live her life joyously and appreciates every precious moment.
Family Sitting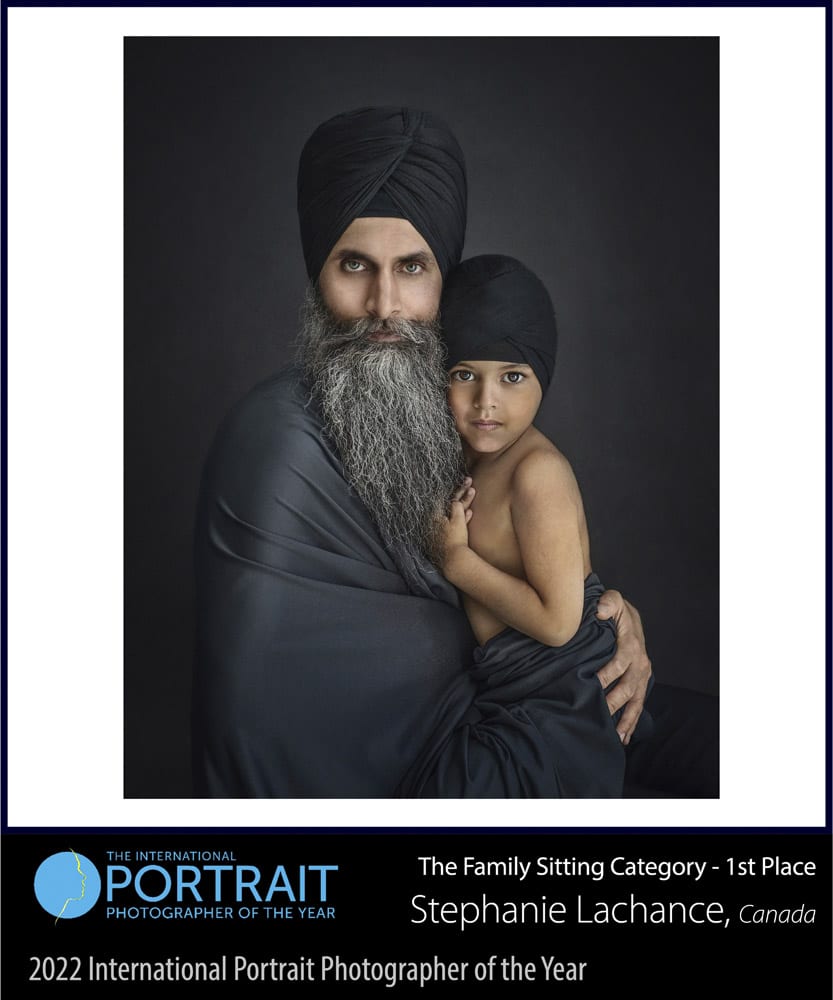 Intensity
Stephanie Lachance, Canada
Portrait of a father and his son done in my studio.
The top 101 is the result of expert opinions collaborating to curate a wonderful exhibit of the world's best contemporary portrait photography. Our thanks go to:
Forough Yavari

David Burnett

Martina Wärenfeldt

Rocco Ancora

Tony Hewitt

Sarah Edmunds
For all the details and winners, including the preliminary flip book, please visit the website: www.internationalportraitphotographer.com