What does a breakup kit look like for a heartbroken artist?
With Valentine's Day right around the corner, this time of year can be painful for anyone not currently in the throes of love. But it's no myth that sadness can be an excellent motivator. The dissolve of a seemingly happy relationship can often be a good thing—as much as you hate to admit it at first.
We asked four artists to share what they keep on hand for hypothetical breakups. Sometimes all you want to do after your heart has been broken is cry while snuggling your cat and there's nothing wrong with that. But, you also have to eventually get up, wash your hair and continue on with life. We hope these kits can help!
I know denial is not a prescribed therapy but so far, it kind of does the trick.
My lucky dwarf. I have 12 of them, made by me on a lonely day. They are all in different shades of pink.
DIY Mexican skulls, made by me.
The keys of my first flat in London—I was very impressed with these. It felt like I was living in a movie.
A broken golden wrist watch that I still wear when I want to feel fancy.
Lucky fishes. They were offered to me by a fellow student in Hong Kong. She said it would bring me luck and help me swim though life like a happy fish. (I'm thriving to be that fish every day.)
A glue gun. I hate that thing. I've hated it since my first project at my theatre school, but hey, it's another essential tool.
A golden horse brooch. I found two identical ones in a market one day. I offered one to my best friend and kept the other.
Some rock that I found on my birthday by the beach in Whitstable.
Leather note book: love it. Love it so much I never even write in it.
Who are you and what do you do?
Hi, I'm an art director living in Montréal with my love Max and our dog Zara. I always have a million goals I want to achieve in a day, and very little time. Astrology is not really my thing but I gotta admit: I'm as Aries as it gets. Very driven, passionate and forthright. Weirdly, I'm also getting shyer by the minute.
My eyebrows have this shape where they make me look upset, confused or lost all the time, but I'm not. It's just my face.
Your heart has just been ripped out of your chest—what's your coping mechanism?
I would probably move back to London and work my ass off, day and night. That is usually how I deal with rough patches—I just make sure to keep my mind on other things and try to move on. But sometimes I think that I would go alone on a very, very long trip, far from anyone I know; change my name and disappear. It sounds intense but that's probably how I would cope if I had to go through this again. Let's hope not. My mom would be sad.
I guess the harder things get in my personal life, the more I concentrate on my work. Being depressed never made me feel more creative like a lot of other artists, it just motivates me into being more productive. I know denial is not a prescribed therapy but so far, it kind of does the trick.
Some of the greatest masterpieces in art history were painted during heartbreak.
Books (as knowledge and distraction): It's good to have Facebook-less options to occupy your time that also feed your mind. Stay away from social platforms you may see your ex's activity on. Don't obsess over who they 'recently became friends with…

Alcohol: Well, it's obvious but yes, it will help you sleep. However, beware of the 5:00 am wakeup call with the worst gut pain imaginable. I could never differentiate between whether that stomach pain was from my heartache or hangover. Either way, be careful with morning beverages.

Sacred/secular ephemera: Some find solace in our and otherworldly "signs & symbology". As do I. Whatever spiritual card you carry, these can be a soothing reminder that you belong to something greater than what you have just gone through, the temporal nature of reality, how life is a series of tests, etc etc.

Smart phone: Despite how horrible hook-up apps like #tinder are, they are helpful for a quick fix solution. If not, at least a good "people like me" ego boost when you are feeling sorry for yourself.

Good company: Surround yourself with close friends and/or family who know you well and love you a lot. This one could not be more simple.

Write it down: A big part of understanding your own emotional motions comes from being able to communicate with yourself. Write your thoughts and feelings down, even if to never read them, as a method of exercising or expelling the demons, so to speak.

Chocolate: This doesn't really need too much explanation. Indulge indulge indulge, just floss and brush your teeth after.

Be creative: Making art has helped me work through a number of personal crises; lost love, suicide, family passings. Art is one of the best tools imaginable for reconciliation. In any of these situations, I need to paint paint paint paint paint.

Travel: Get out of your ordinary. Change your surroundings, if only for a short time. Go somewhere you've never been before. Live, laugh, explore. Despite the pain your heart is going through, you should travel. Your soul will thank you.

Be good to yourself: In and amongst all the crying, feelings of relief, anguish, and despair. During the obsessive alcohol consumption and substance abuse while trying to pick up whatever pieces are there, you need to not forget to be good to yourself. Spoil yourself. Go to the spa, take a hike, drink healthy green juices, get a massage, or buy yourself something nice. Treat yourself, you need you to know how great you are.
Who are you and what do you do?
My name is Cyrus Smith. I'm a Canadian visual artist based in Berlin. I make paintings and other things. I am also the chef at Pappa E Ciccia, an Italian restaurant.
How has your work and creation helped you through tough times?
Ugh. Just thinking about the motions [of breaking up] makes me nauseated. But usually swimming in alcohol and substance abuse is a sort of immediate knee-jerk reaction. When I come to, usually acceptance is the hardest thing to press on with. Initially surrounding yourself with good friends or family is clutch. And remembering that it really will get better.
It's incredible how cathartic the process of art making is in general, but in times of personal crisis, you would be surprised at what comes out of you. Some of the greatest masterpieces in art history were painted during heartbreak. I find creativity is a fundamental activity to occupy your mind with, and help you to press forward.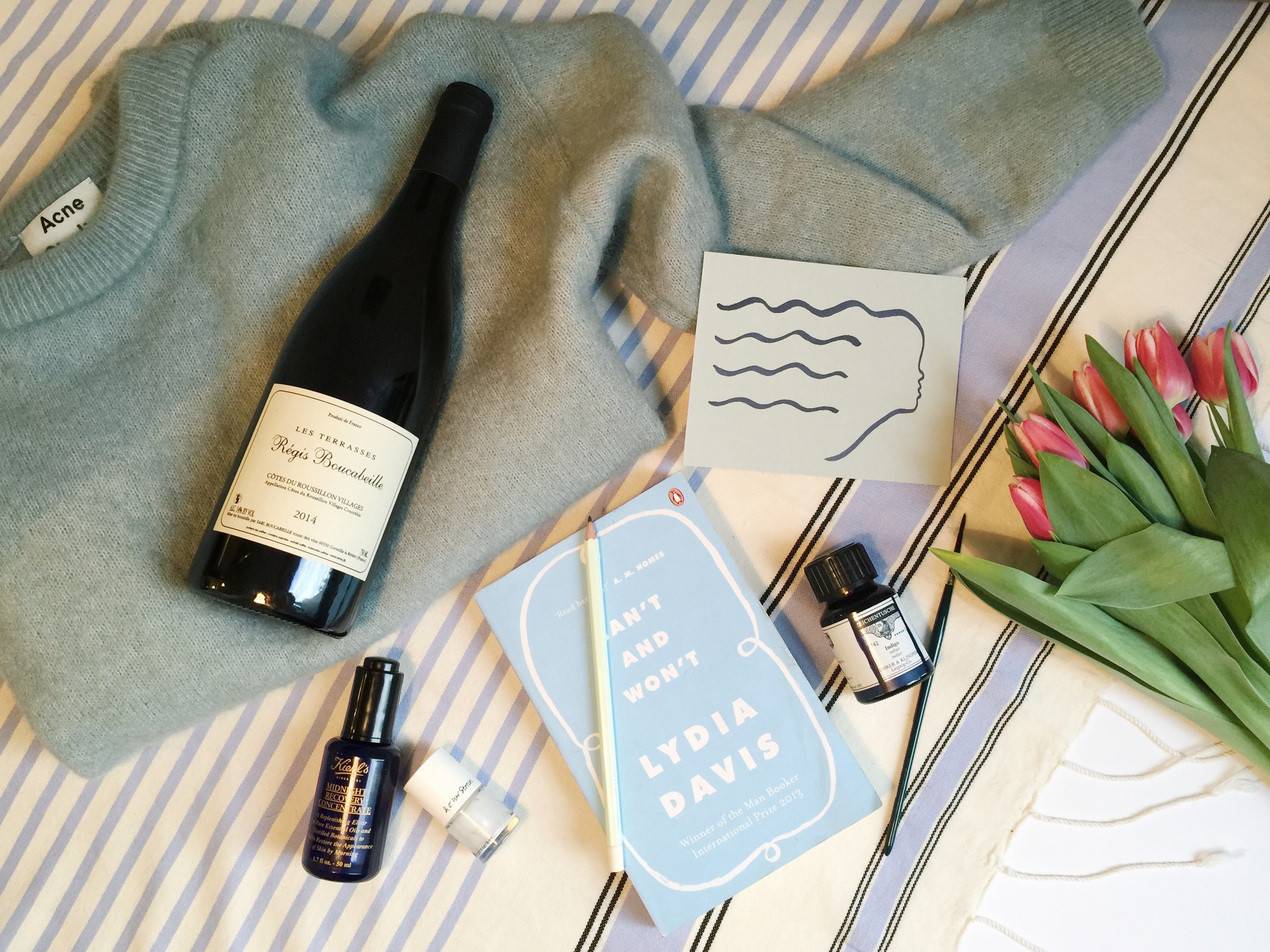 My greatest romantic downfall is that no one will ever be as nice to me as I am to myself.
Mohair sweater: Life is hard, wear soft things.
Red Wine: No explanation necessary.
Painted postcard, brush and ink: Make something!
Tulips: Buy yourself flowers.
Can't And Won't by Lydia Davis: Read beautiful words.
Kiehl's Midnight Recovery Concentrate/& other stories nail polish: Turn your house into a spa, it might help you feel less awful.
Who are you and what do you do?
I'm Lana Belton and I'm a graphic designer from Canada living in Berlin. I also take photos and draw.
What advice do you have for those dealing with heartache?
A wise woman once told me that my greatest romantic downfall is that no one will ever be as nice to me as I am to myself. The same wise woman also said that you can only lie on the floor and cry for so long until you have to get up again. It helps to just put one foot in front of the other and keep going and, of course, to be gentle with yourself. Clean your house, light some nice candles, watch funny movies, invite your friends over to drink wine, and laugh and cry.
Working and making things helps remind me that I exist. My work gives me a strong sense of purpose and focus, which is helpful when it feels like the walls are closing in on you. Graphic design is very detail oriented and can be quite a repetitive process, so it's a great distraction. Listening to Taylor Swift also helps.
I always make sure to keep lipstick on hand. It gets darker during hard times.
Moleskine notebook. I write a lot so I'm literally lost without it
Pens. For writing and for sketching ugly ex-boyfriends during tough times
Chocolate
Yankee candle — a proper stress reliever
Old cactus — a reminder that at least one living soul out there loves me
Nyx Transylvania lip cream
Headphones
Eyeball candy (ironically, a gift from a past lover)
Two antique statues of a boy and a girl — a gift from a close friend
"All cats are beautiful" — a postcard from Berlin
"The Ballad of Reading Gaol and Other Poems" by Oscar Wilde
Who are you and what do you do?
I'm a digital content manager living and working in Sofia, Bulgaria. Besides chasing stray cats, overdosing on caffeine and judging people based on their social media presence, I'm taking care of my interior design blog The Cozy Space and, most of all, the colorbones. project, which I started in August 2015 with my dear friend Peter. The main purpose of colorbones., along with throwing food at people you've just met, is to smash the wall between the way a person looks and behaves on the internet and the way a person looks and behaves when he's just being himself.
I've learned that the human ego is a tricky tool and if you're brave enough to get rid of the fear of what people think of you and stop perceiving a virtual reality that simply isn't yours, then you'll be just fine.
How do you move past the hurt of breaking up?
I don't allow myself to sit at home and cry over guys anymore. Instead, I try to go out and socialize as much as I can, get to know people and let time do its work in the process. Speaking of work, that's the other thing that keeps me from overthinking. Normally I just take my notebook and start writing. It could be short stories, project ideas or just ugly doodles—literally anything, as long as it keeps my brain occupied.
Keeping busy is an essential part during the healing process, and helps with overcoming basically any tough situation. Even if you're overflowing with pain and/or frustration, expressing it through art (in my case, writing and photography) is much better than crying yourself to sleep, looking for answers to "what if" questions.
I always make sure to keep lipstick on hand. It gets darker during hard times.