Every aspiring painter needs a website. Why? Two main reasons. One, your website allows you to easily share new pieces with existing fans. Two, your website allows you to share your work with people all over the world who may not know you.
When displaying your creativity online as a painter, it's important that your website looks like a solo gallery exhibition. Or, in other words, it's a virtual white cube with limited wall space. Too many paintings make it feel crowded. If there are too few, people may lose interest. Curating your work to showcase your best paintings is crucial.
Does displaying your work on an artist painter website seem like something you could benefit from? Are you ready to reach a whole new audience of art enthusiasts and establish yourself as a professional in the art world? If so, we're here to provide inspiration to help jumpstart your website.
We combed through countless painter portfolios o find 18 contemporary artists with exceptional websites. Hailing from all corners of the globe, and working with mediums ranging from oil on canvas to works made on plexiglass and aluminum, these painters use simple website templates to display their art online.
But first, before we get to the websites…
A Special Note for Art Websites
A digital artist portfolio is essential for displaying and sharing your work. However, with painters, the artist painter website poses a particular challenge. Namely that paintings are often a highly textured and physical medium.
Because of this, it can be difficult to show the full depth of your paintings on a computer screen, but it is possible.
We recommend curating your portfolio to be minimal and designed to showcase only your best work. A well-designed website with few distractions can also help your work get the attention it deserves.
If you're looking to start your own online portfolio or revamp an existing one, these painting websites should inspire you. Because, hey, if these painters can do it, why can't you?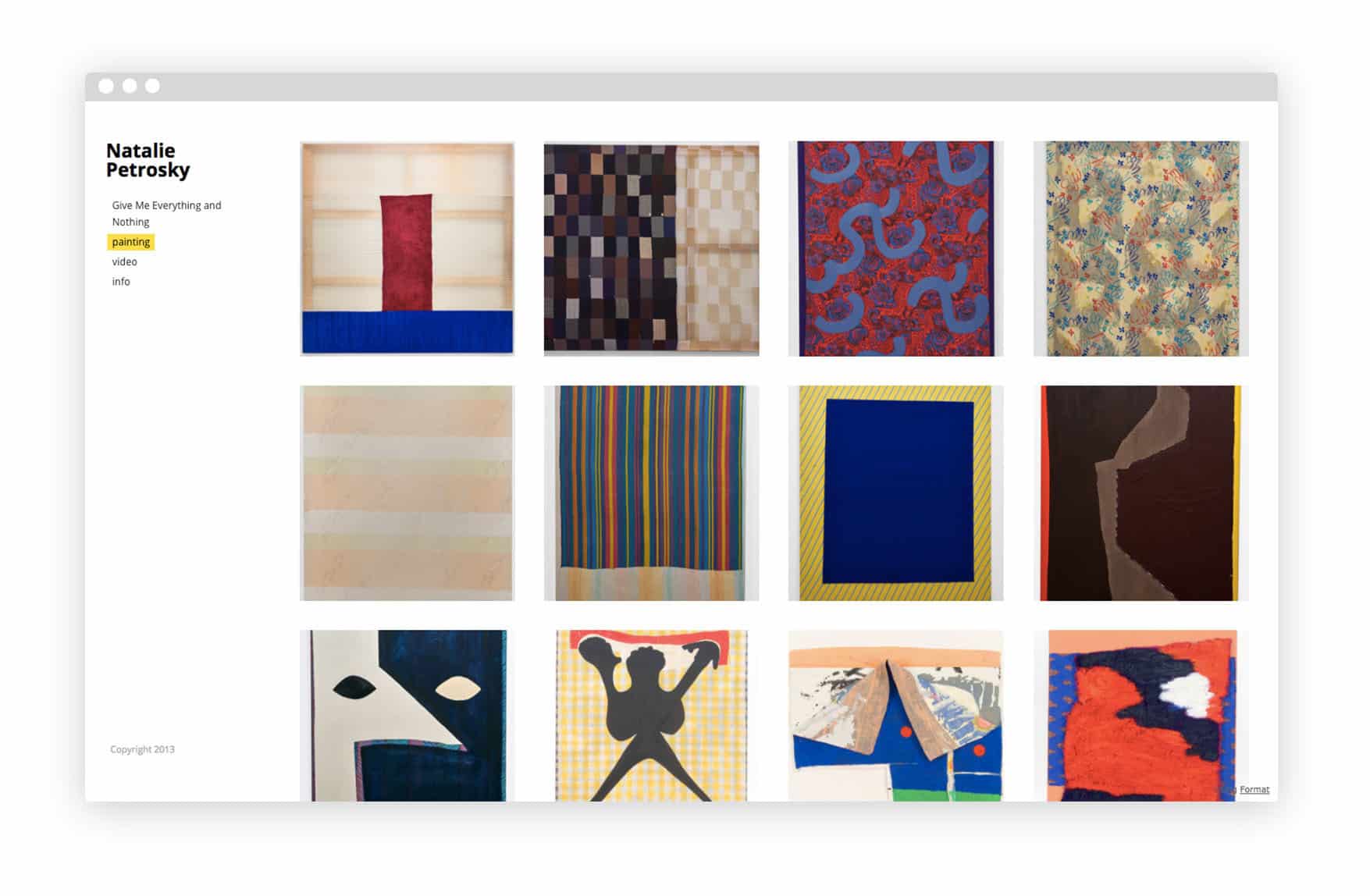 Painter Natalie Petrosky is based in Knoxville, where she teaches in the painting & drawing department of the University of Tennessee. Petrosky's paintings often have a textile feel to them, and she frequently works with cloth as well as paint to create multimedia works.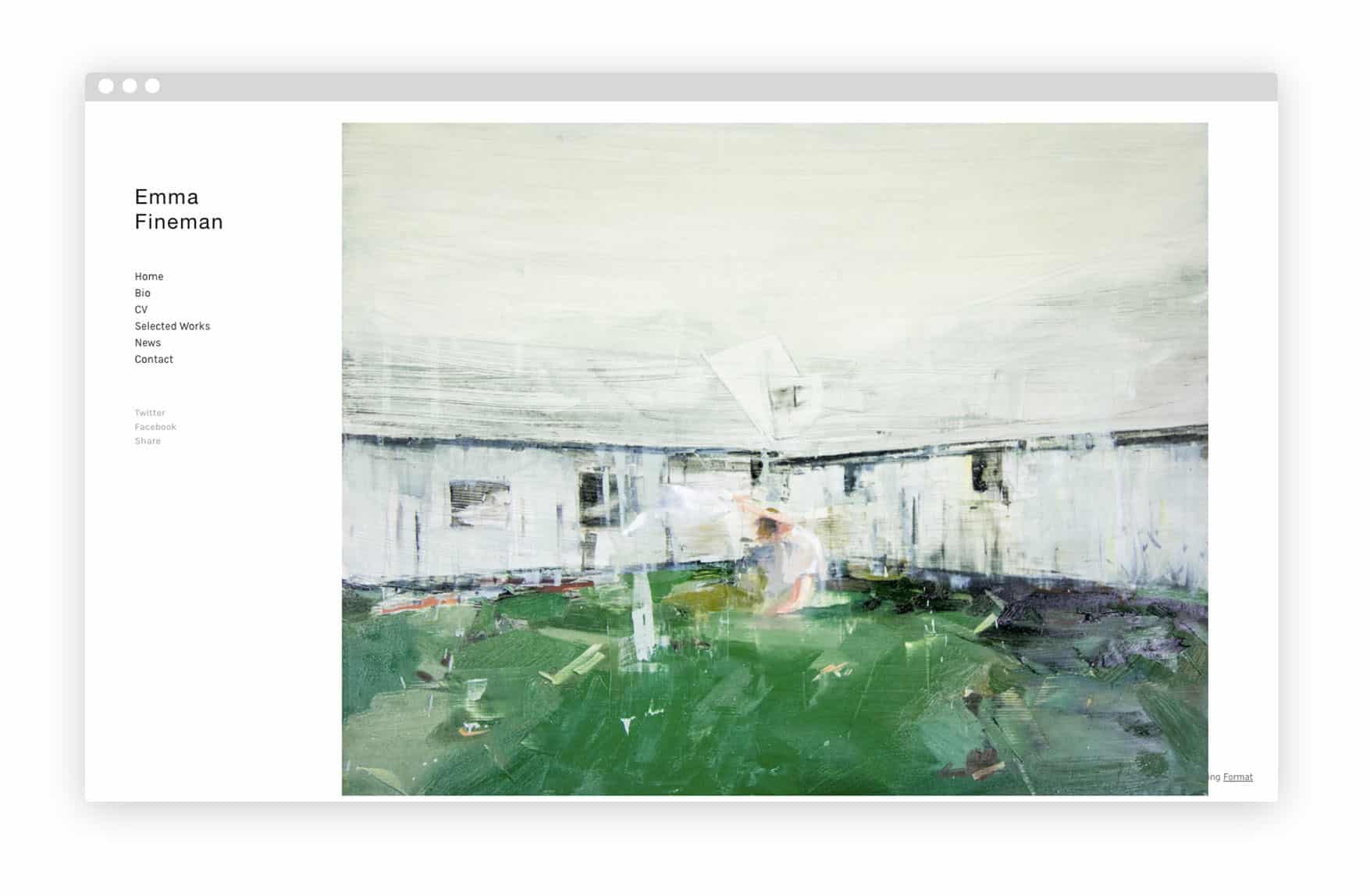 American artist Emma Fineman is currently based in London, and has shown across Europe. Often working in oil, Fineman's paintings focus on embodiment and shifting perceptions of environments. Her painter website uses a vertically scrolling portfolio to show pieces in a way that fills up the screen.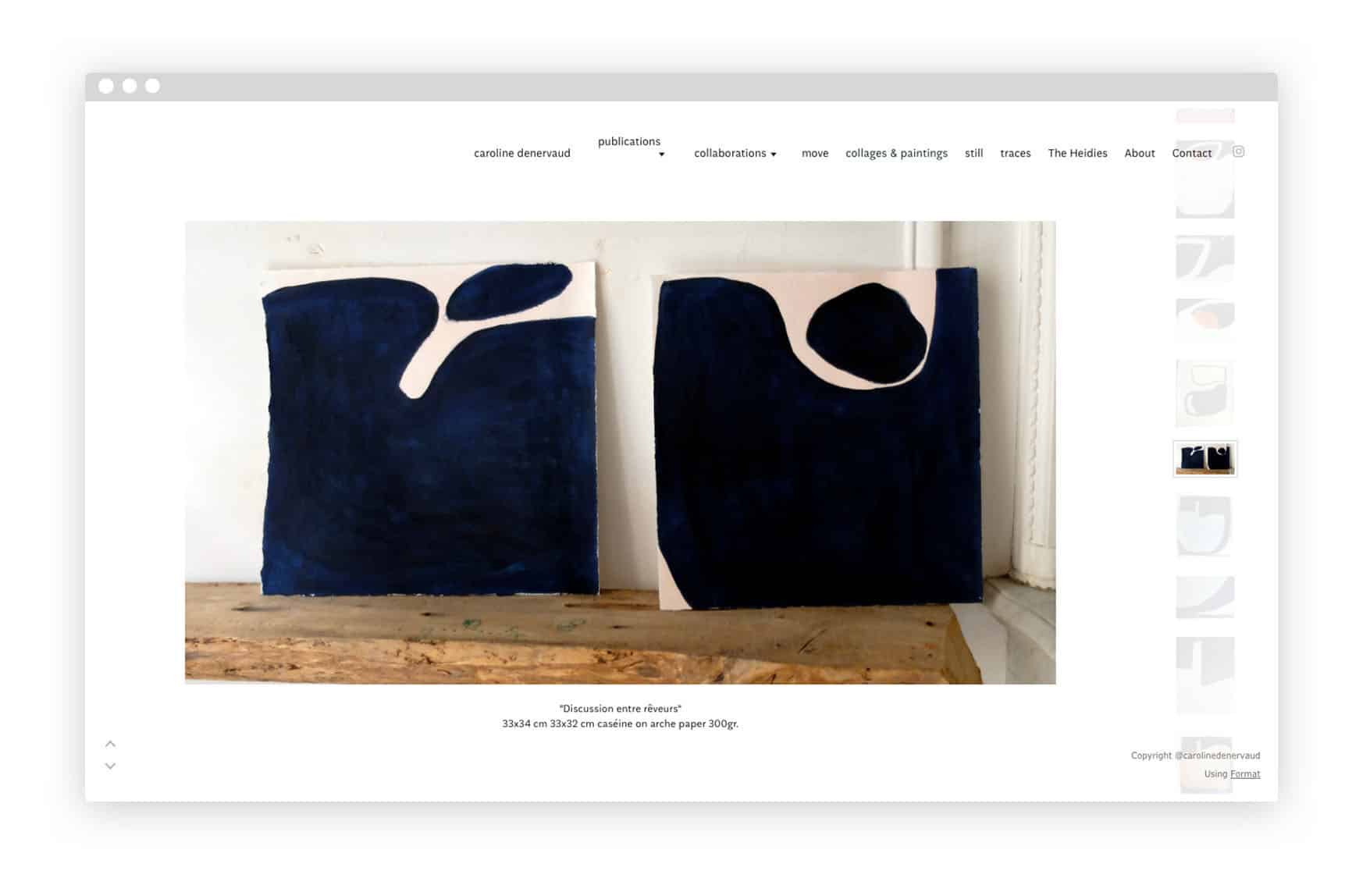 Based in Paris, artist Caroline Denervaud works in paint and performance. Her paintings often feature abstracted objects: the suggestion of a vase, or a moving figure. Denervaud keeps her artist painter website perfectly minimal so as not to distract from her boldly colored work.
When Wong Keen traveled to New York in 1961 to start his art education, he was the first person from Singapore to make that leap. Working with inspiration drawn both from American abstract expressionism and his Chinese heritage, Keen's work has been shown in galleries worldwide. In 2007, the Singapore Art Museum put on a solo exhibition of his work.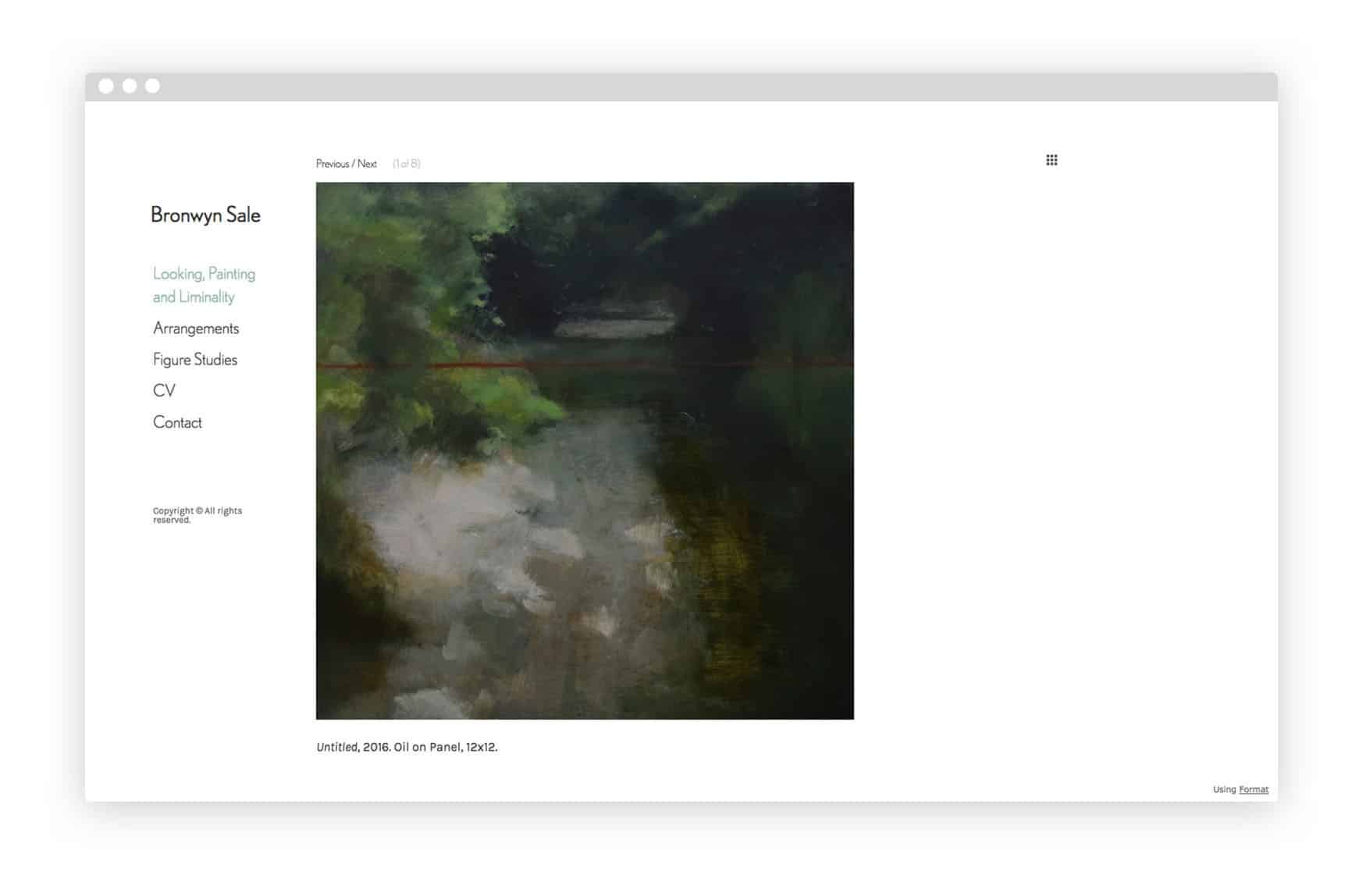 In her series Looking, Painting and Liminality (pictured here), artist Bronwyn Sale questions notions of perspective and location, with ephemeral doors and arches appearing as a focus of the work. Sale uses a click-through gallery to display works one at a time.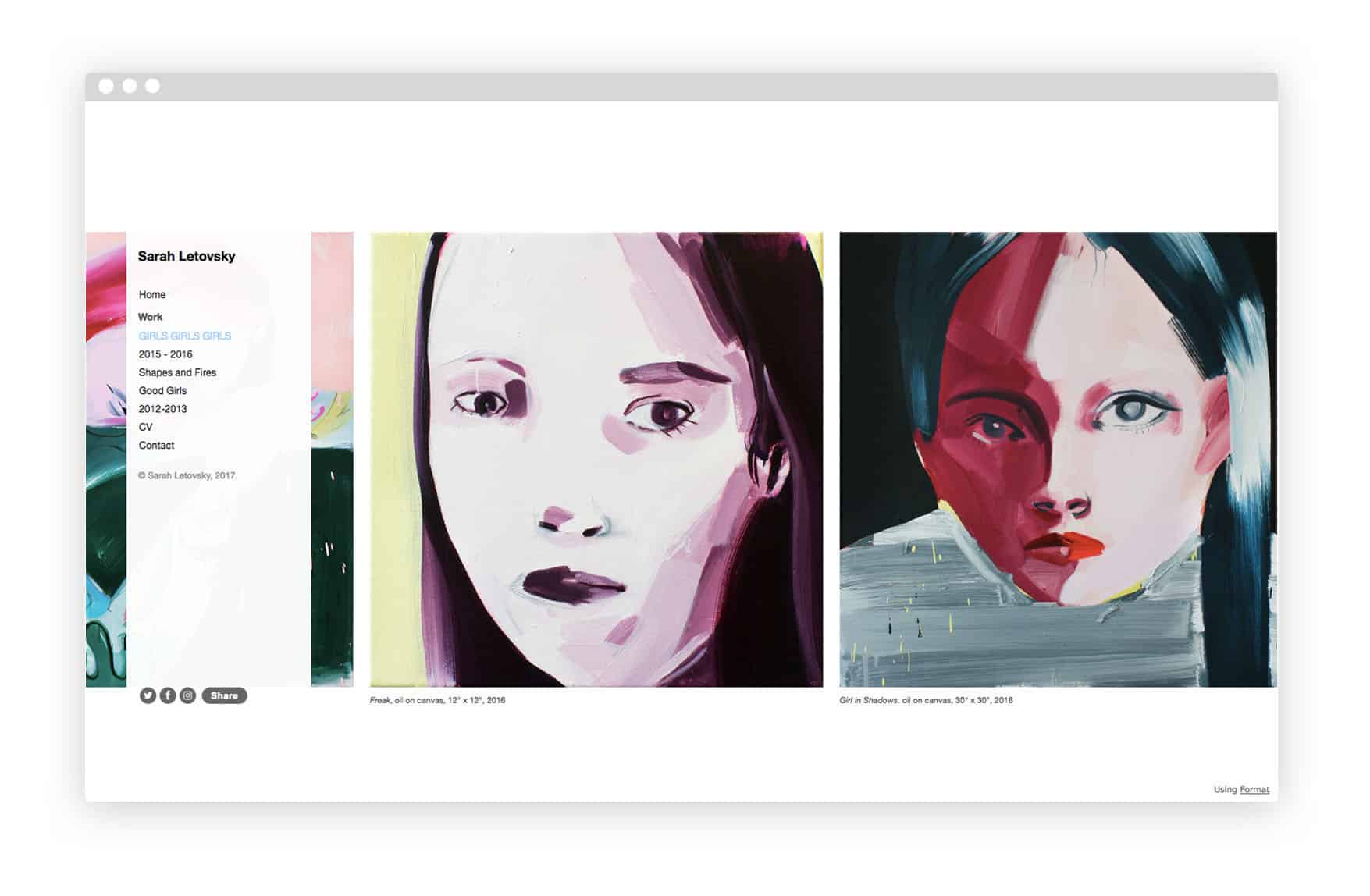 Toronto artist Sarah Letovsky focuses on the female face, depicting a range of emotions with oil on large canvases. Her work often has an eerie feel to it, with her subjects' features often skewed just slightly out of place. On her painter site, Letovsky uses a horizontally scrolling theme to show several galleries of work, sorted chronologically.
Website Template: Horizon Left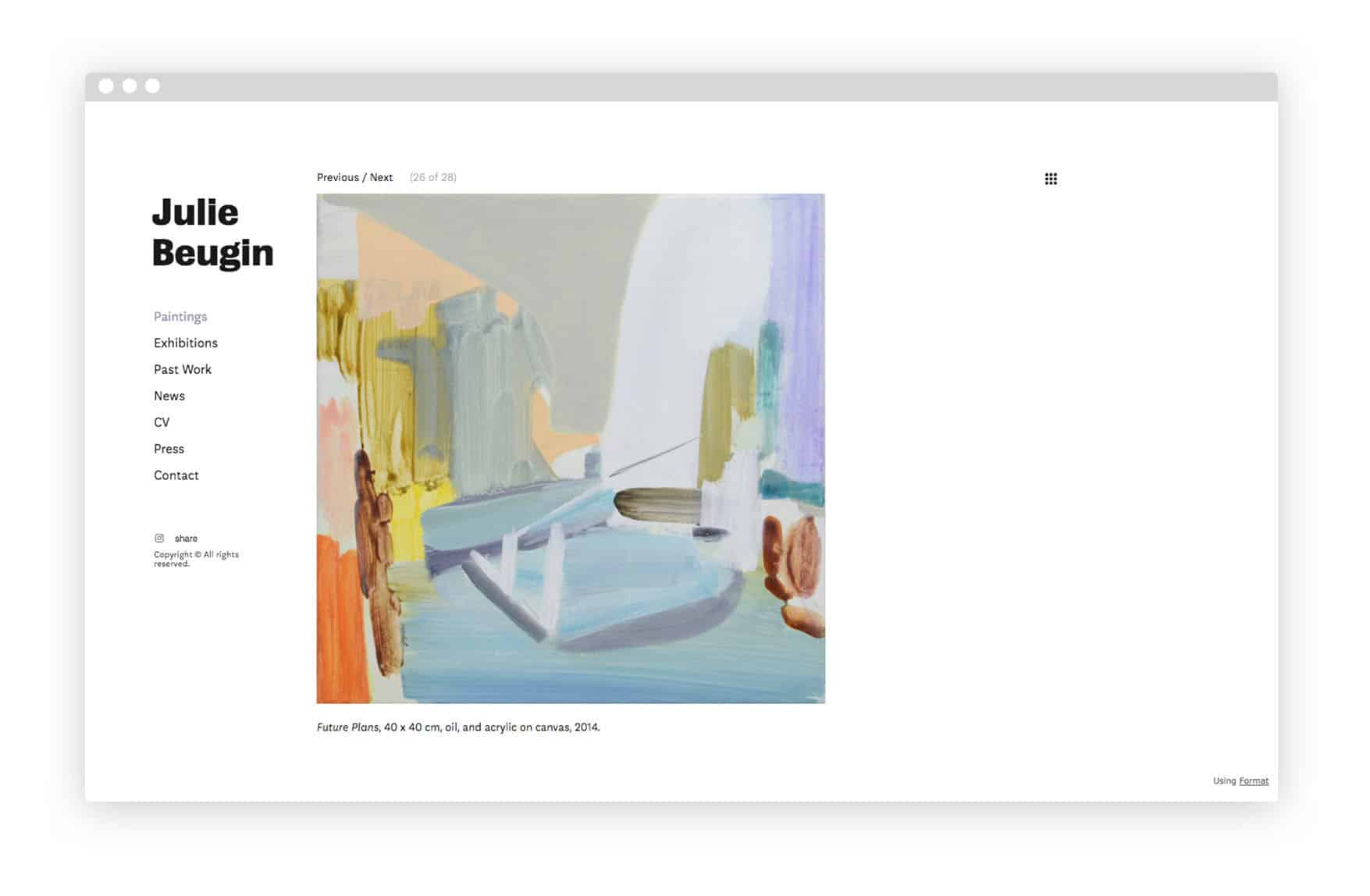 Painter Julie Beugin's abstract works are inspired by the density of architecture and green spaces in Berlin, where she is based. Her work, which often mixes collage with paint, recalls the feeling of walking around in a city, discovering new neighborhoods.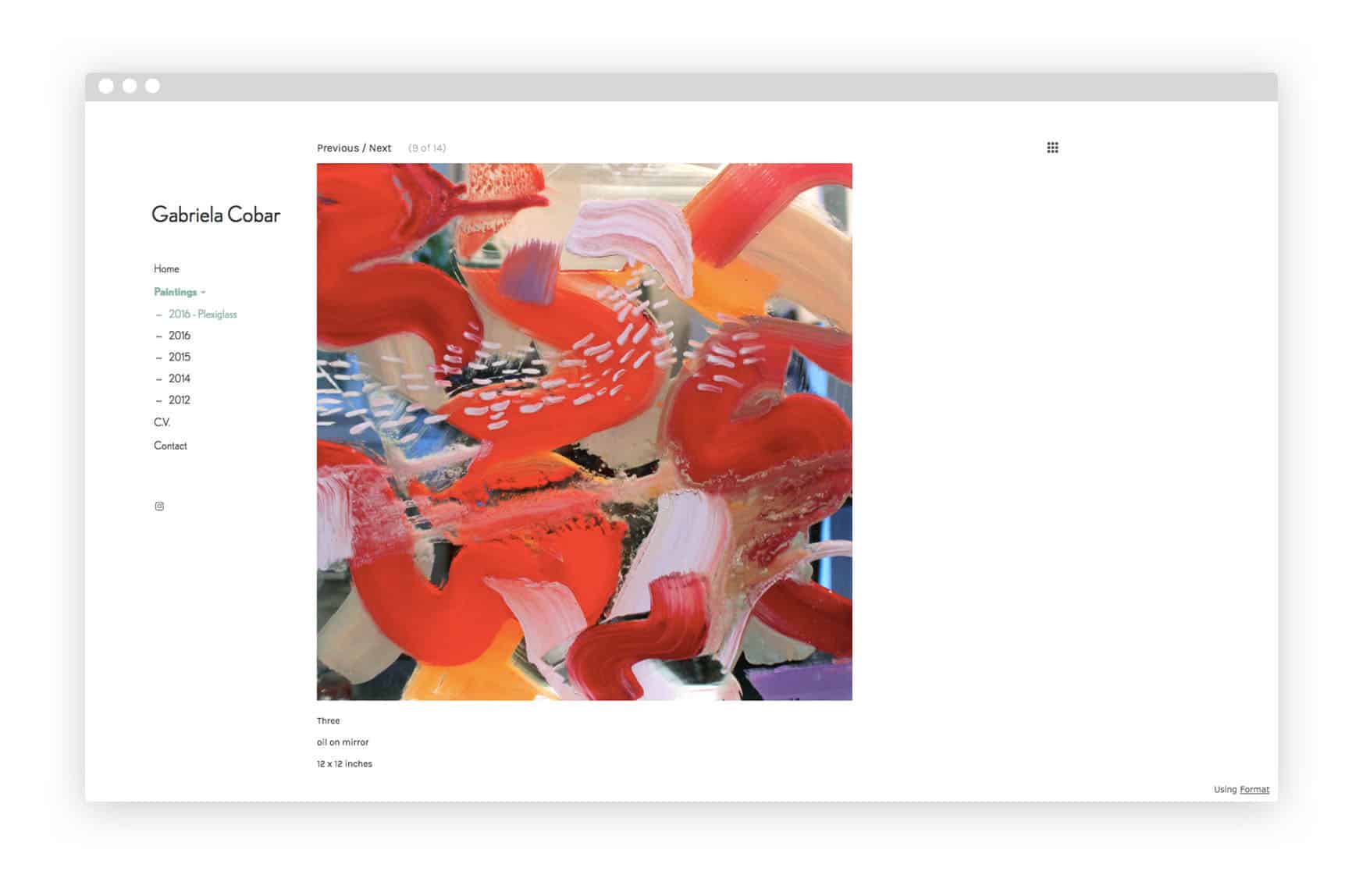 Based in San Francisco, artist Gabriela Cobar works with paint on plexiglass to create multi-layered, colorful pieces. The vivid, contrasting hues of Cobar's works have a pop art feel, at once organic and highly artificial. Displaying each detailed work one at a time keeps the viewer from being overwhelmed when checking out her painter website.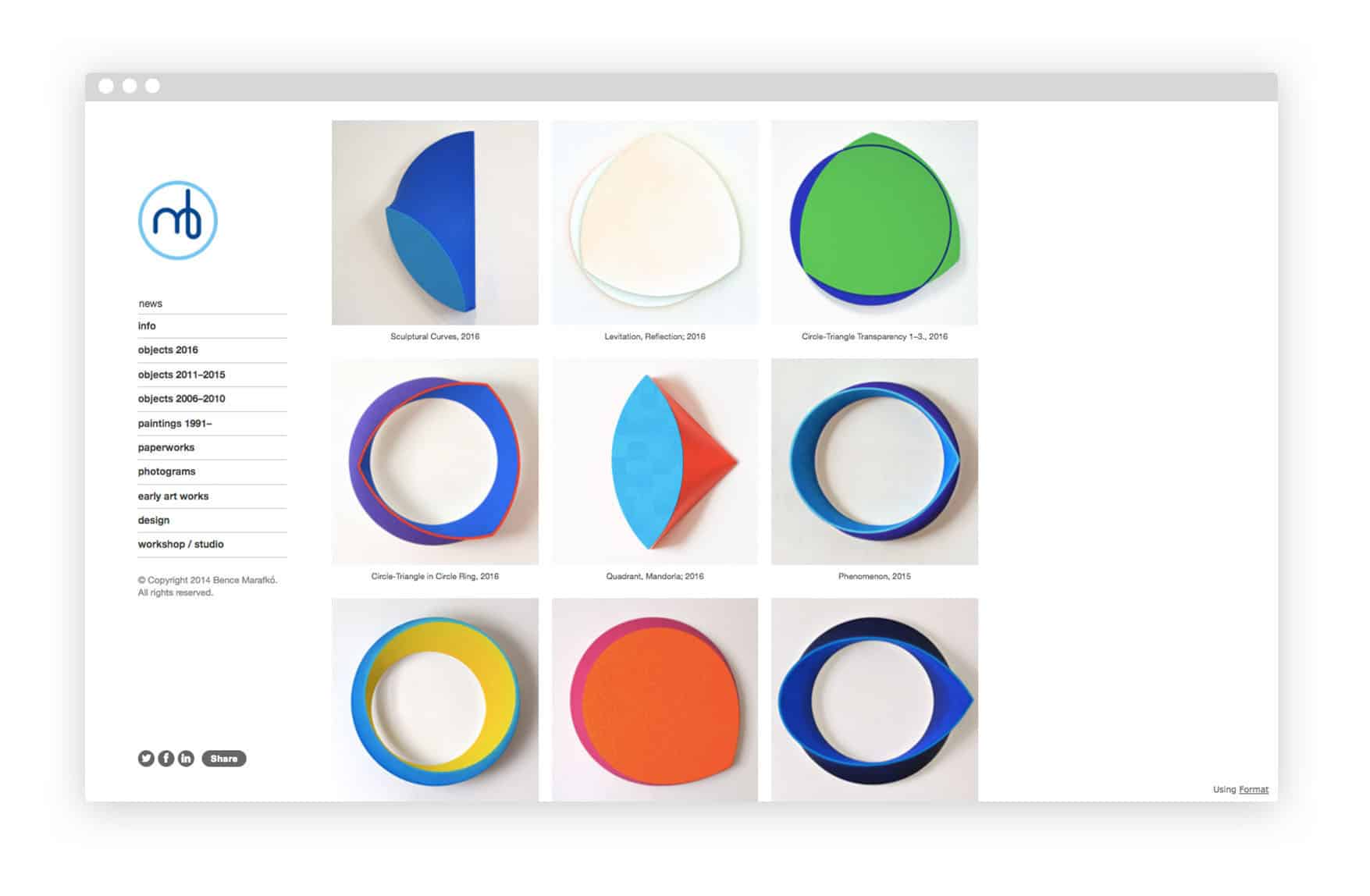 Hungarian artist Bence Marafkó displays an overview of his work with a neat grid layout on the homepage of his portfolio. Marafkó's diverse practice includes painting and design; his paintings often border on sculpture, with the form of the canvas equally important as what's on it. Marafkó uses a sidebar menu, featuring galleries organized by date and medium to keep his large portfolio easy to navigate.
Website Template: Horizon Left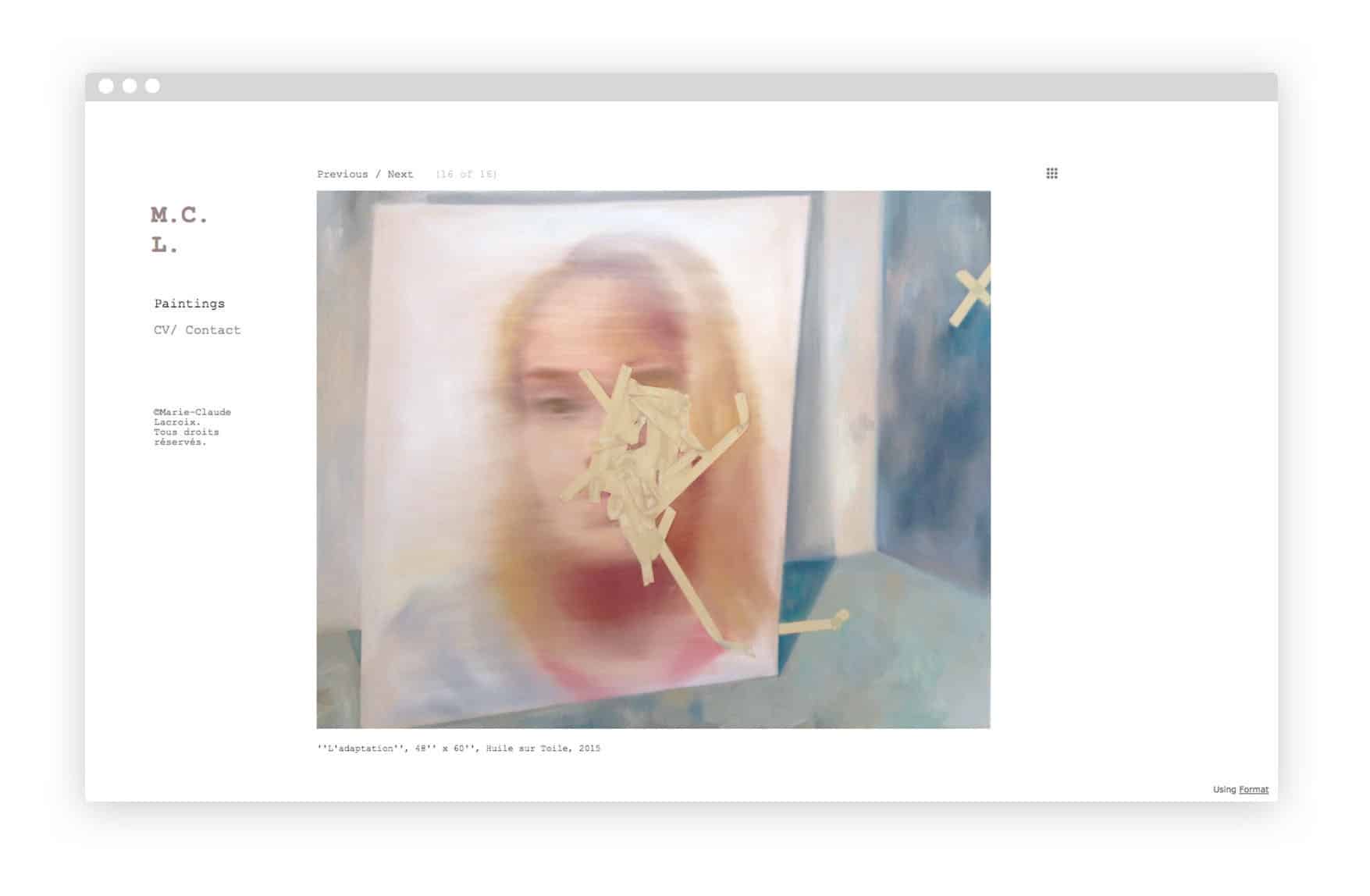 Montreal artist Marie-Claude Lacroix displays her work in a carefully curated portfolio. By sharing less than 20 pieces, Lacroix ensures that viewers will leave her portfolio wanting to see more of her work. Working with oil on canvas, Lacroix's paintings follow a coordinated color palette of muted tones. Household scenes are shown blown out of proportion, with figures and perspective itself distorted in an unsettling way.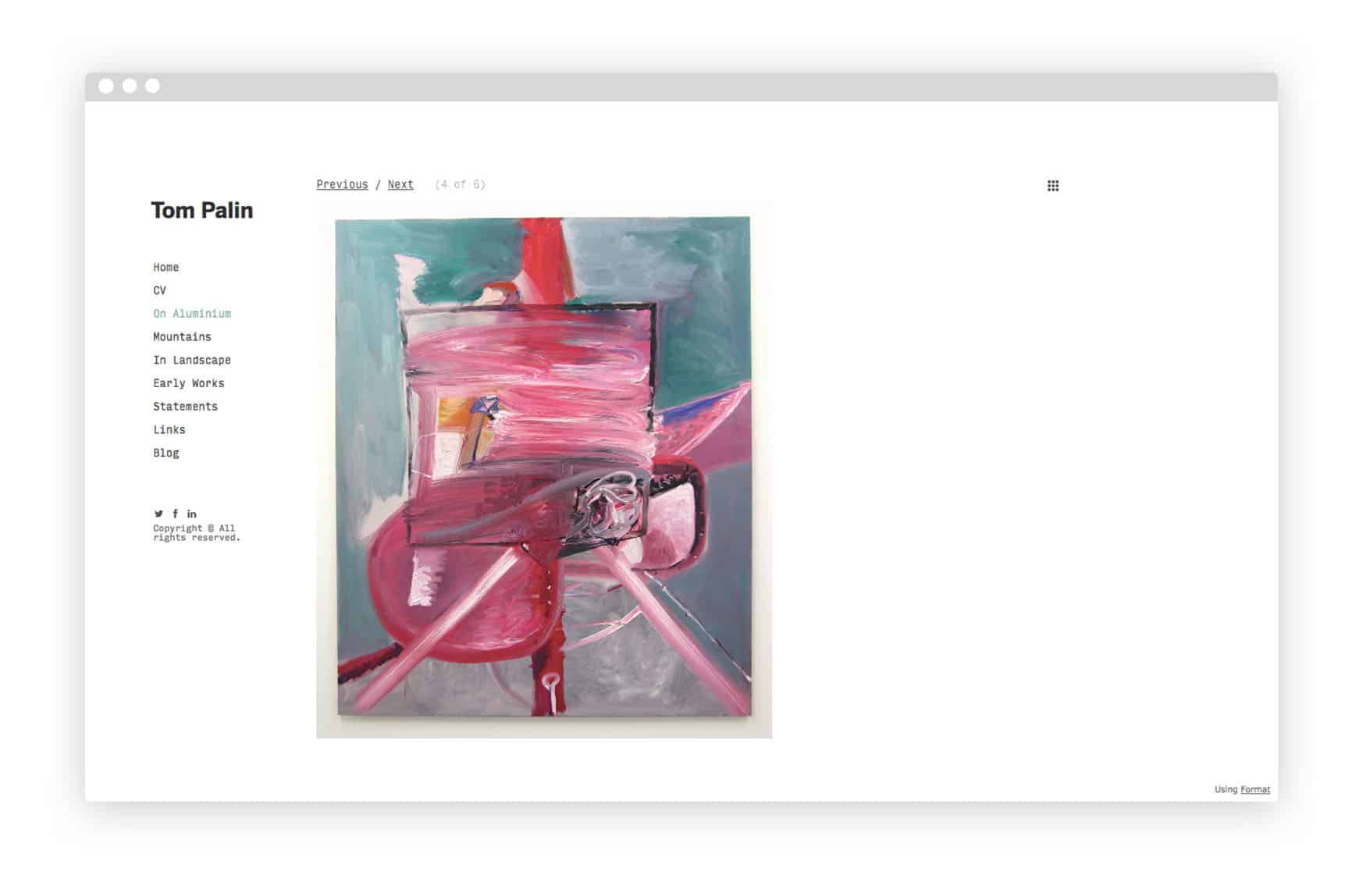 British artist Tom Palin teaches in Leeds, and has exhibited widely across the UK and internationally. His work is influenced by English and northern European traditions of landscape painting. However, in his recent works on aluminum (picture here), Palin moves more into abstraction, working with bolder colors and brushstrokes.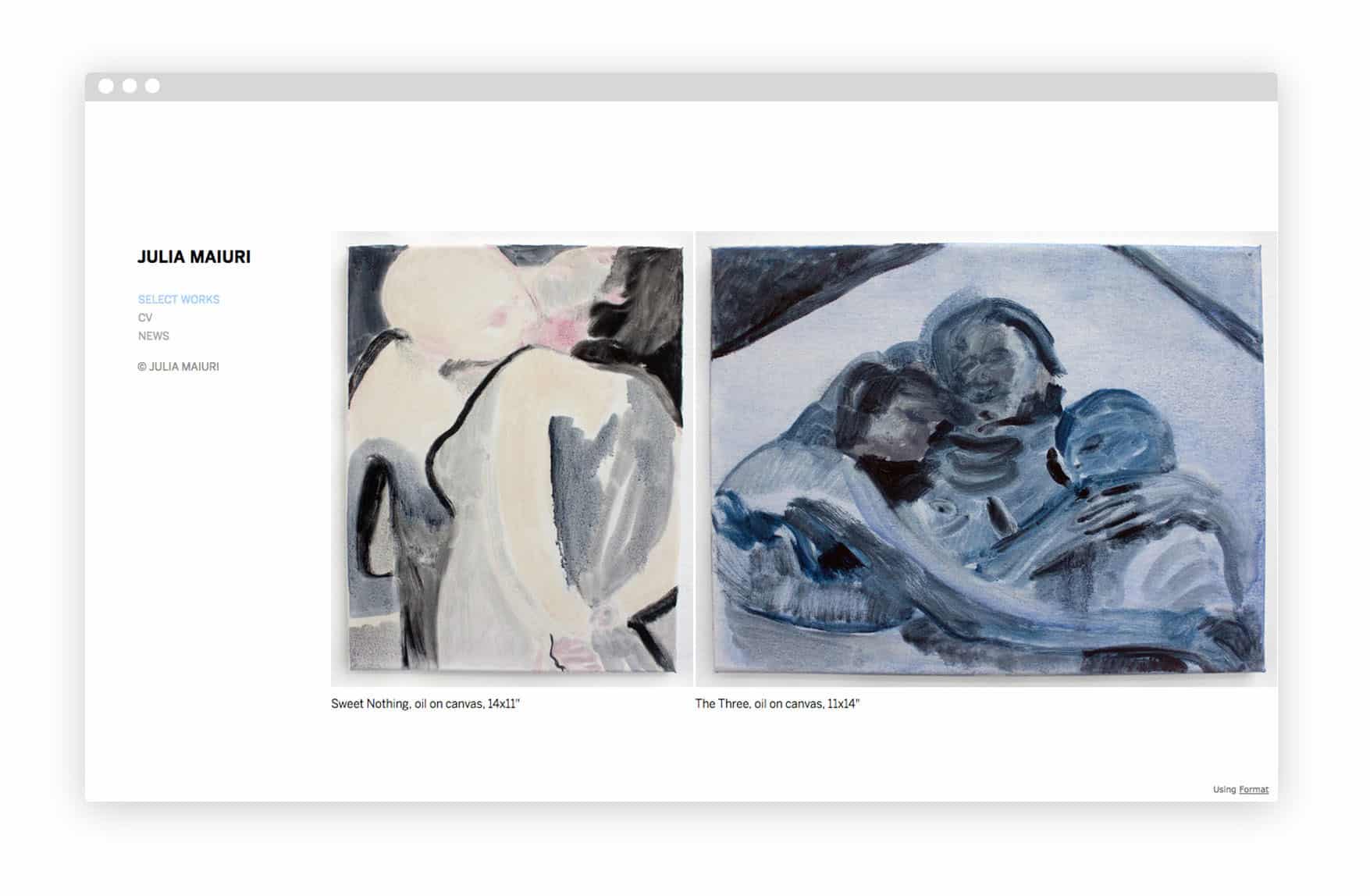 Based in Minneapolis, painter Julia Maiuri works in oil on canvas. Her paintings tend towards a color scheme of grey and blue, with hints of pink. Figures and faces are central themes. Maiuri shows only a small selection of work on her painter site, keeping her online portfolio simple.
Website Template: Horizon Left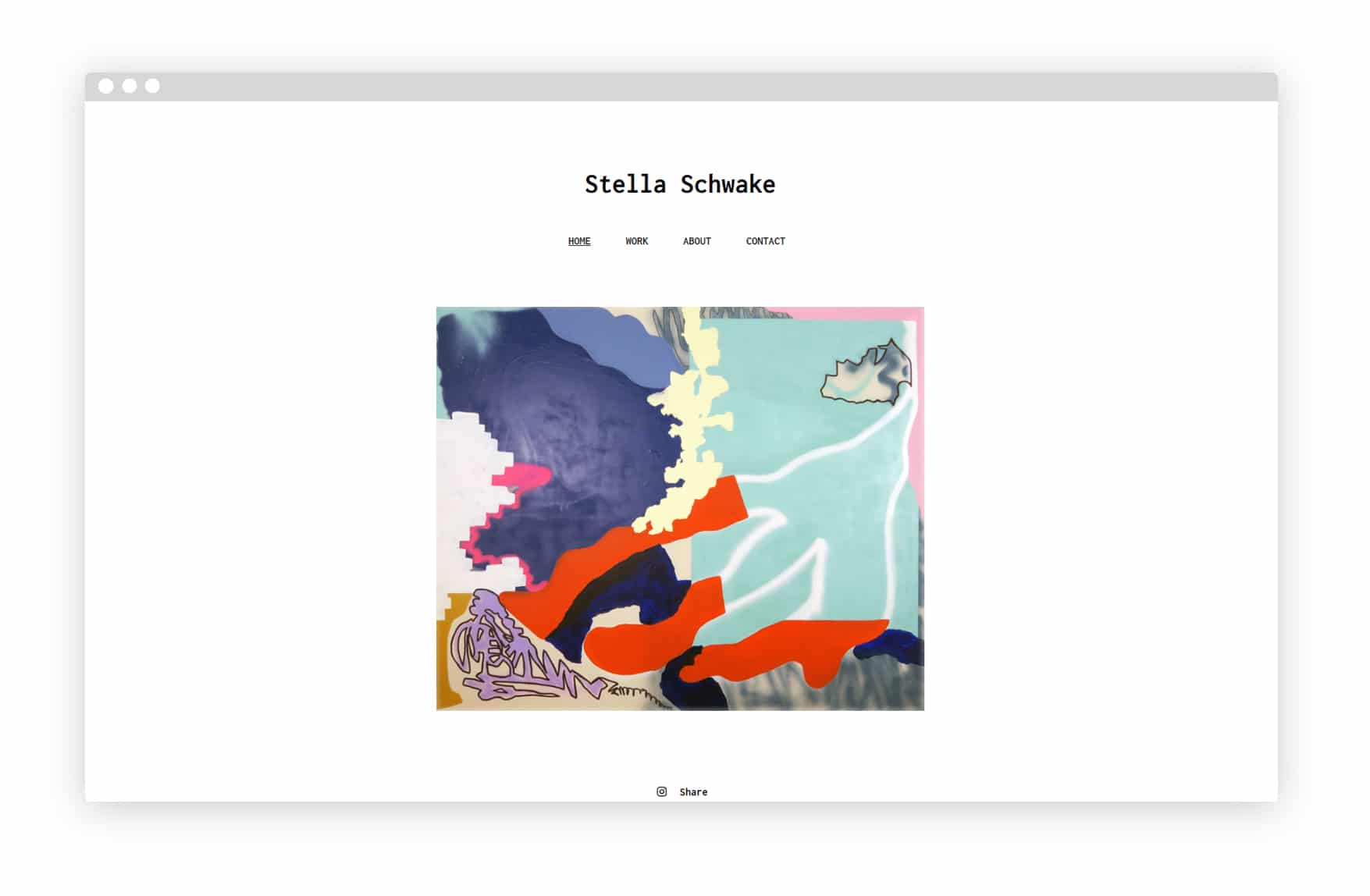 Based in Berlin and London, Stella Schwake studied the sciences of art in Berlin and Bologna, Italy. Stella's artistic works are characterized by strong colors in symbiosis and contract. She seeks contrary and new ways of representing feminism and the doom of planet earth through the use of colors and form.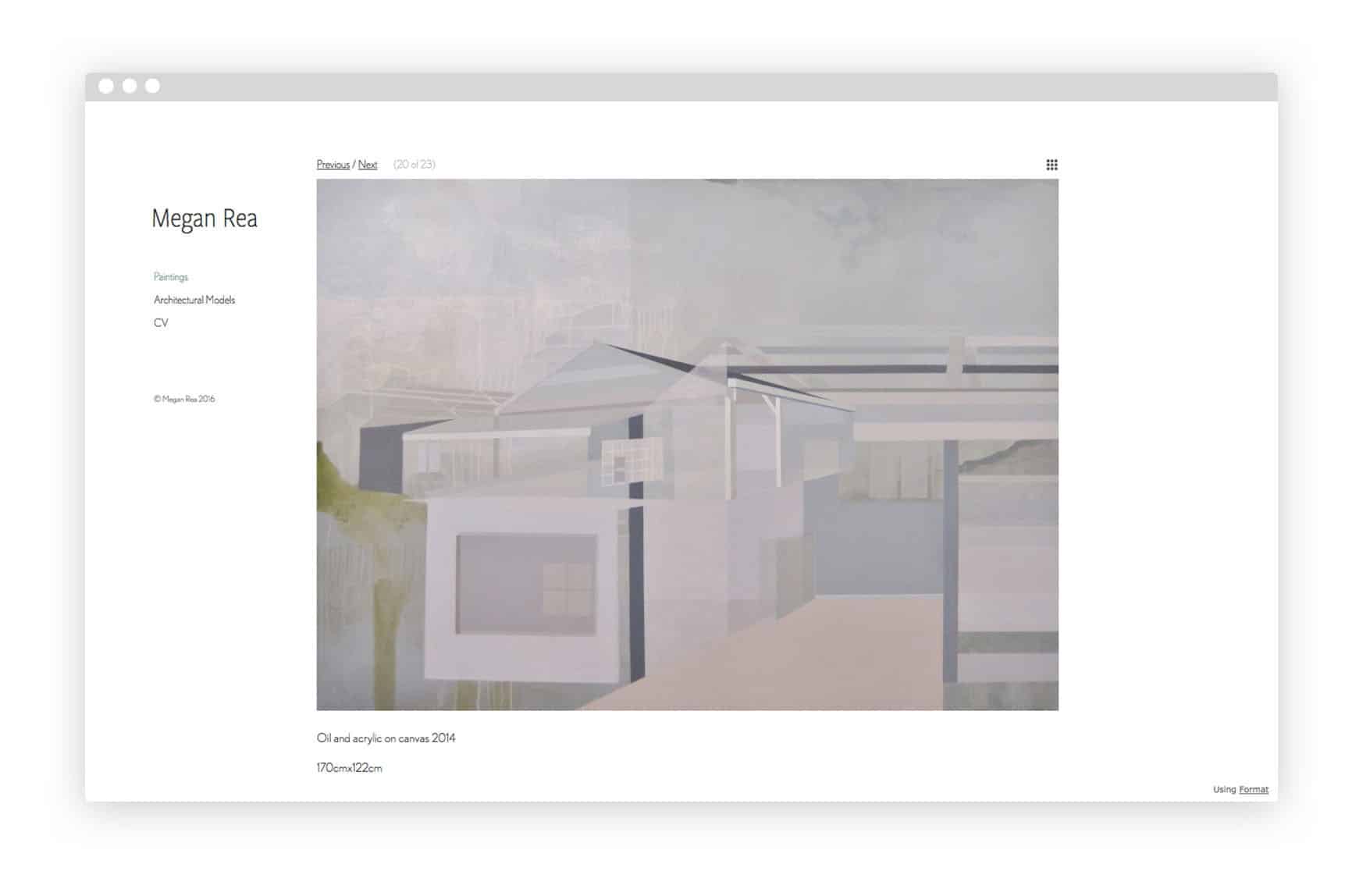 Megan Rea
Artist Megan Rea uses both painting and architectural models to create unusual, atmospheric spaces. Muted grey tones characterize her work, which recalls spaces both urban and suburban, interior and exterior.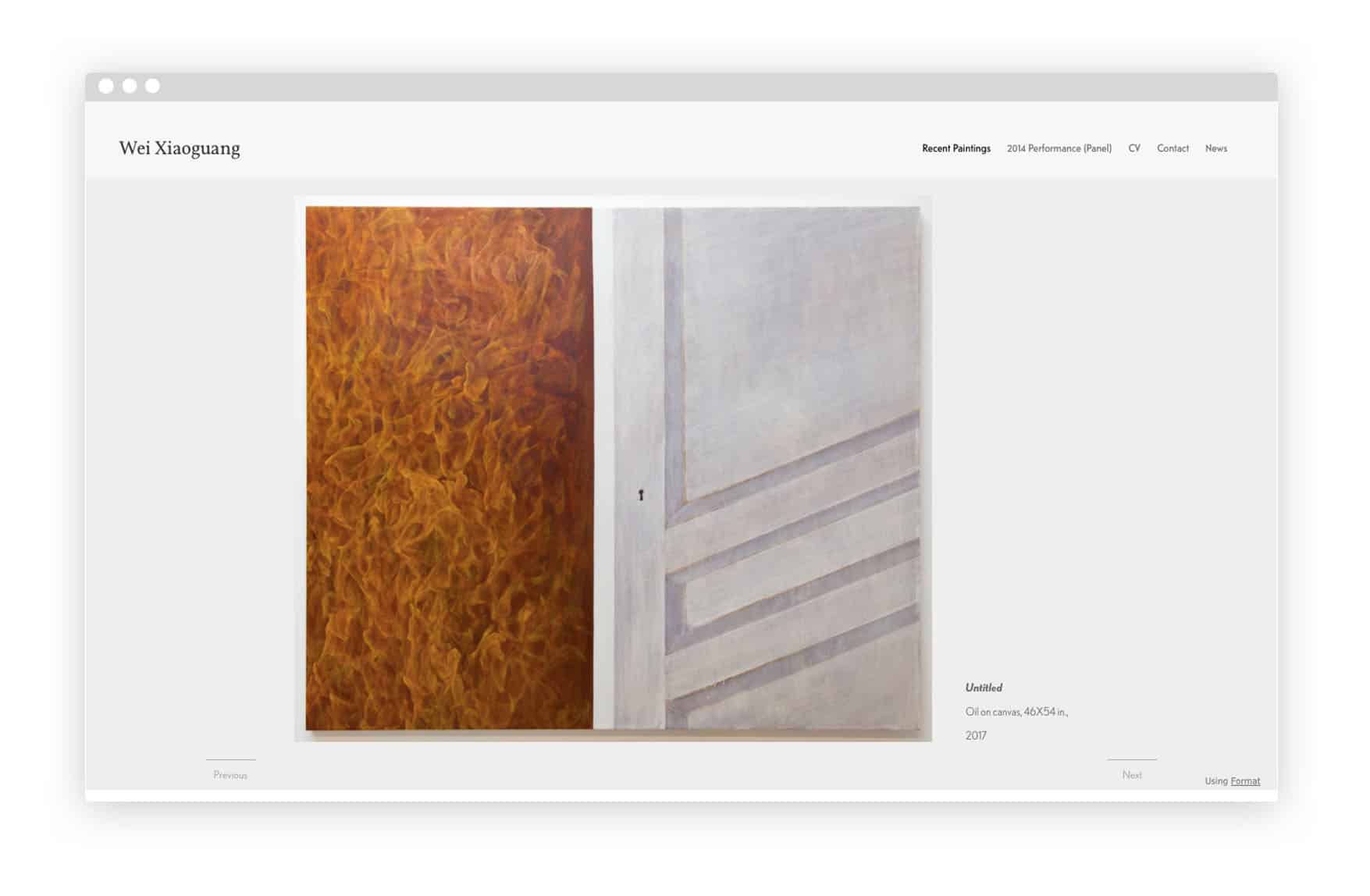 Based in New York, Wei Xiaoguang has shown in several group and solo shows in both New York and Beijing. Xiaoguang's paintings have a keen and unsettling sense of humor; his subjects include MoMA PS1 director Klaus Biesenbach, critic Nicolas Bourriaud, and Artist's Institute director Anthony Huberman. More recent works may poke fun at the art institution in a different way, as what appears to be CGI flames engulf Xiaoguang's canvases.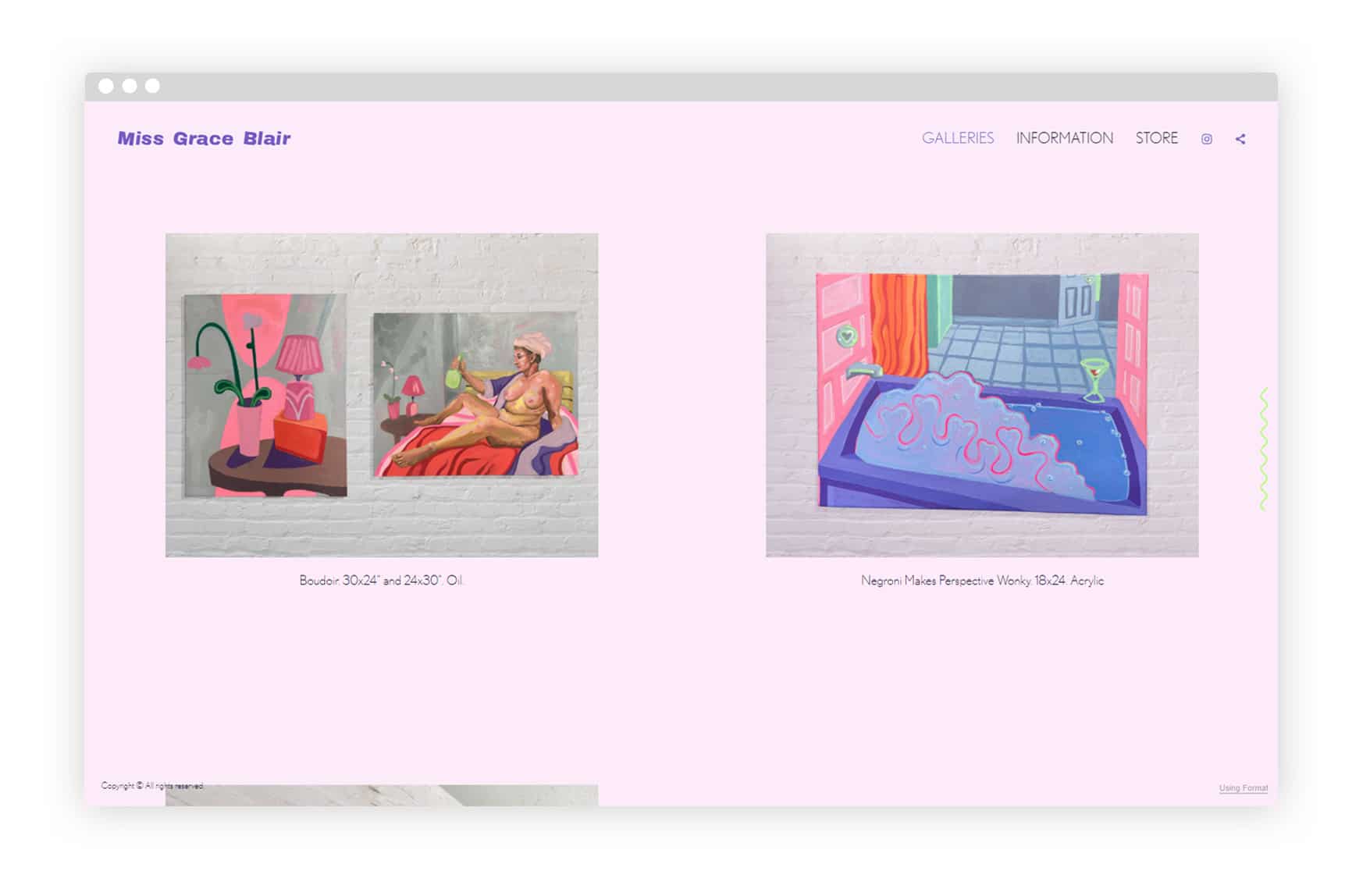 Toronto-based painter, Grace Blair works primarily in oil and acrylic painting. She specializes in whimsical representational work with pastel hues. Her art depicts objects, interior landscapes, the nude figure, or as a combination of these three elements. The main subject of her work includes femininity, gender, and sexuality.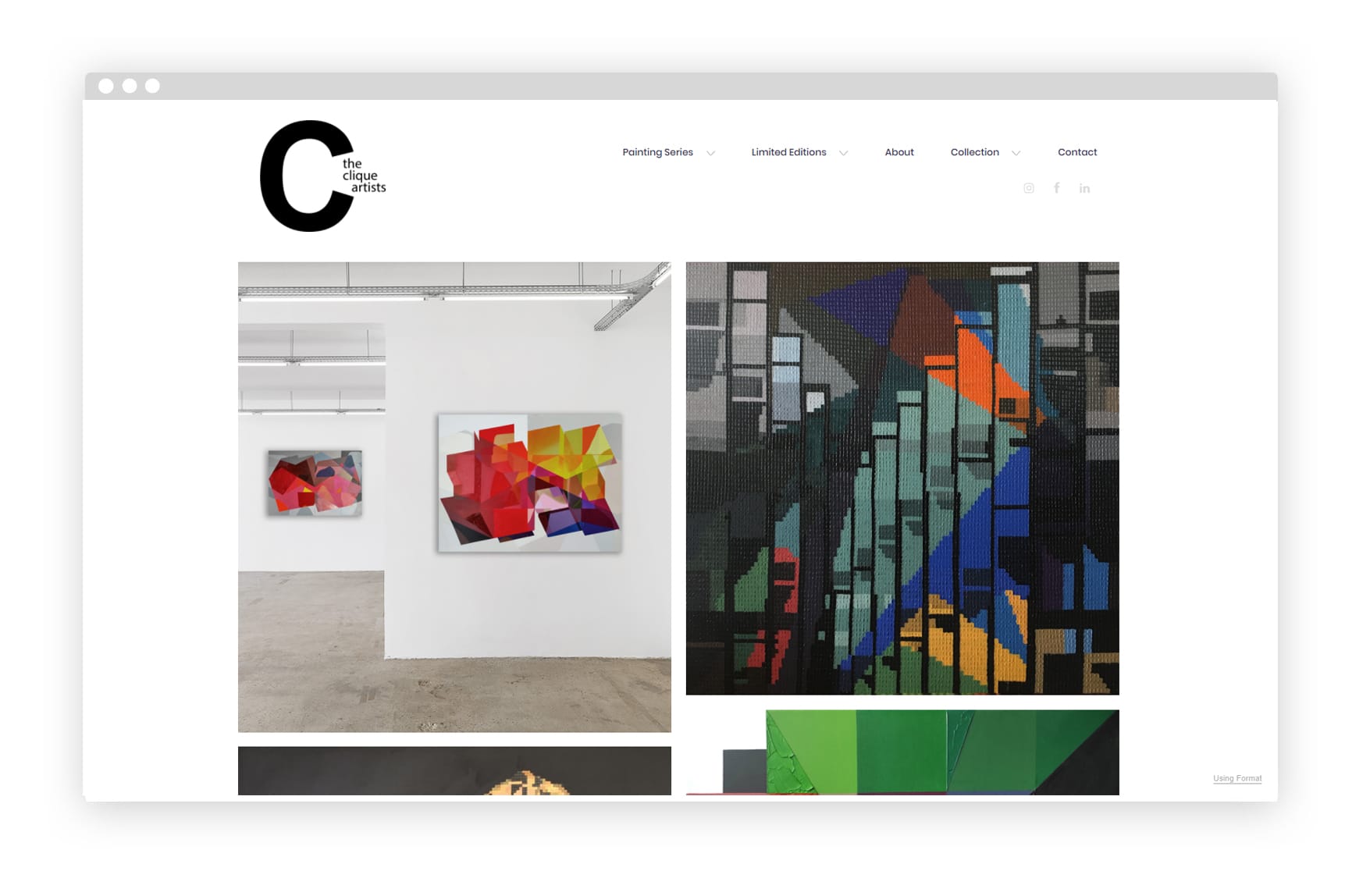 The Clique Artists
Based in New York City, the Clique is an innovative artist team led by Efe Kurt. The Clique is an attempt to bring out artworks by different artists from the fields of art, design, and architecture to make different series. The Clique performs production on visual arts and aims to reveal the tactility, spatiality, and sensation in the visual.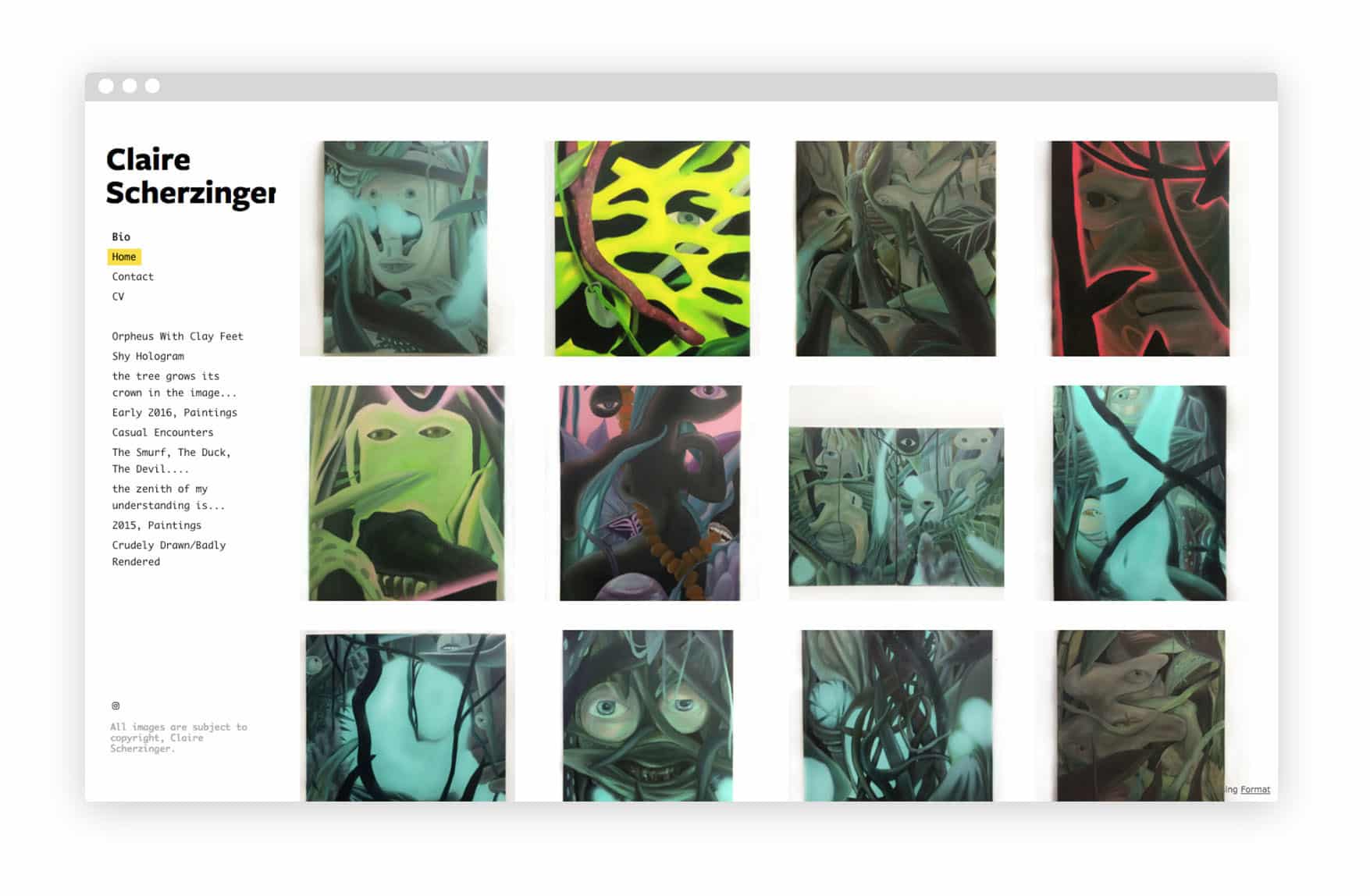 Canadian artist Claire Scherzinger challenges distinctions between high and low art by combining a sci-fi influence with a traditional oil painting aesthetic. Pictured is an overview of her portfolio including selected works from a recent series Shy Holograms which was inspired by the history of life on Mars.
Which of These Professional Artist Websites Inspired You?
If you took the time to look through these art and painting websites, it should be clear that there's no one right way to display your work.
For instance, you'll notice one artist painter website might use a grid to provide an overview of work, while others take the opposite approach, displaying one piece of work at a time.
Neither approach is better than the other, and instead, it's all about finding the perfect template for you and your work. If you're still not feeling certain or clear about your vision for your website, you can keep getting inspired with these amazing artist portfolio websites.
But, if you're eager and ready to start building your online portfolio today, try Format for free, no credit card required.
Cover image by Caroline Denervaud.