An online portfolio will make or break your design career. It's your first impression and last touchpoint for potential employers and clients.
In fact, when you've built the perfect design portfolio, you don't have to worry about job interviews and references. According to a recent survey, the majority of executives consider your portfolio to be the most important factor during the hiring process.
It makes sense. Your online portfolio will speak for itself. It doesn't stretch the truth and it doesn't get a case of the jitters. It's a showcase of your best work on a website that's specifically designed for creative work. It should be easy to navigate, look stunning on all devices and be optimized for maximum image quality.
At Format, we've seen some of the best design portfolio websites examples on the internet. They're elegant, surprising and professional. Keep scrolling to see 20 design portfolios that will inspire you to create a new portfolio or update your existing website. From magazine directors with a distinctive style to freelancer designers who make everything and anything, here are 20 design portfolios you need to see. Find even more online portfolio inspiration here.
Build your professional portfolio website in minutes. Start your free 14-day trial today, no credit card required.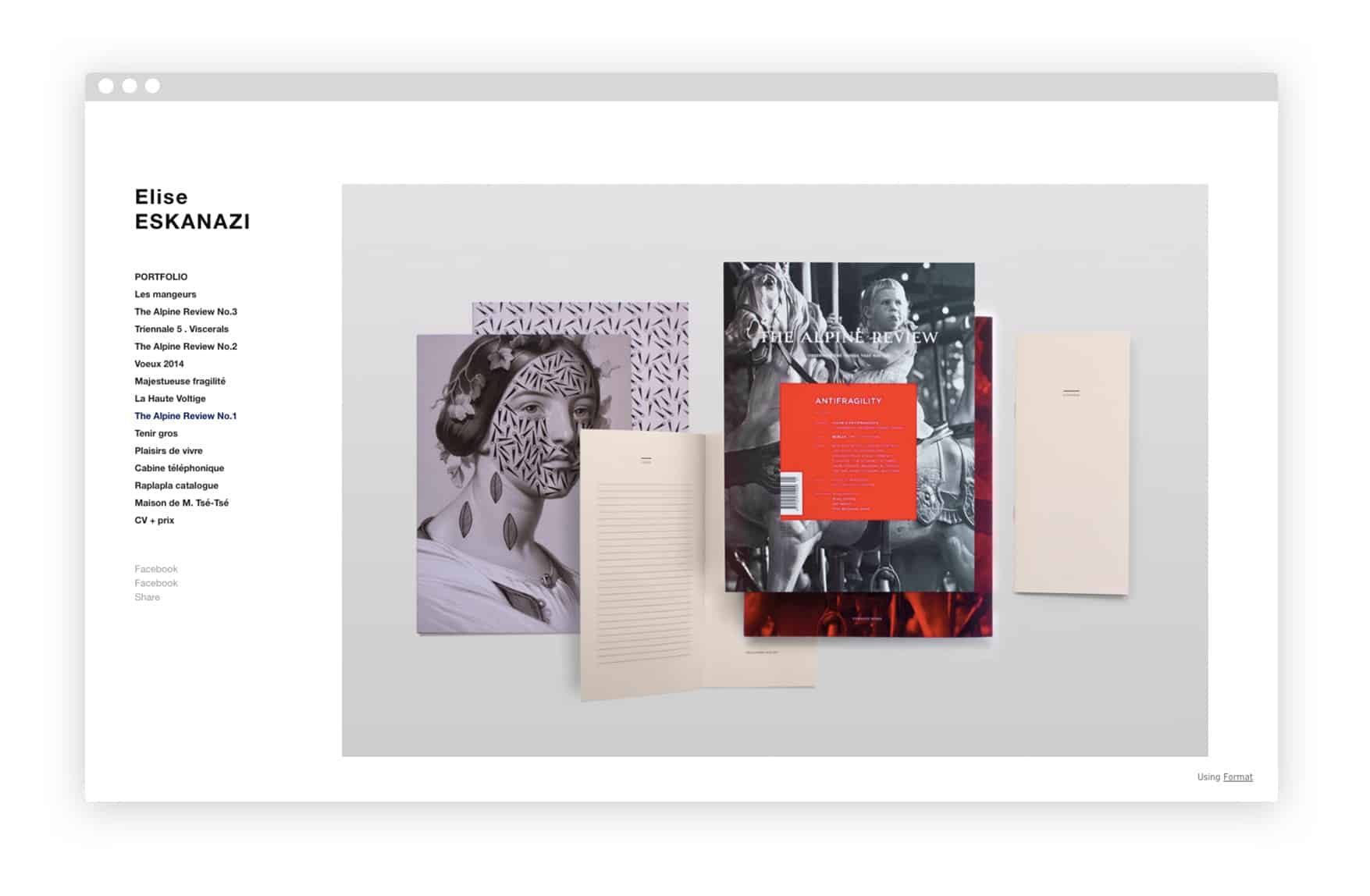 1. Elise Eskanazi
French artistic director and designer Elise Eskanazi uses the homepage of her online portfolio to display a quick overview of her projects. Each project can then be viewed full-size in the Ora theme's vertical scroll.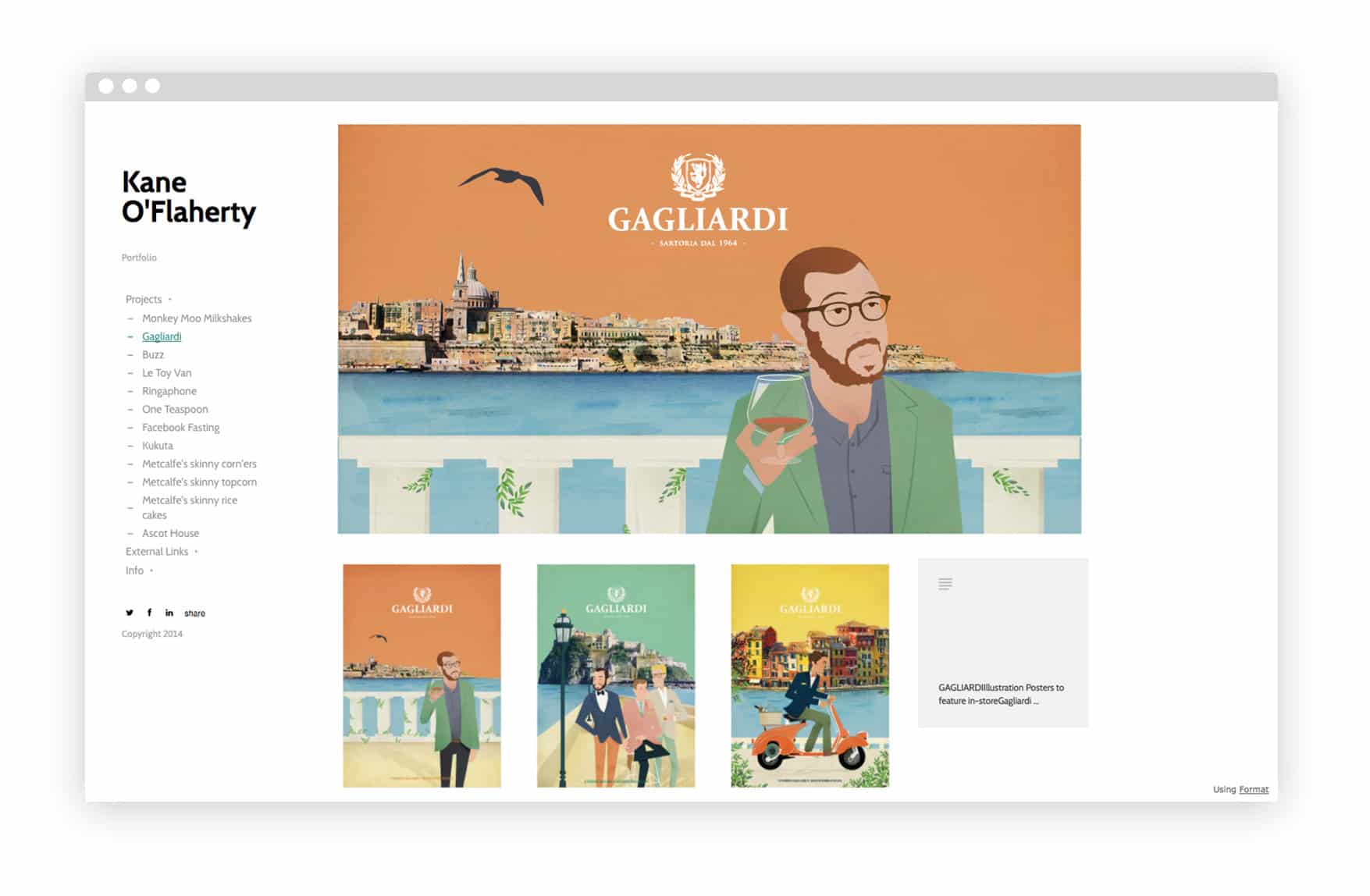 Branding and packaging designer Kane O'Flaherty gives snapshots of complete projects using Peak theme. The simple sidebar navigation allows clients to quickly jump between examples of his work.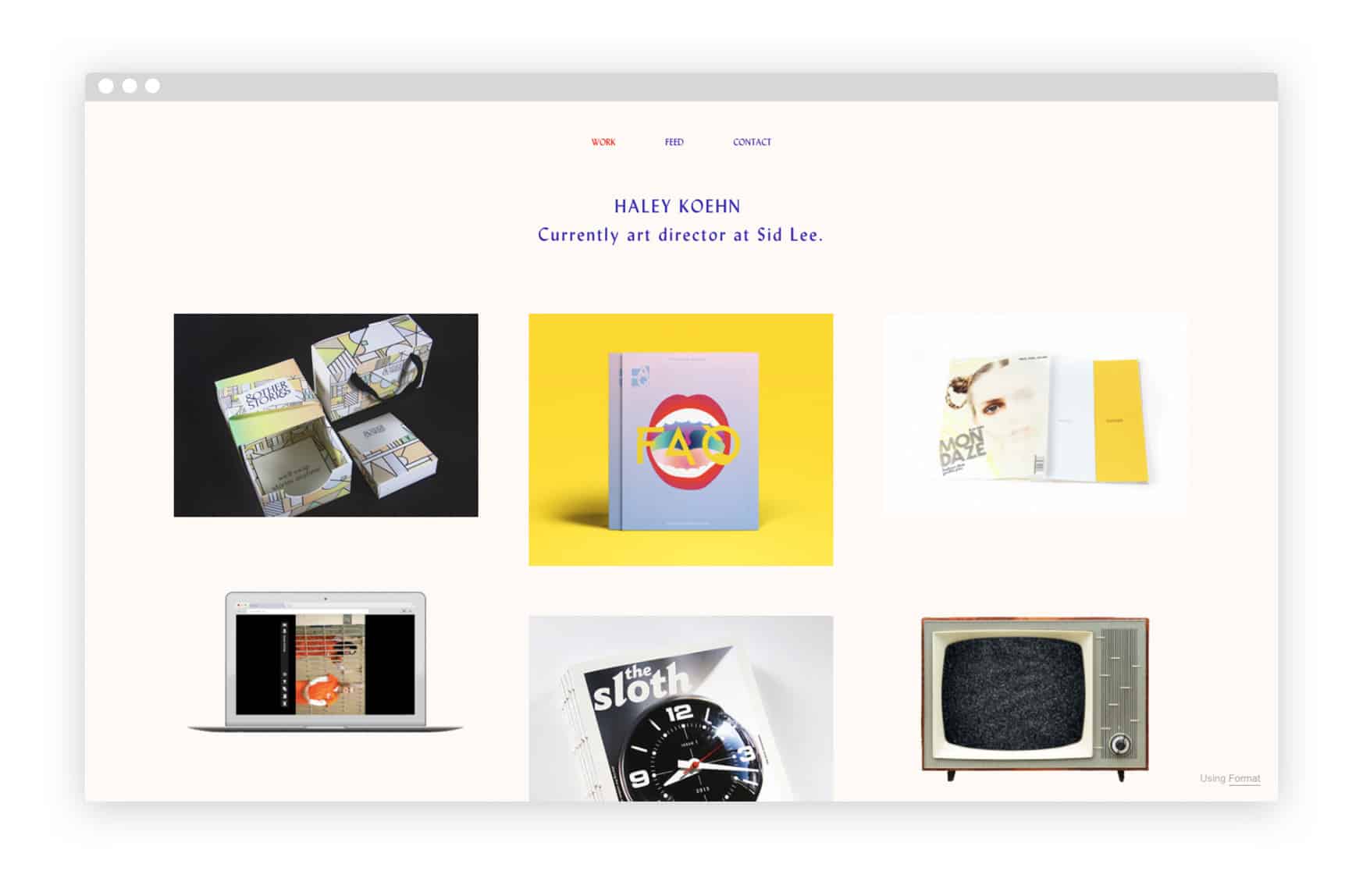 By mixing gifs with stills, Haley Koehn uses Format's Sierra theme to show off fashion-focused illustration projects. The clean design puts her work front and center.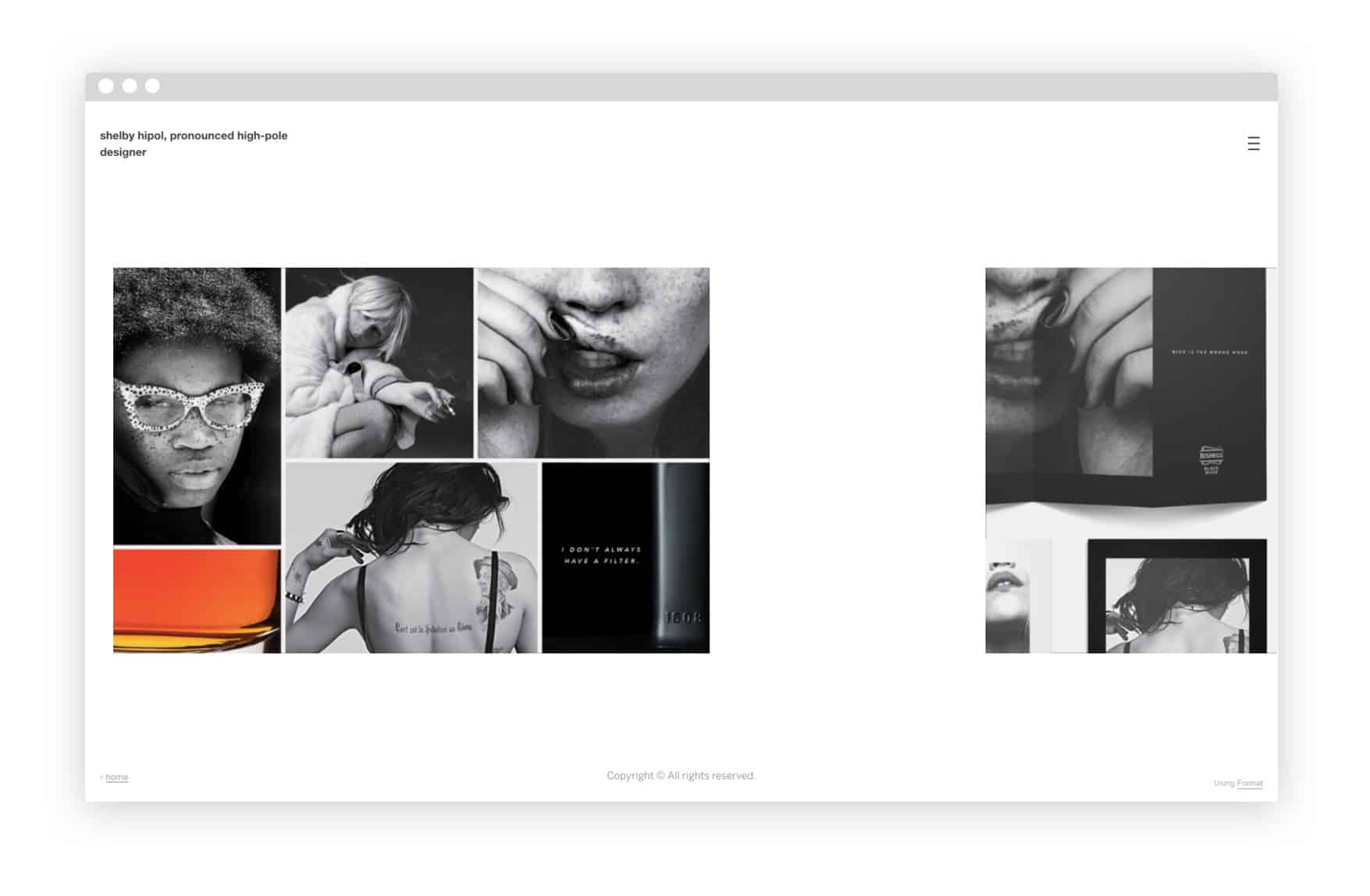 Shelby Hipol keeps things simple with Format's Beacon theme. Each homepage link clicks through to a different deign project, with prominent clients including Godiva and Lysol. Hipol currently works at ad agency McCann New York.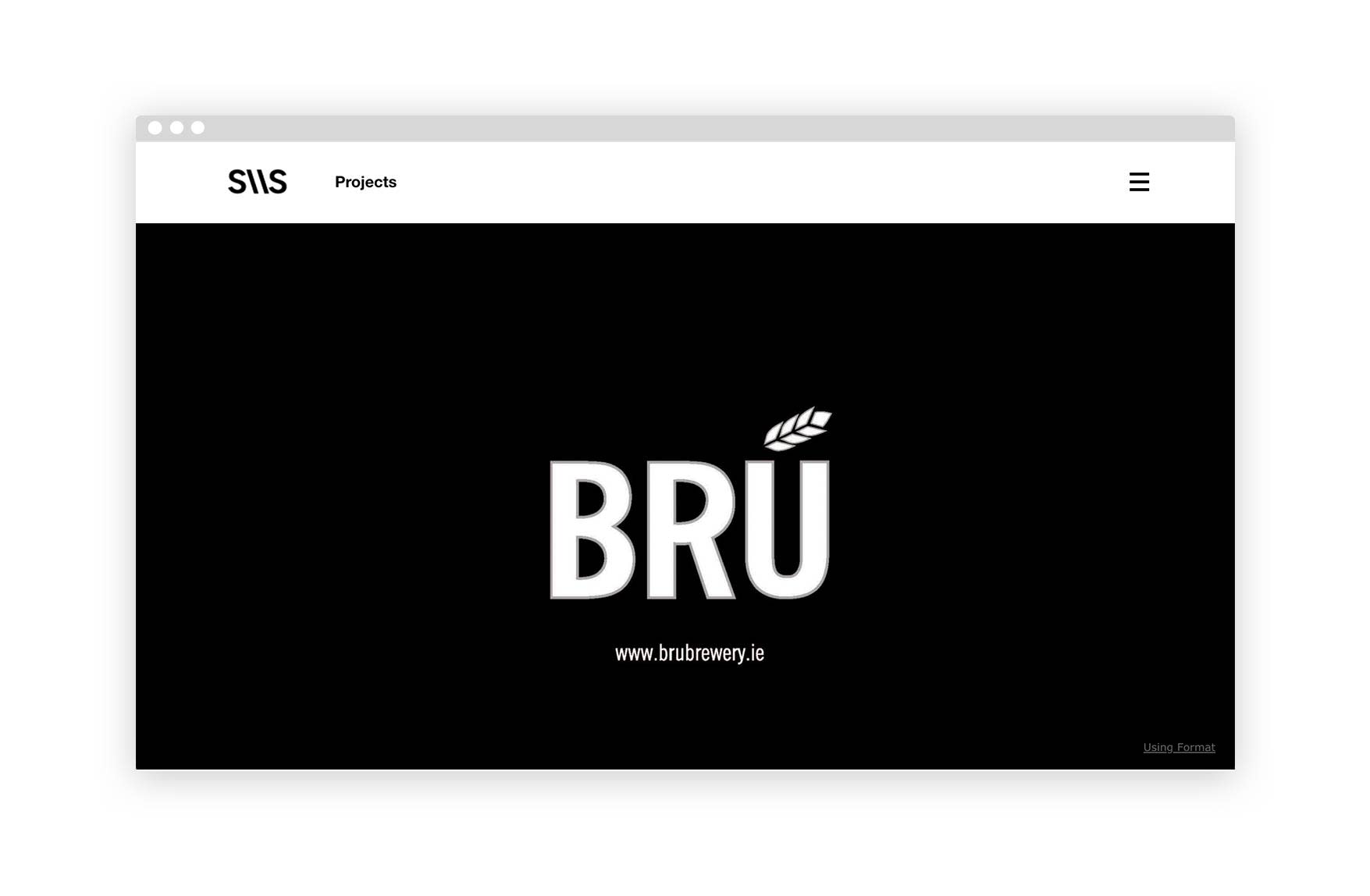 Dublin based Studio Sans have a very simple approach to their design portfolio. The less is more approach allows them to beautifully showcase some of the best projects without overloading their potential clients with too much. Using the [Spruce theme] (/l/your_new_portfolio#spruce) they showcase their work in a clean grid that utilizes their dominant colors as borders of their portfolio images, a feature which is built into the Spruce theme.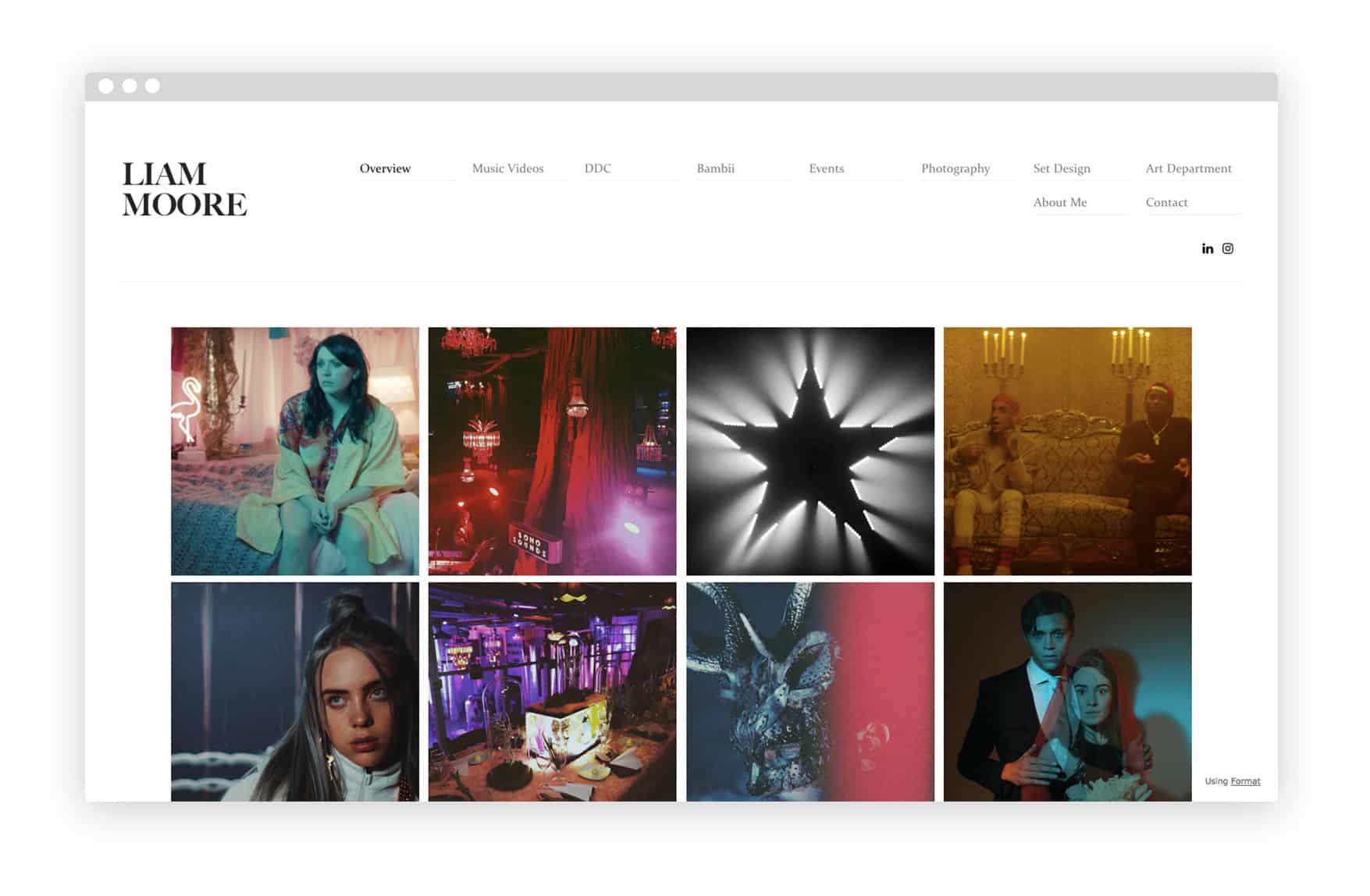 6. Liam Moore
LA-based designer Liam Moore likes things that move, sparkle, light up, accelerate, rotate, illuminate and accentuate. He uses Format's Monocle theme to show overviews of projects in a colorful square grid.
Gabbana, a design and marketing solutions company based out of Malaysia, with a really strong design portfolio. Their design projects range from both product and graphic design, with many impressive examples. They also provide valuable information to potetial clients on what to expect from their services with the use of several landing pages going over their project processes from briefing to production. Using the Sun theme Gabbana showcases their work in beautiful landscape galleries.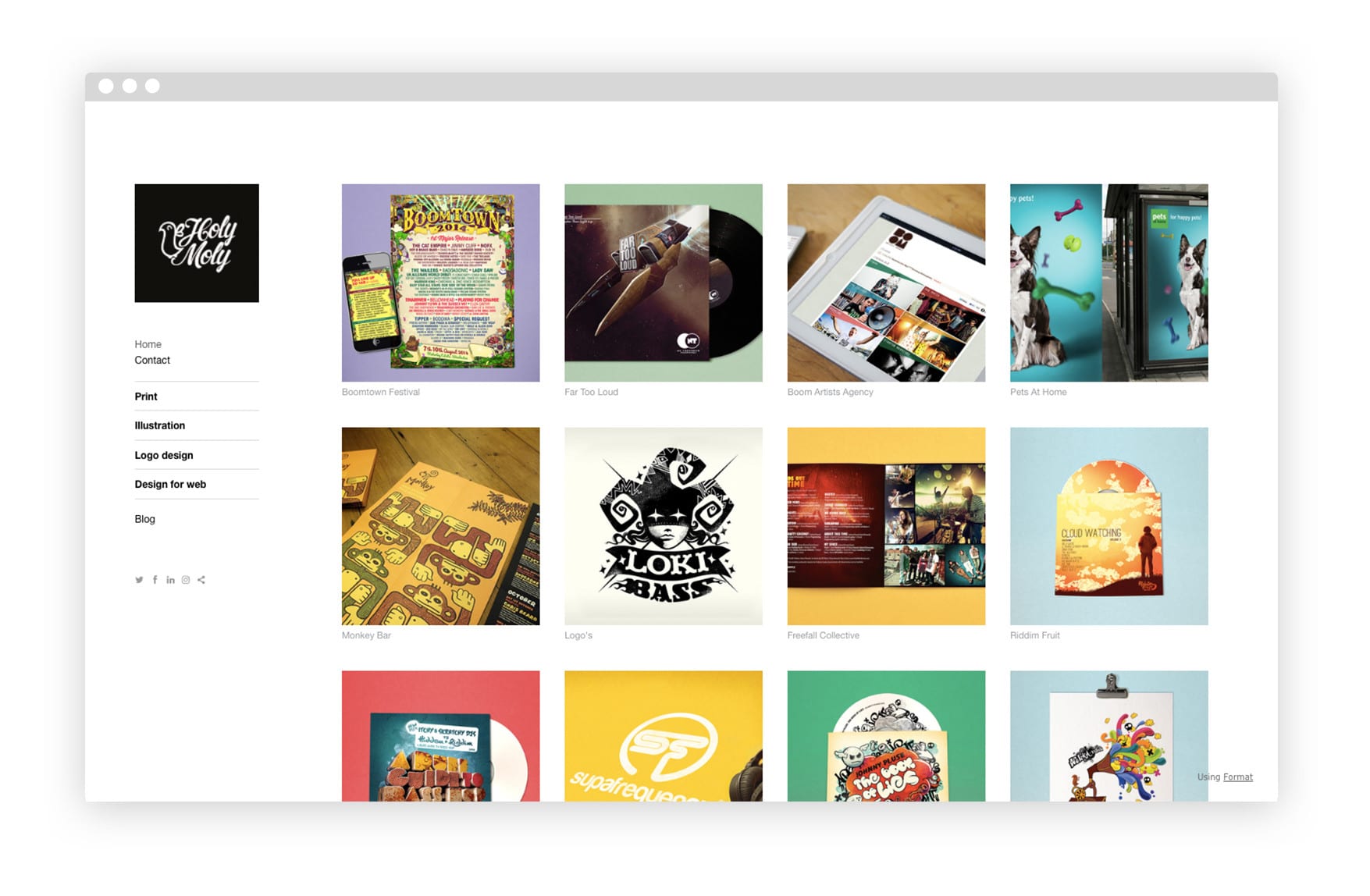 Designer/illustrator Carl Syn uses the Ora theme's square grid to mimic the shapes of his projects including record sleeves and calendars. The clean organization makes this an easy portfolio to explore.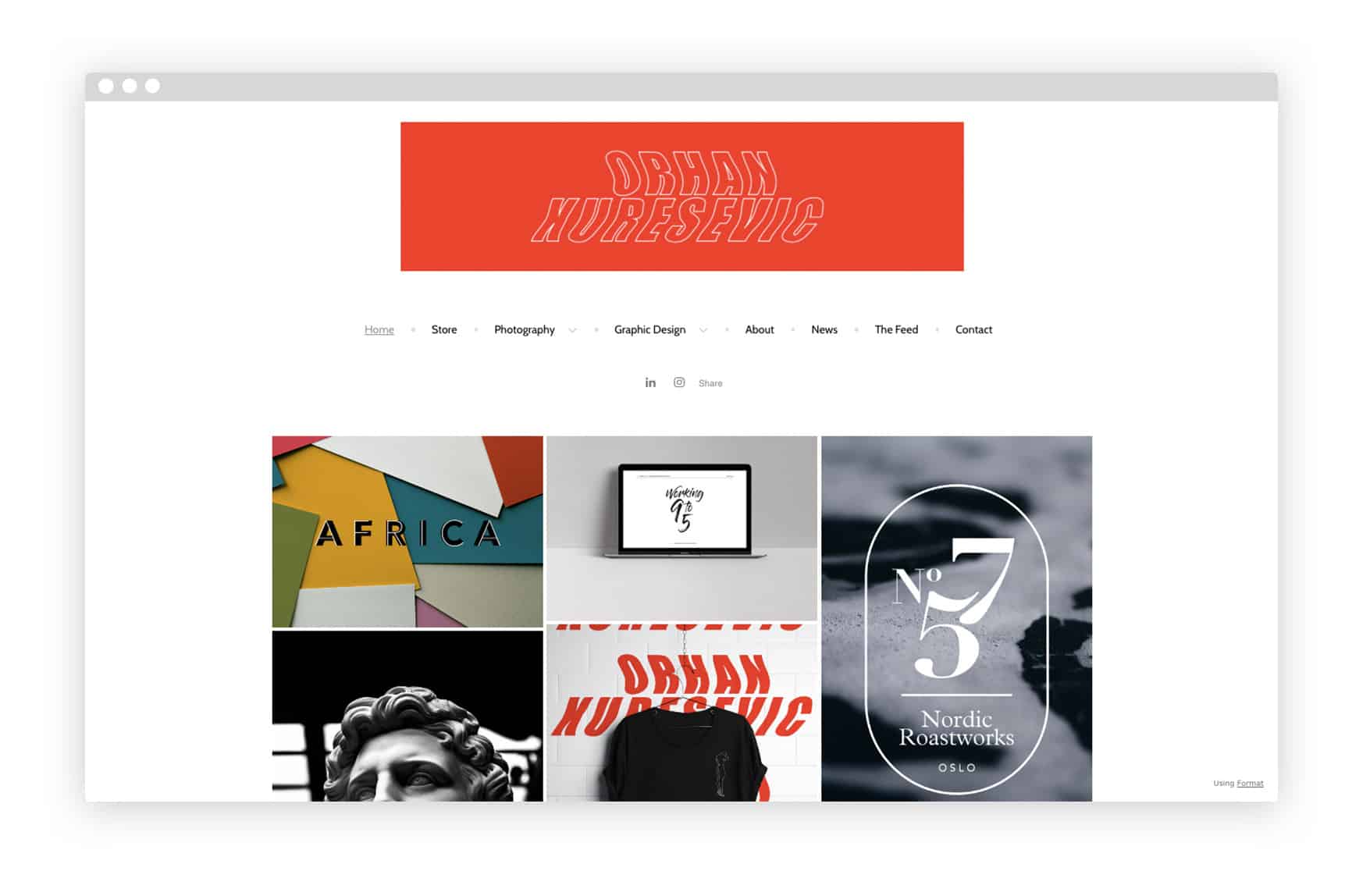 Norwegian graphic designer Orhan Kuresevic prompts visitors to dig deeper into his galleries by offering a visual preview of them all on his grid-based homepage, created with Format's Amazon theme. A bold red logo makes his online portfolio memorable, while a neatly categorized menu allows visitors to navigate through all his different projects.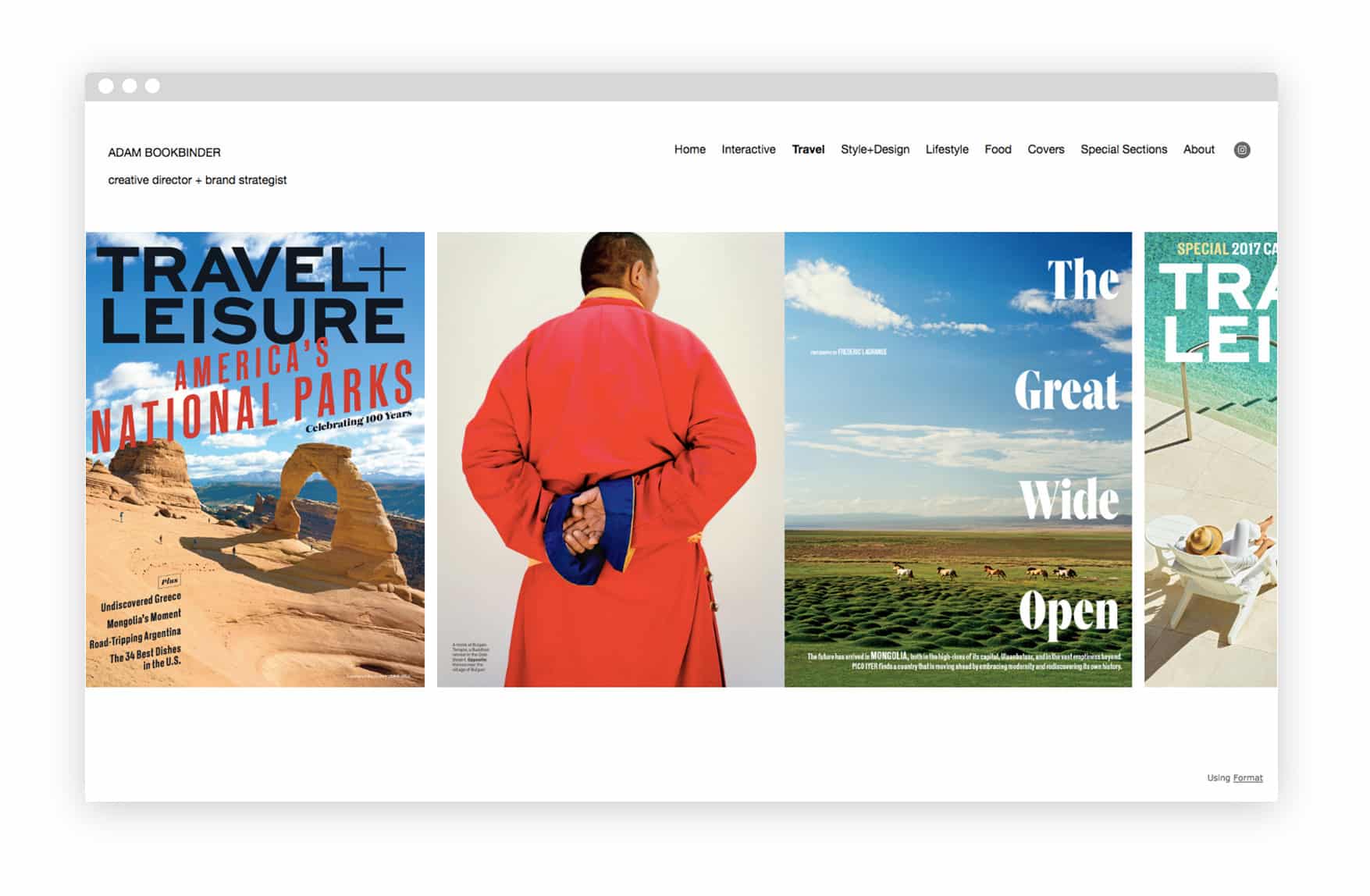 As the design director for Saveur Magazine, Adam Bookbinder uses the Horizon theme to create an editorial experience. The single scroll feels like flipping through a magazine. He highlights specific content types to show his range of talent from front page covers to travel diaries.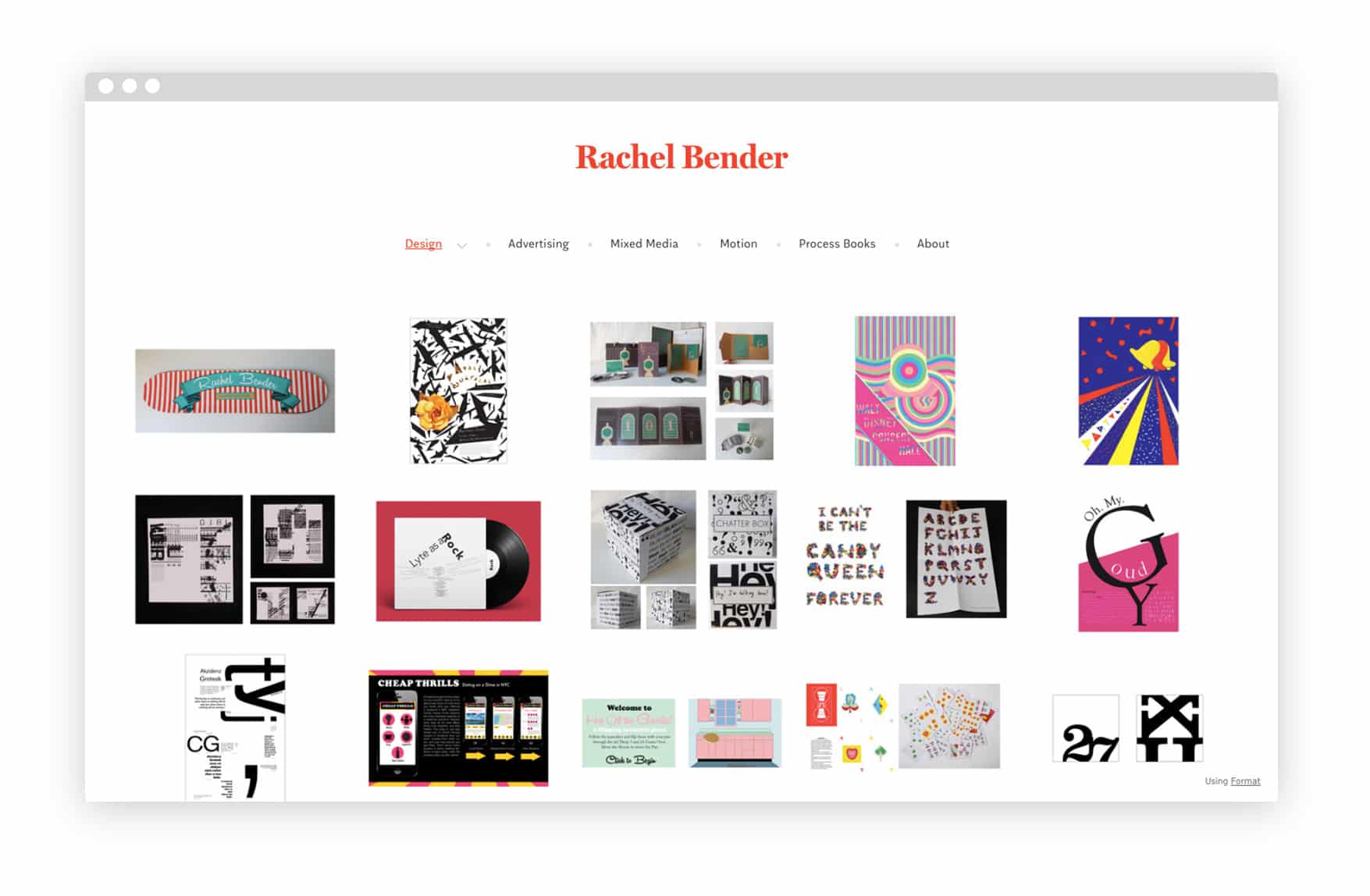 Rachel Bender uses Format's Amazon theme to show off her colorful graphic design work in a neatly organized grid layout. The simple menu allows her to feature other creative work (photography, video) while keeping the focus of her online portfolio on design.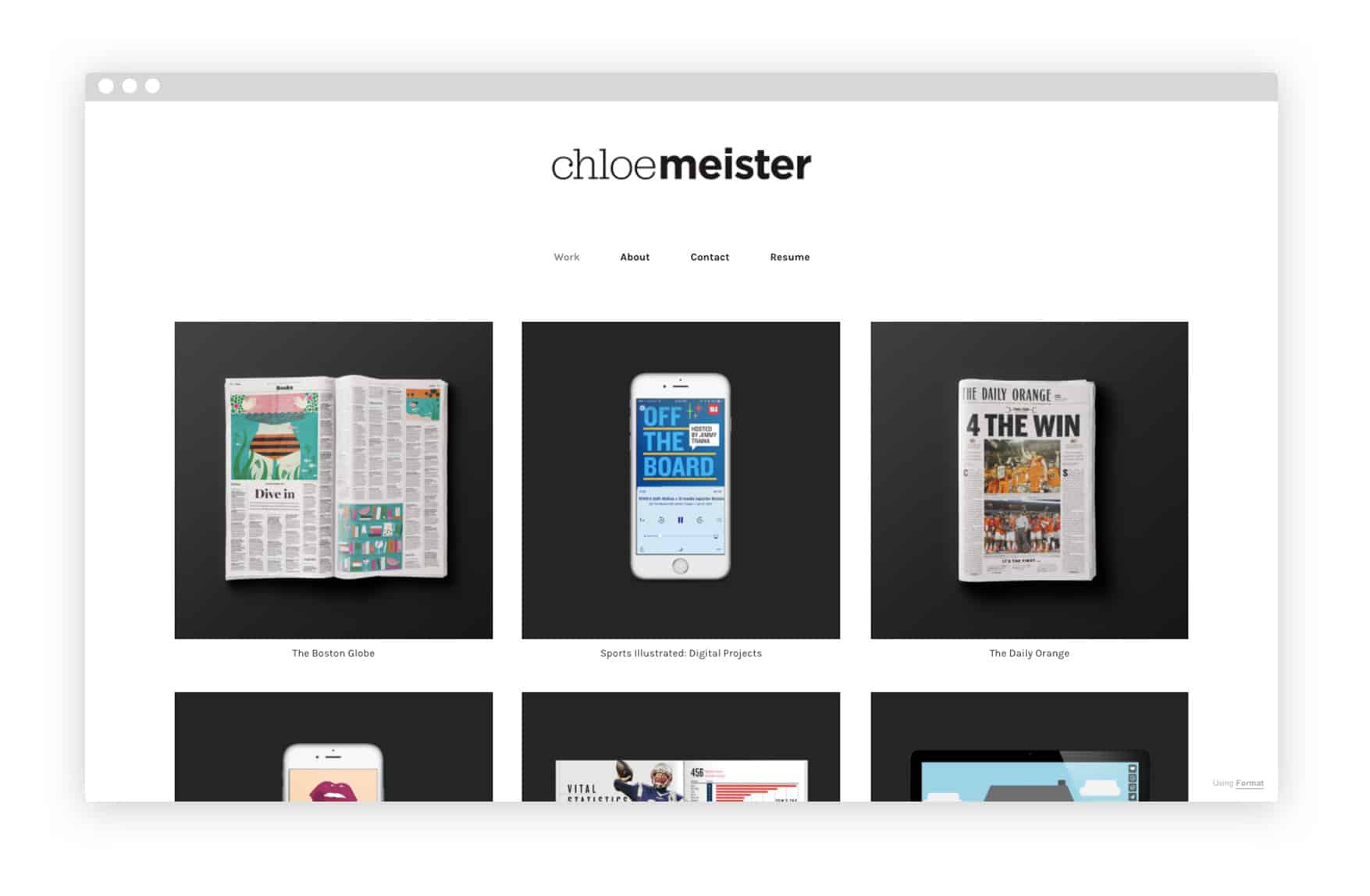 Chloe Meister uses the Sierra theme to show off her editorial design work in a clean and tidy grid. Meister counts publications like Allure and The Boston Globe among her client list, and has just finished up a design internship at Sports Illustrated.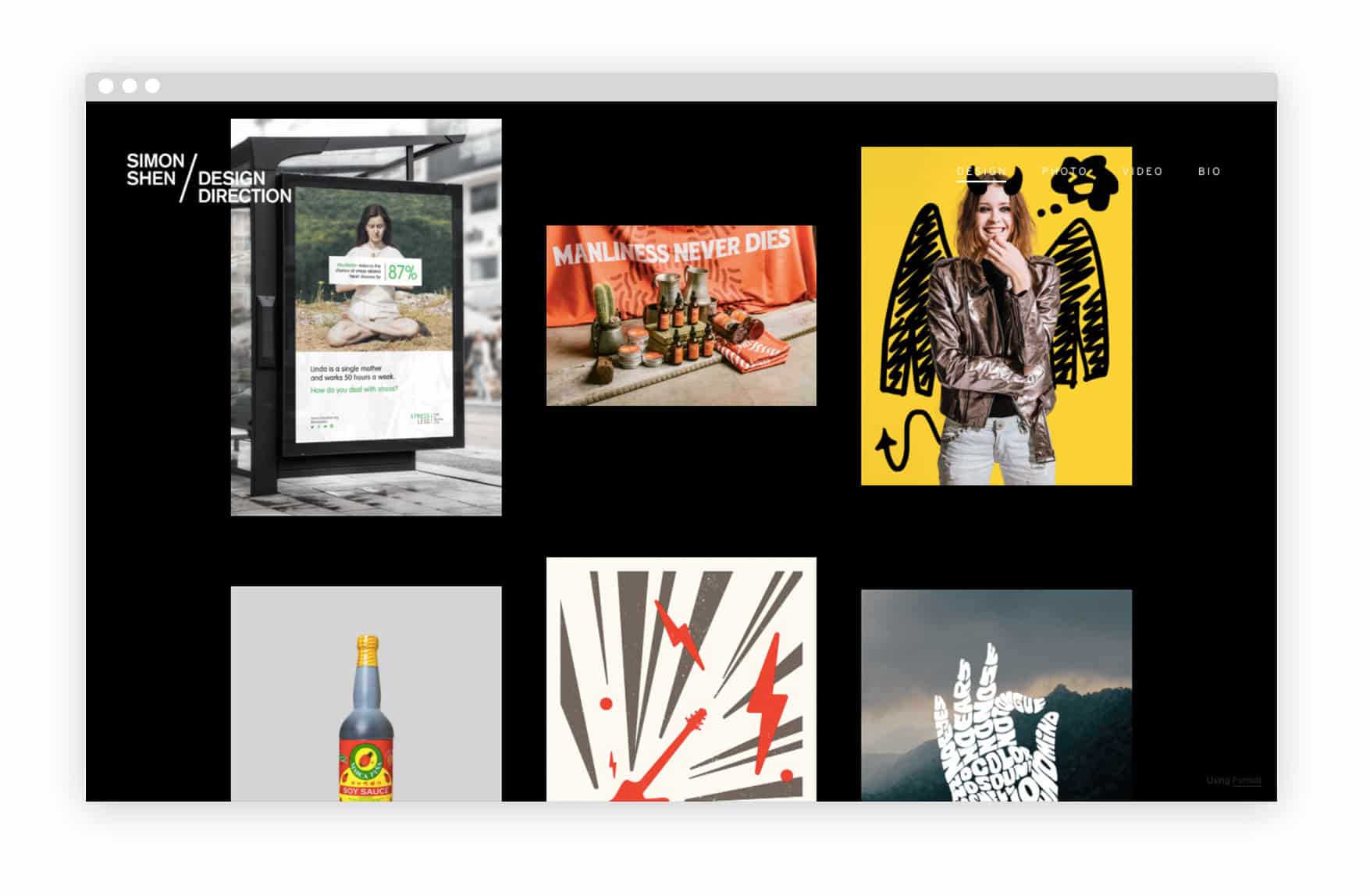 14. Simon Shen
A bold black background adds character to graphic designer Simon Shen's online portfolio. Using Format's Mica theme, Shen organizes his galleries by projects, allowing potential clients to explore posters, catalogues, logos and ads.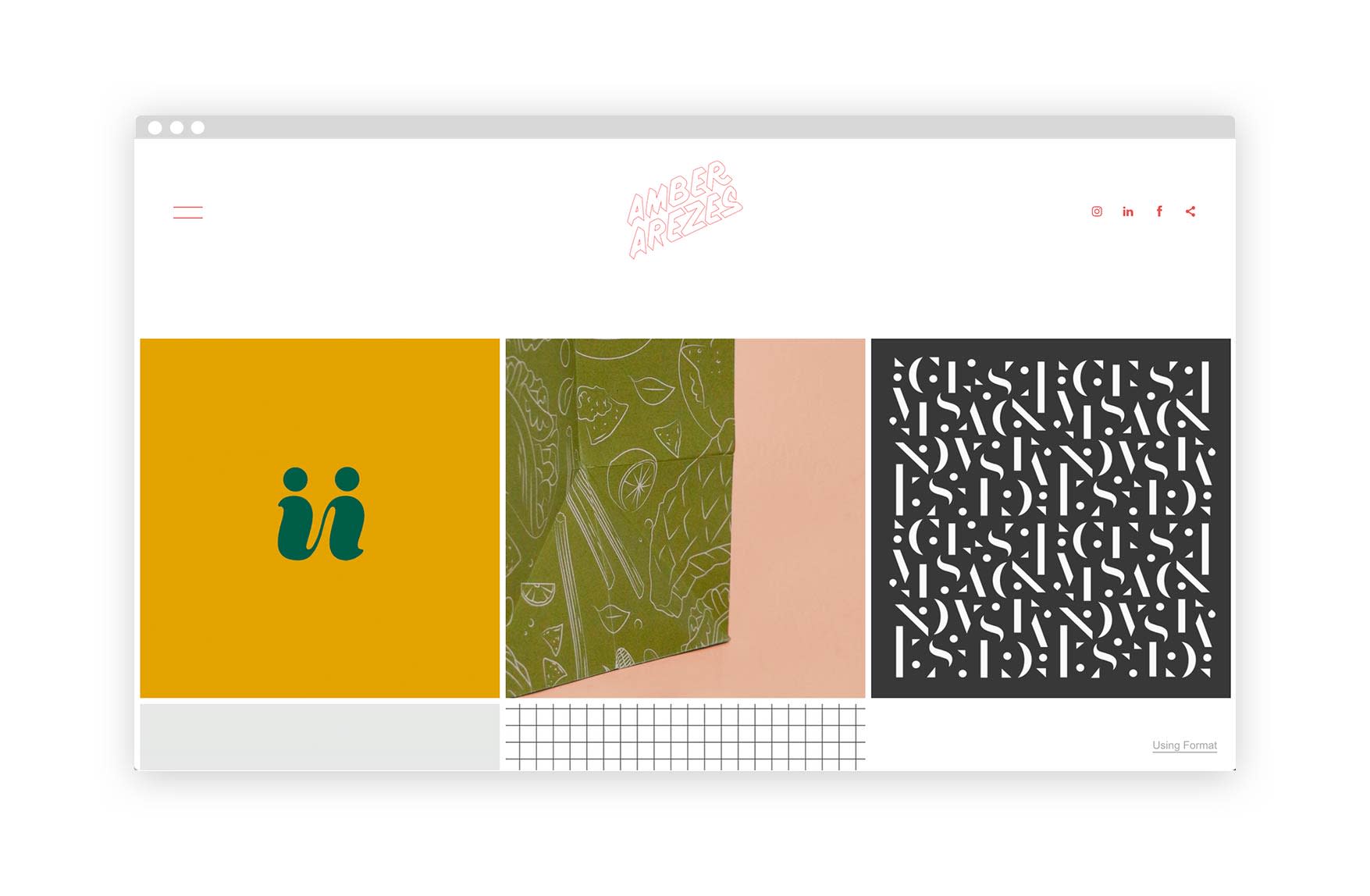 Toronto native Amber is a multi-talented OCAD University graduate with a degree in Design, specializing in Advertising. Using the Obsidian Theme she employes a simple yet effective graphic design portfolio showcases several projects in a gallery which you can click through to view a full gallery of images with a short writeup on the project.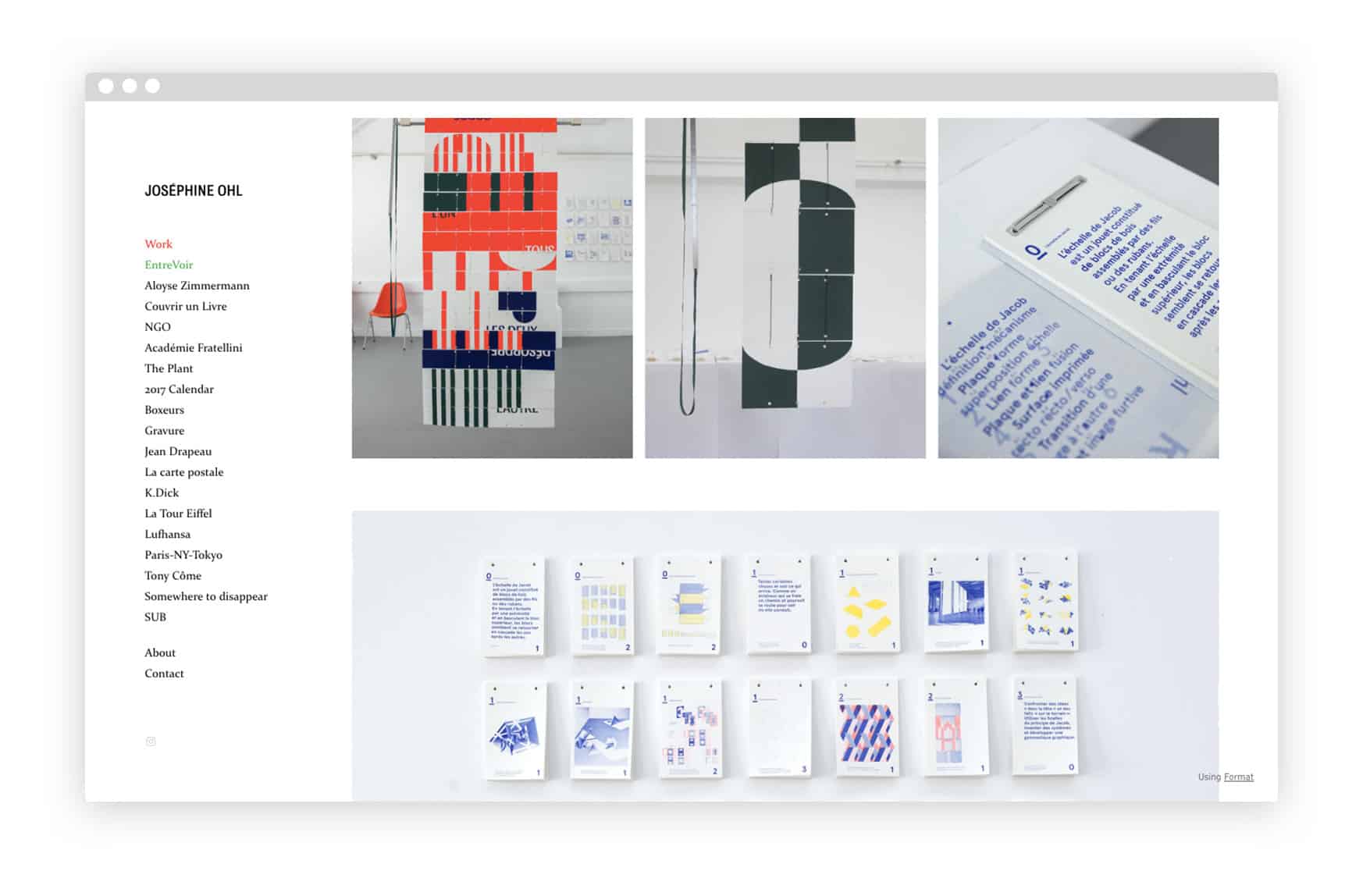 16. Joséphine Ohl
Paris-based graphic designer Joséphine Ohl uses Format's Ora theme to arrange her modern, minimalist design work in a simple way. Her sidebar menu allows for easy navigation of her work, while the horizontal scroll lets images fill up the whole page.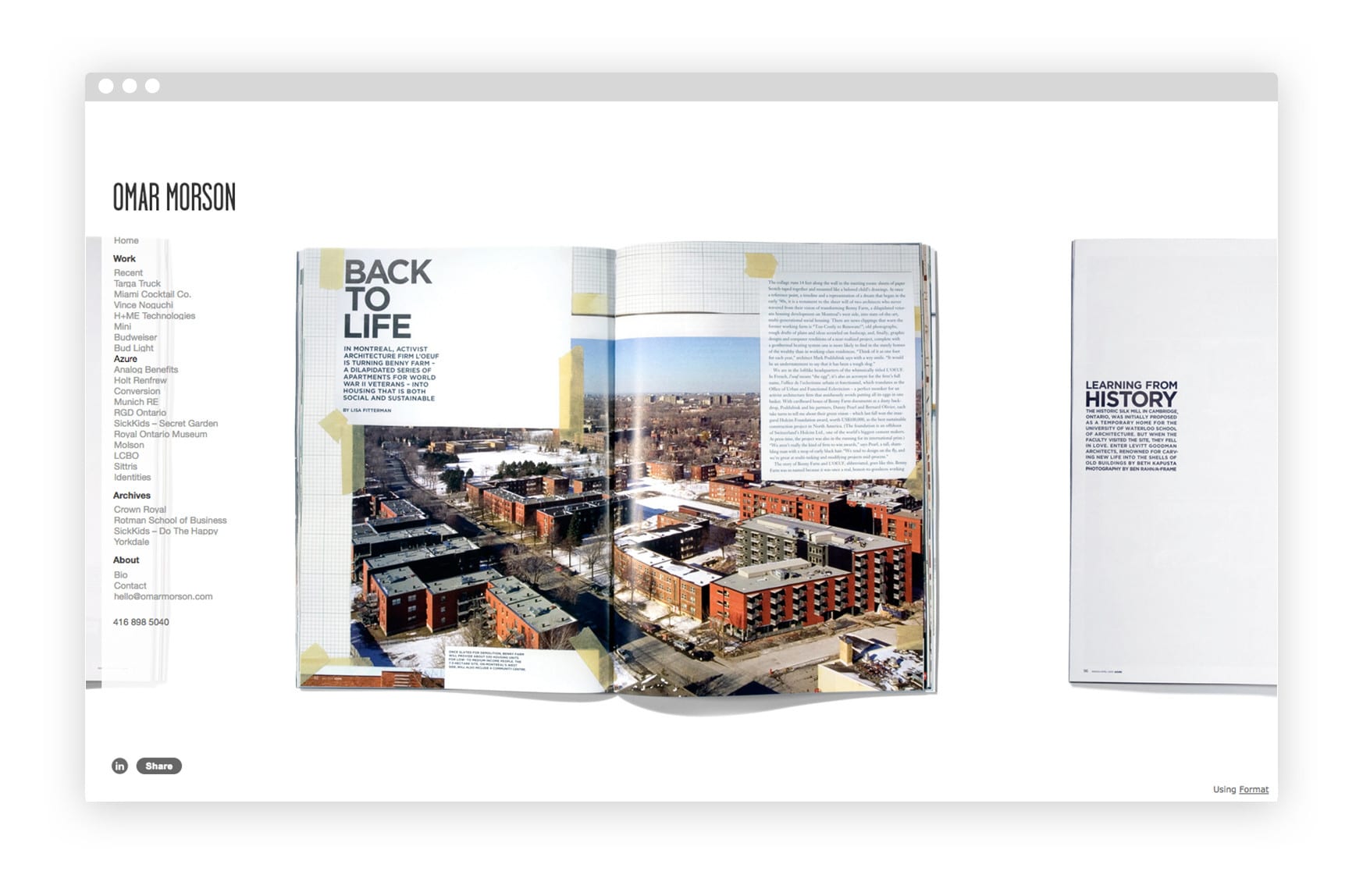 Omar Morson uses "Coming Soon" as a gallery title to show that his online portfolio is freshly updated. Each of the galleries underneath is distinctly different from the rest. The clean design of Format's Horizon Left theme keeps this portfolio easy to navigate. Morson's client list includes luxury retailer Holt Renfrew, the Liquor Control Board of Ontario, the Royal Ontario Museum, and Budweiser.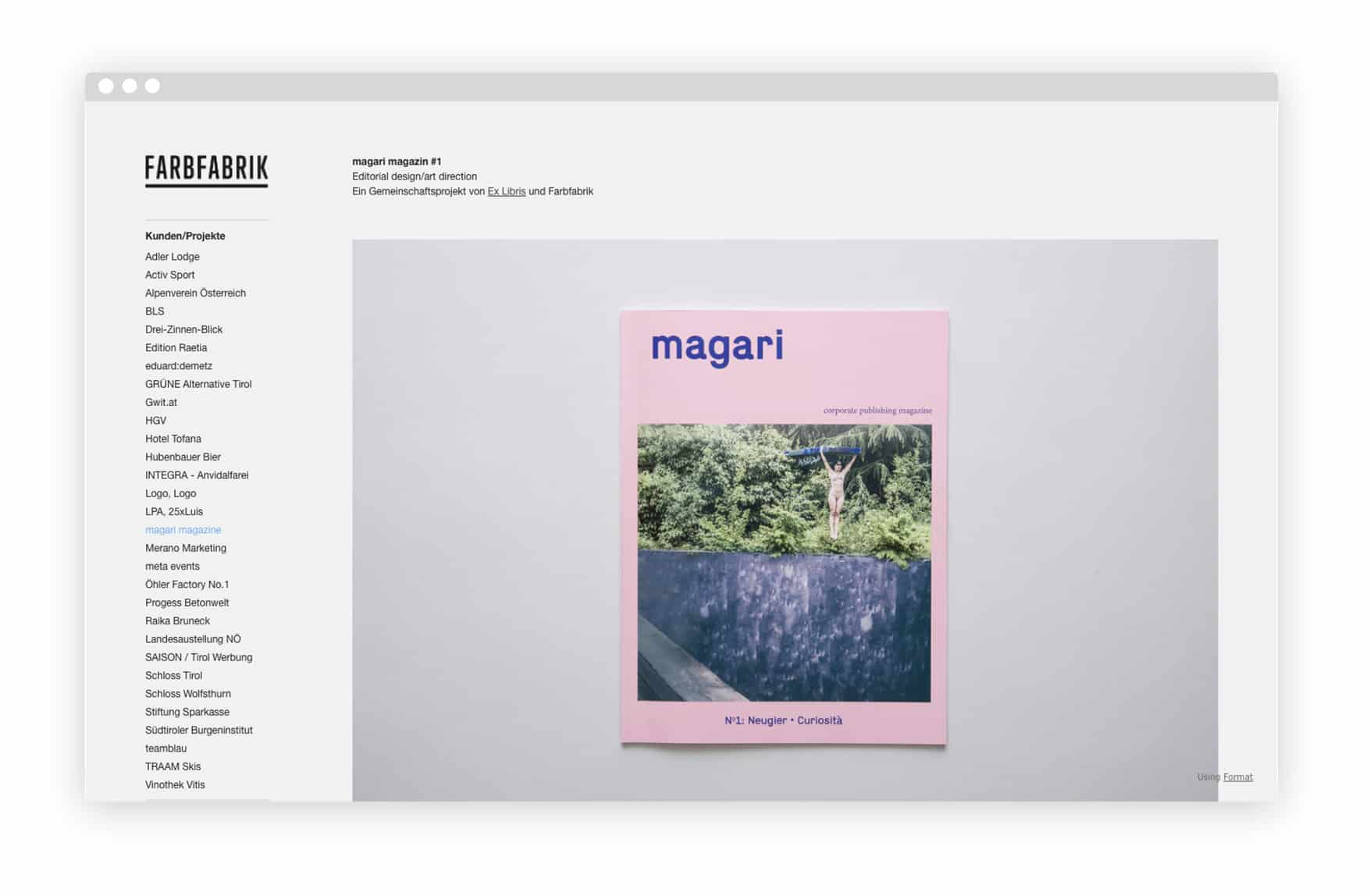 The studio of graphic designer Philipp Putzer, the name Farbfabrik translates to "color factory." Putzer uses Format's Ora theme to showcase his work in an easily accessible way, with a long sidebar menu which lists all of his projects. His simple graphic logo stands out against an off-white background which adds some texture to the website.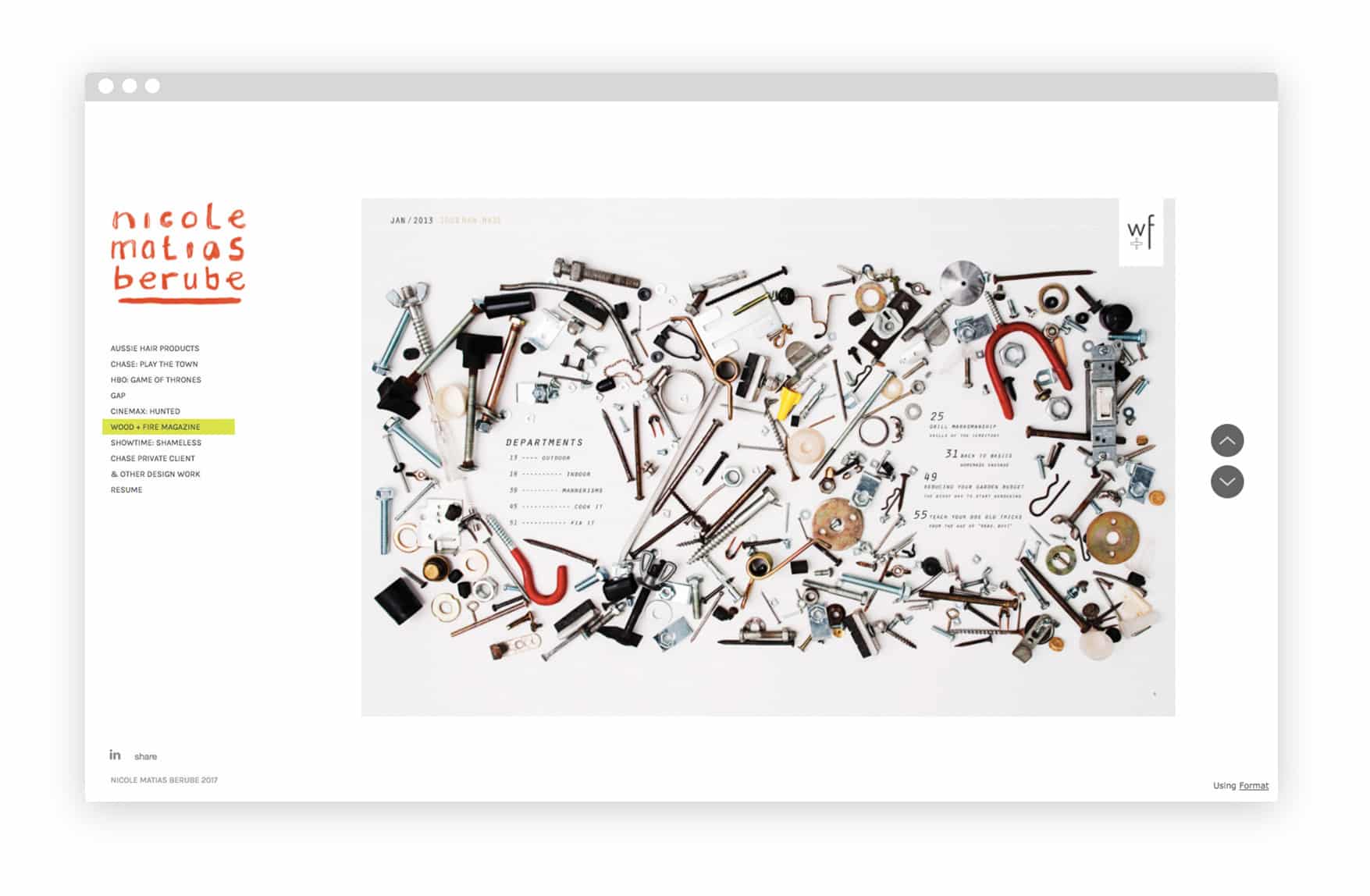 This art director and designer has a perfectly color-coordinated online portfolio. Format's Industry theme gives lots of space to her design work, which she has neatly organized by campaign. A link to a resume in PDF form makes sure potential clients can find out more about her work.
Make sure you share with us your own online design portfolio on Twitter @useformat, we would love to see all of your work.
This article was originally published November 1st, 2017 and updated on March 11th, 2019.