These architects and architecture studios stand out with websites that are a cut above the rest.
The best-designed architecture portfolios show off a variety of projects in a way that complements, rather than distracting from, the work. Especially for emerging architects looking to connect with new clients or get noticed by established firms, a well-made online portfolio website is an indispensable tool.
We've put together this list of ten standout architecture portfolios to give you some inspiration for designing your own website. From Cape Town to Paris, these architects all have carefully designed online portfolios which display their work at its best.
The 10 Best Architecture Portfolio Websites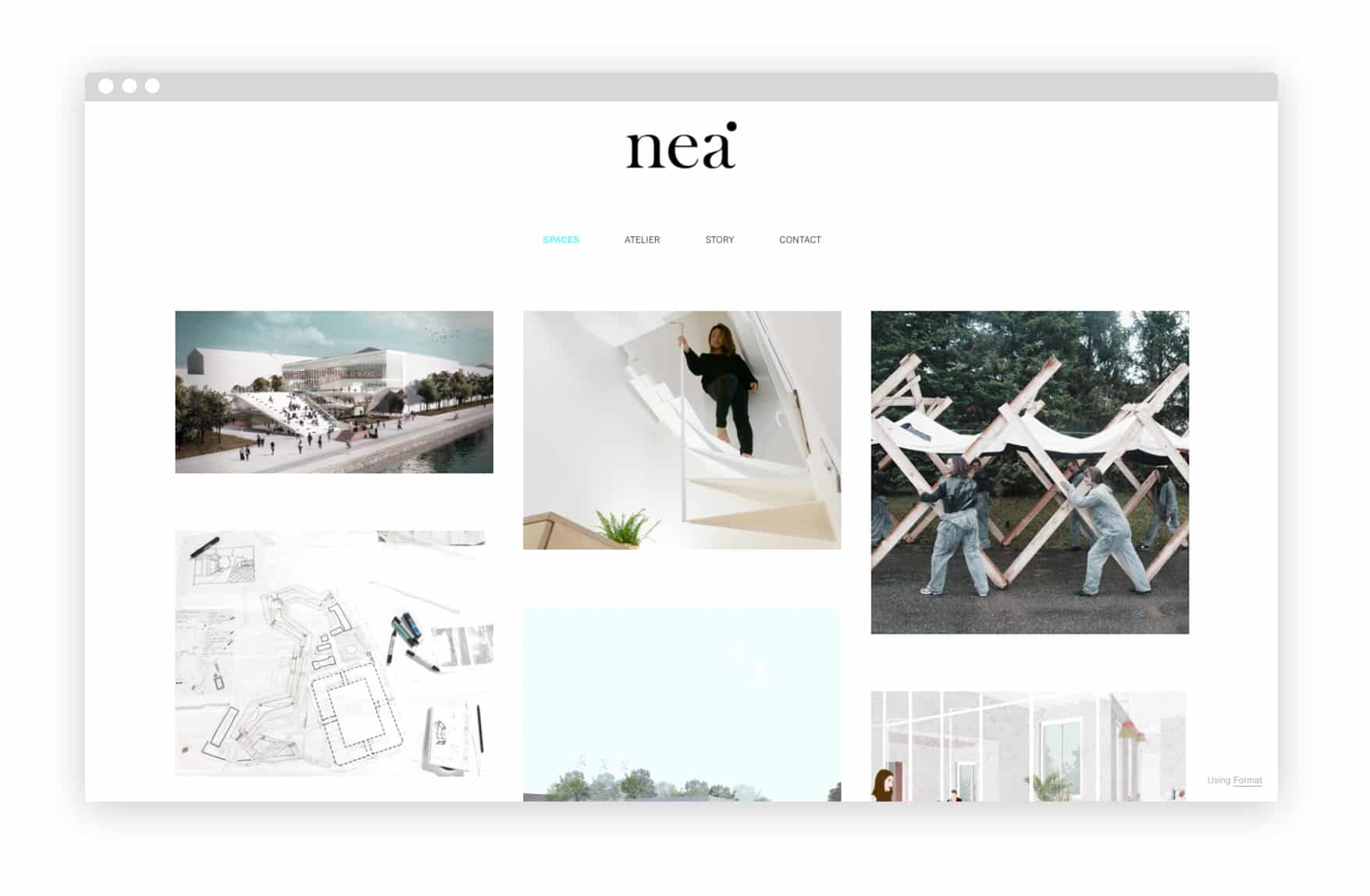 Nathalie Eldan Architecture
Founder and principal Nathalie Eldan has worked in her native Jerusalem, as well as in Tokyo and Paris. In 2014, she founded NEA in Paris; it's an internationally-focused studio, working across the "entire spectrum of architecture from building and urban design to city interventions, research, and publications."
www.nathalieeldanarchitecture.com
Format Theme: Sierra
Erik Andersson Architects
As explained by Erik Andersson's bio, "Erik Andersson Architects is a Stockholm based studio practicing contemporary architecture and infrastructure." Andersson studied architecture at Oxford, Columbia, and Stockholm's Royal Institute of Technology. While his online presence originally started as an architecture student website portfolio, it has grown and transformed in line with his successful career.
Andersson's studio ranges widely in its practice, with his architecture portfolio showcasing furniture and product design as well as designs for bridges and large-scale infrastructure. The Horizon theme makes scrolling through examples of Andersson's work effortless and enjoyable.
www.erikandersson.format.com
Format Theme: Horizon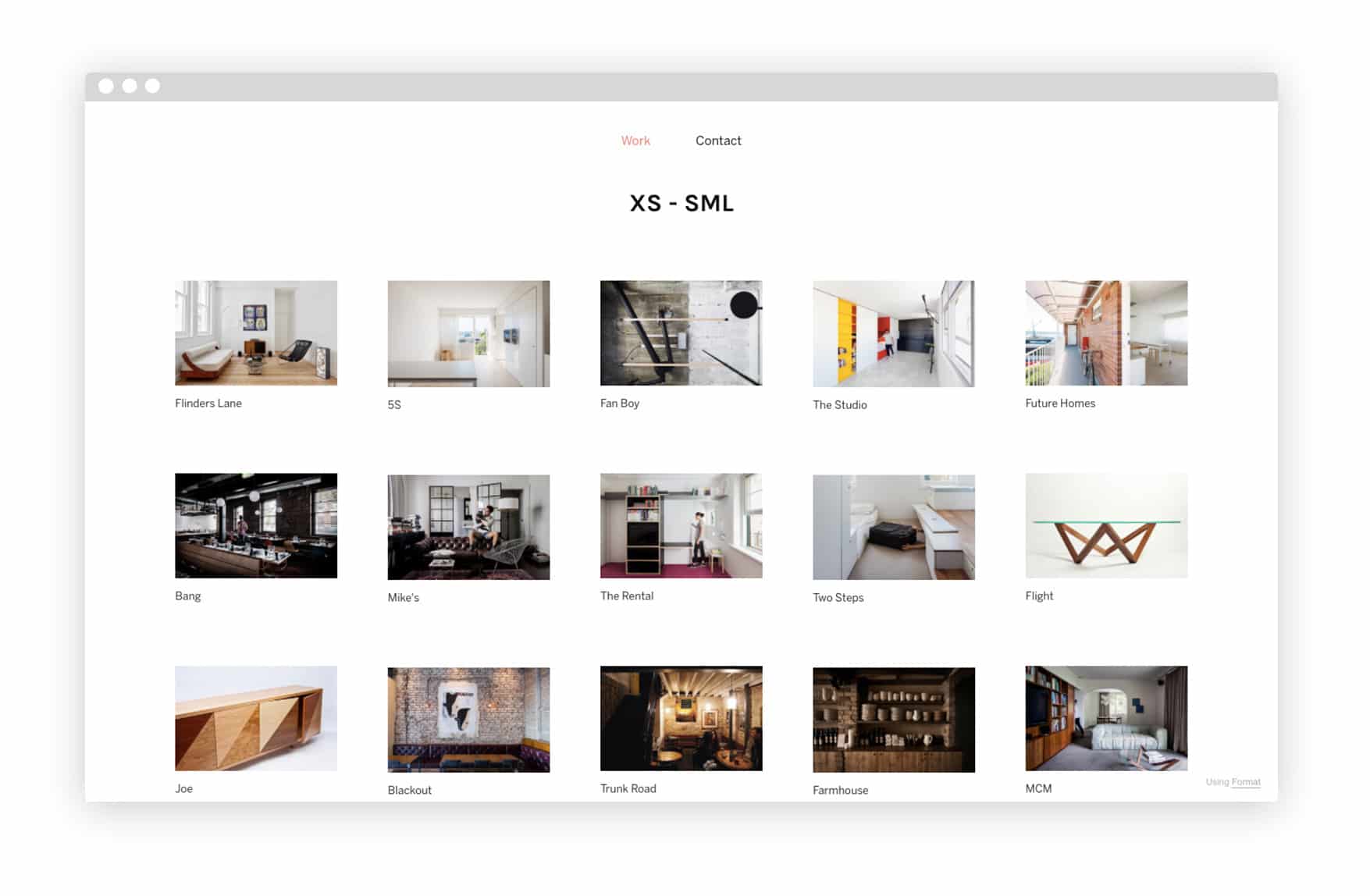 Nicholas Gurney
Based in Australia, architect Nicholas Gurney specializes in design for small spaces, as demonstrated by the XS – SML label at the top of his portfolio. With ample white space, Gurney's architecture portfolio is designed with the same minimalism he applies to his interiors. A grid overview shows previews of each project, and clicking through opens up a gallery with images that show each commission in more detail.
www.nicholasgurney.com.au
Format Theme: Sierra
HK Associates Inc
Made up of husband and wife Kathy Hancox and Michael Kothke, HK Associates is located in Arizona. With a range of experience at various architecture firms in the United States and Canada, the two decided to combine their skills. Sustainability is a focus for HK Associates, whose architecture portfolio showcases designs for homes as well as salon spaces.
www.hkassociates.net
Format Theme: Horizon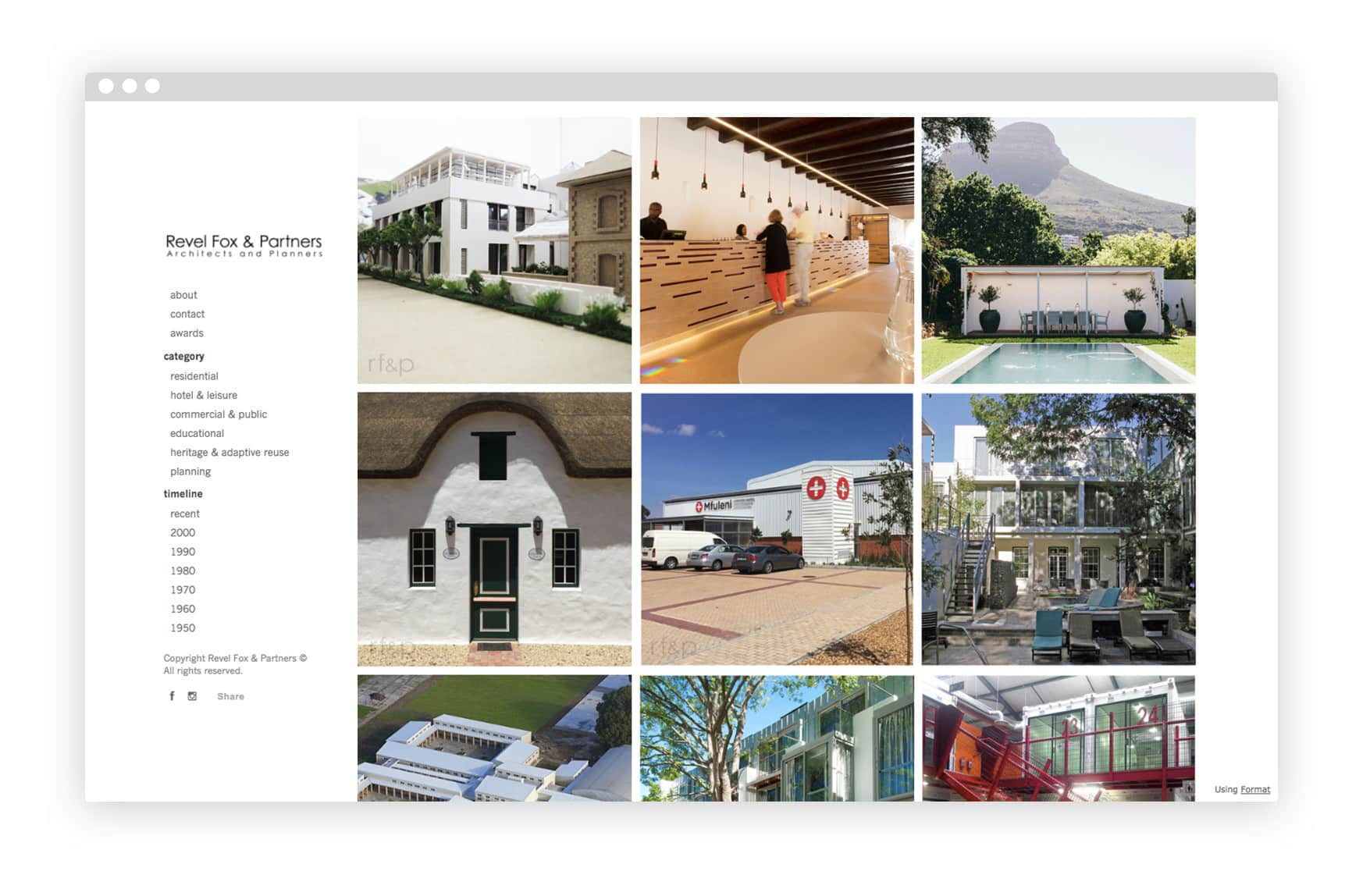 Revel Fox and Partners
Founded in 1962 by Revel Fox, this Cape Town firm now has five partners. Their architecture portfolio showcases six decades of past work, organized in a chronological timeline, with recent work displayed first so viewers can get a feel for what the firm has been up to lately. Over the years, Revel Fox and Partners have worked on residential, commercial, hotel, public, and educational buildings, as well as many more projects.
www.revelfox.co.za
Format Theme: Horizon Left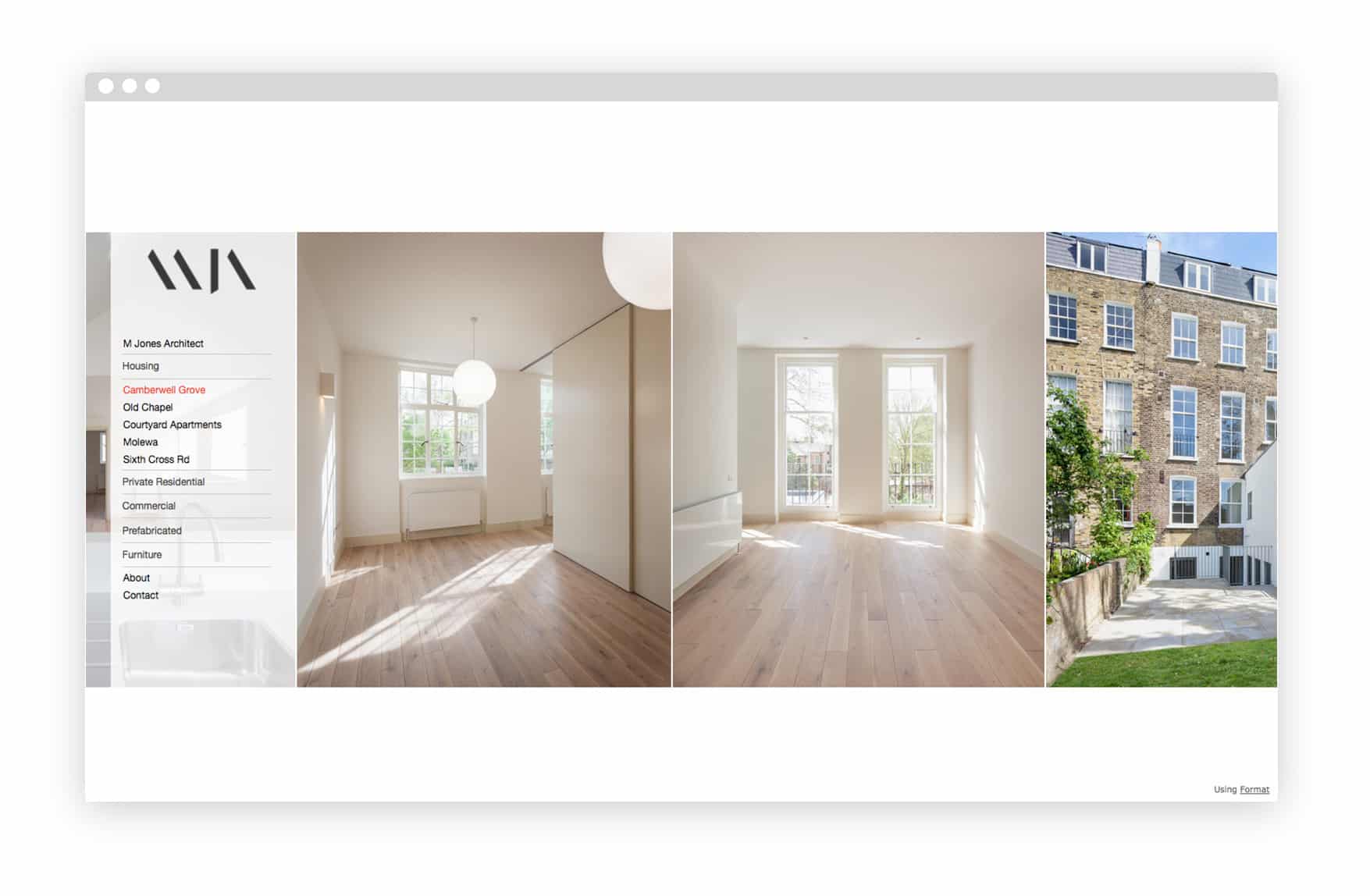 M Jones Architect
The best architecture portfolio websites clearly demonstrate the flexibility and experience of the architect. M Jones, the practice of Brixton (London) Architect, Matthew Jones, does just this. Jones has lectured on architecture at UCL and Westminster, and his architecture portfolio shows a range of work, including residential and commercial projects as well as furniture design. A sidebar menu keeps different categories of work easily navigable, and Jones' detailed About page offers all the background information new clients might need.
www.mjonesarchitect.com
Format Theme: Horizon Left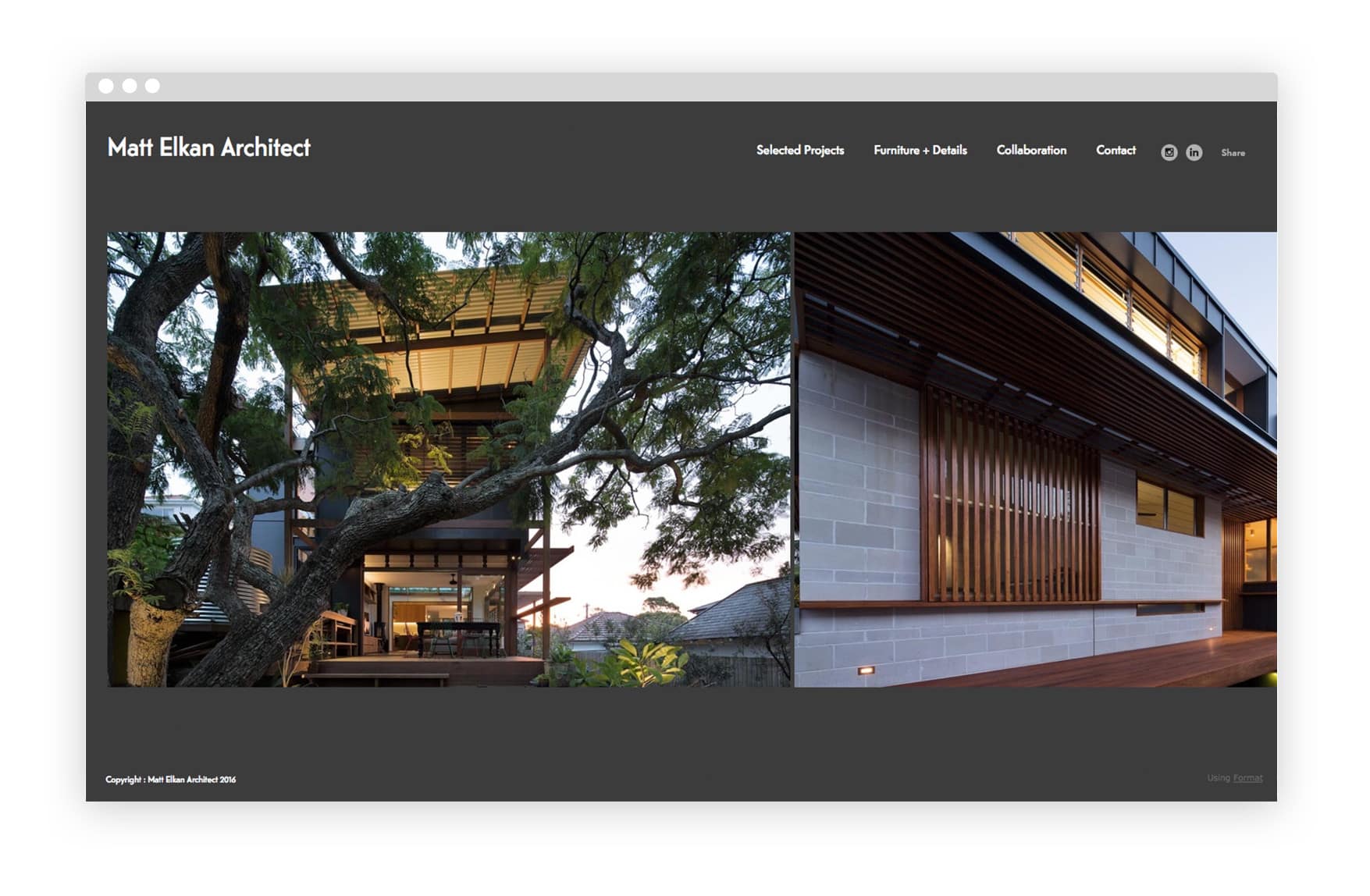 Matt Elkan Architect
Located in New South Wales, Australia, Matt Elkan specializes in designing homes and furniture. With projects bearing names like Photosynthesis House and Lagoon House, it's clear that harmony with the environment is a focus of Elkan's work. On his architecture portfolio, Elkan provides background for each project with a brief text that shares some of the challenges and key points of every design.
www.mattelkanarchitect.com.au
Format Theme: Horizon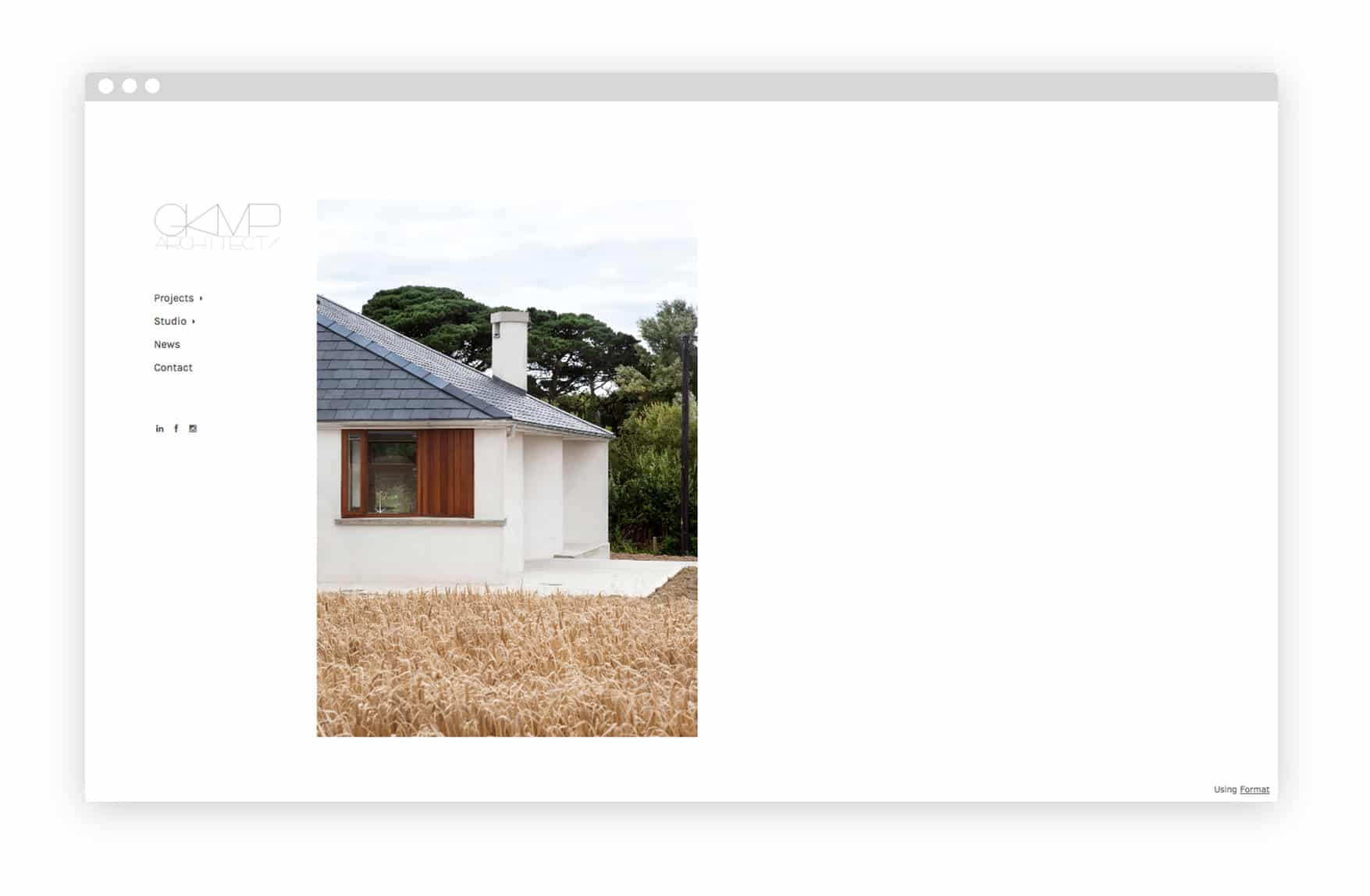 GKMP Architects
This Dublin-based studio focuses on designing domestic space, from housing projects to individual homes. They've also worked on designs for public spaces and buildings. GKMP has won numerous awards for their work and recently were named Interior Designer of the Year at the Image Interiors & Living Design Awards 2017.
GKMP favors simplicity in their architecture portfolio; galleries that show images one at a time allow viewers to browse through each project slowly. Well-crafted descriptions of each project also take the user through the design journey, giving them insight into the process.
www.gkmp.ie
Format Theme: Offset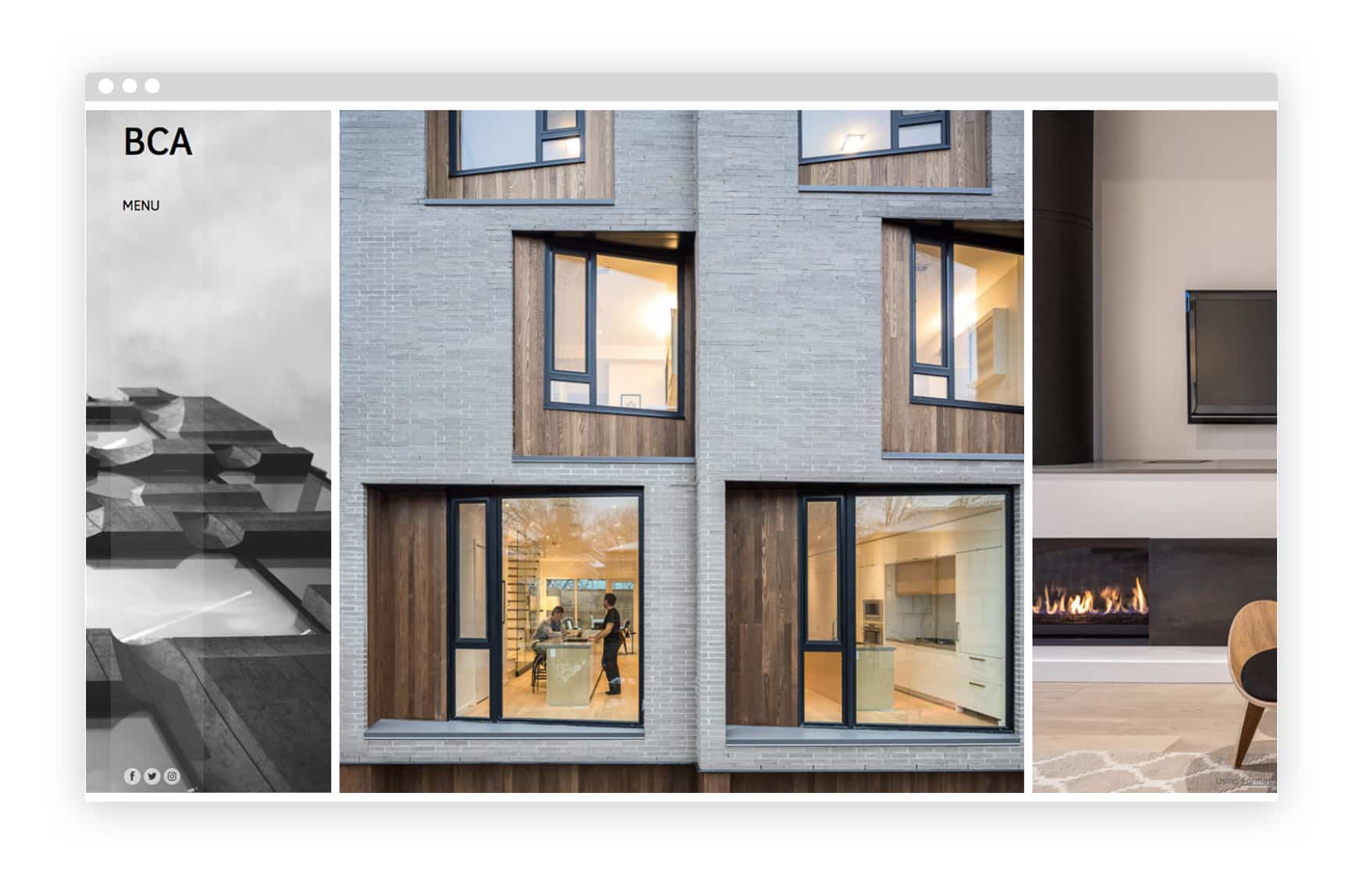 Batay-Csorba Architects
Established in 2010 by Andrew and Jodi Batay-Csorba, this architecture studio is now located in Toronto. Their work has been published in more than 60 magazines and shown in 19 galleries internationally. Batay-Csorba has designed a range of residential spaces, as well as larger-scale projects, including urban planning. Batay-Csorba's architecture portfolio showcases their work with large images that fill up the whole screen.
www.batay-csorba.format.com
Format Theme: Horizon Left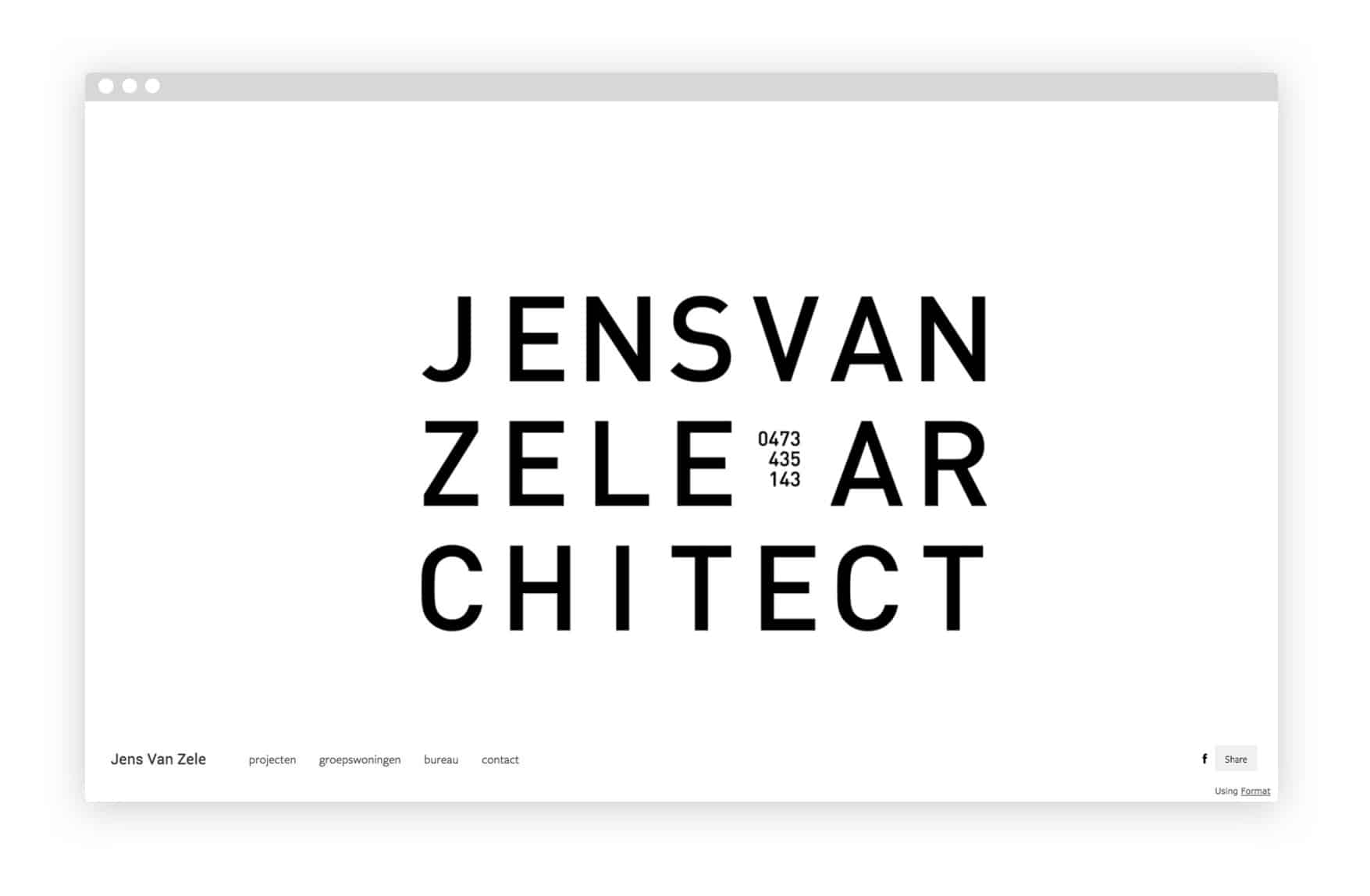 Jens Van Zele
Keeping your portfolio site clean and straightforward is often an effective way to engage with clients. Located in Gent, Belgium, architect Jens Van Zele introduces his website with a bold and simple logo. His projects, which are frequently residential spaces, are displayed via a side-scrolling gallery. Allowing images to fill the screen makes for an impactful architecture portfolio in which all the small details of each project can be seen.
www.jens-van-zele.format.com
Format Theme: Sun
Cover image via HK Associates Inc.
How to Build a Beautiful Architecture Student Portfolio Website
A portfolio website in Architecture is not something that is reserved solely for seasoned professionals. Students can benefit hugely from a portfolio website that shows off their architecture experience so far, as well as their personal style.
Building a stunning architecture student portfolio website begins with choosing a fantastic website builder. Involving oneself in the task of coding one's own website can be an arduous and difficult process. Format's drag and drop builder and range of industry-specific templates provide the tools you need to design an impressive architecture student website portfolio in no time.
If you're looking for tips to get the most out of your architecture portfolio, our comprehensive guide takes you through a step-by-step process for creating the best architecture portfolio website. From college applications to increasing your client base, we have the recipe to make your online presence a success.
Ready to Create a Standout Portfolio Website for Architecture?
Now that you have seen how other architects express themselves online and have got the creative juices flowing, it is time to create your own architecture portfolio website. By building an online presence, you will increase the chances of opening up opportunities at any stage in your career.
Whether you are looking to build an architecture student website portfolio or one that details your professional career, Format provides the design tools and inspirational templates to document your architectural journey. Create your own architectural online portfolio here.