With almost two million followers, The New York Times Instagram account (@nytimes) is a must-follow for Instagram photographers that want top notch inspiration in their feed. The newspaper's social media has a distinct mission: they use their platform to tell stories in photos, rather than rely on breaking news.
"We will focus on our strongest images and offer some insights into how they were made," explains The New York Times social photo editor Kerri MacDonald.
From orange cranberry cakes to earthquake-struck ghost towns in Italy, every image posted to @nytimes is a window into a bigger issue or narrative. It's an eclectic collection of insights to the world around us.
But who does The New York Times follow on Instagram? They're very selective with only 454 accounts. We took a deep dive into their "following" list because we wanted to see who made the cut.
Our investigation uncovered award-winning photographers like Q. Sakamaki (World Press Photo, First Prize) and Diana Markosian (Chris Hondros Emerging Photographer Award). We found the gallery-worthy street photography of Magnum Photos member Jacob Aue Sobol and the first photographer to post images of North Korea on Instagram, Drew Kelly.
Keep scrolling to discover the work of 30 Instagram photographers that were handpicked by The New York Times. If you're not following these accounts, you're missing out on the best Instagram has to offer.
Are you following @useformat on Instagram? Get a daily dose of inspiration and tag us #useformat so we can see your work too!
1. Bryan Derballa
Instagram: @lovebryan
Based in Brooklyn, editorial and commercial photographer Bryan Derballa counts Wired, Rolling Stone, The Wall Street Journal and, of course, The New York Times among his clients. Derballa was selected as one of PDN's 30 Emerging Photographers to Watch in 2014 and has over 38.6k followers on Instagram. Derballa tries to infuse each of his photographs with an element of serendipity—"a happy accident, an unexpected turn, a glimmer of light in the dark."
2. Lynsey Addario
Instagram: @lynseyaddario
American photojournalist Lynsey Addario was named one of the five most influential photographers of the past 25 years by American Photo Magazine. Recently, Addario has reported on Syrian refugees, the ISIS push into Iraq and maternal mortality in Sierra Leone. On her Instagram account, Addario provides a behind-the-scenes look into her explorations to her 101k followers.
3. Jacob Aue Sobol
Instagram:@jacobauesobolnew
Magnum Photo member Jacob Aue Sobol shares breathtaking street photography with over 108k followers on his Instagram. From Bangkok to Copenhagen, Guatemala to Greenland, Aue Sobol relies on his instincts as much as possible when he photographs. "It is when pictures are unconsidered and irrational that they come to life; that they evolve from showing to being," Aue Sobol said.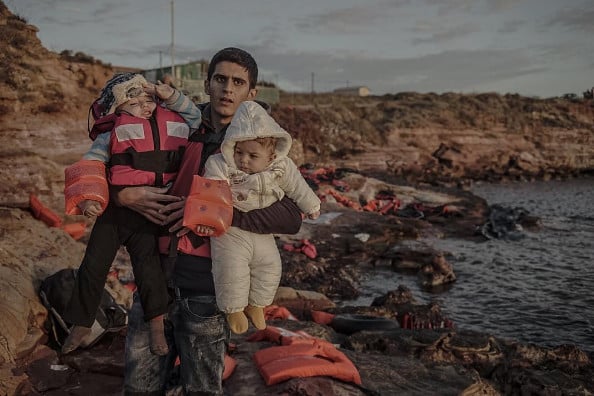 4. Daniel Etter
Instagram: @danieletter
It's no surprise that The New York Times is following Pulitzer Prize-winning photographer and videographer, Daniel Etter. His photo from the Gezi Park Protests in Istanbul was chosen as one of the best photos of 2013 by Time Magazine. Check out Etter's Instagram for stunning and important photojournalism.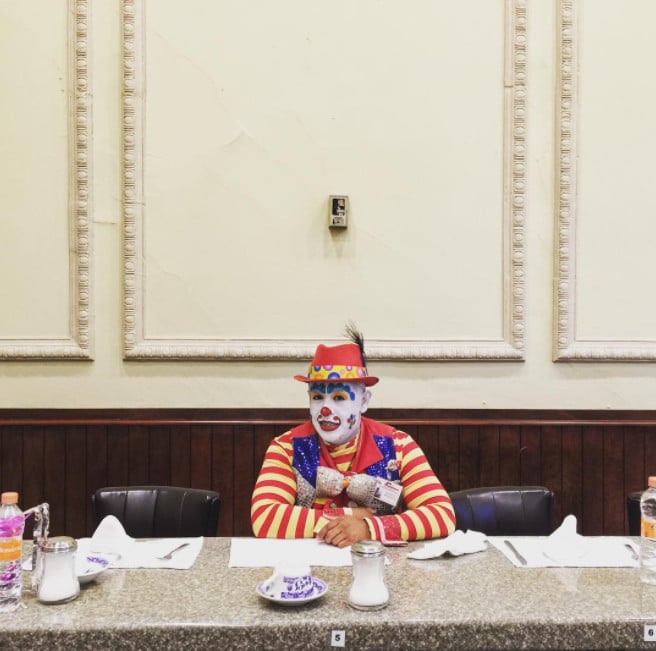 5. Adriana Zehbrauskas
Instagram: @adrianazehbrauskas
Based in Mexico City, Brazilian documentary photographer Adriana Zehbrauskas's photography touches on the issues facing under-represented and misrepresented communities. In 2015, Zehnrauskas was named one of the first recipients of the Getty Images Instagram Grants. Zehbrauskas used the grant to share the story of the aftermath of the killings of 43 students from the Ayotzinapa Rural Teachers School with her 178k Instagram followers.
6. Drew Kelly
Instagram: @drewkelly
In 2012, Drew Kelly became the first person to post on Instagram in North Korea. There are now a handful of people posting from within the country, but Kelly's Instagram photography continues to give his 72.6k followers a closer look into one of the most secretive countries in the world.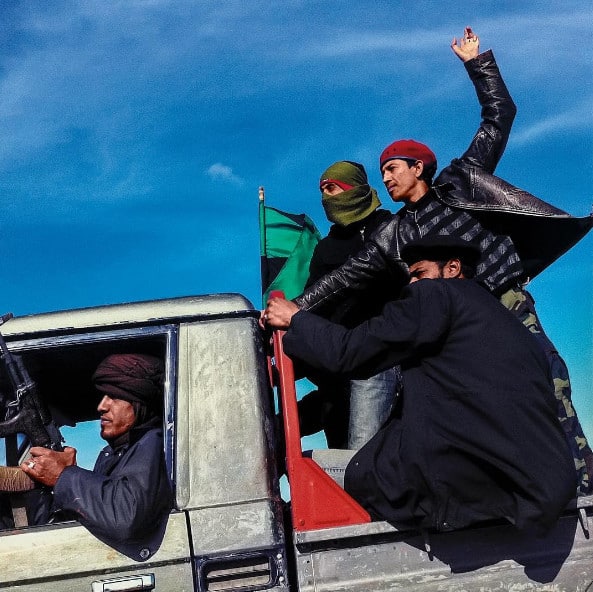 7. Michael Christopher Brown
Instagram: @michaelchristopherbrown
When Michael Christopher Brown's camera broke during the fallout from the Arab Spring in Libya, he didn't break a sweat. Instead, he used his phone to capture these arresting images. Brown's 419k followers travel with him from Tanzania to British Columbia, the Congo to Afghanistan through his polished Instagram photography.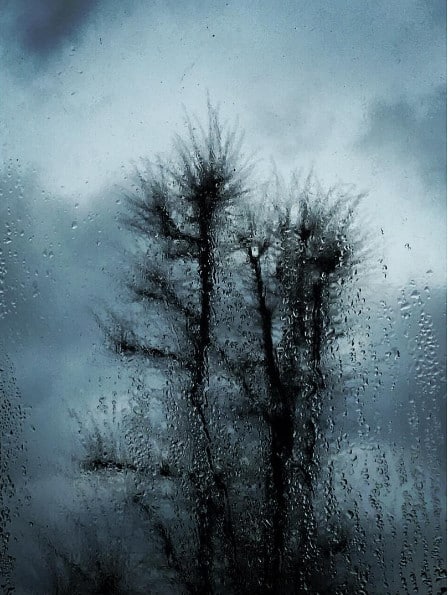 8. Laura El-Tantawy
Instagram: @laura_eltantawy
Egyptian documentary photographer Laura El-Tantawy approaches all of her photography projects through a personal connection. "Dealing with who I am as a person and my position on the critical social issues facing the world today—particularly those pertaining to my background—is at the heart of all the themes I take on in my work," El-Tantawy told National Geographic. Experience her visual diary by following her Instagram account.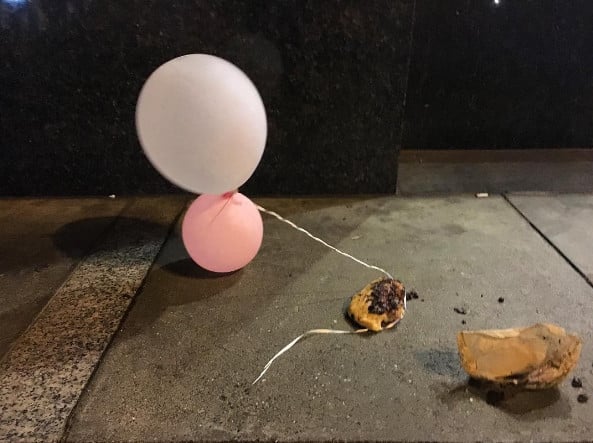 9. Jon Lowenstein
Instagram: @jonlowenstein
10. Kitra Cahana
Instagram:@kitracahana
Portraits and journalistic photography make up Kitra Cahana's powerful Instagram feed. Cahana won first prize for the World Press Photo art and entertainment category in 2010 with her series of images from the 2009 Rainbow Gathering, where people come together to celebrate inclusiveness and pray for world peace.
11. Robert Clark
Instagram: @robertclarkphoto
If there is one Instagram photographer you should be following, it's the photographer who was commissioned to travel the country for 50 days with only a phone to capture the diversity of America. Robert Clark boasts over 545k Instagram followers with whom he shares photography that has graced the pages of National Geographic.
12. Katie Orlinsky
Instagram: @katieorlinsky
Named one of PDN's 30 New Photographers to Watch in 2013, photojournalist Katie Orlinsky's work is often featured on The New York Times' Instagram account. "Photographers need other people every step of the way. Even if you always work alone, you will need help at some point in some way," Orlinsky told PDN. Every photo Orlinsky shares on her Instagram tells a story and echoes the sentiment that, for her, photography is about the people.
13. Gareth Pon
Instagram: @garethpon
Known as Africa's top Instagrammer (he was voted #1 for three consecutive years), Gareth Pon initially used his eye-catching Instagram account to hone his composition skills but soon found an international community of creatives. Now, with over 273k followers, Pon travels the world, organizes InstaMeets and shares his photography on Instagram.
Discover what Gareth Pon keeps in his toolkit here.
14. Leif Stark
Instagram: @leifography
Leif Stark, or @leifography, is a street photographer based in New York City. 99.3% of Stark's Instagram photography is shot on an iPhone, which only makes the images she captures more impressive.
15. Elizabeth Griffin
Instagram: @zabelita
It's no surprise that the former photo editor of Esquire and the senior photographer for brands including Elle, Harper's Bazaar and Cosmopolitan is being followed by The New York Times on Instagram. Elizabeth Griffin's fashion photography mixes with landscape and street photography on her Instagram. Find her on Instagram at @zabelita.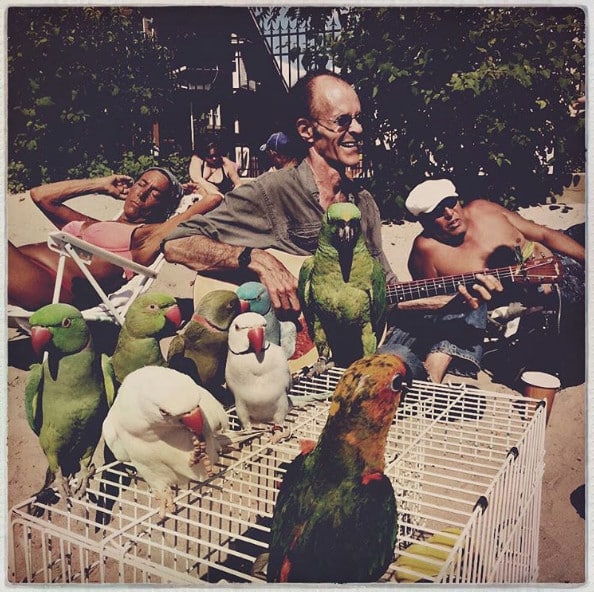 16. Q. Sakamaki
Instagram: @qsakamaki
Q. Sakamaki was born in Japan, but after moving to New York 1986, he began documenting various human rights issues and movements through his photography. In 2007, he was awarded the World Press Photo: People in the News first prize for his work documenting the 2005 conflict between the Sinhalese government and Tamil Tiger rebels. His Instagram is shot exclusively on his iPhone.
17. Sergey Ponomarev
Instagram: @sergeyponomarev
Best known for his photography depicting daily life in Russia, Sergey Ponomarev is a photojournalist who has covered conflicts in Syria, Gaza, Lebanon, Egypt and Libya. This year, Ponomarev won the Pulitzer Prize for Breaking News Photography for his coverage of the refugee crisis in Europe. His Instagram photography offers his 110k followers a look into the life of a travelling photojournalist.
18. Diana Markosian
Instagram: @markosian
Diana Markosian's Instagram takes her 99.6k followers to some of the most remote corners of the world. In 2015, Markosian won the very first Chris Hondros Emerging Photographer Award and was received a $5,000 grant towards her next project. With both editorial and personal work, Markosian's Instagram reads as a visual journal of the photojournalist's adventures across the world.
Read more about Diana Markosian in "How to Make Personal World Your Priority" here.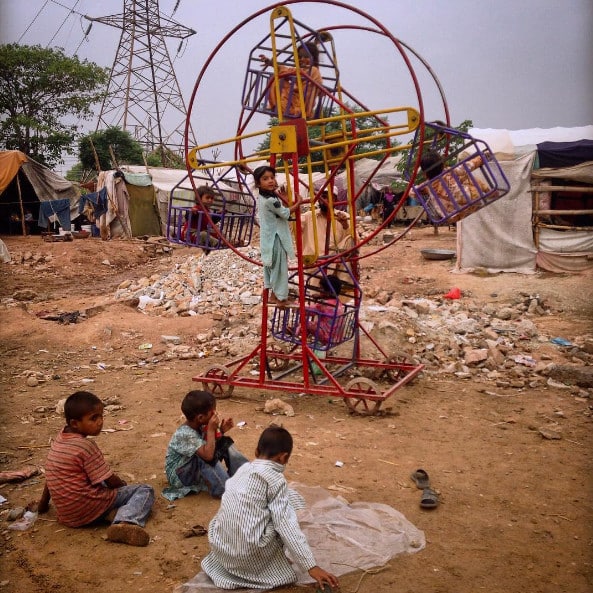 19. Muhammed Muheisen
Instagram: @mmuheisen
Associated Press chief photographer for the Middle East, Pakistan and Afghanistan, Muhammed Muheisen, has won two Breaking News Pulitzer Prizes in 2005 and 2013. His Instagram photography is shot exclusively on his iPhone and captures daily life around the world.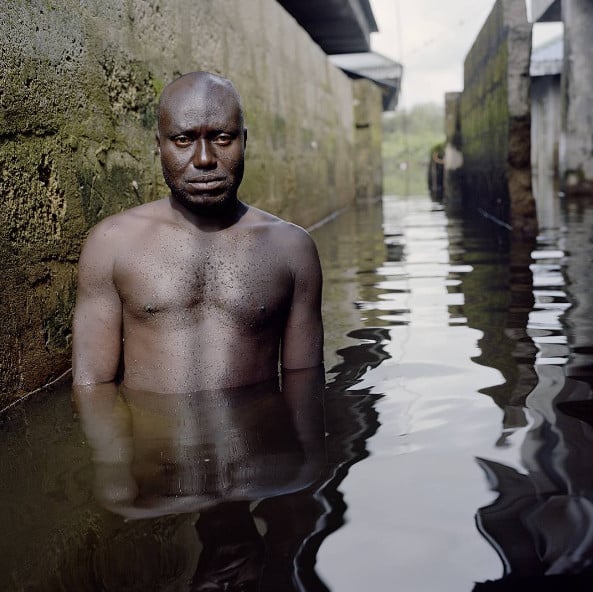 20. Gideon Mendel
Instagram: @gideonmendel
Award-winning contemporary photographer Gideon Mendel is most known for an intimate style of photography that is carried into his Instagram photography. Mendel most recently won the inaugural Pollock Prize for Creativity which helped him complete his Drowning World project.
21. Amy Lombard
Instagram: @amylombard
Bold, fun and colorful may be the best way to describe the photography of Amy Lombard. And her Instagram feed is no exception. Lombard was recognized as one of PDN's 30 New and Emerging Photographers to Watch for 2016. Through her work, Lombard examines what it is that, collectively, makes up American culture.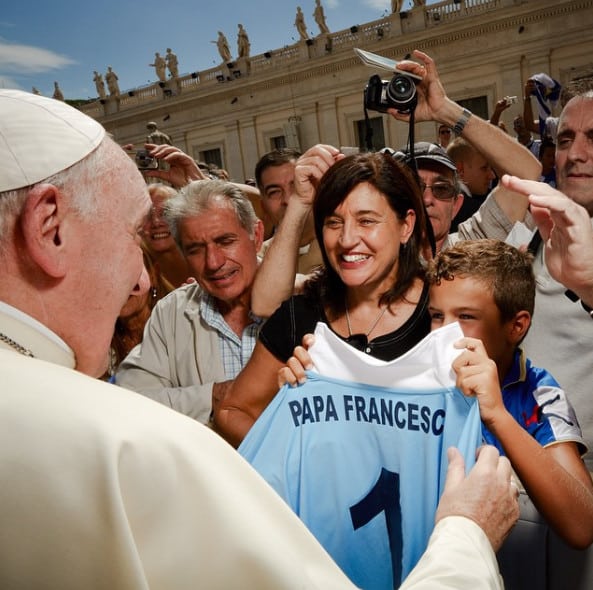 22. Dave Yoder
Instagram: @daveyoder
Contract photographer, Dave Yoder spent six months in Rome working on a National Geographic cover story on Pope Francis and the Vatican. Yoder shares everything from landscapes to fashion photography on his Instagram, where he has 144k people following his photographic journey.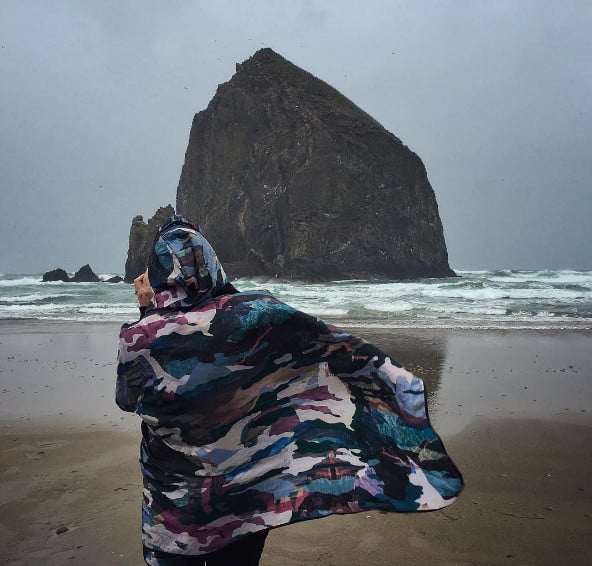 23. Pamela Chen
Instagram: @chenpamela
Do you really need more of a reason to follow Pamela Chen on Instagram besides the fact that she is the editorial director for Instagram? If you do, the fact that she was previously the senior photo editor at National Geographic and has won Documentary Emmy Awards should convince you. Follow Chen on Instagram for her field notes on life.
24. Wayne Lawrence
Instagram: @waynelawrence
Award-winning portraitist, Wayne Lawrence, has spent his photography career focusing on communities that have been overlooked by mainstream media. For Lawrence, his photography is the story of his life's journey and he tries to create a connection between the viewer and the people in his photos. Find him at @waynelawrence on Instagram.
25. Kate Owen
Instagram: @thekateowen
Kate Owen has a client list a mile long—the list includes Elle, Vice, Red Bull and The Financial Times who have featured Owen's punchy and engaging photography. Her work falls somewhere between photography and multimedia projects and her Instagram is a playful mix between her work and her personal life.
26. Marcus Yam
Instagram: @yamphoto
While Los Angeles Times staff photographer Marcus Yam claims his Instagram is nothing more than "unglamourous iPhone snaps" this hasn't stopped more than 50.6k people from following his work on the photo sharing app. His photography revolves around the social issues that shape the American experience.
27. Whitney Richardson
Instagram: @whitney_rich
Whitney Richardson is a visual journalist at The New York Times. And while that alone could explain why she is on their "follow" list, Richardson's Instagram, where she offers her 76.9k followers a glimpse into her New York, speaks for itself.
28. Adam Ferguson
Instagram: @adamfergusonphoto
Independent photographer, Adam Ferguson sees himself primarily as a visual storyteller. Every image he shares on Instagram is accompanied by a few sentences that give his 97.3k followers the story behind his photography. His work has been commissioned by industry heavy hitters including Time Magazine, Vanity Fair, Rolling Stone and ESPN.
29. Chiara Goia
Instagram: @chiaragoia
The influence of classical studies can clearly be seen in Chiara Goia's stunning photography. Over 107k people tune in to Goia's Instagram to travel the world through her photography, from Italy and The Philippines to Pakistan and Nepal.
30. Mauricio Lima
Instagram: @limauricio
Mauricio Lima, winner of this year's World Press Photo: General News award, has a very distinctive style on his Instagram. Sharing images from the struggles facing underrepresented communities around the world, Mauricio offers a short explanation of each photograph, giving his 11.4k followers a deeper understanding of the moments he captures.
Want to make Instagram work for your business? Download Instagram for Creatives: Your Guide to Followers, Likes, and Growing Your Business and take your account to the next level.