It takes a high energy photographer to shoot musicians and concerts. Photographing musicians often means shooting from within the midst of a rowdy crowd or while along for the ride on a packed tour bus. And when an artist is your client, there are special expectations on you to create images that convey not only the personality of the performer but also the vibe of their music. Whether you're shooting for a magazine feature or an album cover, the photos you take of a musician become an important part of their public persona.
These ten photographers have music photography portfolios that feature artist portraits, festival shots, and close-up concert images that offer major creative inspiration. From shooting established icons to young up-and-coming artists, all of these photographers are experts at capturing the style and the energy of musical performers.
Want more website design inspiration? We've got you covered.
Charlotte Patmore
Photographing names like King Krule, Charli XCX, and Kate Nash, London-based Charlotte Patmore has quickly built a reputation as a name to know when it comes to music photography. Often touring with the artists she photographs, Patmore captures both behind the scenes energy and styled editorial shoots with ease.
www.charlottepatmore.com
Format Theme: Horizon Left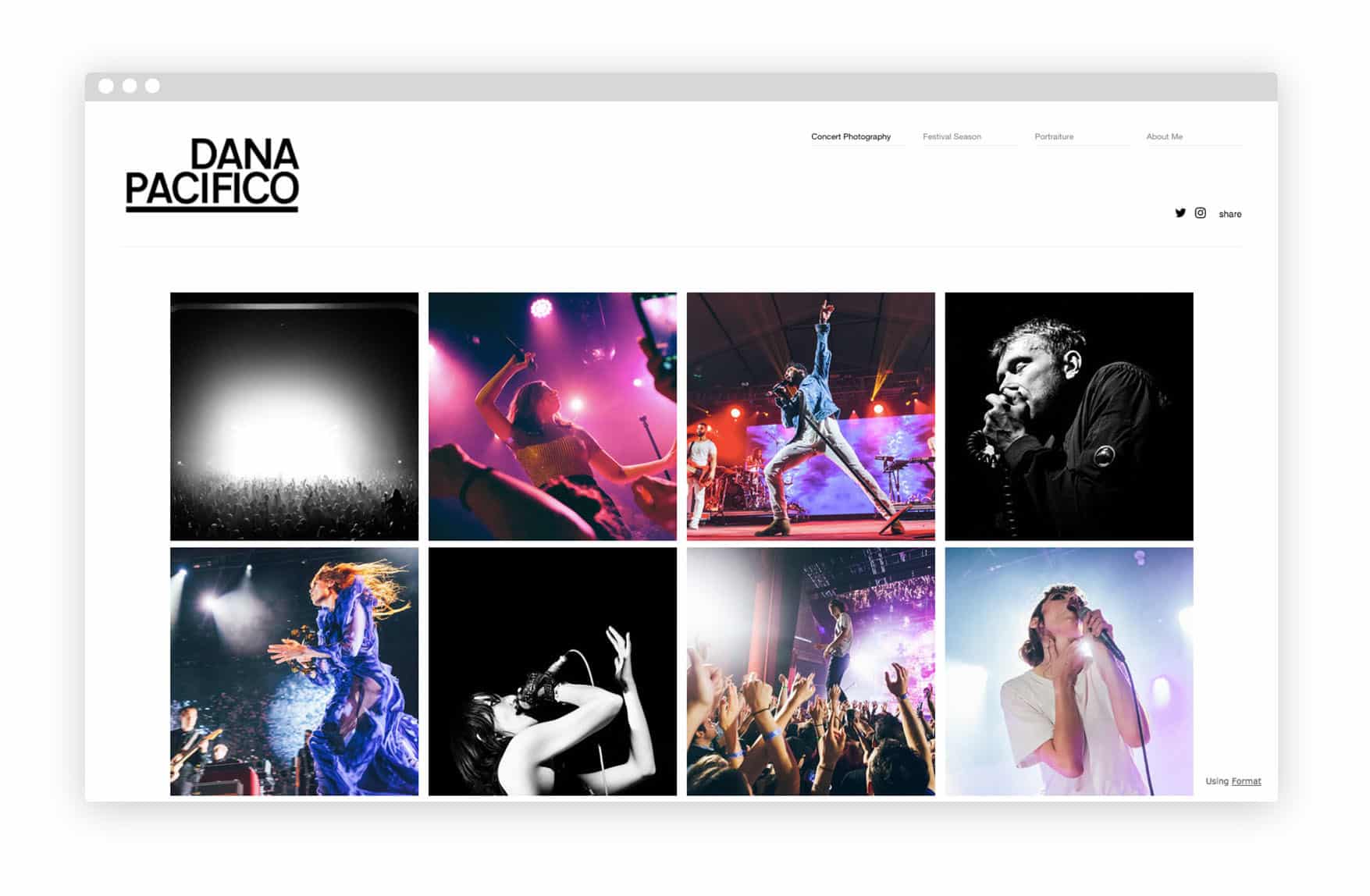 Dana Pacifico
Based in Brooklyn, Dana Pacifico studied photography at Parsons. Her portfolio focuses on concert and festival shots, with a variety of boldly colorful and motion-filled work. A grid overview makes it easy to instantly get a feel for Pacifico's punchy style.
www.danapacifico.com
Format Theme: Monocle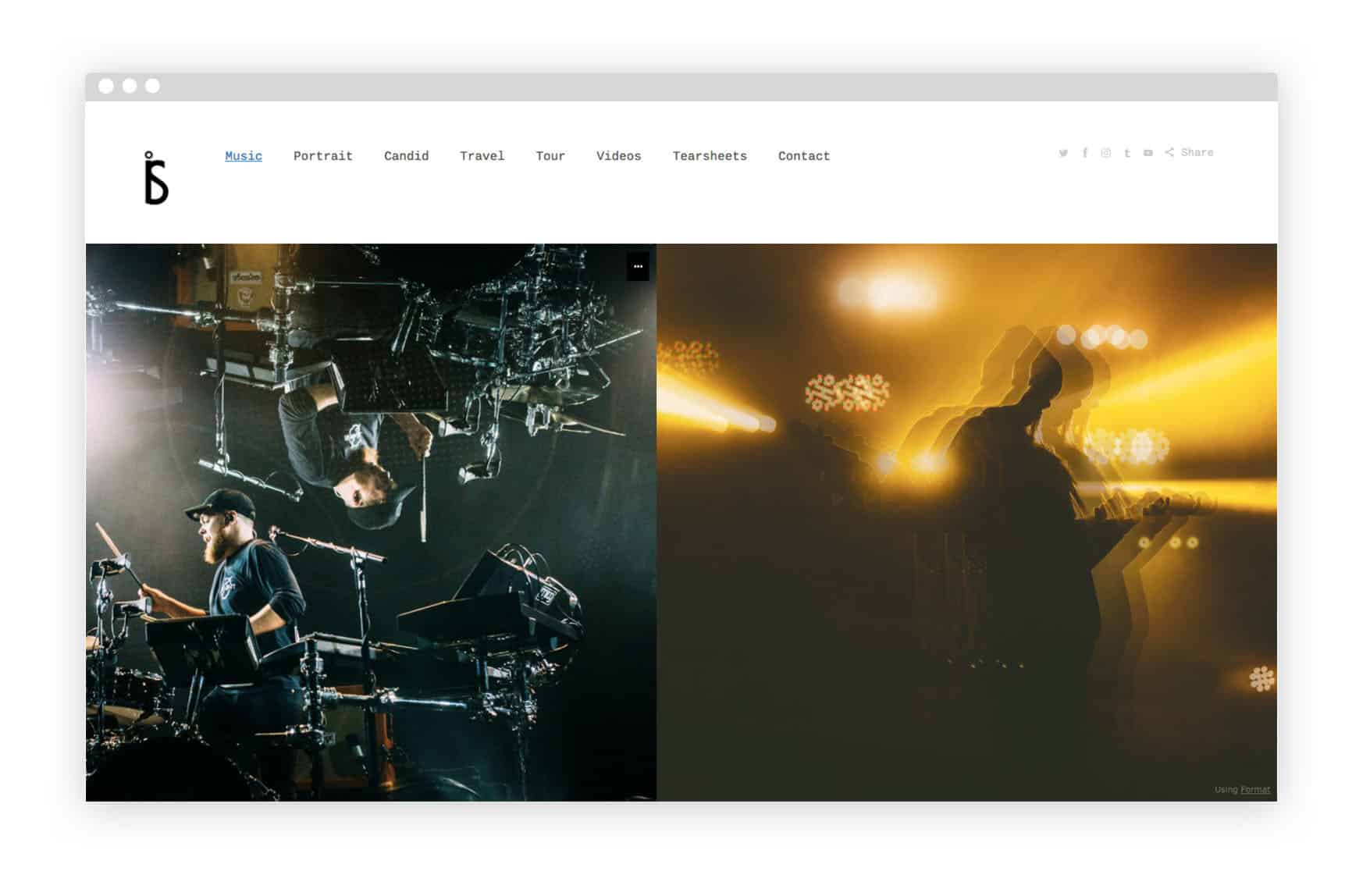 Isha Shah
UK photographer Isha Shah has photographed countless club nights, festivals, and live shows of all kinds, specializing in creative, kaleidoscopic photo effects that bring out the personality of the performers. Shah's portfolio shows off her work in a full screen gallery that offers a close look at the detail of each photo.
www.ishashahphoto.format.com
Format Theme: Panorama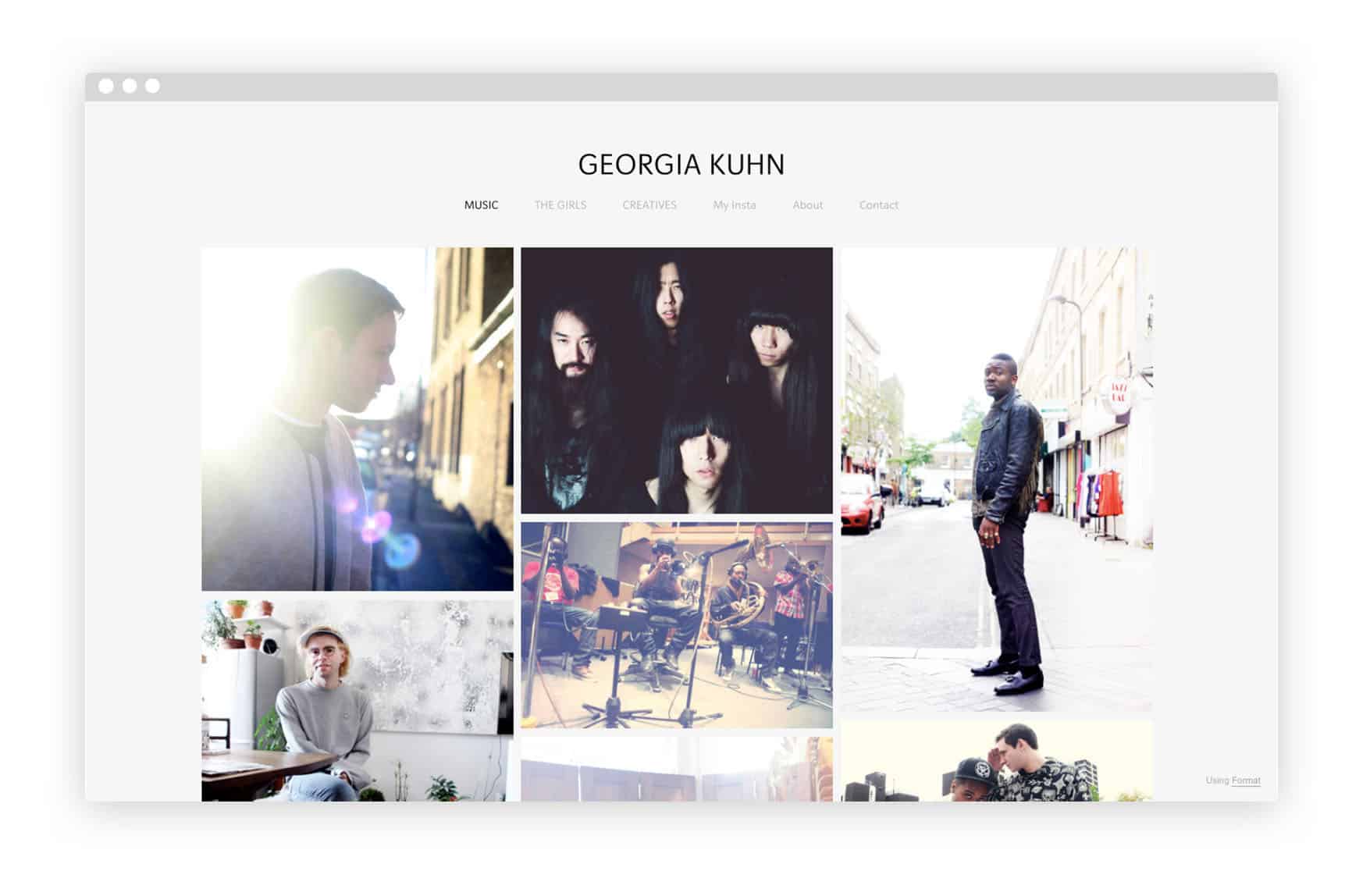 Georgia Kuhn
Photographer Georgia Kuhn has shot for a wide range of clients including publications like The Telegraph Magazine, Zeit Online, and Freunde von Freunden. Her music shoots feature artists like Bo Ningen, Hudson Mohawke, and Paloma Faith. A grey background and minimal font offer a simple contrast to Kuhn's colorful photography.
www.georgiakuhn.com
Format Theme: Mica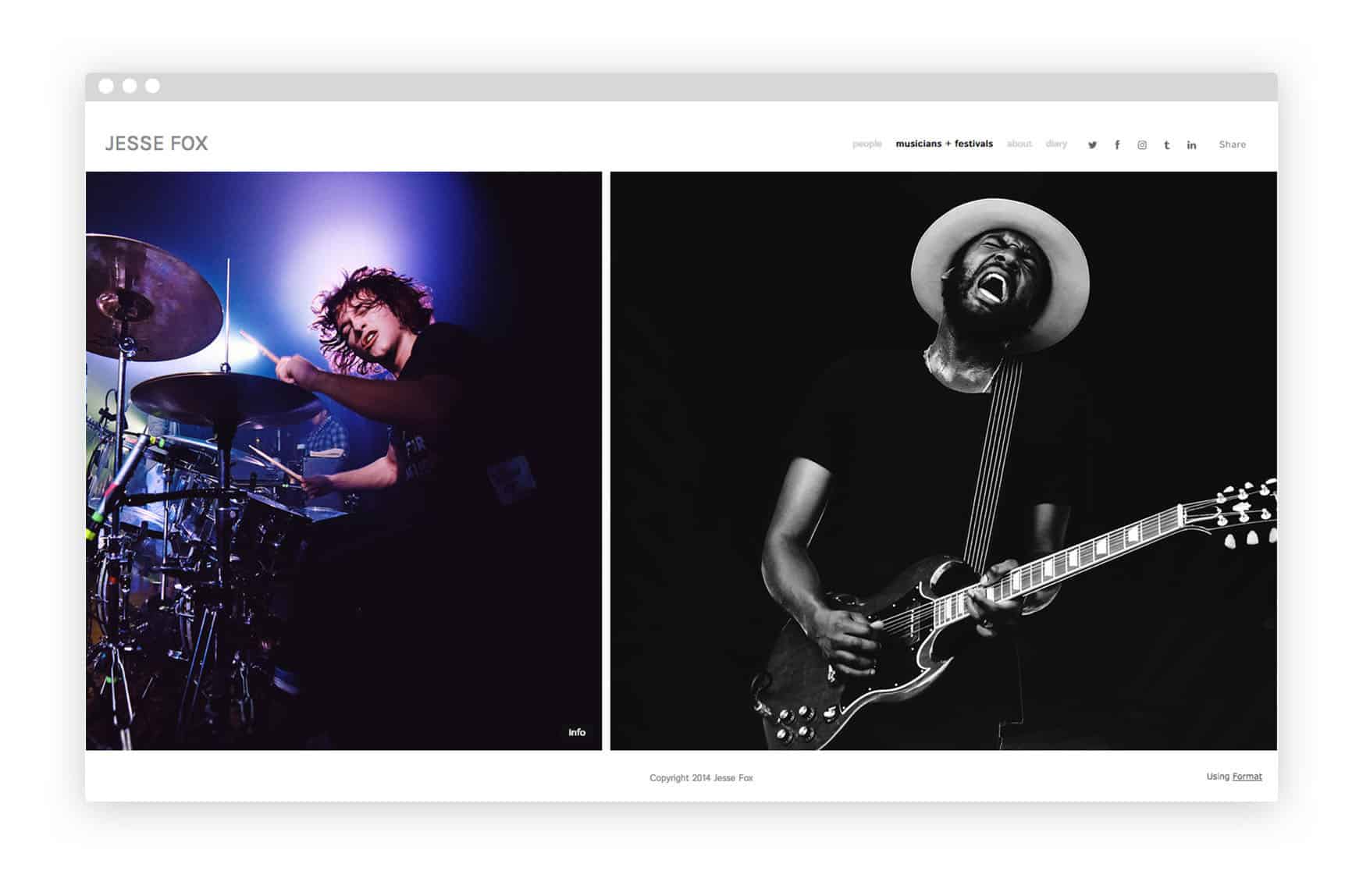 Jesse Fox
Photographer Jesse Fox is based in Brooklyn but shoots all across the United States. Music festivals and performer portraits are a frequent focus of her photography, which tends to have a strong narrative element to it. Fox keeps the music section of her portfolio separate from her other portrait work for easy navigation.
www.jessefox.net
Format Theme: Horizon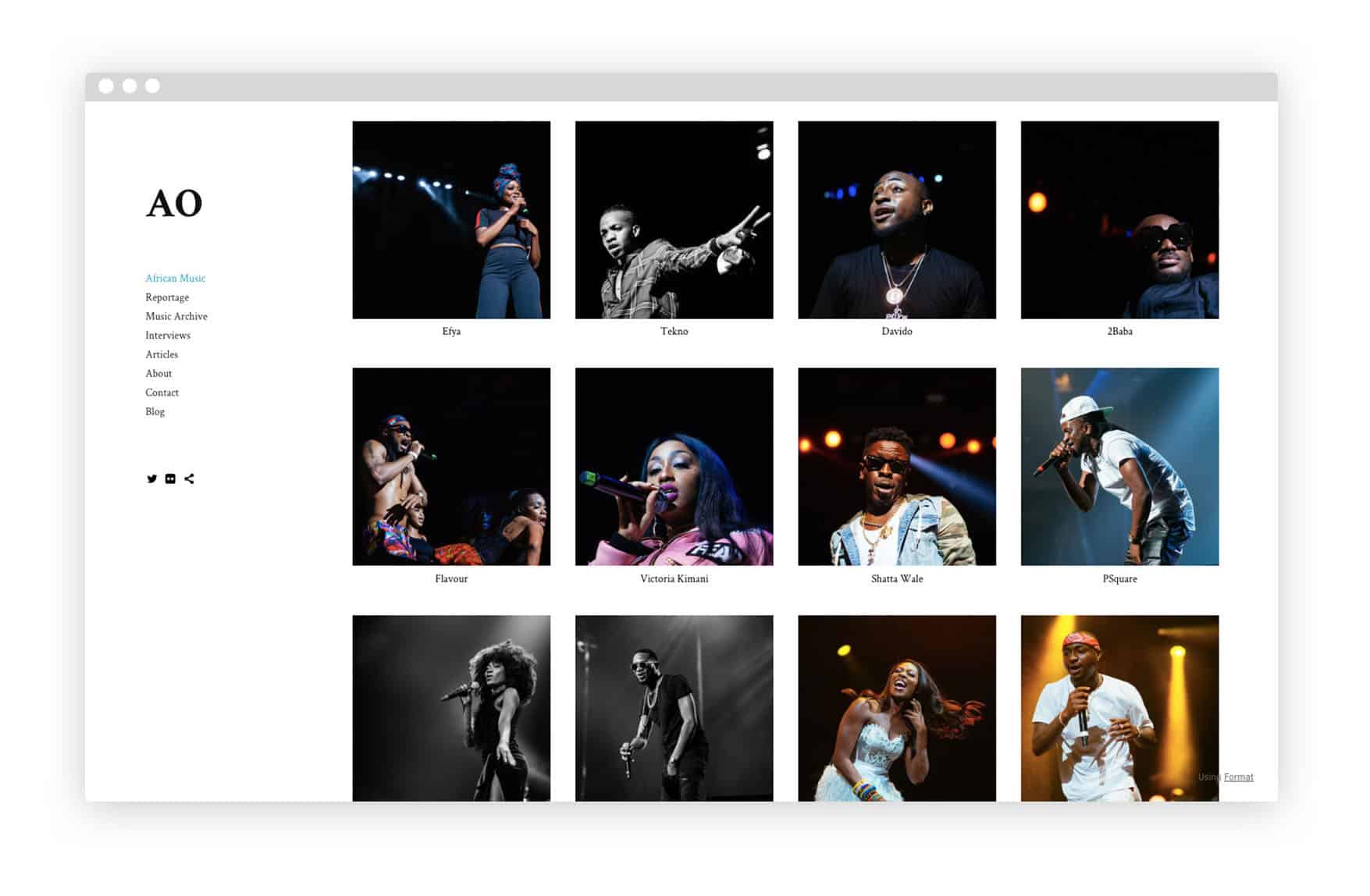 Atane Ofiaja
Currently working in New York, Nigerian photographer and writer Atane Ofiaja focuses on documenting the African diaspora, with a focus on musicians and immigrant communities. His portraits of musicians bring out the emotion and personality of the performer, and the images really pop against the classic and simple background of Ofiaja's website.
www.ataneofiaja.com
Format Theme: Ora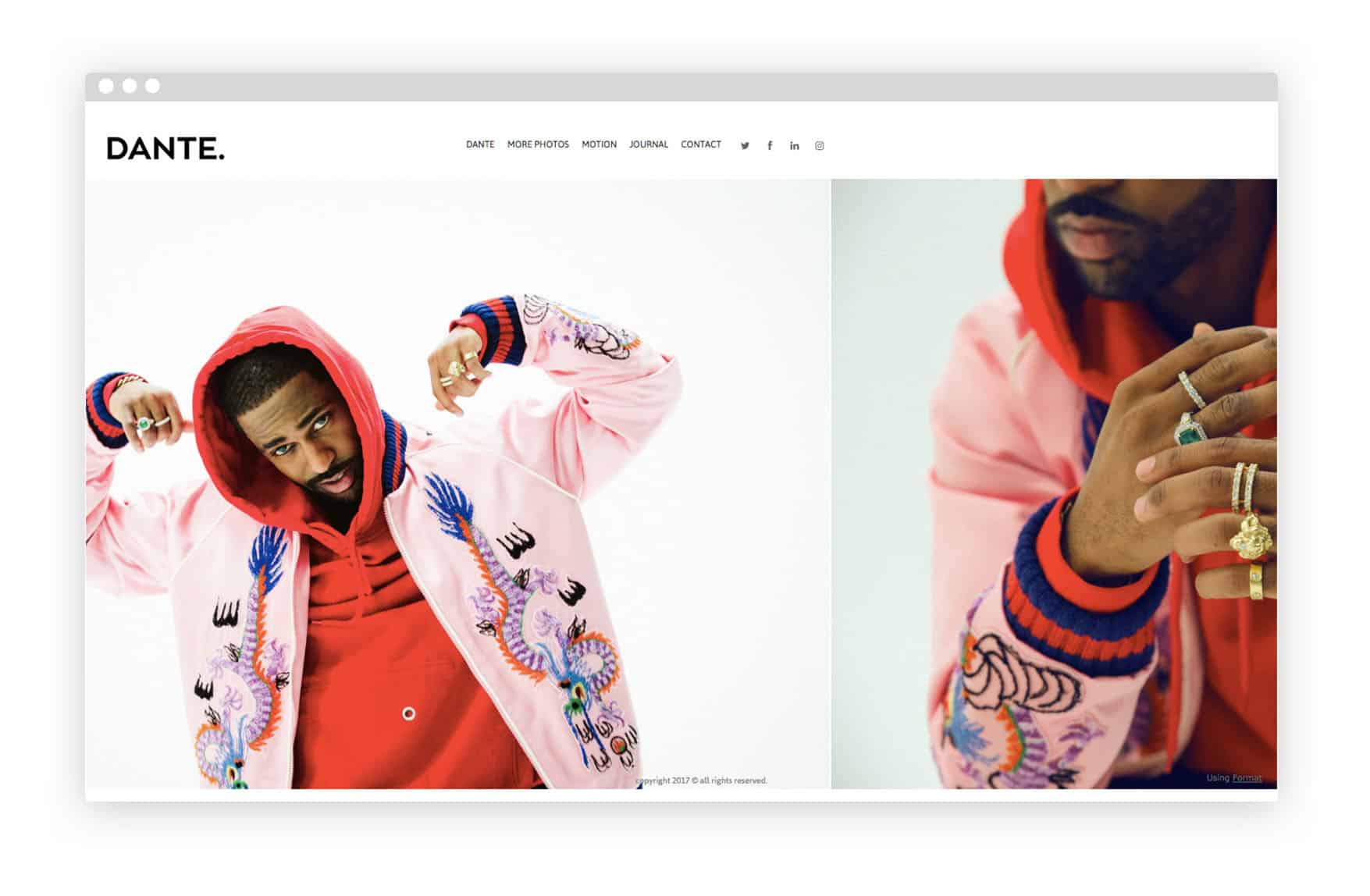 Dante Marshall
In addition to his portraits of musicians like Big Sean, Dante Marshall does a range of creative direction and photography work. He's worked with brands like Adidas, Adobe, and Atlantic Records. Marshall's portfolio has the same clean and refined lines as his work, with a bold and simple logo and full-screen layout keeping the focus on his images.
www.dantemarshall.com
Format Theme: Spruce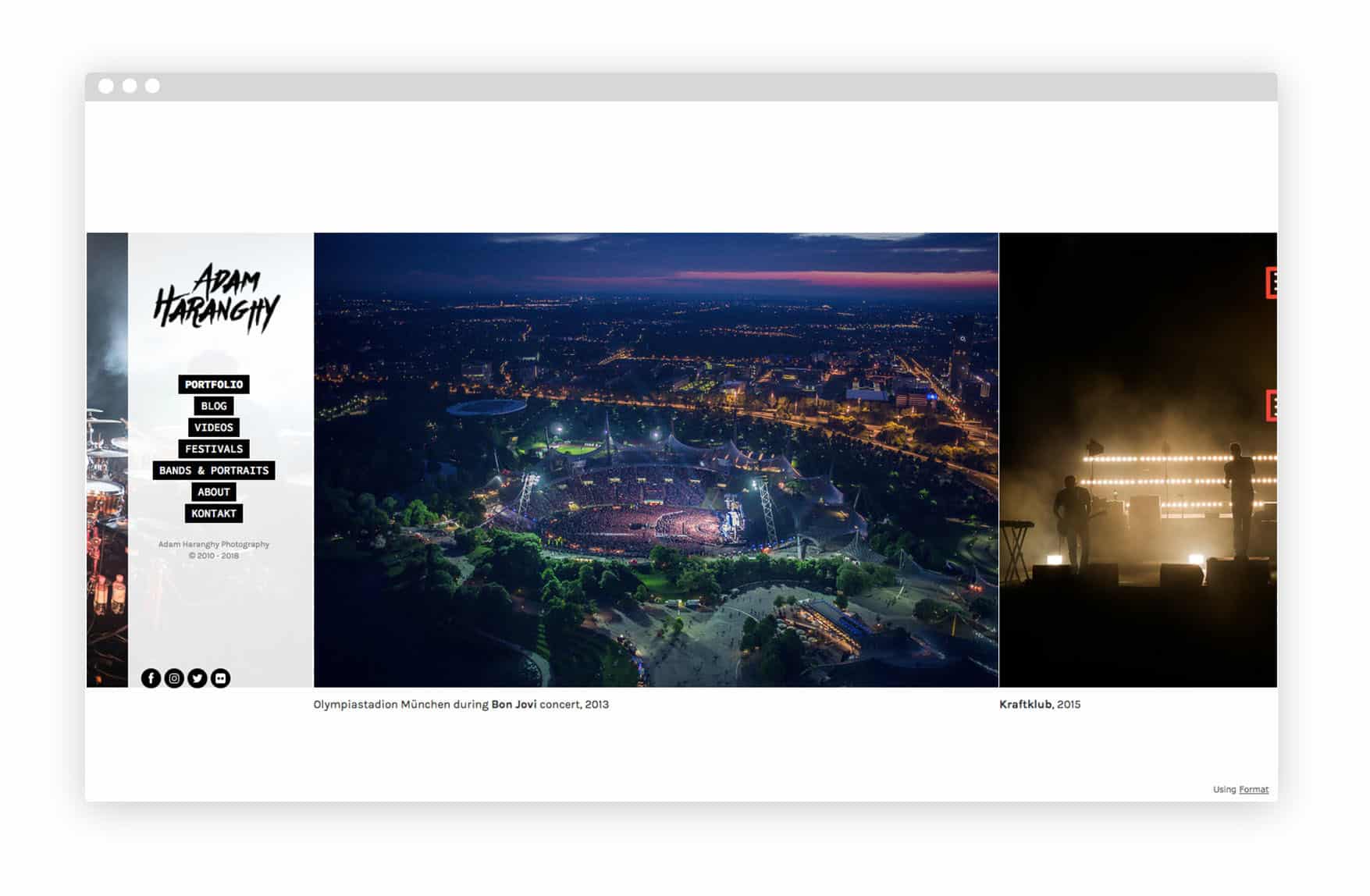 Adam Haranghy
German photographer Adam Haranghy, based in Munich, has photographed a wide variety of bands and artists since 2010, shooting everyone from Katy Perry to Franz Ferdinand. Haranghy excels at capturing the energy of large crowds, with his portfolio featuring documentation of various music festivals in Germany and elsewhere. Image captions make it easy for viewers to learn more about his work.
www.adamharanghy.com
Format Theme: Horizon Left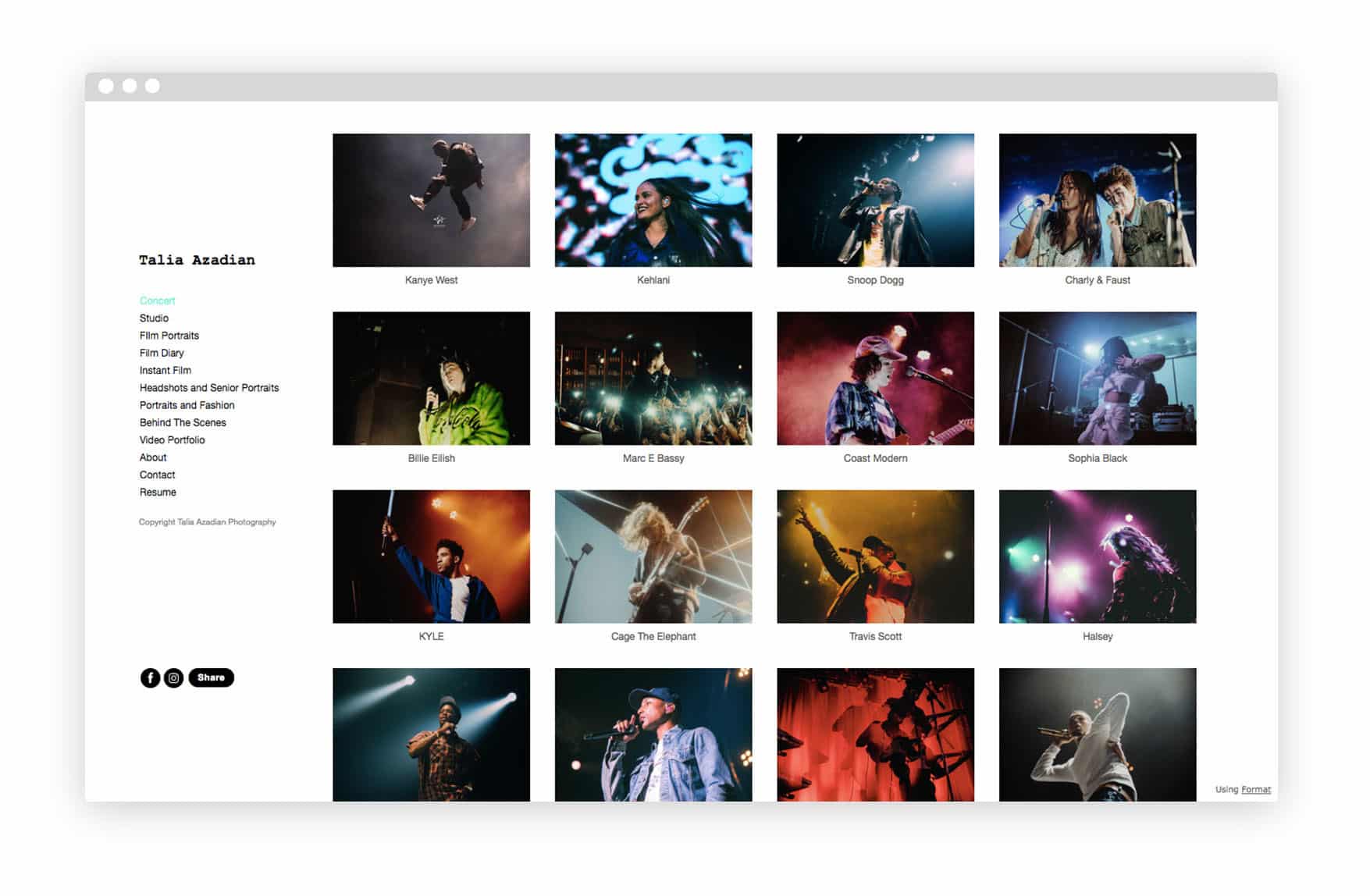 Talia Azadian
Talia Azadian comes from a long line of photographers, and describes her love of photography beginning at a very young age. Azadian shoots a range of photography, but her captivating concert shots especially stand out. Her portfolio offers an overview of selected concert shots for simple navigation.
www.taliaazadian.com
Format Theme: Horizon Left
Matthias Hombauer
Austrian photographer Matthias Hombauer has shot notable artists like Iggy Pop, The Rolling Stones, Metallica, Miley Cyrus, and many others. Hombauer also runs a blog dedicated to helping other photographers get started shooting concerts and musicians.
www.matthiashombauer.com
Format Theme: Horizon Left
Cover images by Isha Shah.