More than just a snappy palindrome, and something that rhymes with meme, "NEEN" became an official art type earlier this year after being profiled by Rhizome's Net Art Anthology.
Following up on an essay discussing the relevance of the term, Rhizome also profiled the four artists central to the art movement (Nikola Tosic, Rafaël Rozendaal, Mai Ueda, and Andreas Angelidakis), thusly cementing NEEN's place in art history. It's a lofty and comprehensive word that describes the work and activities of a post-internet cultural movement, the art of the 21st century.
Here's what you need you need to know about NEEN:
Miltos Manetas, PERIPHERALS (Selfportrait as a Modem), 2001, 198.12 x 228.6 cm, oil on canvas
1. It was invented by Greek artist Miltos Manetas.
The term NEEN was first introduced by Miltos Manetas back in the Spring of 2000. He even wrote a whole manifesto (republished in its entirety at the end of this article) about NEEN.
Manetas is a painter, conceptual artist, pioneer of "art-after-video games" and creator of the Internet Pavilion at the 2009 Venice Biennale. He spent years struggling to find a name for his computer-based work. Seeing many of his peers in the same boat, he decided to hire the Californian company Lexicon Branding to brand the art movement that was growing around him.
Lexicon, the company responsible for the now-household names like Blackberry, Compaq, PowerBook and Pentium, has a formula that works. Or maybe it's a bit less organized than a traditional formula. They feed different syllables, sounds and letters into a computer programme that generates random words.
To serve as inspiration for the data Lexicon would enter, Manetas showed the team "a work by Gino De Dominicis, two paintings by Anselm Kiefer, [[…] sodaconstructor […], and works by Lucio Fontana", which he saw as crucial pieces of 21st Century art.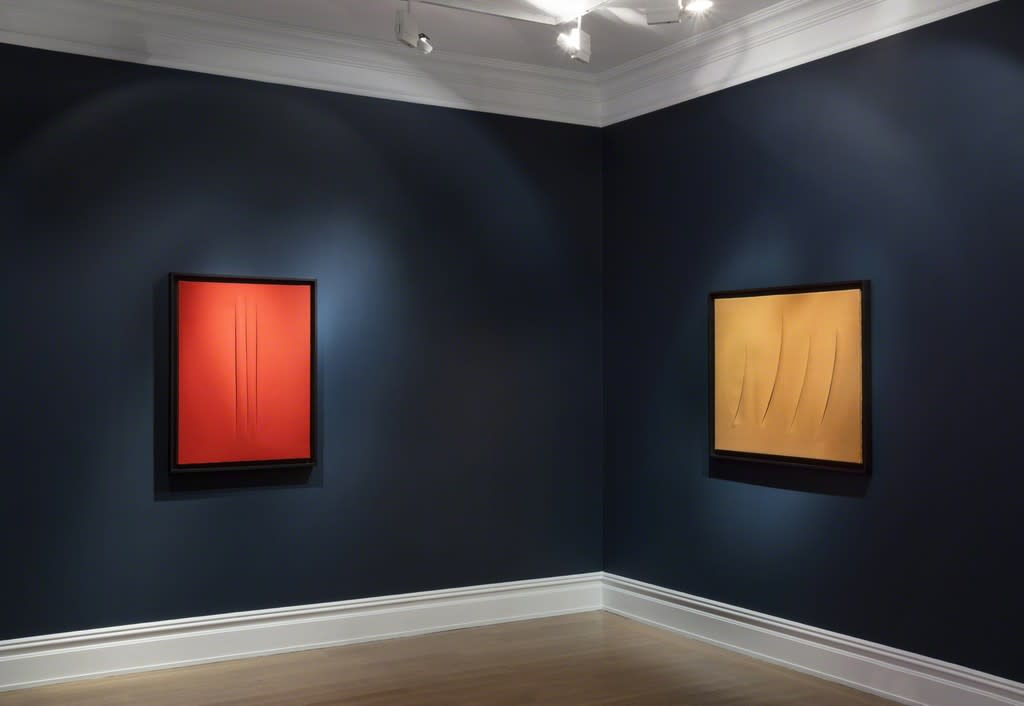 Lucio Fontana on exhibit at ROBILANT+VOENA via Artsy
NEEN was selected out of 70 options.
It cost $100,000 and took a few months, but Lexicon came up with more than 70 options for the artist and his then-girlfriend (fellow NEEN artist Mai Ueda) to choose from. The words that made Manetas's final cut? Telic, Esc and NEEN.
A combination of the letters from the word "screen", NEEN was the one that had the right sound; Telic sounding too "computer-y". Incidentally, NEEN also means "exactly now", or the "absolute present" in old Greek which cemented the choice for the artist.
"In numbers, NEEN is 5555″, Manetas explains. "The keywords for the number 5 are: activity, influence, courage, motivation, change, freedom, curiosity, telepathy, experience, the intellect."
For Manetas, the ideas of flux, impermanence and transcendence are at the core of new media, internet art, the online experience, and of NEEN.
NEEN artists are based in LA.
After moving from New York to Los Angeles, shortly after the announcement of NEEN, Manetas co-founded ElectronicOrphange, a space in Chinatown which was to become home to 'NEEN-sters' (artists who practised NEEN). These are the artists who cybersquat domain names, create cheeky flash animations and build interactive websites that looked more like abstract paintings—all of which are very NEEN activities.
Today, the list of NEEN artists include Angelo Plessas, Carbonated Jazz, Nikola Tosic, Rafaël Rozendaal, Future Farmers, Tobias Bernstrup, Andreas Angelidakis, Mauro Ceolin and Joel Fox.
So if you are unsure what to call those screensavers, slick animations and experimental photoshop files you have saved, or how to describe your computer art to your auntie, uncle, clients or potential dealer gallery, now you have a word. It's NEEN.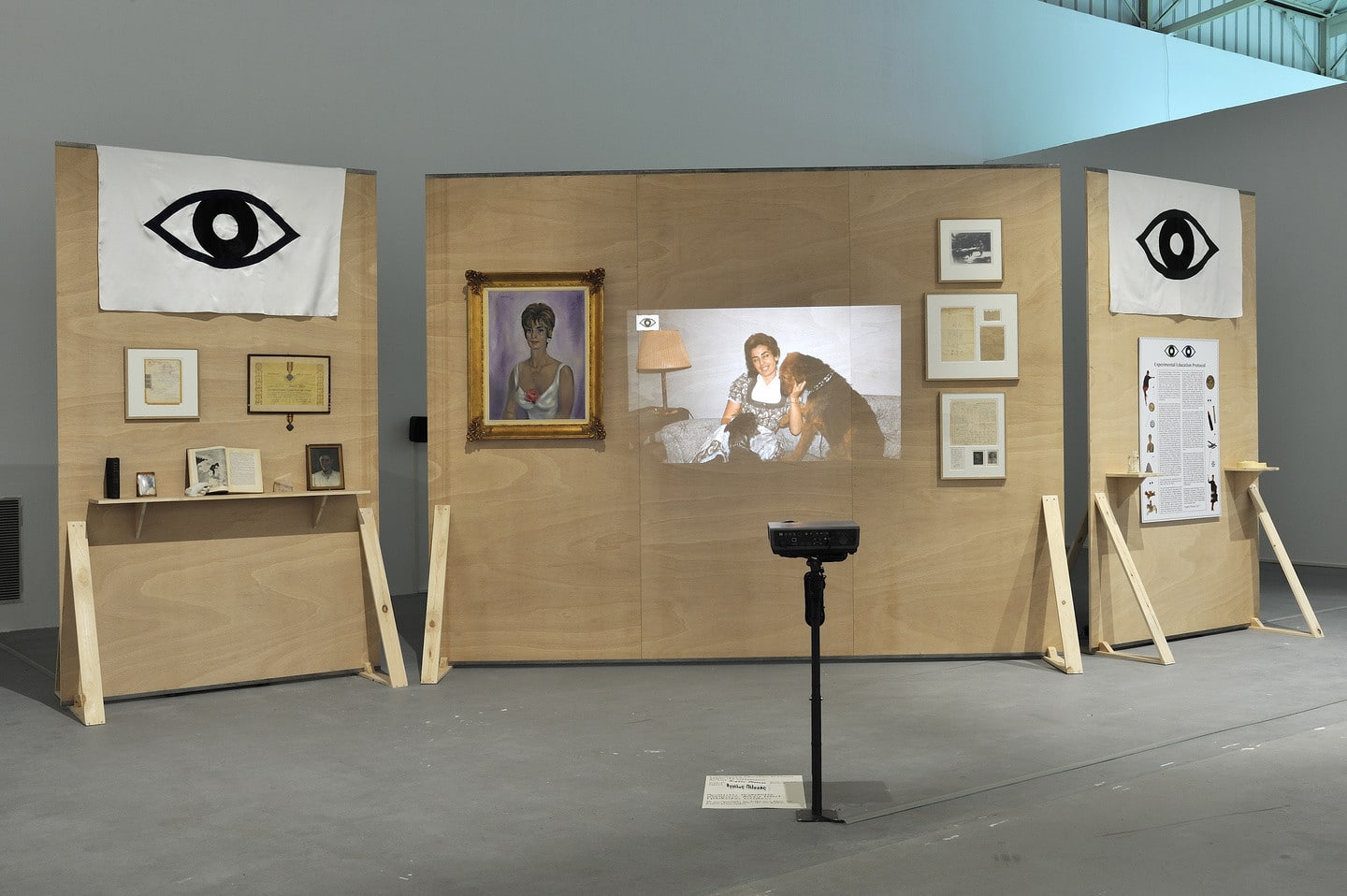 Angelo Plessas, Experimental Education Protocol, Delphi, 2017, multimedia installation, Athens School of Fine Arts (ASFA)—Pireos Street ("Nikos Kessanlis" Exhibition Hall), Athens, documenta 14, photo: Freddie F.
Andreas Angelidakis, Casino, 2012, 3D rendering
Mauro Ceolin, R G B w e b d r o i d s 2, 2009
Tobias Bernstrup, South of Heaven, 2014, Production still
Rafaël Rozendaal, Into Time at Museu da Imagem e do Som, Sao Paulo
"Neen Manifesto" by Miltos Manetas (2000)
NEEN STANDS FOR NEENSTARS: A STILL-UNDEFINED GENERATION OF VISUAL ARTISTS. SOME OF THEM BELONG TO THE CONTEMPORARY ART WORLD; OTHERS ARE SOFTWARE CREATORS, WEB DESIGNERS, AND VIDEO GAME DIRECTORS OR ANIMATORS.
OUR OFFICIAL THEORIES ABOUT REALITY—QUANTUM PHYSICS, ETC.—PROVED THAT THE TASTE OF OUR LIFE IS THE TASTE OF A SIMULATION. MACHINES HELP US FEEL COMFORTABLE WITH THIS CONDITION: THEY SIMULATE THE SIMULATION WE CALL NATURE. OPENING THE DOOR OF YOUR ROOM OR CLICKING ON A FOLDER ON YOUR COMPUTER'S DESKTOP WILL SEND YOU TO SIMILAR DESTINATIONS. TWO VERSIONS OF REALITY THAT ARE SEEMINGLY PERFECT AND DENSE, BUT THEY WILL START DISSOLVING AFTER YOU ANALYZE THEM.
COMPUTING IS TO NEEN AS WHAT FANTASY WAS TO SURREALISM AND FREEDOM TO COMMUNISM. IT CREATES ITS CONTEXT, BUT IT CAN ALSO BE POSTPONED. NEENSTARS BUY THE NEWEST PRODUCTS AND THEY STUDY HOW TO CREATE MOMENTUM. THEY GLORIFY MACHINES, BUT THEY GET EASILY BORED WITH THEM. SOMETIMES THEY PREFER JUST WATCHING OTHERS OPERATING THEM.
NEENSTARS FIND THEIR PLEASURE IN THE IN-BETWEEN ACTIONS. NEEN IS ABOUT LOSING TIME ON DIFFERENT OPERATING SYSTEMS.
NEENSTARS LOVE COPYING IN THE SAME WAY THAT THE CITY OF HONG KONG MULTIPLIES ITS MOST SUCCESSFUL BUILDINGS. THE SAME, BUT A LITTLE DIFFERENT: NAMES, CLOTHES, STYLE, ART, AND ARCHITECTURE ARE IMPORTANT FOR NEENSTARS. SO THEY CREATE ALL THAT FROM SCRATCH, AS IF WHAT HAS BEEN DONE BEFORE THEM IS NOT SO IMPORTANT.
NEEN IS VERY SENTIMENTAL, BUT IT IS NOT ABOUT IDENTITY, ALTHOUGH NEENSTARS OCCASIONALLY USE THEIR IDENTITIES AS PASSWORDS IN ORDER TO OBTAIN CERTAIN PRIVILEGES.
BECAUSE THE IDENTITY OF A NEENSTAR IS HIS STATE OF MIND, HE IS FREE TO USE THE IDENTITY OF ANOTHER NEENSTAR IF HE NEEDS TO DO SO. BUT THIS WORKS ALSO ON REVERSE: A NEENSTAR CAN CREATE ARTWORK FOR ANOTHER NEENSTAR AND THAT IS THE MAJOR DIFFERENCE BETWEEN NEEN AND CONTEMPORARY ART.
WHILE IN CONTEMPORARY ART YOU NEED TO BE YOURSELF ALL THE TIME, A CERTAIN TYPE OF "HERO" WHO IS POLISHING ALWAYS HIS IMAGE UNTIL HE BECOMES A MIRROR OF HIS LIFETIME, IN NEEN, YOU ARE A KIND OF "SCREEN." A NEENSTAR PROJECTS A TEMPORARY SELF THAT STAYS ALWAYS UNDER CONSTRUCTION AND MOVES FROM THE PRESENT TO PAST AND FUTURE WITHOUT LIMITATIONS.
AND BECAUSE A NEENSTAR WILL PUBLISH EVERYTHING ON THE WEB, HIS STATE OF MIND REFLECTS THE PUBLIC TASTE. NEENSTARS ARE PUBLIC PERSONAS.
IF FANTASY BROUGHT SURREALISTS TO THE RIDICULOUS AND REVOLUTION DROVE COMMUNISTS TO FAILURE, IT WILL BE CURIOUS TO OBSERVE WHERE COMPUTING WILL BRING NEEN.
Header image by Andreas Angelidakis, GIF by Rafaël Rozendaal