3D printing is such a fun way to produce creative work—and it has totally taken off. Now, creators are using this amazing new technology to create all kinds of wild and wonderful 3D printer projects that were previously all but impossible to make at home.
These 3D printer projects are a great addition to your online design portfolio. This is such a hot space that shows your mastery of this chic craft could win you some big new clients. You can showcase a collection of cool things to 3D print and some of your best 3D printings too.
Want to get in on this cool 3D prints trend? We've compiled a list of 67 inspiring 3D printing ideas to fuel your next 3D printer design. So, what can you make with a 3D printer? Well, there's something cool for everyone!
The 3DBenchy appears to be nothing more than an adorable plastic boat, but it's more than that. This little guy was designed specifically to test the limits of your machine and calibrate it to operate optimally. It's one of the simplest—and most useful—3D printer projects you can start with.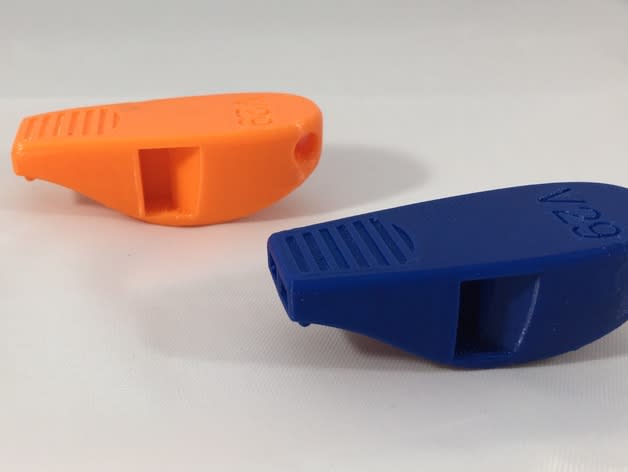 Next in our list of cool things to 3D print is a simple project that can be completed in approximately one hour and will produce a whistle. It can produce an eye-popping 118db sound, perfect for camping or sporting events.
A handy and practical creation—and one of the simplest 3d printer designs on the list—this quick-to-create project allows you to affix your sunglasses to the visor of your car.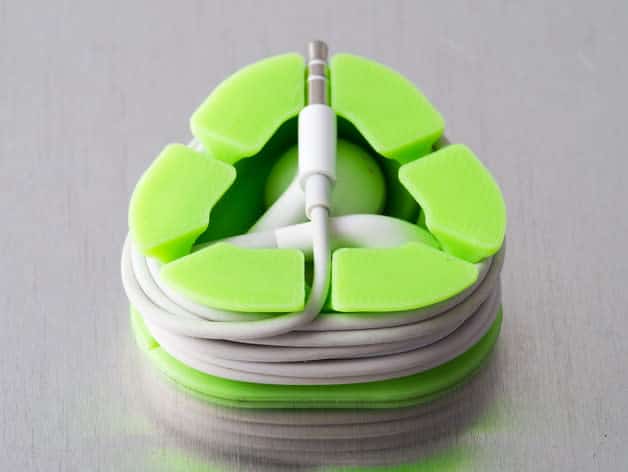 If there's one thing we can all agree on, it's that earbud cords are a pain in the butt to keep organized. They constantly get tangled and eventually produce the dreaded earphone-crackle, rendering your treasured music-makers useless. This is a great example of what you can make with a 3D printer that can improve your everyday life.
This carabiner is surprisingly durable, with a strong frame and a flexible hinge. It can withstand up to 30kg of weight, which is pretty substantial for rendered plastic! Don't, however, be tempted to use this to support your own weight, as they are not designed to support that much strain.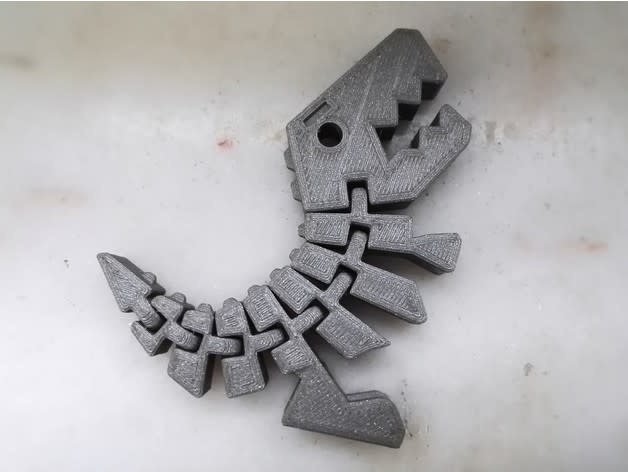 A simple toy originally created for Settlers of Catan, this project is durable and (in our opinion) cute. This is one of those 3D printer projects you could use in a few ways: gaming, office desk decoration, children's toy, you name it! Plus, T-Rexes are (always!) cool.
Inspired by Swiss Army Knives, the Proteus Key Holder is a wonderful pocket device that will keep your keys all organized in a logical fashion. Hands-down one of the best things to 3D print, thanks to all the time you'll save fishing through your pockets.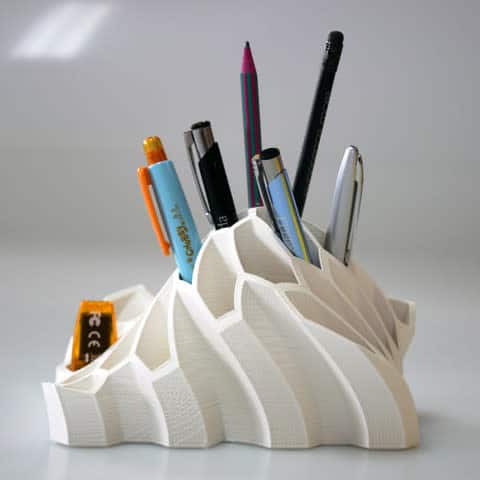 Organize your desk, and add a little flair at the same time! With these simple 3D printer designs, you'll have all you need to generate truly unique desktop organizers that not only keep your stuff where it needs to be but look cool as well. You can 3D print a pencil holder that is unique to your own personality and have others mistaking your pencil holders again.
Get your headphones off your desk and onto a specially crafted hanger of your own design. Great for home and the office, these are the kinds of simple and effective 3D printer ideas that can make a big impact with very little effort.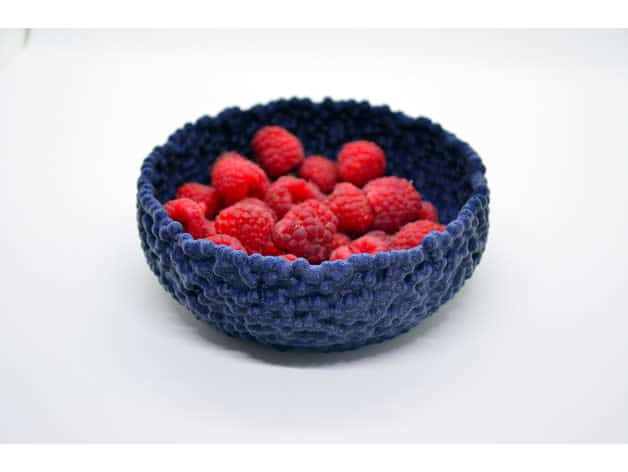 With a 3D printer you'll be able to replace your dinnerware with new and original 3D printer designs in no time at all. Take this blueberry-themed bowl, for example. Why stop there? There are numerous other designs for plates and bowls out there to make eating at home a unique experience.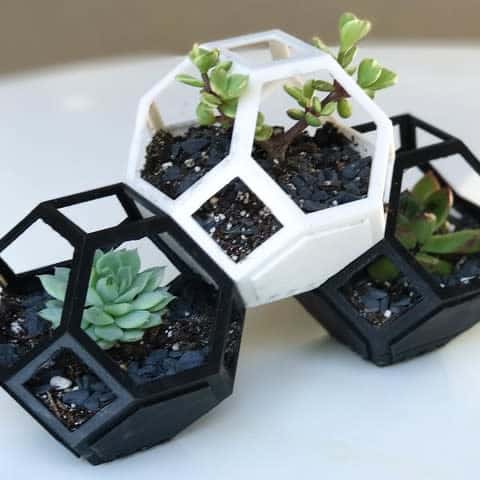 One of the cool things to 3D print is an abstract planter for your succulents and cacti. Why use traditional planters to hold your plants? There are cool 3D prints out there that don't allow you to skip the traditional clay pots. These modular little guys are modern and fresh and guaranteed to make your mini-garden more attractive.
While it won't be holding up a car in a garage any time soon, this platform jack can still withstand a fairly reasonable amount of weight, allowing you access to pesky undersides. 3D print your own platform jack at home for an easy tool that's great for painting models and other hobbyist tasks.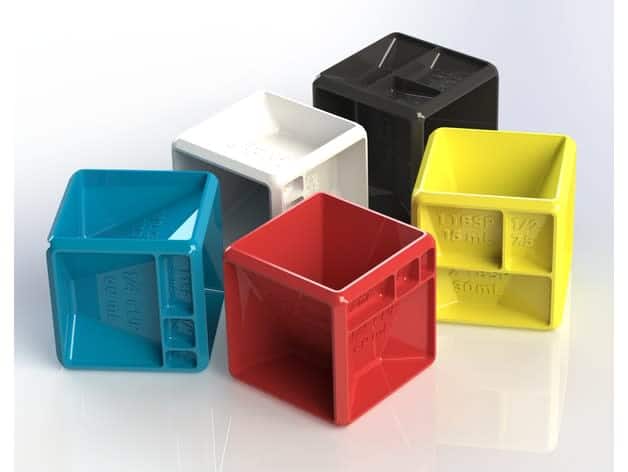 Measuring Cube
Get rid of those 72 measuring spoons from your utensil drawer and replace them all with a single implement! One of the most immediately useful and cool 3D prints in this list, it'll make for an interesting tool that others will want when they see it.
Mitre boxes are extremely useful when it comes to crafting. In just a few minutes, your 3D printer can spit one out and have you making exact cuts in your crafting projects in no time at all. Just add a blade, and you're golden.
USB keys are useful devices—until you misplace them and lose all your precious data. Help prevent this by manufacturing your own desktop device to hold all your various keys! You can 3D print one of the most useful 3D printed objects available for your office.
We all need to do our part in cutting down on our water usage, right? Well, this water-saving attachment for your faucet is super quick to 3D print, a breeze to install, and uses very little material to create!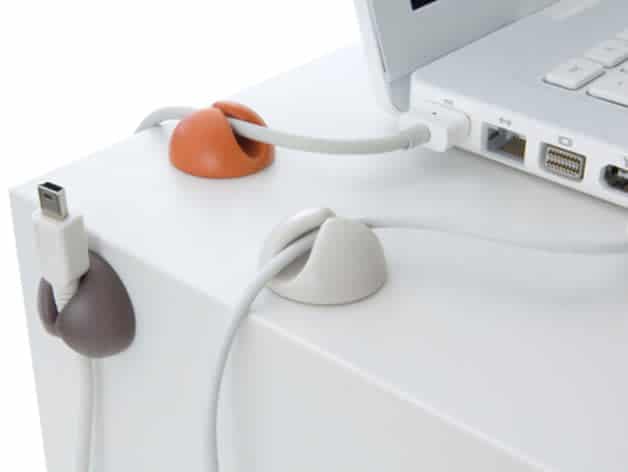 Cable Holder
Stop the tyranny of cords taking over your desk and entertainment unit and 3D print some space-saving cable management devices. You'll cut back on desk clutter and all that cord-related aggravation. These are the blessed 3D printed objects that make life a little less annoying!
Sometimes the office gets boring. Pass the time by constructing these cool things to 3d print: little catapults! Work on your (probably) lacking marksperson skills with these adorable wee "weapons" that can fire small projectiles up to two meters away (perfect for mastering your paper-in-wastebasket game).
One of the cool things to 3D print is your own set of cutlery. If you dig camping or just want a convenient set of small cutlery for use at the office or in the cafeteria, you can't go wrong with this 3D printer design. They're functional, portable, and take only a short time to create! The best part about this 3D is that they're completely reusable.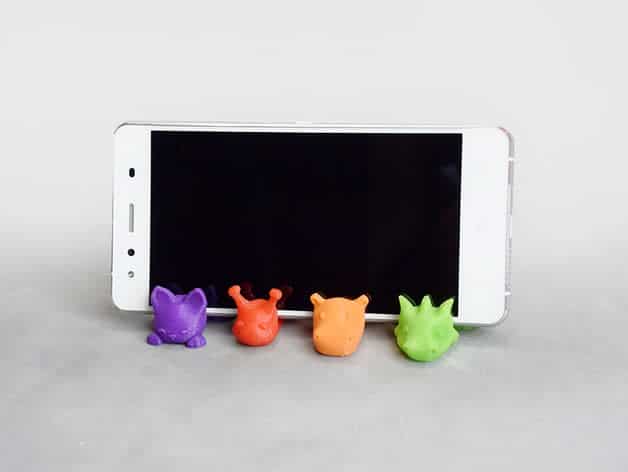 Nearly everyone these days has a smartphone, and we've likely all had moments where we wanted to prop up our phones for viewing video or photos and had to resort to piled books or whatever else is on hand. And it rarely works out as well as we hope! That makes this tiny project one of the coolest 3D printed objects on the list. Plus, they look like cats. Cats are good.
Small projects like this are what really make 3D printer designs a delight. Nearly all of us need some form of brush or comb to keep our untamed locks from becoming a tangled mess, and when it's this simple to create, why not give this 3D print a shot?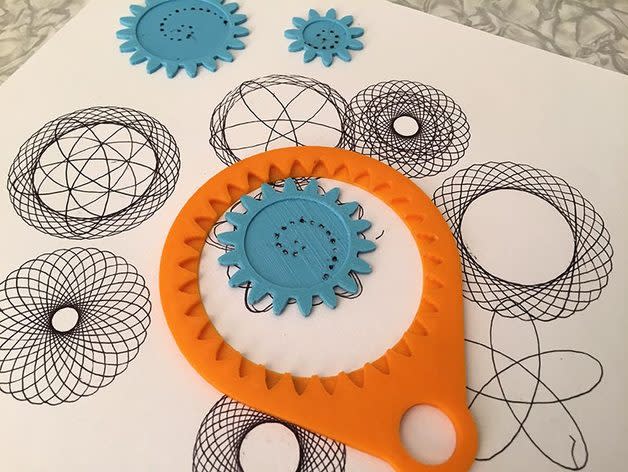 A perennial childhood favorite, kids love them just as much today. Of course, adults can enjoy these toys, too. They could be just the ticket to break through some creative block!
Remember that Malcolm in the Middle scene where the family resorted to driving over the toothpaste to get the last little drops out of the tube? Now you can 3D print a device that will make squeezing out every bit of Colgate much easier.
This one gets our vote for one of the best 3D printer designs in this list. Bookworms! Want a nice, easy way to keep your pages propped open? Designed with larger books in mind, this tool is delightfully useful.
Another one of the cool things to 3D print is this awesome tool. With this device, you can open bottles—using only one hand! Keep one or two in your drawer at home, or make a few and keep them on hand as great host gifts.
Stop dog-earing those pristine pages! These cool 3D prints allow you to remember exactly where you left off in your mystery novel or adventure yarn. Added bonus: Hedwig greets you every time you come back to reading!
Today in you can do that?!: wallets made in a 3D printer. Why pay $50 a pop for a leather one when you can create one in your house in an hour, complete with card slots? This is one of those cool things to 3D print that we all could use. In addition, you can 3D print a design that is completely unique to you.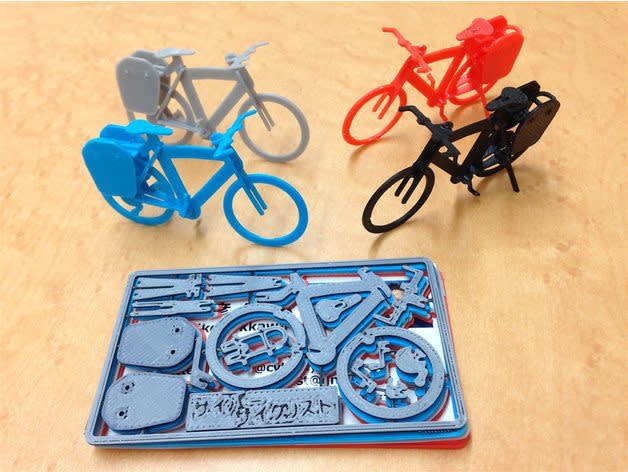 A truly inspiring 3D printing idea, these pop-out business cards allow you to speak to clients in a way they won't have experienced many times (if ever) before! Rather than a drab piece of cardboard, hand them a toy they can assemble that speaks much louder than a traditional printed card.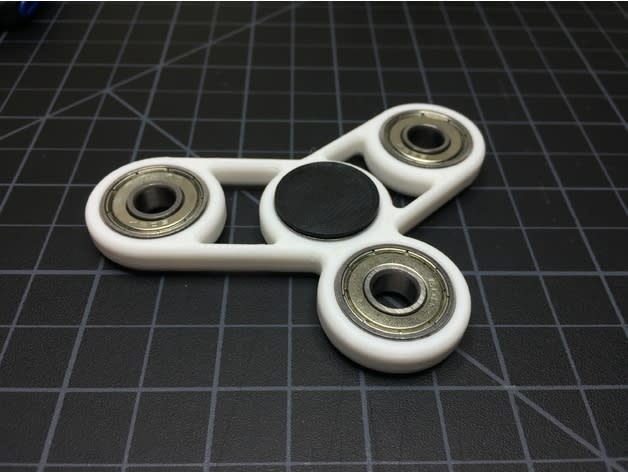 Can't sit still? Searching for a 3D printer project to help you focus? Look no further. Fidget spinners are an excellent way to occupy your mind, and this 3D printed object will definitely do the trick.
We're all trying to squeeze in any little bit of exercise we can into our busy days. This is another project in our list of cool things to 3D print for folks looking for office or hotel fitness hacks. The tin-can dumbbell provides a super-budget means to pump some iron by affixing two cans of food to a plastic handle. Now, you can work out anywhere! All you need are some cans.
This is probably one of the most fun and cool things to 3D print, these gimmicky little toys are quite literally affixed to food items found in your house. A lemon helicopter? A banana-car? Why not! Easy to print and awesome for providing hours of enjoyment to restless rainy-day kiddos.
Now, this is neat! With a 3D printer and just a small amount of time, you can 3D print an actual musical instrument. Savor the wayback-playback of rocking out on a whistle, just like your grade school days.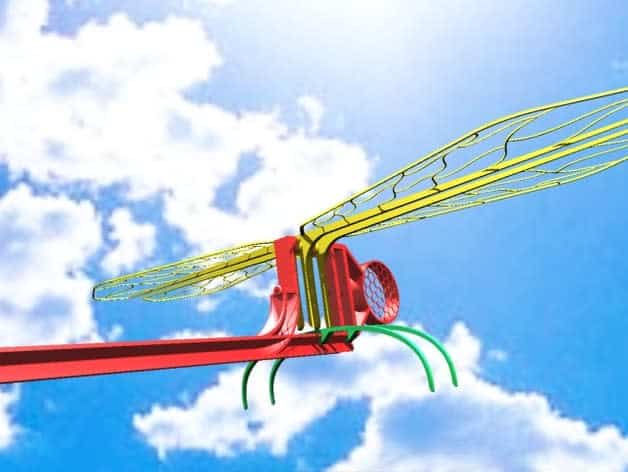 Definitely among the most interesting and cool things to 3D print in this list (and showcasing a bit more complexity than other entries), the dragonfly is a tiny little flying machine you can whip up in a short time. It's perfect for providing a little entertainment for your kids on a rainy day.
Why settle for boring cutlery in your drawer? With minimal effort, you can produce some decorative handles for your eating utensils and wow visitors to your humble abode. When they inevitably ask "so, what can you print with a 3D printer?", you can tell them they're eating with it!
Drop your phone into these useful little devices to amplify the sound from its speakers. They offer surprisingly high-quality sound—and now you don't need to lug portable speakers around on picnics or at the beach.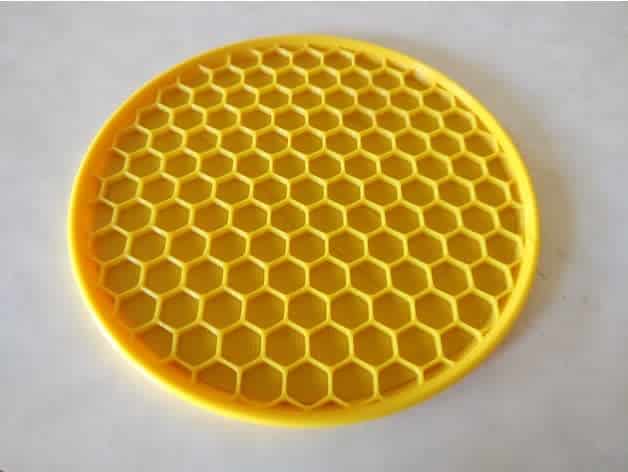 If you're looking for some more simple and cool 3D printing ideas, consider 3D printing a set of drink coasters. Thanks to simple 3D printer designs like this, we won't need to spend our hard-earned cash on flimsy little discs anymore. Make your own coasters with whatever designs you want, and say goodbye to tacky freebies and over-priced novelty ones. This idea makes for one of the cool things to 3D print as gifts!
A fun toy and a great example of what you can print with a 3D printer that goes outside the norm, these little chassis are fun to play with and uber-simple to make. Toss a few together for a birthday party and the kids will be kept busy for quite a while.
Whether you are a leatherworker or just want to make your guitar strap look more interesting, these tiny little devices will make your plain leather goods look much cooler. (Bonus: they can also be used as ink stamps!)
3D printing isn't all gimmicks and fun toys: there are very real applications for this technology in the health industry, and they are swiftly becoming the best things to 3D print. For those of us suffering from flat feet or other foot-related ailments, orthotics can be prohibitively expensive. With a few bucks, you can engineer your own and improve your well-being. (Just be sure to consult a doctor before using them.)
Definitely one of the most original ideas in this list, the Post-Box Popsicle is designed to help you send freezable liquids in a mould, ready to freeze, to friends and family. Just fill the mould with liquid, seal it, and send it off!
While we're talking about moulds, why not engineer some cool forms for chocolate, ice, baking, or other delicious things? These are killer for parties, thanks to your treats shaped like superheroes or cute animals.
This one is seriously impressive: a fully functional camera made almost entirely out of 3D printed objects! It's an interesting project well worth your time just to see what these fantastic machines can really do.
You can also create mini topographies in your 3D printer, and then turn them into cute objects for home or office! Want a Mt.Fuji paperweight? How about a New York skyline bookend? Or even a 3D map for tabletop strategy gaming! Worth exploring, this is one of the most interesting 3D printer designs.
A truly original idea, these sculpts are a clever mix of art and engineering that are totally wind-powered. Set it down and watch it walk around!
If you're an audiophile, you'll truly appreciate this entry as one of the best things to 3d print. By converting audio files, you can create your own records that will play on turntables. Why limit it to music? Record your own special messages to loved ones and send out the love!
Now things are getting complicated! With a 3D printer, you're able to produce lab-ready tools that are complex enough to extract DNA at home. Whoa!
Did your frames break again? That's never a pleasant experience, but with a 3D printer handy, you won't ever need to worry about it again. This is for certain one of the most useful 3d printing ideas on our list.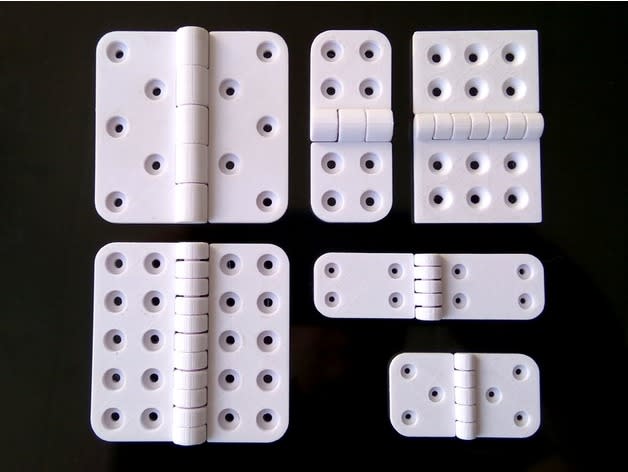 Simple 3D printer designs like this are great to have on hand. Hinges are always useful, and come in handy all over the house. These particular designs are super-simple, even by 3D printing standards, requiring just a single step!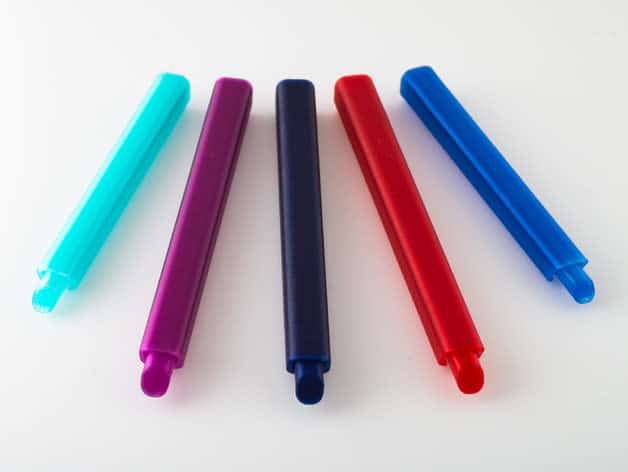 With a sliding clasp, these unique chip clip designs work quite well and are fantastically simple things to 3D print.
Lightweight and surprisingly sturdy, this 3D printer design functions on-par with its more common metal counterparts.
Another musical instrument, the electric violin is more complicated than the penny whistle was, but well worth the extra effort. Violin music can be truly beautiful, and the sounds produced by this cheap project rival professional violins at a fraction of the cost. If you are looking to explore cool things to 3D print and want to learn the instrument, then this is a no-brainer!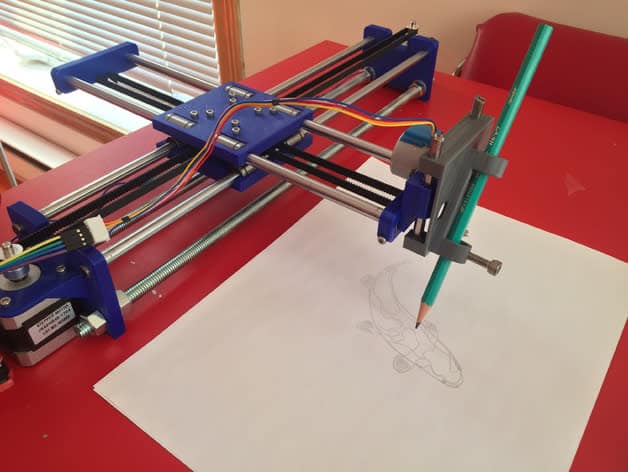 A larger-scale project than other 3D printing ideas, the Drawing Machine is quite unique: attach a pen and create works of art from files on your computer. This 3D printer project can help you produce invitations, cards or any other manner of drawings.
Topping our list of cool things to 3D print, an old-style orrery not only looks awesome but gives accurate representations of the current positions of planets and moons in our solar system. Note that this is a complicated task involving more than simple plastics, and will take more than basic understanding of your 3D printer to produce.
Coffee makes life worth living. Without it, office life would be all but intolerable! But what if your coffee machine is on the fritz and you don't have a replacement handy? Print one! Who would have guessed it could be one of the things to 3D print? This project is one of those fun things to 3D print that makes a great conversation-starter, or gift for the java-obsessed friend in your life.
Some nostalgic old-timey engineering comes into play with these uber-neat 3D printing ideas. Relive the past and have your desk decorated with a sign that uses something other than LED or LCD displays!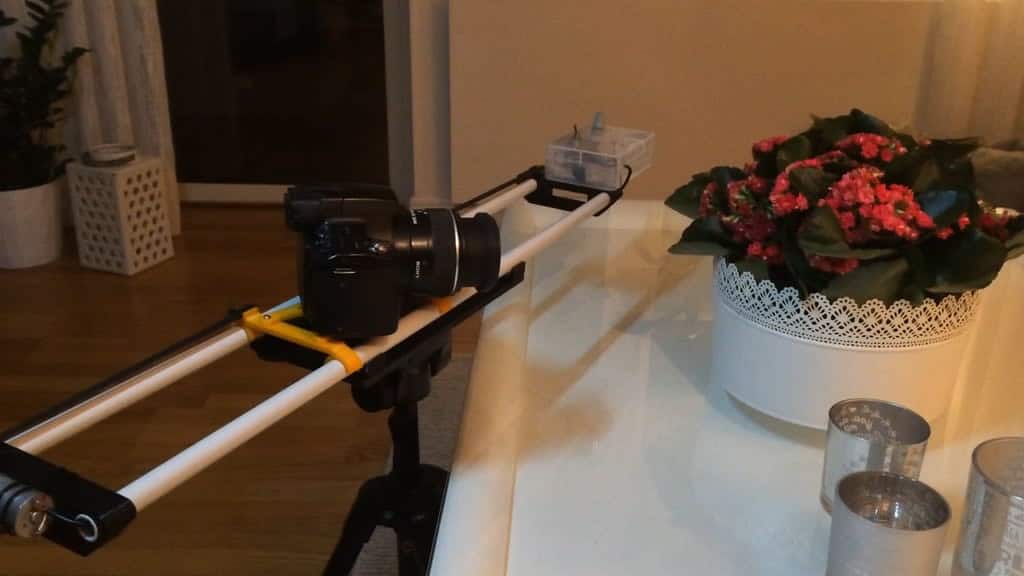 If you're a photographer, you know how much a camera slider can cost you (i.e. an arm and a leg), so why pay out of pocket when you can manufacture your own with a little bit of time and dedication? They're fully motorized and work like a charm.
If you're wondering what you can make with a 3D printer that is truly amazing, would you believe you can manufacture your own telescope? Link it up with the power of a microcomputer to perform marvelous feats of stargazing.
A real robot made in your house with only a few wires and some 3D printed materials? Yes, please. While you won't be taking over earth with a robotic army any time soon, it's a start! Begin assembling your robotic horde today! This is definitely one of the coolest 3d printed objects on our list.
You want cool things to 3D print? How about a remote-controlled hovercraft that you can zoom around on land and water? It'll need some extra parts to properly function, but is well worth the time and effort to get them and take your vessel out on her maiden voyage.
Thanks to this DIY project, you can produce your own functioning drone for a small fraction of the cost of those available on the market. You can even toss a camera in there! Hands down, this is one of the coolest 3D printed projects on our list.
This is perhaps one of the most advanced projects here: a fully-functioning robot arm. It can be programmed and used for a variety of purposes—but most important of all, it'll sharpen your skills and really show the world what you can do with 3D printer designs.
With a bit of technology, effort, and time, you can even design a fully-functioning electric unicycle to help you get around. It's a complicated but amazing 3D printing project to explore due to the various techniques involved; it will really hone your ability to work with your device.
This hobby has really boomed in the last several years, and 3D printers are part of the reason why. Thanks to them, some truly awe-inspiring costumes can be produced for a relatively affordable price. It's hard not to be inspired by such creations. Some cool things to 3D print for your cosplay includes armor shields and fake weapons that go great with your character.
One of the coolest 3D printing ideas is for musicians or the casual guitar player is to 3D print your own guitar at home. This project allows you to 3D print a guitar with a super slick and unique design. All you have to do is assemble the 3D printed pieces together using super glue! If you're looking for ideas on cool things to 3D print, try 3D printing a guitar for yourself or for a guitarist you know. One of the cool things about this 3D printed guitar is that it's smaller than usual guitar, which is perfect for those who have limited space in their home.
When setting up a home office, most people like to connect their laptops to multiple screens for easier viewing. This project allows you to 3D print a laptop stand so that you can easily mount your laptop higher for easier use. The design of this 3D printed laptop stand is perfect for those who want the ability to change the height and adjust the height of your laptop. Simply 3D print 4 parts and assemble them together for a cool 3D printed laptop stand.
There are a lot of cool things to 3D print, but this one is more on the practical side. For photographers looking for 3D printing ideas, this project allows you to organize your SD cards all in one place. Try and 3D print your own SD card storage box and keep all your cards in one place. With this 3D printed storage box, you won't risk losing them again!
More Cool Things About 3D Printing
From pencil holders to robotic arms, 3D printing can do a whole lot. What might have taken hours, days, and even months to build can now be 3D printed using this technology to create your unique designs quickly. Even though there are a lot of 3d printing ideas for you to start getting things printed, 3D printing technology is still incredibly new to many. So we're going to answer some of the most common questions about 3D printing and turning things to 3D.
Can 3D Printers Print Metal?
Generally speaking, yes they can! However, the process and the materials used to print metal is slightly different. In fact, not all printers can print metal. In 3D printing, there are different manufacturing processes. For 3D printing metal, there are three top ways to 3D print—metal-binding jetter, powder bed fusion, and directed energy deposition. These methods use metal powder or metal wires to layer the materials and print the design in 3D. However, 3D printing metal can't be done at home because of how expensive the machine to support this type of 3D printing is.
When it comes to 3D printing metal, there are people who may choose to use a laser cutter instead. The reason is that 3D printed projects using metal can be costly and time-consuming. However, the two are quite different. 3D printing is an additive process, while laser cutting is a subtractive process. Depending on your needs, those that are looking to create multiple pieces at a quicker pace may choose the laser cutter as it can conveniently cut multiple materials and larger size.
With digital trends of raw and rustic design, you might be considering 3D printing cool things at home with metal. However, printing metal is extremely costly due to its process and the machinery required. If you're looking for cool things to 3D print at home with a metal-looking finish, we recommend using materials on the market that can create metal-like 3D printed objects instead. These materials give the illusion that your 3D printed pencil holder or camera mount is made out of metal but without the actual cost.
What Are Some Cool Things 3d Printers Can Do?
One of the cool things 3D printing can do is be used in the field of science for research. Scientists have successfully 3D printed bespoke equipment and even body parts in the laboratory. Using 3D printed human organs, surgeons are able to use this life-like organ to perform practice surgeries. With today's advanced technology, 3D printed organs also allow surgeons to work on difficult procedures and rare scenarios without real-world consequences, such as bleeding.
Thanks to 3D printing, it has also made highly-customizable prosthesis possible. One of the coolest things about 3D printed prosthesis is that they can create custom fits for the patient and also a much lower cost. Instead of creating static designs that are "one size fits all", 3D print gives companies the opportunity to create products that are affordable and personalized. What would have cost lots of money to create is now more accessible thanks to 3D printed prostheses.
Beyond science, 3D printed homes and shelters have also become one of the cool things to 3D print across the world. To address the housing issue around the world, companies have been using this technology to print emergency shelters and 3D printed homes. With this technology, companies and cities can build a community in a much shorter amount of time and for a cost cheaper than traditional home building methods. Each home inside the community can then be purchased at a more affordable cost.
What Would Be Something Cool to Make With a 3D Pen?
If you're looking for a smaller and more affordable option, 3D pens are a great choice to get your creativity flowing too. 3D pens are affordable, easy to manage, smaller in size, and more practical. Using a 3D pen you can easily turn things to 3D. Design and personalize cool things to 3D using your imagination and 3D pen. From making repairs by using 3D pen as an adhesive to creating pieces of artwork, 3D pens give you the flexibility to draw your ideas immediately.
If you love architecture and buildings, companies have created kits that allow people to replicate architectural structures and other cool things with a 3D pen. For boardgame lovers, you 3D print your own figurines by drawing it with your 3D pen. You can also turn your favorite cartoon show characters or movie heroes into 3D. While a 3D pen allows you to draw 2D things to 3D, their limitation tends to be the size of the project you can make. If you're looking to 3D print a life-size chair, it may be easier to use a printer because 3D pens may not be able to create something as durable.
What Are Some Cool Things That Take Less Than an Hour to 3d Print?
If you're short on time and looking for some quick projects, there are lots of cool things to 3D print in less than an hour! In our 3D print list above, projects like the keychain, hinge, handles, bookmarks, smartphone stand, and whistles are some of the cool things to 3D print in less than an hour. Aside from those things to 3D print, you can also try some of these awesome projects:
Share Your 3D Printer Projects With the World
Now that you've got a bunch of really amazing 3D printed projects completed, why not showcase your best 3D prints? We'd recommend an online portfolio website that has a variety of stylish templates to choose from (so you can find one that fits with your brand identity) and offers a free trial (that way, you can make sure it has all the features you need). With all the cool things to 3D print, you'll be able to update your portfolio with a wide variety of products. Once clients see all your 3D printer designs, they'll be clamoring to have you print something magical just for them.
Ready to build a design portfolio website that captures clients' attention? From gorgeous themes to a built-in proofing tool, we've got designers covered. Start your free trial with Format today!
Now get out there, get creative, and start turning heads with amazing 3D creations!
Need some more design project inspiration?
How to Start a Creative Project by ADAMJK
5 Ways to Fund Your Personal Project
10 Steps to Building Your Perfect Online Portfolio