For interior designers, a well-designed website shows off your design skills and can help you land your next project. It showcases important information about your previous interior design projects and your creative process.
We rounded up 10 interior design online portfolios from interior designers that highlight their unique talents for creating eye-catching interiors. This list features interior design portfolio examples by professionals packed with stunning imagery that demonstrate their talents in their design.
These talented designers have extensive experience working with top magazines such as Architectural Digest and Vogue, as well as leading brands like COS and Ikea. Their diverse interior design portfolios showcase a range of styling and design projects, and some even offer additional services such as graphic design or creative direction for commercial shoots. Others, like Mouchtaris & Co, specialize in creating bespoke furniture.
Whatever their individual aesthetic might be, these interior designers use their online portfolio website to highlight their best work, providing visitors with some design inspiration in the process.
Ready to build your interior design portfolio and curate your own project page? Try Format for free, no credit card required.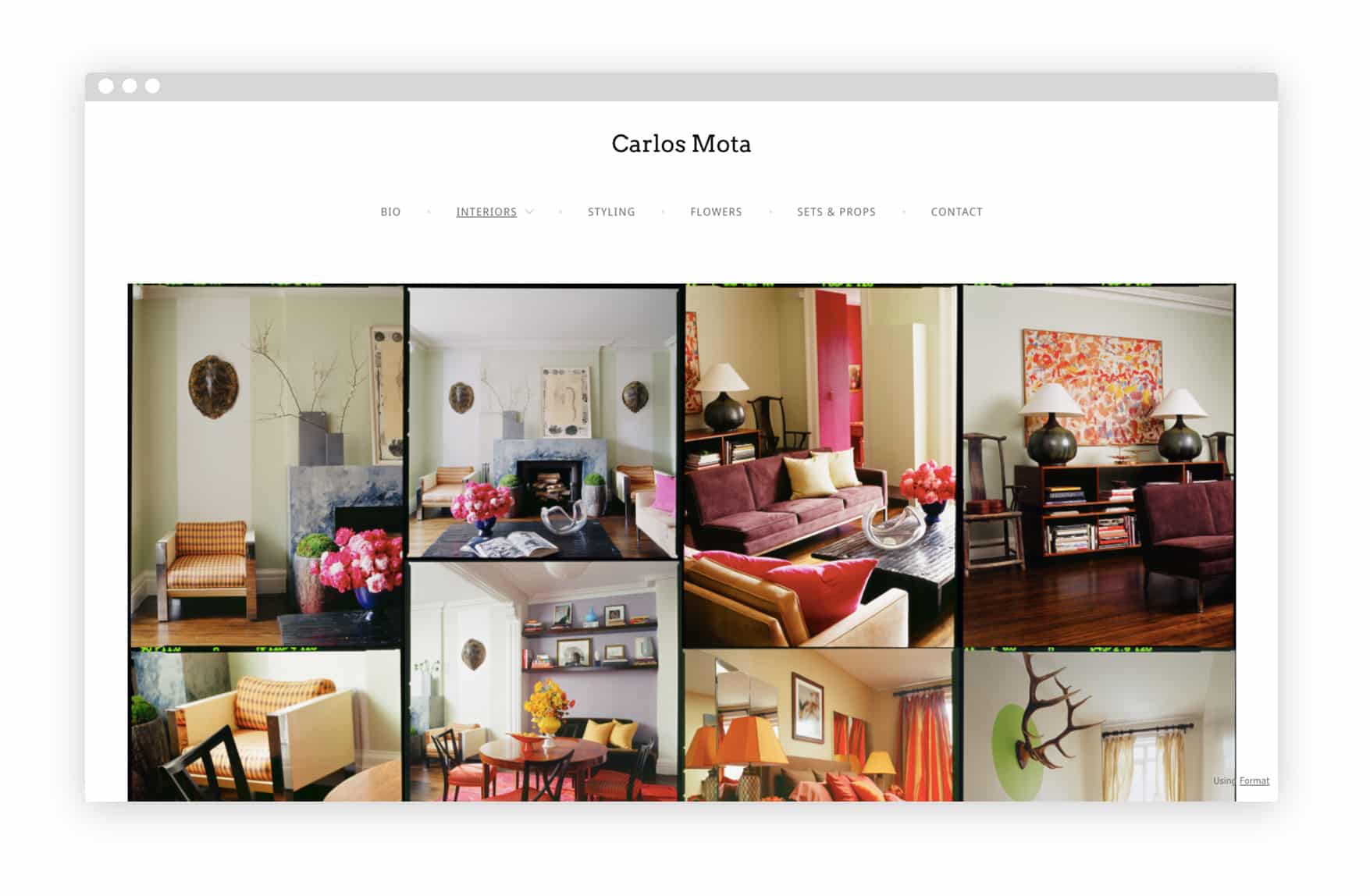 Formerly the International Style Editor at Architectural Digest, as well as an editor at Elle Decor, interior designer Carlos Mota has a careful eye for filling up a space, especially when it comes to adding accents with flowers. Mota has styled and produced stories for a wide range of the best design-minded magazines, including House & Garden, Vanity Fair, and Vogue, and he counts brands like Saks, Isaac Mizrahi, Clinique, and Neiman Marcus among his clients. Mota recently published a coffee table book, A Touch of Style, which highlights his design work.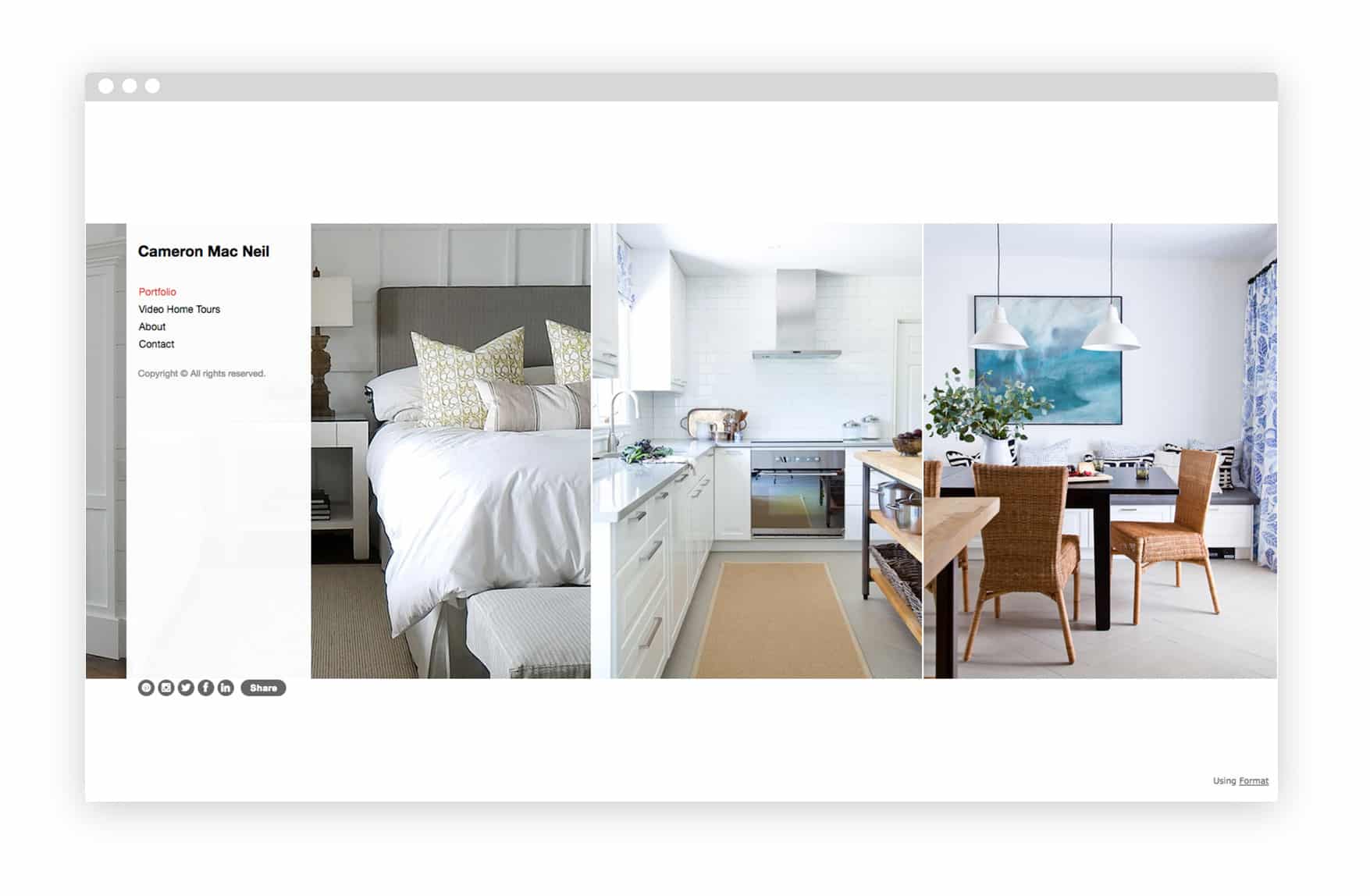 A design editor at House & Home magazine for 12 years, Canadian interior designer Cameron MacNeil creates interiors that mix traditional and modern styles. In his website bio, MacNeil shares that he had a love of anything design from childhood: "At age 11, he was redesigning his bedroom, even sewing his own curtains to be sure he had just the right look."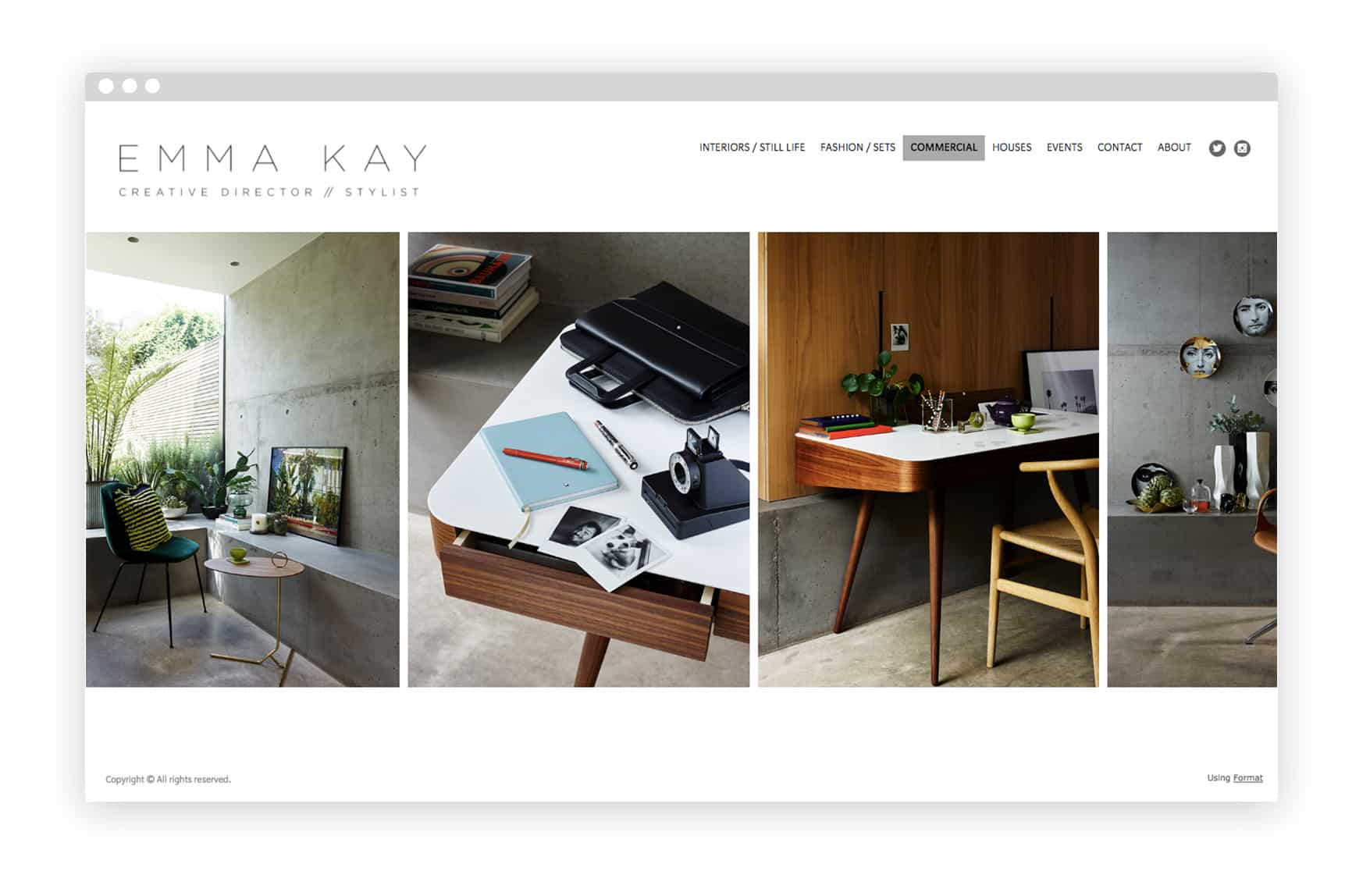 A creative director and interior stylist, Emma Kay has worked as an editor at Elle Decoration, and her editorial work has been published in magazines including The Wall Street Journal, Homes & Gardens, and The Sunday Times Style. She also has an impressive list of commercial clients, such as COS, Ikea, Phaidon Books, HSBC, and Fortnum & Mason.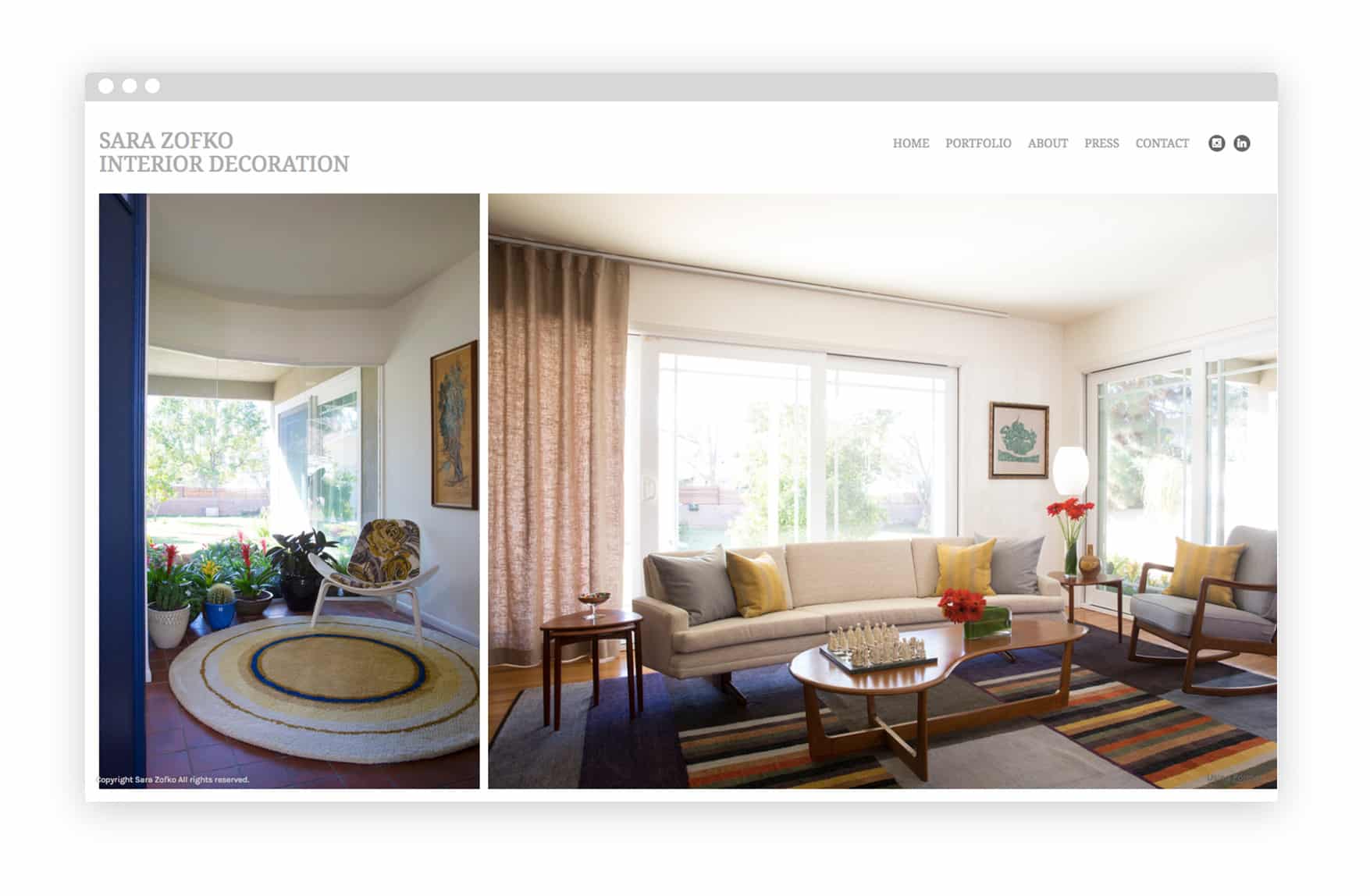 Designer Sara Zofko has appeared as the on-screen interior designer for the DIY Network's Restored, a show which focuses on the restoration of heritage homes. Zofko works in a range of styles, tailored to suit the needs of each client and their space. In her interior design portfolio, she neatly arranges her work by style (pictured: a mid-century ranch home).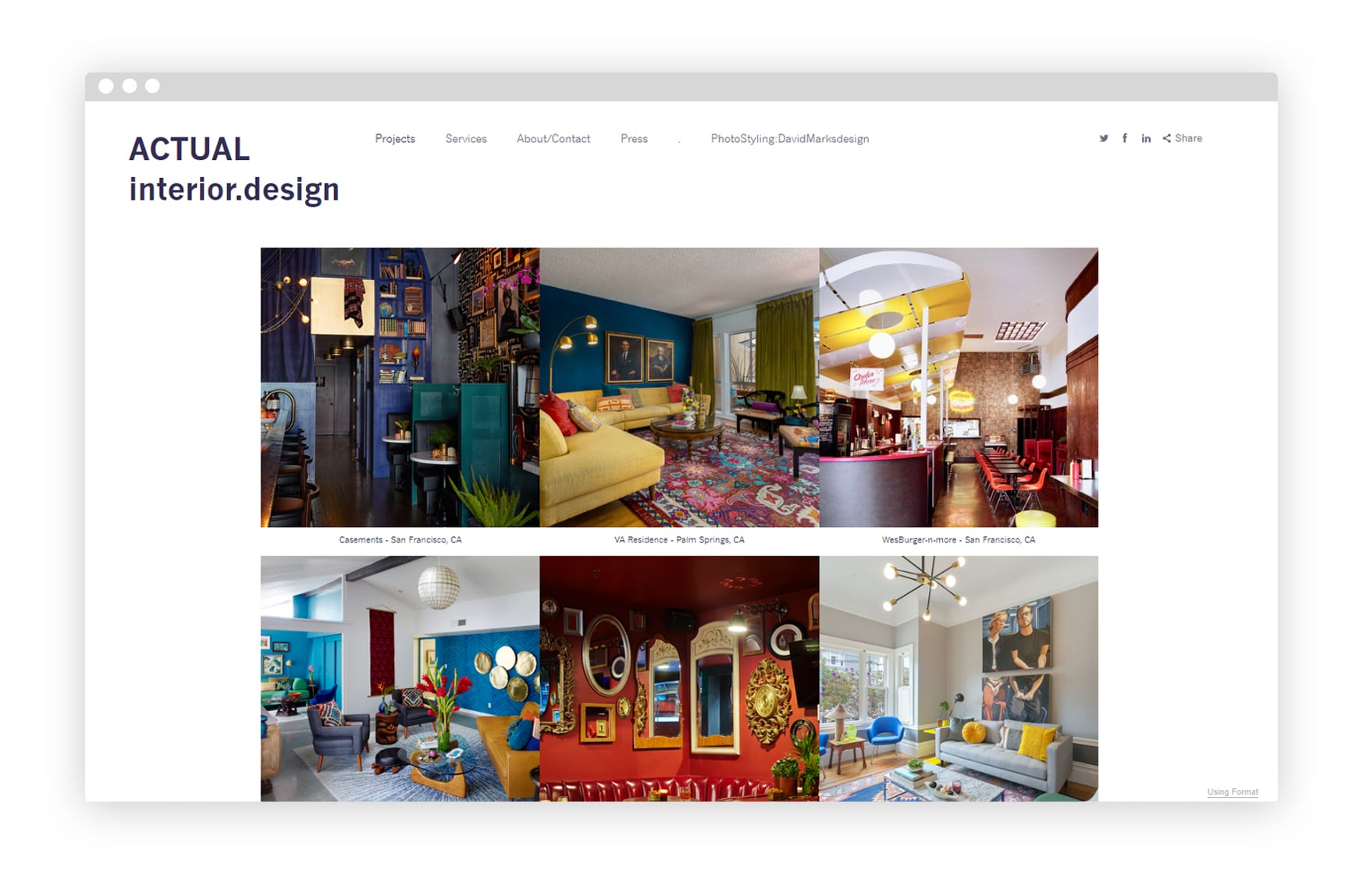 With more than 25 years of experience, ACTUAL interior designers are experts in residential and commercial interiors. David Marks holds a Bachelor's in Architecture, while Chris White is a color expert with a Ph.D. in Health Promotion. The duo creates well-designed living spaces that promote a healthy, fulfilling life.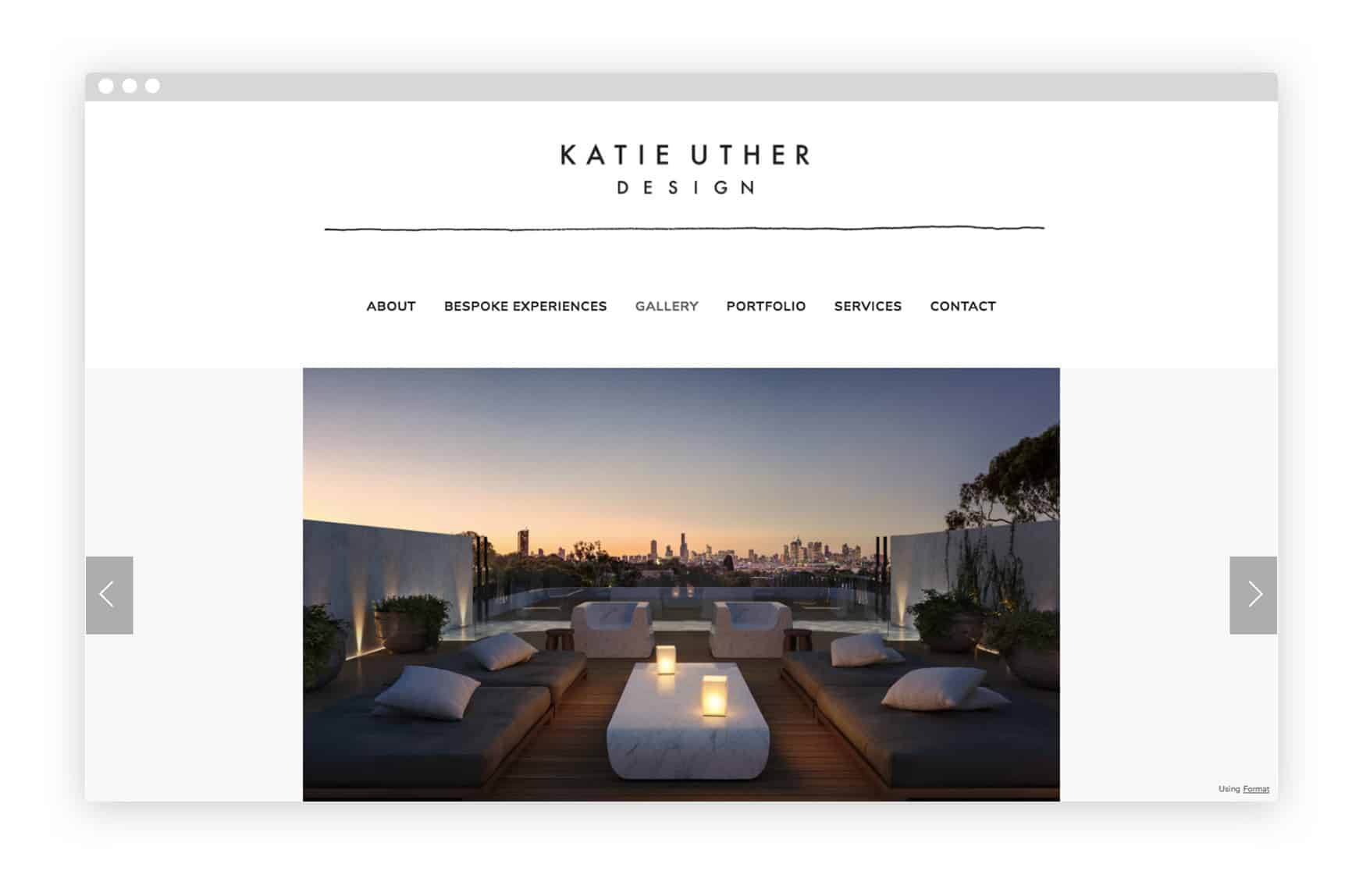 Sydney designer Katie Uther cites her experiences working in London and Paris as highly influential in her design practice. Specializing in luxury interiors, Uther draws inspiration from her prior work with renowned French designer Christian Liaigre. Pictured is a residential space designed in collaboration with Koichi Takada Architects.
Specializing in staging homes for sale, The Styling Group was founded by experienced Melbourne designer Roberto Iaccino. Iaccino has previously styled events such as Mercedes-Benz Fashion Week and Project Runway Australia, and he brings a stylish eye for curation to his work as The Styling Group's creative director. A distinctive green background helps this interior design company portfolio website stand out.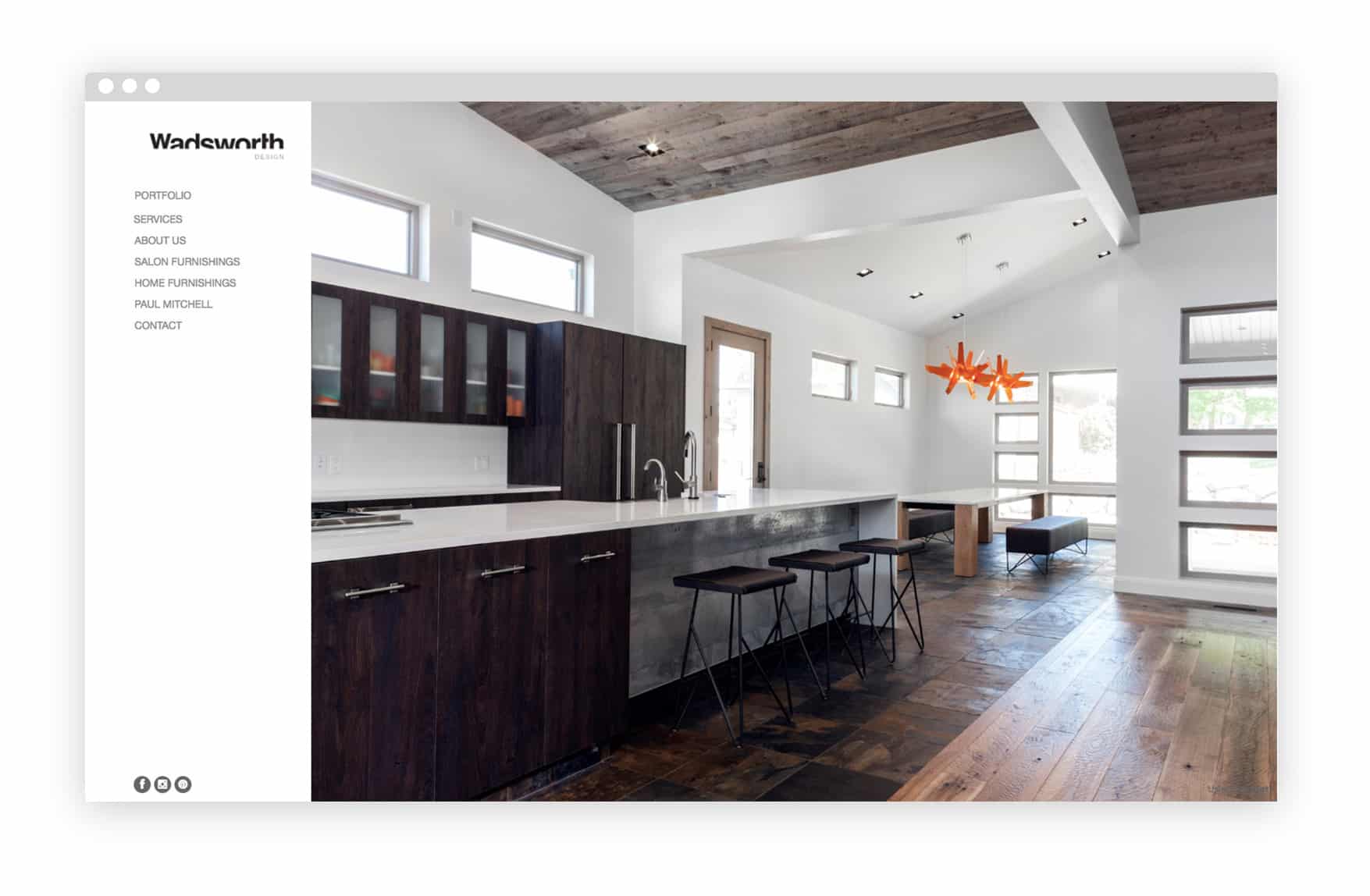 Beginners and professionals alike can learn a lot about portfolio design for interior designers by studying Wadworth's website.
Founded by Utah brothers Mark and Paul Wadsworth, Wadsworth Design creates furniture and fixtures, in addition to designing a large quantity of residential and commercial interiors. Wadsworth Design has developed a range of salon fixtures for Paul Mitchell, as well as designed several Paul Mitchell franchises and other salons. They have a focus on sustainable production, making use of recycled materials and creating work that's built to last.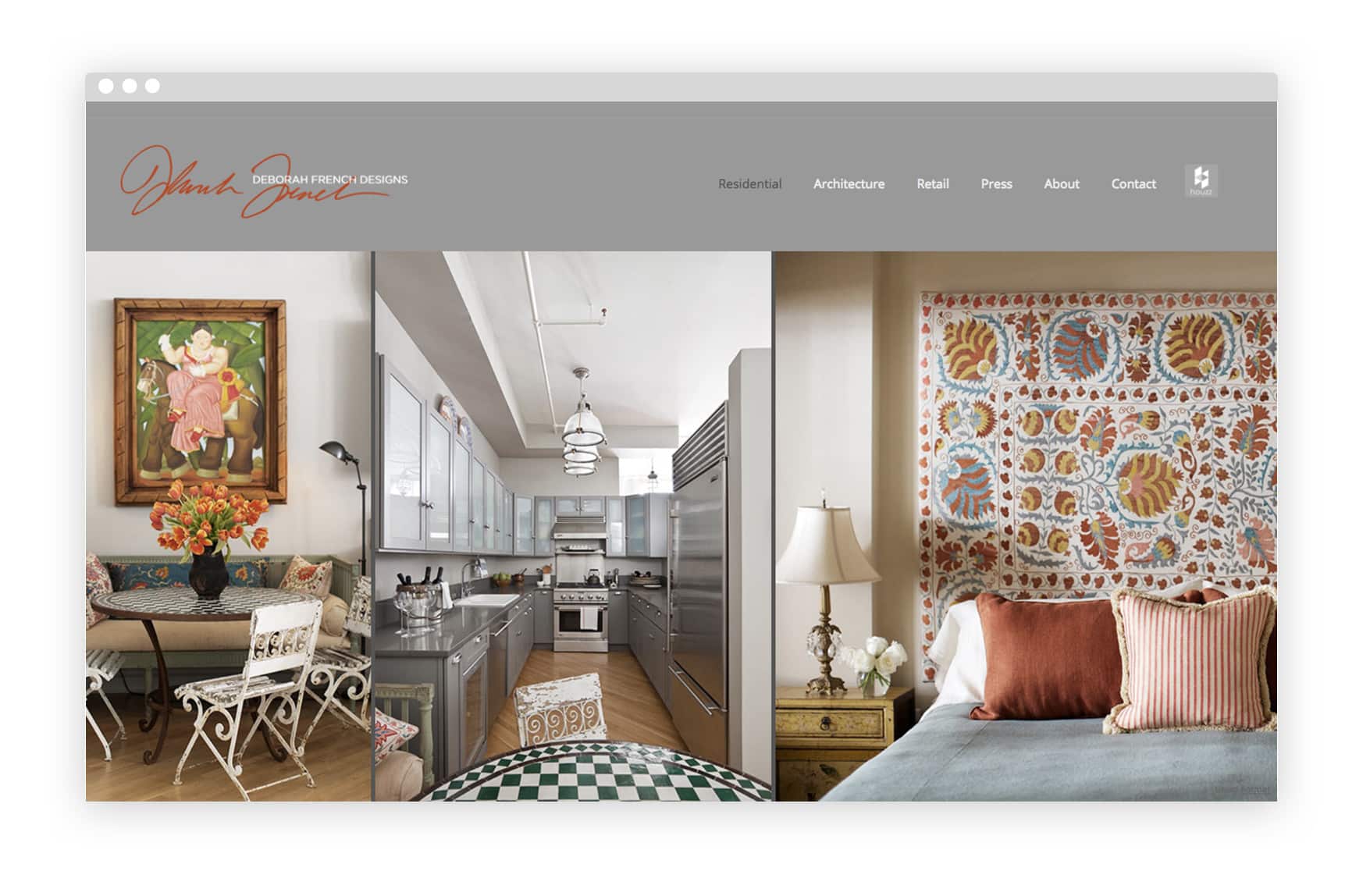 If you're looking for noteworthy interior design portfolio layout ideas, Deborah French's website is a great place to start.
Designer Deborah French has a diverse artistic background, ranging from work at Vogue to sculptural art practice. She's worked designing stores internationally for Polo Ralph Lauren as well as interiors for Marriott hotels. French's work with her own design firm focuses on luxury and comfort. A bold logo and a muted grey background add personality to her interior design portfolio.
The studio of Toronto designer Christopher DeBoer, Sybrandt Creative works on residential projects ranging from visually updating a single room to extensive structural renovations. Sybrandt has a focus on playful texture, adding interest via unusual wallpapers, artworks, and unexpected pops of color that bring things to life.
Andy Beers is the creative behind Seattle's Ore Studios, which specializes in residential interiors. Beers' spaces manage to look carefully curated and invitingly casual at the same time, with comfort and natural light always a priority. Ore Studios has been featured in Architectural Digest, among other publications.
These highlighted interior design portfolio examples are professional, contemporary, and more importantly, spotlight on milestones in their career and creativity. And it's time for you to do the same.
We'll lay out some best practices for building freelance interior design portfolio websites. Still in school? No problem.
These same tips apply to interior design student portfolio websites. It's important to build up your website repertoire as you're working on your school assignments, so you can land internships or your first few jobs in design right out of school.
What Next? Start Building Your Interior Design Portfolio
Creating a well-designed website is essential for interior designers to showcase their talents and attract new clients. With website builders like Format, you don't need to hire a web designer or know how to code to create a unique-looking website. Drag and drop templates are completely customizable, making it easy to set the tone and mood of your website.
Best practices for building an interior design portfolio include starting with a beautiful, mobile-responsive template, using high-quality photos, focusing on quality rather than quantity, and establishing a brand identity. With Format, you can try building your interior designer website for free for 14 days and in a matter of clicks. Get started today and let these interior design website examples inspire you to build your own site.
Hopefully, these interior design website examples have stirred up your creative juices and inspired you to build your own site.