We spoke to Gem Barton, author of the new book Don't Get a Job… Make a Job: How to make it as a creative graduate about rethinking career paths and staying positive.
So you have a design degree. Great—good for you. You've left behind the books and lectures to enter the work force inspired, ready to hustle and to learn from the masters of your craft. Not to mention maybe making some money for once.
With a few tips and tricks, you write a solid CV and then apply for all the positions that make you excited (as well as some that don't) and prep for the adult glory that will be "getting a job". Should be easy enough, right? For many new graduates of design programs, that's just simply not the case.
With the changing tides in the economy, the chances of finding old-fashioned stable work in a creative field are slim. But don't fret! This is where the fun starts, according to Gem Barton, author of Don't Get a Job… Make a Job: How to make it as a creative graduate.
Rather than curse her seemingly useless education and head for the nearest telemarketing job, Barton turned frustration at the dismal state of job openings into motivation. She used all the creative skills that she learned at design school and applied them to her career path, built her art portfolio and results are more than motivating.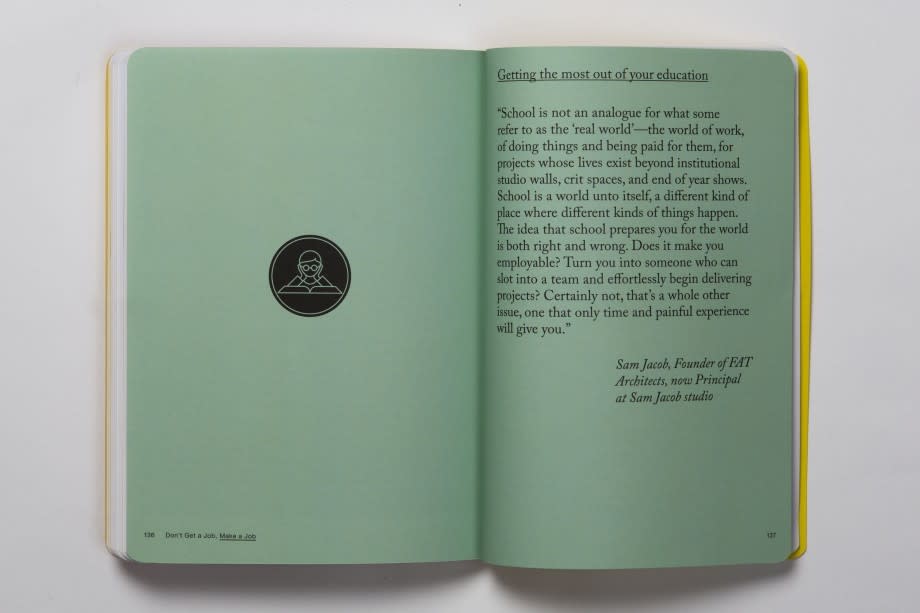 Currently a course leader for interior architecture students at Brighton University and the editor of EDGEcondition, a bi-monthly architecture journal, Barton knows all too well the struggles of melding a creative education with a pay cheque.
"The story behind the book is a very personal one," Barton said via email. After completing two architecture degrees in 2006, she racked up two redundancy lay-offs in just 18 months post-graduation.
"I was low in confidence, unsure of what I could offer the world and despairing at the lack of opportunities available."
Torn between the pressure to conform to society's unrealistic expectations for creative employment, the expectations of her chosen industry and the desire to be a productive human, Barton set to work.
She wrote her book with a genuine desire to help people who've been in her exact situation. It's for people boldly going after their dreams only to be knocked down time and time again by circumstances out of their control.
"It was an incredibly cathartic experience for me. It made me deal with a lot of emotions from that period in my life that I had hidden away."
Designed by London-based graphic design studio Turnbull Grey and published by Laurence King, this stunning book offers sound advice for designers forging their path after graduation.
By interviewing professionals in various creative fields, from architect Sam Jacob to illustrator Mega, Barton compiles a cohesive look at today's professional creative environment and provides insight for the vast unknown that is a creative individual's future.
Surrounded everyday by brilliant students nervous at the thought of leaving the comfort and inherent purpose involved in a university career, Barton knew something had to be done.
"What should be the most exciting time for them ends up being the most petrifying," she said. "I wanted to produce something that shows young creatives that the world is big, and it's open and that there are lots of different platforms to discover, to challenge and to exercise their talents in the world outside of 'traditional' employment."
Barton plays mentor, life coach and professor all with inspiring ease. Filled with quotes, anecdotes, interviews and loads of advice, Barton hopes that readers will come to realize that they are the masters of their own opportunities.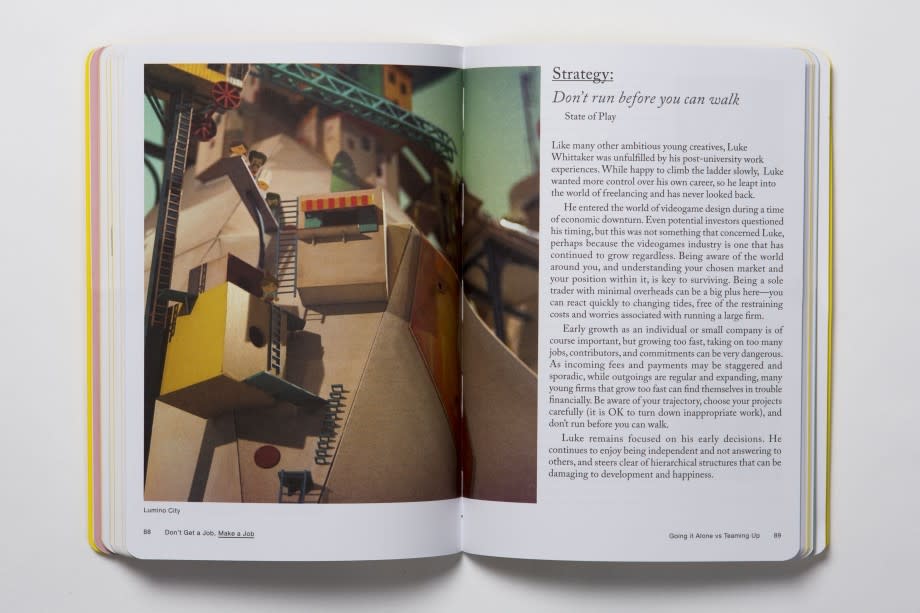 "I hope that people will learn that life is for the taking," Barton said. "That work can be fun and wonderful and magical, and that this kind of work can pay the bills too."
Creative fields often have a tendency to struggle with issues of value. Young creative professionals often experience thoughts of worthlessness when they're confronted with the reality of selling their work. Barton argues that recent design graduates have skills that are highly valuable to companies and firms. Not to mention boundless energy and the openness to learn new methods and develop new abilities.
Barton also stresses that a personal stance on employment can be fluid. As a creative you might drift between traditional employment and freelance work, between solo projects and contract work. The choice is in your powerful hands.
Fueled by the creative people around her, Barton looks forward to writing more, engaging in more conference presentations and perhaps even penning a screenplay.
"I remind myself regularly that absolutely anything is possible. That is what gets me up in the morning. I'm a bit of a big kid in that sense. You never know when you will get the next phone call or the next email that will change everything."
Don't Get a Job… Make a Job: How to make it as a creative graduate by Gem Barton is available March 2016 at Laurence King and Amazon.