The online marketplace and production studio Print All Over Me (PAOM) has been a long time favorite for anyone who wants to make their own custom fashion pieces. Launched by brother and sister duo Jesse and Meredith Finkelstein, the company allows artists to upload their designs, get it printed onto blank-canvas garments and sell it.
This past year, in the midst of their growing community and evolving identity, the Finkelstein's launched the PAOM Endowment to "to support artists and designers to pursue creative projects that push, expand, or ignore the boundaries between art, design, and fashion."
Project proposals for 2017 PAOM Endowment will be open four times this year with five winners for each cycle. The winners will receive up to $2,000 in PAOM clothing or fabric to use in the completion of their proposed project. If you can dream it, PAOM will help you make it.
The first round's theme is Resistance. "In turbulent times like these it is important as creatives to find inspiration amidst the chaos and create work that fights the mundane & unifies communities under threat. This doesn't mean your submitted project has to be political, but it should be informed by the act of resistance and spirit of opposing oppressive forces."
Your deadline to apply for Resistance is midnight on February 16, but you can always hold out for the next three rounds of applications which will introduce new themes.
To get a better understanding of what artists can do with a PAOM Endowment grant, we took at look at the 2016 winners. The projects were tremendously varied, and speak to the vastly divergent roles that textiles can play in different practices. For some artists, the textiles were the final objects, for others, instrumental pieces in performative or conceptual works.
There are, however, obvious aesthetic similarities that might be important to note if you're thinking about entering the contest. In 2016, the jurors seemed to prefer soft pastel tones and patterns with symbolism. The styles were bold and the designers told a story with their choices. PAOM definitely loves to keep things goofy on the surface but the actual work holds a deeper poignancy.
Check out last year's PAOM winners for some design inspiration.
The self-described "maximalist, post-anime, nu-surrealist, reanimated spinal fantasy feminatrix painter's cartoonist's stand-up rapper's emoticon artist" created psychedelic clothing pieces, which were worn by actors surrounded by black & white illustrated props in a short live-action animated video and fashion comic project titled "Nothing Ventured Nothing Stained". The project features loudly patterned clothes that are, according to Piantedosi, designed to hide stains dribbled on the shirts of "femme slobs." With a tongue-in-cheek nod to outdated notions of properness and femininity, Piantedosi has created a line of clothes for adventurers who "wanna get dirty but look clean."
This New York based graphic designer creates beautiful marbled prints using traditional techniques. Caro's designs explore belonging and withdrawal, the home and the unknown. For her PAOM Endowment project, she designed a clothing collection titled "Isles" using a Turkish ancient marbling technique called Ebru. The method is based on sprinkling color pigments on water, where they float and form swirling patterns, resembling isles in an aerial landscape. For "Isles", she applied her designs to scarves and swimsuits and produced a body-centric editorial.
TYNS is the creative project of LA-based Branden Collins, an interdisciplinary designer and art director working across set and costume design, illustration, photography, fashion and print. For his PAOM project, he used clothing and fabric pieces to build an editorial titled "Mother", which depicts a futuristic world inspired by climate change and reclaiming the planet. Models in de-saturated swathes of fabric occupy a cracked landscape and finger talismans from a lusher time.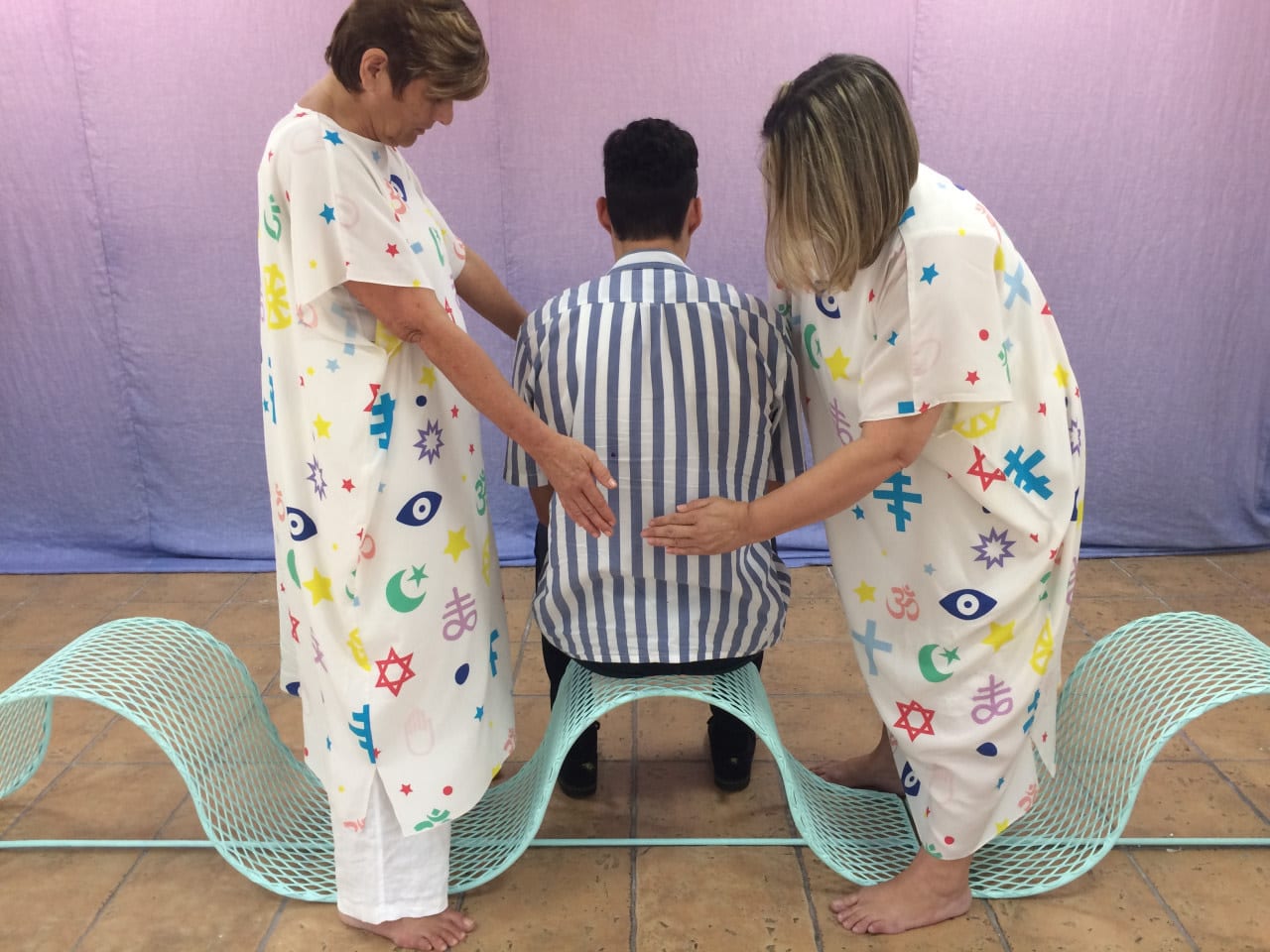 Berlin-based contemporary artist Chaveli Sifre weaves notions of healing, energy flow, magic, crystals, ritual, chemicals and sensory experiences through her multi-media practice. With her endowment she created "Personal Attention", a performative installation in which she turned a gallery space into a healing center that existed somewhere between a clinic and a church. Part of the exhibit consisted of a Reiki performance, during which her mother and aunt performed a Reiki ritual wearing custom Reiki Master textiles. Sifre also printed the colors of her aura onto a silk self portrait.
Lorien Stern is a painter, ceramist and textile designer living and working in the North Western corner of the Mojave Desert in California. For her PAOM collaboration, she created a line of clothing featuring whimsical floral and animal imagery, referential to her ongoing series of quaintly biological gauche animal paintings.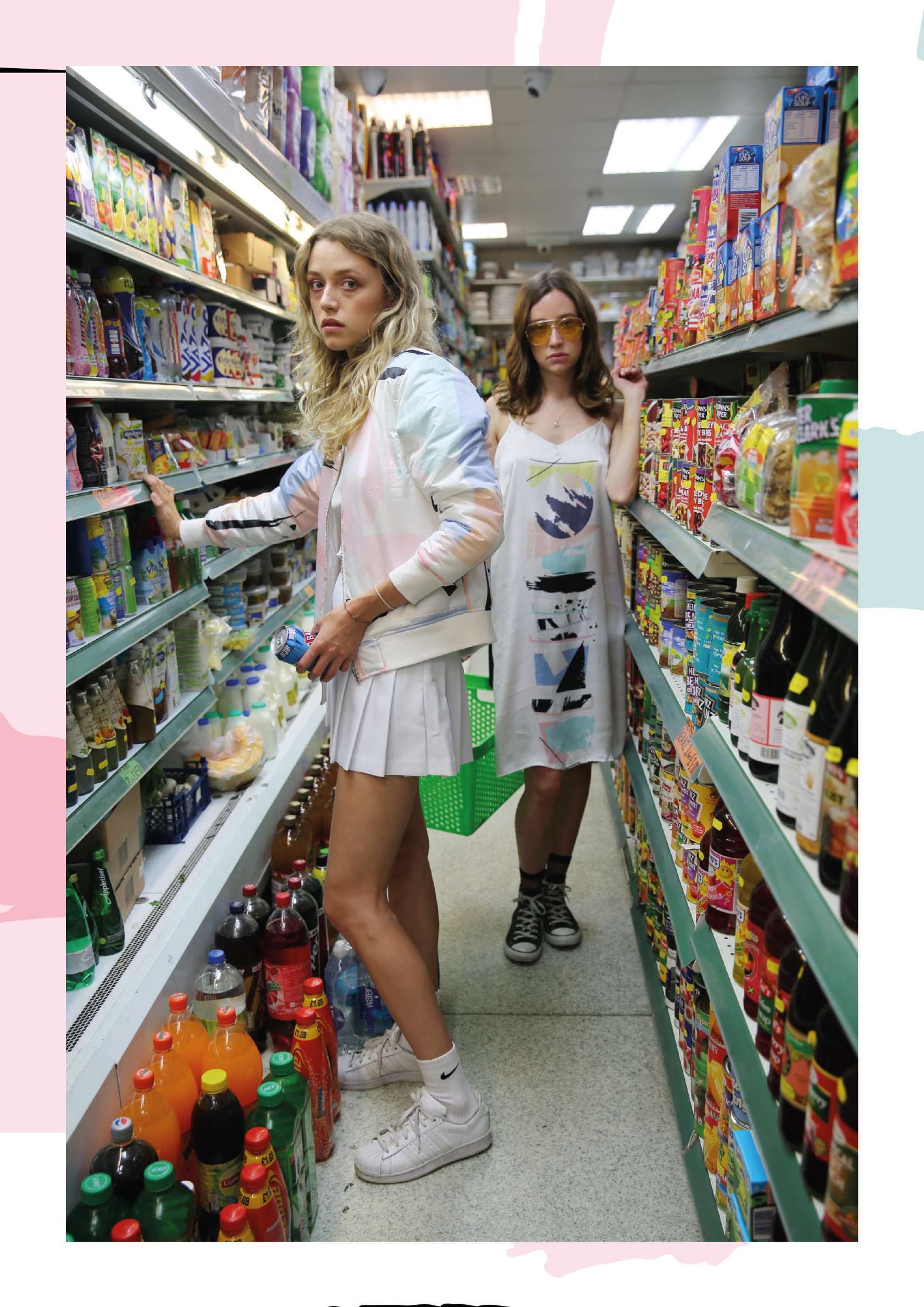 East London-based print designer and illustrator Lottie Goodman creates abstract and vibrant prints and color blocked illustrations with Art Deco vibes. She transferred her designs onto a streetwear line and shot a killer editorial that plays up the current trend in fashion photography of placing models in unassuming or non-stylized (read: very intentional) settings of hyper everyday-ness.
Find out more about the 2017 PAOM Endowment Fund here.
Header image via Lorien Stern