What does Oprah keep in her purse? According to Abbi Jacobson, the co-creator and star of Comedy Central's Broad City, it's stacks of cash, extra car keys for giveaways and a sprinkling of throat lozenges. Prince, she imagines, keeps a tin lunchbox full of starfish and tangerines.
In her brand new book, titled Carry This Book, real and fictional characters come alive through the objects Jacobson imagines they keep on hand.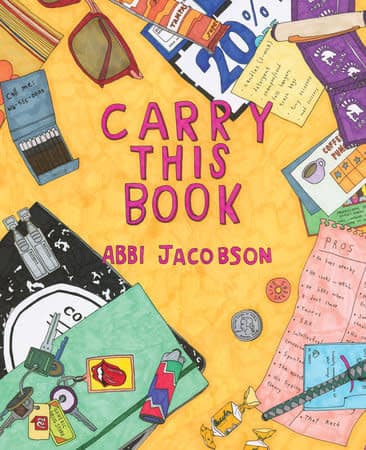 "I have always been intrigued by what people carry around with them," she says in the introduction of Carry This Book. "It can tell you everything. I like how people organize their things, their wallets, their cars, their bags, etc. We are curating our worlds almost constantly with the items we choose to bring with us."
The line drawings are cute, quirky and include little notes where the illustrator can't help but chime in. "All of these are real films," she notes on a photo of Michael Jordan's Netflix search for "Titles related to Space Jam". It gives the illustrations a fairy dusting of Jacobson's comedic timing and blends her work as a trained illustrator with her current vocation as a writer and performer.
"My whole family are all visual artists, and I was like 'I can do this, I did that in high school, you just do it by yourself and it's just done,'" she said. "So it just felt like an easier thing to do, which is crazy because being a visual artist is so hard."
With Carry This Book, Jacobson proves that you can always switch creative gears and start a new project. Her Broad City co-star Ilana Glazer couldn't be happier. "Abbi is a visionary," she says. "She is fiercely creative, and her voracious imagination is palpable on these pages. Her illustration is a world I want to literally jump into and live in."
Jump into Carry This Book with the sneak peek of Abbi Jacobson's illustrations below. They're not explicitly labelled for each person, so the book also serves as a bit of a puzzle to unravel based on the imagined possessions. You can order the book here.