As a freelance photographer looking for clients online, your portfolio website is what sets you apart from the crowd. You want an online photography portfolio that's professional and well-designed, as well as a portfolio template builder that's easy and intuitive to use. That's why 95% of creatives surveyed by Wise Buyer chose Format as the best photography portfolio website builder.
Wise Buyer creates guides to software by surveying users about their experience. They asked over 800 Format users to share their thoughts on Format. As a portfolio builder, Format ranked above 12 other services in Wise Buyer's survey.
10 Reasons Why Format is The Best Choice for Photography Websites
We not only want your photography website to showcase your style and attract your ideal clients, but we also want to show you why Format is the go-to choice among photographers.
Charlee Black portfolio
1. Dynamic Templates
With a wide array of different website templates to choose from across five different categories, variety of theme choices stood out as a reason why creatives selected Format as their top choice in Wise Buyer's survey. "They have so many layout options that are specially formatted for still and motion portfolios that it was very well suited for what I was looking for, even before I did any customization," said one user.
Format's themes are designed to look stunning across every platform, ready-made to adapt to mobile viewing. "It's really good on iPad and mobile," one user in Wise Buyer's survey shared. With mobile responsive themes, you can feel confident that visitors to your website will see a professional portfolio no matter what device or browser they're using. A reviewer on the photography website PetaPixel agreed: "With dynamically powered themes, Format keeps your portfolio looking great on every device."
Linda McIntosh portfolio
2. Flexibility
Customizing your Format portfolio website is easy. Customize fonts, colors, build custom pages, embed videos, drag and drop images to create photo galleries, and click to edit text instantly. "It's really easy to edit the captions and the alt text on photos," one Wise Buyer user shared.
With themes featuring vertical and horizontal scrolling, as well as grid layouts and click-through galleries, there are plenty of options to choose from to create a layout that suits your photography.
3. Format Stores
Setting up a store on your Format portfolio is as simple as turning on this feature. Sell photo prints, books, Lightroom presets, or even portrait sessions—the possibilities are endless. Every Format user gets access to this feature at no extra cost. Showcasing products and services in the same place as your work makes your store highly visible to clients, and keeps your online presence professional.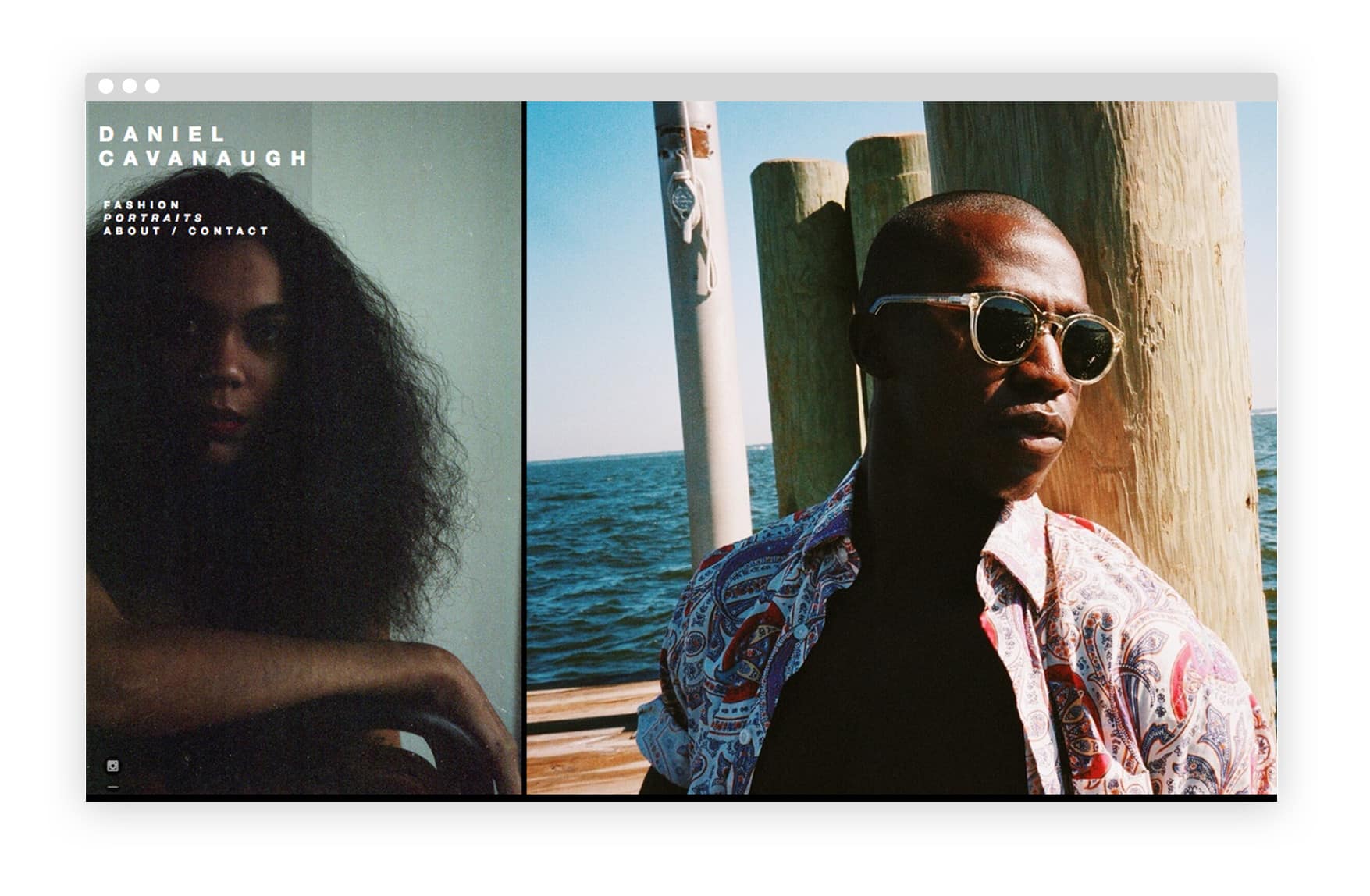 Daniel Cavanaugh portfolio
4. Client Proofing
Deliver work effectively and efficiently to your clients with built-in client proofing. Upload images to private proofing galleries, and share with a password. Clients can favorite work within the gallery for quick and easily accessible feedback. For professional photographers, this is a feature that's sure to streamline your workflow and help you meet client expectations.
5. Format Blogs
Share updates on your work, outtakes from shoots, personal projects, and anything else you like by including a blog on your online portfolio. Format's image-based blogging system is built into every portfolio. Add personality to your online presence and share your story alongside your work with a portfolio blog.
6. Image Hosting
With all images on Format portfolios hosted on Format's high-speed content delivery network, photographers using Format can be sure that their images will be delivered quickly to viewers worldwide. Users with the Unlimited plan can upload an unlimited number of images—perfect for those photographers with a large portfolio.
7. Adobe Lightroom Plugin
Download Format's Adobe Lightroom Plugin to save time and make your workflow more efficient by uploading photos to your online portfolio as soon as you're done editing them, directly from Lightroom.
In an online review, photography website PetaPixel recommended Format for this reason, saying that if you're a photographer looking for a platform that "integrates well with Adobe's Creative Suite, then Format may be an excellent option for your needs."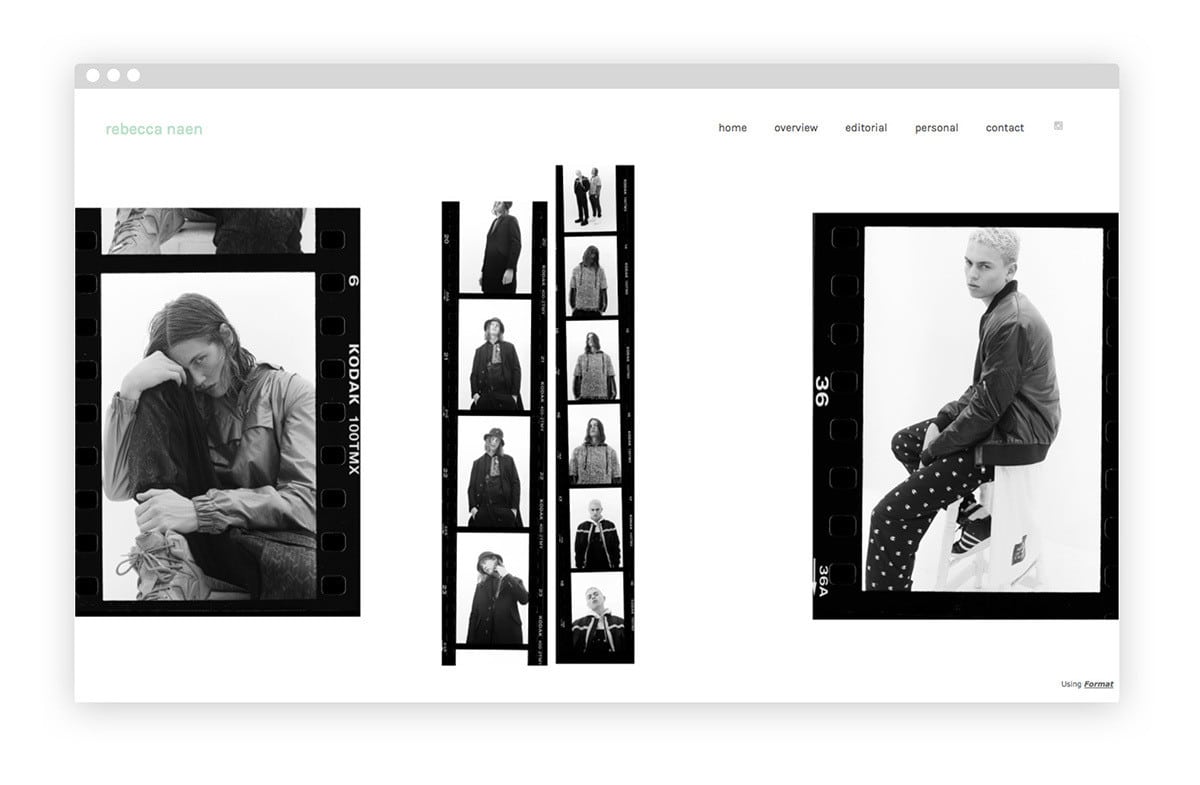 Rebecca Naen portfolio
8. Format Galleries iOS App
Manage and edit your online portfolio right from your phone with the free Format Galleries app for iPhone. Upload, reorder, and delete images and video in your galleries, and preview how your portfolio will look. The Format Galleries app lets you keep your portfolio current and updated even when you're travelling or on the go.
9. Fully Customizable
Make your portfolio website your own with a fully customizable domain name, favicon, and logo. Uploading images to use for your favicon and logo is quick and easy, and you can also create a logo using one of Format's many available fonts. Use a format.com domain for free, or connect your own domain in a simple and speedy process.
For users with Pro, Pro Plus, and Unlimited accounts, HTML and CSS editing access lets you create a fully unique website.
10. Support
With our support team working 24 hours a day, 7 days a week, Format users are guaranteed that their questions will get answered quickly. Most requests for help are replied to within as little time as 10 minutes, via our real-time chat system.
Best Portfolio Websites: Examples Using Format
Want to see Format in action? Then we highly recommend checking out some of these best portfolio sites to get a true feel for what Format is capable of:
Charlee Black: With a distinct aesthetic and easy-to-navigate tabs, this portfolio is clean and minimalist. You won't have any difficulty finding what you're looking for here.
Laura McIntosh – Focusing entirely on the art, this portfolio takes simplicity even further. Showcasing images and a basic contact button, Format allows you to get as complex or as simplistic with your portfolio as you want.
Daniel Cavanaugh – When you get to this portfolio, you'll find everything you're looking for laid right out on the page for you. Check out recent work with a horizontal scroll bar, or navigate to another page using the provided tabs on the left. No clicking or searching around is required.
While each portfolio featured here showcases a very different layout and aesthetic, what brings them all together is that each website was built using Forrmat.
Minimalist or more complex, Format has a template for you.
What users are saying
Users told Wise Buyer that Format stood out to them for its ease of use and wide range of design choices: "Would definitely recommend to anyone looking to create an online portfolio website that is sleek and modern," one user said.
Format makes it super simple to build a beautiful online portfolio, letting you customize every aspect of your site without any coding knowledge. Other users said they found Format "simple and easy all around," as well as "very clean and user friendly." Another user shared, "I've tried several other platforms, and this one is the best design and quality."
In 2016, Format portfolio websites were viewed by over 1.2 million visitors. Read on to find out more about why tens of thousands of photographers from all over the world choose Format to showcase their work online.
Professional photographer Mark Arbeit explained in a Fstoppers blog post why he relies on Format to exhibit his photography. Arbeit values Format's ease of use and customizability, which allows him to create his ideal website using drag-and-drop options in just minutes, without requiring any coding knowledge.
"One of the biggest reasons I chose Format to host my online portfolio is because of how easy it is to use — I can change what I want, when I need to. The interface design and page management tools are extremely flexible and intuitive — I can customize all aspects of my portfolio with drag and drop options and preview the changes instantly. I'm able to get my portfolio website to look exactly the way I want in a matter of minutes, without touching a single line of code at all."
Ready to build a photography portfolio website that captures clients' attention? From image-focused themes to a built-in proofing tool, we've got photographers covered. Start your free trial with Format today!