Your portfolio is not a one-shot deal. It's a living, breathing (ok, not really) entity that charts your journey as a creative professional. As your career grows and you continue to make more and more work, you should make strategic updates to make your website better.
These updates can help improve your work flow, streamline your process and impress clients along the way. Whether you're getting interested in analytics or need a resource for managing your clients, there are a few simple tools that can make your portfolio better. You don't have to add them all right away. Consider what's important for you and your career, then build from there.
Here are five tools that will make your portfolio better than ever before:
In case you're unfamiliar, proofing is the process of sending a client their images and letting them select their favorite shots from the session. Proofing has come a long way from the time consuming methods of the past (i.e. providing physical proofs or books).
By integrating proofing directly to your Format portfolio, you can make your website a one-stop client destination. This proofing tool makes it easy for you to share private galleries with your client and receive instant feedback about your work while creating a unique, memorable experience for reviewing your images. Clients can select their favorite images, and download them with or without a watermark.
This client-friendly tool builds that one-on-one connection and helps add another dimension to your existing portfolio making it central to your photography business.
Find out more about Format's new proofing feature here.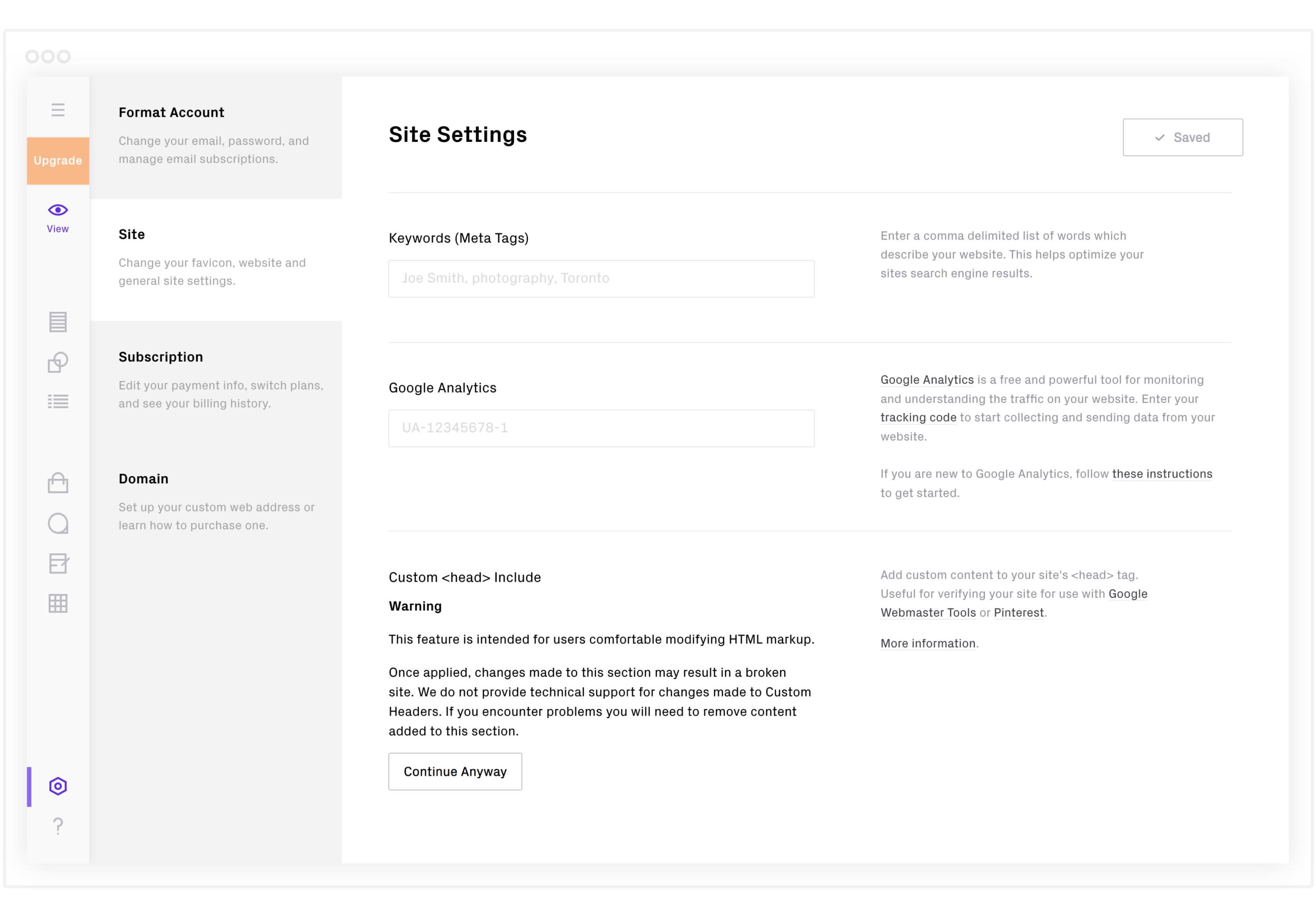 Google Analytics remains the most widely used out of all the analytics tools out there, and it's an absolute must for every portfolio website. This tool answers the who, what, where, when, and how about your website's traffic.
By identifying patterns in the statistics, you can see which parts of your portfolio are performing well, and which ones are not. These insights give you a clue as to how you can improve the overall user experience for your portfolio and get users to navigate your site the way you intended.
Your potential client shouldn't have a hard time trying to figure out where to find your contact information or miss your social media links. If your portfolio is not generating traffic, Google Analytics will track your customer's journey and give you an idea as to how you can improve engagement on your website.
Make sure the right people are finding your website by adding Google Analytics to your Format portfolio.
You might use Lightroom to touch up and organize your photography already, but have you linked it with your portfolio yet? Think of this free plug-in tool as a "matchmaker" for Lightroom and your photography portfolio—no longer a missed connection.
In seconds, this tool allows you to export your edited images from Lightroom directly into your portfolio, streamlining your process and saving you time and clicks.
Connecting Lightroom with your portfolio integrates your creativity with the curation process and lowers the amount of steps you'll have to take. This gives you more time to work on your craft, meet a new client, or whatever your heart desires. Plus, the plug-in comes in handy if you ever need to retouch your work for a client with a quick turn around time.
Learn how you can save valuable time by integrating your photography portfolio with Lightroom Publisher.
Similar to your work, blogging is a form of expression and helps to add a personal touch to your portfolio. Using Format's blogging integration can offer your visitors some insight about you, your work, and your interests and can add all the value in the world when deciding to work with you.
Additionally, publishing text to your portfolio helps you become more searchable. Because Google is a text-based search engine always looking for written content, a well maintained and frequently updated blog associated with your photography portfolio is key to driving traffic to your site.
In the world of SEO, this will help your photography portfolio rank better in search engines and hopefully get you more opportunities to work with clients and add to your portfolio.
Through this simple approach, you can leverage your photography and write the story behind it, or offer your users a glimpse into your process or behind-the-scenes footage.
Not every photographer has a blog, so starting one (and committing to it) can really separate you from the crowd in a unique way. See how you can start yours today.
In the never-ending sea of freelancer websites and apps, Blink is a new way for companies to connect with content creators in areas where their services are required. Think of this tool as "LinkedIn for Photographers."
By setting up an account with Blink, you will be able to upload a link to your portfolio that gives companies a preview of your work and opens you up for work from international clients.
It's vital to add your portfolio link to your profile page, because companies searching for content creators can filter you out from Blink search results if there is not portfolio present.
What makes Blink different than any other network is their real-time location based tool that allows media companies to connect with content creators in areas where their services are required.
Clients can see where you're located because of the map embedded in your profile. How cool is that?