In first week of January, we got a glimpse of the future at the world-renowned Consumer Electronics Show (CES) in Las Vegas. Technology companies showcased their innovations—from a touchscreen fridge with an embedded camera to a one-seater drone, imaginations clearly ran high.
In the collision of art and tech, photography benefits from updated cameras and accessories. This year's innovations include a pocket-sized DSLR, the world's first "throw-and-shoot" drone camera and high-quality lenses for your iPhone.
Here are 10 of the incredible photography innovations from CES 2016 that we're excited to see in action.
Cameras
Of course, we have to talk about cameras. There was something for every type of photographer at CES 2016—whether you're a professional or a casual shooter.
Light L6 Camera
The Light L6 was definitely a head-turner in Las Vegas this year and it's poised to be a real game changer. It uses a new approach to folded optics design to pack DSLR quality into a slim and streamlined camera body. It's like having a camera body, zoom, and prime lenses right in your pocket.
This pocket-sized point-and-shoot has 16 different lenses (five 35mm, five 70mm and six 150mm lenses) each with 13 megapixels and multiple sensors, all working together to create exposures at different focal lengths, with the end result being high resolution DSLR-quality photographs.
There's an algorithm somewhere in there that blends those individual images together. All that and it shoots 4K video, too. With a combined 52 megapixels, you can even edit your photos right after you take them using the 5-inch touchscreen.
Keep an eye out for this camera in early 2016. See the Light L16 camera in action here.
Polaroid Snap+
Polaroid Snap+ is a click-and-print camera. With an integrated printer, you can print full color 2×3″ prints (and stickers) in under a minute when an image is captured—along with filter options in black and white, color, and vintage sepia, even an option to print with the classic Polaroid boarder, to add a bit of retro flare to your series.
"Above all things, our brand is known for being fun and for the nostalgic instant photography experience which is our legacy. Now that we've reinvigorated that experience with digital technologies, its allowing Polaroid to reintroduce the idea of 'click and print' photography to a new generation of consumers," said Scott W. Hardy, President and CEO of Polaroid.
Bringing Polaroid into the 21st century, the Snap+ is equipped with Bluetooth connectivity so you can share an edited image from your smartphone or tablet and print it off on the camera, all via a 3.5-inch touchscreen LCD. With up to 128MB of expandable memory, you can even take hours of filtered 1080p HD video with no hesitation.
The Polaroid Snap+ might be a fun stocking stuffer for the holidays because this one won't be coming out until the end of 2016.
Nikon D5 This full-frame could be the update to your DSLR that you need. The D5 is Nikon's new flagship professional camera and continues the company's tradition of fast performing cameras that shoot high quality in low light.
It boasts a new autofocus system (utilizing 153 points, 99 of them are cross-type), a 3.2-inch 2.36-million-dot LCD touchscreen and built-in 400 Mbps Ethernet connection. Not only that, but the D5's ISO range extends up to a hefty 3.28 million. Nikon's D5 hits the shelves in March 2016.
Nikon D500
If you simply want an upgrade to your Nikon D7000, or D200, D300 series, check out the more compact D500. The build quality is right up there with the D5 and it's able to focus and shoot at 10fps, and even records 4K video.
Another added feature of the D500 is its 'smart connectivity' and will be the first Nikon camera to feature their new SnapBridge image sharing technology. This will allow your camera to push photos your smartphone wirelessly so you can share and post your DSLR quality images on the go.
The Nikon D500 will also be available in March 2016.
Action Cameras
In a post-GoPro world, it's clear that there's a market for durable action cameras. We definitely have an appreciation for the dynamic video and photography that can be created on surfboards and skis. For a while, GoPro was the top of this niche, but now they have some competition.
Nikon KeyMission 360
Nikon officially announced their foray into the action camera market with the KeyMission 360. It has image sensors and lenses on both sides of the device to create 360-degree video in 4K and will be the first consumer-friendly VR camera.
The Nikon KeyMission 360 is built for action with a rugged waterproof housing (up to depths of 100 feet) and able to withstand up to a 6-foot drop.
The camera's actual specs haven't been announced yet, but the KeyMission 360 is shaping up to be a worthy opponent to GoPro's share of the action camera market.
Expect to see this in spring of 2016.
360fly
Housed in a faceted, spherical casing, the 360fly shoots 360-degree panoramic 4K video, with no stitching—perfect if you want to create cohesive Virtual Reality experiences. Imagine what you can capture by mounting this to your bike, or helmet?
With built-in Wi-Fi and Bluetooth connectivity, you can upload your 360 videos directly to your smartphone, Facebook and YouTube. What's even cooler is when your video is saved or uploaded, it has a cardboard-enabled view allowing easy transfer to a Virtual Reality headset for a truly immersive experience.
Pairing the 360fly with their 360fly drone can really take your photography to the next level. Watch a test flight here.
Drones
As expected, CES 2016 saw a lot of drones, but one that made a real splash was Lily, a winner at 2016's CES Innovation Awards.
Lily
Lily is a flagship camera-turned-drone. It's the world's first throw-and-shoot camera. Fully equipped with GPS, it can fly up to 50 feet, acting as your own personal robot videographer programmed to get the best shot. It will even follow you around like a droid from Star Wars if you want it to.
Able to record 1080p video and produce 12 MP stills, Lily is also waterproof and compact enough to fit in your backpack.
Lily could give you and your portfolio a competitive edge in creating dynamic wedding or event photography or could even take your street photography to new heights.
It launches in Summer 2016, but already has $34 million in pre-orders with 60,000 units sold.
iPhoneography
Because sometimes the best camera is always the one you have on you, right?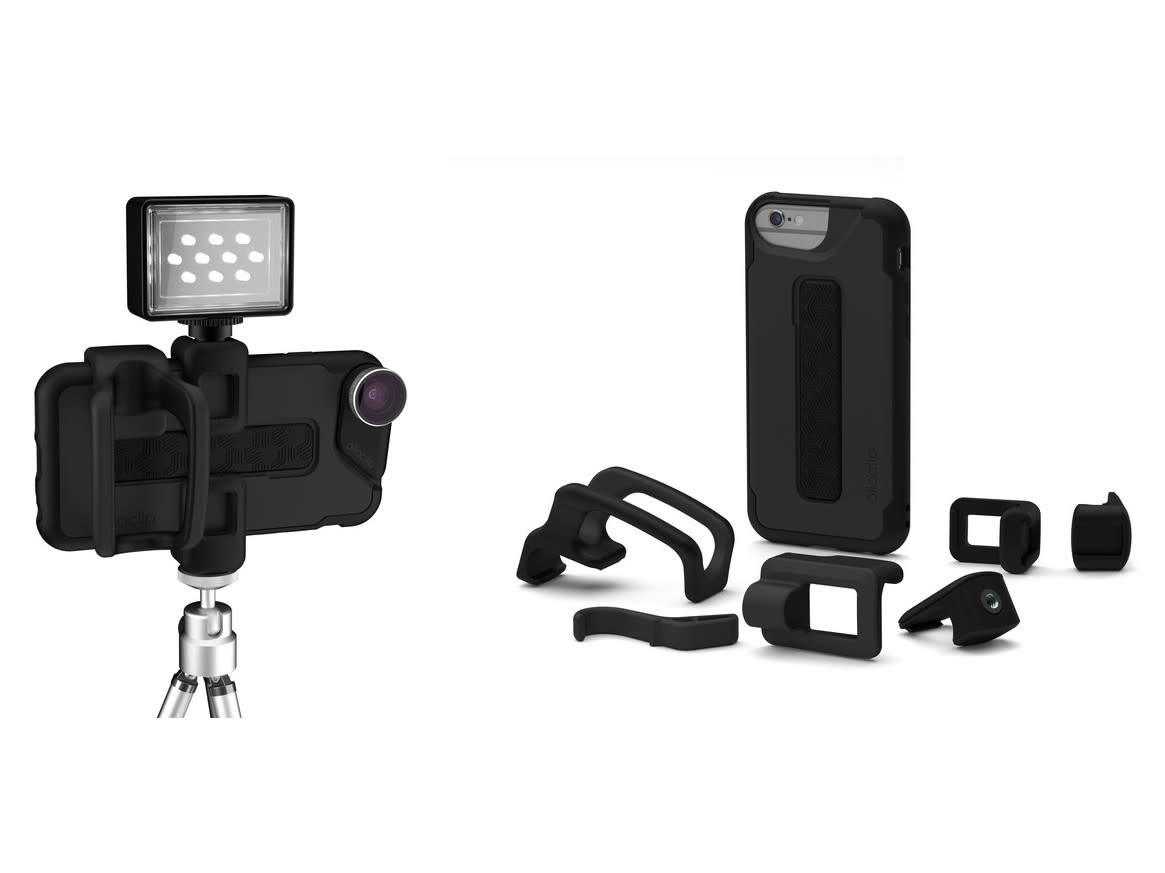 Olloclip
Olloclip is famous for their detachable iPhone lenses and have a new set of accessories sure to beef up your iPhone photography game.
Their new line of Studio accessories include just about everything you need to ensure your iPhone captures the best quality images, including:
Protective Studio Case
A rail mount to attach: two cold-shoe adapters, two clips to attach a tripod, grip or handle, a finger grip and a kickstand For iPhone 6/6S series devices, this can take your game to the next level whether you're shooting professional photos and video for your portfolio or even posting to Periscope, Instagram, Facebook and Snapchat. The Olloclip Studio series ships in February 2016.
Zeiss iPhone Lenses
Zeiss, makers of top-notch camera lenses, are now introducing a line of high-quality attachment lenses for your iPhone.
The lens selection includes:
Zeiss' telephoto and wide-angle lenses deliver quality image with edge-to-edge contrast, whereas the Macro lens features a zoom function—completely unique for an accessory lens of this type.
Along with the lenses, Zeiss teamed up with Fellowes' ExoLens brand to offer an aluminum bracket that attaches to your iPhone. It secures the lens, acting as a standard tripod mount and a cold shoe for attaching other accessories.
Expect more accessories like this in the future as another way to get professional looking images from your smartphone camera. The Zeiss iPhone lenses will be available in June 2016.
Quikpod Dynamic Power Selfie Stick
The selfie-stick made great strides last year and Quikpod's Dynamic Power Selfie Stick aims to take its functionality to the next level.
Unlike its predecessors, it can also charge your device, allowing you to film up to 10 extra hours. This selfie stick versatile and isn't just limited to your smartphone, as you are able to connect your GoPro and digital camera.
Quikpod Selfie Sticks are available now so you don't have to wait.