Nearly every smartphone is equipped with a camera, and because of that, it's made capturing images extremely easy. In today's digital landscape, many people have a tremendous amount of photos captured on their smartphones or cameras. This can lead to a disorganized and overwhelming pile of pictures that can quickly overtake devices. Hundreds (if not thousands) of photos scattered around your smartphone or computer can take up large chunks of storage space which can cause these devices to slow down.
This is where taking advantage of photo management software comes in handy–it makes photo organization more efficient. When photos are organized, you can sort through them quicker, locate specific images faster, and easily create shareable collections and albums.
In this article, we'll talk about the top free photo organizers available in 2023. It doesn't matter if you're a hobbyist who enjoys taking beautiful photos or a skilled photographer who makes a living taking photos, these software options will keep your portfolio more organized and efficient.
Criteria for Selecting the Best Photo Organizer
When you're looking for the best photo organizer software, there are several things to consider.
Ease of use: You don't want to be using photo organizers that are complicated to use. The whole point of using one is to make things more seamless and straightforward. The software should be easy to navigate, user-friendly, and come with an interface that makes it easy for anyone to upload, organize, and manage photos.
Compatibility: With so many different types of devices on the market, compatibility is a huge factor to consider when choosing the best photo organizer. Photo organizers should work with tablets, cameras, and smartphones and be compatible with operating systems like Windows, iOS, and Android. A photo organizer with good compatibility means that you'll be able to organize your photos no matter what type of device you're using.
Storage capacity and cloud integration: You'll typically want to choose a photo organizer that has enough storage capacity to fit your entire photo library on it. Additionally, you should consider a photo organizer with cloud functionality so you have full access to your photos wherever you have an internet connection.
Organization features: A good photo organizer will always have organization features that enable you to categorize and tag photos, as well as easily search for photos. You should be able to set your search criteria depending on the date, location, and even the people in the photo.
Editing capabilities: Editing capabilities and metadata management are often overlooked features of photo organizers. With these features, you'll be able to edit photos right inside the app while managing the dates and times photos were taken.
Top Free Photo Management Software Solutions in 2023
There are many free photo management software solutions to choose from in 2023, and each one has a list of features that make it stand out from the rest.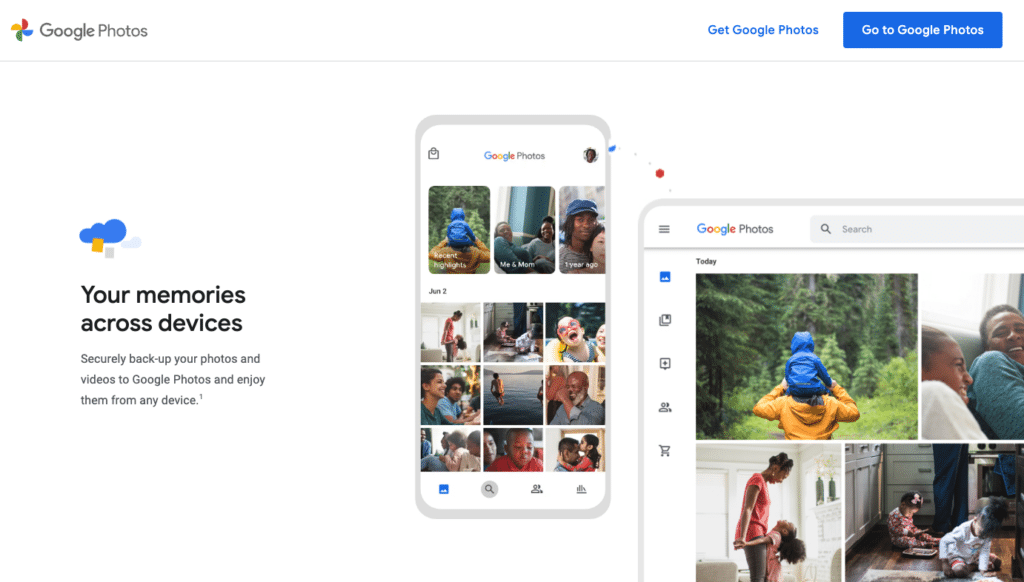 Google Photos
Google Photos is one of the best and most popular photo organizer software tools of 2023. It offers free photo and video storage and allows you to back up your files directly from your mobile device. It's integrated with Google Drive, meaning you'll have access to your files no matter what device you're using. The AI-powered search and categorization features make it easy to find photos depending on the location, time, and faces in the photos.
Google Photos also makes it straightforward to share photos and albums with friends and family members. There are also a variety of photo editing tools you can use to adjust your pictures, including removing unwanted objects or even changing the backgrounds. This photo management tool is a versatile option for new and experienced photographers alike.
Pros:
Automatic backup and syncing across devices
Easy-to-use interface
Helpful AI assistant for photo edits and enhancements
Lots of support for different types of file formats
Cons:
Unlimited free storage ended in 2021
Red-eye removal tools are limited
Microsoft Photos
Microsoft Photos is one of the top competitors to Google Photos and comes with many similar features. With Microsoft Photos, you'll get basic editing tools that allow you to add some pop to your photos. Integrating Microsoft Photos with OneDrive ensures you'll be able to back up your photos to the cloud. You can also easily upload photos directly to social media platforms once they're organized with Microsoft Photos.
Microsoft Photos has facial recognition technology built into it, and this can make organization much easier. Most people like the overall straightforward interface of Microsoft Photos. The platform makes it exceptionally easy to browse through folders of photos while keeping things organized and tidy at the same time.
Pros:
Straightforward 5-mode functionality
Automatic album creation depending on facial recognition
Red-eye removal tools
Cons:
Photo editing tools are limited in comparison to other tools
No built-in sharing to Instagram
Adobe Bridge
Adobe Bridge is another photo management tool that offers a ton of features. One of its main benefits is the seamless workflow it enables between programs, thanks to integration with other Adobe Creative Cloud tools like Photoshop and Lightroom. The ability to modify complex metadata and tag files with keywords, which helps users to organize and search for files with great detail, is another highlighted feature of Adobe Bridge.
Additionally, Adobe Bridge provides batch processing options that let users quickly and easily rename, resize, and convert several files at the same time. The program also has a full-screen preview option and customizable thumbnail sizes to make it easy to preview photos. Your computer's folders and files can also be synced automatically to keep your collection current.
Pros:
Support for over 1,000 file formats
The collections feature provides easy organization of files into specific groups
Integration with Adobe Stock for easy access to stock photos and videos
Batch processing for saving time on repetitive tasks
Cons:
You need a paid subscription to Adobe Creative Cloud
Some people may find it complicated to use
DigiKam Photo Manager
One of DigiKam Photo Manager's standout features is its sophisticated tagging and categorization tools. This lets users meticulously and accurately arrange their photos which makes it a lot easier to find photos within massive collections. DigiKam also has great integration with social media and photo-sharing sites, which is something that not all competitors have.
DigiKam excels with its photo editing tools, which allow you to perform color correction and noise reduction. You can also use other external editors like Adobe Photoshop to make adjustments. DigiKam allows you to create web galleries, contact sheets, and PDF presentations, making it ideal for photographers with a large base of clients.
Pros:
Supports batch processing for renaming, resizing, and converting multiple files at once
Allows collection creation for organizing files into specific groups
Supports most camera RAW formats from external devices and computers
Easy preview of images, including customizable thumbnail sizes and full-screen preview
Cons:
Photo editing feels a bit cumbersome at times
Computer requirements are on the higher end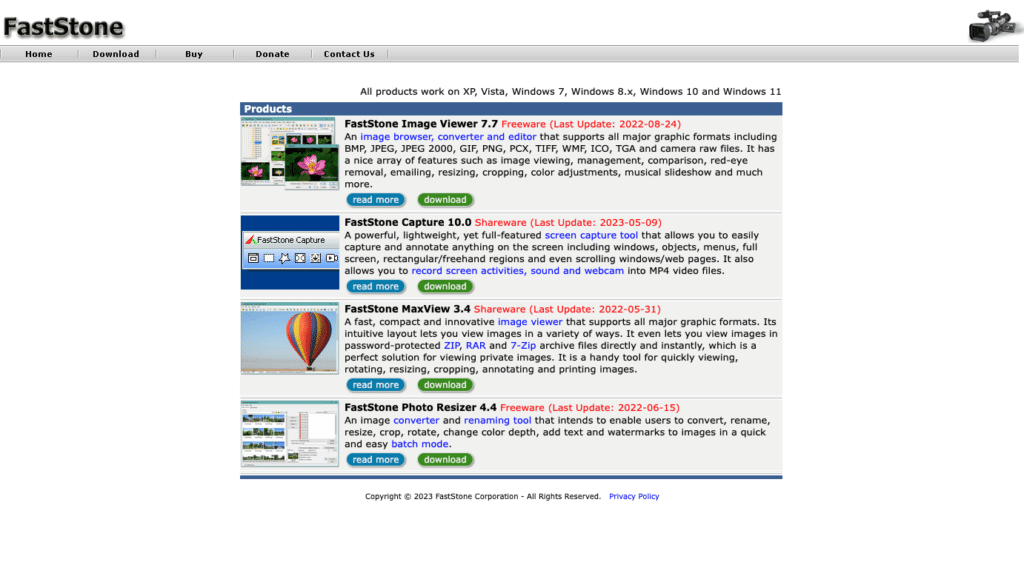 FastStone Image Viewer
FastStone Image Viewer is a lightweight and simple image viewer for Windows that's compatible with RAW files and many photo formats from a variety of cameras. Your images can be viewed, sorted, and compared using folders, thumbnails, or full-screen mode. Basic editing capabilities like cropping, rotating, resizing, eliminating red eyes, and changing the color of an image are also available. FastStone Image Viewer makes it simple to build a photo slideshow with music and transitional effects.
The best part about FastStone Image Viewer is that it's completely free to use, making it a perfect option for new photographers just starting in the industry. Because of its lightweight design, it should be able to run on the majority of Windows devices.
Pros:
Great support for many image formats
Allows creating slideshows with music and transition effects
Allows browsing, organizing, comparing and sorting images by folders, thumbnails, or full-screen mode
It has all the editing tools you need to get started
Cons:
No built-in backup or cloud storage options
No face recognition or geotagging features
XnView
XnView is a photo management solution that supports over 500 different formats. A couple of highlighted features of this platform are multiple viewing modes, batch processing, editing tools, metadata editing, slideshow creation, batch renaming, and screen recording. It's a terrific option for anyone searching for a complete picture management system because plugins are readily accessible to add even more features.
Along with its outstanding feature set, XnView is known for its user-friendly interface and ease of use. This makes it a fantastic alternative for users of all knowledge levels, from novices to experts. Additionally, XnView is a versatile solution for users that work across many operating systems, as it runs on a variety of platforms, including Windows, macOS, and Linux. Overall, XnView is a dependable and adaptable application that offers a range of capabilities in a user-friendly package for anyone who wants to organize their photos.
Pros:
Support for all the common image formats like PNG JPEG, and GIF
Compatible with Windows, macOS, and Linux
Super easy to navigate and use
Batch processing for processing multiple images simultaneously
Cons:
Not as powerful as some of the other software
Some of the more advanced features require a paid license
IrfanView
One of the best things to note about IrfanView is its customizability. Depending on your needs, there are many settings you can tweak to make the program work better for you. IrfanView is another lightweight photo organizer that is very low on system requirements. That makes it a perfect platform for browsing through your images without the impatience caused by lag. Image-processing tasks are also speedy, a task that is sometimes slow on other platforms.
Although IrfanView's primary function is as an image viewer, it also has several editing tools that may be used to make simple adjustments to photos. Users can rotate, resize, and crop images, as well as change the brightness and contrast. Users can also try out a variety of filters and effects to make their photos stand out. IrfanView also offers batch processing, which enables users to quickly and easily make these alterations to several photos at once.
Pros:
Highly customizable with support for plug-ins, user-defined menus, and shortcuts
Fast and lightweight
Offers a range of editing tools and batch-processing features
Available for free and has a user-friendly interface that is easy to navigate and use
Cons:
May not be as powerful as a dedicated photo editing software with more advanced features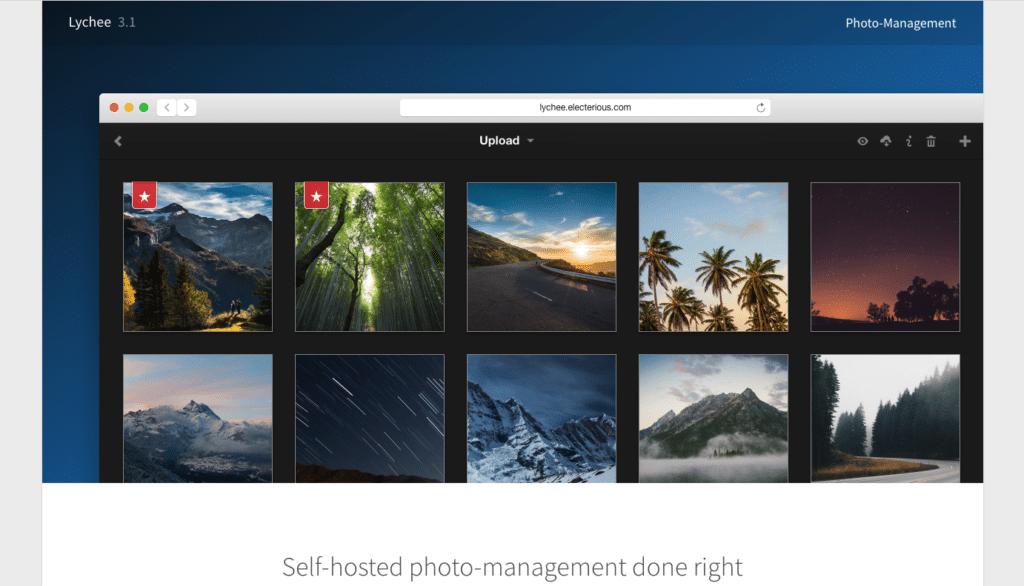 Lychee
Lychee is a free software program that manages images and enables users to share them. The user-friendly and intuitive Lychee interface makes it simple to upload, organize, and display images. With the application, it's simple to organize and find images thanks to an assortment of functions including searching, tagging, and album creation. You can create photo collections for clients, friends, or family members by making public albums or sending links.
Lychee's simplicity and usability are two of its main advantages. The tool's clean, basic interface makes it simple to explore and organize images, and it's designed to be as straightforward as possible, making it perfect for new users. Lychee's high level of customizability also enables users to modify the tool to suit their requirements and tastes. Lychee is a robust and adaptable photo management application that can help you in streamlining your workflow and regaining control over your photo collection.
Pros:
Lychee is completely open-source, making it free for anyone to use and modify
The tool is lightweight and fast, with minimal system requirements.
You can upload, organize, and display your photos in a variety of ways, including album creation, tagging, and searching
Navigation is straightforward
Cons:
Because Lychee is self-hosted, users will need their own web server
There is no support team
Magix Photo Manager
Magix Photo Manager has an intuitive interface and a comprehensive set of features that make it perfect for amateur and professional photographers alike. The software allows users to import photos from a variety of sources, including cameras, memory cards, and external hard drives, and then organize them into albums, add tags, and categories for easy retrieval. In addition, users can edit their photos within the software, adjusting colors, cropping, and applying special effects.
One of the best features of Magix Photo Manager is the facial recognition technology. This allows users to sort, organize, and scan through photos depending on who is in them much more efficiently. A variety of automation tools are also included in the program, which may save users a lot of time by automatically making slideshows and collages out of selected images. For anybody wanting to organize and edit their digital photo collection, Magix Photo Manager is a strong and adaptable solution to consider.
Pros:
Advanced face recognition technology for tagging and sorting photos
Lots of automation tools to make tasks more efficient
Intuitive interface that is easy to navigate and use
Offers a range of editing tools, including color correction, cropping, and special effects
Cons:
Limited cloud storage options compared to some other photo management software
No support for 360-degree photos or virtual reality content
Cost associated
Capture One
Capture One is a professional photo management tool used by agencies, studios, and photographers. There are a variety of features that make it widely used across the world. With this software, you can organize massive volumes of photos without any problems. The customizable interface allows you to organize images in a way that works best for you. You'll also find very capable image-processing tools in this software, such as sharpening, comprehensive color correction, and noise reduction.
The advanced color correction management in Capture One is particularly impressive. With this, you can create and apply custom camera profiles, making sure that colors are accurately represented in images. Some of the editing features included in Capture One allow you to make targeted adjustments to specific parts of an image.
Pros:
Tethered shooting for real-time preview during studio shoots
Powerful image processing tools for high-quality results
Advanced editing tools including layers and masks
Customizable interface for a personalized workflow
Cons:
Steep learning curve
It's not as budget-friendly as some of the other options
Final Thoughts
As you can see, using photo management software can help you organize your digital memories and work conveniently and efficiently. You can easily sort, edit, and share your photos with these useful tools.
If you are ready to take your photography to the next level, consider creating a portfolio website and showcasing your work to the world. A portfolio website can help you attract more clients, build your brand, and express your creativity.
One of the best website builders for photographers, artists, designers, and other creative professionals is Format. Format is a modern and easy-to-use platform that lets you create a stunning portfolio website in minutes. You can choose from hundreds of beautiful themes, customize them to suit your style, and utilize features like an online store, blog, client galleries, and more.
The workflow tools at Format will help you manage your projects, contracts, invoices, and file transfers. You can also access your portfolio website from any device with the Format iOS app.
So what are you waiting for? Try Format today and see why thousands of photographers trust it to showcase their work online. You can start with a free 14-day trial and upgrade to a paid plan later if you like it.