Whether you're just starting out as a professional photographer or you've been selling your images for years, you probably already know that photographers need some sort of online presence. For many photographers having a social media account might just be enough because building a website from scratch can be tedious and time-consuming.
The truth is, photographers need a professional platform to house their creative work. While building a website from scratch may seem frightening, there are lots of great website builders available that offer fully customizable website templates. Beyond a website with a home page and about us page, photography websites need certain features, like unlimited storage and client proofing, that can only be accessed using a website builder.
In this guide, we'll dive deep into the reasons that every photographer needs a website and what features you should look for when choosing your website builder. Then we'll take a closer look at the best website builder options as a photographer, before getting into how to make an online portfolio and what type of images you should include.
What is a Photography Website?
A photography website is an online domain where you can host your high quality photography in photo galleries. By using a professional site to showcase your best images, you are able to effectively present yourself as a reliable photographer who clients will be begging to hire. When you make your photography website, you have access to customization options that allow you to design your website exactly as you want it to be, so you're never forced to crop your images or otherwise sacrifice the quality of your work. With a website builder, photographers can create a standout portfolio that complements their images in a matter of minutes, with no coding or web development skills required.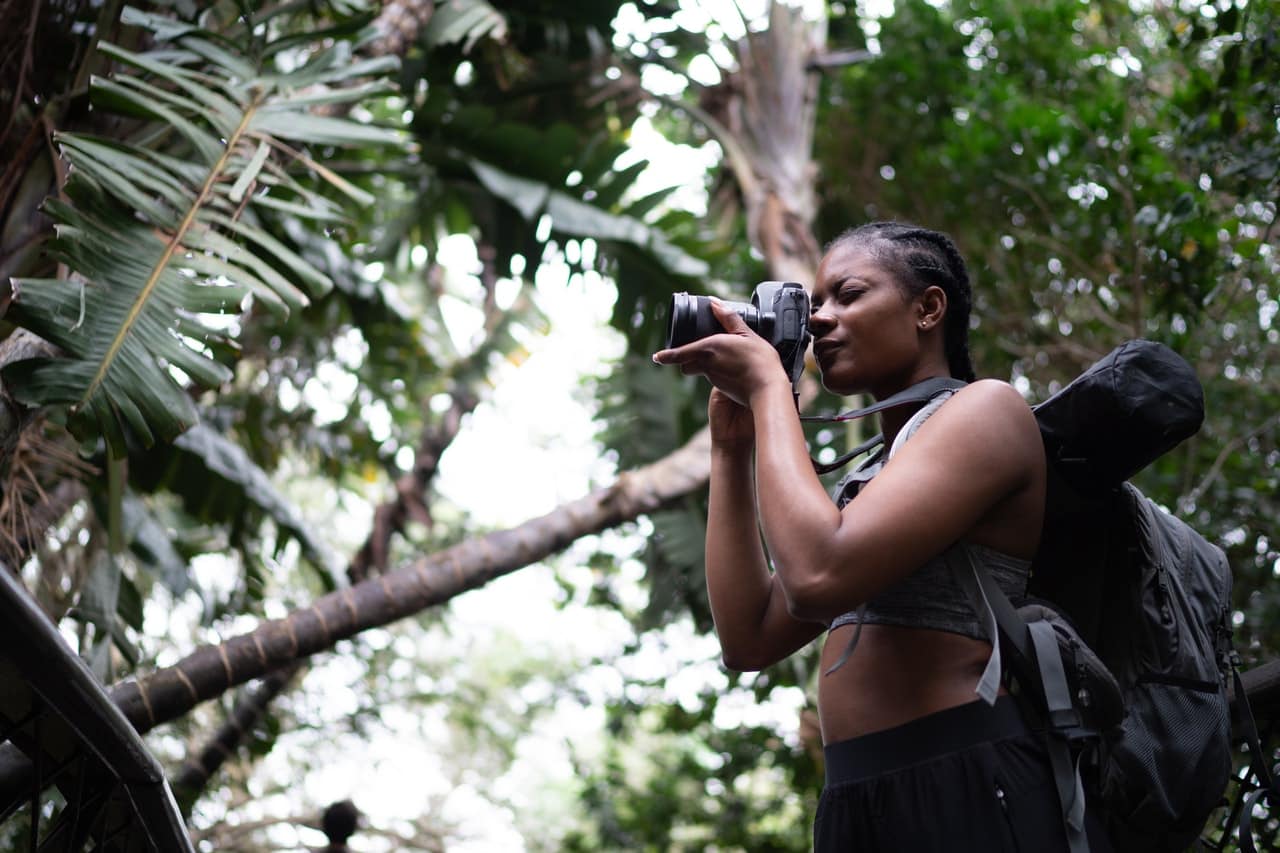 Do Photographers Need a Website?
While a well-curated social media feed can be a great way to build your online presence and connect with potential clients, there's just no comparison when it comes to a professional photography portfolio website. Here are just a few reasons why you need a photography website.
Stand Out in an Oversaturated Market
With amateur and professional photographers alike posting their images all over Instagram, it can be difficult to stand out from the crowd. When you create your own photography portfolio with an easy to use drag and drop editor, you'll be able to carve out your own space on the internet, where you can present yourself exactly as you see fit. Plus, you can be found online through keyword searches relating to photographers, whereas Instagram only allows people to search for accounts if they use the right hashtags.
A Website Makes Your Business More Professional
When you invest your time, effort, and resources into a website builder that lets you customize everything about the way that your viewers interact with your images, it shows that you value your work, so other people will too. Anyone can post pictures on Instagram, but a professional website positions you as a photographer to take seriously.
Write an Amazing About Me Page
Unlike the character limit on your Instagram profile, using a website builder allows you to choose how much information you include on each page. Take advantage of this by crafting a personal artist statement that helps the people who already love your images get to know the person behind the beautiful photography.
Design your Website to Fit Your Brand
The best website builders prioritize ease of use so that you can create a breathtaking portfolio without any coding experience. Whether you're organizing your photography portfolios, updating your client proofing galleries, or setting up your E-commerce store, you can inject your unique style by uploading your logo and using your fonts, colors, and branded images throughout your website.
A Website Gives you a Way for People to Pay You Directly
It's all well and good to have people on Instagram following, liking, and expressing interest in your work, but if they don't know how to buy from you, then you're not really running a business as much as a hobby. You need to make it easy for your audience to buy prints or book your services. Many website builders have an integrated e-commerce store so that you can talk about your business, display your work, and make money all on one website.
Build your Email List
Make use of the contact and subscription forms on your website builder to start building your email list. This way, you have direct access to your potential clients' email inboxes, where you can promote new work or offer deals to convert email subscribers into paying customers.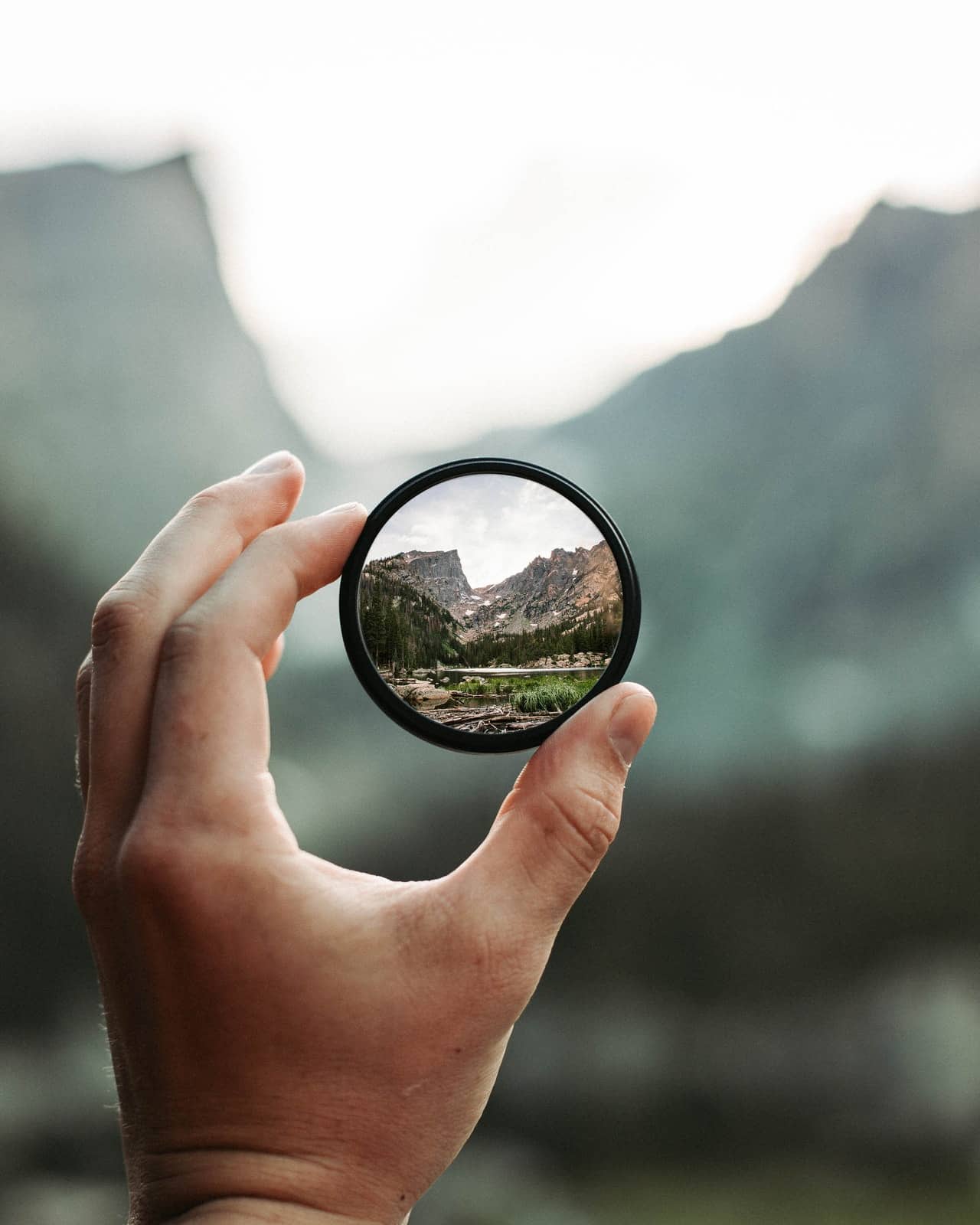 What Makes a Good Photography Website?
There are many different elements that come together to determine how effective a photography website is. A lot of this has to do with which features you have access to. Here are some of the features that you should look for when researching which website builder to use.
Easy to Use Drag and Drop Website Templates for your Online Portfolio
As a photographer, you're probably more interested in planning shoots, taking pictures, and editing your work than in spending hours upon hours tweaking your website. That's why it's so important that you choose a website builder with an intuitive design editor that is straightforward and intuitive to use, so you can quickly update your portfolio and then get back to focusing on what really matters.
Fully Customizable Themes to Match Your Brand
In order to stand out from the competition, you need to define your niche and build your branding around the type of images you want to create and who your ideal clients are. In addition to choosing from a wide variety of expertly designed themes specifically made to highlight your work, additional customization allow you to insert more of your personal style into every part of your website.
Unlimited Storage and Hi-Res Photos
You already know that your photography website needs to showcase your images at their very best. One of the most important features that you need is the ability to host high-resolution images without sacrificing website load times. Choose a website builder that is mobile-optimized so your images look their best no matter what device they're being looked at.
In addition to using your website to show your photography work, you can also use it for client proofing purposes. Share photo proofs on password-protected pages where your client can download images and provide feedback all in one convenient location. Communicating through client galleries will save you so much time and energy that would otherwise be spent keeping track of emails and sending huge files back and forth.
Online Store That Doesn't Take Commission
A huge benefit to building your own website is the ability to create an online store for your products and services so that you can sell your work online. The best photography website builders are able to help you convert website viewers into new clients by offering sales while they browse your art galleries.
Search Engine Optimization
You may have heard the term SEO, but what does it really mean? Essentially, search engine optimization helps your website come up in search engines by using relevant keywords. But in order for that to happen, you need to set up your search engine optimization on the back end. This can be a bit confusing and overwhelming if you're new to the world of site-building, but don't worry! Choose a site builder that walks you through every single step of the search engine optimization process for a foolproof way to get your work showing up on Google search results.
Custom Domain and Professional Email Address
One of the best parts of having your own site is connecting your custom domain name to make your business look that much more professional and legitimate. Plus, rather than communicating with your customers using a personal email address, you'll be writing to them with an address linked to your site.
Protect your Intellectual Property
Make sure you keep your images protected by watermarking your photos and disabling right-click save. Password protect your gallery pages so that your customers feel confident that they are the only ones who are able to look at and download the pictures from their photoshoot with you.
Blog Tools
Writing a blog is another great way to get new site visitors. Research what keywords are most relevant to your industry, and think about what types of things your ideal customers might search for. Then choose blog topics that your target audience wants to read about and max out your keywords so that interested people can find your writing, see your work, and be converted into paying clients.
What Website Builders do Photographers Use?
Professional photographers look for an easy to use, an intuitive website builder with fully customizable design options because they know that how you present your work to the world matters. Dynamic templates equipped with mobile optimization are just a couple of the numerous amazing features that make Format the number one photography portfolio site for professional photographers.
What is the Best Photography Website?
In order to find the best website builder for your photography portfolio, you need to carefully consider everything you need to execute your vision using a website builder platform. If you have a limited budget, it's even more important to prioritize what features you need and which ones you can sacrifice for now, until you start bringing in more income.
The best website builders offer professionally designed templates that complement your specific style and present your photography portfolios in the best possible light. While appearance matters, ease of use is equally important, both as a site visitor and as the creator in charge of keeping your website updated. You don't want to be facing an uphill battle every time you have a small problem that needs fixing or you want to add a new piece of work to your photography portfolio. On the other side of things, if your site visitors are consistently facing issues while attempting to browse, like slow page load times or confusing site navigation, you may end up losing their business to another photographer with a user-friendly site.
If you plan on using your portfolio website to share images with your clients, it's also important to consider whether unlimited storage is a worthwhile investment for you. You never want to run out of space, but if you don't have a ton of projects at this point in your career, you may not require that much storage. What makes a site builder the best for you is that it fulfills all of your needs while staying within your budget.
Which Website Builder is Best for SEO?
If you don't know very much about search engine optimization, it can definitely seem a bit overwhelming. Make sure that you're choosing a photography website builder like Format that uses simple tools to guide you through the process of making your website entirely accessible using search engine optimization.
Which Photography Website is Best for Selling Photos?
If you're going to put the time and money into building a portfolio, you may as well make an online photography store while you're at it. You could just tell site visitors to contact you if they're interested in finding out how to buy your images or book your services, but a lot of the time, people don't like to reach out if they don't already know what is available and what the price point is. Instead of expecting people to contact you, why not set up a fully integrated online photography store so that you can sell your work directly through your photography website?
Customers like to be able to browse your photos, make their selection, and check out with their credit card without any added complications. Format photography websites offer the best online stores for selling your photography work and booking clients for photoshoots.
How Do I Make a Photography Website?
Before you get started, you might want to try checking out some portfolio website examples to get inspired and see how other photographers use website builders to bring their creative visions to life.
Here are our 5 simple steps to creating an easy to use photography portfolio that is sure to impress clients.
Choose your theme. The best website builders provide a variety of designer themes and website templates with thousands of potential variations so you can make sure that your online portfolio suits your work.

Curate your work. It may be tempting to show as much of your work as you can, but a successful portfolio emphasizes only your very best images.

Customize your site design.Whether it's integrating your custom domain name or designing your colors to reflect the mood of your photography style, your portfolio should represent you and your work as an artist.

Set up your SEO. Search engine optimization is the number one way for you to get new eyes on your work.

Create your online store. Sell products like film prints, pre-recorded video courses, or checklists, and allow customers to book your services directly through your store.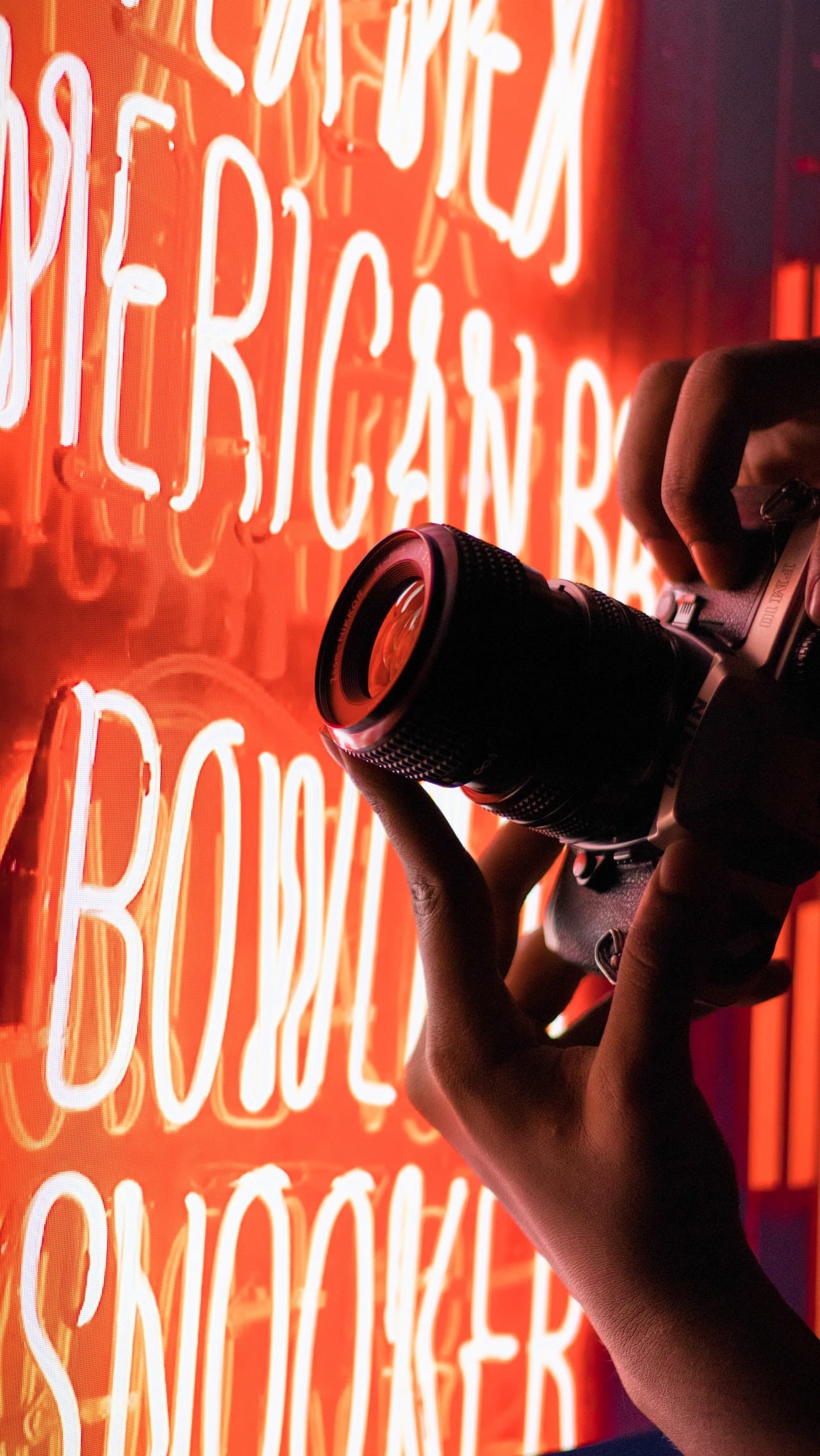 How Can I Design My Own Website for Free?
While some website building platforms do offer free web hosting plans, you may find that they are lacking in terms of some of the most important features available. If you're not ready to spend money on building your portfolio, you can definitely always start off with a free landing page before you level up with a professional photography portfolio later on in your career. You can also get a feel for how the different photography websites work before you invest by choosing a website builder that offers a free trial.
What is the Easiest Web Design Software to Use?
If you're not a web designer by trade or you just want to keep things simple, a drag and drop website builder is a great choice for photographers. Creatives of all kinds love Format's portfolio website builder because of how simple and intuitive it is to create a beautiful portfolio designed specifically according to your customizations so that your work will stand out amongst all of the other photographers out there.
How Can I Create the Best Portfolio Site for Photographers?
Here are some of our tips for creating the best portfolio site.
Only feature your very best images, so that viewers aren't distracted by too much visual information.

Make sure that all of the photos you include are in line with your brand and what your ideal client is looking for.

If you don't have a lot of pictures to choose from yet, find creative ways to build up your portfolio site, like offering your skills as a photographer to your family and friends or exchanging services with other local businesses.

Show your range: clients want to know that you have a unique style, but that you can adjust it to suit what they are looking for.

Organize your work in a way that isn't too busy, so that the attention stays on the details and quality of your gorgeous work.
What's Next?
Now that you know all about how to use website builders to create a professional site to showcase your best images, it's up to you to keep your page updated. The images that best represent your work may no longer be relevant as your skills improve and your personal style as a photographer emerges. So make sure that you're constantly coming back to your website builder and curating your images based on the type of photography jobs you want to do. And don't forget to reach out to your friends, family, and peers, and ask them to check out your new website and share it with everyone they know!
Want more tips on building the best possible portfolio website for your creative business?
15 Best Website Templates for Any Profession
How To Choose the Best Website Builder for Photographers