When Los Angeles ceramicist Ben Medansky realized his studio had gone up in flames, he decided to take control of his future and build something even better. He told us about the vibrant community spirit of L.A., how to turn tragedy into opportunity and the power of Instagram.
I was driving home on the 10 Freeway from the beach when I saw a smoke plume miles off in the distance. My friend called to tell me there was a fire near my studio. I immediately Instagrammed the plume hoping it wasn't me and curiously made my way toward the smoke. It was my studio. Up in 50-foot flames. I was uncomfortably numb. I thought about how nothing could have possibly survived.
It wasn't my kilns that blew up. There was a transformer behind my studio that fell on the pallet yard and the pallet's caught fire.
Before and after images of Medansky's studio.
I remember thinking of puns about fire to lighten the burden of devastation that didn't seem like it would end: "I got that skylight I always wanted!", "I got fired from my job!", or my favorite, "I guess I'm having a fire sale!". I don't really remember sleeping that night.
The next day, I didn't have to call any of the people I work with, they all just showed up to see the destruction for themselves and to lend a helping hand. Even Andres, from the Craft and Folk Art Museum (where I was supposed to deliver work for an upcoming show), came to help. It was heartbreaking and heartwarming all at the same time. I was, and still am, so grateful that no one was hurt or injured in the fire.
I moved to that studio about a year and a half ago, and I really took my time customizing the space to fit everyone's needs. I think it's safe to speak for everyone when I say that we all loved coming to work. That space really was a creative oasis. Podcasts playing, wheels going, kiln loading, shipment packing, visitors walking through, 20 minute meditation breaks, you name it. We had a great thing going.
I inherited all of my grandfather's amazing furniture, some of which he made, his records that I grew up listening to, and even some of his notebooks. He passed away recently, and it was nice to walk into the studio and be reminded of him when I sat on his sofa. I stored all of my artwork from my SAIC (School of the Art Institute of Chicago) thesis up in the lofted space. My grandmother's sewing machine was up there, too. There were a lot of sentimental objects surrounding me which grounded me. And just like that, all the objects are gone. Studio is gone.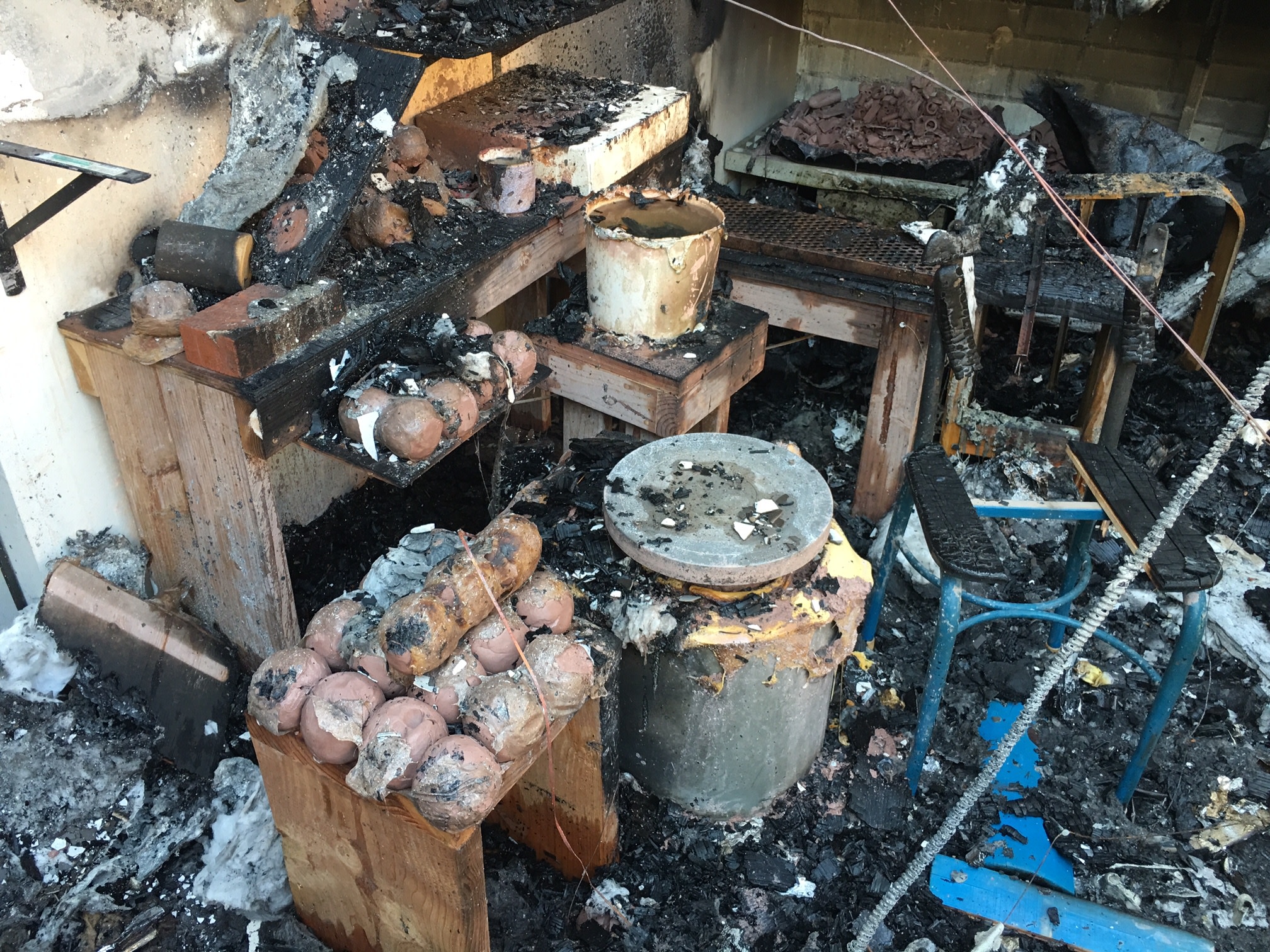 It would be wrong to say that I'm not daunted by the challenges I'm facing, but I just keep telling myself the future is bright. It's a lesson I had learned growing up, and it still rings true today.
I treat a risk as a learning opportunity to help foster my own intuition. If you don't take risks you never grow. And to quote The Minimalists, "When you're not growing, you're dying." It is important, though, to evaluate and record your decisions, so the bad ones don't happen twice. The fire will not, nor will it ever, curb my adventurousness.
I am overwhelmed with the amount of community support from GoFundMe. I can't thank Kyle Branch enough for starting the campaign in my name. I've never even met the guy in real life, but through the power of Instagram, he is a forever friend. The campaign has helped me survive these seven weeks. I've been able to keep some of my team together, and we're developing a plan for Studio 2.0.
I have to thank the city of Los Angeles for having such a supportive network of designers and artists here, and I know that is part of the reason I've been able to see the silver lining through all of this. People come to L.A. to fulfill their creative dreams, and I am constantly inspired by what I see come out of this city. Obviously it is important when you make your living as a creative professional to be inspired, so make sure you are surrounded by whatever it is that can get you in the flow.
Before and after images of Medansky's studio.
My advice for anyone else in a similar situation: it's okay to feel lost. It's okay to reach out to friends and family and don't be afraid to ask for help. It's so easy to feel isolated and detached, and that's why you have to keep making work! Find a new way to be creative. You may have a breakthrough in a new medium that can inform your old one.
Also insurance. Make sure you're up to date. It's a long and painful process to go through absolutely everything you lost. It's indescribable until it happens, and I don't wish the feeling on anyone.
Then go and travel and make time to take care of yourself. You have to remember to stay healthy. It's so easy to put other things before your mental and physical health during times like this, so just make sure you're checking in with you.
For me, Studio 2.0 is a second chance. Much like before, I want to have a studio in a community where I can give back in a way that will benefit those around me. I want to focus on special limited edition products and larger project installations and commissions.
To help contribute to Ben's fundraising campaign, visit his gofundme page. You can follow him on Instagram @benmedansky. Check out more of his work below and visit his website at benmedansky.com.