In Europe's capital of fashion, art has a history of escaping the spotlight. Milan remains Italy's financial capital, and more importantly, its liaison between Europe's modern lifestyle and the more old-fashioned traditions of the peninsula.
Those lines of communication are changing, and so is Milan's relationship with contemporary art. In the last five years or so, a number of bold and adventurous galleries have sprouted up across the city. These Milan galleries have taken up the task of redefining what it means to showcase modern art in Italy. From repurposed buildings to a renegotiation of forms and function, these are our top picks for contemporary art in Milan, as entrancing as a long, hot, Italian summer.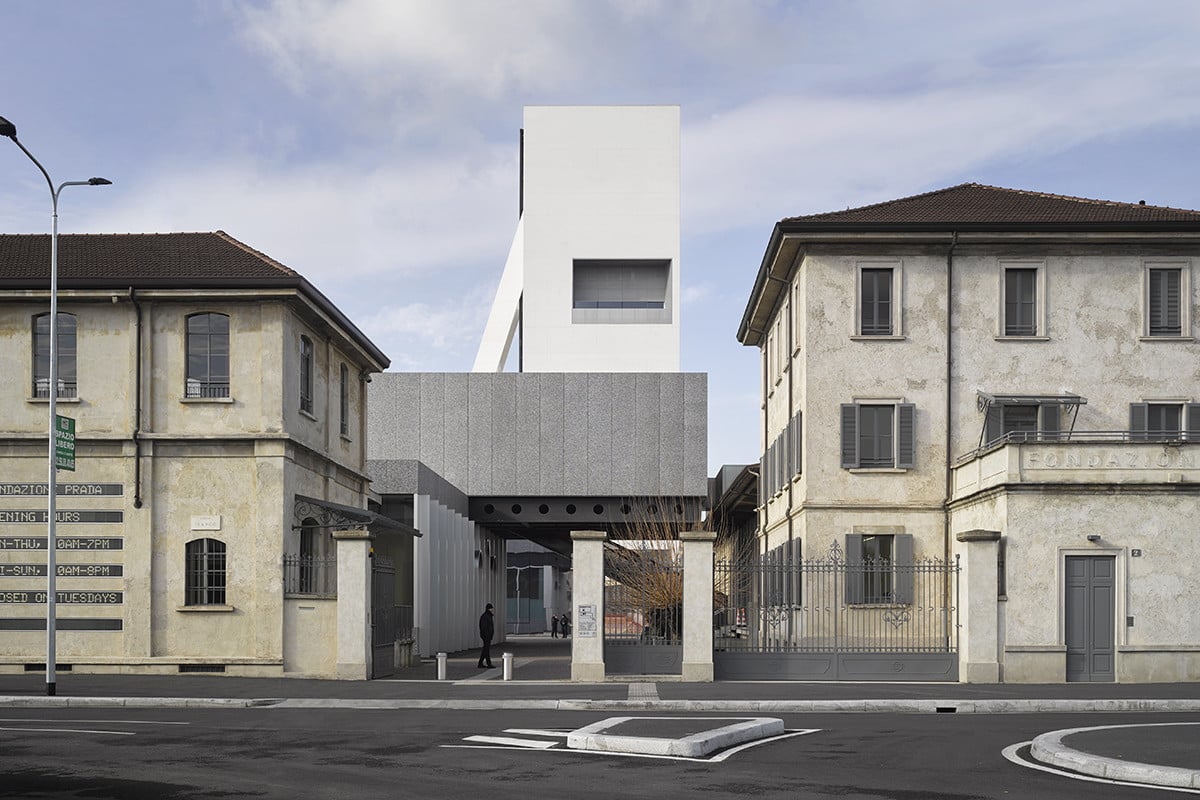 Photo of the Fondazione Prada by Bas Princen.
Fondazione Prada
Miuccia Prada, the granddaughter of the luxury fashion brand founder, conceived of the Fondazione Prada in 1993. It has taken its time acquiring a permanent space, but this gallery is now Milan's most striking showcase of contemporary art. The Fondazione's permanent home, opened this year on Milan's Largo Isarco, is located in a former gin distillery and features a mix of repurposed and new buildings designed by architecture firm OMA.
With its entrance building clad in gold leaf, and a series of exhibition halls leading to its new nine-story tower, the Fondazione Prada is now Milan's largest contemporary gallery space. Permanent exhibitions allow visitors to gaze upon renowned works like Jeff Koons' Tulips and Carsten Höller's Upside-Down Mushroom Room. The Fondazione Prada is currently playing host to the exhibition Post Zang Tumb Tuum. Art Life Politics: Italia 1918-1943, which features interactions between Italian experimental art of the early 1900s and the fascist regime.
If visiting the Fondazione Prada, try not to rush. And don't forget to grab a coffee at the Wes Anderson-designed Bar Luce afterwards.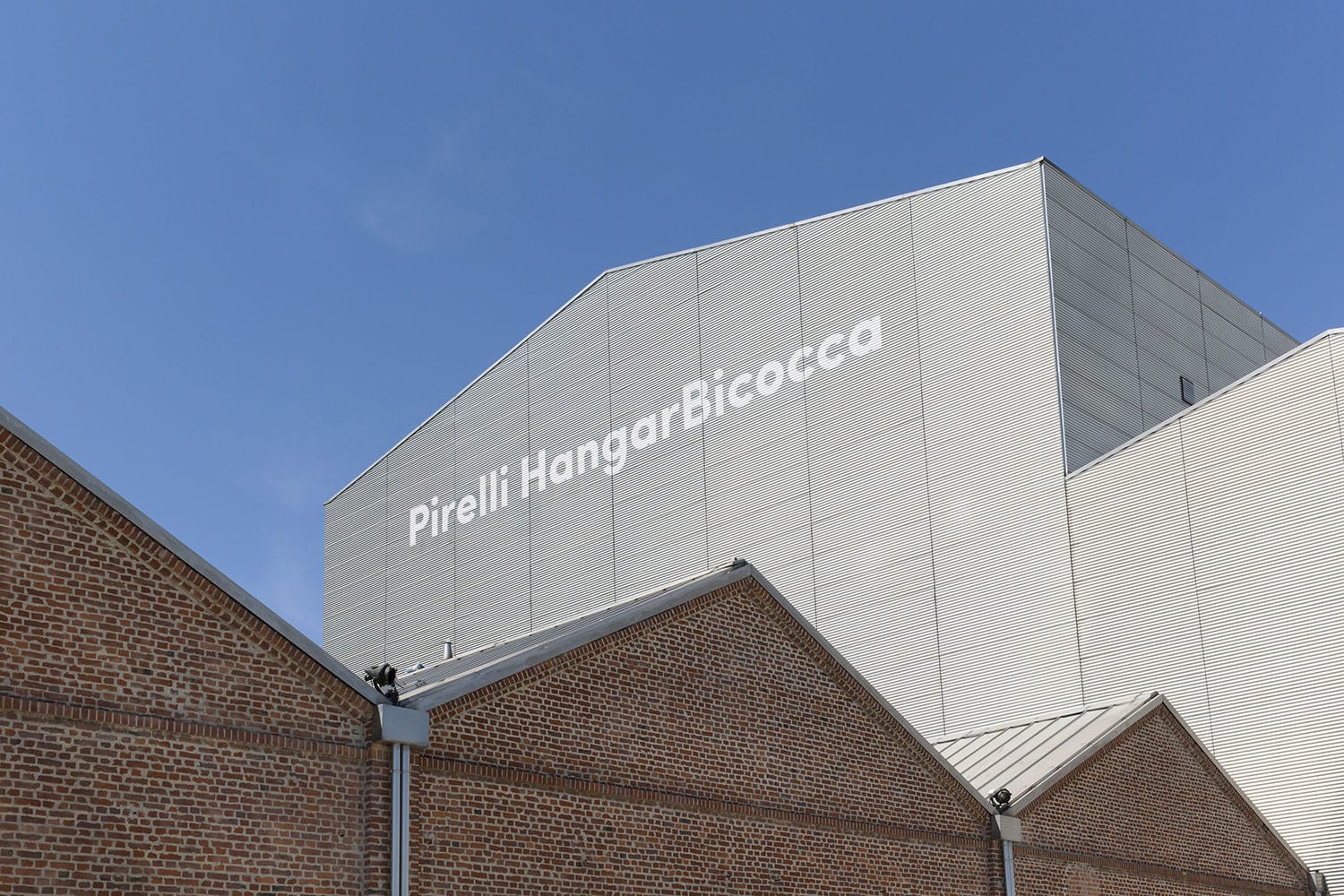 Photo of the Pirelli HangarBicocca by Lorenzo Palmeri.
Pirelli HangarBicocca
As its name suggests, the Pirelli HangarBicocca was once a former factory. In the early 1900s, Pirelli, the Italian rubber and tire manufacturing giant found its home outside of the city centre, in one of northern Italy's most important industrial zones, called Bicocca. Today, the warehouse, which covers almost 11,000 square-metres, is one of Milan's largest exhibition spaces. It caters to large-scale works and immersive art. Since 2004, site-specific works like The Seven Heavenly Palaces by Anselm Kiefer have found a permanent home in the immense dimensions of the Pirelli HagarBicocca.
Although farther than other art offerings in the city, nothing compares to the experience offered by the Pirelli HangarBicocca. Right now, guests can check out Matt Mullican's The Feeling of Things, featuring performances and lectures by the American artist himself. Stay a while and have a snack—or meal, this is Italy after all—at the wonderfully outfitted luta Bistrot.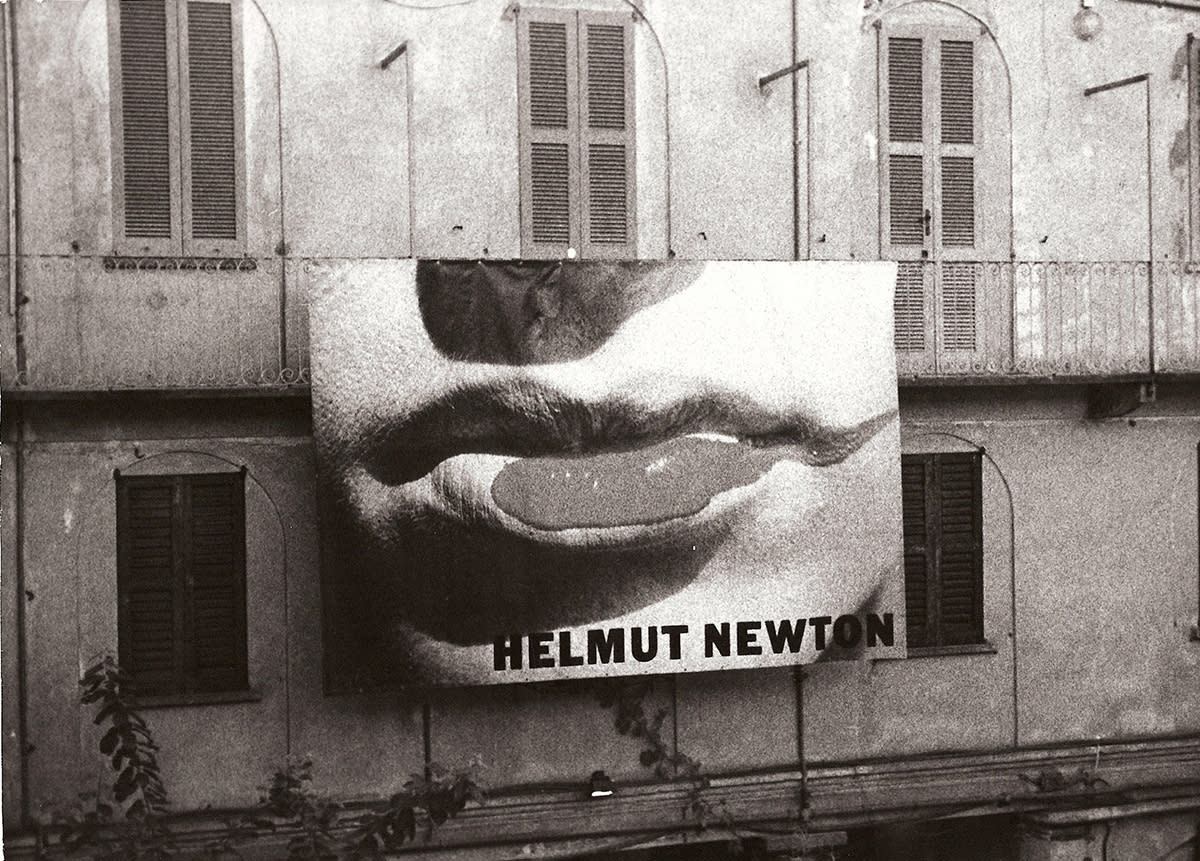 Helmut Newton at Galleria Carla Sozzani in 1996.
Galleria Carla Sozzani
Galleria Carla Sozzani, which has been open since 1990, is one of Milan's most important galleries for contemporary photography. In the past, photographers like Annie Leibovitz, artists like Yayoi Kusama, and fashion icons like Martin Margiela have all found their work upon the walls.
Sozzani has expanded over the years, with several international outposts in cities including Berlin and Seoul. Right now at their Milan gallery, you'll find an exhibition exploring the collaborative work of Salvador Dalí and Swiss photographer Jean Clemmer.
As with many spaces in the city of Milan, the art extends into the building itself. At the end of the gallery, up a nondescript, curling stairway, you'll find yourself in a quiet, lush, and flower-filled rooftop terrace. Enjoy the quiet before the city life below takes control again.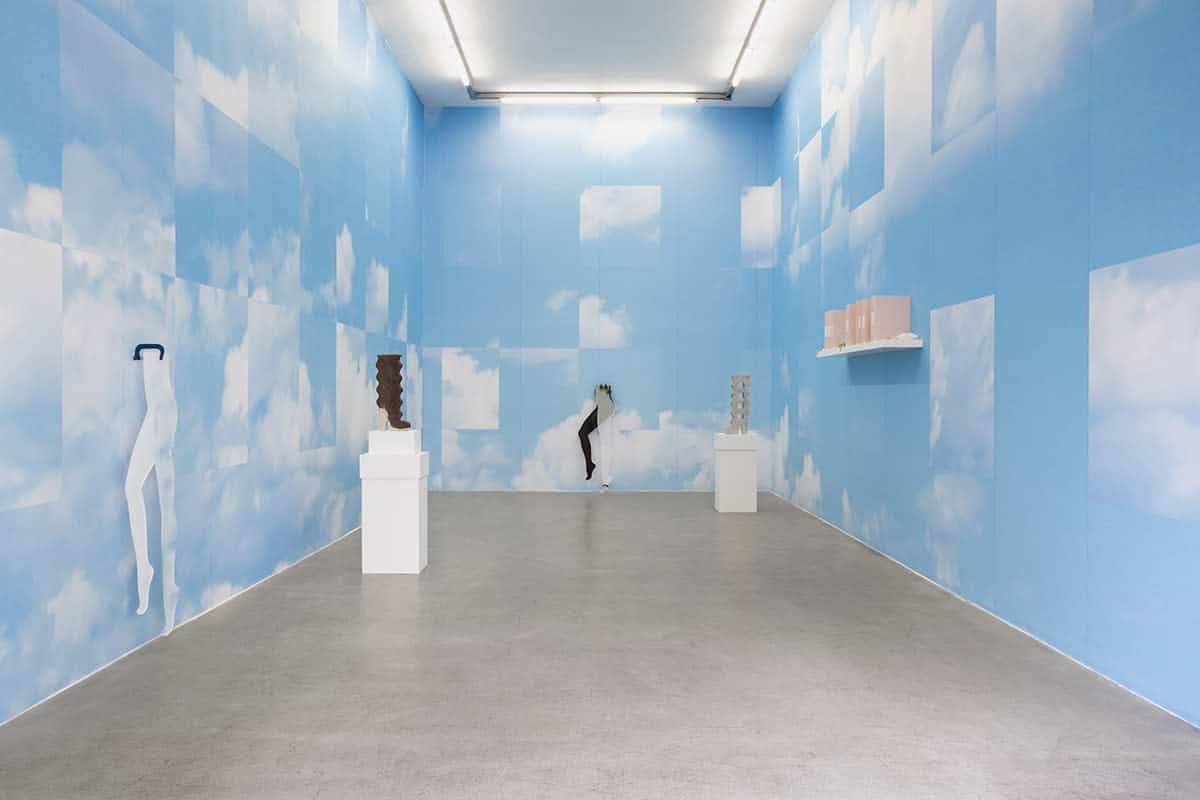 A is for… and, am, anxious, apple, adore… 2018 exhibition by Anthea Hamilton at Kaufmann Repetto.
Kaufmann Repetto
In the heart of Milan's fashionable Brera design district, and just across the park from the Triennale di Milano and the Castello Sforzesco lies Kaufmann Repetto. While the original location of Francesca Kaufmann's gallery had been open since 2000, relocation in 2010 saw the inauguration of her new partnership with Chiara Repetto.
The two Italian women have placed multimedia and site-specific installations at the top of their priority list. The gallery has remained committed to its interest in publicizing the work of young artists in particular. Since 2013, the duo has also opened up a NYC location for their burgeoning artistic community.
Coming up at this Milan hotspot for photography and design is an exhibition by Anthea Hamilton (pictured above) and Alice Mackler's The Project Room.
Recent Teresa Margolles exhibition at PAC.
Padiglione d'Arte Contemporanea (PAC)
The history of the PAC is fascinating and terror-fraught, not unlike contemporary art. It was destroyed for the first time during World War II. After being rebuilt by the City of Milan and architect Ignazio Gardella in 1947, the Villa Reale became the new Gallery of Modern Art after its inauguration in 1954.
After a further bombing by the mafia in 1993, it reopened in 1996 and featured Gardella's second rebuild of the structure. Today, it channels its determination into its programming and seeks to provide a platform for bold, contemporary, short-term exhibitions like past displays by Laurie Anderson, Marina Abramović and Andres Serrano.
Thirty different artists from Brazil will show at PAC beginning on July 3, in an exploration of the country's key artists active since the 1970s titled Brazil. Knife in the Flesh.
Further reading:
10 Reclaimed Art Galleries That Go Beyond the White Cube
The Best Designed Contemporary Art Gallery Buildings in the World
A Brief History of Protest Art