Our weekly Portfolio Spotlight series is a close-up look at the talented people using Format portfolio websites to showcase their work. This week, we interview artist Vojtěch Kovařík.
Artist Vojtěch Kovařík creates paintings of people inspired by wrestlers, mythological creatures, and a fascination with the human body. The Czech painter, who is based in Ostrava, has developed a style that's simultaneously playful and sinister, depicting strange and fearsome human figures and animals in deceptively cheerful color palettes.
Kovařík favors minimalism when it comes to his artist website. He uses Format's Order template to display a small selection of paintings in a neat grid. This brief gallery of work leaves the viewer curious to know more, so we got in touch with Kovařík to find out what he's working on and what first drew him to painting.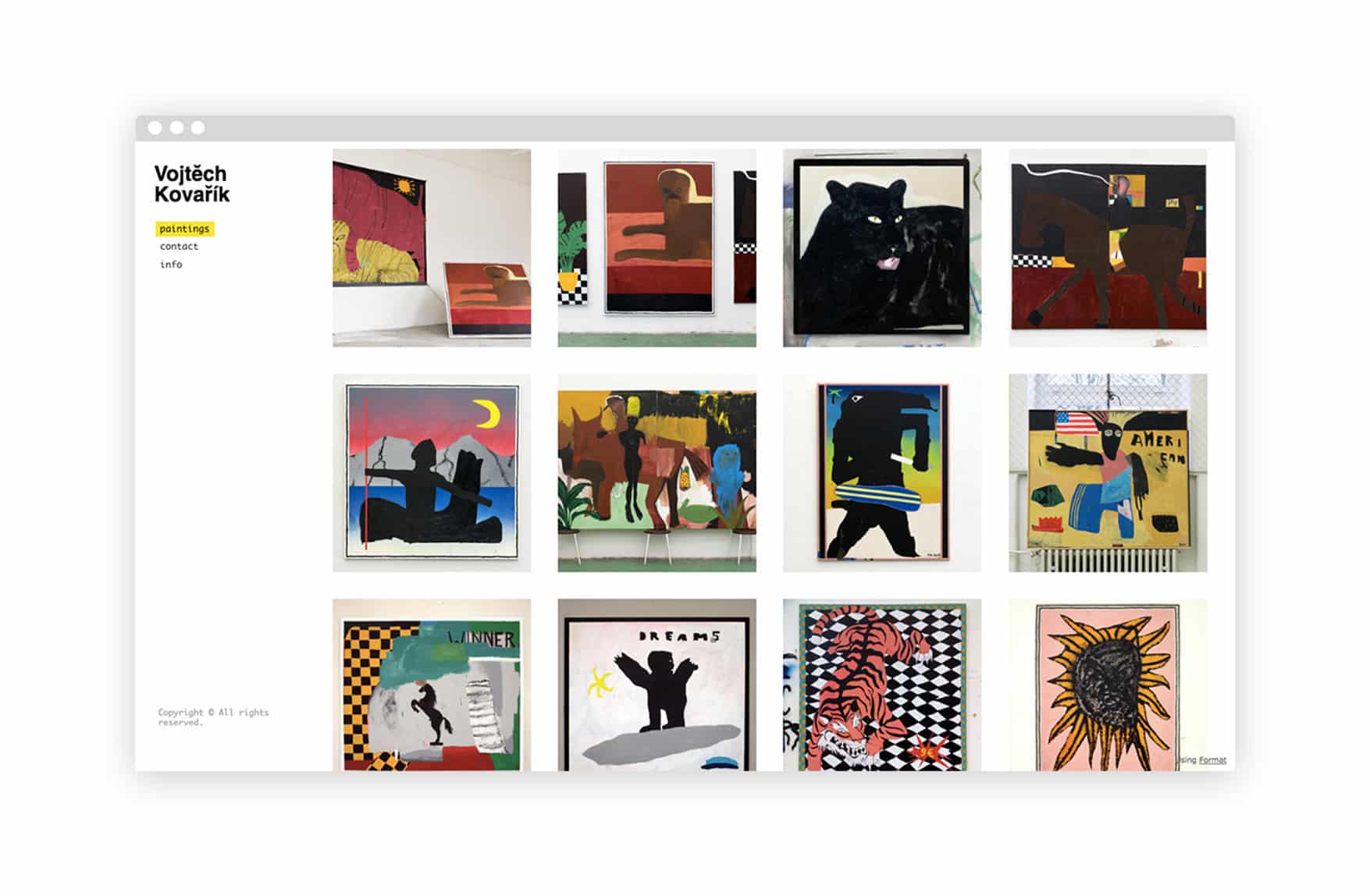 [www.vojtechkovarik.com](https://www.vojtechkovarik.com/)
How did you first get into painting?
From birth, because my parents and older brothers are artists and pushed me toward art… I had no choice! (laughs) Yeah, and then everything started. I did some art courses, then I went to study fine arts in secondary school, and now I am finishing my master's degree at the Faculty of Arts at Ostrava University, in the Department of Drawing, where I paradoxically started to paint.
What are some of the inspirations behind your work?
Movies, music, heroes, monsters and animals, Greek mythology, film noir posters, mistakes, everyday life, the perfection of the human body (especially eyes, muscles, and fingers), and certainly works of other emerging artists inspire me the most.
Your paintings often depict people. Could you talk about these figures? Who are they?
I'm not satisfied whenever I start a non-figural painting; in the end I have to repaint it and make a new one with a figure. I use painting like a game, where the dominant part of it is the hero. I have many heroes and idols in my life, famous people, movie heroes, wrestlers, mythological and Biblical figures. I like to deform their established properties, and put them into new contexts. In terms of appearance, for me, painting is mainly a game of shapes, colors, and absurd landscapes of muscles.
How do you use your website to showcase your paintings?
I use it like a portfolio. It's very minimalist. I guess that's the best way to present paintings, because they don't need any explanations or special graphic design around them. Minimal is maximal.
What are you working on right now? Do you have any upcoming exhibitions?
Currently I have some paintings on view at Galerie Wolfsen in Aalborg, Denmark, and in the Chemistry Gallery in Prague. At the moment I am preparing projects for few solo exhibitions for year 2019 in Czech Republic, and also in London. And recently I was granted a residence in Budapest. Can't wait!
Name two artists we should be following.
Thom Trojanowski Hobson and Dana Schutz. Really like their work.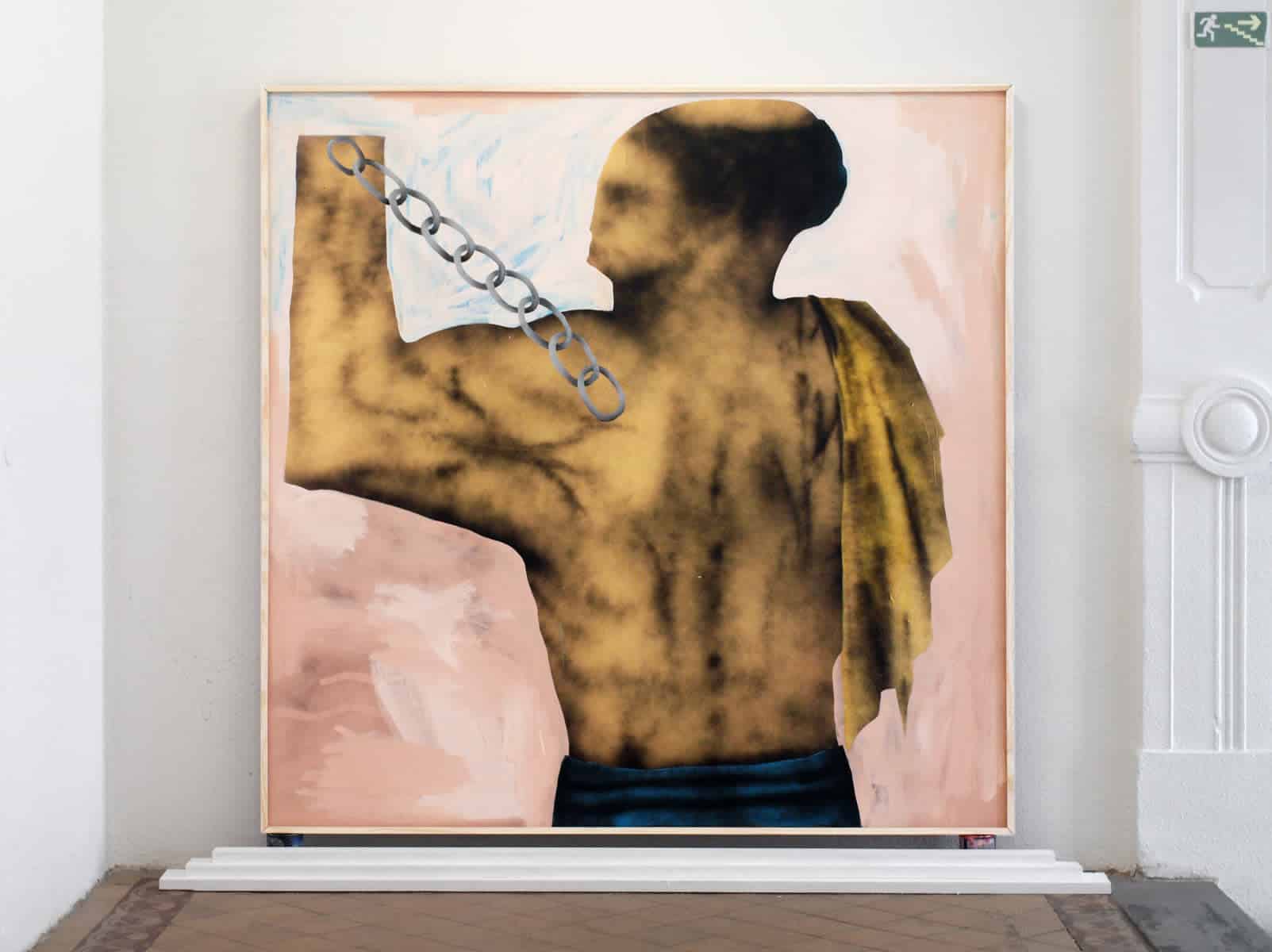 Think your Format portfolio should be featured in our Portfolio Spotlight series? Send us a link to be considered.