Want to be more productive? Get some insider tips with Clocked. We're asking creative professionals to track their schedules for one week—hour by hour. We want to know how they balance life, work and getting to bed at a reasonable hour. Submit your schedule to magazine@format.com.
As we've explored before on Format Magazine, meditation can be an essential component of a productive and creative life. Headspace, an app that can teach anyone to meditate, is one of our favorite resources for mindfulness—plus the design is pretty slick. We asked Headspace product designer François Chartrand to share his schedule and he goes #FullLA with aura photographs, tofu tibs and morning meditation at the company's Santa Monica headquarters.
Contrary to the usual tech stereotypes, Chartrand prioritizes time with loved ones and appreciating the beautiful west coast vistas. He's written about the role of mindfulness in design process on Medium, which includes tips about posture and getting enough rest. If you work with focus and purpose, you don't need to burn yourself out with crazy hours. Maybe his schedule will inspire you to take a break, take a walk and spray yourself with magnesium.
Name: François Chartrand
Profession: Product Designer, Headspace
Location: Los Angeles, CA (originally from Ontario, Canada)
How long have you been working in a creative field: 10 years
Your work/productivity philosophy: Design for people, not users
Twitter: @frankchartrand
Instagram: @frankchartrand
Day 1: Monday
8 a.m. Rise and shine. I try to spend a few minutes before getting ready where I focus on a few things I'm grateful for—health, family, my dog Pomme, and fiancée Terrie. Every night, before falling asleep, I think about how we might not wake up the next day. It sounds dark, but it's actually a positive reminder that every day is a gift. It's motivating for me to have these rituals.
9 a.m. Hit the road. L.A. traffic can be brutal. I use Google Maps for my commute to save time avoiding accidents and congestion, if possible. The traffic isn't fun, but the city makes up for it with endless sunshine and ocean views.
9:30 a.m. Arrive at Headspace in Santa Monica. Mornings here are slow—I make a coffee, chat with some people around the office, and get ready to take on the day. To everyone's surprise, there's a bunch of balloons scattered around the office to celebrate our community hitting 1 billion minutes meditated (!!!). Everyone knew we were getting close but no one was expecting to get news like this today! Such a fun way to start the week.
10 a.m. I join the team for our morning meditation, then I'm ready to start cranking away at the week's tasks. After chatting with our design leads, Adam Diehl and Will Simon, I do some sketching and share with the team. No meetings today, so I cruise through some UI tasks for a new feature. These are my favorite days when I get my best work done, working without distraction.
3 p.m. I move away from my desk and set up in a booth upstairs for the afternoon. I sometimes miss the flexibility of my freelance days, so I like to move around our office to mix things up and not sit still too long.
Day 2: Tuesday
9:30 a.m. On my drive to work, I catch up on my favorite podcasts: Design Details, to keep up with the industry, and Canadaland, to hear about what's going on back home. Quick stop at Flowerboy in Venice before getting to the office for a cup o' joe!
12 p.m. I meet a friend from Edenspiekermann (where I used to work) for lunch. Our conversation ranges from digital editorial's responsibility in the fake news world, to lighter topics like succulents and cactus gardens. Before heading back to work, we walk a block to the ocean to take in the view for a minute. Sometimes it's easy to forget that this beautiful scenery is so accessible.
3:15 p.m. Take a short break from work and flip through a book Terrie gave me, Mazdaznan Health & Breath Culture. It explores mental/physical exercises and their effects on creativity. It's incredible how mind, body, and soul have been intertwined with design for so long, but we don't talk about it much. It's something I'm trying to reconnect with as a designer, and as a person.
7 p.m. I'm home and exhausted, but I need to finish some slides for a talk I'm giving soon about working agile. I light a few candles, make a drink, and settle in. I try not to work much in the evenings, but when I do I like to get cozy and keep it hygge.
Day 3: Wednesday
10 a.m. Feeling a little sleepy from burning the midnight oil last night but I power through the morning, working on our web app. Meditation + strong coffee help refocus me.
2:30 p.m. Too much screen time today…my legs are feeling like Jell-O. My PM and I take time to whiteboard some user flows for a new feature concept. Standing feels good. I have a walking meeting with my friend Peter and chat about stuff we're working on. The conversation quickly turns into talking about our hometowns up north. One of the reasons I love L.A.: almost nobody is born here, and everyone has an interesting story of how they got here.
7 p.m. Terrie and I try to make uninterrupted time for each other once a week, at least. We choose one of our favorite restaurants in Little Ethiopia, Meals by Genet, for dinner and drinks. I'm drooling just thinking about their tofu tibs…
9 p.m. After dinner, settle down with a cocktail and watch season one of Fargo, even though it'll probably give me nightmares. Good night.
Day 4: Thursday
9:30 a.m. The week's coming to a close, so I get into work early and power through some tasks I'm trying to wrap up. Thankfully the pace at Headspace is reasonable, and I know my team has my back, which motivates me to work harder. I feel lucky to work with such talented people every day.
1:15 p.m. I'm feeling a bit antsy. Will hits me with magnesium spray, which is supposed to relax you… we'll see.
3 p.m. We're celebrating a big launch today. Our leadership team says some kind words and makes a toast. After two glasses of champagne, everyone slows down and the rest of the day is pretty casual.
Day 5: Friday
9 a.m. Before work, I chat with a graduating student from Cambrian College's graphic design program. In an effort to give back, I've been offering mentorship to students from my hometown (Sudbury, Ontario) who are interested in digital design. I try to chat with them on a monthly basis and work with them on their goals and career path, and offer guidance.
10 a.m. Create some wireframes for an internal tool that will be super helpful for the team to have. Not the most exciting work, but I always try to find the sweet spot in every project—even the mundane ones.
4 p.m. Headspace Happy Hour at our newest office in Santa Monica. Our headcount is growing by the day, so it's always nice to get exposure to other teams and meet new people.
Photo by Bilal Shaw.
5:30 p.m. It's spring and super nice outside, so I'm taking the long way home. I take a minute to appreciate the trees and views along the streets of Venice.
6 p.m. It's been a long week, and I feel bad that we haven't taken the dog out much. We take Pomme out for a walk around the neighborhood and drive by the beach to catch the sunset.
11:11 p.m. Make a wish! Staying indoors tonight… my favourite way to spend a Friday evening is at home with the people (person and dog, actually) I love most.
Day 6: Saturday
9 a.m. Not usually awake this early on a Saturday, but Terrie wants to get an aura photograph taken and it sounds cool. Going #fullLA today.
9:30 a.m. Stop by Moon Juice and chill, considering our next move. We've been hearing about this pavilion at the Huntington Library that's apparently a cool space/sound experience. It's a bit of a drive to get to Pasadena but we don't mind when we're together. On the road we go!
1 p.m. Arrive at the library and check out the Orbit Pavilion. Really awesome. Step inside a shell and listen to the sounds of satellites orbiting earth in space. I'm a big Carl Sagan fan so anything to do with astronomy gets me stoked.
2:25 p.m. We came for the space pavilion, but turns out there's a LOT more here. Thousands of plants across twelve gardens, including Desert, Palm, Jungle, and Japanese. This is one of the most majestic places we've ever explored! We were not expecting this!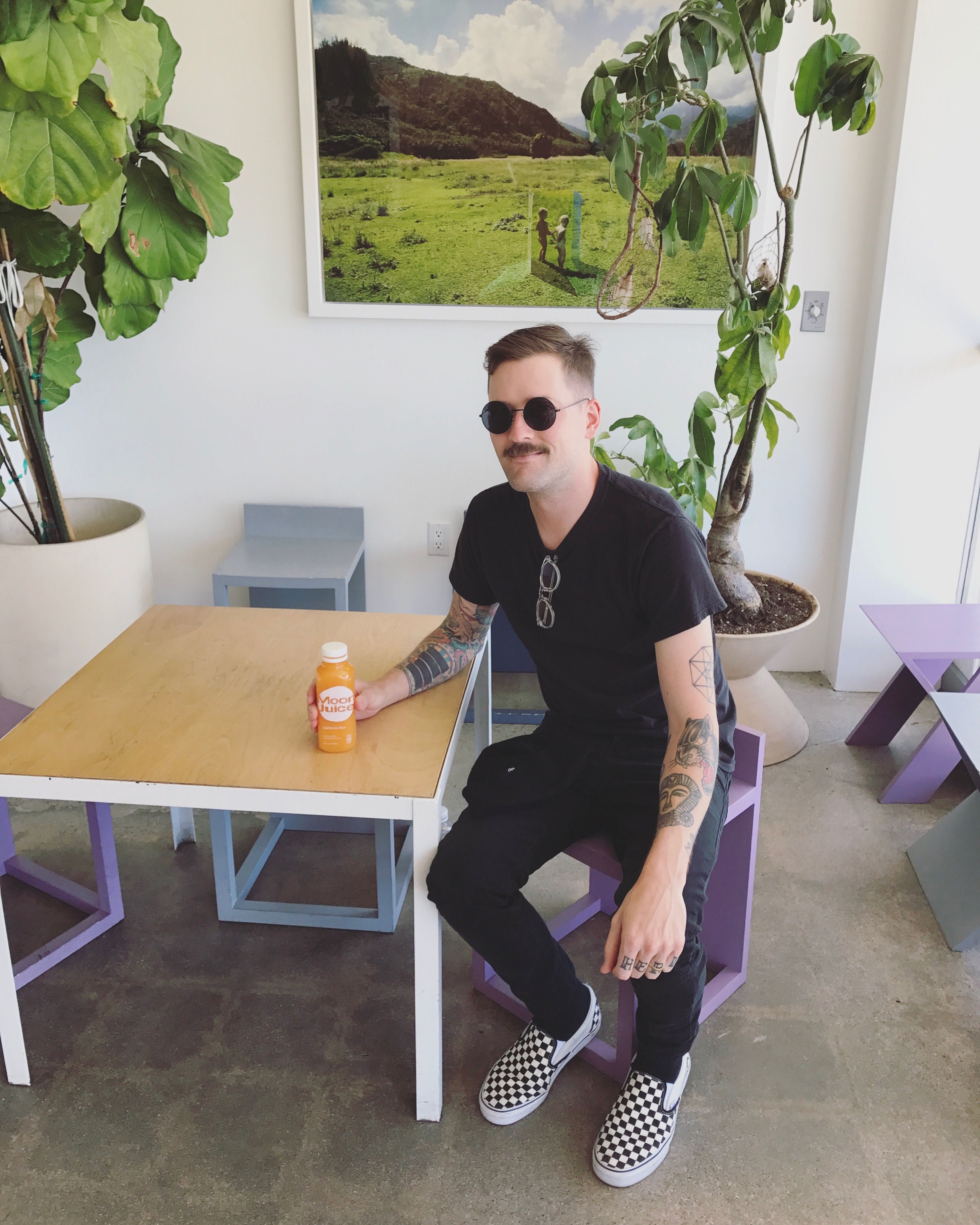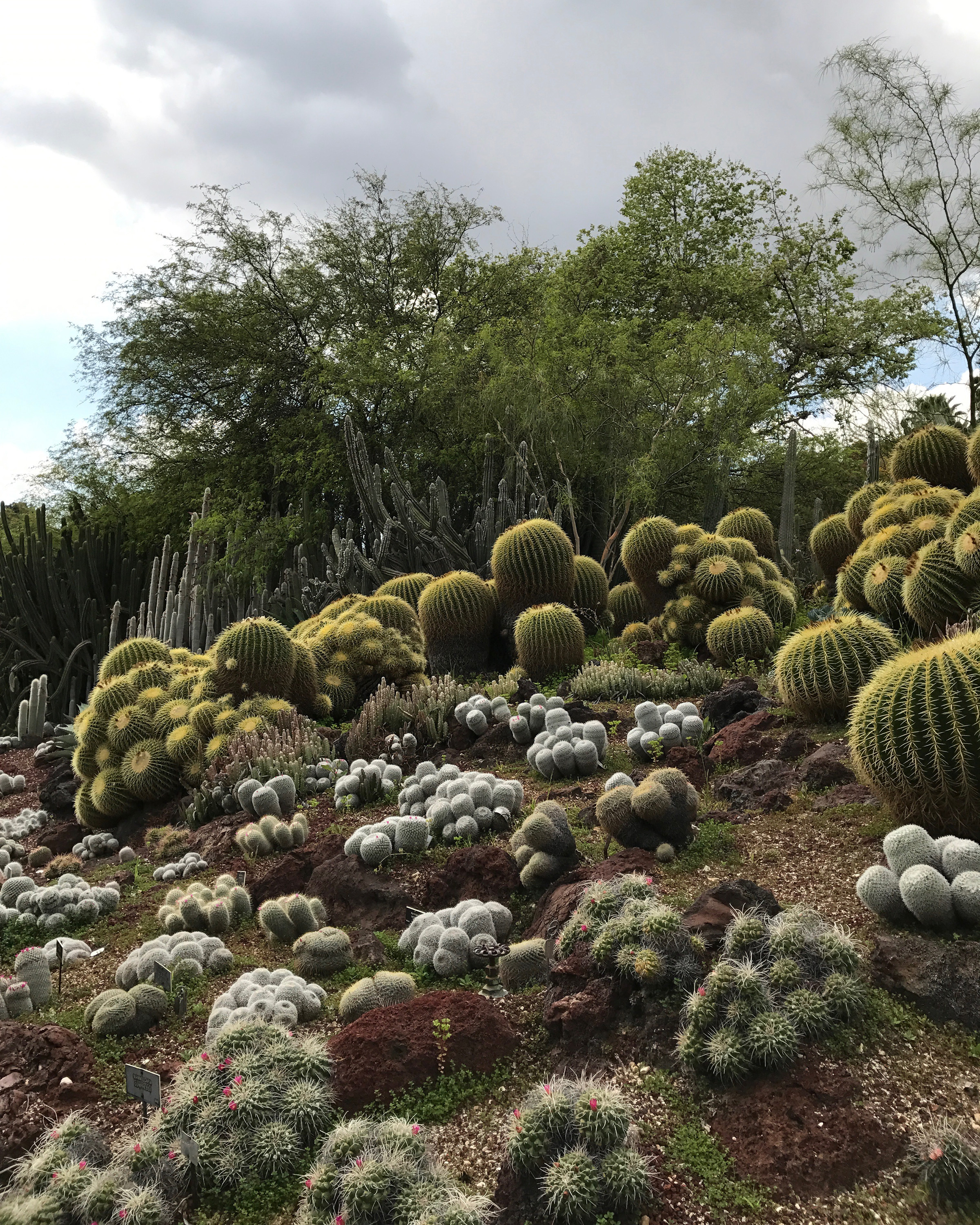 Day 7: Sunday
1 p.m. Lounge at the pool and relax to recalibrate. There's a mentality, especially in San Francisco and New York City, where designers work on side-projects and hustle 24/7. I prefer working hard and smart, but also appreciating everything life has to offer in and outside of design. I know from past experiences that constantly going full throttle will burn me out, so I try to avoid falling back into that pattern.
7 p.m. Tune in to The Strombo Show, and to my surprise, an old friend and country crooner Daniel Romano is doing an acoustic session. What a treat. I settle into my favorite chair with my dog by my side, kick my feet up, and prepare for the week ahead.
Social cover image via The Orange Dot.