If there's one design motif that looks set to take over 2017, it's the rose. But not just any rose. The trending flower is a distinct graphic pulled from the neon signs of motels and nail salons. From streetwear brands to art world gallery shows, this tacky, retro rose has become a persistent anti-logo, suddenly popping up everywhere.
Often copied by major fashion brands, independent designers like Explorer's Press and Rosehound Apparel have been at the forefront of this trend. The rose trend didn't start on runways—it started on Instagram. Its clipart-inspired style is cheesy, nostalgic, and easy to print on everything from enamel pins and patches to socks and t-shirts. Roses have flooded the fast fashion market, with similar styles found in H&M, Topshop, and Urban Outfitters.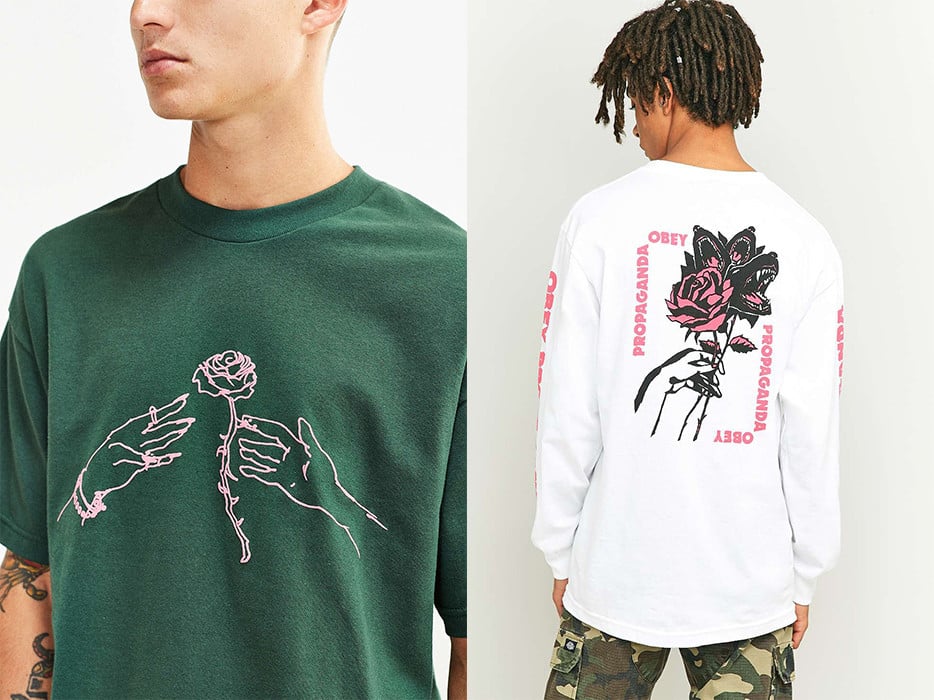 Top: Division of Labour and Obey via Urban Outfitters. Bottom, clockwise from top left: Rose & Thorn, Ball & Chain Co., ban.do, Weekend With Wednesday, Big Bud Press, Rosehound Apparel, Big Bud Press, Future Zine.
Why do certain images suddenly become zeitgeist? Why do roses resonate with us so much right now? It's definitely not a new symbol. This particular rose design has been around for ages, found on Chinese restaurant menus, budget nail and hair salons, and the famous Rose Bowl stadium in California. From big cities to small towns, from immigrant culture to old-school Americana, this rose feels like it's always been part of the landscape.
In his collection of work titled I Was Going to Call It Your Name But You Didn't Let Me, Awol Erizku works with the recurring nail salon motif of a rose held gently in a manicured white hand. But in his paintings, which were exhibited early January 2017 at Nina Johnson Gallery, the hand is black. Erizku, who is also responsible for Beyonce's break-the-internet pregnancy announcement photos, wants people to consider the racial implications of this signage.
"What drew me to the ubiquitous nail salon sign at first was the fact that I never had seen a version with a black hand," Erizku said in an interview with The Creators Project. "It's weird that this motif doesn't communicate whether the hand is receiving the rose or giving it. The moment the hand is black, considering the racial tension and political climate of our country, it took on a whole new life and meaning."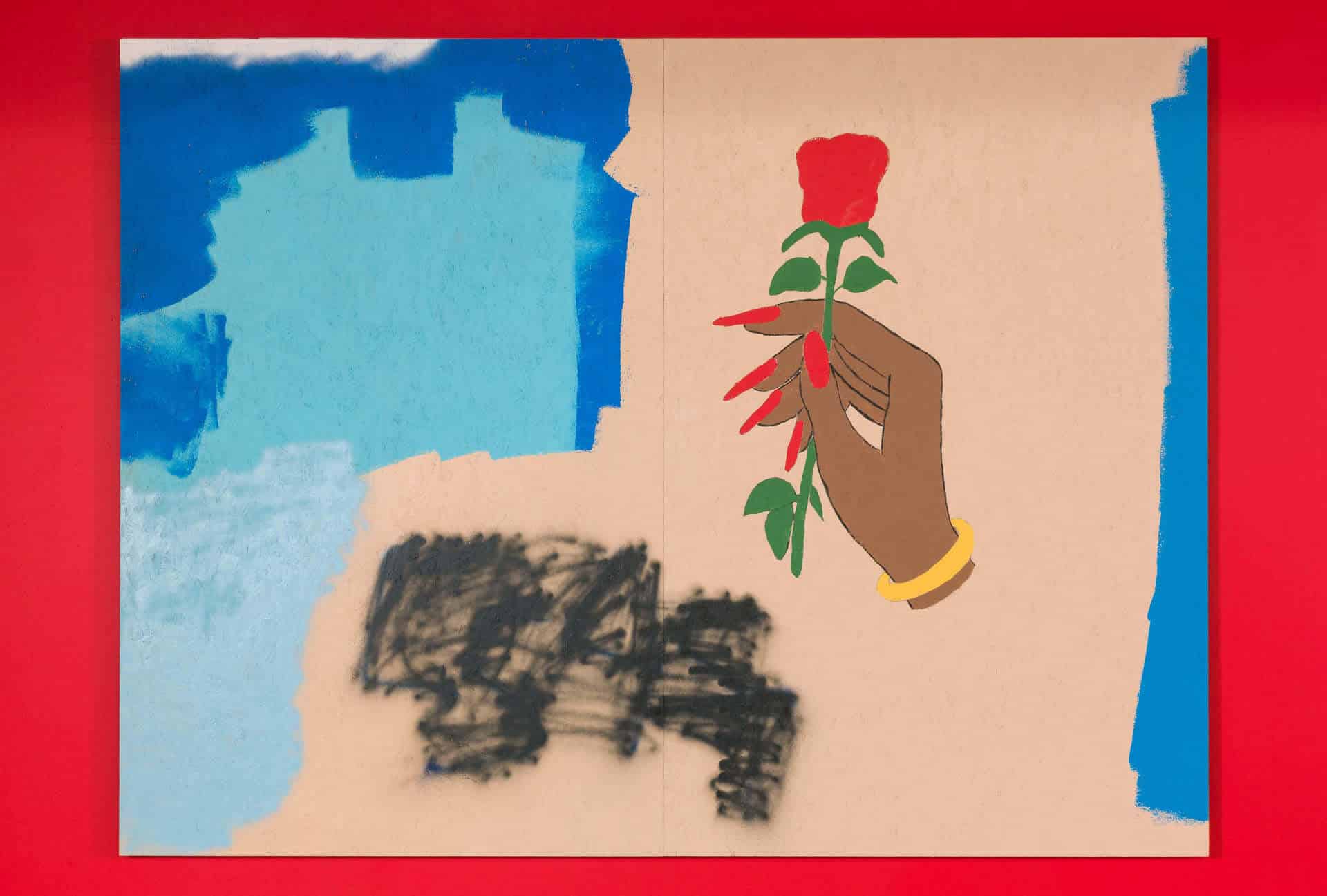 Awol Erizku, "Fire & Desire", Acrylic on wooden panel, 72 x 96 in
Does this mean that fashion's use of kitschy roses is a sort of artistic gentrification? Recasting "lower class" iconography as ironically hip falls into the danger zone of poverty commodification, only adding to further marginalization. This isn't anything new, and lately it feels like an unstoppable trend. Similar to the Soviet-inspired looks that made Gosha Rubchinskiy famous, the overly stylized rose makes high fashion out of lower class culture.
But could the rose trend actually be subversive, in a gentle way? Swapping a brand logo for a rose on a t-shirt takes the power away from the corporate symbols that started gaining popularity during the normcore wave of 2014. Instead of repping Nike or Adidas, you chose a shirt with a kitschy flower on it. The fact that nobody owns the rose adds to the appeal. The design is as universal as a logo, but it's also anonymous, organic, open to endless customization.
In a time where the internet makes all creative content vulnerable to imitation, the most interesting trends are the ones that just re-contextualize something that was already there. Brand identities are becoming increasingly amorphous, with Vetements reusing sportswear logos and Louis Vuitton collaborating with Supreme. The line between high fashion and streetwear is disappearing, and the popularity of the rose demonstrates just how much high and low culture in general are becoming one and the same.
The question is, is this a good or a bad thing? Colonizing the fashion world one t-shirt at a time, the brand-less rose seems to hint at a more open, less exclusive era of style. A recent HypeBeast editorial on the rise of streetwear in Britain called the trend "empowering," arguing that "when it comes to style in this country, the working class will always be two steps ahead of the game."
Interestingly, the rose has a long history of anti-authoritarian symbolism. According to NYU, "After World War II the rose became widely adopted as a symbol of the European Socialist and Social Democratic parties. At that time, the Socialist Party's symbols were considered to be too masculine, and with more women becoming active in the movement, the rose was adopted as a more gender-neutral emblem."
Today we're seeing that the streetwear trend has the potential to democratize fashion. And seeing fashion bloggers from Paris to New York shell out $330 for the uniform of a shipping company raises questions about the ways brands prop up class distinction, and how they might work to break them down. When any logo can become high fashion, all logos feel a little less important. Maybe that's why the rose is the next big thing.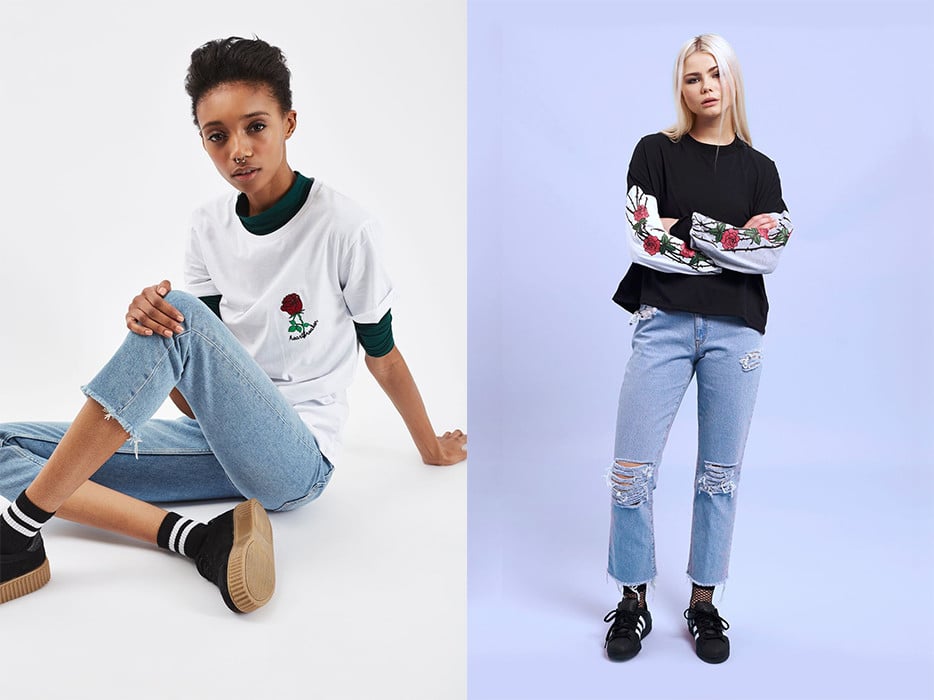 Topshop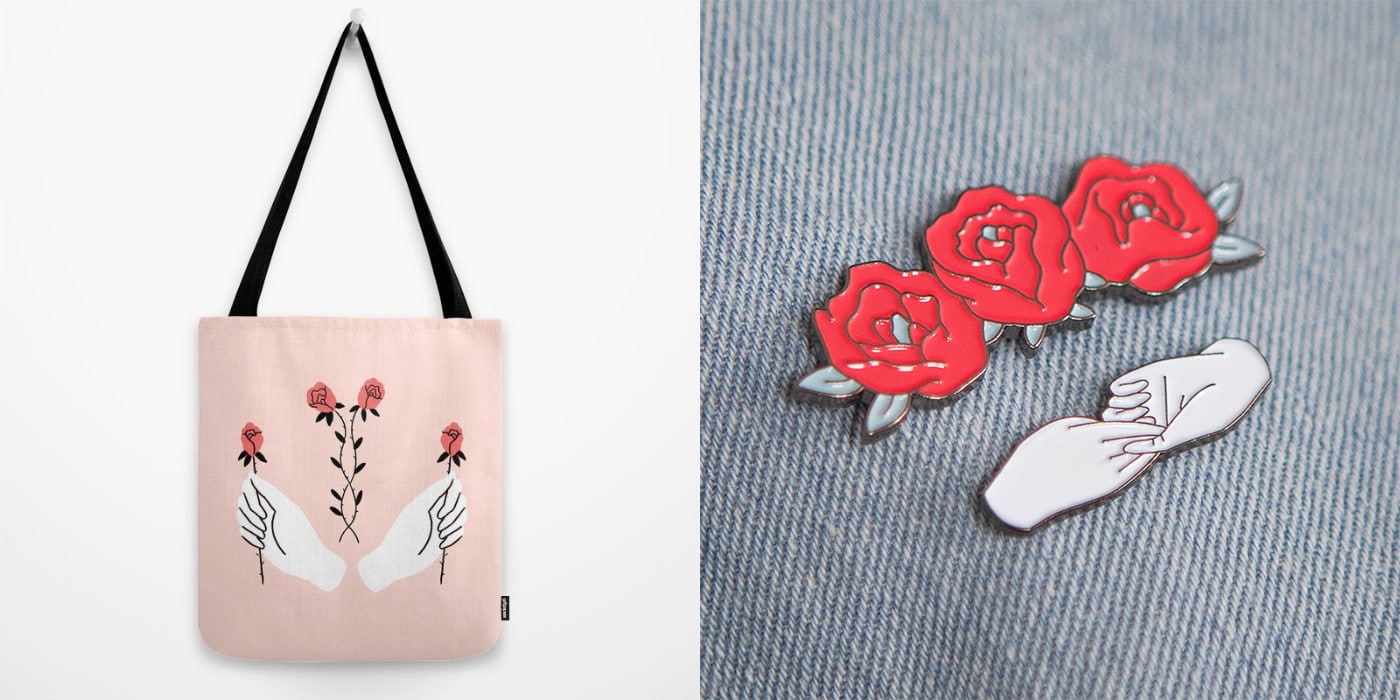 Left to right: Mary Jane Nite, Explorer's Press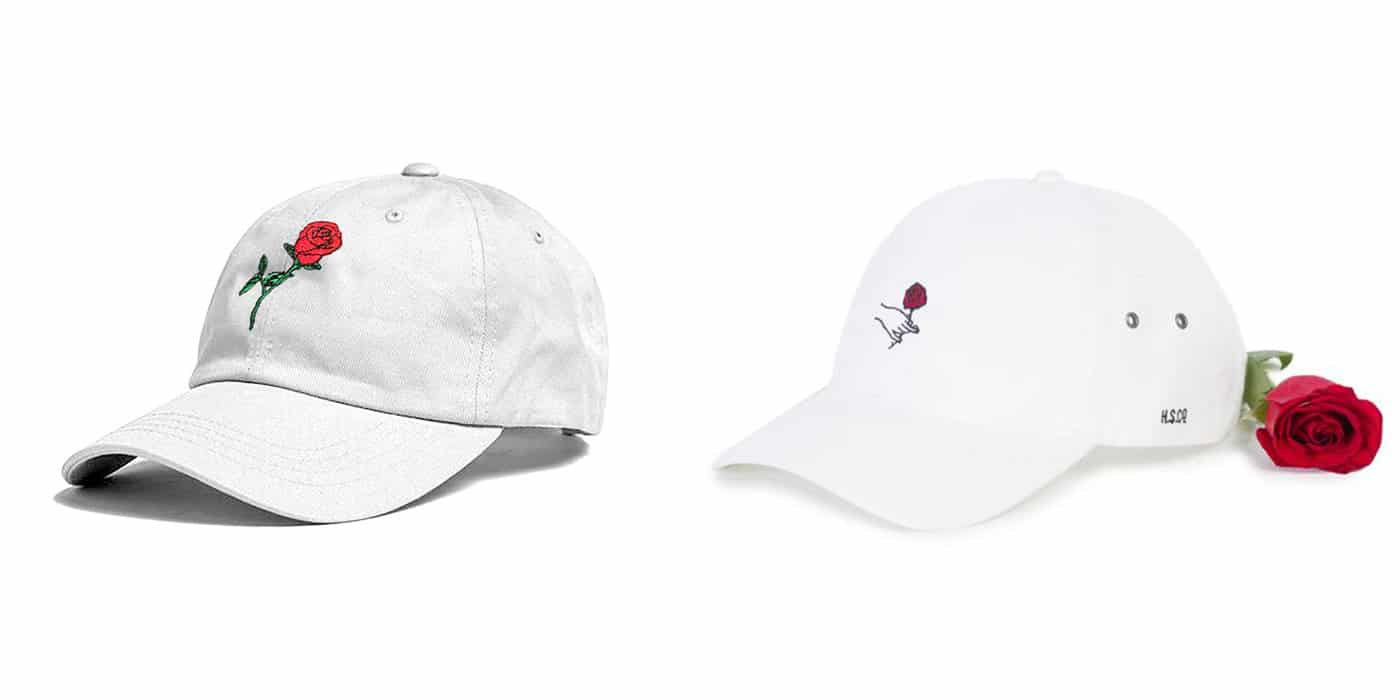 Left to right: Mary Jane Nite, Herschel
Cover image via Big Bud Press.