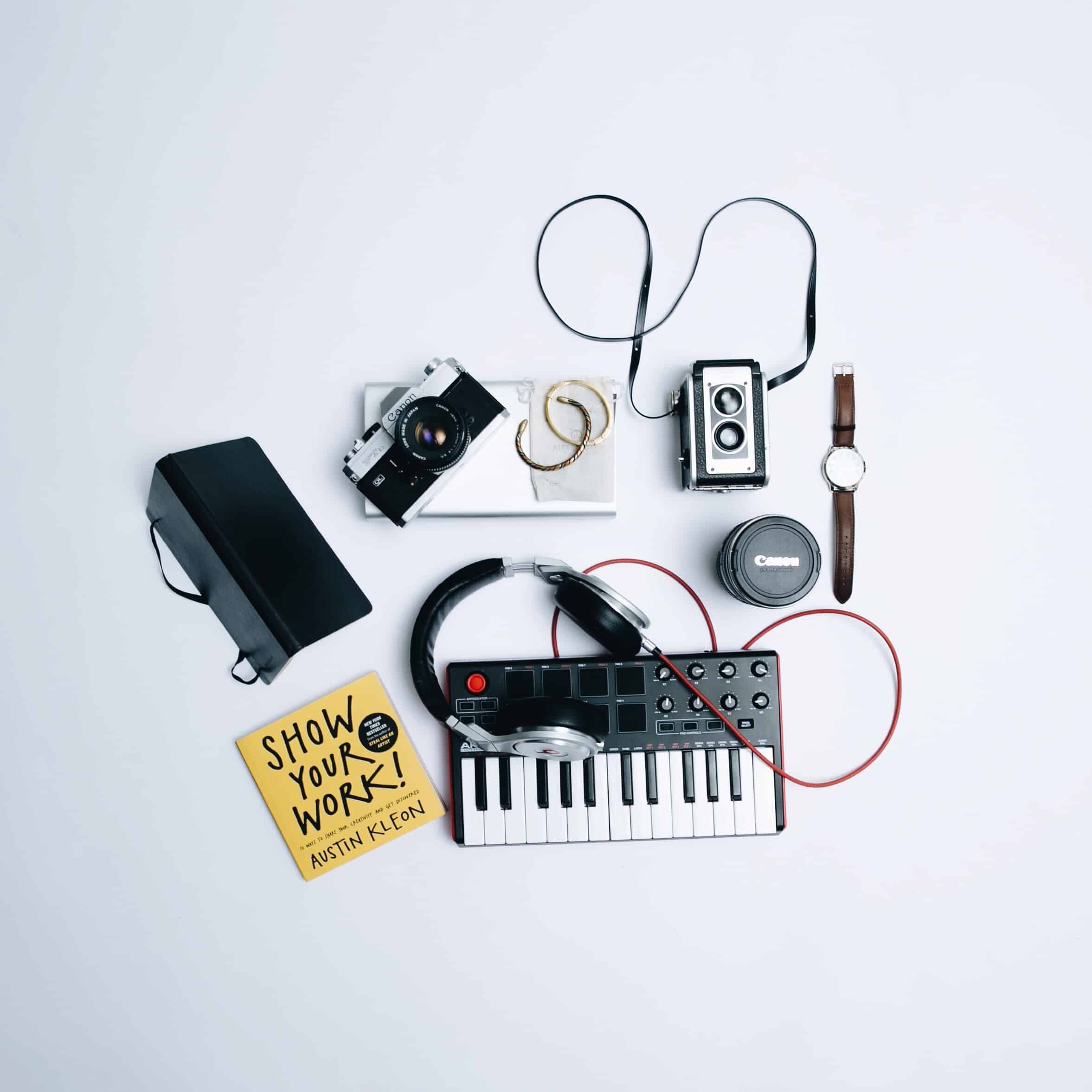 I love to capture people in their natural state. Those are the moments that I feel are most important.
Notepad – I write everyday; specifically in the morning. I'll take out 15 minutes as soon as I wake up to write about one of two things: my to-do list and what I can work on to be a better me. This helps me set the tone for the day, and also helps me stay productive.

Books – I always keep a book on me. Most of the time it's something fun and creative—I don't care for boring books. The perfect book for me is something I can learn from, like "Show your Work" by Austin Kleon.

Midi Keyboard/Headphones – This has been a way for me to take a break from photography and still be creative. I picked up a keyboard about a year ago, and I've been teaching myself to produce music.

Camera – Not a day goes by that I don't pick up a camera. Not because I'm some super-photographer that's always working, but simply because if I don't take photos I'd probably forget the memorable moments.

Computer + Hard Drive – I live on my computer. About a year ago I was shooting a campaign in Houston, Texas when my camera bag got stolen. If it were not for me backing all my images up on hard drives I would've lost everything—make sure to update your hard drives often.
Who are you and what do you make?
I'm Dante, a self-taught photographer and creative director. Originally from Michigan, I relocated to Los Angeles in 2013. You can usually find me in downtown LA on a roof, hanging out by the pool, or eating pizza and drinking sweet tea. I spend the majority of my day double tapping photos on Instagram, ordering things I don't need on Amazon Prime, watching movies on Popcorn Time and creating Spotify playlists for my next adventure. Oh, and I'm a brand ambassador for a few companies. That means they send me cool stuff and I take cool photos for them in return.
While your photos cover many different subjects, they all possess your distinct style. How did you develop that style?
I photograph the people and places that I like, and I want the photos to be as natural/organic as possible. Often times I'll set up a shot but end up using the images that are taken when the subject isn't paying attention; I love to capture people in their natural state. Those are the moments that I feel are most important. For the audience, those are the photographs that make them feel like they're a part of the experience.
Can you tell us about The Art Direction, and your video series The New Independent?
The Art Direction is a content creation agency specializing in creating both original content and branded content for the intellectual, creative millennial. Basically, we partner with global lifestyle brands to help create and distribute cool photographs and short videos that are specifically made for social media platforms. An example of that would be The New Independent: an original video series where we interview music artists as they share insight and secrets on how they've found success as independent artists within the music industry.