Fast forward through decades of rewinding VHS tapes, tossing scratched DVDs, creating fake emails to watch Hulu, stealing people's Netflix accounts, and downloading HBO GO (which we all know exists for Game of Thrones)—now 19-year-old Sydney-based filmmaker Hannah Lehmann is working with ultra short Instagram video lengths.
Lehmann's new sci-fi mini-series, The Out There, is the first linear television series made for Instagram released in Australia. There are thirteen 60-second, or less, episodes released each day, and the entire series can be played in under 20 minutes. "Instead of promoting my series on social media and directing viewers to a fiddly YouTube playlist, what if the series already existed on social media?" she says. Lehmann also wrote the script and plays the lead character Frances (that's her in the image above).
The plot was inspired by Lehmann's "daydream walking and creative frustration". She would walk to her day job, imagining small scenes that quickly added up into a full story. The Out There is about Frances, a 20-something, who is stuck in a rut. "She lives alone, sleeps with the same person repeatedly, and her friend, Nora, is questioning her sanity. After drunkenly falling on a grave one night, Frances is visited by Thomas, who has some unfinished business to attend to…"
The series was produced by Adolescent Content, a youth-oriented company that promotes emerging creatives who want to use their talents for entertainment content. Ramaa Mosley, the founder and creative director of Adolescent Content, is not only on board with experimenting on new platforms, but it's integral to her company's mission. In her 2014 TEDx Hollywood talk, she pointed out the flaw of 30 or 40-year-olds creating content for an audience half of their age. She believed it made more sense to give a camera directly to millennials and get them to create content for the demographic they know best. It makes sense that a filmmaker growing up in the age of social media would know best how to curate a series specifically for Instagram. For Mosley, "younger" is not necessarily synonymous with naïve, but instead represents freethinking and boundless vision.
We called up Lehmann and Mosley to find out more about using Instagram to launch a television series and the challenges of producing 60-second clips. Plus, watch the first three episodes below.
Format: Do you think "the Instagram series" is going to be the beginning of a new trend in filmmaking?
Ramaa Mosley: I do! Adolescent Content has have many more coming out and I'm excited about the creativity we're seeing for 60-second episodes.
Hannah Lehmann: People shouldn't be limited by a lack of funds, a lack of followers, or a lack of a distribution deal. The DIY approach is so empowering, and everyone deserves to tell their story. I was shocked that this type of filmmaking hadn't really taken off, but l'm super proud that l was able to help lead the way and introduce people to a new concept.
How was working with director Mohini Herse? Did the two of you find it challenging to create a series that would be compatible with the 60-second Instagram video limit?
HL: Mohini was amazing. I had already written the series by the time l met her, and I brought her on board as l felt that she understood my vision for the project, and how important it was to make sure that every single filmmaking element was utilized correctly and efficiently to tell the story in such a tight time frame. She is also extremely thorough and has wonderful judgment and foresight. Her passion and excitement for the project after one meeting was enough for me to know that we would work really well together.
I found it quite easy to write once l got the story and plot down, given the time limit. Because l didn't have any leniency on the 60-second limit, it really pushed me to strip back the dialogue as much as possible, and write punchier scenes. It was liberating, actually.
Once we got into the edit suite, it was really hard to choose which shots to leave in and which to cut, as we had so much beautiful coverage. Working with the editor Grace [Vaughan] was wonderful as she was seeing it with fresh eyes. Several of the episodes have been spread out across Part One and Part Two, as it became apparent that the characters or the story needed a little 'breathing space' that 60 seconds wasn't going to allow.
What skills or personal traits from your creative background did you find that you were meshing into this project?
HL: In my everyday life, l am really attracted to small, seemingly insignificant things that catch people or even myself off guard, and l am interested in the way people react to these things. I find it very endearing and mysterious. I thought about this a lot when l was writing the series and in my performance—l wanted these characters to feel really relatable and have this endearing quality, even though they were experiencing something not so relatable. I wanted my audience to feel as though this is how they might react if put in the same situation.
My background as a graphic designer definitely informed the design and lighting of the work. I am really obsessed with lighting and color and how it conveys mood and inner thought. My graphic design knowledge also came in handy when l was creating the Instagram tile motif that runs alongside the videos. It adds layers upon the story and acts as a more subliminal message to the audience—what they should be thinking about when they watch the videos, what clues they can draw from the tiles.
Personally, l am really fascinated by sci-fi, but l had never really seen a show that was targeted towards young women in this genre. I wanted to mesh the two, and thought about how l could still make it realistic. If this actually happened to me, how would l react?
Do you feel like this platform is a vulnerable move for emerging filmmakers? Or do you feel like you have an upper hand by using social media?
HL: I feel like this was an experiment in filmmaking, and with any experiment there is always a risk that it is not going to work. I had never seen a series with such short timeframes, which is what drove me to do it. I could have easily made my story into a short film, but it wouldn't have been quite the right fit.
The risk in releasing it on Instagram is that it's not typically a filmmaking platform, so people are not arriving at the app looking for a TV series. I hope that my show encourages other young filmmakers to look outside the box, trust themselves and their vision and take risks.
RM: Releasing this series on Instagram is an exciting decision. We currently have three other Instagram serials that will be rolling out over the next two months after The Out There. Hannah's vision from the start was to create a show for Instagram and there was never a question in our minds about this incredible platform.
What Adolescent Content's ultimate goal for younger generations and how will that adapt as social media changes?
RM: Our ultimate goal is for Adolescent to be a central studio for content made by youth for youth. We want to make exceptional content with exceptional talent. We are digitally native and live across all social media platforms. We don't see limitations, we see opportunities.
The Out There is now streaming on Instagram at @TheOutThere.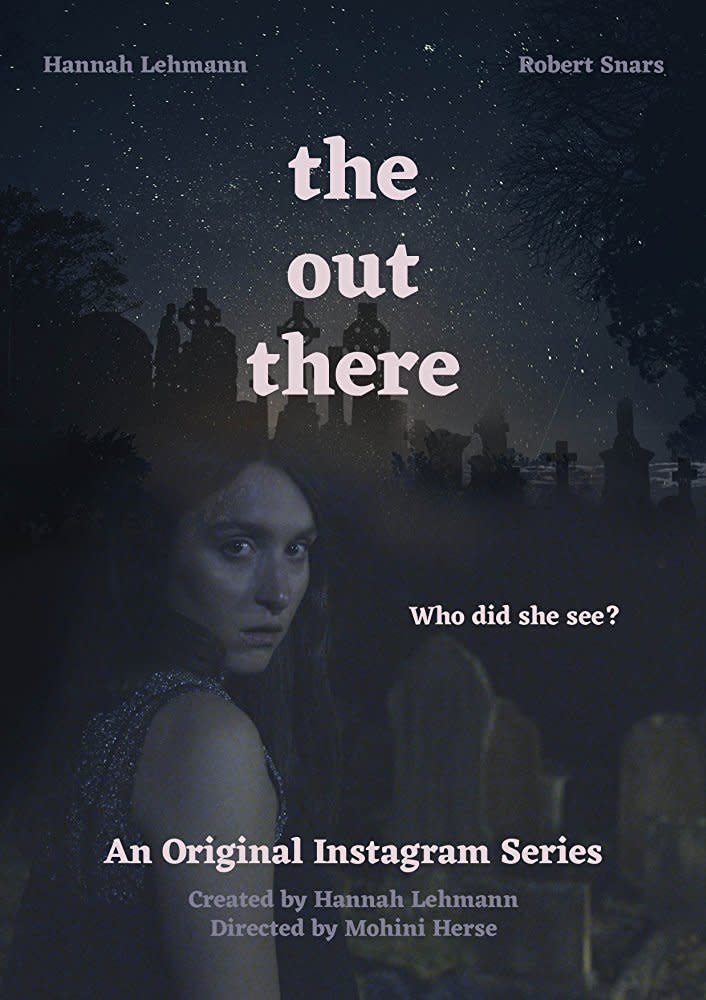 *Interested in more articles about filmmaking?
[Can You Match the Birthday Cake to the Correct Iconic Filmmaker?](/magazine/news/photography/henry-hargreaves-birthday-cake-filmmakers-photography)
[Filmmaker Dean Fleischer-Camp's New 'Fraud'](/magazine/features/photography/dean-fleischer-camp-fraud-interview)
[Award-Winning Cinematographers Explain Cinematography](/magazine/news/photography/what-is-cinematography)*