Quinton Cruickshanks is a Toronto-based photographer known for his bold and brightly colored photos of drag queens, queer activists, and gender-questioning fashion spreads. He sat down with Format to discuss his recent work, which is rooted in insights he's gained from members of his queer community. For Cruickshanks, photography is the first step towards political action. By highlighting and giving voice to a diversity of performers and models, he hopes to broaden our idea of beauty and gender, both through his commercial fashion work and personal art projects. We spoke about his upcoming solo project In Your Skin at Pamenar in Kensington Market through June 2019, his photos for the #EmpiresBall2019 and his ongoing blog project, Queer Me Out.
Format Magazine: Hi Quinton! Can you tell us how you got your start in photography?
I've been doing photography for about four years professionally now and I've been in Toronto for over five. I was in school but I realized it wasn't quite what I was looking for. I was going more towards a digital, fashion space, and the program was more fine arts based. I got a great foundation and was also able to take some sculpture/installation courses, which have played into the sets and props that I make now, adding to the production value to my work.
You've been getting attention for your campy photos of drag queens. How did you come to start this project?
I was approached by a queen named Sapphire Titha Reign when Riverdale was coming out and she wanted to be all three Archie characters. The colorful, pop work I am known for really worked with her idea. That was the first time I'd done photos with a drag queen. You get away with a little bit more than with fashion stuff because you can make queen into a whole character. A lot of the queens I know have history in the theatre and acting, so it definitely helps with being in front of the camera. In the span of an hour one queen can be five different characters. It's really become my most favorite type of photography I've been able to do. I love capturing a talented person in their creative element. I love creating a space that is welcoming to all types of drag, all types of artistry.
It's great working with the queens because they are always challenging me with how to work within my [studio] space. Like, with someone like Priyanka she'll say 'I want this and this in the shot,' but none of that's here. So, a lot of it is done with post additions. It's been a fun challenge to make the work not only for myself but have it live up to the creative vision of these amazing artists.
There is an overriding theme of gender fluidity in a lot of your work. Is this an intentional focus?
Gender fluidity is something I want to see more in my day-to-day. You see it a little more nowadays, which is really great to see. But when I first started it wasn't something I was seeing in the Canadian market at all. I like the idea of having a diverse representation. I thought, 'If I'm not seeing this I'm going to have to be the one to do it in a way that I would like to see it done.' I really didn't want to use anyone as a token, so it was important to make real connections in my community so I could engage people. Rather than seeing them as a muse, I wanted to feature someone else that is doing this work [in queer activism] too. It's a very wide open community and in fashion, we were looking at a very small portion of it, so it's been nice to try to broaden the range a little more.
Can you talk about your blog project?
My blog, Queer Me Out, has been in the works for a while, like two years. I wanted to profile people within the queer community. Will Lavinia was someone I knew I wanted to work with. He was someone I connected with recently and just having a conversation with him changed the way I was thinking about a lot of things. I knew he was really someone I needed to work with and pay attention to. The idea of the blog was that I wanted to talk to people from different walks of life, whose shoes I'm never going to be able to walk in and understand myself, and have an open conversation about sexuality and sex in general. I wanted to talk about things that people aren't always able to speak to so much with certain minority groups and have a huge spotlight on.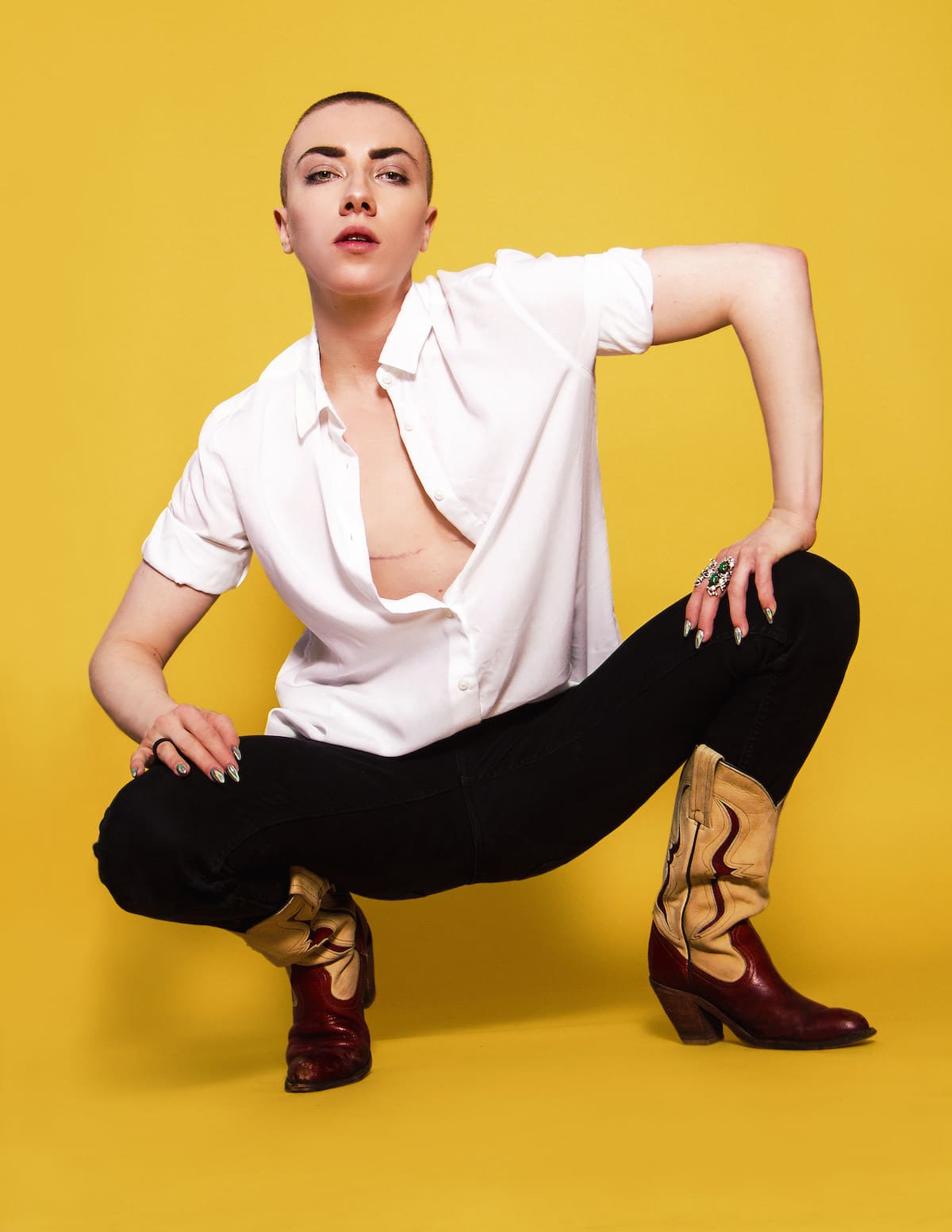 Growing up my family wasn't very political. As I get older, I've become a lot more aware. And with the political climate lately, with all the Trump stuff especially, so much of it is relevant to my life as a gay person. So many people do not have basic rights. If I could wish for one political action I think it would really just be to wish for more kindness. Simple acts of kindness could go a long way. It's scary that a lot of people in power don't seem to understand that. I've come to realize that the more I'm aware, the more I know I need to fight. It's great to have support, to have allies, but if people could be more aware of the communities around them there would be a lot more purpose in their political action. I want people to know that there are little things you can do, little acts of kindness, even if it's just paying attention to someone you didn't recognize before, that makes a big difference. Humanizing each other, being aware of each other.
What is the In Your Skin Project about?
Style Circle just put out a new magazine called The Book. The latest issue is all about intersectionality, inclusion, and they included me because those topics connect so much with what I do.
I wanted to use it as a sneak peek of my project "In Your Skin," which is going to be on display at Pamenar in Kensington [in Toronto] for the whole month of June. It's a twelve photo series, doing what I normally do, giving a spotlight to the queer community and showing the diversity within it. There are six photos in the magazine of Will, Rachel, Akira, and Victor with a little blurb of why I chose to work with them. This spread and the show in June came out of being inspired by all four of these people and their stories around identity and visibility.
I thought it would be cool to get them all together into one project. Will is someone who has creatively and politically inspired me—that that was sort of the start for the project. And then there was Rachel, who is a musician and activist in the queer community who is very concerned with accessibility because they themselves use a cane. They have a visible disability. They signed to a modeling agency and they are the only model I've ever seen who has a visible, physical disability and is being represented in the fashion industry here. Many people have disabilities which you can't see or they don't show, so it was just really amazing to see someone who embraces this as a part of themselves. They have this ability to make these really amazing photos and embrace their body in a really inspiring way. Where some people would probably look at them as disadvantaged, they are really accepting of their mobility and embrace it as a part of their life and what makes them unique.
What are you working on next?
I'm doing photos for the #EmpiresBall2019, a drag ball that's sponsored by Absolut Vodka. The ball is starting this month. It'll be drag house against drag house, groups of queens battling it out. It's going to be at a number of bars around the city; the Beaver, Crews and Tangos, the Drink, mostly Church Street bars and Queen Street West. It will go on for most of the summer, culminating in a final battle at the Pride Parade and a cash prize.
Drag is such a fun artwork to play around with and there are so many different types of drag. It's nice to see it becoming more main-stream and finding more outlets because drag relates to so many different parts of culture. Now you see corporations using drag queens as spokesmodels, drag queens doing story time in the libraries, music videos, movies, they're walking red carpets at festivals—queens are part of our everyday life now and it's great to see. On June 14th I'll also have some of my work up in the ROM as part of Colour ROM Proud. It's part of an evening event, it's not full display, but just the idea of having my work in that building is really exciting. They are doing their Pride party and will have some of the drag photography up.
I'm a person who's inspired by meeting people and talking with people. You take those conversations and tear them apart a little in your head and each bit becomes a little part of how you are thinking. So much of what I do, or who I want to be, is about surrounding myself with the right people. For me, it's the best way to go about my art.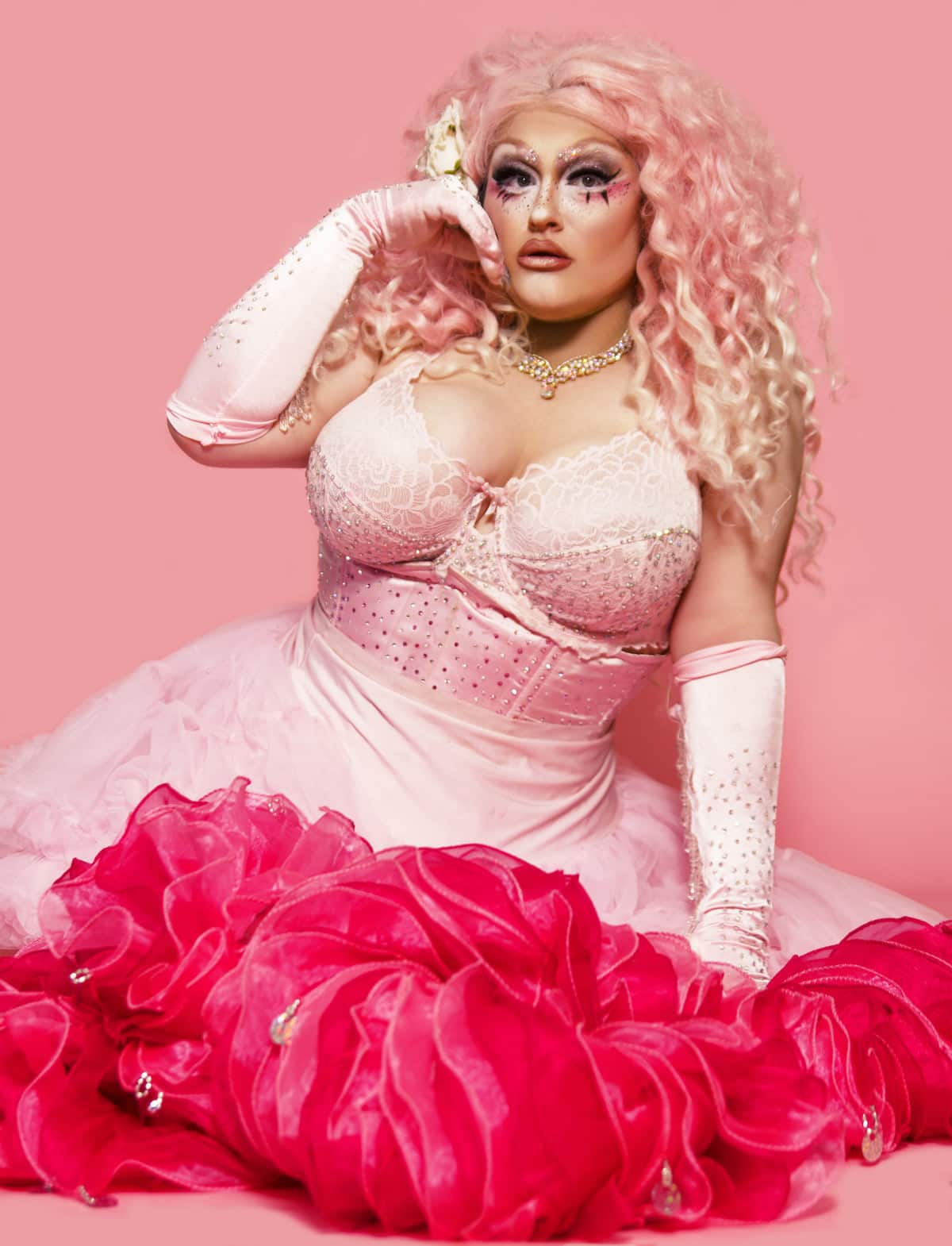 Read more photography stories:
These Photographers are Stripping Gendered Censorship of Its Power—Literally
Why I Photograph Drag Queens in Beijing
Meet the Sports Photographers Knocking It Out of the Park