Going full-time freelance as a makeup artist can be intimidating, but creating an online portfolio for your work is a simple step on the path to professional success. Even if you don't have an extensive makeup portfolio yet, a professional-looking website that features a few standout shoots can help get you noticed online and shows that you're serious about building a career in makeup.
If you're beginning to build a solid audience on Instagram or Facebook, having a website you can direct people to is the best way to let your network know more about your work and what kind of jobs you're interested in. The design and curation of your makeup artistry portfolio can instantly give viewers a feel for your aesthetic.
The Ideal Makeup Artistry Portfolio: 19 Makeup Portfolio Ideas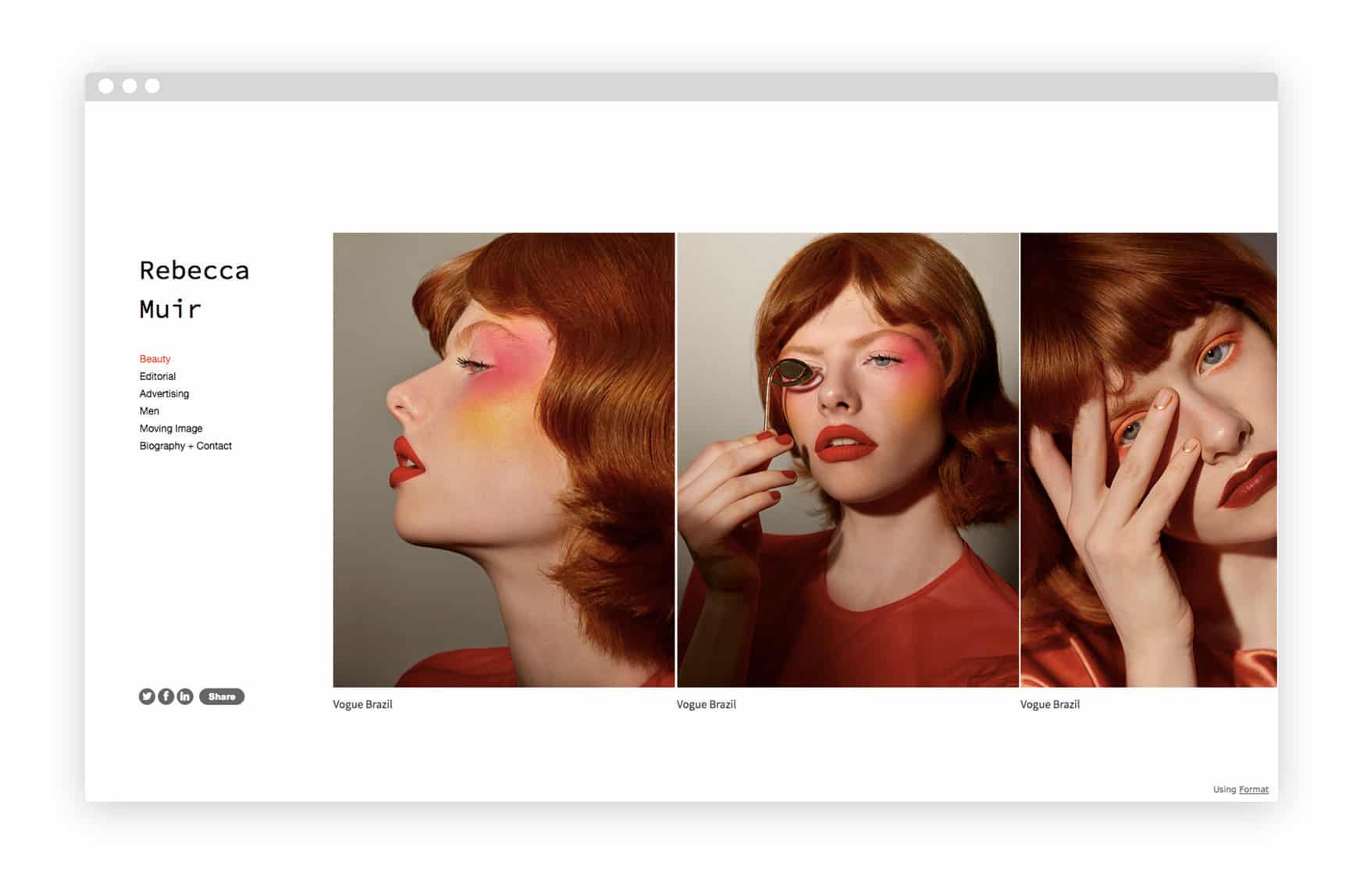 Rebecca Muir
Now based in London, British-born makeup artist Rebecca Muir kickstarted her career when she landed a job with Pat McGrath. She's assisted on shows including Dior Couture, Valentino, and John Galliano, and worked with publications like Vogue, Elle, and L'Officiel. Muir's portfolio begins with a stunning shoot for Vogue Brazil, instantly introducing the viewer to her bold work.
You also might notice in this example, Muir separates both her fashion and her beauty-focused work into separate sections, so that her makeup portfolio can stand out from her fashion work. This is an excellent option for those looking for makeup portfolio ideas that allow you to highlight different passions and skills.
www.rebecca-muir.com
Format Theme: Horizon Left
Janice Daoud
Janice Daoud introduces her makeup artistry portfolio with a clean grid showing some of her strongest shoots. On her About page, Daoud offers a snappy overview of her experience, which includes celeb clients like Kim Kardashian, Rihanna, Miley Cyrus, and Hillary Clinton. Daoud has also worked on an incredible roster of runway shows, as well as for brands like Fenty Beauty, Nars, and Everlane.
www.janicedaoud.format.com
Format Theme: Monocle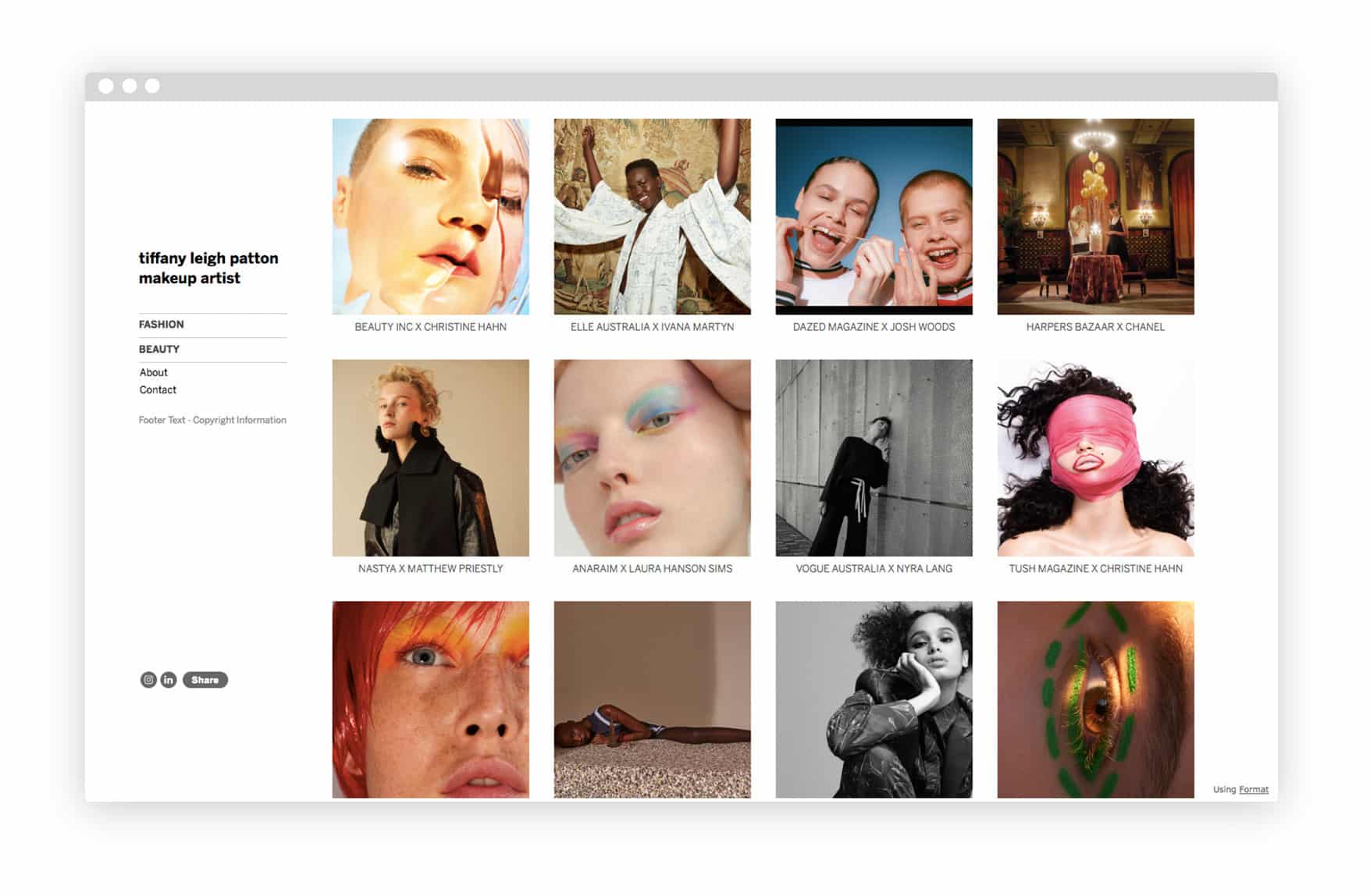 Tiffany Leigh Paton
On her makeup artistry portfolio, Tiffany Leigh Paton showcases an overview of her work with a grid-based homepage. Text captions under each image give a feel for the calibre of Paton's clients, which include Harper's Bazaar, Dazed, NY Magazine, and more. Living and working in New York and LA, Paton's makeup work tends to be creative and colorful.
www.tiffanyleighpatton.com
Format Theme: Horizon Left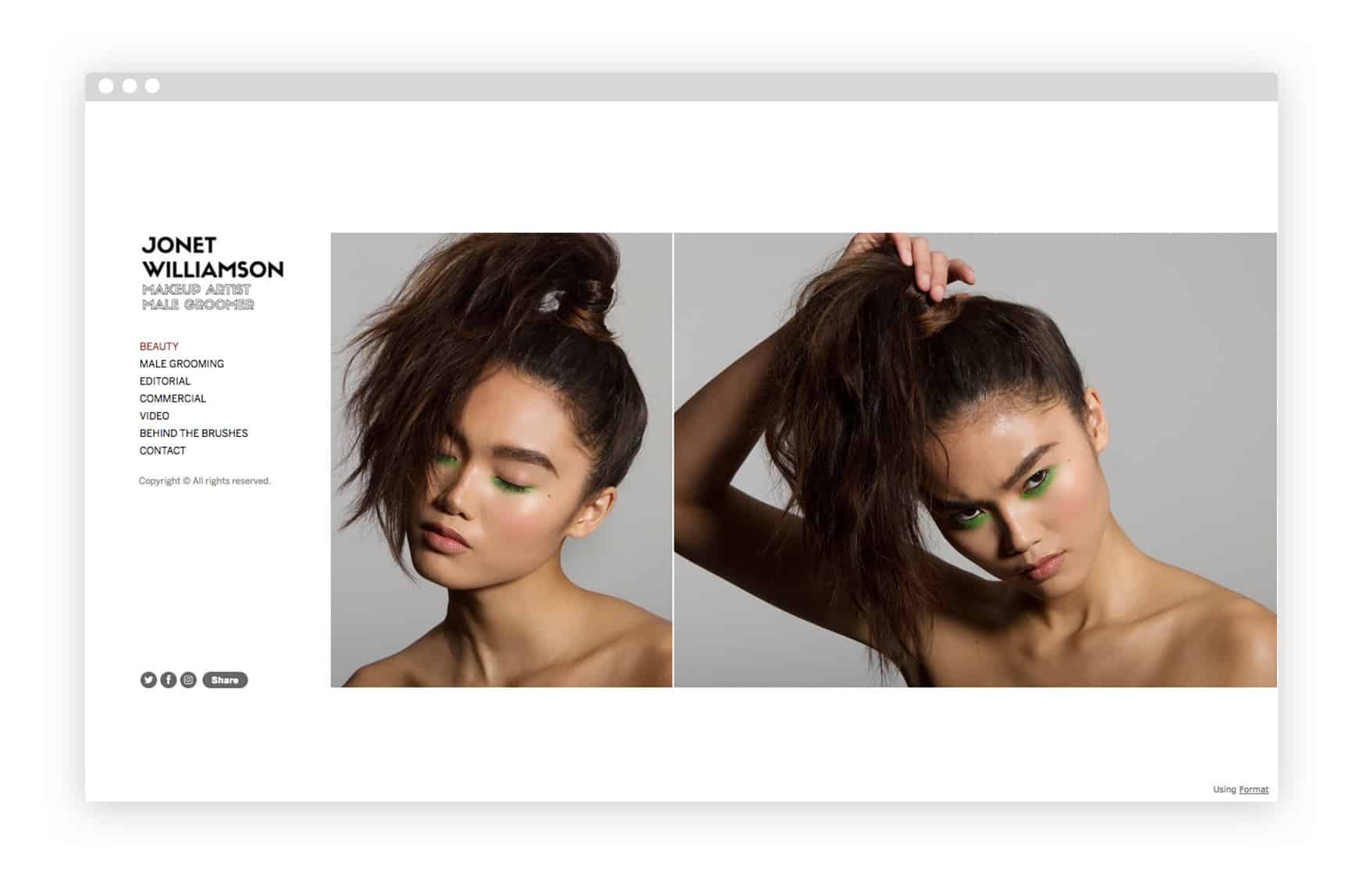 Jonet Willamson
Jonet Williamson introduces herself with a simple custom logo that adds personality to her makeup artist portfolio. A clean-lined horizontal scroll lets viewers explore her work with ease. Based in New York, Williamson's client list is like an A-to-Z of MUA career goals, including everyone from Adidas to Glossier to MTV.
www.jonetwmakeup.com
Format Theme: Horizon Left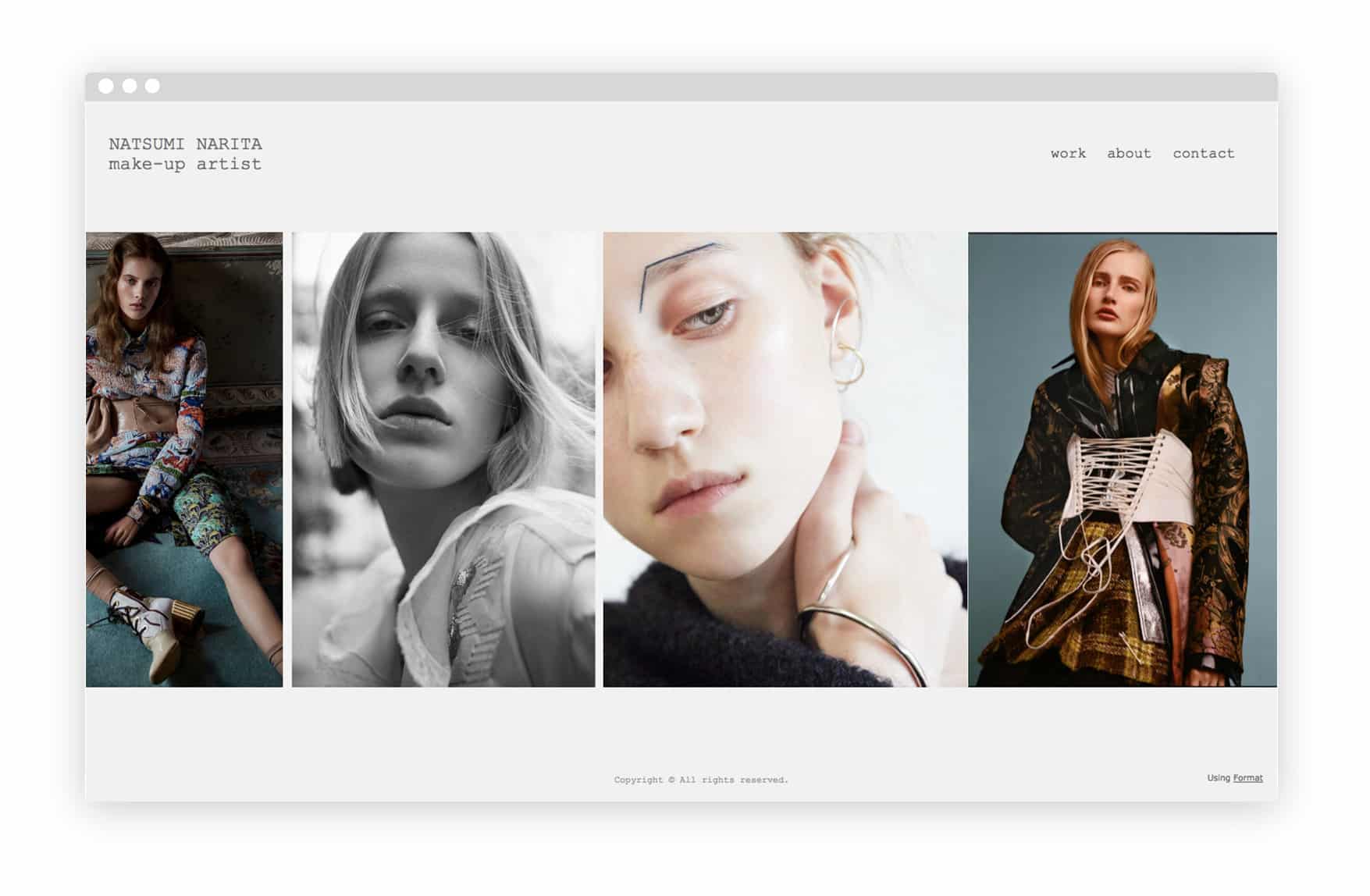 Natsumi Narita
A soft grey background adds a memorable touch to Natsumi Narita's makeup artist portfolio. Narita works with a fashion focus, teaming up with brands like Asos and Topshop, as well as magazines like Elle and Vogue. Narita's website features a quick homepage gallery that introduces her work. Viewers can then click through to see more of her archive.
www.natsumi-n.com
Format Theme: Horizon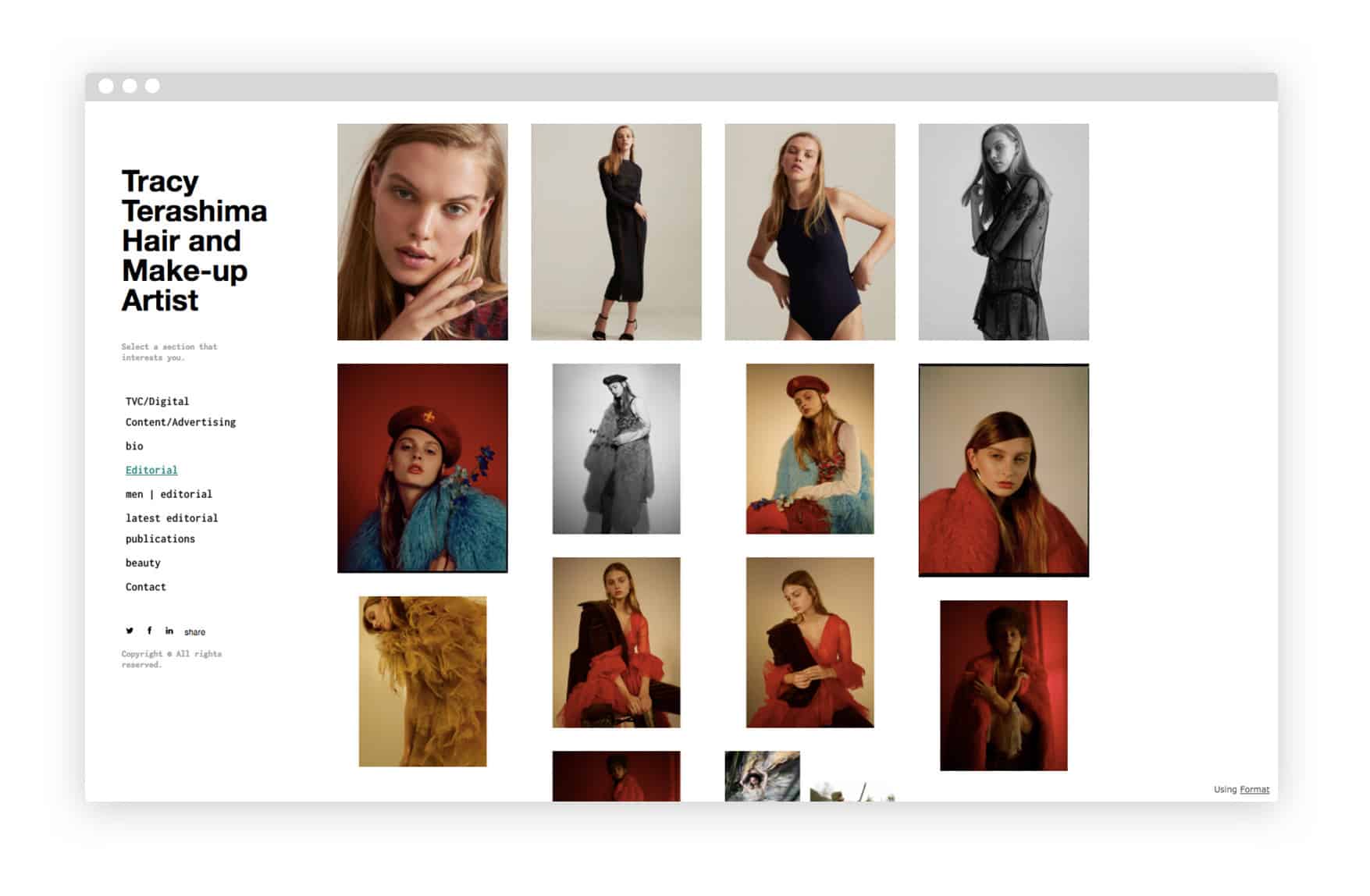 Tracy Terashima
Makeup artist Tracy Terashima has had an eventful career. Starting out as an actress in her native UK, Terashima later moved to Tokyo and then Sydney, where she discovered her passion for makeup while working as a beauty therapist. She went on to work on makeup for a range of TV and film productions. Terashima's makeup artist portfolio features a collage-inspired layout which gives a quick look at her overall experience and style.
www.tracyterashima.com
Format Theme: Peak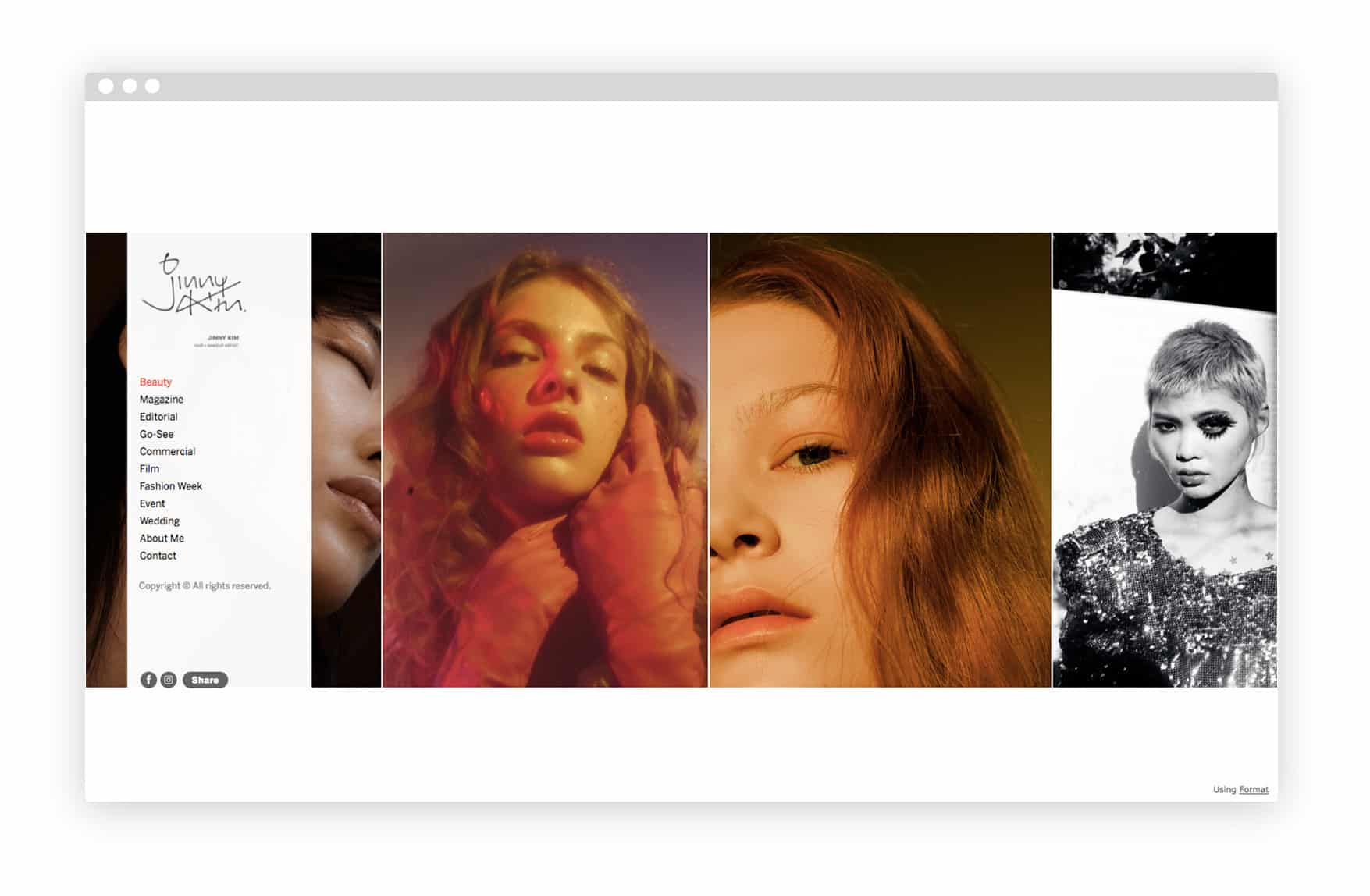 Jinny Kim
A bold editorial photo introduces MUA Jinny Kim's online portfolio. Click through to find her Beauty gallery, organized in a horizontal scroll which gives the viewer a seamless view of Kim's work. Based in London, Kim also works with hair. Her website shows a variety of bold looks for editorial shoots, commercial work for clients like Vans, Lazy Oaf, and Fila, as well as wedding and event work. Kim uses a neatly organized sidebar menu to keep her wide range of work easy to access. For someone looking to show off their versatility, this is an excellent makeup artist portfolio sample.
www.jinnykimmua.com
Format Theme: Horizon Left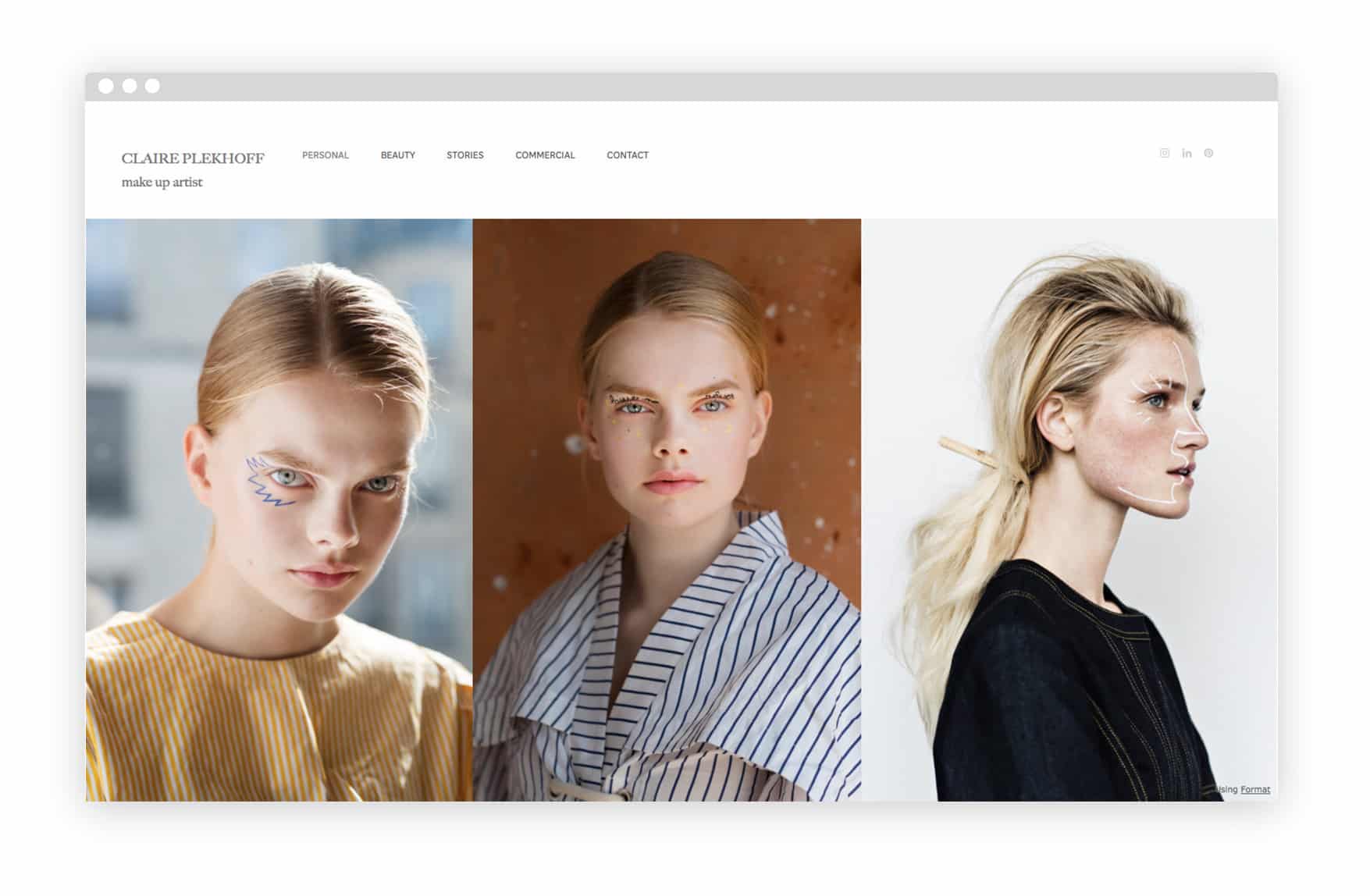 Claire Plekhoff
Makeup artist Claire Plekhoff counts brands like Jil Sander, Ralph Lauren, and Uniqlo among her clients. Her work tends to have a clean and minimal style which is perfectly matched by the classic font and ample white space of her online portfolio. Plekhoff introduces her personal work on the first page of her website, giving instant insight into the kind of makeup she does best.
Christina Rufino
Makeup and hair artist Christina Rufino has worked with a number of great clientele in Toronto, such as Martin Short, Our Lady Peace, Rick Campanelli, Ivana Santilli, and Marc-Andre Debruyne. Her work has been featured on Much Music, MTV, Toronto Star, Now Magazine, National Post, TVO, CBC, SYFY and HBO. Christina's online portfolio website features captivating images of her stunning looks. Organizing her work with different categories, each image of her work is placed in the spotlight on fullscreen.
http://www.christinarufino.com Format Theme: Sun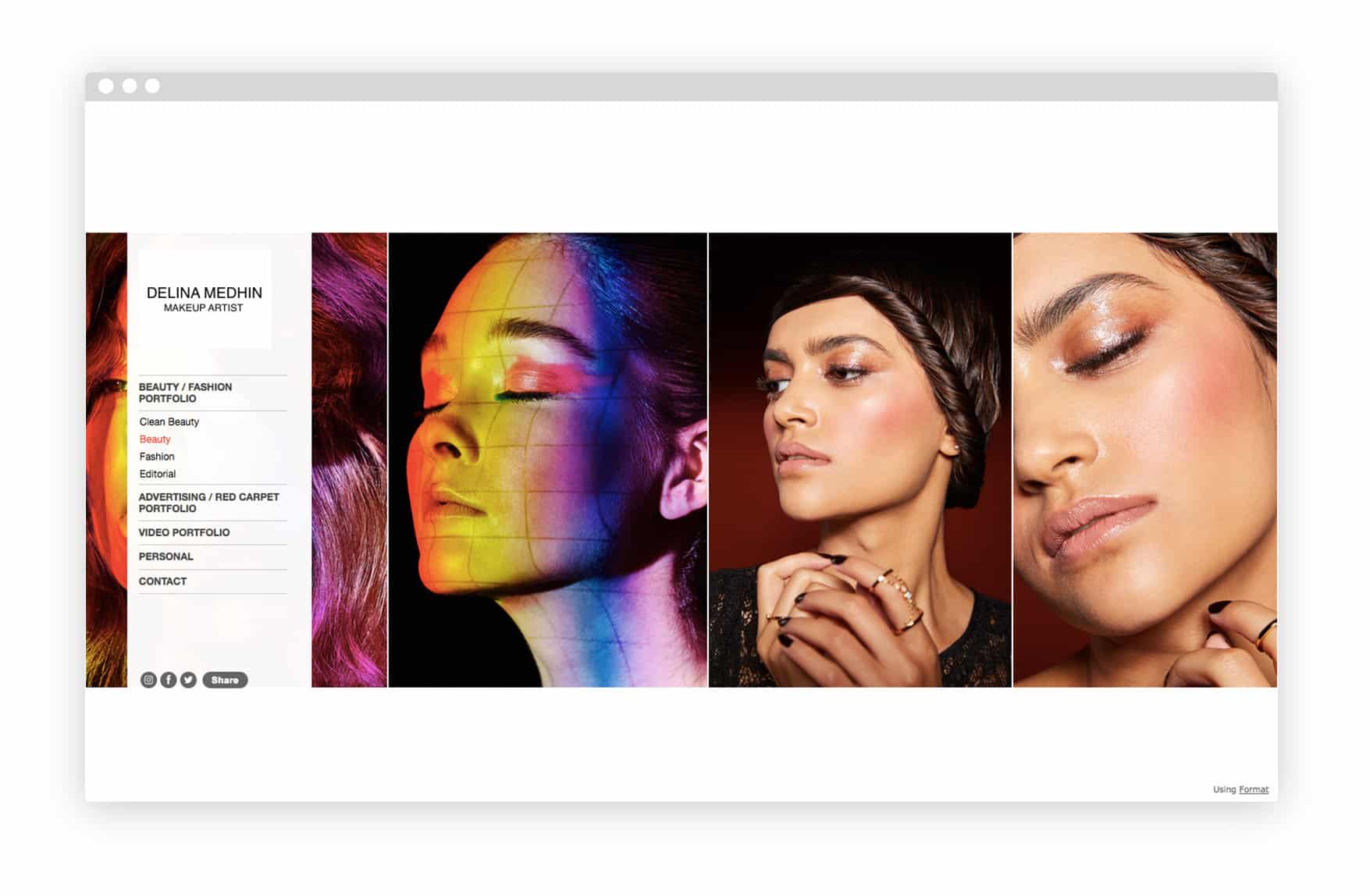 Delina Medhin
Delina Medhin grew up obsessed with recreating the beauty looks she saw in magazines, and began working for MAC when she was just 19. Since relocating from North Carolina to New York, Medhin has worked with HBO, Comedy Central, Essence Magazine, and Amazon. Medhin keeps her makeup artistry portfolio professional with a personal section that includes a detailed bio, resume, and links to her popular YouTube channel.
www.delinamedhin.com
Format Theme: Horizon Left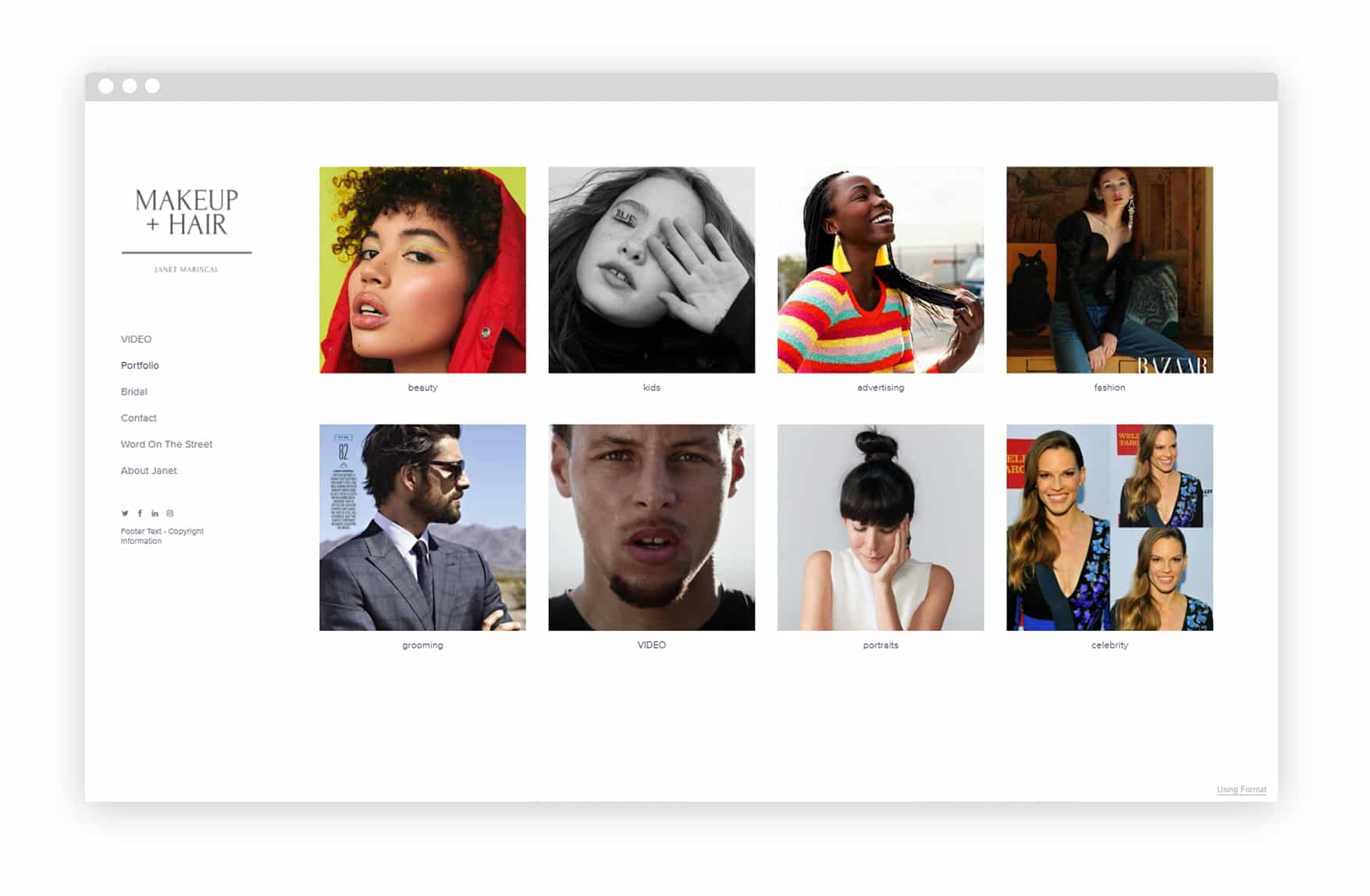 Janet Mariscal
With features in Marie Claire, Esquire, BlackBook and more, Janet Mariscal is a professional makeup and hair artist that brings out the natural beauty in all her clients. Mariscal's online portfolio is showcased in a grid-style layout that allows visitors to easily explore her expertise and work. From advertising to celebrity work, you can easily explore Mariscal's amazing work through the galleries.
https://www.janetmariscal.com Format Theme: Peak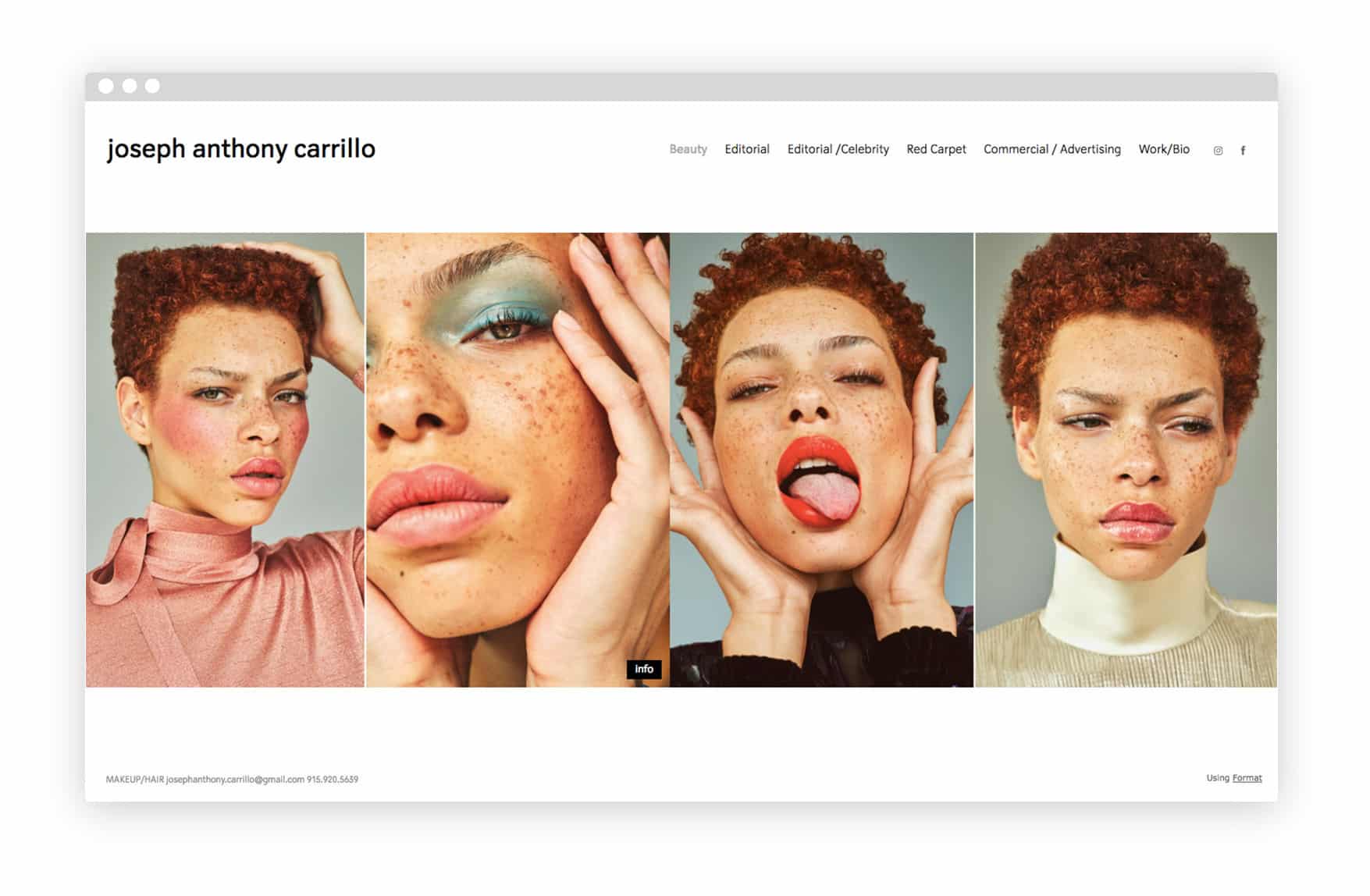 Joseph Anthony Carrillo
Makeup artist Joseph Anthony Carrillo has done red carpet looks for celebrities like Paris Hilton, Uma Thurman, Pryanka Chopra, and Alexa Chung. He also counts Christian Louboutin, Opening Ceremony, Oscar de la Renta, and many other brands among his clients. Carrillo keeps things classic on his MUA portfolio, with a horizontal scroll that showcases clearly organized galleries of work with titles like Editorial and Red Carpet.
www.josephanthonycarrillo.com
Format Theme: Horizon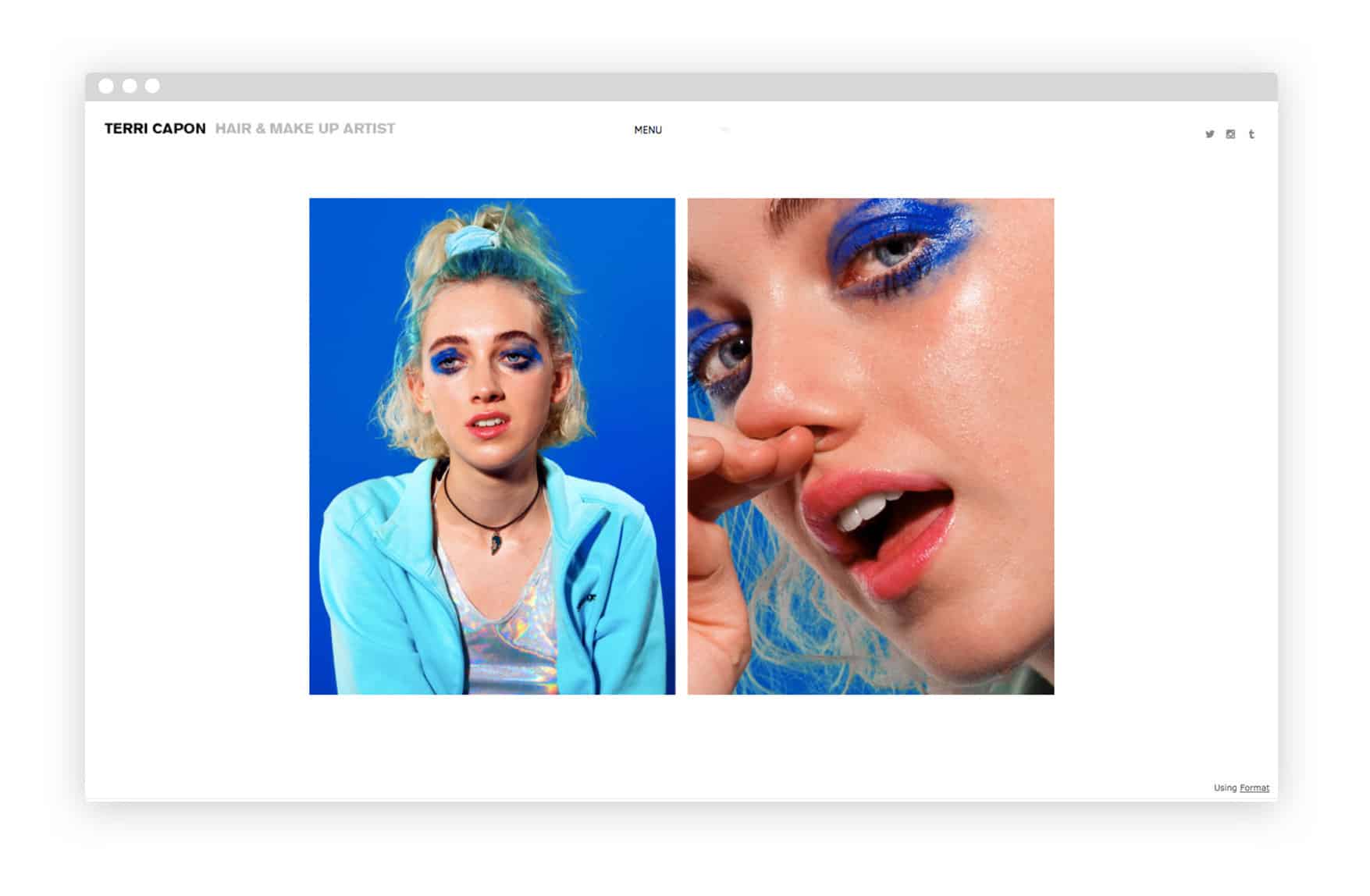 Terri Capon
Terri Capon's hair and makeup artistry portfolio is just as daring as her work, with lots of white space. Capon displays one image at a time, asking viewers to spend some time considering her work instead of rapidly scrolling through. A drop-down menu at the top of the page allows easy access to different galleries without taking away from Capon's imagery.
www.terricapon.com
Format Theme: Slate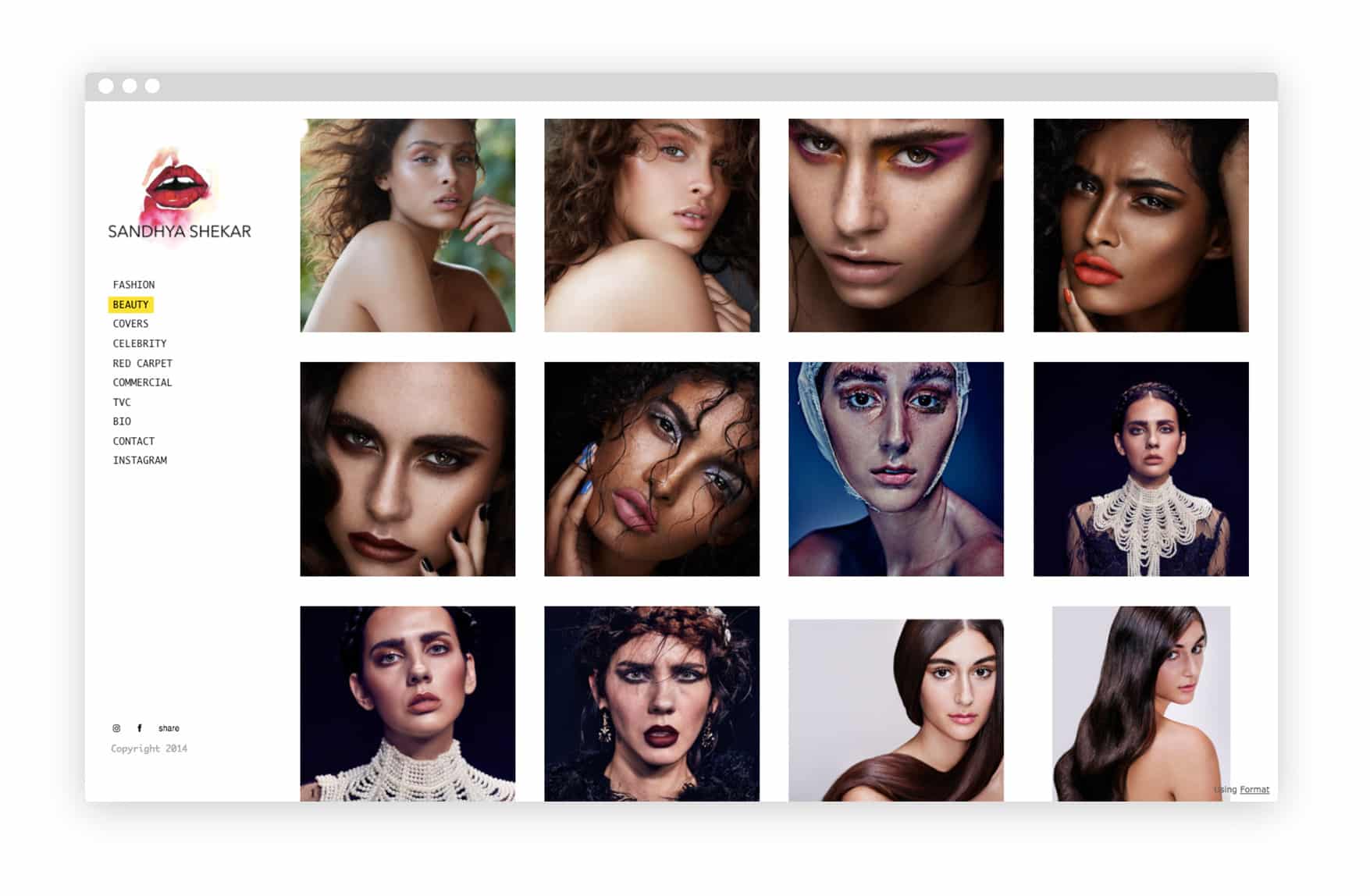 Sandhya Shekar
If you're looking for a portfolio for a makeup artist who isn't afraid to show personality, Sandhya Shekar is it. She adds personality to her MUA portfolio with a funny and intimate bio which shares her childhood passion for makeup as well as how excited she is about her latest Hollywood client, Rosario Dawson. Since beginning her full-time makeup career in 2010, Shekar has worked with big names in both Hollywood and Bollywood, as well as with publications like Vogue, Harper's Bazaar, and Marie Claire. Shekar's unique logo adds another memorable touch to her makeup artistry portfolio, which is laid out in a grid that offers an overview of her work.
www.sandhyashekar.com
Format Theme: Order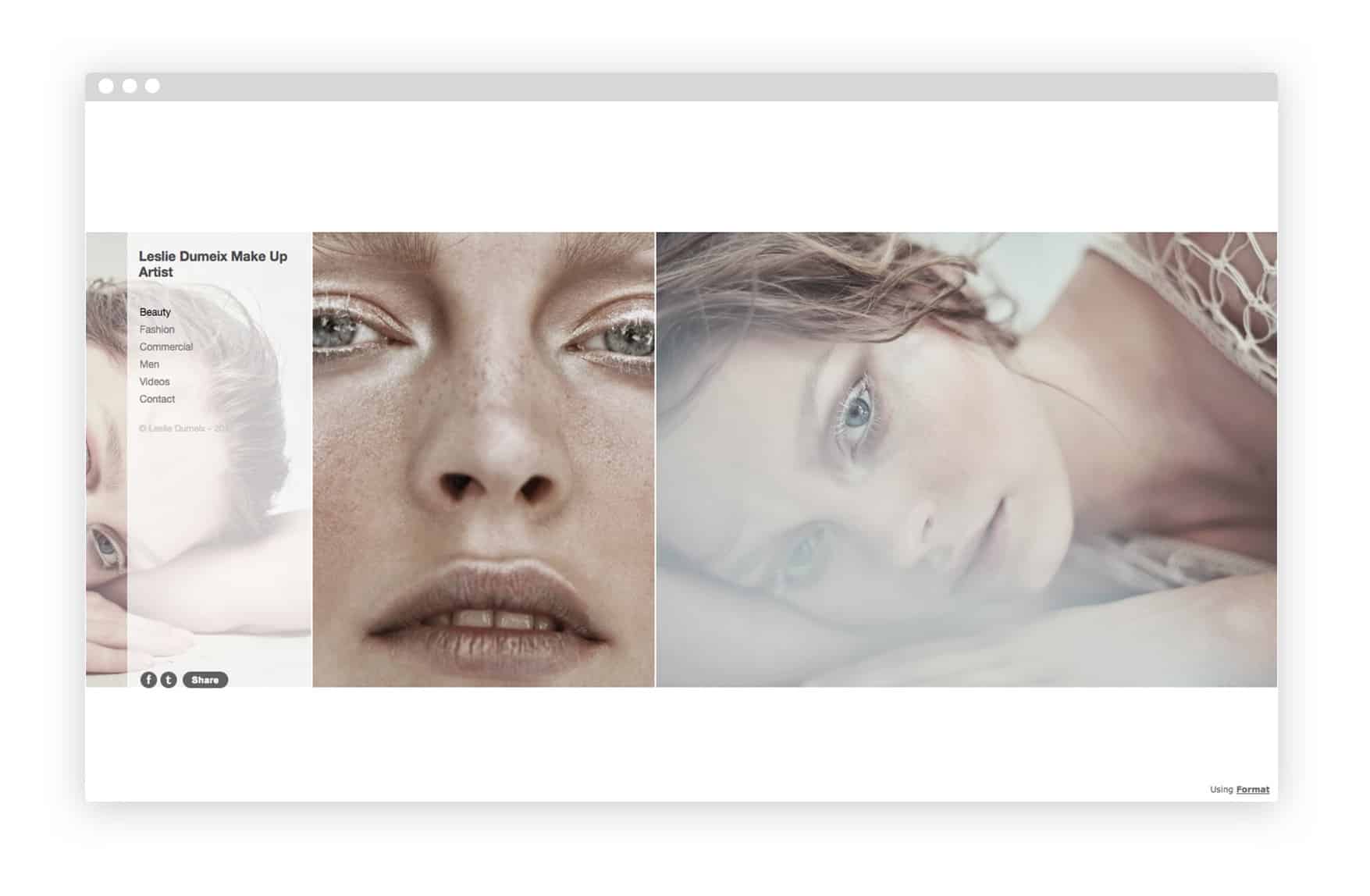 Leslie Dumeix
Makeup artist Leslie Dumeix keeps her portfolio minimal and classic, letting the focus stay on her art. Dumeix has worked with clients like Swarovski and Converse. Her makeup portfolio has a feel that's both creative and high fashion, mixing artistic shoots with commercial projects.
www.lesliedumeix.com
Format Theme: Horizon Left
Danny Defreitas
London-based makeup artist Danny Defreitas has an online portfolio that's just as glam as his work, featuring a flashy gold logo and menu. Defreitas has worked with a range of celeb clients, including Rita Ora and Karlie Kloss, as well as a roster of brands that includes Asos, Coca Cola, Urban Outfitters, Levis, and many more. His makeup artist portfolio showcases standout images one at a time for a curated feel.
www.dannydefreitas.com
Format Theme: Foray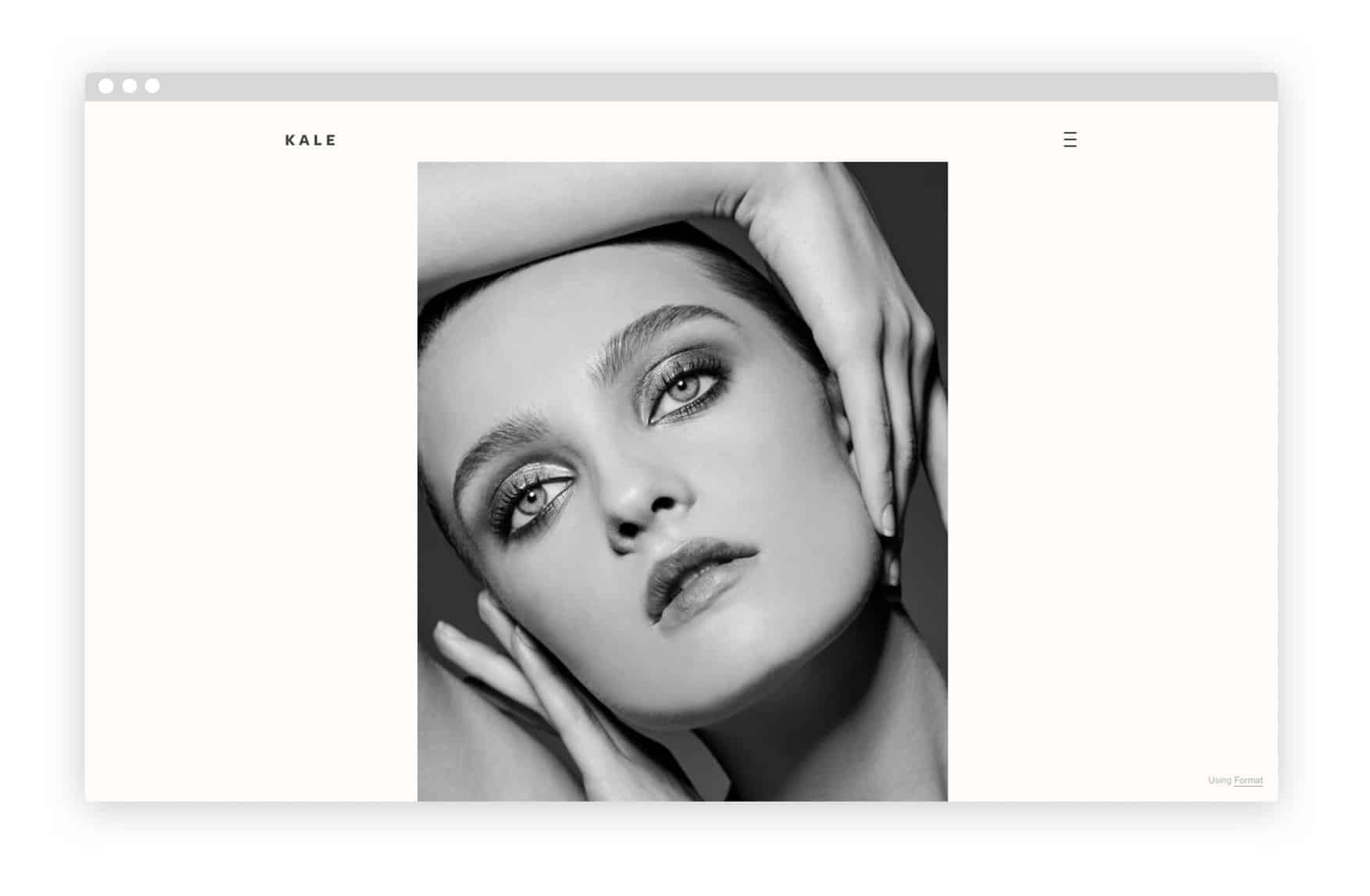 Kale Teter
After Texas native Kale Teter won a makeup competition in 2011, his career really kicked off, eventually leading to a position assisting renowned makeup artist Hung Vanngo in New York. Teter is now a full-time freelance makeup artist in New York. A soft pink background gives his MUA portfolio a calm and composed feel, with a vertically scrolling gallery showing a well-curated overview of his work.
www.kaleteter.com
Format Theme: Albers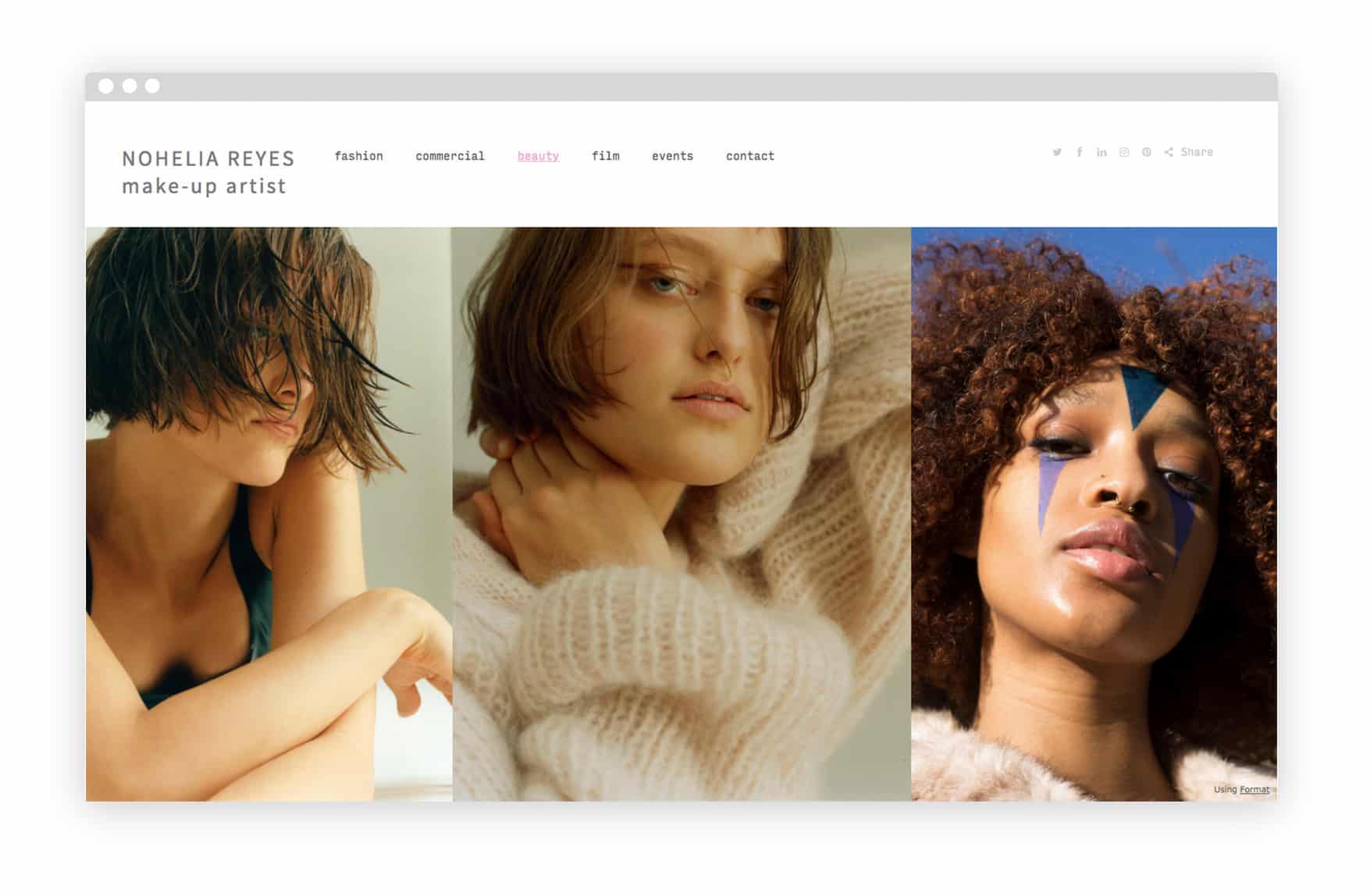 Nohelia Reyes
Working across fashion, events, and music, freelance makeup artist Nohelia Reyes is based in London. Reyes has a varied client list that includes Ikea, Puma, Sotheby's, and the National History Museum. Her minimal portfolio features large-sized images in a horizontal scroll, with a header menu that neatly includes all her social media links.
www.noheliareyes.com
Format Theme: Panorama
Jen Fiamengo
Makeup artist Jen Fiamengo describes her style as "creative yet classic and always refined." Her timeless looks have been seen in shoots for brands that include Calvin Klein, Levis, Gap, and Tommy Hilfiger. Fiamengo showcases her makeup artistry in just two carefully curated galleries, laid out in a grid format. Jen is a great example of how keeping your makeup artist online portfolio brief can help in showcasing your best work to help leave a lasting impression.
www.jfmakeup.com
Format Theme: Monocle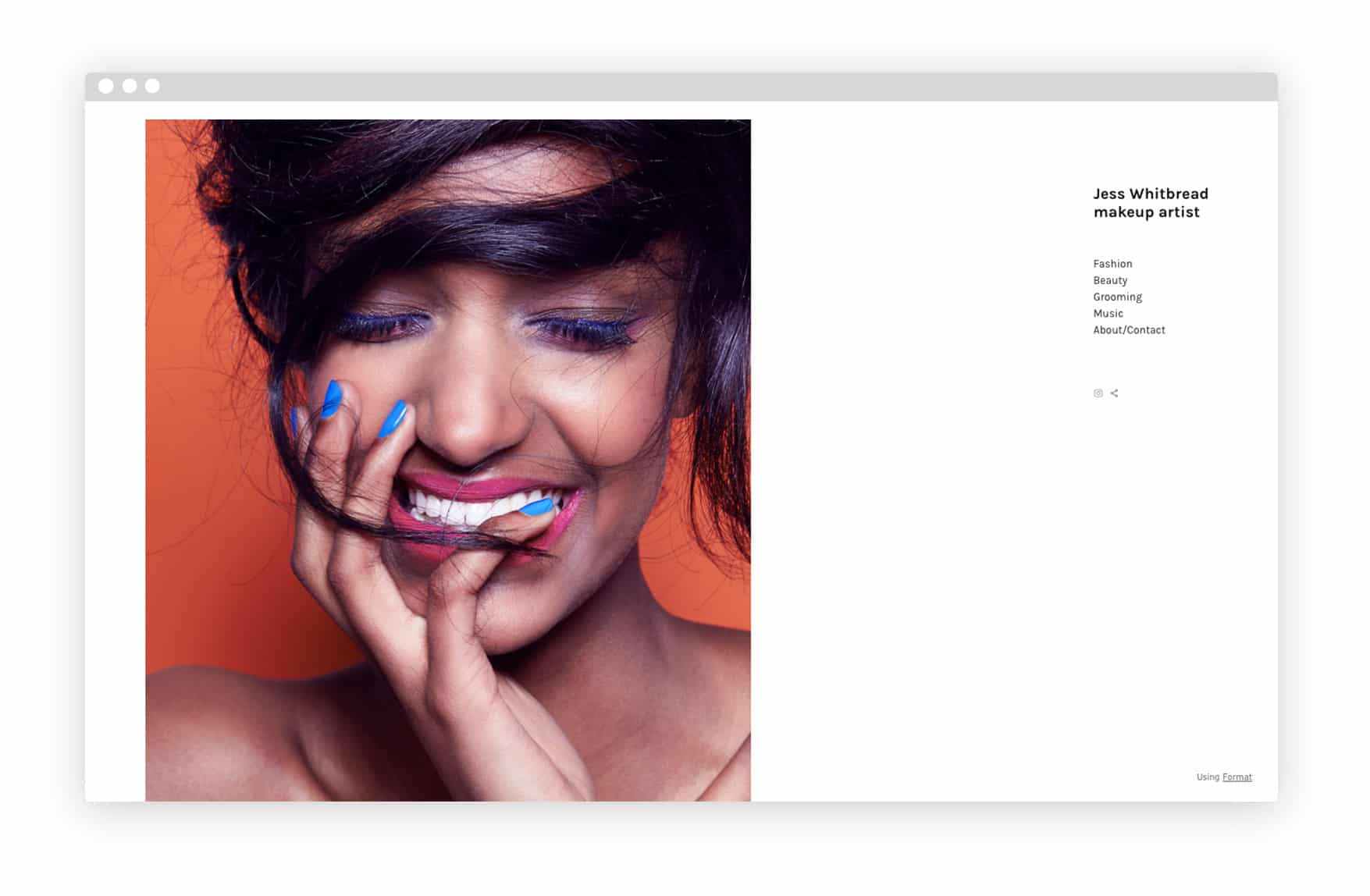 Jess Whitbread
Cover image via Tiffany Leigh Patton, featuring Laura Hanson Sims.
Want even more online portfolio inspiration? Take a look at more of the most inspiring websites built using Format.
How To Make a Portfolio for Makeup Artists: An Overview
We hope we've answered your questions about how to build a makeup portfolio, or at least given you the inspiration you need to start thinking about which makeup artist portfolio examples you want to start incorporating into your website.
Remember: Everything from your makeup portfolio layout to the fonts and colors you use on your website can impact the kind of client you attract.
Attract clients who will be interested in your work and skills by building a portfolio and website that reflects your style. Do this and you're well on your way to creating a strong, professional makeup portfolio.
How To Define The Aesthetic For Makeup Artist Websites
Makeup artist portfolio ideas should always start from your aesthetic and the style of makeup you typically gravitate towards.
For instance, when we're browsing makeup artist portfolios, a refined and polished website can signal that we're looking at an expert when it comes to classic looks, while a futuristic and bold portfolio might be the perfect fit for a special effects makeup artist. In addition, a simple, minimal website could be a good choice for a makeup artist specializing in natural looks and clean beauty.
Every aspect of your makeup artist online portfolio, from the fonts and colors you choose to the layout you create, will help give viewers an understanding of who you are as a makeup artist.
What Should My Makeup Artist Website Include?
In addition to being a space where you can showcase your professional style, your makeup artist portfolio should also highlight your experience and achievements. Listing previous clients and publications is a great way to demonstrate the caliber of your work.
If you haven't worked with many clients yet, you can make the most of your portfolio by sharing what kind of work you're looking for.
Regardless of your experience, adding a brief biography is always a good way to introduce yourself to potential clients. Make sure your contact details are clearly listed on your makeup portfolio as well, so people can easily get in touch.
Still not totally sure what your website should include or what your portfolio should look like?
Lucky for you, before you begin designing your own portfolio, we have a list of artists to give you some visual inspiration.
From established pros who've worked with clients like Kim K and Karlie Kloss, to emerging talents who show major promise, all these makeup artist portfolio examples should give you a major burst of inspiration to put your own makeup portfolio ideas into action.