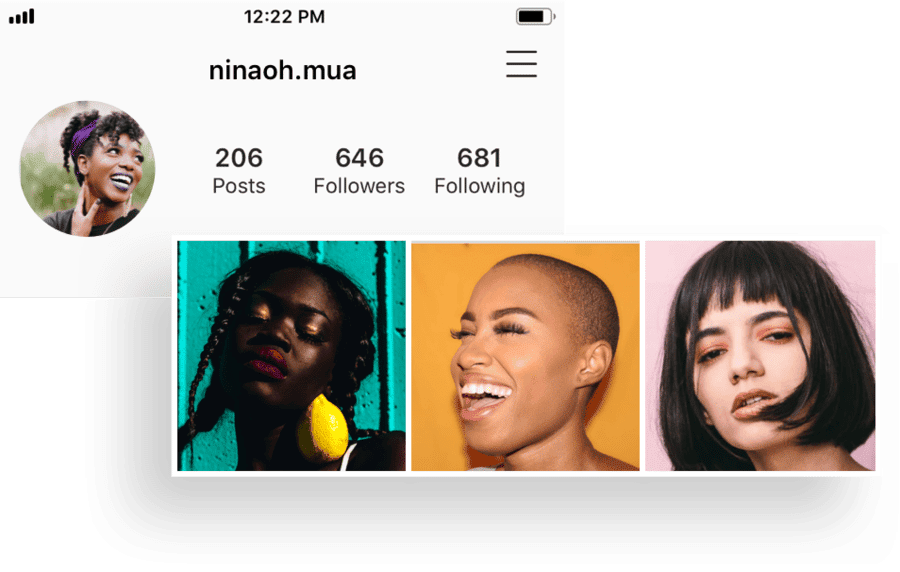 How to Edit a Professional Makeup Portfolio
Whether you're putting together a physical portfolio or a digital one, here are three important things to keep in mind:
Choose Your Photos Wisely
A portfolio website is a place to display your very best work. Always aim for quality over quantity by narrowing down your samples to 10 to 15 pieces that really exemplify your talent and brand.
Also, remember that first impressions last! When organizing your photos, make sure to make the first photo on your portfolio your strongest piece. Use your second best photo in the last spot, so that you leave a lasting impact even after they've left your website.
What makes a great photo? Always choose high quality, high-resolution photos with ample lighting. Put work done for big brands and publications, well-known photographers, and influential models at the start of your portfolio, and work done with lesser-known folks in the middle. Once a client sees that you've worked with major players in the beauty industry they won't need to scour your website for any more proof of your legitimacy!
Keep Things Organized
Are you something of a jack of all trades? Can you do looks for weddings, high fashion shoots, commercial projects, and even theatre and cosplay? A diverse portfolio can help you build a more diverse clientele.
However, you can't just display all your work willy nilly. You need to keep your portfolio organized into separate pages and galleries so that different clients can easily find what they need from you.
So, if you have a bride-to-be on the lookout for a makeup artist for her wedding entourage, she should be able to find your weddings page and easily scroll through photos of your past wedding looks there.
Don't Be Afraid To Talk About Yourself
In your About page write up, it's vital to detail your experience as an artist by talking about your academic background, internships, and high profile projects you've worked on in the past.
But this doesn't mean it has to be all business. Don't be afraid to talk about yourself on a more personal level too. Familiarity breeds trust, so let potential clients know you as a person, not just as a makeup artist. Talk about your interests outside of makeup artistry, but also try to find a way to link it all back to your work. For example, you could talk about your interest in graphic design, doing commissions for tattoo work, or your small skincare business.