No matter what kind of creative work you do, there's nothing like a well-curated collection of interesting imagery to get your artistic process going on those days when you need a little motivation to get to work.These fashion stylist portfolio examples will give lots of ideas for how you can give your online presence a unique edge.
There's no question that a well-designed and responsive online portfolio is a powerful asset in your fashion stylist career. However, starting from scratch can be a daunting task. Getting inspired by portfolios of others who work in your field will not only give you tons of ideas for your next styling gig, it will also help you plan out what to include in your portfolio.
Your Guide To Creating Killer Stylist Portfolios
Our fashion portfolio builder was made by creatives for fashion photographers, models, and creatives of all stripes. As the home of some of the world's top stylists and photographers, Format Magazine has a treasure trove of lists of artists that will inspire your next project.
After checking out this curated list of fashion stylist portfolio examples, we know you'll be inspired to start bringing your own portfolio to life. If you are a fashion photo stylist, model, or other fashion-focused professional, these fashion styling portfolios are sure to make you excited to get to work.
As you go through each wardrobe stylist portfolio, make notes of the elements you like. Even if their overall style is different from your own, you can still borrow ideas from works well in each of the stylist portfolios. By the end of the article, you'll have a long list of ideas to get you started in greeting your own portfolio.
Cover image: styling by Sean Knight for Wonderland Magazine. Mette Towley photographed by Jacqueline Harriet.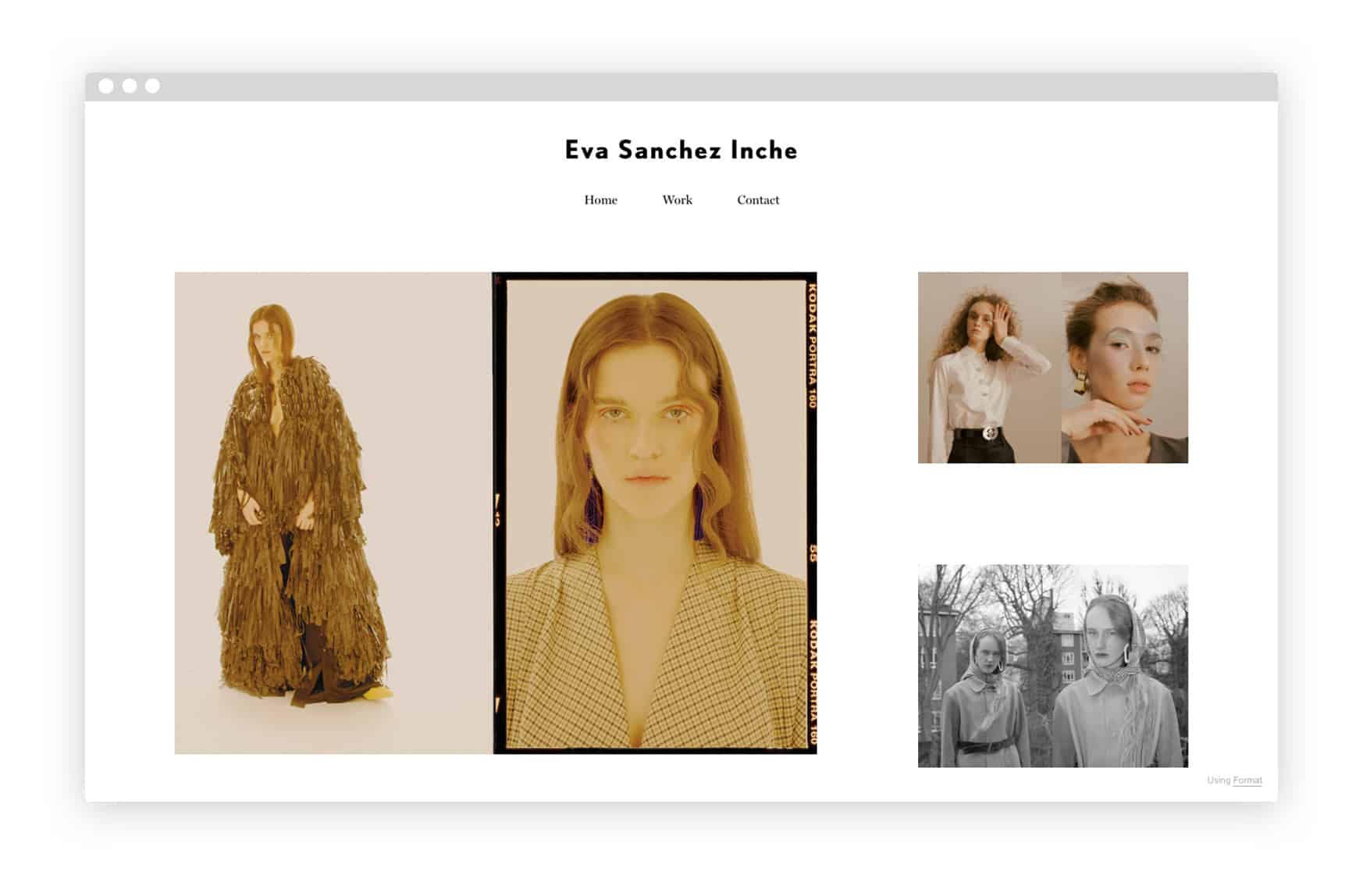 Eva Sanchez Inche
This London-based freelance fashion photo stylist shows her work in a minimal grid layout. A pared-down choice of just a few galleries gives her portfolio an editorial feel. Hover over each image, and you'll see a bold red and blue overlay announcing the name of each shoot. This color choice provides an interesting contrast to the natural tones of Inche's homepage.
www.eva-sanchez-inche.format.com
Format Theme: Sierra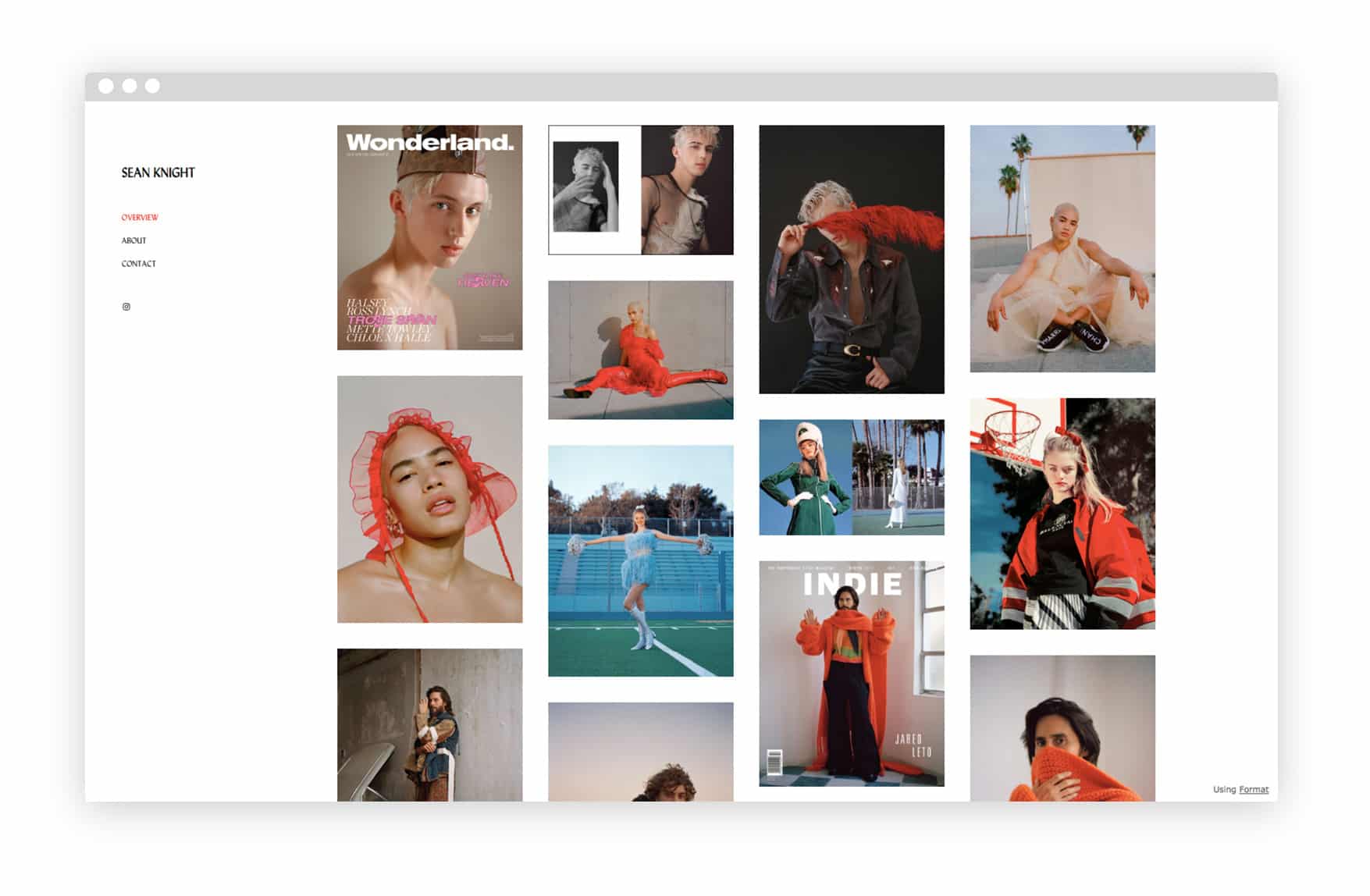 Sean Knight
Originally from Chicago, image stylist and creative director Sean Knight now lives and works in Los Angeles. Knight's resume includes an impressive array of clients like Adidas, Asos, and Sephora, and he's done editorial work for some of the most major fashion magazines out there. There's something about the colors in Knight's work that makes it hard to stop staring at his portfolio. Those poppy reds, the soft yellows, the earth tones—we just can't get over this work.
www.seanknight.format.com
Format Theme: Peak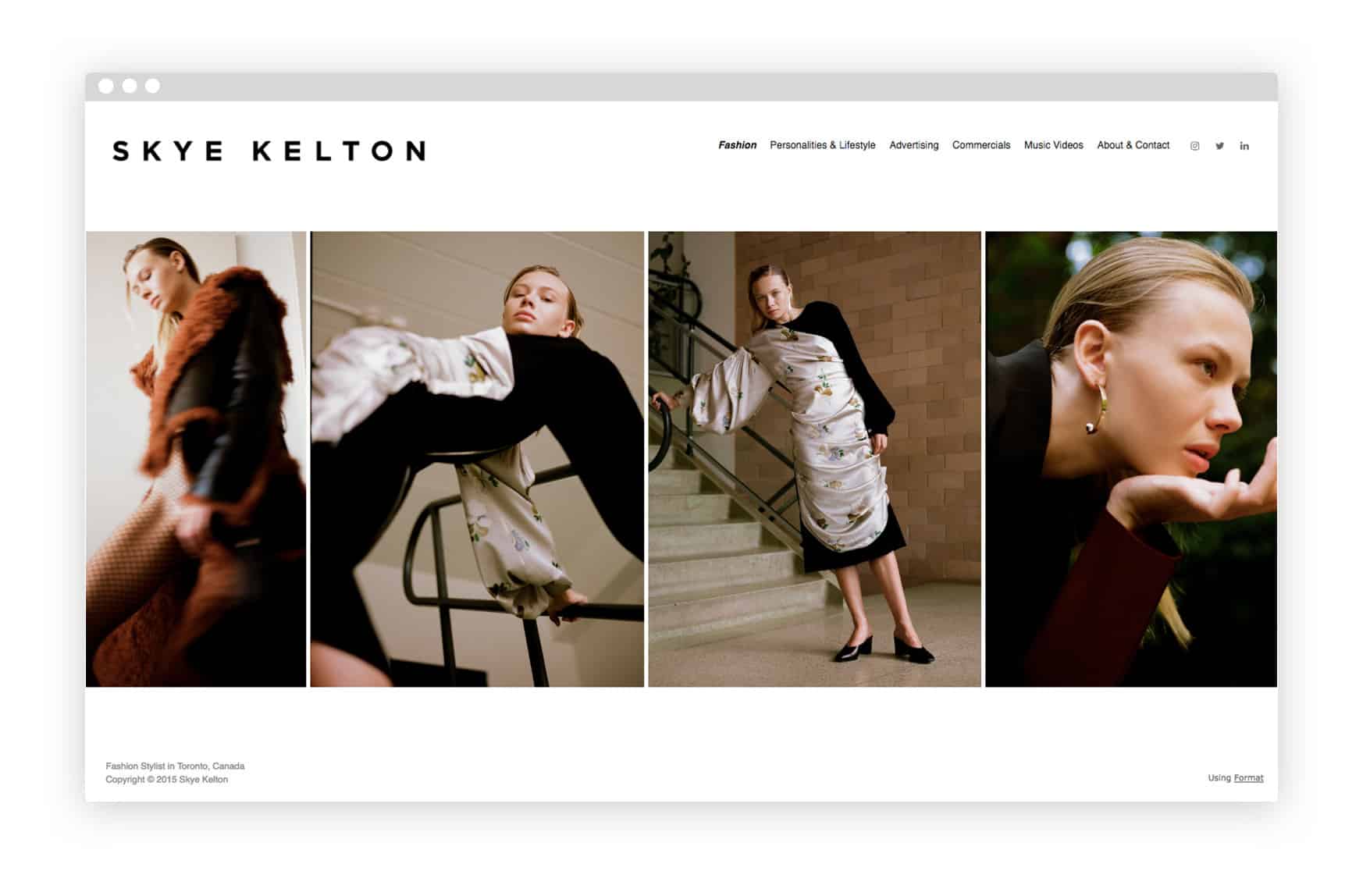 Skye Kelton
Fashion stylist Skye Kelton aims to balance classic and contemporary in her work, which has included styling for clients like Adidas, Puma, and L'Oréal, as well as music labels Universal and Warner Music. Her online portfolio is polished and professional, just like her work, and it's neatly divided into categories based on the type of styling. This helps clients easily find projects related to their sector and demonstrates her versatility as a fashion stylist, without overwhelming visitors.
www.skye.format.com
Format Theme: Horizon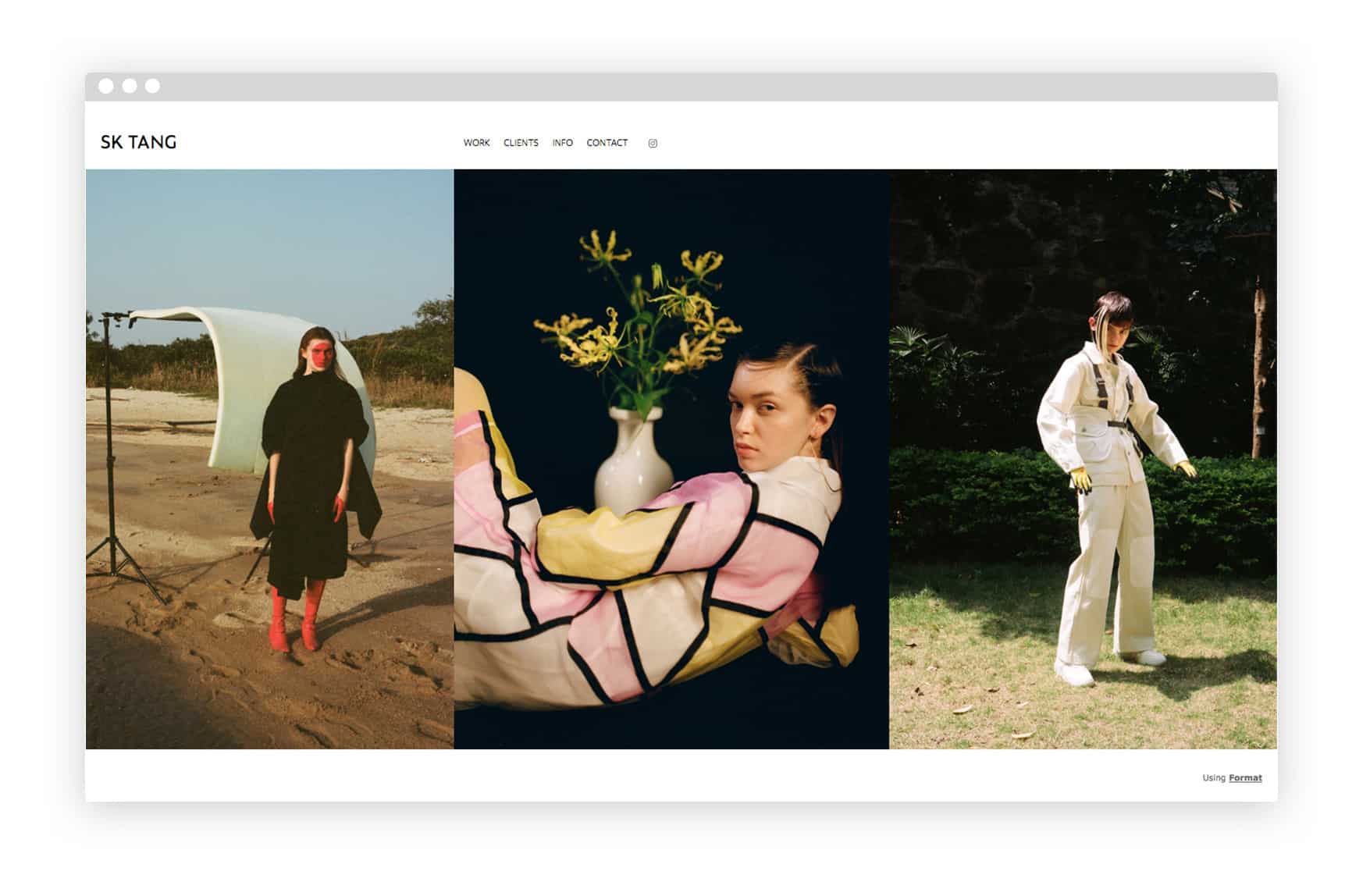 SK Tang
If you aren't already following SK Tang on Instagram, you probably should be. The Hong Kong-based stylist broke into the industry just a few years ago thanks to his fashion photography connections on social media. Now Tang has worked with publications like Hypebeast and Coeval, and frequently styles runway and lookbook shoots. The minimal design and eclectic mix of projects in this particular fashion stylist portfolio example help highlight Tang's skills and experience in the fashion photography industry.
www.sk-tang.com
Format Theme: Horizon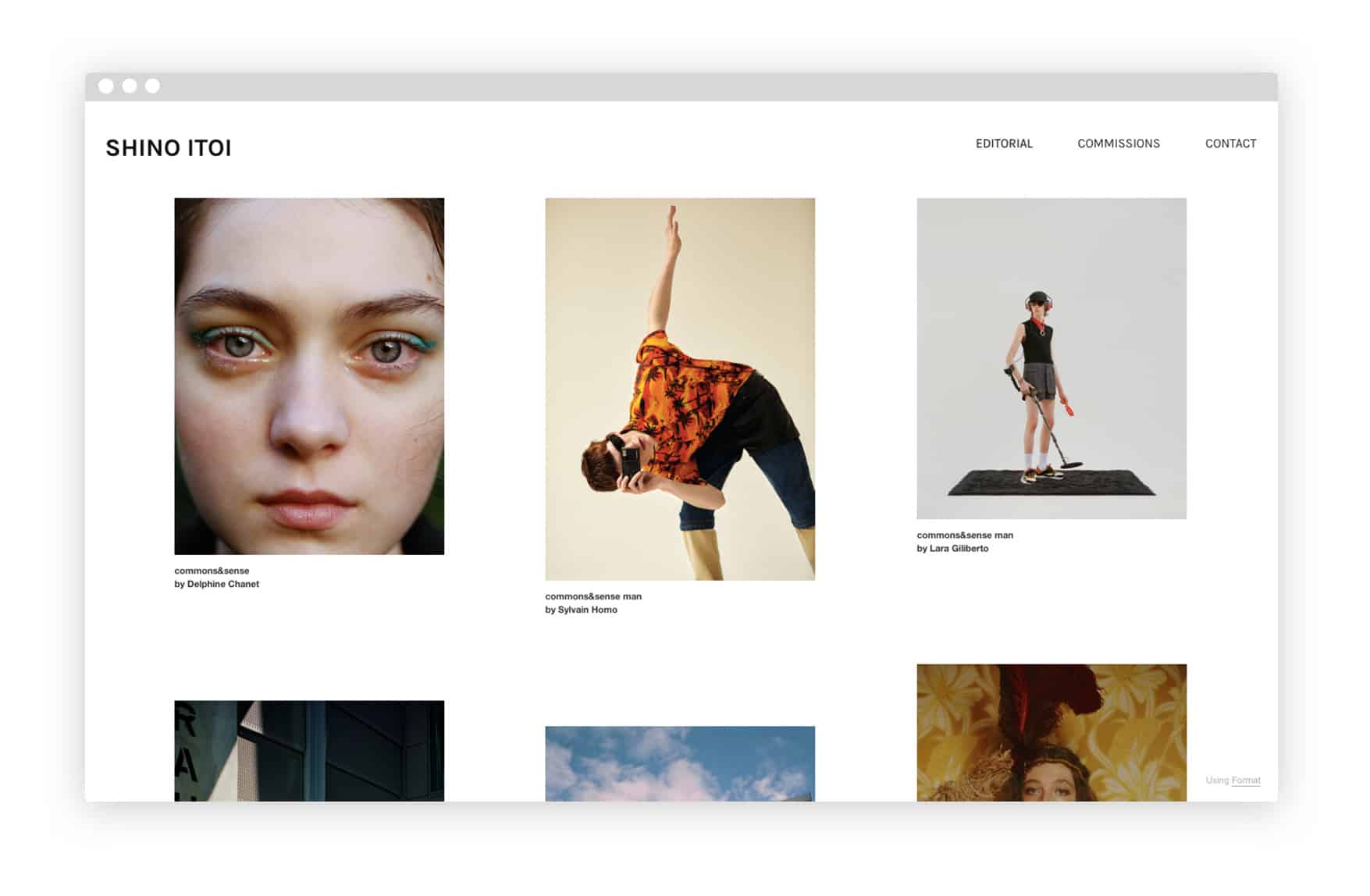 Shino Itoi
This image stylist and editor's portfolio showcases a wide selection of work on a grid-based homepage, allowing for easy and colorful scrolling through Shino Itoi's projects. This site is so simple, and yet so pleasing. It's a testament to the fact that you don't have to go overboard when designing your stylist portfolio: letting your images do the talking can be a very effective technique.
www.shinoitoi.com
Format Theme: Sierra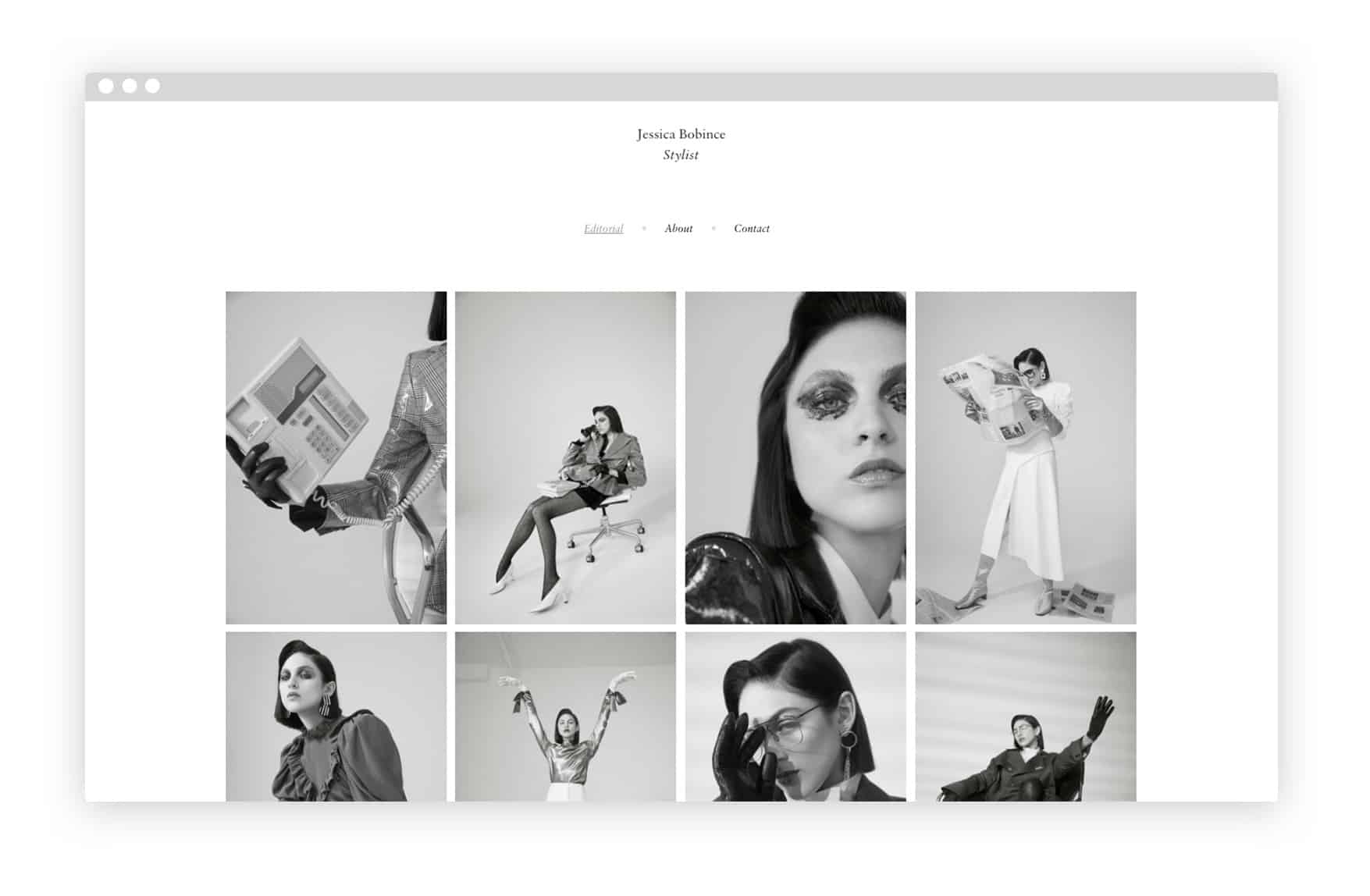 Jessica Bobince
Opening with an elegant black and white shoot, Jessica Bobince's website instantly signals that this stylist is working on a higher level. There's more, though—scroll for a cowgirl-but-make-it-fashion series, serious neon 80s glam, and so much more incredible work we can't list it all here. The NYC fashion stylist has worked with clients like H&M, Vince Camuto, and French Connection, and has contributed editorial styling to magazines like Vanity Fair, Glamour, Interview, and many others.
www.jessicabobince.com
Format Theme: Sierra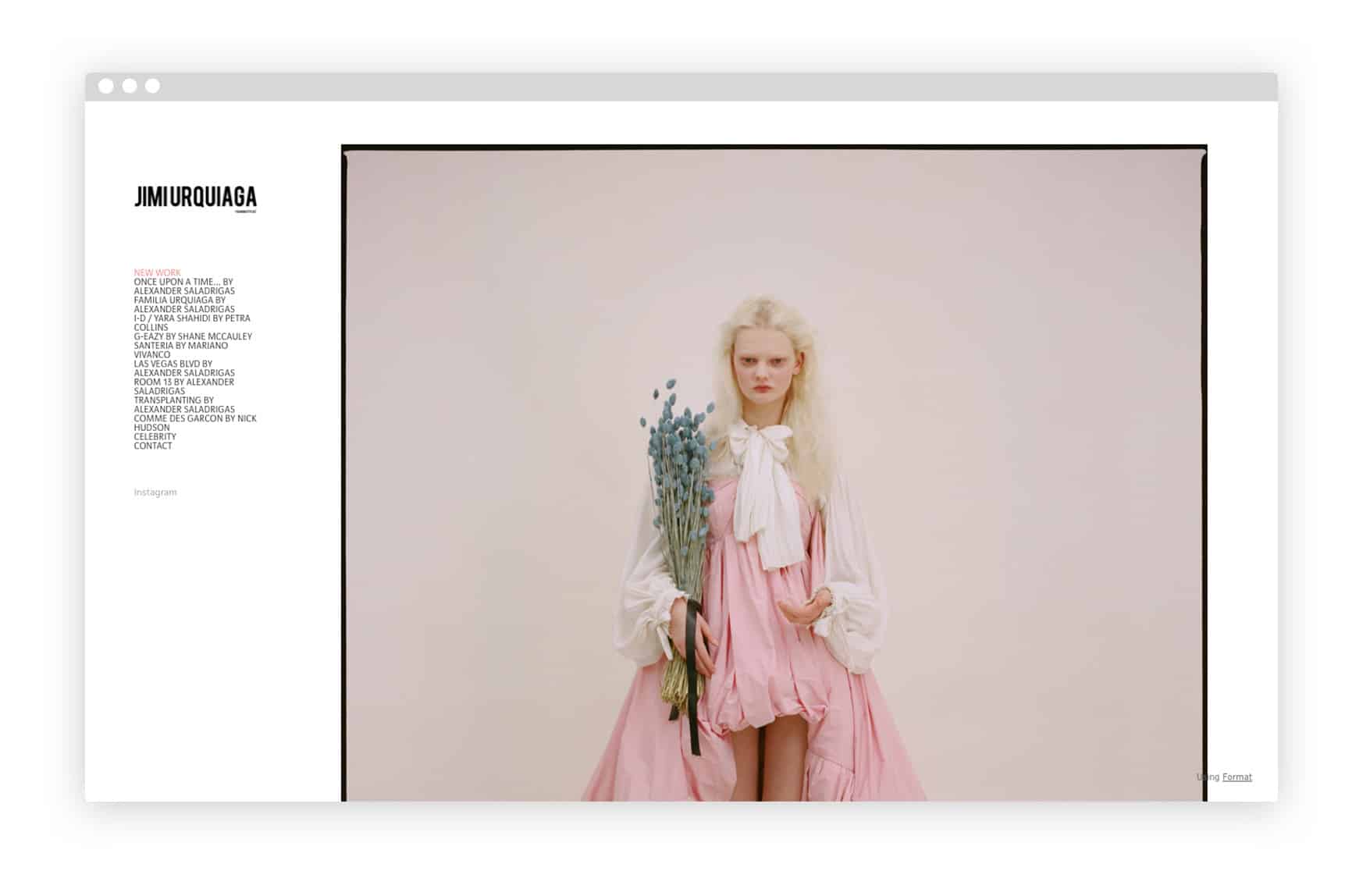 Jimi Urquiaga
Fashion stylist and creative director Jimi Urquiaga began his career in Los Angeles before relocating to be a fashion stylist in NYC. The Cuban-American Urquiaga has worked with celebrated photographers including Petra Collins and Alexander Saladrigas, styling the likes of Yara Shahidi and Usher. Urquiaga's bold logo and choice of very small type give a design-forward feel to his site, which matches the professionalism of his work.
www.jimiurquiaga.com
Format Theme: Ora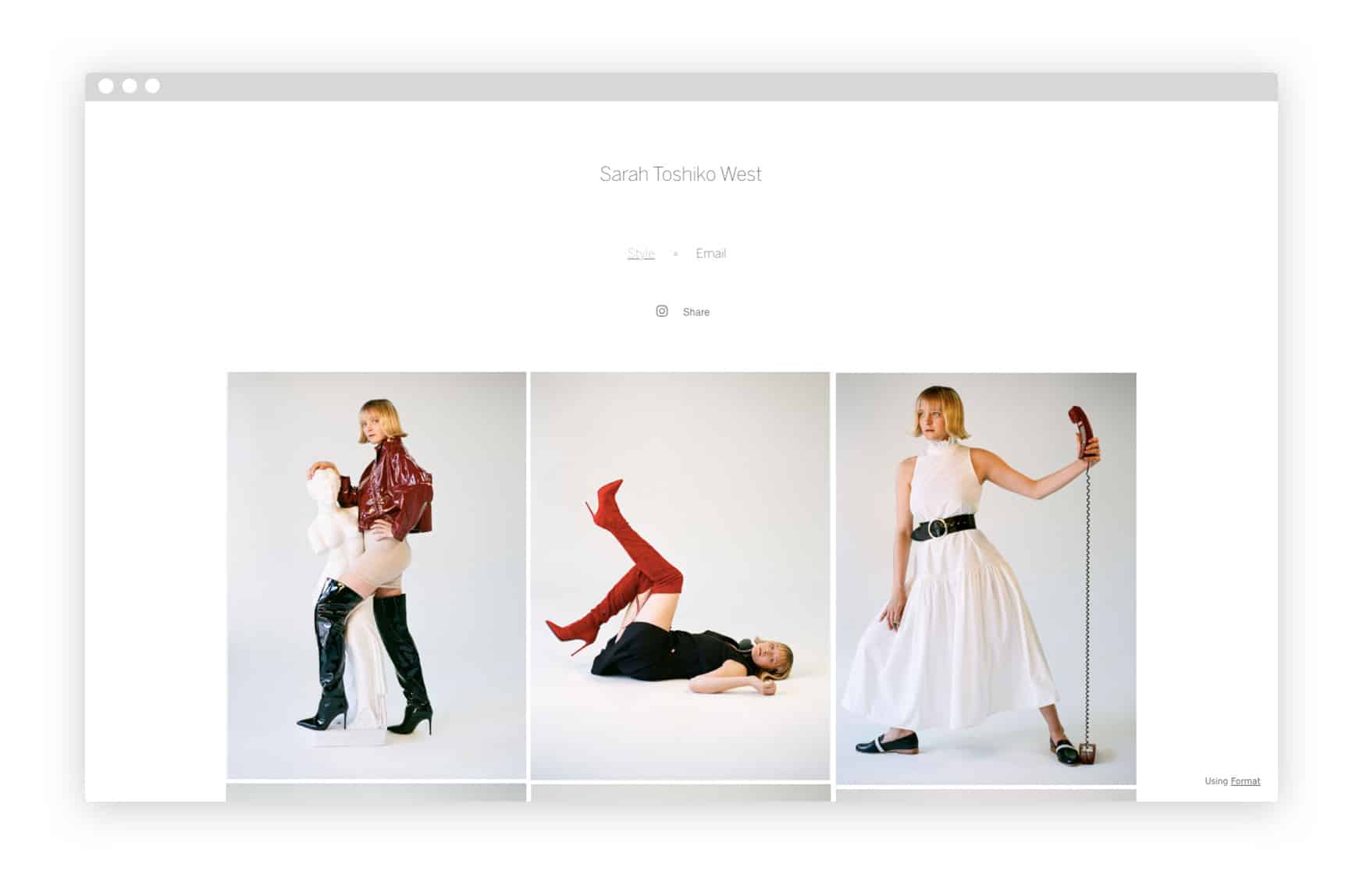 Sarah Toshiko West
Stylist Sarah Toshiko West brings personality to her website with a playful and memorable URL; hellotoshiko is also her Instagram handle, which gives a feeling of cohesion to her online presence. We love this playfully staged shoot at the top of her site, but scroll down for some more seriously gorgeous images featuring pearls, seaweed, bubble-blowing, and what might be an actual live crab.
www.hellotoshiko.format.com
Format Theme: Amazon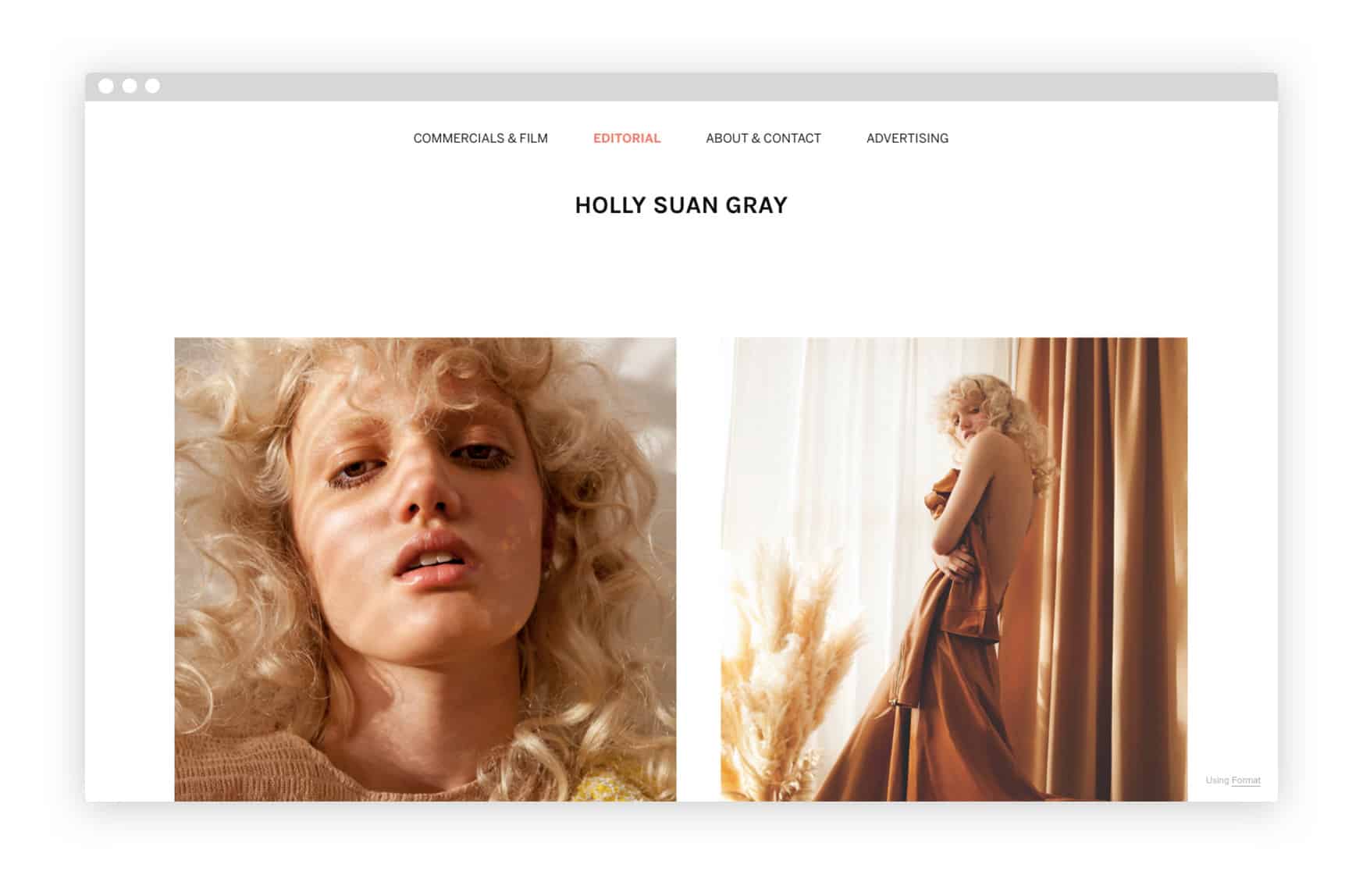 Holly Suan Gray
Originally from the UK, Holly Suan Gray has worked across London, New York, Hong Kong, and Beijing, and brings an international feel to her styling. Gray has been nominated as one of fashion's 250 people to watch by I-D magazine, and counts editorial styling for publications like Vanity Fair, Vogue, and L'Officiel in her professional experience.
www.hollysuangray.com
Format Theme: Sierra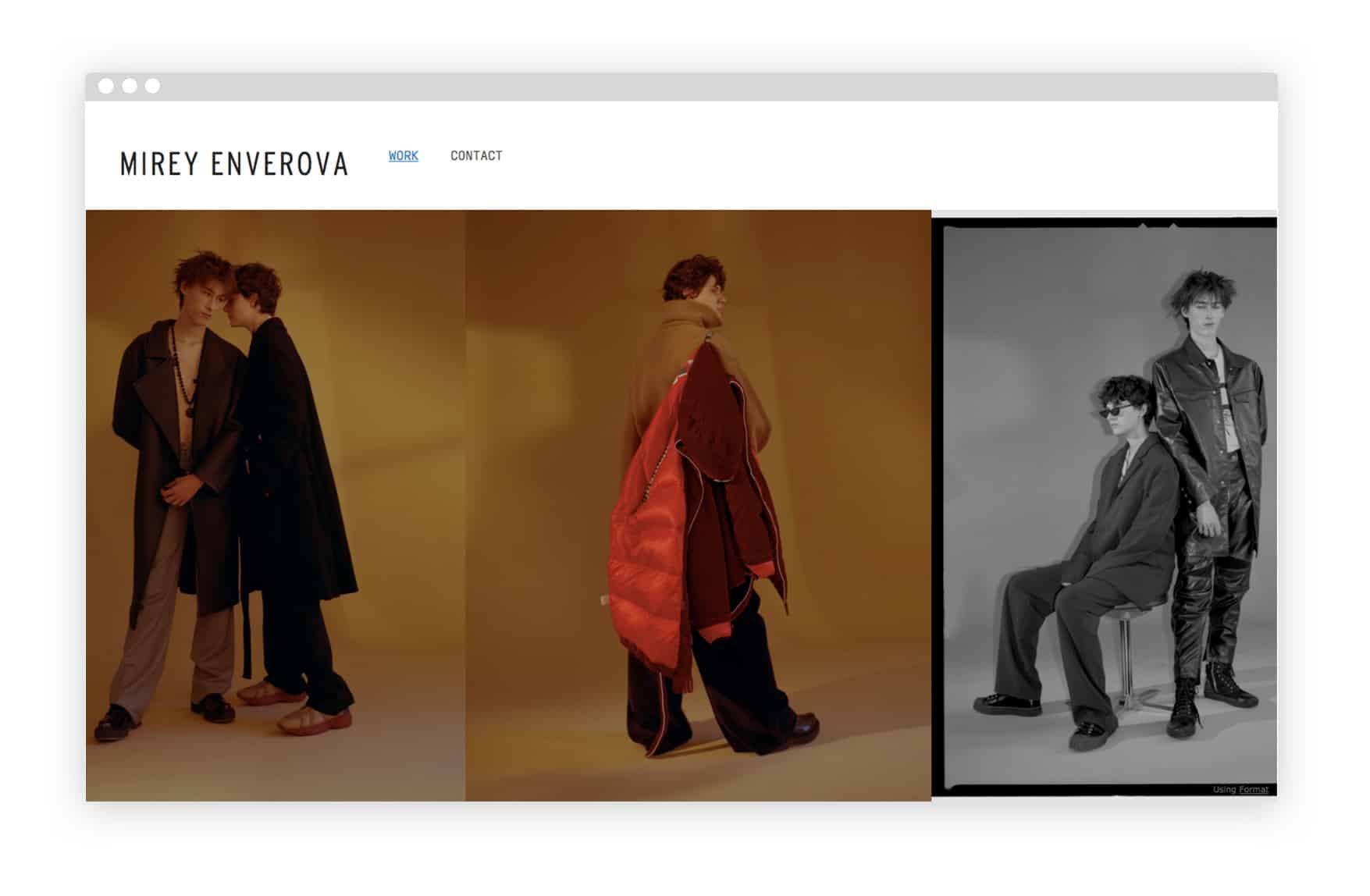 Mirey Enerova
Fashion stylist and consultant Mirey Enerova is based in Paris. Enerova has worked with a range of creative publications including Bullett, Fucking Young!, Cake Magazine, Teeth Magazine, and others. Enerova displays a selection of her styling work in a carefully curated side-scrolling portfolio. Mens' styling is the highlight here, with perfectly oversized fits and just the right number of too-many layers.
www.mireyenverova.com
Format Theme: Panorama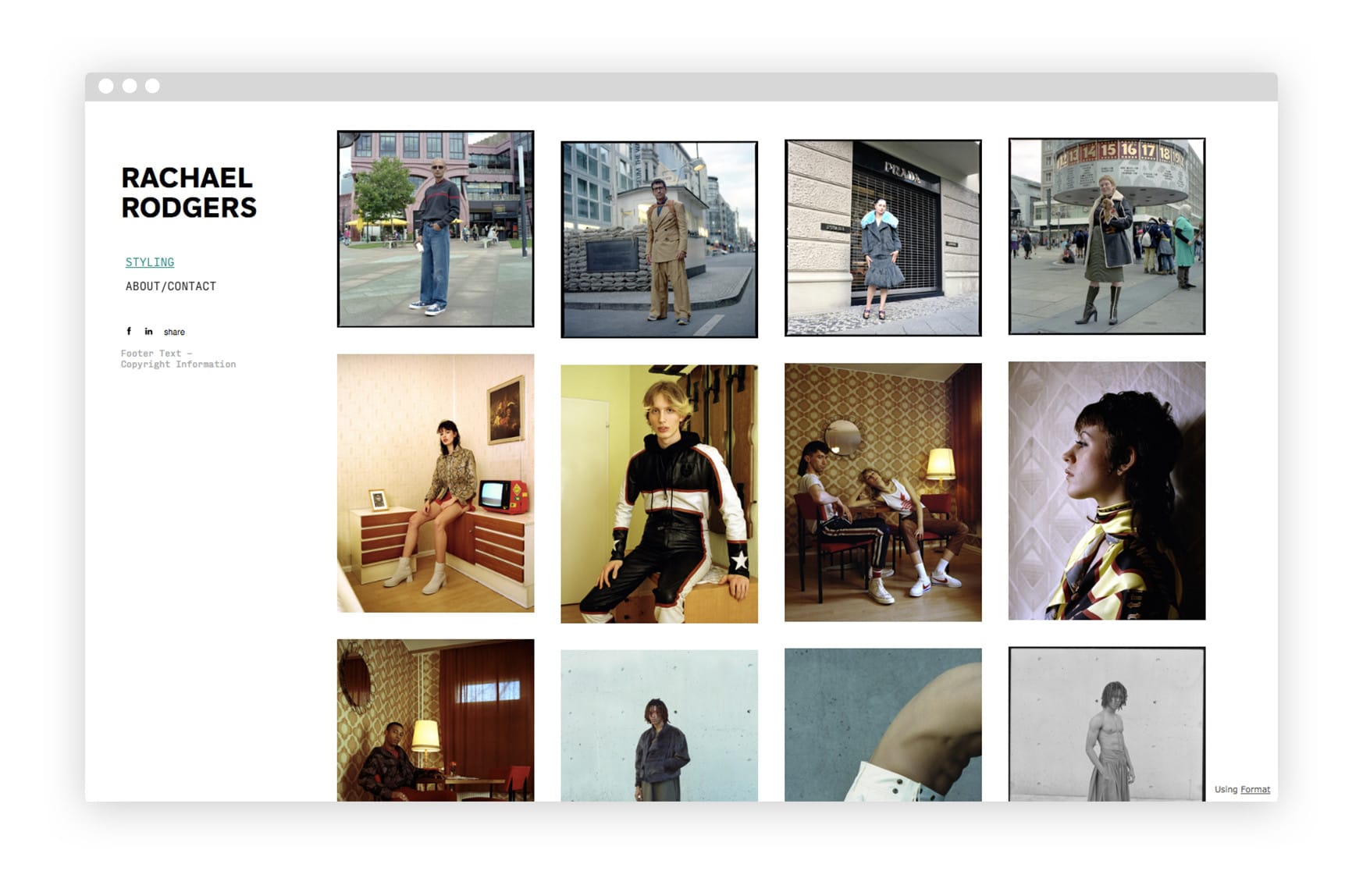 Rachael Rodgers
Fashion stylist and editor Rachael Rodgers brings a sexy and otherworldly aesthetic to her work. Based in Berlin, Rodgers has worked withI-D, Interview Magazine, Sleek Magazine, Highsnobiety, and clients like Alexander Wang, Converse, and Adidas. The Sleek shoot pictured here is a favorite of ours. Photographed by Soren Drastrup, these looks look could almost have been ripped out of a 1980s German magazine, but there's a subtle modern edge to the styling that brings the models into the 21st century.
www.rachaelrodgers.co.uk
Format Theme: Amazon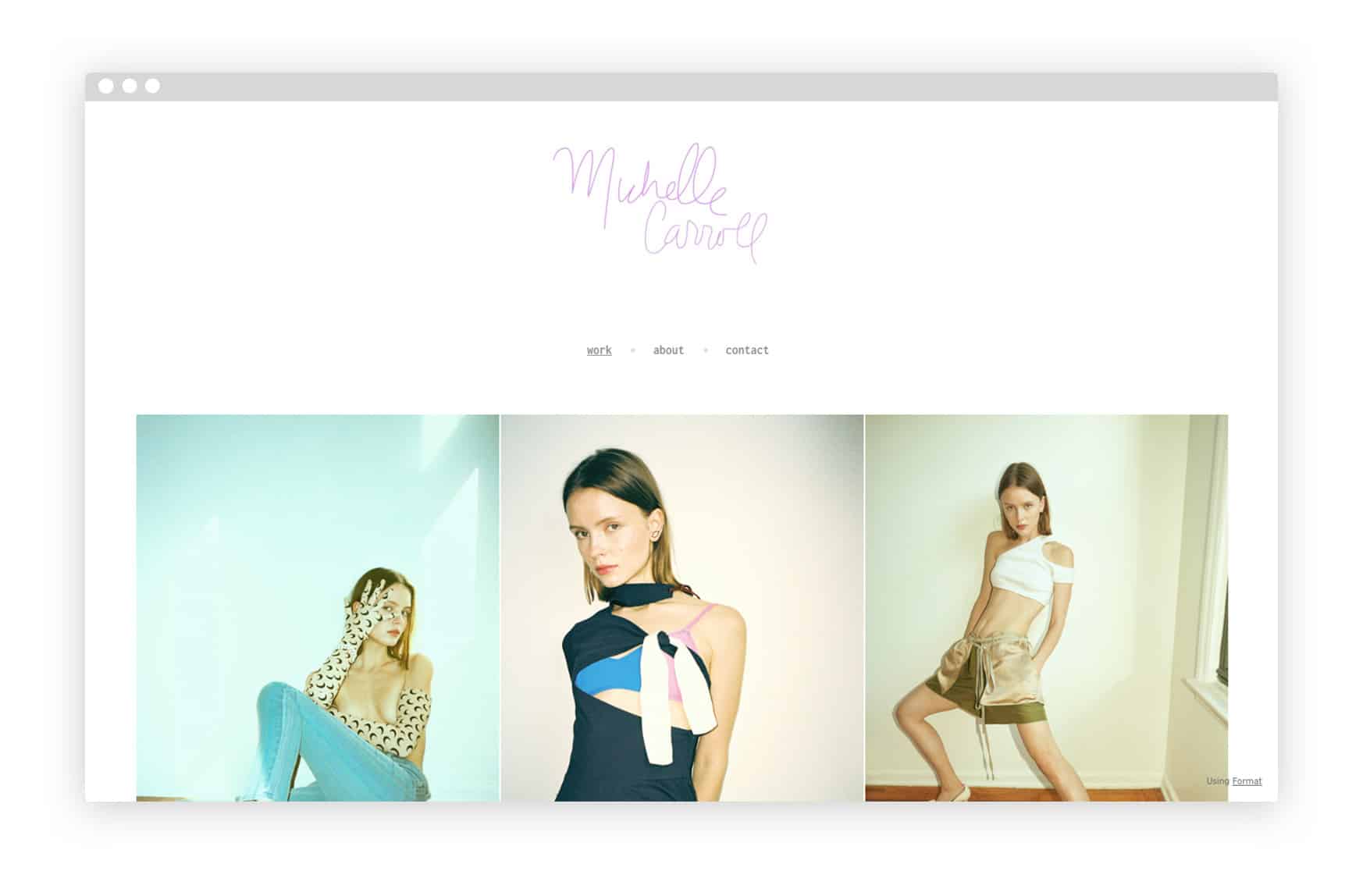 Michelle Carroll
In addition to her work as a fashion stylist, Michelle Carroll is an editor at So It Goes magazine. Carroll has worked with clients including Alexander Wang, Calvin Klein, and Saks Fifth Avenue. Her casual, playful purple logo gives a personalized touch to her styling portfolio. The use of GIFs is another nice touch, bringing her work to life and making you want to explore the site a little longer.
www.michelle-carroll.com
Format Theme: Amazon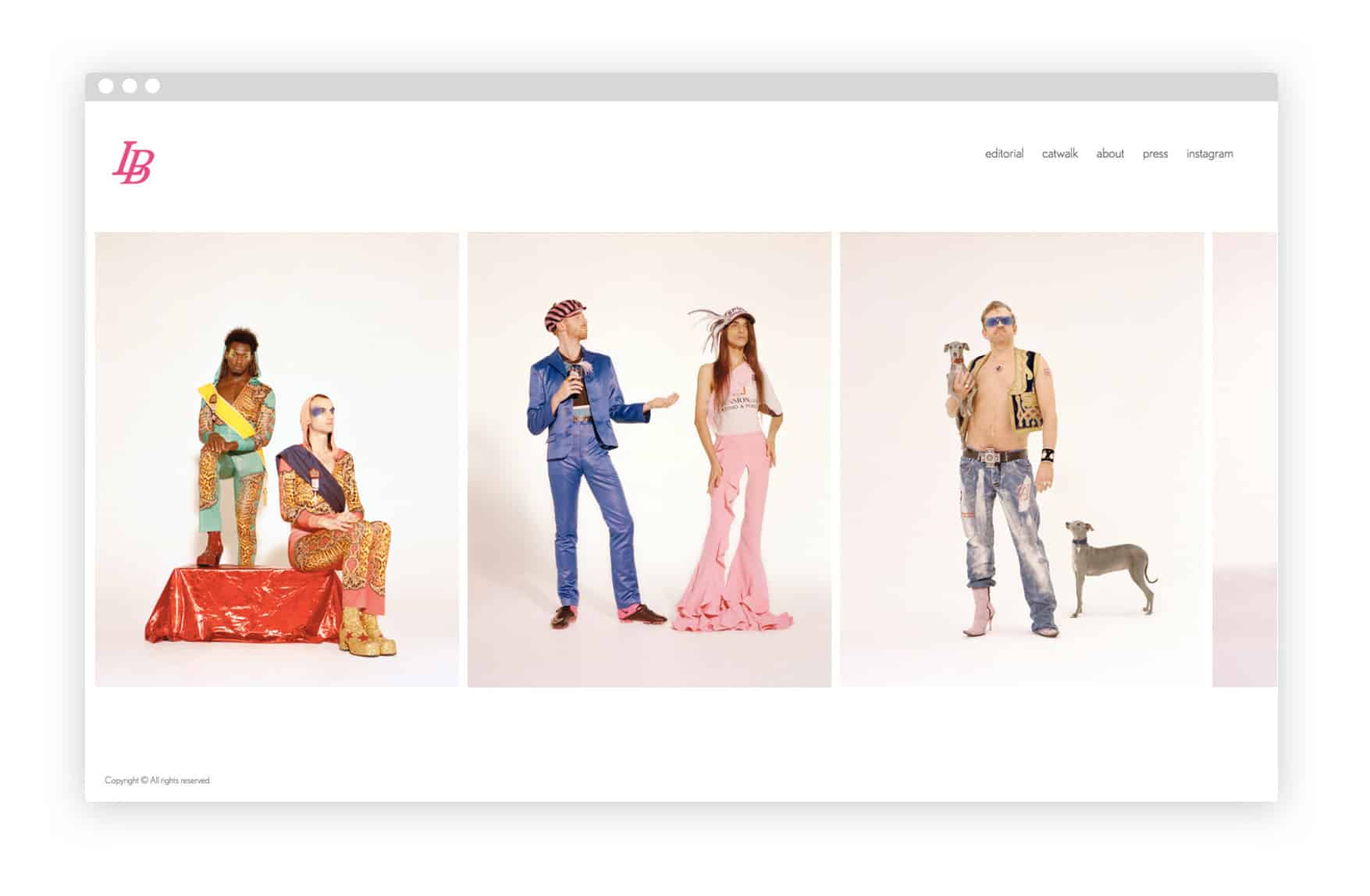 Lily Bling
London stylist Lily Bling recently completed an MA at Central Saint Martins. His styling portfolio shows off a decidedly decadent approach to styling, with old school British glamor remixed into a modern aesthetic that's equal parts punk and street fashion: think animal prints and Union Jacks, Burberry and tracksuits, hi-vis and sequins.
www.lilybling.com
Format Theme: Horizon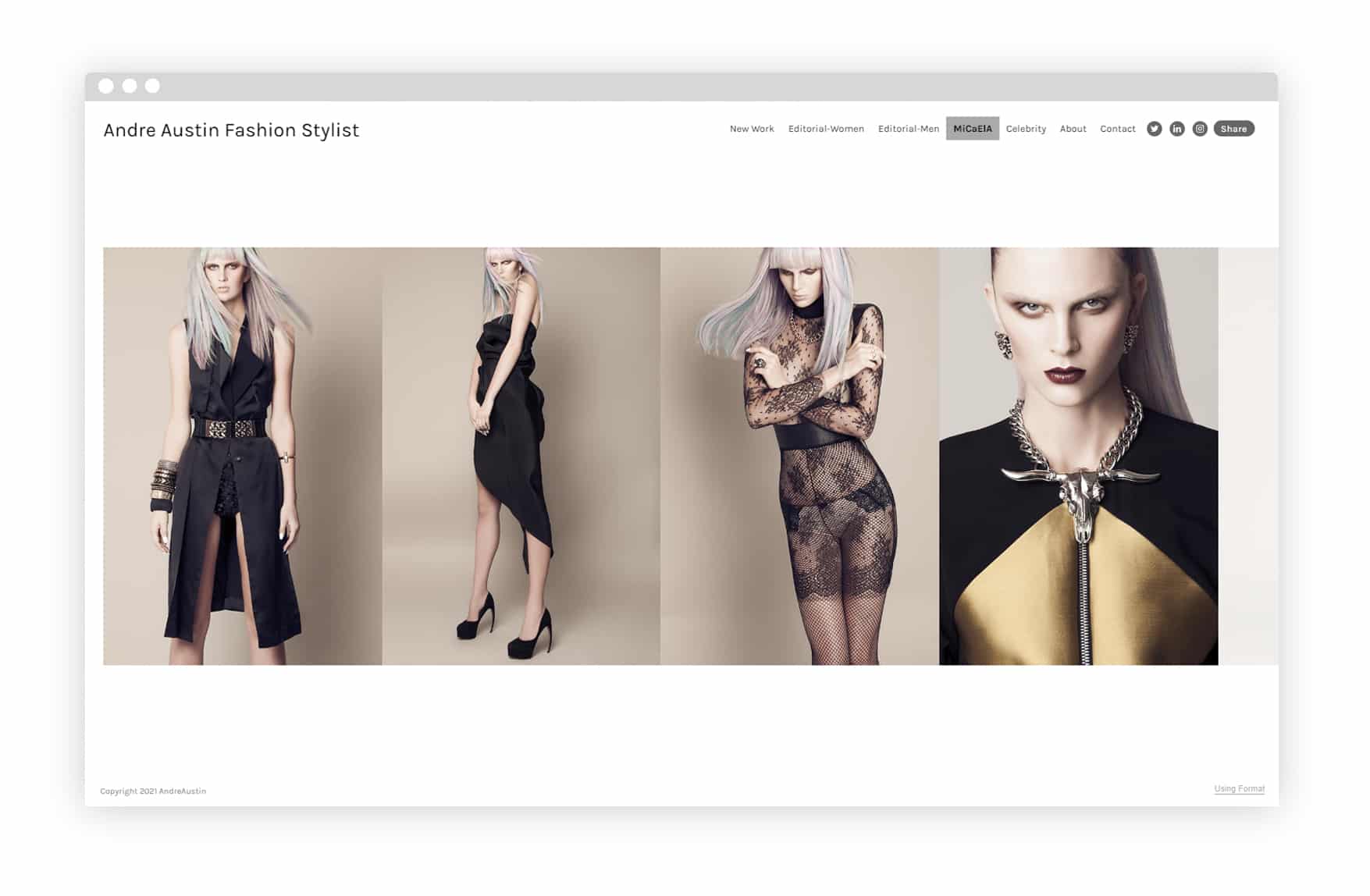 Andre Austin
Andre Austin is a fashion stylist that has been spotlighted in the worlds of music, magazines, film and television. As a highly regarded Fashion Editor and Celebrity Stylist, Andre regularly contributes to *O, The Oprah Magazine, Esquire, In Style, WWD, Neo2, i-D, Mate, Book Moda (pret-a-porter)& American Way (American Airlines in-flight magazine).
https://www.andreaustin.com
Format Theme: Peak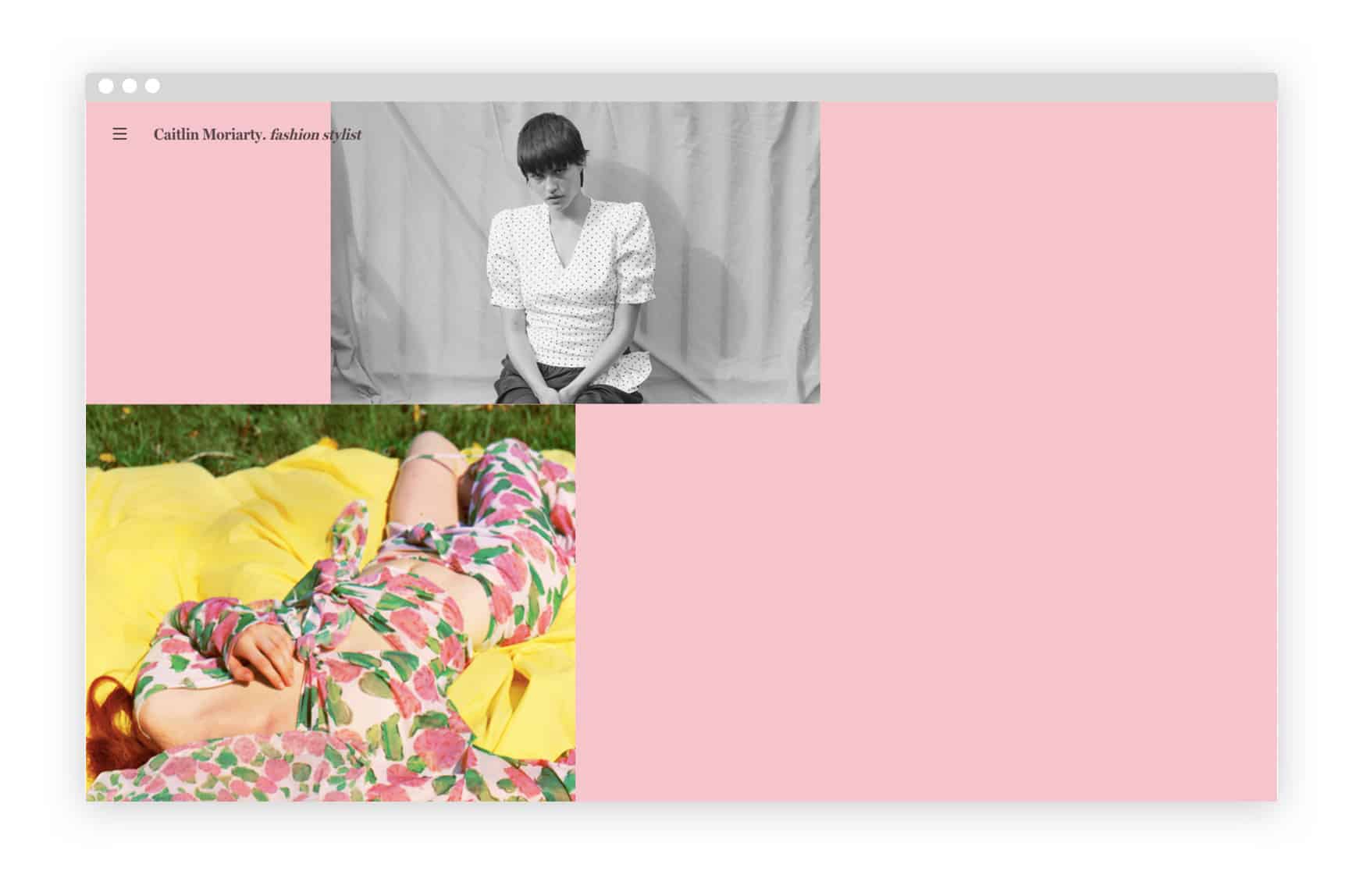 Caitlin Moriarty
A pale pink background lends character to London fashion stylist Caitlin Moriarty's online portfolio. The Meander theme lets Moriarty show off highlights from a range of selected shoots in a long vertical scroll which allows you to discover new images in a fun, collaged kind of way.
www.caitlin-moriarty.co.uk
Format Theme: Meander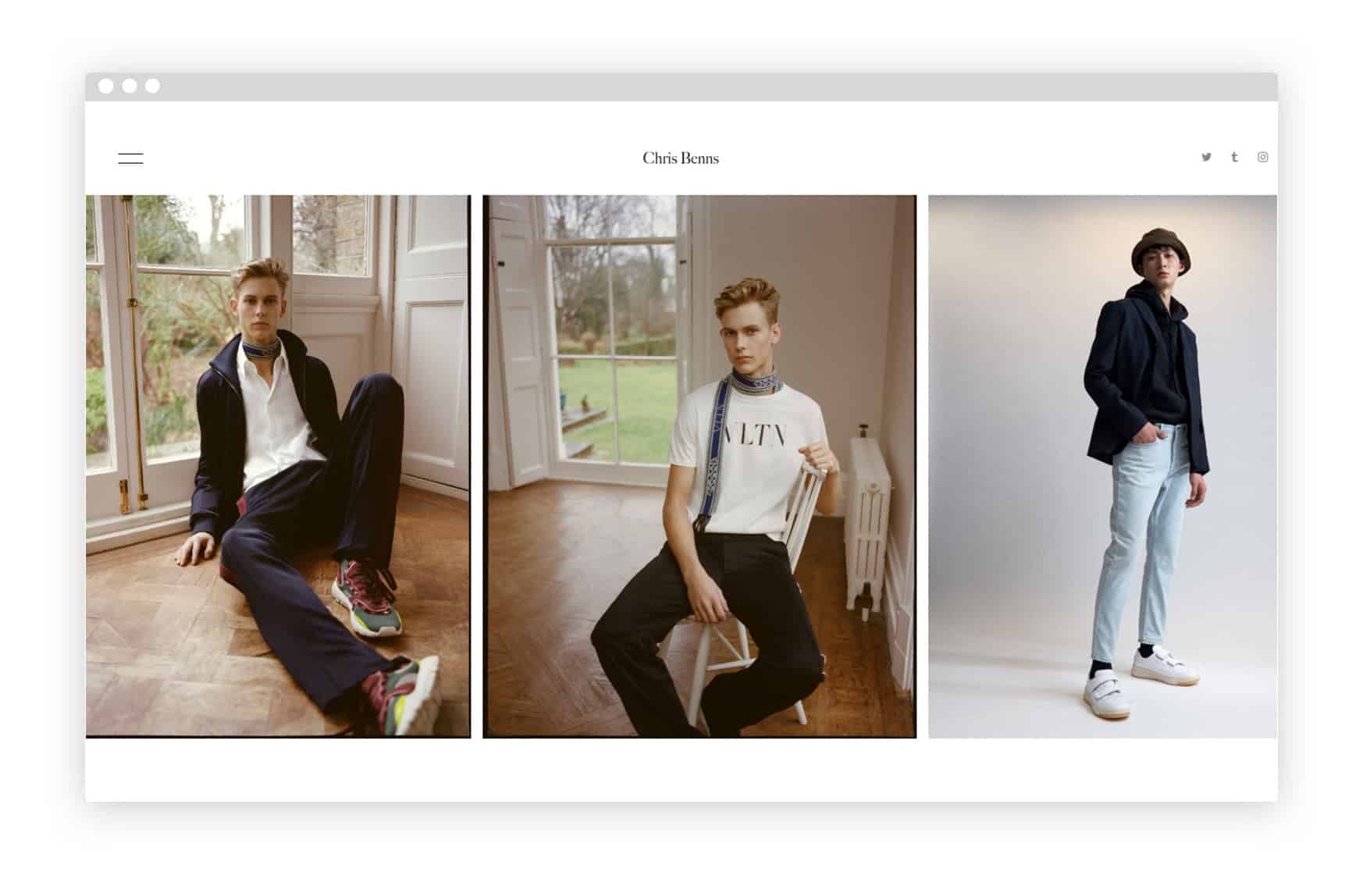 Chris Benns
Chris Benns got his start in fashion assisting Dior's artistic director Kim Jones. Now the established editorial stylist and creative director works throughout Europe with publications like GQ and Esquire. Benns is based between London, Stockholm, and New York. The Obsidian theme used to create this portfolio has an adaptive background, so scrolling through Benns' portfolio feels extra slick as the background changes to match the featured photo.
www.chrisbenns.com
Format Theme: Obsidian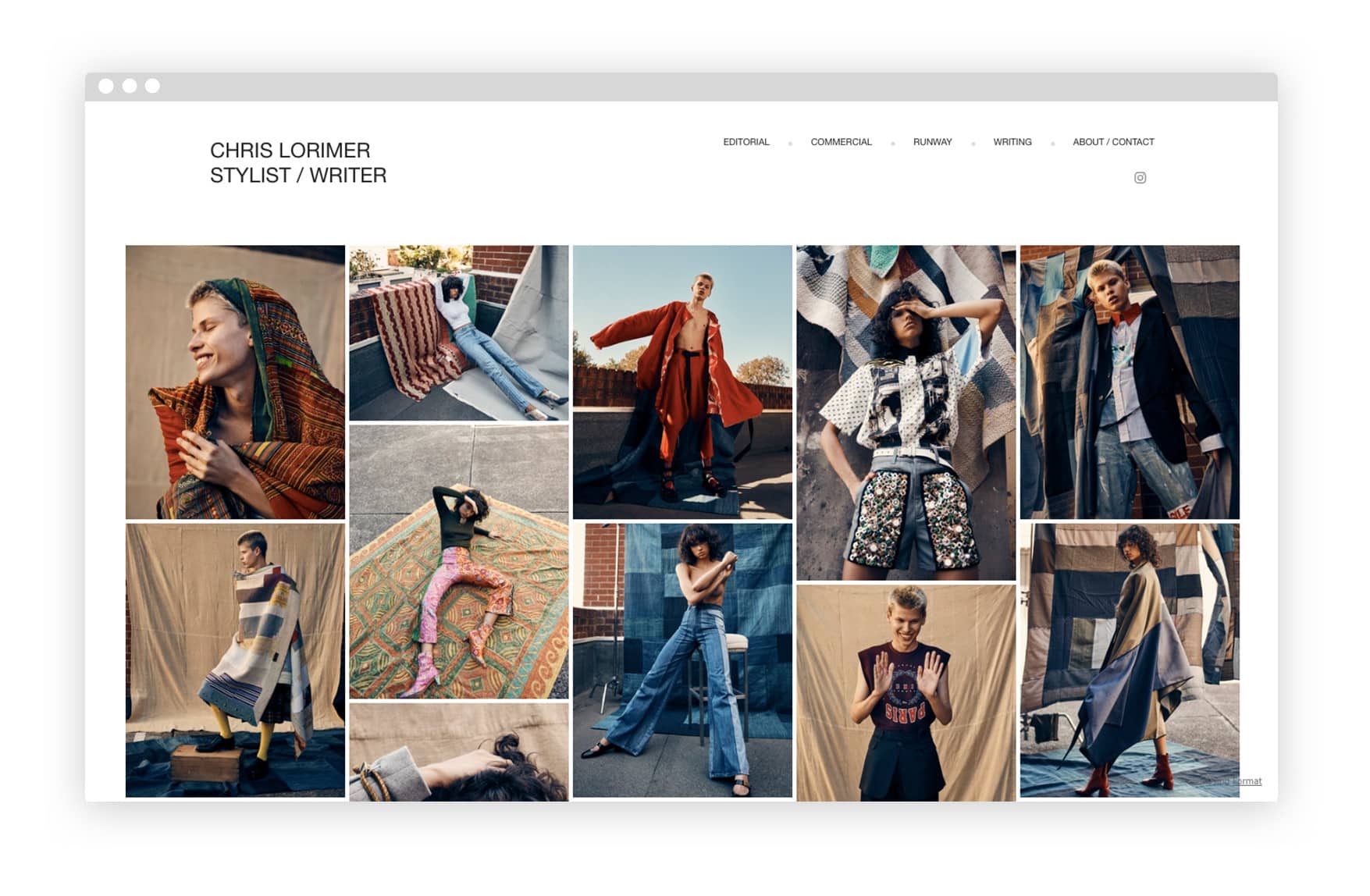 Chris Lorimer
Based in Sydney, Chris Lorimer is a stylist, writer, and creative consultant. He's currently an editor at New Zealand's Black Magazine. Lorimer's portfolio introduces you to his work with a selection of images that are all captivating patterns and lush fabrics, giving his site a luxurious feel.
www.chrislorimer.com
Format Theme: Amazon
More Inspiration Tips for the Future Stylist
Whether you're checking out the portfolios of famous personal stylists or perusing the style portfolios of lesser known up-and-coming magazine stylists, there's no denying that portfolios are a fantastic source of inspiration. Here are some additional ways to get your creative juices flowing:
Flip Through 80's Clothing Catalogs
Pick an era that inspires you and source some magazines and catalogs from the period. Whether it be 80's clothing catalogs, 70's ads, or 60's sewing pattern guides, you're sure to see something that feels fresh and unique to bring into your own styling.
Follow Female Magazine Editors and Famous Stylists
Many of the top fashion editors and best fashion stylists today are women, and following them on social media is a good way to stay super current on what they're working on. In the past, it would have been hard to get an insider view on how a famous wardrobe stylist prepares for a job or where your favourite fashion stylists go for inspiration. Today, all of this inspo is just a click away.
Study the Best Fashion Editorials Like an Editorial Fashion Stylist
If you're interested in editorial fashion styling, any good fashion magazine can become a lesson in how to improve your craft. Look through your favorite stylist magazines and identify the editorials that stand out to you. Make a habit of taking notes on what makes those spreads or images special. This is a great way to develop your eye as a magazine stylist.
Connect With Local Fashion Magazines and Top Stylists
Finding the best stylist in your area and studying their work, or even asking if you can shadow them, can be a great way to get inspired by real-world styling. You can do this by looking up local magazines: for example, if you live in Los Angeles, look for an up-to-date Los Angeles fashion magazines list.
Create a Fashion and Image Stylist Portfolio With Format
If you are ready to take your career as a fashion photo stylist to the next level, it's time to build a portfolio that demonstrates everything you have to offer. Format allows you to customize your fashion portfolio with a range of tried and tested templates and content examples that are bound to impress. Find your inspiration and clients with the help of Format, designed by creatives, for creatives. Start your 14-day free trial and build your own online art portfolio with Format today.