With even the most dedicated fans of painting turning to computers and technology to find new ways of mark-making (think David Hockney's iPad drawings), it seems digital painting is here to stay. Using everything from touch screen computers, iPads, cellphones, Wacom tablets, and retro computer programs like MS Paint, digitally-minded artists are wholeheartedly embracing technology to express themselves, and changing the perception of painting as an art form while they're at it.
Creating art digitally or using technology to manipulate images isn't new.
Artists have been using those tools for years already, creating computer characters, cleaning up photos in post-production, designing video games, and animating drawings—Artists using these tools today are taking artistic expression to another level, allowing people to share their artwork much more easily on social media platforms, for use in digital marketing, or as non-fungible tokens (NFT) in the cryptocurrency space.
Because these computer artists are so at home within the digital realm, they are able to manipulate technology in ways not seen before—using technology as an extension of their own bodies, or atomizing the artistic process altogether.
These artists are squishing, blurring, smudging, disintegrating,animating, and generating digital images and presenting them in physical forms, away from the computer in real live gallery spaces.
Whether you're looking to start a career in digital art or looking for fresh inspiration for your next project, here are five artists working with digital media we have our eyes on.
Los Angeles-based Petra Cortright is the it-girl of post-internet art, making colorfully chaotic, sensual jpegs, sparkling GIFs, pixel art, critical YouTube videos, and alluring web pages. And she is one of the few new artists working today who have managed to transition from screen to gallery wall successfully.
Cortright's latest creations are vibrant, kaleidoscopic paintings that merge different gestures and marks sourced from found imagery. Expressing a love for the vulgarity and beauty of the type of language used on the internet (think Search Engine Optimization, hashtags, Google keywords), Cortright uses this jargon to direct her creative process, as an entry point into the internet.
To grapple with the seemingly endless amount of source material available online, Cortright imposes limitations on herself to work faster and freer. One favourite trick of hers is to type random lines of poetry into the search bar on Google Images and see what unexpected hits result from it. She then clips, smudges, distorts, masks, and layers hundreds of elements to build up her expressive paintings, and dubs her creations things like "orange blossom princess fucking buttercup." Never before has the deep web sounded so romantic.
You could say Harm van den Dorpel collaborates with artificial intelligence to produce his intricate, multi-layered digital paintings, and you wouldn't be too far from the truth.
Using software he designed himself, van den Dorpel explores concepts like the regeneration of images, the process of art production, the role of the artist, and the value of art itself.
In his 2016 work Death Imitates Language, the Dutch artist spent three months developing an algorithm which can accurately and independently simulate his own design aesthetics. By pinpointing, extracting, and feeding recurring design elements from 20th century European artworks into the algorithm, van den Dorpel was able to kickstart the process of artistic automation.
The images produced by this process were displayed on the website death.imitates.org, where van den Dorpel gathered information as additional input for the algorithm. Dubbed "breeding," this process uses visitor statistics, micro-feedback, likes and the artist's own personal preferences to manifest 2D images that the artist himself would be likely to make.
Once the images reach their final stage, they are frozen, printed out onto transparent sheets of laser cut multiplex glass, and take the form of physical objects.
As an artist with a computer science background, van den Dorpel is all too familiar with the pace of technology. His decision to bring algorithmically created art off the screen into the physical world feels like an attempt to catch up to, and perhaps slow down, the rapid progress of digital change.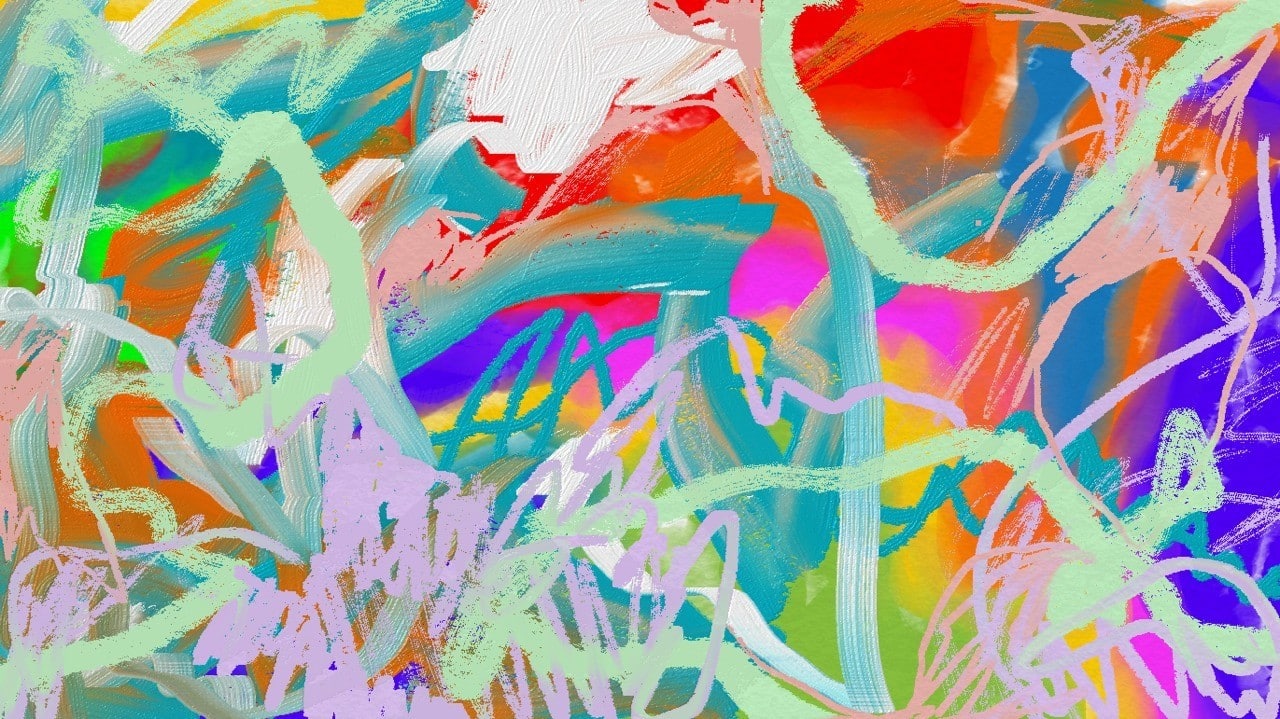 You're just as likely to encounter the artwork of Michael Manning as a screensaver as you are to see it framed and hanging on the white walls of a gallery. But as much as these two worlds are removed from each other, Manning's paintings exist simultaneously in both, as both physical and digital objects.
The native Californian is so fond of doodling on tablets and scribbling on screens that he doesn't actually have a computer of his own, or a keyboard, or even a mouse. He doesn't even use a studio space. Instead, Manning chooses to create his energetic and colourful jpegs within the walls of Microsoft stores, using only his fingers, Fresh Paint (the default paint program in Windows 8), and a Microsoft Touch Screen.
"The idea was to take what's meant to be a commercial space and subvert it so that it turns into a quasi-private studio for me," Manning said in an interview, explaining his decision to work on touchscreen tablets at local Microsoft stores. He prints out the works as large scale canvases, brushes clear acrylic over the top and hangs them in a real-world gallery space.
This process complicates the ideas of reproduction and permanence that Manning's online practice suggests, via projects like phonearts.net, a collaborative gallery of cellphone-created artworks, or his 100paintings.gallery, which randomly layers paintings on top of each other. With each page refresh, a unique composition is created from over 9 billion potential options. The results can be downloaded, ultimately leaving it up to the viewer if the artwork is preserved or not.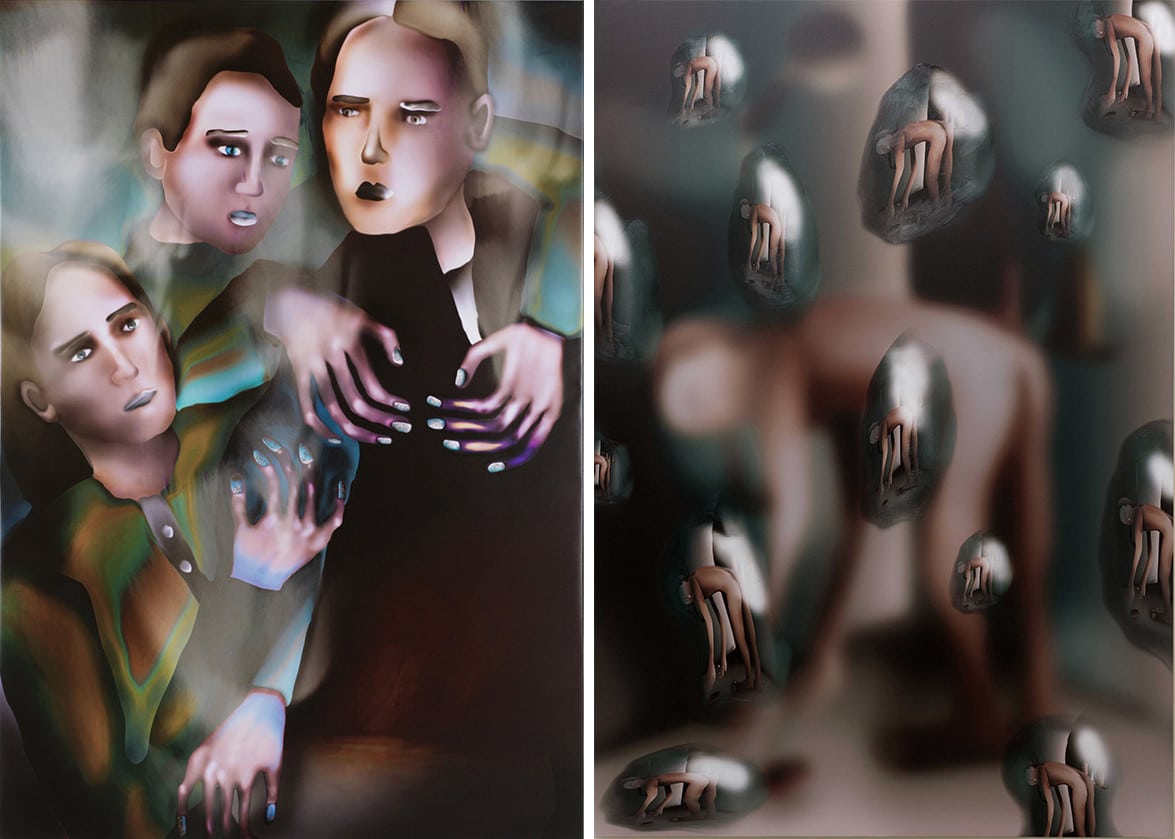 Working extensively in Photoshop, Zürich native Louisa Gagliardi labors over one of her atmospheric images for hours, sometimes creating up to 32 layers of different shades, colors, and diffused elements. After printing the images out onto PVC, Gagliardi adds even more layers on top of the physical item, either with a latex gel medium or polish (sometimes even nail polish).
And the content for these dark, tense paintings? Intimate moments, hyper close-ups of people in awkward social situations or uncertain settings.
Gagliardi has noticed people make strange gestures when they are uncomfortable, especially with their hands. So she paints these expressions of anxiety: hands holding cigarettes, touching hair, interlocking fingers, picking up objects, interacting with technology. The owners of the hands are nervous and unsettled, and there is something voyeuristic about the resulting images.
Gagliardi attributes these emotions to the impact of the ever-present digital screens, social media, and surveillance technology that haunt us daily. Her unsettling paintings offer a commentary on the anxiety that digital experience can induce.
5. Ella Goerner
Imagine a world where trees erupt through cell phone screens and genetically modified plants provide us with our power. White roses sprout from broken bottles and vines suffocate decrepit statues and ancient ruins. This is the world of German artist Ella Goerner.
Born and raised in a small town south of Dresden, Goerner has learned to respect and cherish nature, and wants others to as well. Using art as her platform for eco-activism, she creates a visual language that explores social initiatives and the power of eco-friendly products. Goerner's hypnotic jpegs of floating technicolored swirls create an imagined world where not only are the mountains and rocks of our physical world eroding, but the very concept of nature is decaying.
Goerner hangs these deconstructed images of a disintegrating world in the very real space of the gallery, echoing those same rooms in her paintings, questioning what is real and what is unreal. Her work becomes even more meta when she recreates her compositions with different 3D forms to accompany the 2D pieces. These collections of resources, as Goerner calls them, act as the physical representation of her virtual world. It's this continuous flux between the two, between what is natural and unnatural, that is the core of this exciting artist's work. at is the core of this exciting artist's work.
Start Making Digital Paintings
The foundation of digital art is not too unlike your favorite painting mediums—your understanding of design, color theory, and storytelling come into play, but now your screen is your canvas.
As a bonus, you don't have to worry about getting messy with paint, finding the space to create, or cleaning up when you're painting digitally.
With tablets, phones, computers, and softwares like editing and drawing apps becoming more affordable and accessible, digital art has come a long way, making it into the mainstream of popular art culture. You can find resources all over the web on by digital artists on how to use digital art software and market your artwork to launch and build a career in digital art without always having to take the post-secondary education route.
All you have to do is dive head first into your passion and start creating work from what inspires you. This next step will take you from hobbyist to a professional.
Showcase Your Digital Paintings On A Portfolio Website
A portfolio website as your little nook on the web dedicated to your creative work. It's where you can upload your projects, share your digital art process, and outreach to potential clients and colloraborists for future work.
Luckily, building a website that's both functional and beautiful has become much easier thanks to platforms like Format that takes all the leg work out of coding and web design, so artists like you can spend more time creating.
Choose from over 70 completely customizable templates and start importing your digital art, fill out an artist's profile, and contact information to get started. Whether you're a hobbyist looking to take your art to the next level or you're already a professional artist, a portfolio website should be an essential part of your marketing strategy.
Try Format for free today for 14 days without entering your credit card information.
You'll find it's the easiest way to get started with a website portfolio that truly reflects your artist style without having to fuss around with coding or hiring a designer for customizations. We hope our round-up of digital artists have inspired you to try your hand at electronic painting or have shown you the many possibilities this realm of art has to offer.
*More on digital art:
Why Won't Vaporwave Die?
DIY Digital Art with 'Boopy Club' GIF Maker
Pretend It's Always Summer in Tishk Barzanji's Digital Paradise
100% CGI Nostalgic Objects That Look Like Photographs
Cover image by Michael Manning.