There's a whole world of cool drawing apps, art apps, sketch apps, and painting apps out there. They make everything from children's book illustrations to acing your online illustration class work super-easy, allowing you to express your creativity and create cool work that will really make your online illustration portfolio stand out to prospective clients and customers alike.
But what are the best drawing apps? We've assembled this list of the most powerful, interesting, and popular drawing apps and art apps on our radar for 2023. Let's check it out!
Free Drawing Software
If you are a digital illustrator, finding intuitive and highly competent applications for drawing is crucial for your workflow. However, with all the offerings out there, it's often not necessary to pay for great software. Here are some great applications for drawing that won't cost you a penny to use.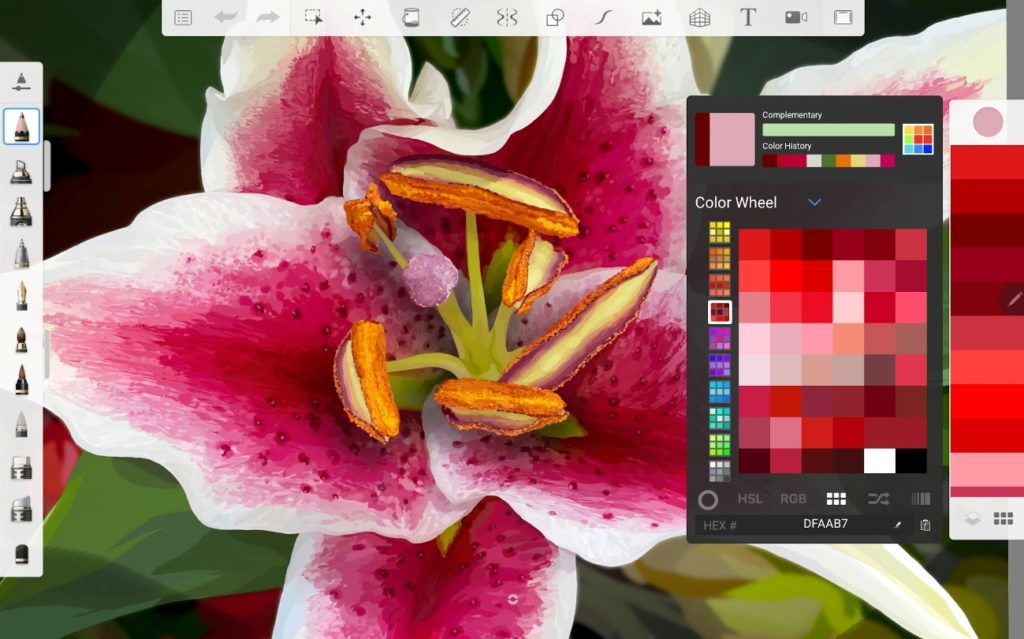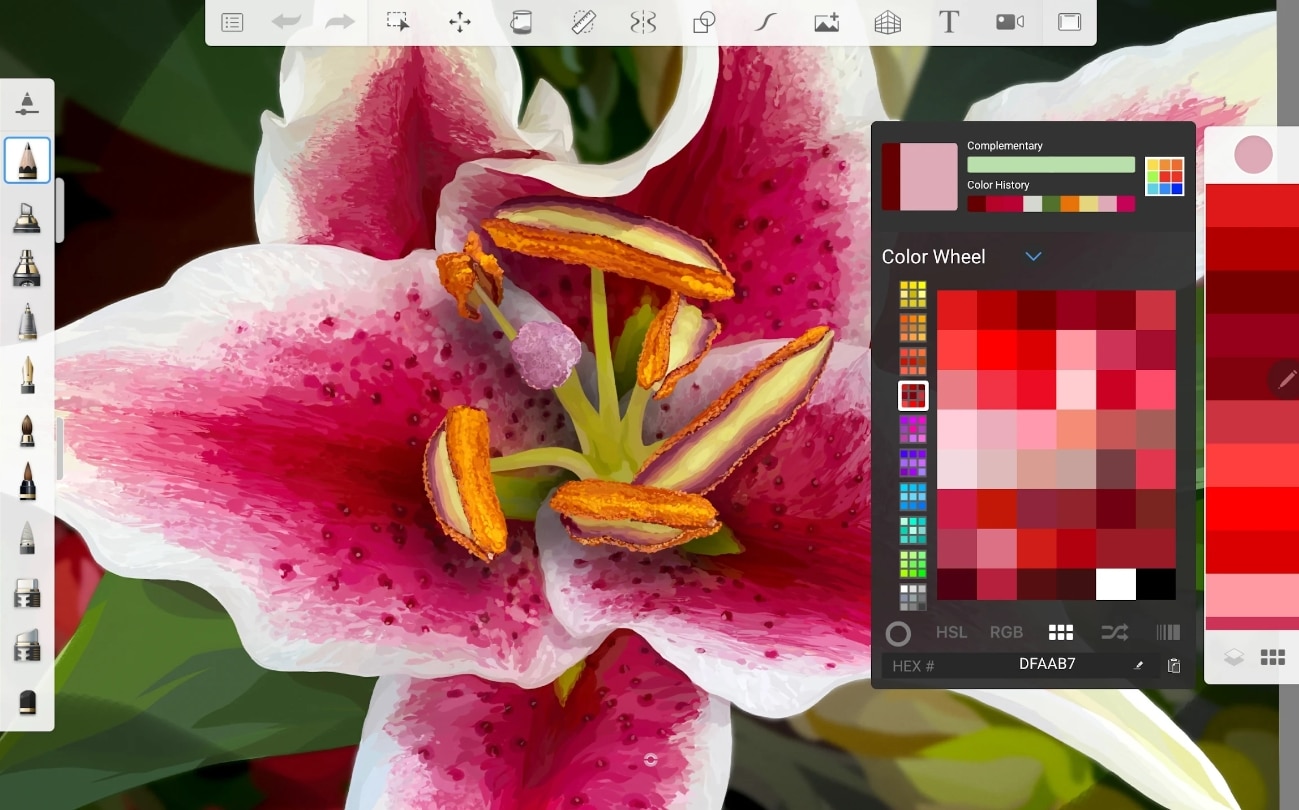 Autodesk's Sketchbook is a comprehensive drawing app free to use on Mac and Windows. The tool boasts the ability to create a drawing space on any device, making it one of the most versatile sketchpad apps on the desktop. Sketchbook's user interface stays incognito whenever you're drawing so it allows you to stay focused when you're bursting with creativity.
The tool has over 190 customizable brushes that allow you to create traditional art pieces, as well as illustrated digital art. Extremely versatile and perfect for any designer to use, this is a strong contender for the best free sketching software you can download.
Adobe Illustrator drawing apps have become a leader in the digital art industry. Drawing rich and vibrant sketches with vector art is rewarding: they look clean, and the art scales seamlessly no matter the size you work at. Adobe Illustrator Draw is a free online drawing app gem (not surprising, given that it's part of the hallowed Adobe family).
The interface is intuitive and requires very little learning time, and the UI is clean and responsive. As far as artist drawing apps go, brushstrokes behave as expected, and the interface provides lots of cool features. Plus, as an Adobe product, you can count on superior support and regular updates, in comparison to other sketch drawing apps. Easily save your creation and export as jpeg, png, SVG, and even pdf.
Adobe Fresco is one of those freemium drawing apps that just keeps on giving. Feature-rich and backed by years of Adobe expertise, Fresco will allow you to create some truly stunning pieces of art. From layering to masking and everything in between, this has to be among the best Ipad and Android drawing apps for free.
Available, essentially, on every device, MediBang Paint is among the best free online drawing apps available. It's lightweight and handles comic art and manga as beautifully as it does painting, sketching, and digital design. The interface is straightforward and makes the entire package a joy to experiment with. It also sports numerous features that provide control over your brushes and layers.
Overall, a solid draw app free to use that can give you professional results on a nonexistent budget. With multiple export options, you can save your file as a jpeg, png, SVG, or pdf.
More Free Drawing apps for PC and Mac
Free drawing apps have come a long way over the years. Here are some of the most feature-rich and intuitive online drawing apps that are free to download and use to create stunning art. Whatever stage of your career, you can't go wrong with any of these stunning art drawing apps.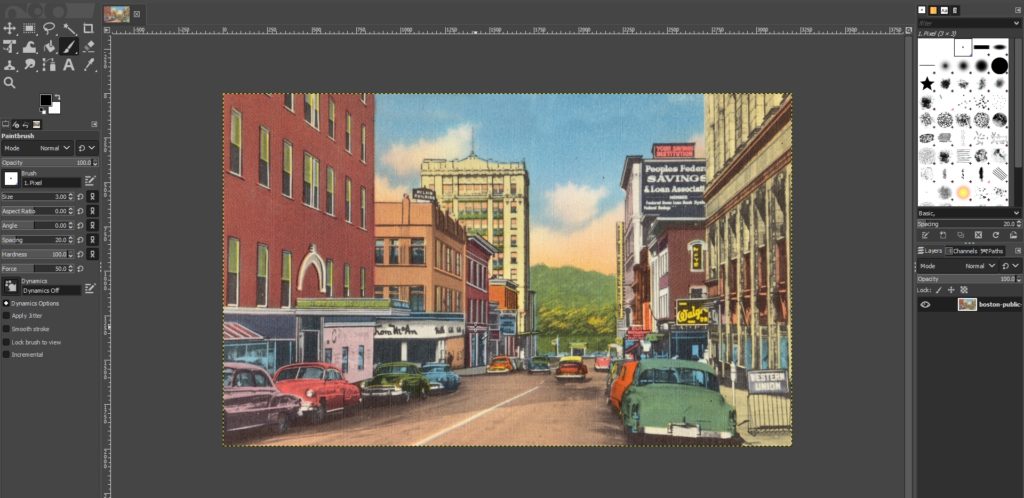 If you aren't able to procure a license for Adobe Cloud but absolutely require something with Photoshop-esque features, GIMP is exactly the online drawing app you need. It's been around a long time, too, so it has a wealth of features that are constantly being updated and improved.
Some might argue that it is one of the best free drawing apps available due to the advanced feature set. This online art app is easy to use and you can save your files in jpeg, png, SVG, or pdf. Why not take it for a spin for your next poster design?
Sketch Pad, by Sketch I.O., is a wonderful desktop app for both PC and Mac that can make your own drawing come to life. Sketch Pad features 18 brushes, over 5,000 clipart, 14 shapes, and over 800 Fonts. We feel it's safe to say, you won't be running out of ideas with this desktop app at your fingertips. At just $4.99, this is probably the best drawing app for the price.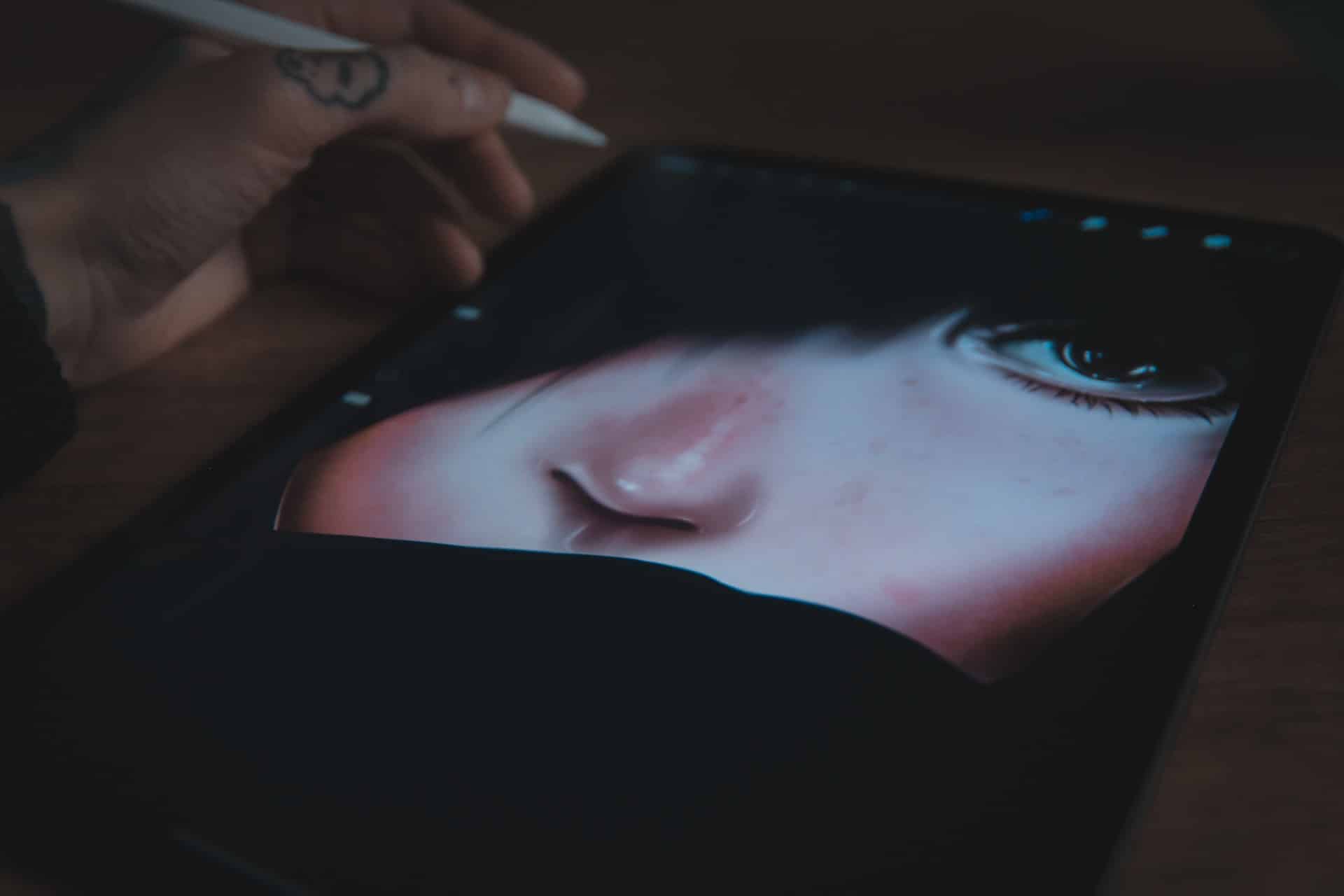 The Best Drawing Apps for Ipad
The iPad is a versatile machine, made even better by the new Apple Pencil. However, with all that power and precision at your fingertips, you are probably wondering what is the best drawing app to use. From professional art apps to great drawing apps, we go through the coolest apps out there for iPad artists.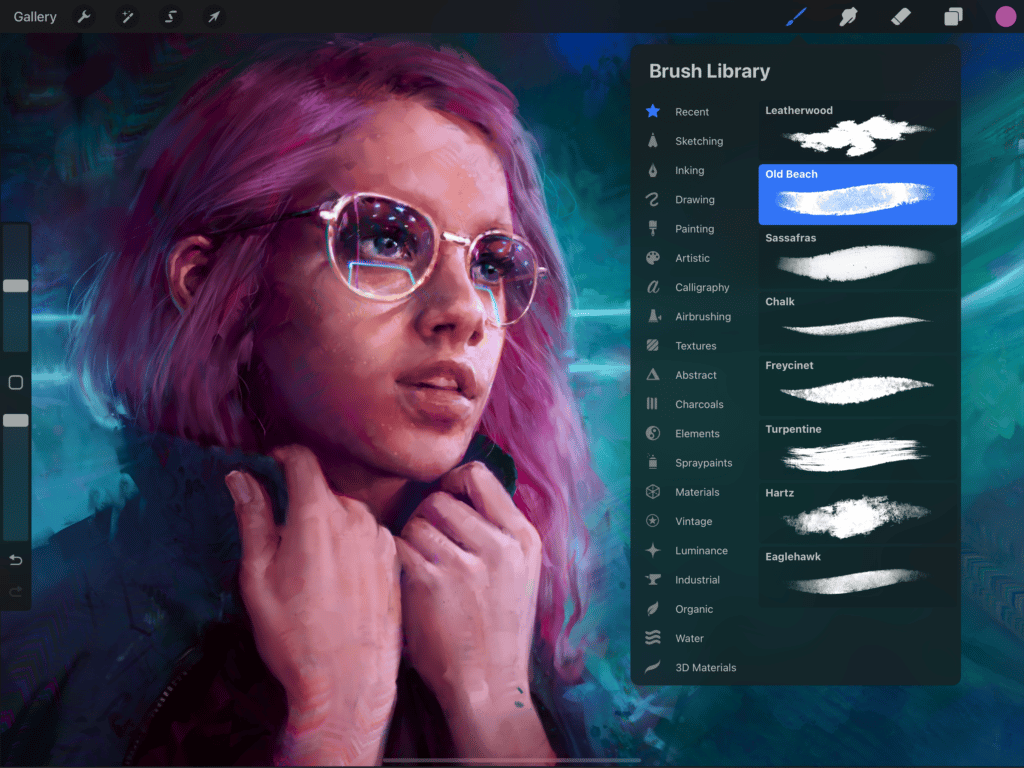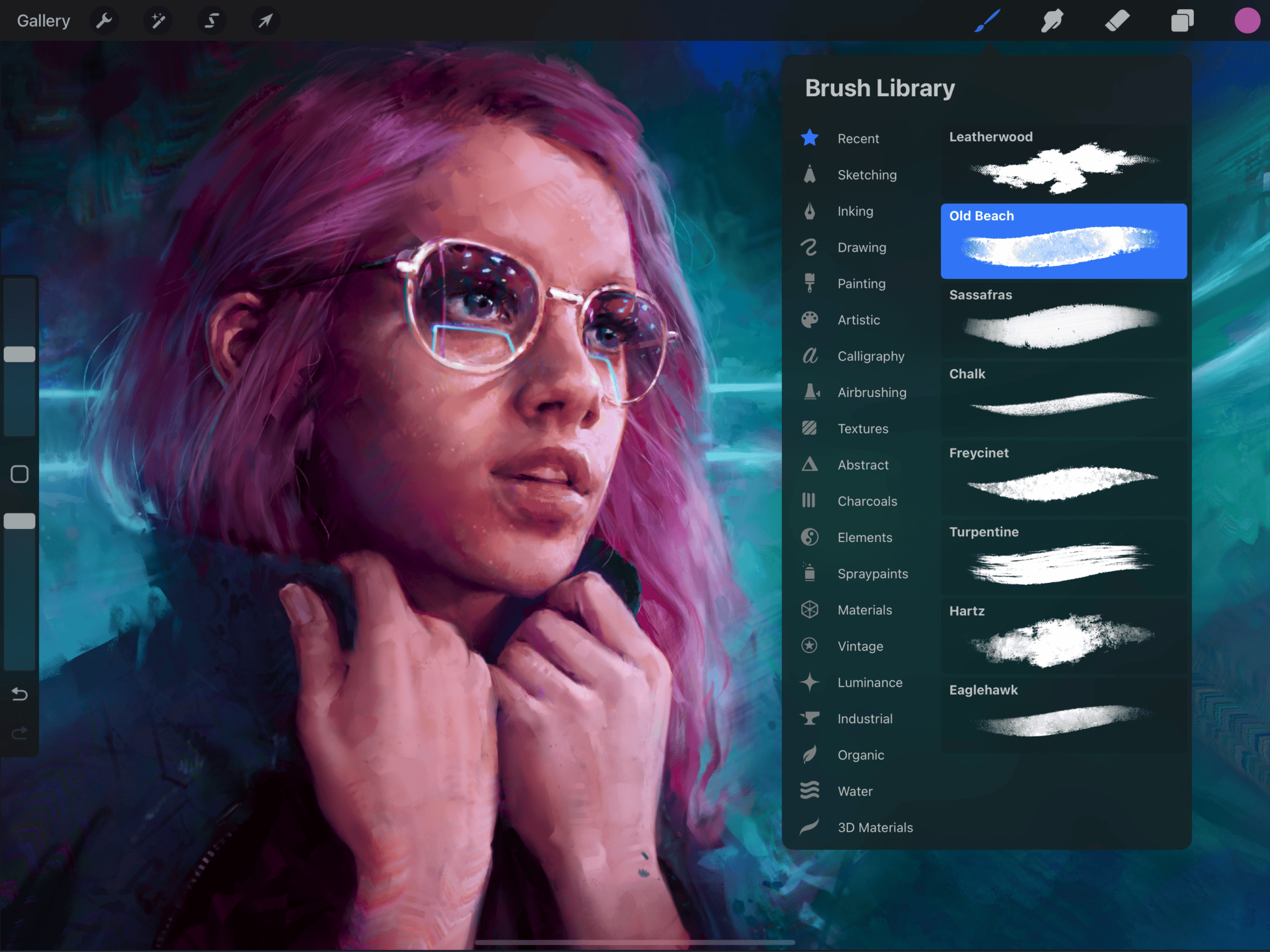 This app turns your iPad into a veritable art studio and offers deadly-sharp color clarity, ultra-responsive stylus control, and exceptionally powerful features, all at a decent price. There's very little you cannot do with this iPad drawing app, and, considering the affordable pricetag, that's saying a lot. Most importantly you can save your files as jpeg, png, svg, or pdf.
Wondering if the iPad is right for your art career? We go through the pros and cons of the best drawing tablets out there.
This free art app for the iPad replicates the look of pastels.It's easy to use, and if you've never worked with pastels before, it could be just what you need. It's one of the simplest Apple Pencil apps available, and it's a great way to get a feel for the device while creating unique sketches and paintings. Save your files in jpeg, png, svg, or pdf formats so you can share them with clients or other devices.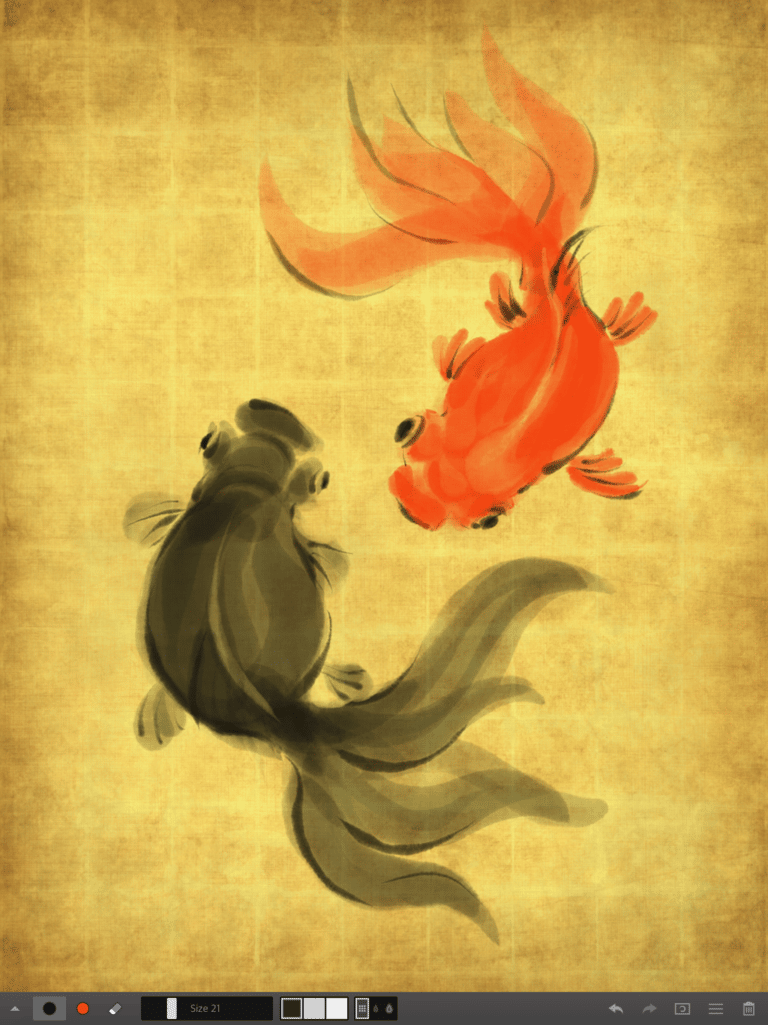 Zen Brush is designed to produce art a la traditional East Asian calligraphy and art. Make stunning pieces in minutes for only a few dollars. This is a niche art program with features you won't find in more generalized digital drawing apps, such as exporting to jpeg, png, svg, or pdf formats for sharing on any device.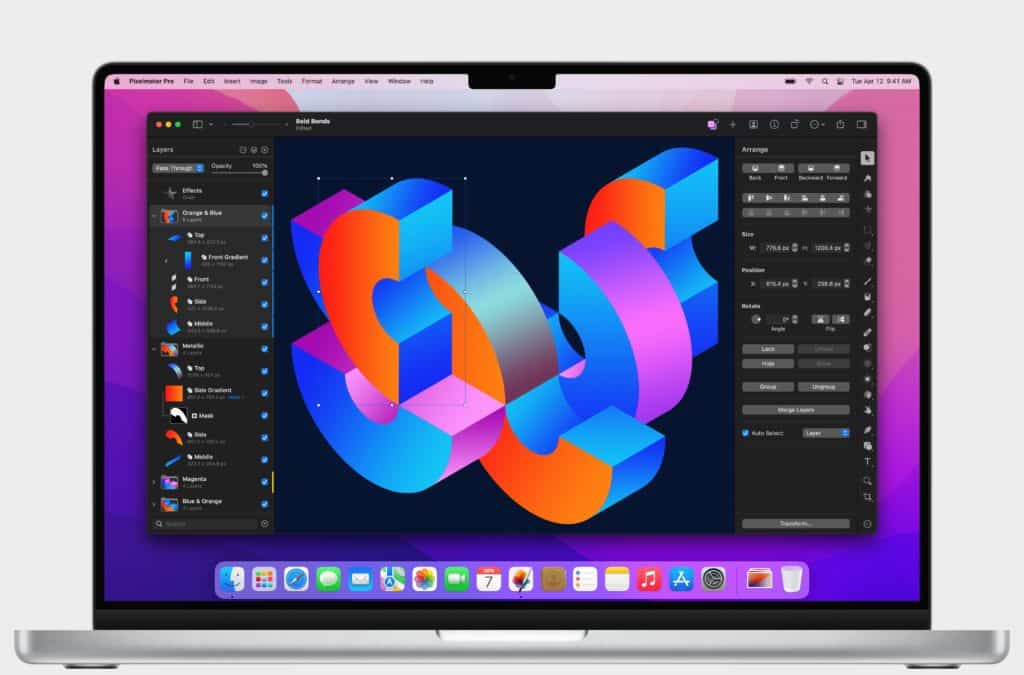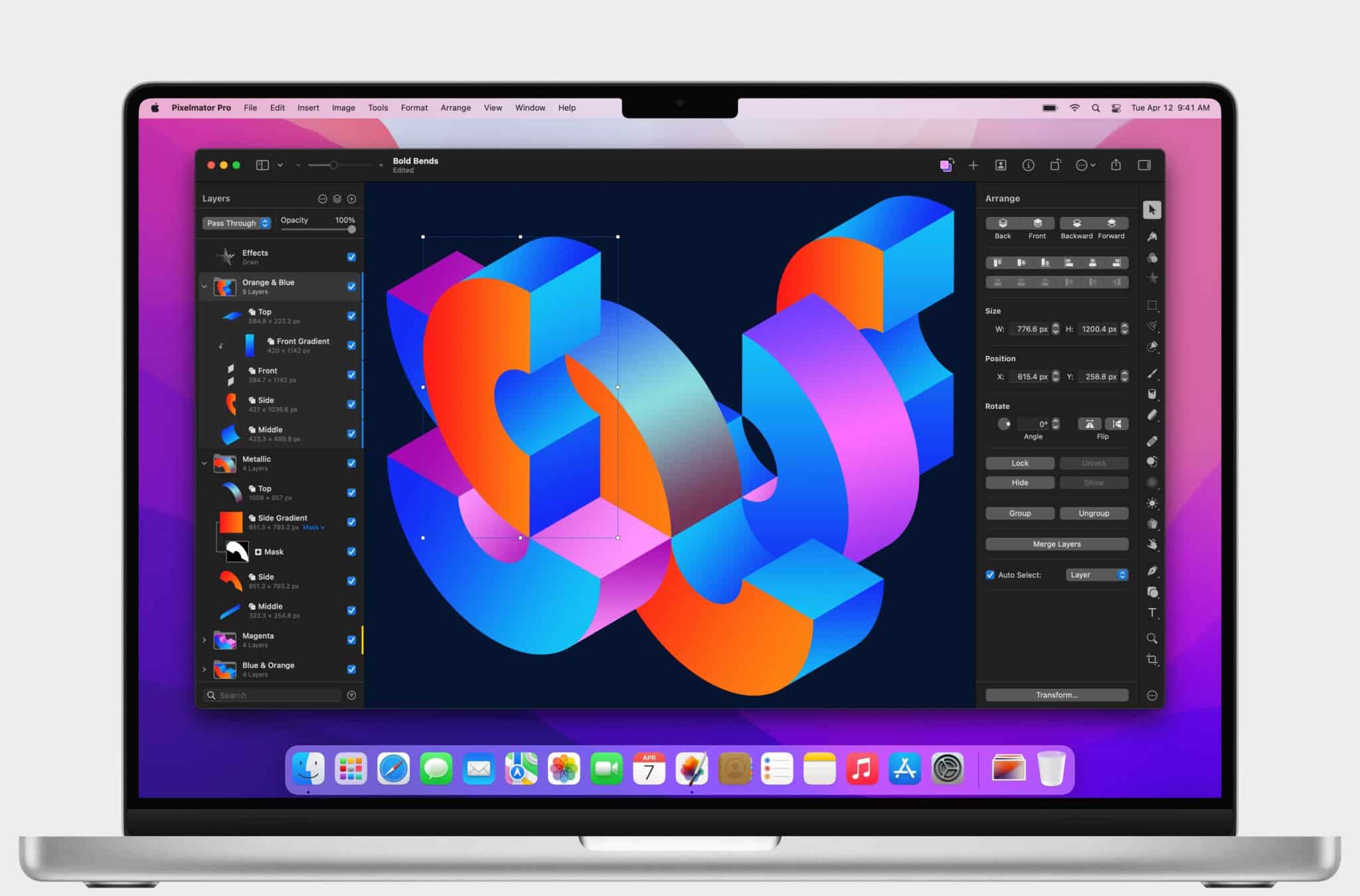 This powerful Mac art app has everything you need to create stunning artwork. You can do photo retouching, graphic design, painting, vector art, or just quick sketches here. Many users consider this to be the best drawing app for iPad Pro, and the wealth of features will have you producing professional-quality work in no time. You can save your files in jpeg, png, SVG, or pdf formats.
This high-quality iPad Pro sketching and drawing app is a must-have. It allows you to create eye-catching graphic designs capable of revitalizing your brand and appealing to clients all over the world. Whether you need to save it as a jpeg, png, SVG, or even a pdf file, Assembly can easily save it in the format you need.
Available on the app store, Graphic is a lightweight, powerful iPhone illustration app that produces vector-based art. It is designed to be easy to use so that anyone can create pleasing artwork. It works on Mac, iPhone, and iPad, so you can work from anywhere. You can even save your work easily as png, jpeg, SVG, pdf, or more. W While it costs $40, the quality of work this app can produce will help you improve your illustration portfolio !
This great little digital drawing app is only $2.79 and comes with a great set of art tools for sketching on the go. It's lightweight and user-friendly, with a simple layout and responsive features that make it feel professional. It keeps things simple and doesn't bog the user down with unnecessary bells and whistles.
Inkist is a powerful drawing app that can meet all of your needs. It has many brush features, layers, blend modes, a simple UI, and fully customizable brushes and tools found in more advanced programs. Inkist also uses color blending instead of layers, allowing artists to build up colors as if on canvas.
Capable of handling just about any type of drawing and sketching you can throw at it, ArtStudio for the iPad offers 450 brushes, multiple-layer support, and dozens of filters. Available on every mobile iOS device, this is a great option among the various painting apps found on the App store.
Offering some of the most responsive brushes available, thanks to a powerful open-GL engine, it works seamlessly across your various iOS devices. It offers layers, gesture controls, and a variety of painting-specific features and is a great option for those looking for a sketchpad app without too many extras to bog them down in minutiae.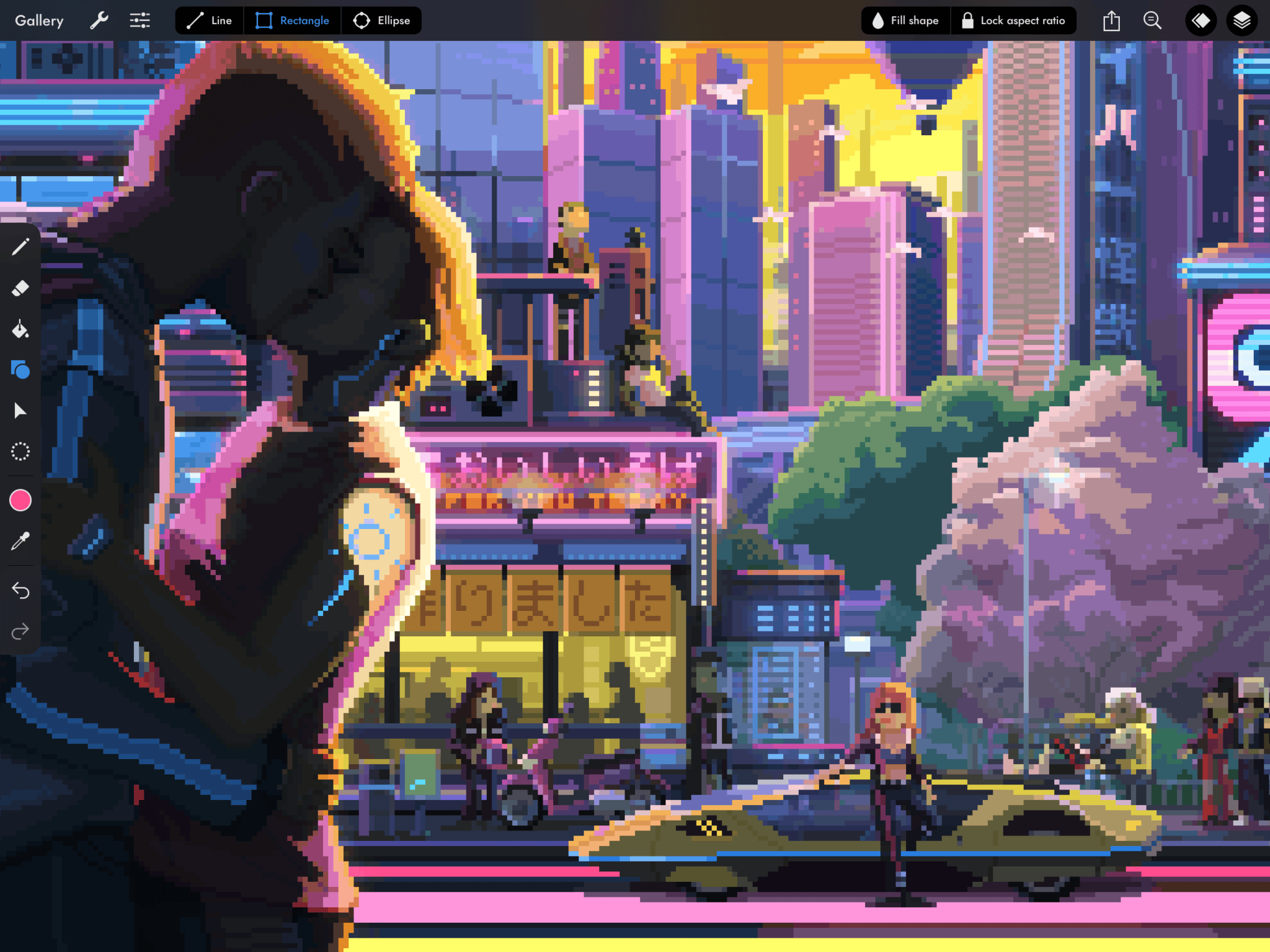 Pixaki is definitely one of the coolest drawing apps on the list and is made specifically to create pixel art. It has numerous useful features, including a multi-touch interface, layers, animation support, color selection, and custom palette options. Bonus? It's quite affordable.
The Best Drawing Apps for Android
Probably the best art app for Android, Infinite Painter will have you pumping out amazing pieces in no time at all. Every brush stroke feels great and produces the various lines you want. Few other offerings exist on the Android platform that can rival this fantastic product, thanks to its ability to produce quality, professional-looking art in a fresh way. If you are looking for the best sketch app on the Google Play Store, look no further than Infinite Painter.
Artflow is a feature-rich, ambitiously designed Android art app. This digital art app boasts an infinite number of brush strokes. It also has Adobe-like features like layers and layer blending. It's also one of the drawing apps that supports Nvidia DirectStylus for ultimate precision. Artflow also has a free trial and is free to use if you have Google Play Pass.
Paper Color (previously known as Paper Draw) is one of those good drawing apps for Android that does the basics well. It's reasonably priced and is free to download with a limited set of features. Paper Color's claim to fame is that it is one of the only digital drawing apps that is able to make your screen canvas look as if it is real paper. While it's certainly a strong contender among good art apps, its minimalist style has left us with mixed feelings.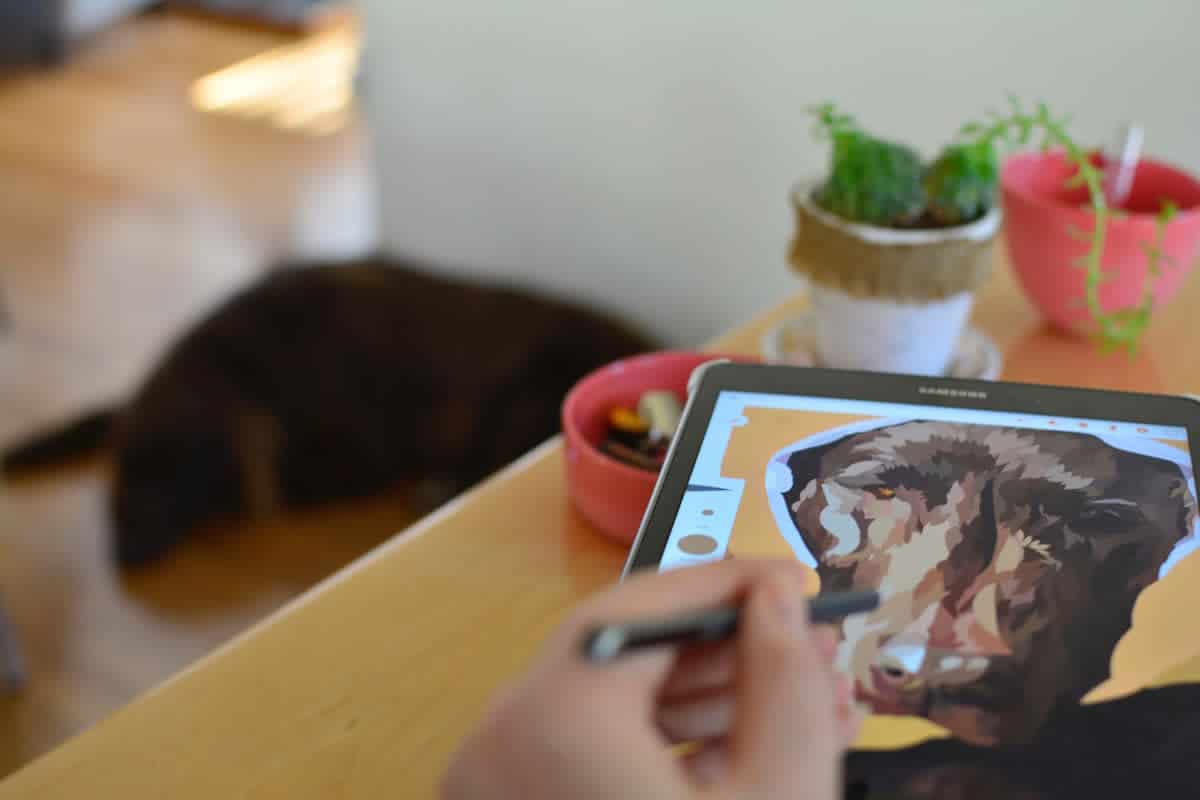 Android Drawing Apps For Free
InspirARTion
InspirARTion is one of our favorite drawing apps for free on Android. While perhaps not quite as strong in features as some of its paid counterparts, this drawing app is immensely fun and intuitive to use. You can even upload a photo of physical artwork and use it as a template. This is a great option for those looking to learn how to how to draw on apps for free.
Dotpict is among the most enjoyable art apps for free on the Google Play store. It offers enthusiasts and art novices a great entry point into the world of digital art, with features such as 'redo' and 'undo', which are essential for working on technique. If you are on the lookout for art drawing apps free to download that can help you build your skills as an artist, Docpict is a great option to go with.
Paid Sketch Art Apps
Touted as "natural painting" software, ArtRage is a sketch art app renowned for its amazing quality and realistic painting tools. It's available on Windows, Android, and iOS, and comes in a Lite version with limited features for those desiring a more basic approach, as well. This is a powerful app for any artist and, without a doubt, one of the best sketch art apps available anywhere.
After using it, few would argue that it is the best sketchpad app in the world. There are also free versions with limited features that set it apart from the competition.
You can easily share your work with the world thanks to built-in support for social platforms. With the sketches app for iPhone, you can move your work from device to device (and almost every available platform!). SketchBook is a steal.
Marmoset Hexels 3 is a voxel-based drawing app that can create some truly outstanding drawings that defy expectations. While it takes time to adapt to working in this new style (it uses the grid-based approach to art), it introduces you to a new style of artistic creation that becomes second-nature once you get going—it feels a little like putting together a Lego set! The results are staggeringly cool. If you want something truly different to inspire new imaginative ideas, this is a great place to start.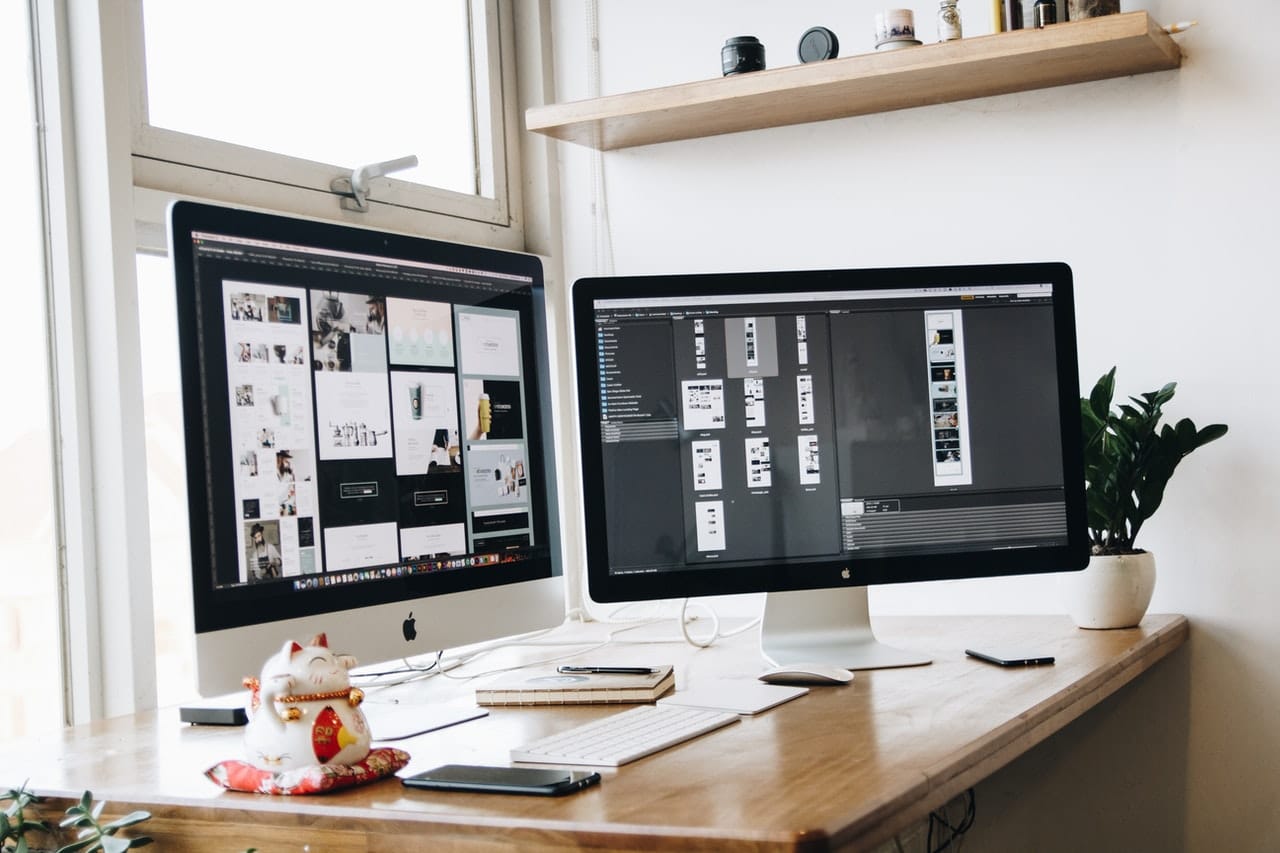 Drawing Software for Professionals
No professional apps list is complete without the behemoth of art and design! Photoshop continues to hold its own among the best art apps on desktop and provides one of the most powerful creative suites on the market. It can handle anything you can throw at it and is an industry standard for a reason. It features amazing brush controls, including mimicking the way real brushes and pencils operate on canvas and paper, and even offers a wonderful paint-blending mode to simulate oil painting via mixing. When it comes to art apps, Photoshop reigns supreme. If you are looking for an advanced drawing app that leaves no stone unturned, get Photoshop today.
This isn't just a sketch app. Everything from rough mockups and scribbles to sketches and finished product designs can be done within the same application. Designing interiors, exteriors, architecture, and other forms of design is a breeze with this tool. Few options come close to Concepts when it comes to experimenting with clients and brainstorming.
In an intuitive and straightforward package, this wonderful sketch app does exactly what comic artists need. It includes lettering aids, inking features, sketch capability for rough pencils, robust painting options for colorists, and even panel layout functionality to ensure you never have to leave the app to complete your work from start to finish. For $14.99, this is a powerful—and affordable—tool.
You'll be sketching quality pieces in no time at all with this nifty offering from Adobe. Its expressive painting tools make it stand out among the free drawing apps, allowing it to go toe-to-toe with the best-in-class options on the marketplace. It has something few others can offer, too: it really feels like you are interacting with the surface you draw on, and each different medium offers fantastic quality.
Designed with manga and anime in mind, this specialized art tool provides a wealth of great features that can lead to awe-inspiring pieces of work. This is a serious tool for professionals, (and the desktop application price tag reflects this!). If you have the scratch to shell out for one of the top drawing apps and are itching to get amazing creatives out the door, look no further.
This wonderful sketch app is available for iPhone, iPad, Macs, and Android devices, and is known for offering some of the most realistic drawing tools available on the market. You can create watercolors that look indistinguishable from the real thing, and acrylic and oil painting styles look eerily realistic.
Here's a digital drawing app designed for the speedy creation of whiteboarding-style concepts, sketches, and thought processes. It encourages you to jot down things as they happen, and use its streamlined tools to present information to clients rapidly. It's hands-down one of the best free digital art apps, so there's no reason not to try getting your creative juices going with a different approach to sketching.
Get this fabulous pencil sketch app for only a few bucks, and start producing some stunning art with very little effort. It has a clean UI that wastes no screen space, and pen strokes are accurate and intuitive. It makes drawing a joy.
A "social drawing" program, Ibis allows you to sketch and publish your pieces for others to look at as you work on them. It's easy to use and has a myriad of great brushes available. It provides tools perfect for manga art creation as well, such as frame dividers and text tools, half-tones, and more. The best part? It's one of those painting apps free to use with no restrictions. Stop drawing alone, and see what collaboration brings to the table!
When it comes to vector-based art, topping Illustrator is tough. It's been around for ages and is packed with every single feature you could require, allowing you to produce professional artwork. All these offerings mean it's been one of the top drawing apps for well over a decade. It requires an Adobe Cloud subscription to use, however and is therefore probably suited more for professionals than hobbyists.
Aseprite is a powerful pixel art program that is both affordable and accessible. A few of its notable features include ghosting of frames to aid in the creation of high-quality sprite sheets and a "pixel perfect" feature for the tricky rounded edges that trip you up when working with pixels. Compile it for free from their Github page, or buy one of the best art apps for sprite work available.
Krita, a relative newcomer among free art apps, is quickly becoming unbeatable. Take a look at the amazing art you can create with this simple app. It's odd that this free art app has no upsells or subscriptions. The brush stabilizer reduces the pain of doing line art with shaky hands. It's quickly become one of the best free digital art apps available.
3D Art Design Apps
ZBrush is a fantastic tool for serious 3D artists. Despite its steep learning curve, this program can produce amazing results. This app is a killer…but it isn't cheap. This is an app for serious modelers only, and there are few that can compete with ZBrush.
Blender is one of the best free 3D drawing apps available. It includes animations, UVs, and any other feature you need to create production-ready models. It has a thriving online community and a plethora of plugins that multiply its power.
Sculptris is a free 3D art app that is extremely basic—and that is its greatest strength. You can use predefined primitives or import your own models to sculpt with simple tools. Within minutes, you'll be able to use the various sculpting tools to create weird aliens, monsters, and whatever else you can imagine.
Here's a free modeling suite designed to help create professional-quality models for game development, 2.5D, and 3D art without costing an arm and a leg to do so. It offers all the features you need in a 3d modeling application: create primitives, set up your UV maps, paint with 3D painting tools, add ambient occlusion, and more. It's worth a look if you want to delve into this realm of art and have never been able to afford to try. You could even try creating projects to print on a 3D printer.
Simple and Easy Drawing Apps for Beginner Enthusiasts
For artists just getting started, or those looking for minimal distractions, feature-heavy art design apps can get in the way. Here are some simple drawing apps that will allow you to get drawing with little learning curve required.
Color Pen Sketch is a line art app that allows you to convert any photo into a line drawing, which you can trace and recreate digitally. This is a perfect app for those looking to learn the fundamentals of drawing and create some stunning drawings straight away.
Paint is an age-old desktop app that has withstood the test of time. Constantly adapting to changes in technology while remaining simple and easy to use, Paint is one of those fun apps to draw that always brings back a bit of nostalgia to whoever uses it.
Artsy – A Dedicated Line Art App
Wondering what should I draw? Artsy is a fun line art app that gives you creative drawing ideas while making it fun and easy to follow. If you are just getting into drawing and sketching this what to draw app is a great place to start.
More Art Apps
If you are still unsure where to start, have a look at our comprehensive guide outlining the best creative apps for artists. Whether you are looking for a basic hand drawing app or a fully-fledged illustration system, we can help you discover the best tools for your workflow.
Don't Forget to Add Your Creations to Your Online Portfolio
Once you've used some of these drawing apps and have some amazing sketch work ready to go, it's time to display it on your online portfolio website. Don't have an idea on how to create one? No worries—just use a website builder; you can make a professional-looking site in minutes. Choose one with gorgeous templates and fresh fonts to show off your new drawings, illustrations, and art as beautifully as possible. We can't wait to see it!
Looking for more ways to boost your illustration career?
Amazing Illustration Portfolios Examples
9 Free Google Chrome Apps Every Artist Needs
A Guide To Making Extra Cash With Pet Portraits