Build your professional portfolio website in minutes. Start your free 14-day trial today, no credit card required.
Are you a graphic designer with a penchant for drawing? Or a fine artist looking for commercial work? Or a student looking to develop a primary career as an illustrator? Either way, you're reading this because you want to improve your skills and expand your illustration portfolio. Taking an online drawing class is a great way to learn new illustration techniques or software, at a low cost or for free. Even if you're a pro, there are lots of high level courses online for those looking to fine-tune certain skills or learn about new digital illustration methods.
Online courses and tutorials look great on your resume, too. Employers want people dedicated to their profession. Show that you continuously update your knowledge and you also show that you will grow as an employee. Taking an online course could lead to a new job, raise, or promotion.
Learning illustration is a multifaceted skill. Not only must you have the ability to render in a given medium, your primary skill is creativity. Anyone can learn to draw. Drawing is the practice of looking and the development of techniques to replicate what you see. If you can see, you can learn to draw from a technical standpoint. But not everyone is creative. Creativity is a complicated skill that needs to be fostered in illustrators.
Of course, illustrators must also build creative approaches to visual rendering skills. In today's world the illustrator also needs to be digitally savvy. Professional illustrators often use programs like Photoshop, Illustrator, InDesign, After Effects, and Cinema 4D, not to mention digital photography.
The nature of working as an illustrator means that having a diverse range of knowledge and skills in your repertoire can go a long way. We've put together a list of ways to start to learn illustration or enhance your existing skills, all through affordable online courses.
Level: Any, good for beginners
Cost: Starts at $20 per course
Udemy features videos by independent teaching contractors with prices depending on the length of the video, the teacher, and the field. Essentially, Udemy is a competitive classroom marketplace. This means classes are rated, and the quality of the class is illuminated by ratings just like on Yelp. There are frequently sale specials on the site, so watch out for deals on the classes you want. Choices include Digital Illustration: Make A Custom Character Illustration. and Adobe Illustrator: Create a Quick & Easy Unique Illustration. Udemy is a great source for basic courses that introduce you to learning a new skill.
Level: Any
Cost: Membership is $29.99 a month on average
Many designers and illustrators use Lynda. It's a web platform that provides a huge database of tutorials for software for creatives. The best thing about Lynda is that it provides consistently professional tutorials. Unlike Udemy, Lynda requires a membership, instead of paying per course. You can explore all of the classes, and all of the tutorials are available to you, so you don't feel like you're gambling with whether or not it's going to be worth your time. Lynda has a series of classes focused on skills for illustrators. These are excellent supplements for designers already working digitally. If you're employed by a company in the design field, you may be able to access a company account. Ask your employer if they have one. This is a great way to show that you care about your job and are focused on improving your professional skills.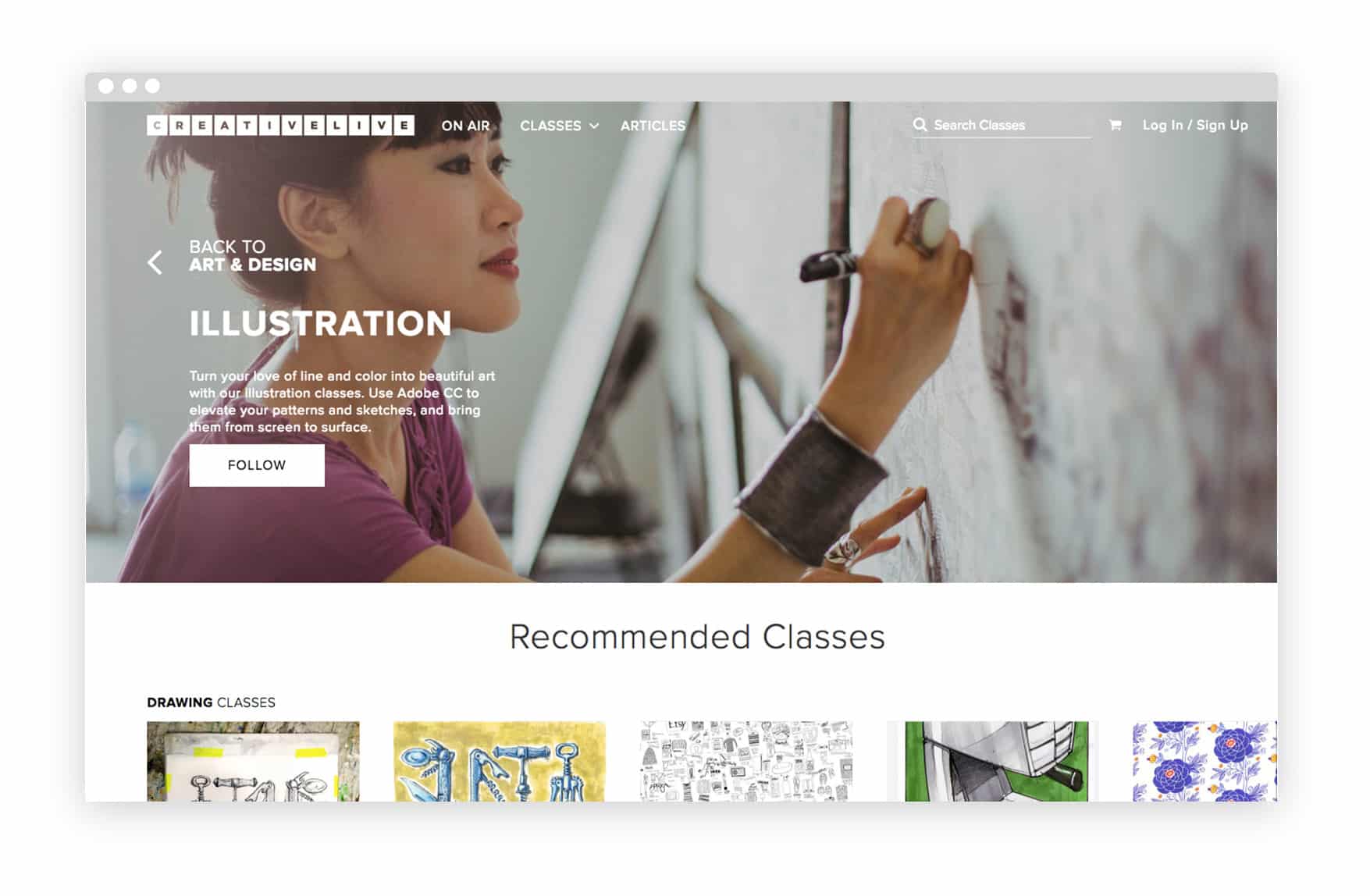 Level: Any
Cost: Starts at $29 per class
CreativeLive is an educational site that specifically features material for creatives. The videos are high quality, and taught by esteemed professionals. Some classes zone in on one topic, like Design Surface Patterns from Scratch. Others introduce broad subjects, for example Drawing Basics. Although the cheapest classes at CreativeLive are just $29, many courses cost more, in the $79-100 range. Still, this is pennies in comparison to a college course, not to mention more convenient.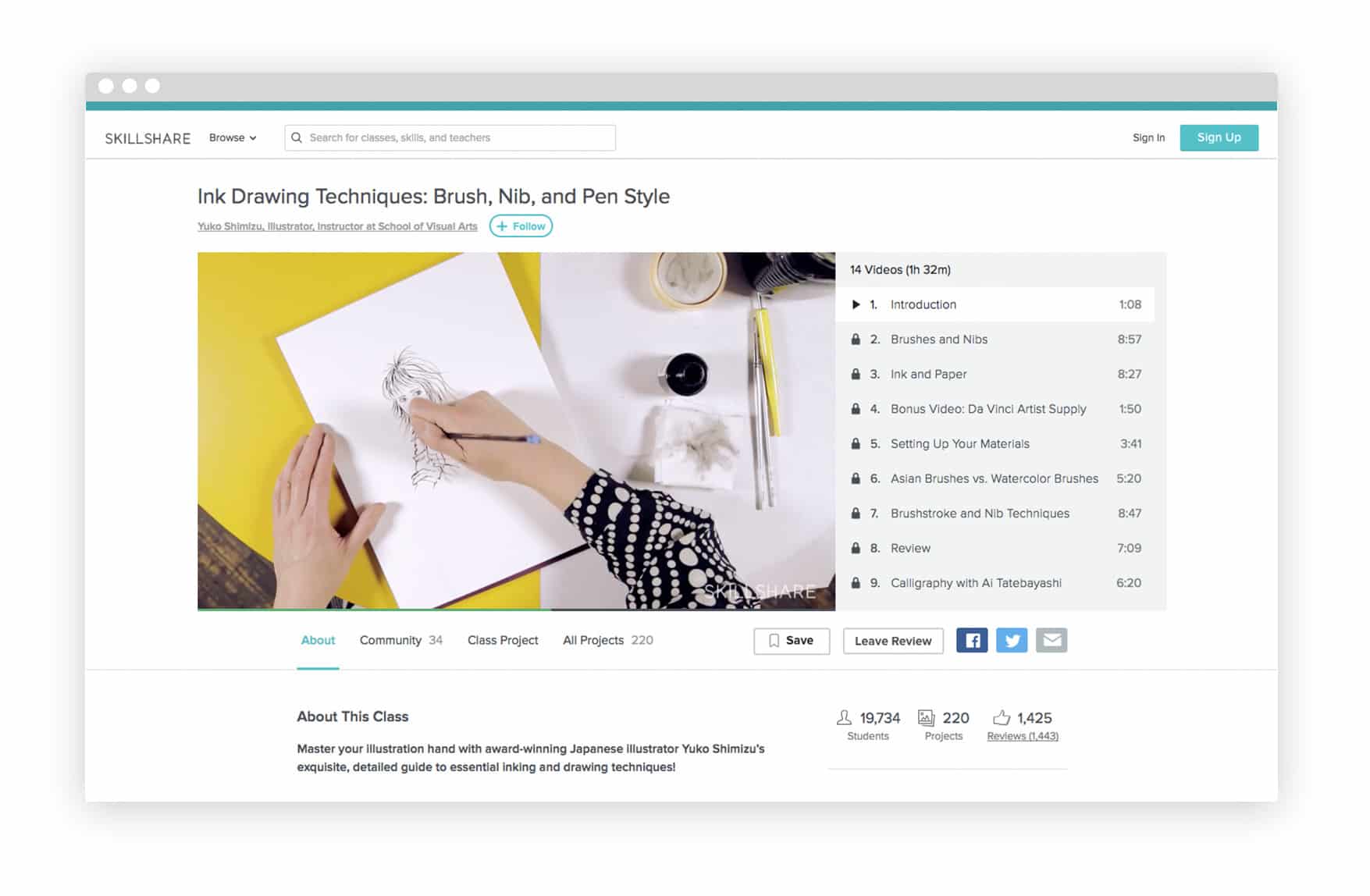 Level: Any
Cost: First month free, then $8-12 per month for unlimited classes.
Skillshare is a membership-based site that allows you to access classes in endless different fields. If you're a DIY fan, you'll love this site. Signing up for a year costs a mere $8 per month for Skillshare's database. You can also test out a free trial month to see if you think it's worth it. Skillshare classes are run by professionals and expert craftspeople. They offer a variety of courses on illustration techniques, including Pen and Ink Illustration and Food Illustration. What we like most about Skillshare is that the videography is well done. Their tutorials are current and frequently updated. Yuko Shimizu, a New-York based Japanese illustrator and School of Visual Arts Instructor, has a course on ink drawing which is definitely worth checking out.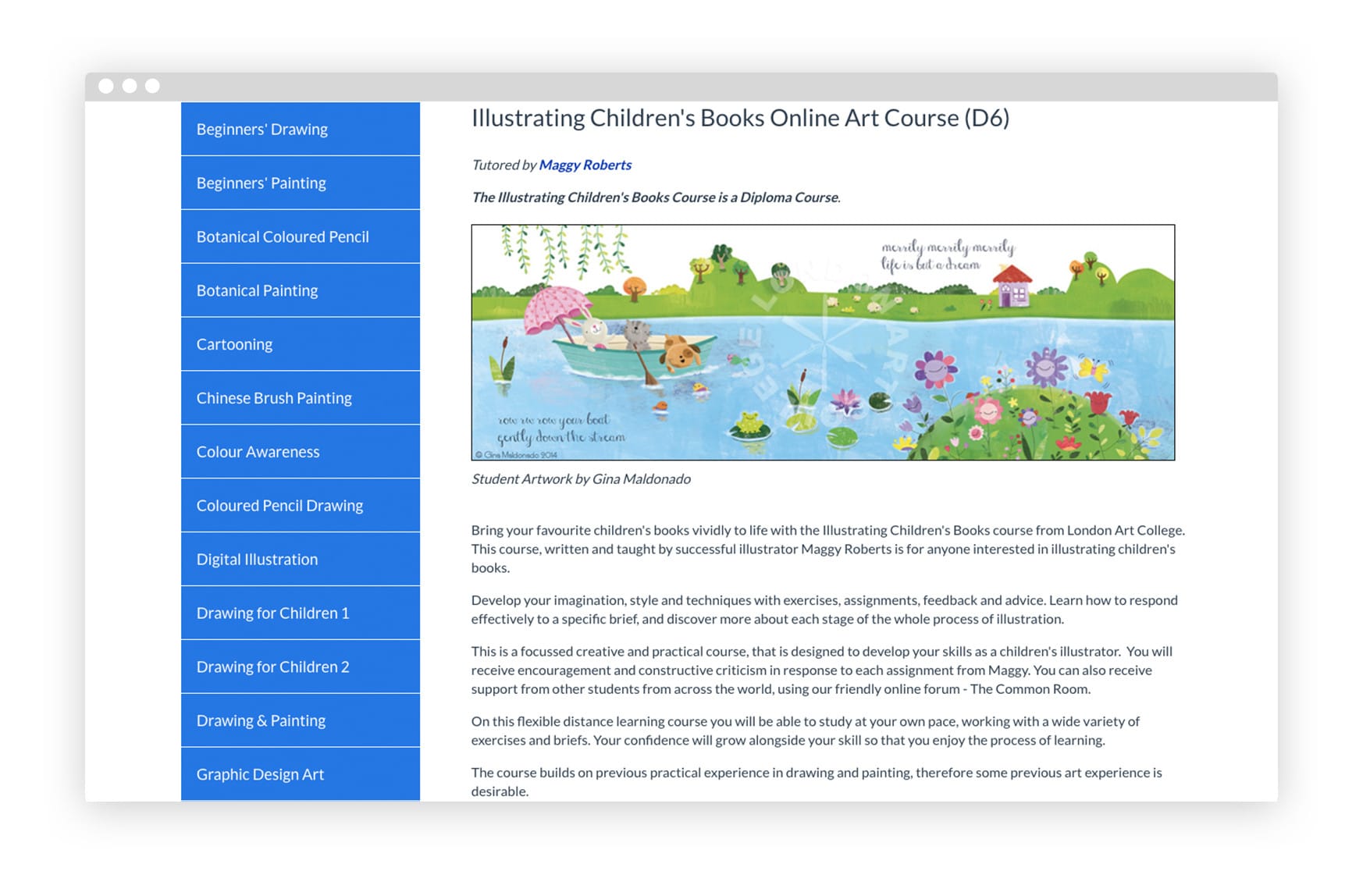 Level: Any
Price: £360 per course
London Art College has several online courses in illustration and fine arts. Each course has a primary tutor who is a veteran professional in their field. The course Illustrating Children's Books is tutored by illustrator Maggy Roberts. Each course comes with a diploma on completion, which makes this a nice addition to your resume. London Art College also has classes on botanical painting, an introduction to illustration, and graphic design.
Level: The student should have basic understanding of Adobe Photoshop, Illustrator and drawing.
Price: Free. For students at Cornish College, the cost is $300.
Cornish College of the Arts offers various courses through Kadenze, like Intro to Graphic Illustration, which focuses more on creative development than drawing skills. This course is organized into sections, including "What is Good Illustration," "Digital Tools Demos," and "Compositional Studies." Kadenze developed this course in partnership with the Cornish College of Art. For students of the Cornish College of Art looking to obtain a course credit, the course has a charge, but anyone else just looking to brush up on their art skills can take it for free. Because this is a college course, it's more academic, focusing on theory rather than technique. Kadenze, an educational site which hosts a variety of classes, is worth exploring in general, as they offer several courses which might interest illustrators. (Check out Making Vector Graphics with Illustrator, for example.)
Level: Those looking for a degree, or wanting to pursue an MA or MFA in Illustration.
Price: Variable.
SCAD bills itself as the "University for Creative Careers." They have campuses all around the world, but they also offer online-based degrees for creatives: an online MA and an MFA degree in illustration. The course runs through correspondence, which is perfect for students who want to study at home. Otherwise, it follows a normal schedule for attending a university. This program is ideal for people committed to pursuing illustration as their primary career. It's also good for those who need official accreditation.
Level: Any
Price: Free
Sinixdesign is simply a YouTube channel, which features popular illustration and design tutorials. Each video takes you step-by-step through projects or theories of design. For example, the class Painting like a Sculptor takes you through the steps of approaching digital painting as if you were sculpting in digital space, breaking down techniques so they're easy to understand. This allows the student to build skills accurately and slowly to develop a new way of illustrating. Sinixdesign has been online for 10 years, so the database is rich with videos on a variety of topics. Best of all, it's completely free.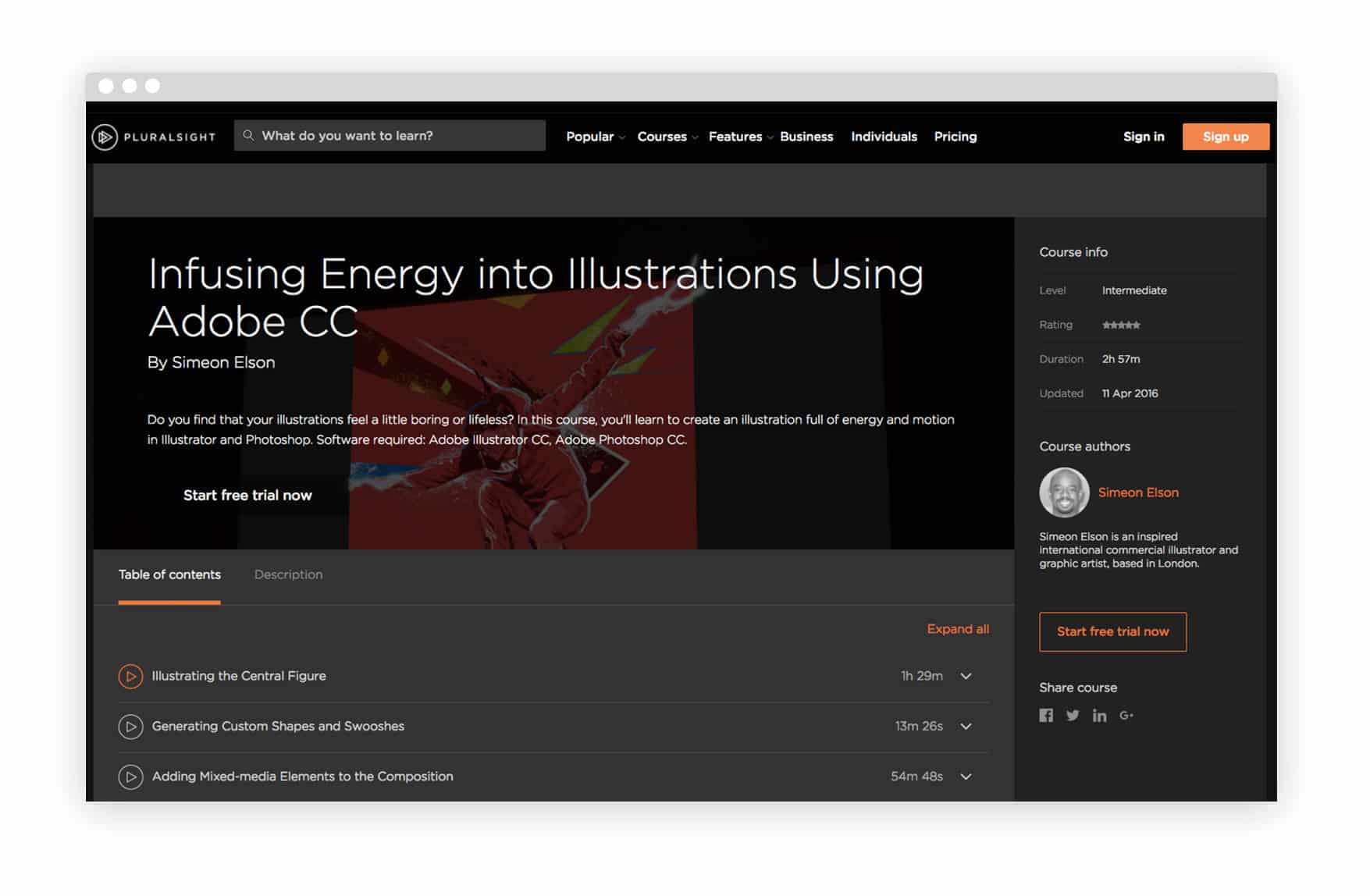 Level: Any
Price: $229 a year, or $29 a month. They also provide a free trial membership for 10 days, or 200 minutes of use.
Pluralsight, which was formerly called Digitaltutors, has a large resource database of tutorials for creatives. The site has over 5,000 tutorials related to illustration. This could be good for dedicated professionals, as it offers frequent access to specialized videos in their field.