Drawing tablets offer illustrators an endless variety of effects, right at your fingertips. Now, you can work on your next piece from just about anywhere. The best drawing tablets are basically mobile art studios, and, with so many to choose from, it can get a little bit overwhelming.
Don't worry: that's where we come in! Whether you're looking for a cheap drawing tablet that will just get the job done, or the most premium graphics tablet available on the market, our round-up of the best drawing tablets will help you choose the one that is perfect for your needs and budget.
A good drawing tablet is a super-important tool for illustrators working today, and if you don't have one yet, it's worth considering the investment. Why? The best drawing tablets will seriously level up your art, and allow you to take your online illustration portfolio to new heights. And, of course, a strong illustration portfolio is a must if you want to get paid for your illustration jobs. It's a great way for clients to find you and get to know your style.
So, what should you look for when choosing a good digital tablet?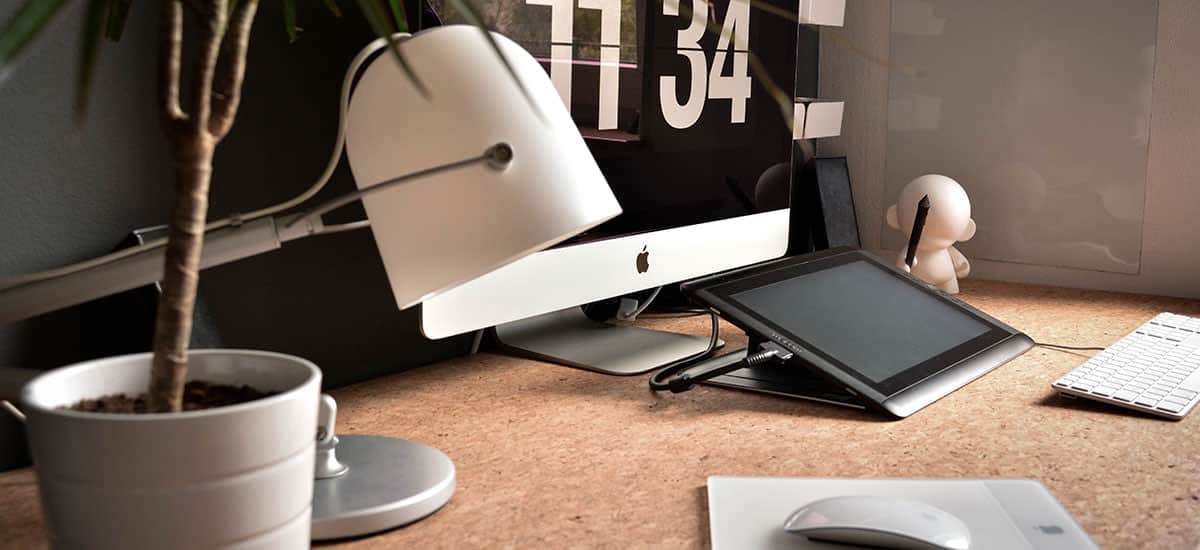 Types of Drawing Tablets
Drawing tablets are available in a few different types. Which one is best for you depends on your artistic requirements, budget, and existing setup.
Pen Tablets
The more basic—and usually more affordable choices—are the pressure-sensitive pen tablets. These connect to your monitor, and your pen strokes on the pen display are translated into images on the screen.
Graphics Tablets
Graphics tablets, or display tablets, combine the display and the pressure-sensitive pen tablet into one device. This means that you can work just about anywhere! The experience of using these is also much more similar to traditional illustration.
Tablet Computers
These are computers that you can fold into a tablet, and that can be used like any other regular computer. With a drawing app, they can be converted into a graphics tablet. There are tons of amazing drawing apps and art apps out there, so you have lots of options ranging from free to paid.
If you don't already have a computer or display monitor that you love, you might want to keep an eye out for tablet computers that can do double-duty. That way, you can take an online illustration class, create your next masterpiece, and build your portfolio all from the same device!
Now, let's touch on the various features available.
Drawing Tablet Features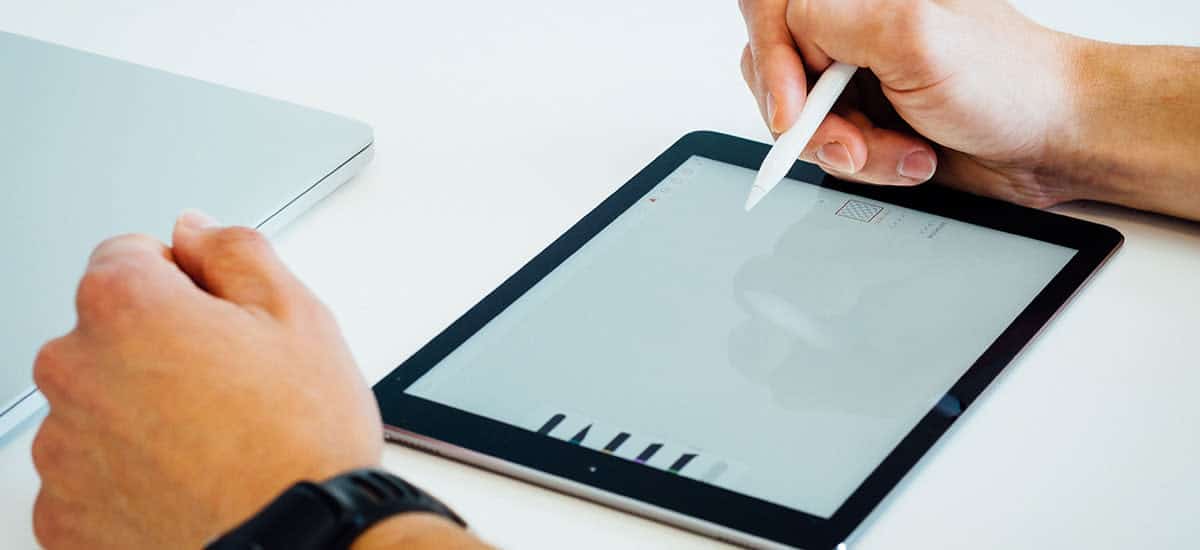 Active Area
The active area of your drawing tablet is basically the amount of space that you can draw on. If you have a nice big screen or drawing area, it means you zoom as much to get that fine detail. Usually, more drawing area is good, but options with a small drawing area can be great if you're looking for a lightweight and ultra-portable option. A large drawing area might be more important if you draw epic wide landscapes than, say, if you illustrate children's books.
Resolution
The resolution of digital tablet screens can vary quite a bit. If your illustrations involve very fine detail, a high resolution might be an important feature for you.
Pressure Sensitivity
The pressure sensitivity of your stylus, or pen, is described through levels. There are excellent digital tablets with pressure sensitivity levels in the 2000s—and many models available now have levels in the 8000s!
Higher levels mean a more natural drawing experience, and better control of fine details. While an extra 6000 levels of pressure sensitivity may sound like a lot, many artists find that they don't notice a huge difference. This shouldn't make or break your choice of the best drawing tablet for you, but it's a good spec to confirm before you make a purchase.
Stylus
Some sketch tablets come with a stylus; others require you to purchase it separately. That's something you'll want to think about, because it adds to the cost and not all styluses are compatible with every tablet. Make sure your tablet and stylus can work together, otherwise you could do damage to your new device.
Wireless Capability
This feature refers to pen tablets that you'd use with a monitor. Some will connect wirelessly and others require that you plug into the monitor with a cord. If you'll always work from the same place, wireless isn't an absolute must. Sometimes, even wireless options are best used plugged in since it can impact the smoothness of your work.
Scrollers
Many graphics tablets come with a built-in scroller that allows you to navigate from one part of your artwork to another quickly and easily. A scroller can be especially handy if you're working with a smaller active area.
Hotkeys
No matter what kind of digital drawing tablet you choose, customizable hotkeys are a great way to speed up your workflow. Lots of tablets come with these programmable buttons (sometimes digital, sometimes physical) that you can assign specific shortcuts to.
Now that you know what the different kinds of digital drawing pads are, and the features to consider, let's get into the best tablets for artists available today.
Wacom Drawing Tablets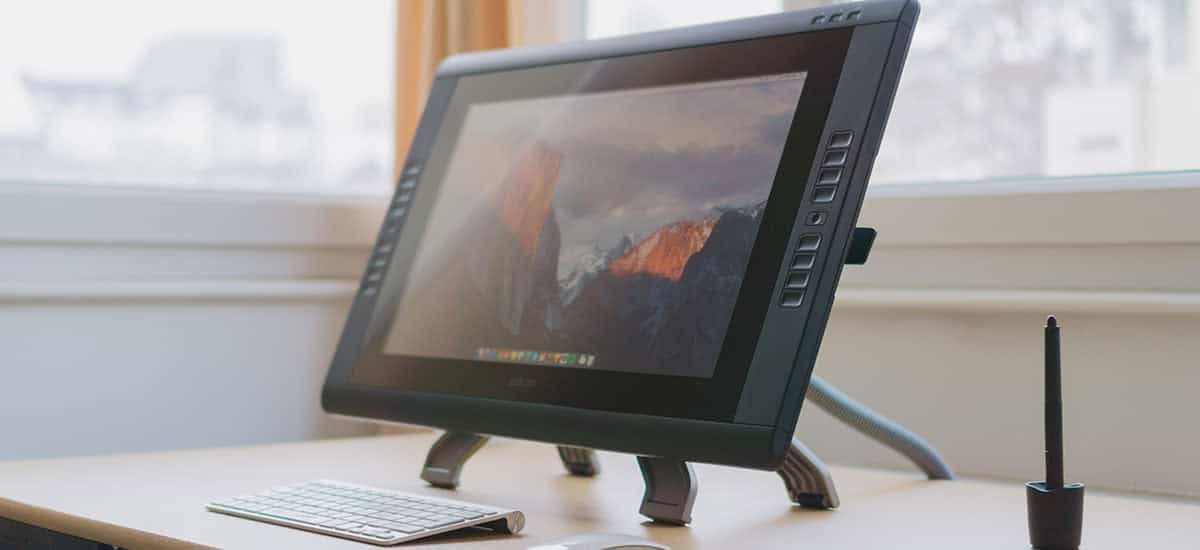 Wacom are experts when it comes to graphics tablets, and make some of the best drawing tablets out there. They're not cheap, but they are worthwhile investments that will definitely motivate you to make art.
Wacom Cintiq 27QHD Creative Pen and Touch Display
With a 27-inch display and 2560×1440 resolution, the Wacom Cintiq 27QHD is an incredible tool for creating art and working on image editing, animation, and graphic design. With its super-sharp display and incredible color accuracy (97% Adobe RGB, to be exact), there is definitely no need for an additional monitor here.
The stylus is included with this model, and it comes with a range of nibs so that you can really customize the way the pen feels as it glides across the tablet. This graphics tablet is designed to give you a true pen-to-paper feel.
This graphics tablet weighs nearly 20 lbs and comes with a very hefty price tag of over $3000, so it isn't for everyone. But, for the serious artist who works primarily from a single home office, it is a beautiful and truly professional device that should definitely be considered.
Wacom Intuos Pro, Large
Unlike the Cintiq 27QHD, the Intuos Pro is a pen tablet that you connect with your computer so that you can start drawing in your favorite software program, such as Adobe Illustrator. This digital drawing tablet has a 12.1″ x 8.4″ active area, which is a nice amount of space to work with, and comes with the very impressive Wacom Pro Pen 2. This pen features 8192 pressure levels, meaning that next portrait you draw can be filled with amazing detail! At about $800, it is on the higher end of pen tablets on the market.
No matter what your current PC is, you can plug (or connect to Bluetooth) and play with this tablet since it's compatible with both Windows and Apple.
Bonus: it also comes in both a small and medium size, meaning you can probably find a version that fits your budget.
Wacom MobileStudio Pro 13
The MobileStudio Pro 13, priced at around $3000, is a whole lot more than just a drawing tablet. Wacom says it "packs an entire studio full of powerful creative tools into a slim, lightweight package," and, with its ability to run programs like Photoshop and Illustrator, and handle demanding software for 3D animation and CAD, it really is a studio that you can carry around with you.
Best Huion Drawing Tablets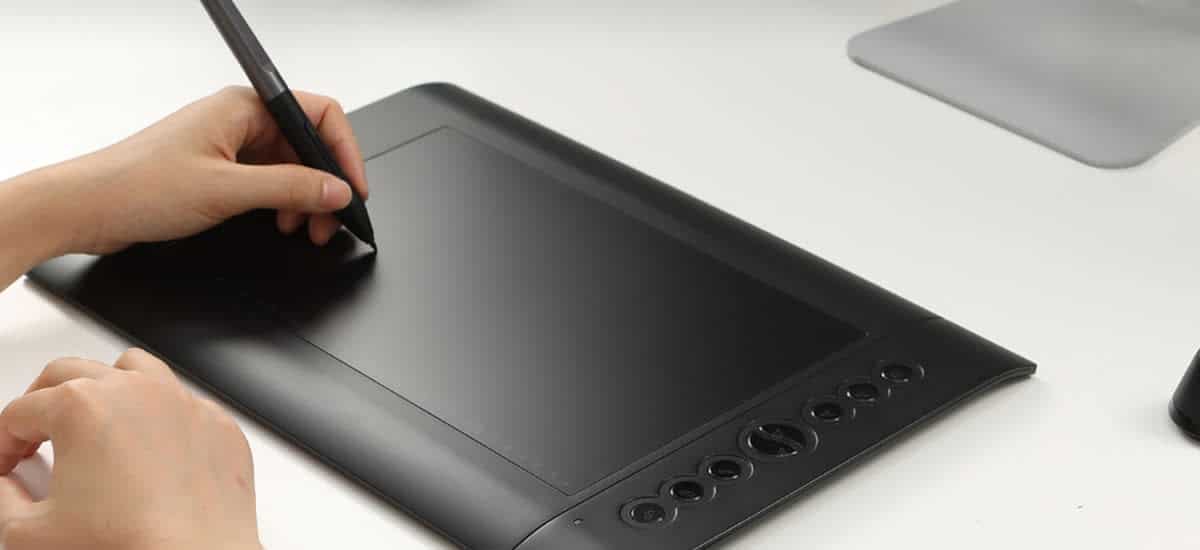 Huion is another graphics-focused company that makes some very high-quality graphic tablets, pen tablet monitors, and drawing tablet accessories. If you're looking for a cheap drawing tablet that still packs some punch, Huion tablets are a great place to start your search.
Huion H610 Pro
The Huion H610 Pro is a really impressive device, and you'll be able to pick this one up for under $100. This is a particularly good option for beginner artists, but even a more seasoned freelance illustrator will be impressed with the large 10″ x 6.25″ active area, built-in hotkeys, included stylus, and 8192 levels of pressure sensitivity.
It's compatible with both Windows and Mac, and weighs only 1.4 lbs. This is a great option for illustrators who are just getting into working with digital tablets.
Huion Inspiroy H640P
If you're looking for ultra-portability—and an affordable price of $70—the Inspiroy H640P is the best drawing tablet for you. With a 6.3 × 3.9 working area and impressive thinness, this device makes the most of its small size, maintaining the same pressure sensitivity as the H610 (along with six customizable on-device keys).
The best part? Unlike the Huion H610 Pro, the stylus included with the H640P is battery-free. That means you can lose the charging cable and dive right into your next drawing. This is an awesome choice if you love the display monitor and software you currently have, but want a portable, lightweight but powerful pen tablet to bring your illustrations to life.
Best Apple Drawing Tablet
iPad Pro 12.9
With an active drawing area of 10.32″ x 7.74″ and a resolution of 2,732 x 2,048, the iPad Pro 12.9 delivers a truly beautiful drawing tablet. Apple's Retina display is famous for good reason—you'll love seeing your brushstrokes and colours on this super-fast device.
At $1449, it isn't a low-cost option, but, compared to the Wacom Cintiq 27QHD, it offers many similar great features at a lower price point, and with improved portability. It also has all the functionality of MacBook devices, which can come in handy. Maybe you're a medical illustrator and want to check out some reference photos before getting to work on your illustration. You can quickly toggle between apps, all from the iPad Pro.
One downside to this drawing tablet, however, is that Apple's stylus, the second-generation Apple Pencil, isn't included. That'll cost you another $169.
Best Samsung Drawing Tablet
Samsung Galaxy Tab S4
If you're looking for a great all-purpose tablet that will also serve as a good drawing tablet, the Samsung Galaxy Tab S4 might be a great choice for you. It has an active area of 7.56 x 5.04 inches, and a beautiful 2560 x 1600 resolution. The pen pressure sensitivity is 4,096 levels, which even professionals will find to be ample pressure to produce amazing art.
Something you'll love is that you can buy this tablet with the stylus included right in the box, saving you the extra cost of buying it separately. You can jump between emailing clients and working on your next piece seamlessly. You'll have to download a drawing app to turn this into a digital drawing tablet, but, luckily, Android has you covered with tons of options.
Best Microsoft Drawing Tablet
Microsoft Surface Pro 6
If you're looking for a drawing tablet that can also replace your laptop, look no further than the Surface Pro 6. It is light, has a gorgeous high-contrast and low-glare display, and comes with a powerful Intel Core i5 processor.
It costs about $1050, and you'll have to buy the Surface Pen separately for $100, but, when you consider the fact that it's a fully functioning laptop (and that the pen provides 4096 levels of pressure sensitivity just like other very pricy drawing tablets), it seems like a fair price for what you get.
Best XP-PEN Drawing Tablets
XP-PEN offers some really great options that strike a nice balance between affordability and features.
XP-PEN Artist 15.6 Pen Display
The Artist 15.6 Display is nice and large, as its name suggests, and, at around $460, it is much more affordable than some of the other drawing tablets we've looked at. You might want to brush up on some Photoshop tutorials, because you can draw in your favorite programs, like Photoshop or Illustrator, right in the device. The matte screen connects nicely with the stylus, which is included, for a wonderful pen-to-paper feel.
If you're looking for something extremely professional, this might not be the choice for you, but it really depends on the nature of your illustrations. If your work doesn't involve ultra-fine details, you just might be able to do it on the Artist for a fraction of the price of other tablets.
XP-PEN Deco 03
If you prefer a pen tablet, the Deco 03 is the best tablet for artists offered by XP-PEN. At $130 for a 10″ x 5.62″ active area, it's an affordable drawing tablet that will probably be a better, more usable choice than the small Intuos tablet, which is in the same price range.
The device can connect wirelessly to your monitor, and comes with an excellent battery-free stylus included. Some reviewers notice a pretty considerable difference in the quality of their brush strokes when it's wired as opposed to when it's connected wirelessly. You should expect to use it plugged into your display most of the time, but that's not a huge inconvenience—at this price, it's a really awesome pen tablet choice that easily rivals more expensive options. You'll love the results: check out our roundup of the best illustration competitions to show off your work!
Best Gaomon Drawing Tablet
Gaomon PD1560
Users of this 15.6″ graphic design tablet rave about the high-resolution display and beautiful finished illustrations they can produce. At about $500, the Gaomon PD1560 is a reasonable price for the large size.
One thing to note is that you do need to be connected to a computer via HDMI cable to use this, so MacBook users will have to buy a separate port to make it work. But, for a beautiful, full-featured tablet (that costs much less than other competing professional tablets), it's worth it.
Best Ugee Drawing Tablet
Ugee 1910B
If you're looking for a super-comfortable and high-quality drawing experience at a great price, you'll want to check out the Ugee 1910B drawing tablet. With a 19″ active drawing area, 2048 levels of pressure sensitivity, and a 1440 x 900 resolution, the specs are enough to get any illustrator excited, especially since it'll cost you under $500.
Users love the adjustable stand that comes included with the tablet, which lets you draw comfortably wherever you are. Plus, with two rechargeable pens included, you'll never have to take an unwanted break to charge up your stylus.
Best MonoPrice Drawing Tablet
Monoprice 10 x 6.25 inch Graphic Drawing Tablet
If you're new to the drawing tablet game and want to dip your toes in with something affordable and reliable, you'll love the MonoPrice 10×6.25 Drawing Tablet. It will only set you back about $60, but has the features that you might expect from a much more expensive tablet. It has an excellent resolution of 4000 lines per inch, and 2048 levels of pressure sensitivity.
It's also super-customizable, with eight express keys and 16 hot cells that you can assign to a specific keystroke combination, app launch, or mouse function. It's Windows XP and Mac OS X compatible, so just about anyone can use it out of the box.
Best Parblo Drawing Tablet
Parblo Coast 10
For artists who like to switch up their workplace (sometimes it might be the couch, sometimes a coffee shop), the Parblo Coast 10 is a great choice. Thanks to its compact 10.1″ display and high viewing angle in both horizontal and vertical orientations, you can have a nice clear view of your work at up to 170 degrees inclination.
This one won't operate with OS X, but if you're a Windows user you'll definitely want to check it out. It's compatible with tons of drawing programs, including Photoshop, and retails for $350.
Best Lenovo Drawing Tablet
Lenovo Yoga Book
If you're a traveler or like to take your studio with you wherever you go, you will absolutely love the Lenovo Yoga Book. Drawing tablets are not known for being light, so Lenovo introduced this model as the thinnest and lightest two-in-one tablet on the market. It weighs less than two pounds and comes with a super-light, battery-free stylus, so you can easily take it with you on your travels and use it for everything from staying in touch with clients and surfing the web to, of course, drawing. For $395, it should definitely be on your radar.
Once you've chosen your new drawing tablet, you'll be ready to start uploading your best illustrations to your online portfolio website! If you don't have one yet, don't sweat it, it's easier than ever to build one.
First, check out our list of 20 incredible illustration portfolios to get inspired. Then, use a website builder to create a professional-looking site within minutes. Make sure you choose one that has a built-in online store, so that you can put prints of your illustrations up for sale. This gives fans a way to support you, and is a great way to make extra cash from your site.
You'll also want to look for a portfolio website that has a client proofing feature. If you're a freelance illustrator, you know that there's always some back-and-forth between you and the client until the project is finalized. A client proofing gallery is an easy and professional way to make those changes.
Want to draw new opportunities with your illustration portfolio? Display your talent with a website that's as stylish as your body of work. Start your free trial with Format today!
Happy drawing!
Need more illustrator intel?
Tested and Ranked: Best Pens for Drawing
How to Become a Fashion Illustrator
Become The Next Monet With These 11 Lovely Paint Programs