Have you been scratching your head over how to become a fashion illustrator? If so, you've come to the right spot, because today, renowned fashion illustrator Danielle Meder is giving us the insider scoop into how she built her illustrious career.
Well known for taking up residence backstage at New York Fashion Week, you'll find Danielle Meder with her custom palette and watercolor pen, ready to capture the magic. The drawings are finished by the model's final exit off the runway—nothing is added after the show. This gestural, deceptively simple fashion illustration style caught the attention of editors who've featured her work in The New York Times, Women's Wear Daily, and The Coveteur, among others.
In 2016, she released her first book Draw Fashion Now. It's an instructional guide to the three pillars of fashion illustration: runway, street style, and the red carpet. The book is rich with knowledge gained from attending 19 fashion weeks. Dive deep into this book, and you'll find illustration advice for mastering proportions, rendering for digital and analog, and doing it all with attitude.
Her success as a full-time freelance illustrator and author came from making bold decisions early in her career. She quit her part-time jobs and went cold turkey on having a stable, reliable income.
"That's a very difficult leap for people," Meder says. "My heart goes out to people who are on the edge but are afraid to take that leap. If you don't do it, you're not going to do it. You'll reach a point where you feel like, 'I don't know if I can put together enough freelance gigs to maintain the lifestyle to which I've become accustomed to,' but you have to decide if it's more important to do what you really want to do. If it's what you really want, you have to do it."
Meder teaches a 53-minute class on Skillshare that covers technical skills for fashion illustration, but we wanted to find out what else you need to become a successful fashion illustrator. Along with a "just go for it" attitude, she also recommends following the "Sex & Cash" theory and booking a plane ticket to Tokyo.
Curious what all of this means? How to become a fashion illustrator has never been more attainable. Listen up, aspiring fashion illustrators, Danielle Meder is about to give you the insider scoop.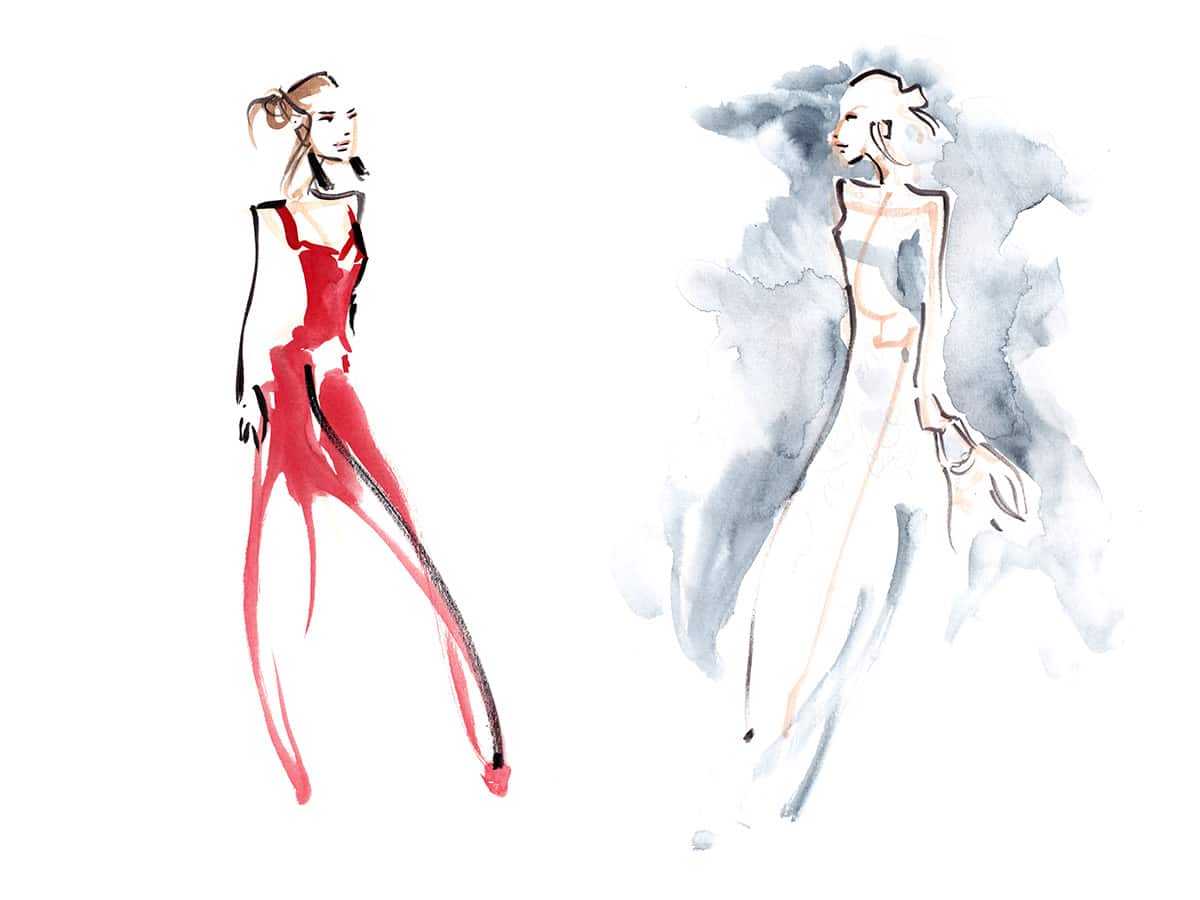 How To Become a Fashion Illustrator: The Insider Scoop
1) Don't let anyone discourage you from pursuing a creative career as a fashion illustrator.
"I think a lot of young artists are discouraged. They have people in their families and in their lives who tell them, 'No you can't do this.' They're not allowed to take an intuitive path to self-discovery. It's more important to live life according to your values than someone else's values. It's worth spending time investigating what is actually important to you and pursuing those things rather than pursuing things that other people tell you are important, which would ultimately be very unsatisfying."
Bottom line: If you've felt the calling to pursue a career as a fashion illustrator—or any creative pursuit, really—don't let other people's opinions stop you. While there are certainly things you need to take into account, like finances and responsibilities, if more creative freedom in your career is something you crave, other people's insecurities about your pursuits shouldn't matter.
2) When pursuing fashion illustration jobs, there's going to be sexy jobs, and there's going to be cash jobs.
"A lot of the work I've done is technical work for fashion designers or home sewing pattern companies that need to demonstrate instructions or show manufacturers how to put something together. That was the backbone of the early part of my career. I knew how to sew and how to draw and that made it possible for me to exist in this technical niche.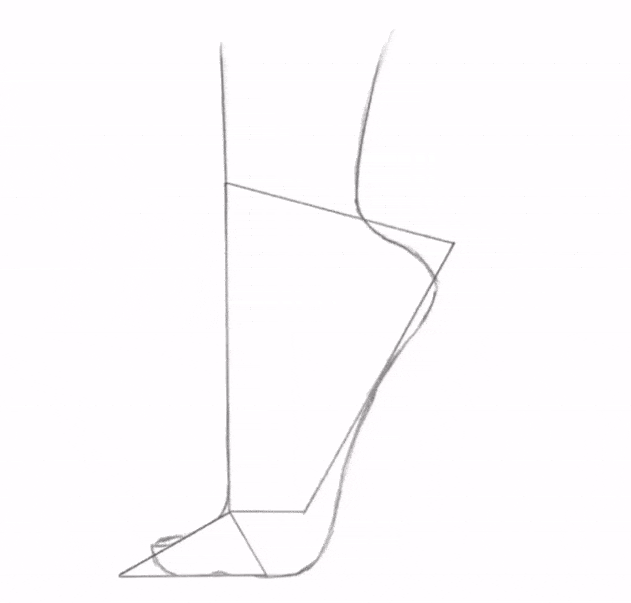 "I was doing all of this really unglamorous work, and I would take that money and go to Fashion Week in different cities. It allowed me to keep working and pay the bills while pursuing other more glamorous, less well-paying things.
"There's an old blog post on gapingvoid that talks about 'The Sex & Cash Theory.' Basically, there's going to be the sexy jobs that you do and then there's going to be the cash jobs you do. No matter where you are in your career, you're never going to transcend that. Even if you are a big movie star, you can do a super cool indie movie but then you also have to do a super dumb superhero movie so that you can pay your bills."
To sum this up: If you see an advertisement for "fashion illustrator needed" and you have the skills to perform that job, as your building your career, it's important to take on these less glamorous options. While they may not be your number one choice, if you want to pursue your dreams, you still need to be able to put food on the table. Plain and simple.
It's important to show up in person if you want to obtain fashion illustrator jobs.
"In 2006, I travelled to New York for the first time to meet other fashion bloggers. Shortly afterward, I started getting emails from around the world asking me to draw things. That was the beginning of my career, this little trickle of jobs. After that, I just never stopped.
"It's a matter of being visible. You have to be present in the correct locations at the right times. I go to at least one international fashion week every season. I have to be there. I have to show up because that's where everybody else is showing up at the same time.
You don't know who you're going to bump into—it could be somebody who changes your life. That's happened to me several times. I also make sure to show up several weeks before and to stick around a few weeks after Fashion Week. That way I make sure I'm in the right position for these opportunities to fall into place even when I don't know what the opportunities are yet.
"If you are going out in the world and your aim is to make something cool, people will notice. You will find yourself attracted to other people who are on the same mission as you. That gives you a huge amount of satisfaction in life and it also gives you the connections to the most satisfying work that you can do."
Make sure you find balance between your personal and business identities
"I want to live the kind of life where I get to do work that I think is interesting and also live a life that I think is interesting. It's about making choices in my life that are not about practicality. In fact, the choices that I'm making in my life right now are more deeply rooted in narrative than anything else.
"I am essentially making choices thinking: would I want to read this in a memoir later? When I'm using social media, it's for my own satisfaction, not for someone else. That's the difference between appearing to enjoy yourself and actually enjoying yourself.
"This is also part of why I make sure to be at fashion week events. I know that if I'm putting myself in the nexus of action, something is going to happen. But you have to have a time to pull back and to do other types of work. I live in Toronto for six months of the year. It really balances out this other aspect of my life where I am anywhere but Toronto. Both sides of my life are important—you can't be on all the time. You have to nurture things in your life other than excitement. You have to nurture your relationships and take care of your body."
Go where the action is if you want to be a freelance fashion illustrator.
"Anything that takes you to the center of the thing that matters most to you is really important. So if you are in the field of contemporary art, you have to go to Art Basel. You can pretend like it's not important but you're just limiting yourself. If your passion is anime, you have to go to Tokyo. That's it. You just have to figure out a way to get there—it's going to change your life."
Don't forget, when you're pursuing a career as a freelance fashion illustrator—or really any freelance pursuit— the trajectory of your entire career is up to you. There won't be anywhere there holding your hand, and you have to make the decisions that will move you forward. While having that much responsibility might be scary at first, the more action you take, the easier it will become.
How To Become a Freelance Fashion Illustrator: Bringing It Altogether
To sum everything up, there are three important steps necessary when pursuing how to become a fashion illustrator:
Develop your technical skills so people take note of your work Take action on building your career with Danielle's career tips Be sure that people can find you work with an online portfolio
While we didn't dive deep into that third point, in today's day and age, if you're pursuing a creative career, you need to have an online hub where you display your work so people from all over the world can discover you. In other words, illustrators need portfolios. You'll find examples of what illustrators' portfolios look like here.
And hey, if the idea of putting together a portfolio overwhelms you, don't worry. Format makes this easy with our professionally designed website templates.
Try us out free, and your career as a fashion illustrator will be off to a brilliant start.