Designers know the value of seeking inspiration from other artists and staying current with design trends.
These UI and UX designer portfolios are guaranteed to give any designer or design-minded artist some ideas. Creating an online UX portfolio website of any kind can be a challenging task, but UI/UX designers especially know that their website needs to showcase their design expertise in every detail, from the homepage to the menu.
If you're looking for examples of how you can leverage your personal website to expand your work opportunities, these UI/UX designer portfolios are sure to generate some ideas.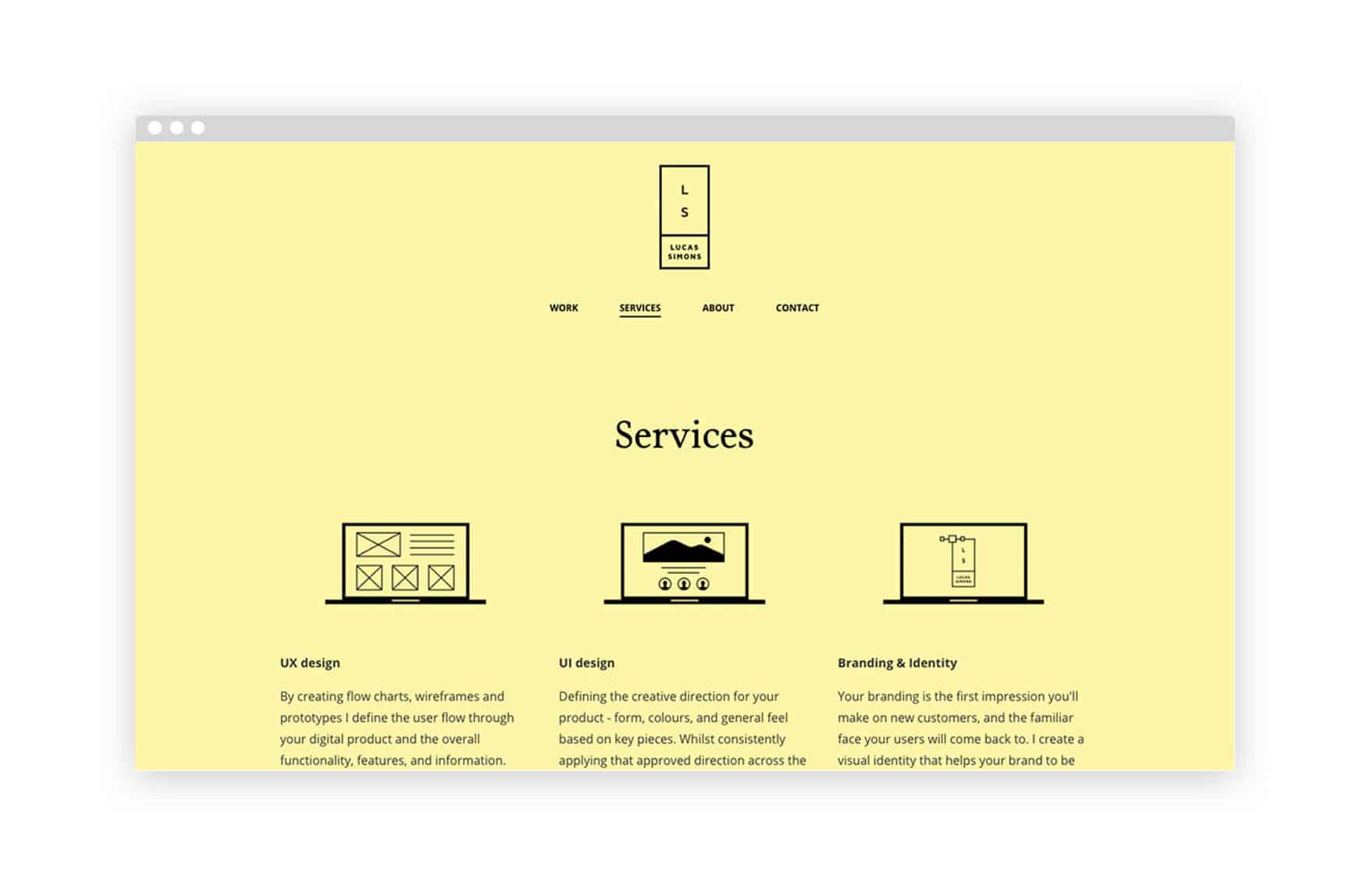 Lucas Simons
Freelance UI/UX designer Lucas Simons is based in The Hague, Netherlands, and has worked on design projects for big-name clients like Heineken, Nestle, and Samsung.
Simons keeps his site super simple and clean, with a bright yellow background and a focus on the text. His "Services" page uses neat icons to introduce his skill set, lending a professional feel to his portfolio.
www.lucassimons.format.com
Format Theme: Sierra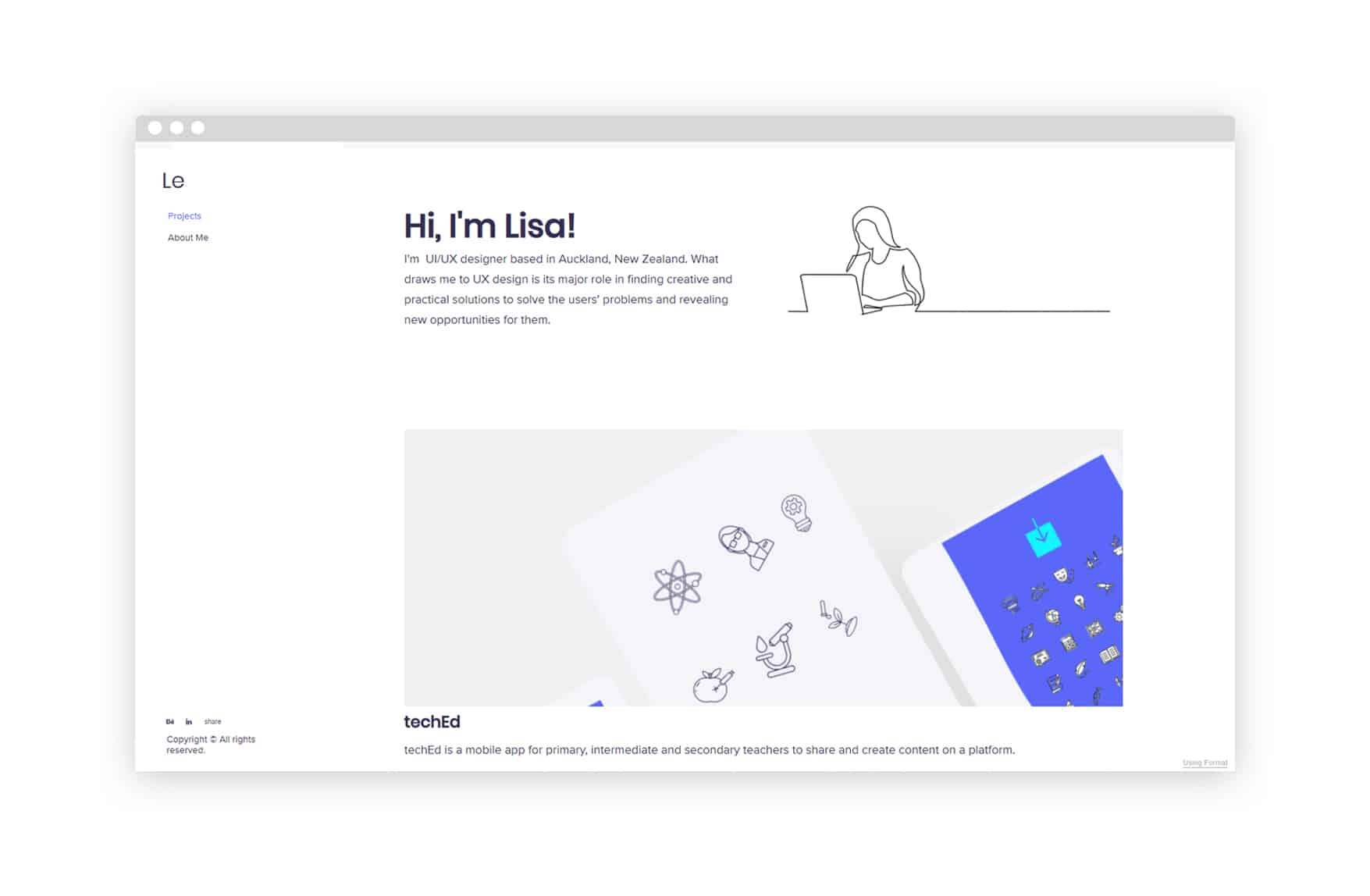 Lisa Emmanuel
Lisa Emmanuel is a Auckland-based UI/UX designer. Drawn to the problem solving and creative aspects of UX design, Lisa is passionate about creating human-centric solutions to solve users' problems and revealing new opportunities for them. Emmanual creates customer-focused designs that result in positive user experiences, empathizing with people to comprehend their needs fully.
https://www.lisaemmanueldesign.com
Format Theme: Order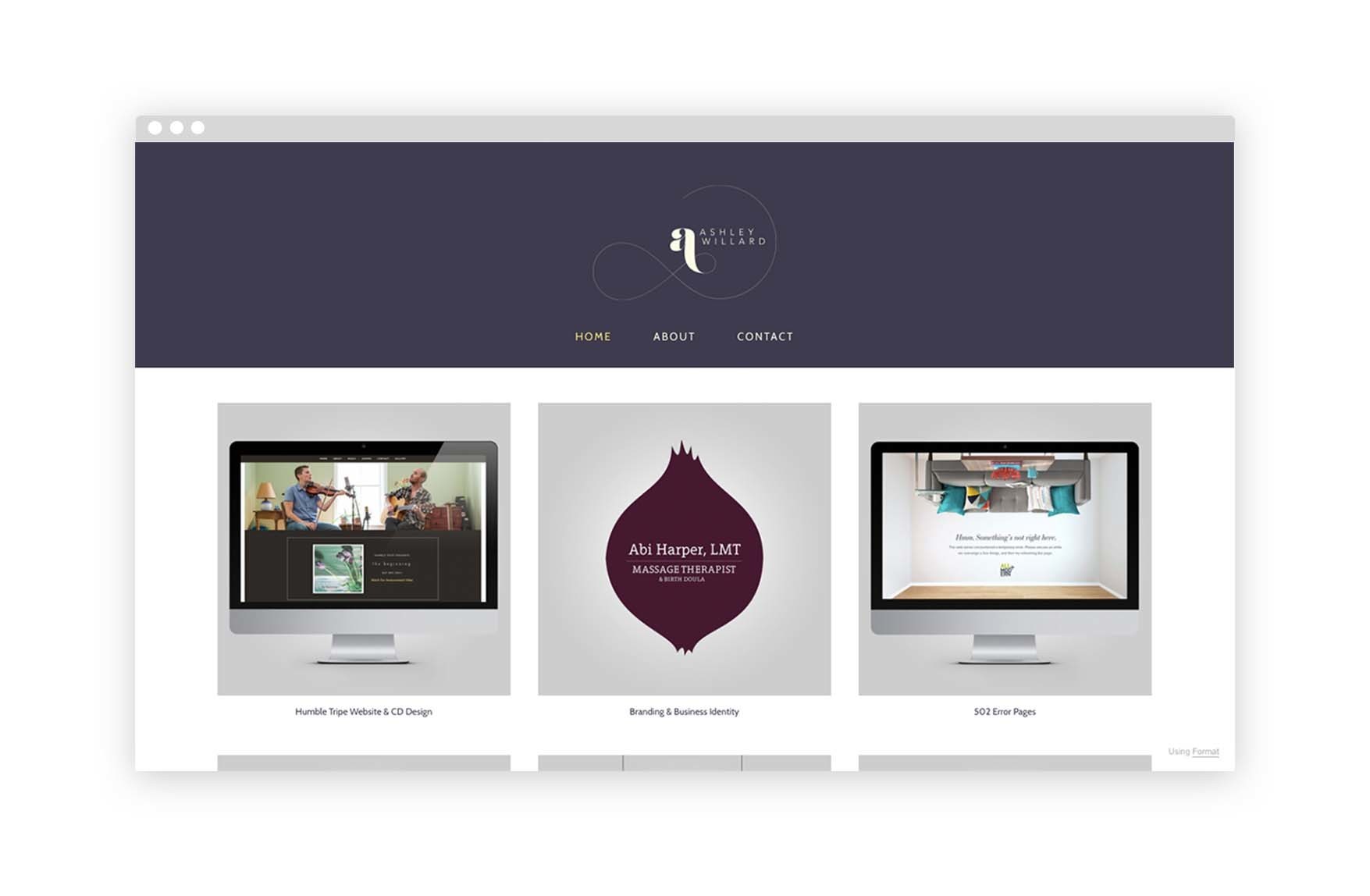 Ashley Willard
UI and UX design is just one aspect of Ashley Willard's design skillset. The Durham, North Carolina-based creative worked on editorial design and production for magazines and newspapers before moving her focus to digital design.
She currently works for CenterEdge Software, designing software and web-based apps for amusement parks and family entertainment centers. Willard's website is polished and professional, with a large header bar adding some structure to each page.
www.ashleywillard.com
Format Theme: Order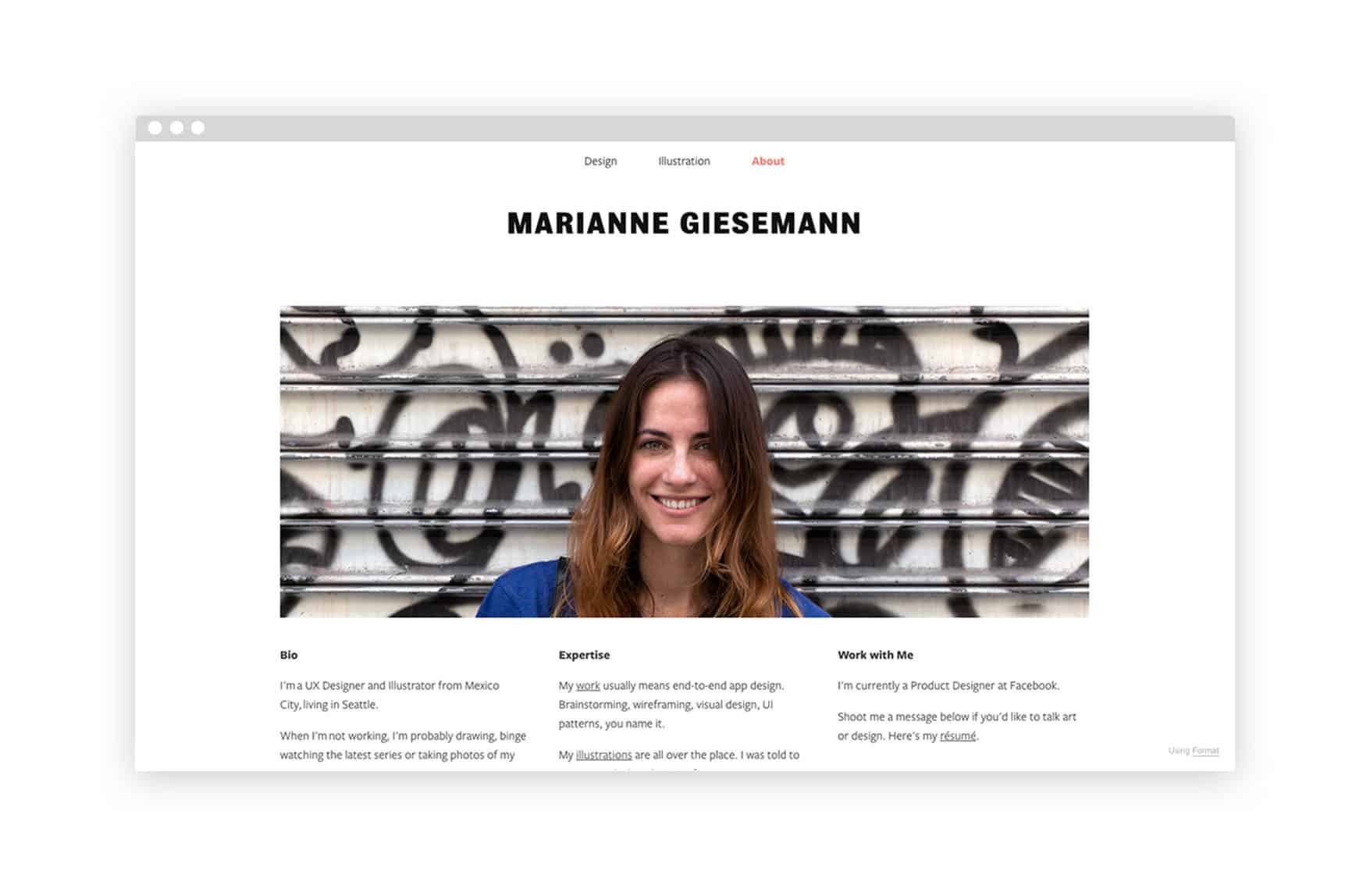 Marianne Giesemann
Currently a product designer at Facebook, where she is part of the Newsfeed team, Marianne Giesemann also has extensive experience designing at Microsoft. Giesemann's design portfolio focuses on just a few examples of her work, keeping her website easy to browse through. Using her intro page as a homepage allows the visitor to instantly learn everything they need to know about Giesemann's work.
www.mariannegiesemann.com
Format Theme: Sierra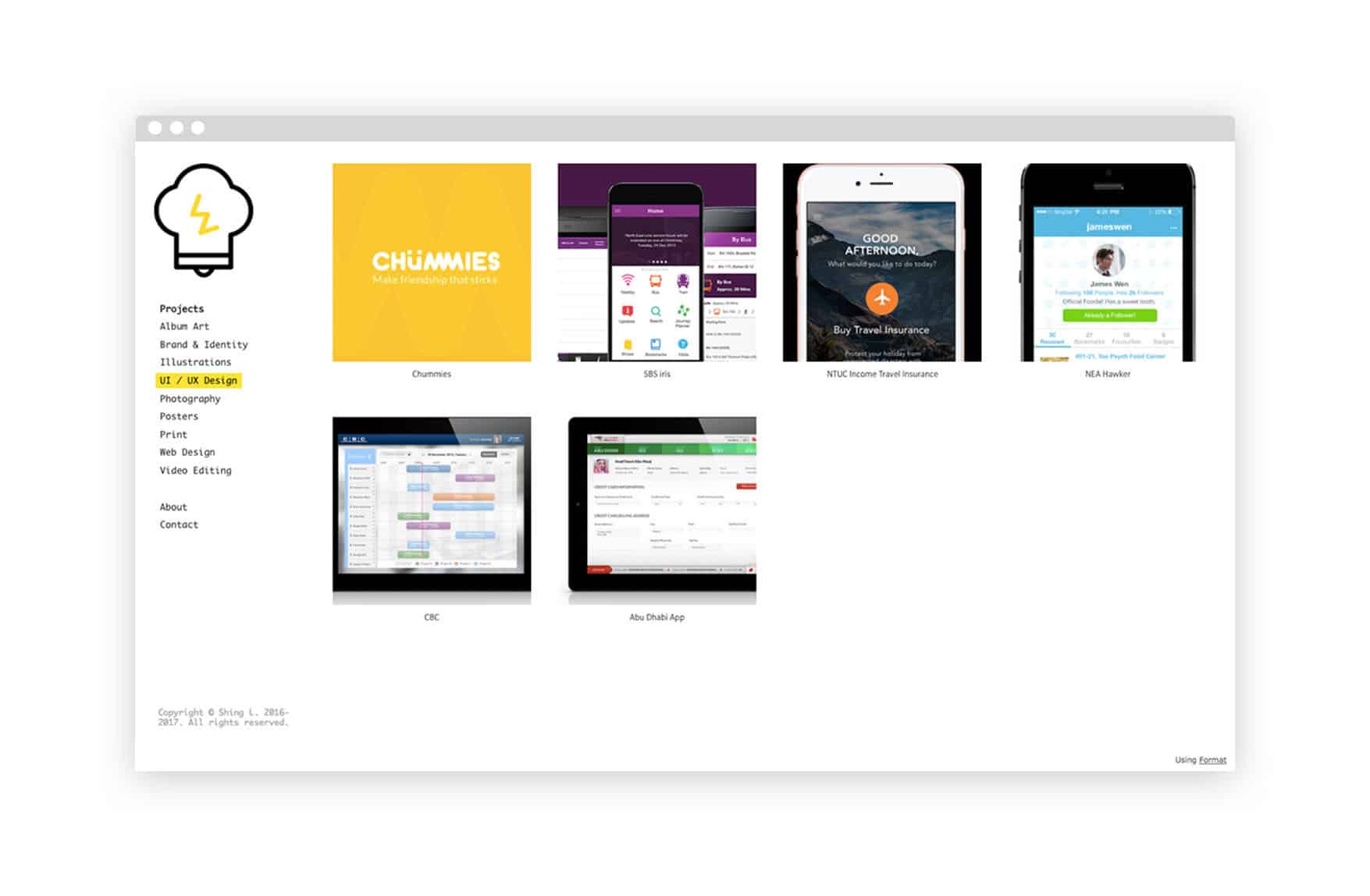 Shing L
Singapore-based designer Shing L has her design portfolio divided into sections based on her various talents, from photography to illustration to album art for bands. UX and UI design is also a focus of hers. She uses her UI/UX gallery to showcase a selection of projects, with each one leading to a more detailed gallery offering viewers a project case study. Her playful lightbulb logo adds personality to her website.
https://www.shingleong.me
Format Theme: Order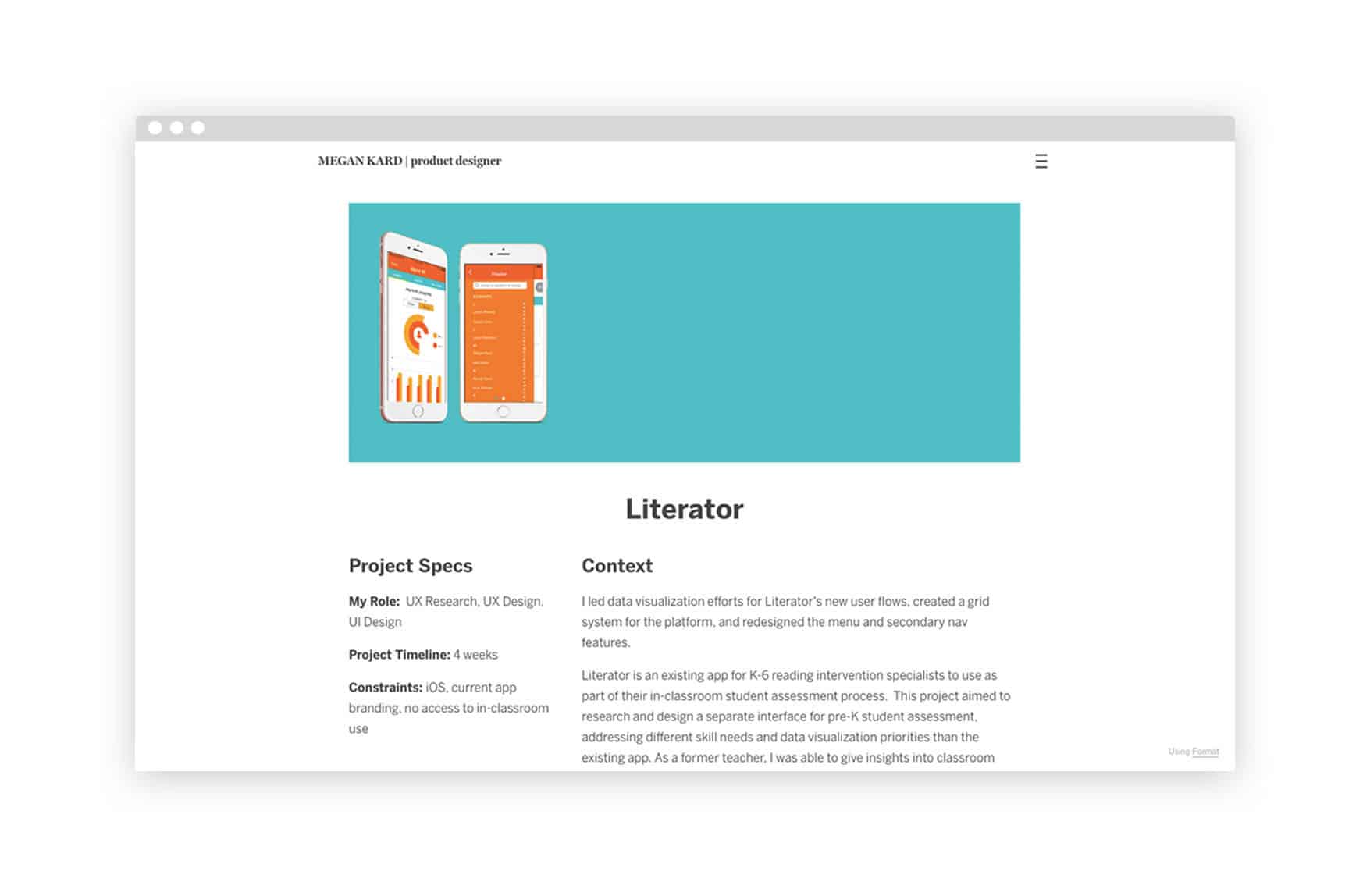 Megan Kard
Bay Area product designer Megan Kard uses her website as an online CV, listing a selection of recent projects and detailing her role in each one.
A well-organized menu makes it easy to browse through Kard's experience, and her thoughtful bio offers a look into her hobbies as well as her career, which is focused on user research and user experience design as well as UI design.
www.megan-kard.format.com
Format Theme: Albers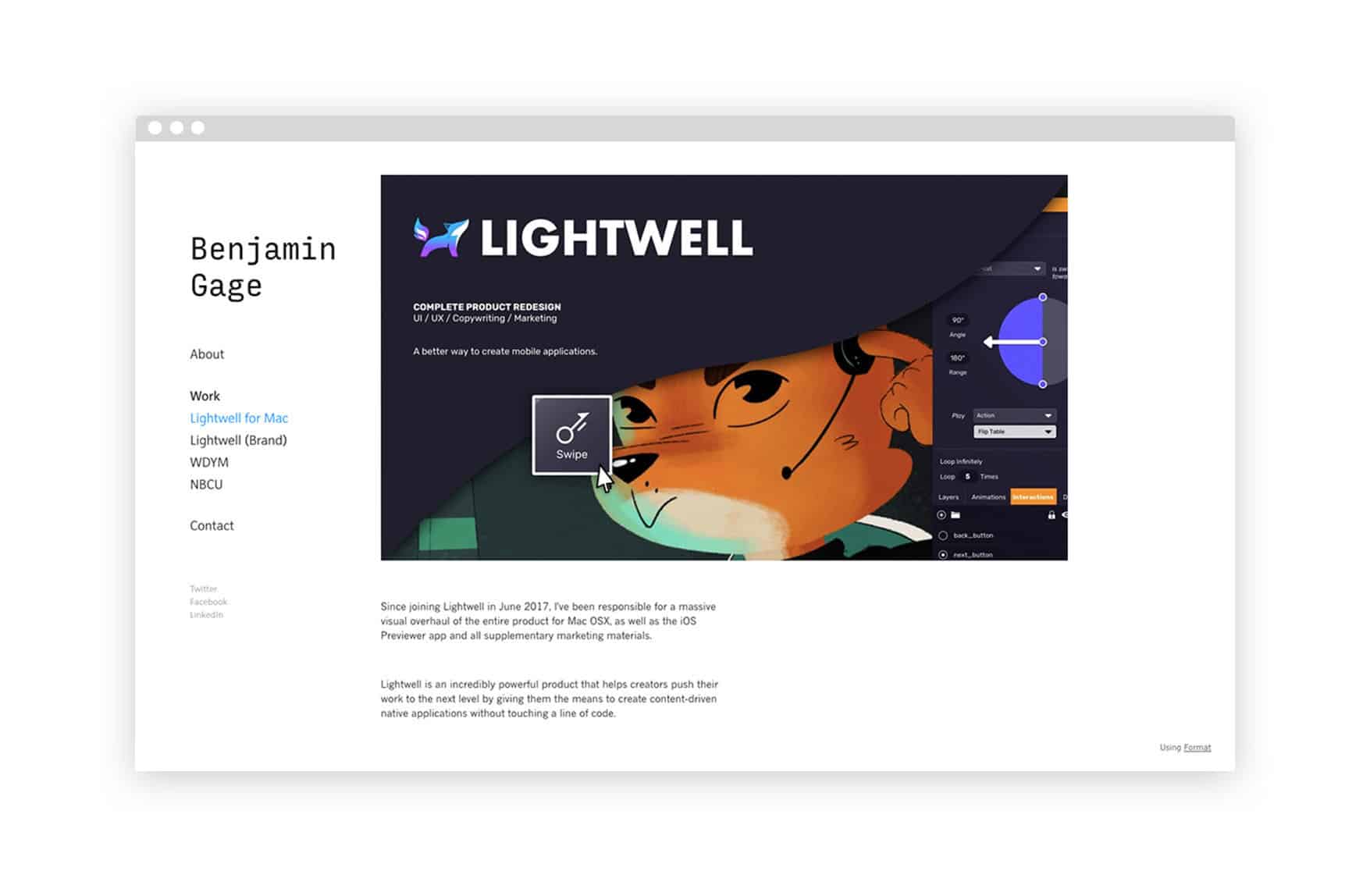 Benjamin Gage
Designer Benjamin Gage uses his online portfolio to showcase several UX design projects, walking viewers through each one. This includes a redesign of NBCUniversal's employee intranet, as well as extensive design work for Lightwell, a creative app building tool. Gage keeps his website simple with a vertical scroll that allows for easy reading.
www.benjamingage.com
Format Theme: Ora
Create Your Own Stunning UX Design Portfolio Website with Format
Ready to showcase your UX design skills with an impressive portfolio website?
You can easily create one on Format, a website platform that offers beautiful and functional templates to help you showcase your work in the best way possible. With built-in tools for marketing and e-commerce, you can turn your website into a powerful business tool.
Choose from over 70 mobile-responsive themes and customize to your liking, and with a free 14-day trial, there's no reason to wait. Get inspired by the UX portfolio examples we've shared and create a stunning online portfolio that highlights your skills and helps you stand out in the industry.