Even designers need inspiration from other artists from time to time. In fact, what sets successful creators apart from the rest is their desire to keep up with current design trends and to be inspired by others in the industry. When you're stuck in a creative rut, looking at other people's work can help you re-energize.
These UI and UX designer portfolios are guaranteed to give any designer or design-minded artist some ideas. Creating an online UX portfolio website for design work of any kind can be a challenging task, but UI/UX designers especially know that their website needs to showcase their design expertise in every detail, from the homepage to the menu.
Aside from being online resumes, these designers' websites have one thing in common: they all work with UI/UX design.
If you're looking for examples of how you can leverage your personal website to expand your work opportunities, these UI/UX designer portfolios are sure to generate some ideas.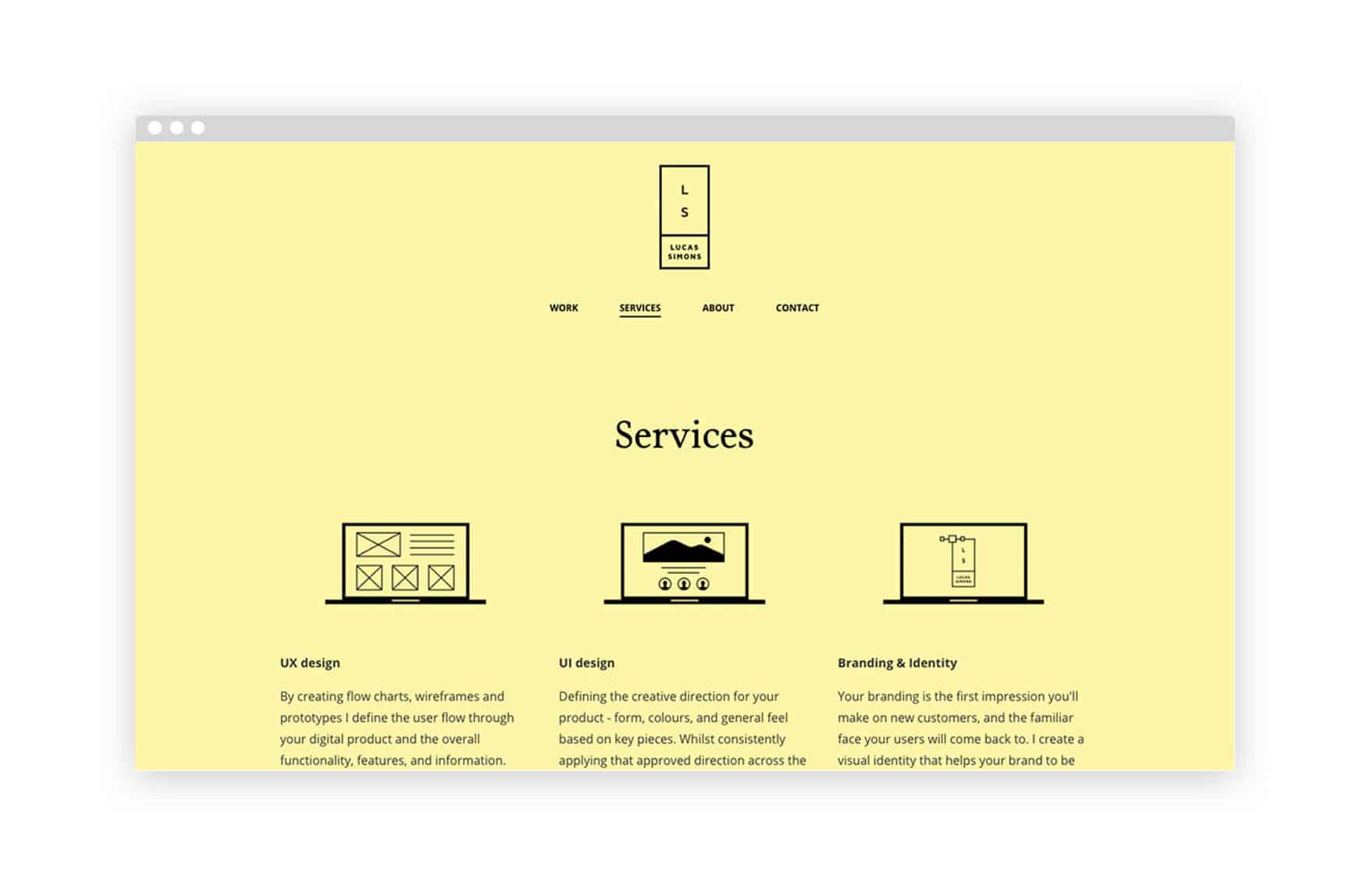 Lucas Simons
Freelance UI/UX designer Lucas Simons is based in The Hague, Netherlands, and has worked on design projects for big-name clients like Heineken, Nestle, and Samsung.
Simons keeps his site super simple and clean, with a bright yellow background and a focus on the text. His "Services" page uses neat icons to introduce his skill set, lending a professional feel to his portfolio.
www.lucassimons.format.com
Format Theme: Sierra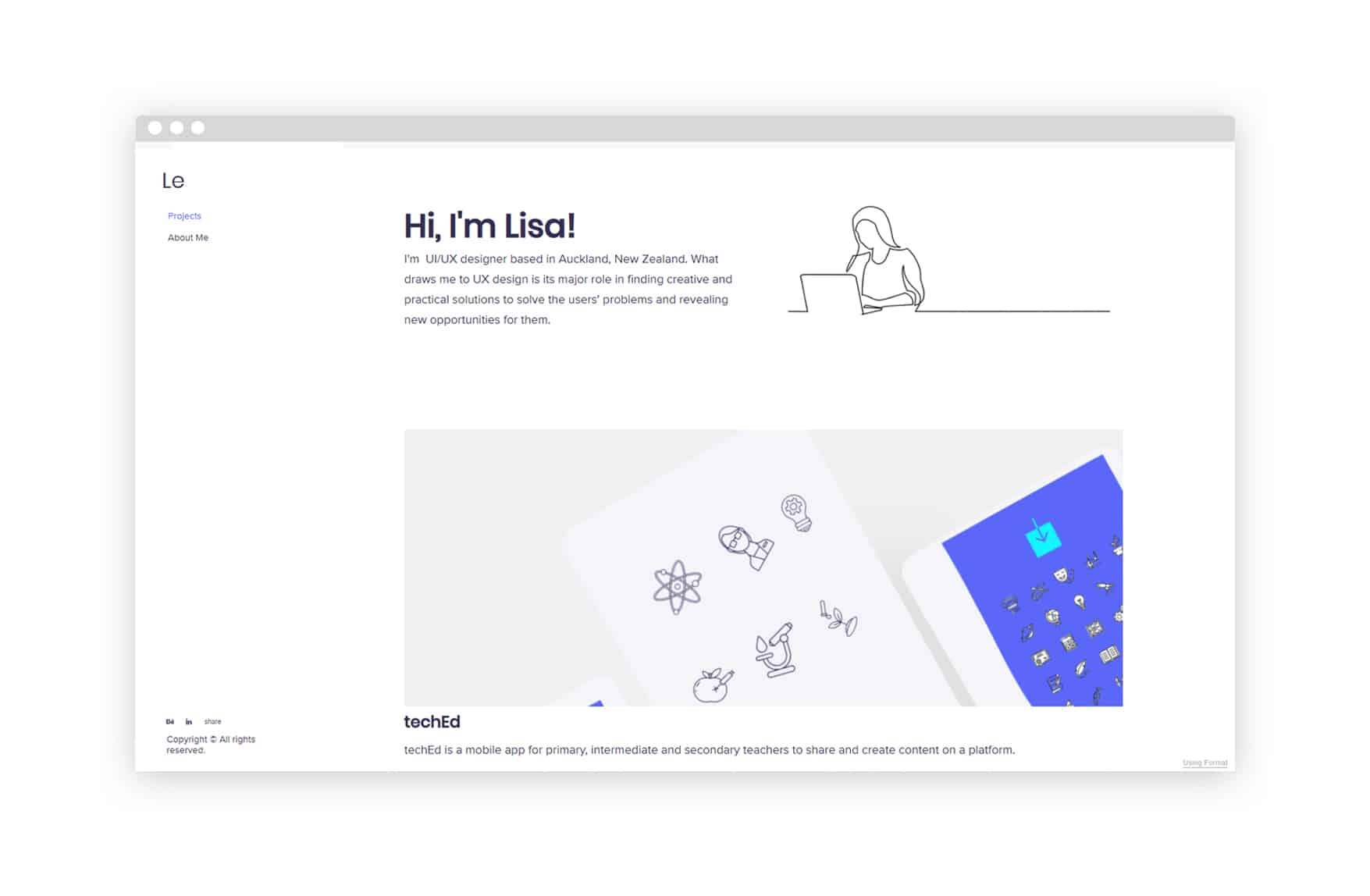 Lisa Emmanuel
Lisa Emmanuel is a Auckland-based UI/UX designer. Drawn to the problem solving and creative aspects of UX design, Lisa is passionate about creating human-centric solutions to solve users' problems and revealing new opportunities for them. Emmanual creates customer-focused designs that result in positive user experiences, empathizing with people to comprehend their needs fully.
https://www.lisaemmanueldesign.com
Format Theme: Order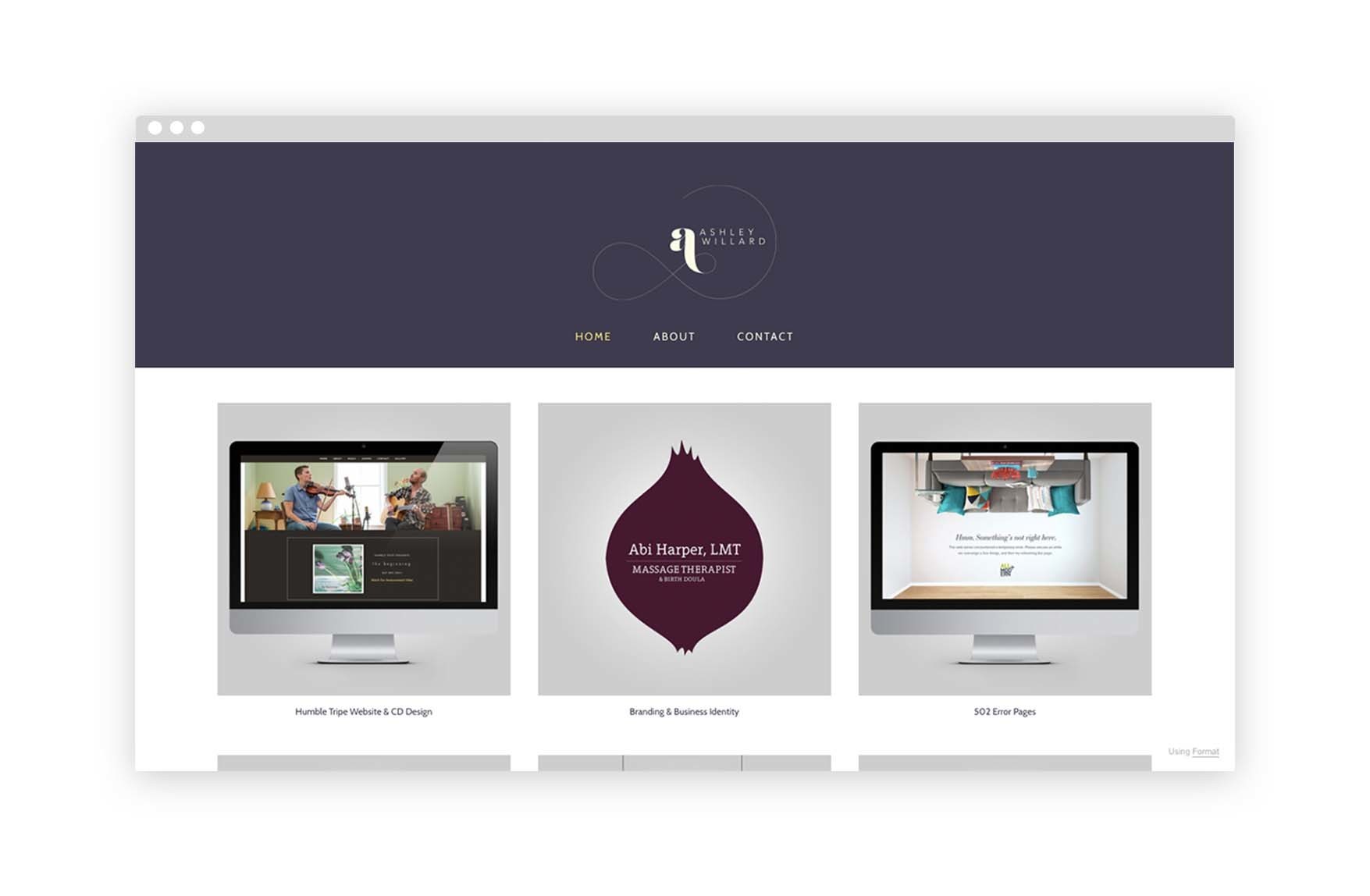 Ashley Willard
UI and UX design is just one aspect of Ashley Willard's design skillset. The Durham, North Carolina-based creative worked on editorial design and production for magazines and newspapers before moving her focus to digital design.
She currently works for CenterEdge Software, designing software and web-based apps for amusement parks and family entertainment centers. Willard's website is polished and professional, with a large header bar adding some structure to each page.
www.ashleywillard.com
Format Theme: Order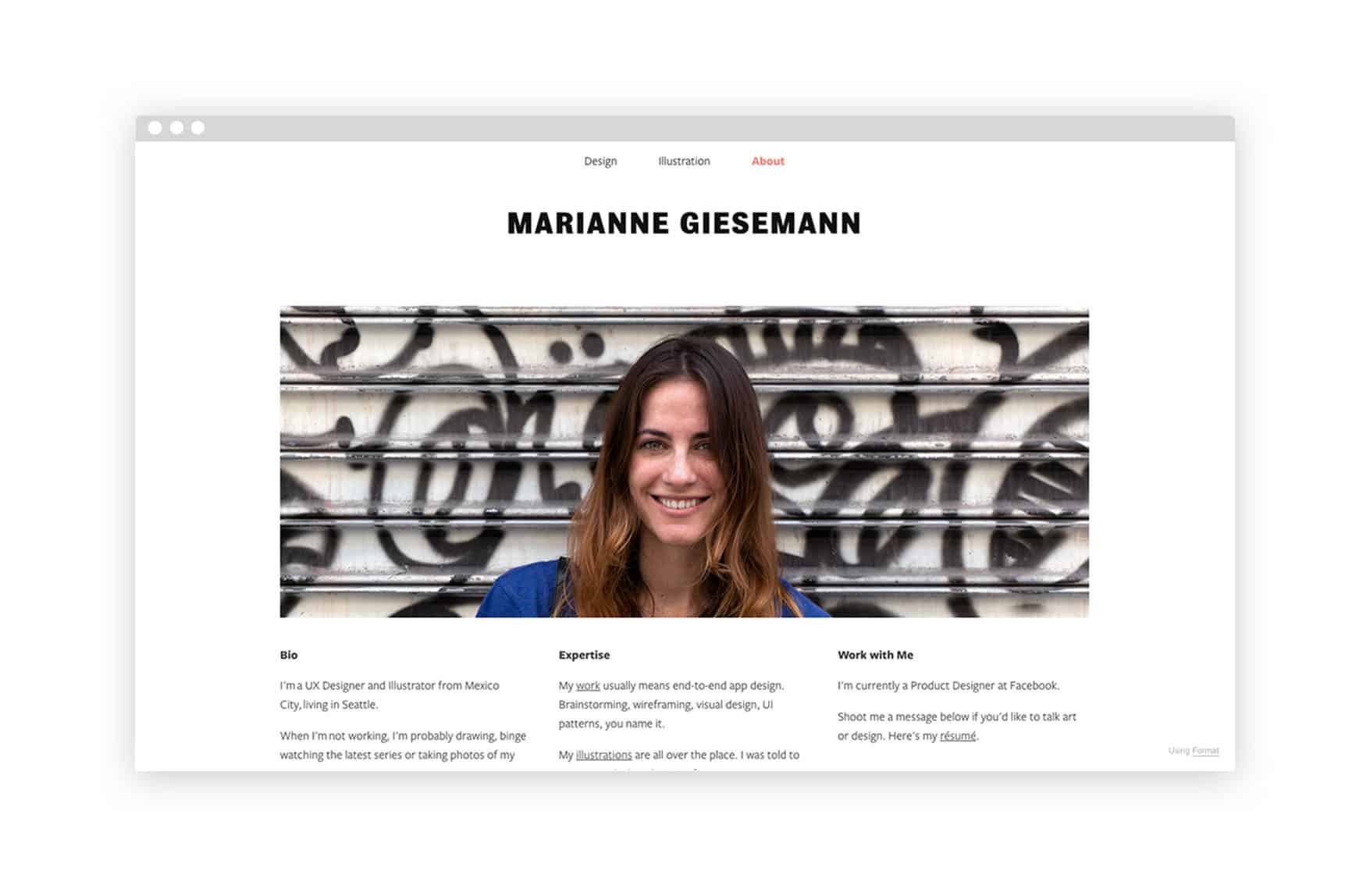 Marianne Giesemann
Currently a product designer at Facebook, where she is part of the Newsfeed team, Marianne Giesemann also has extensive experience designing at Microsoft. Giesemann's design portfolio focuses on just a few examples of her work, keeping her website easy to browse through. Using her intro page as a homepage allows the visitor to instantly learn everything they need to know about Giesemann's work.
www.mariannegiesemann.com
Format Theme: Sierra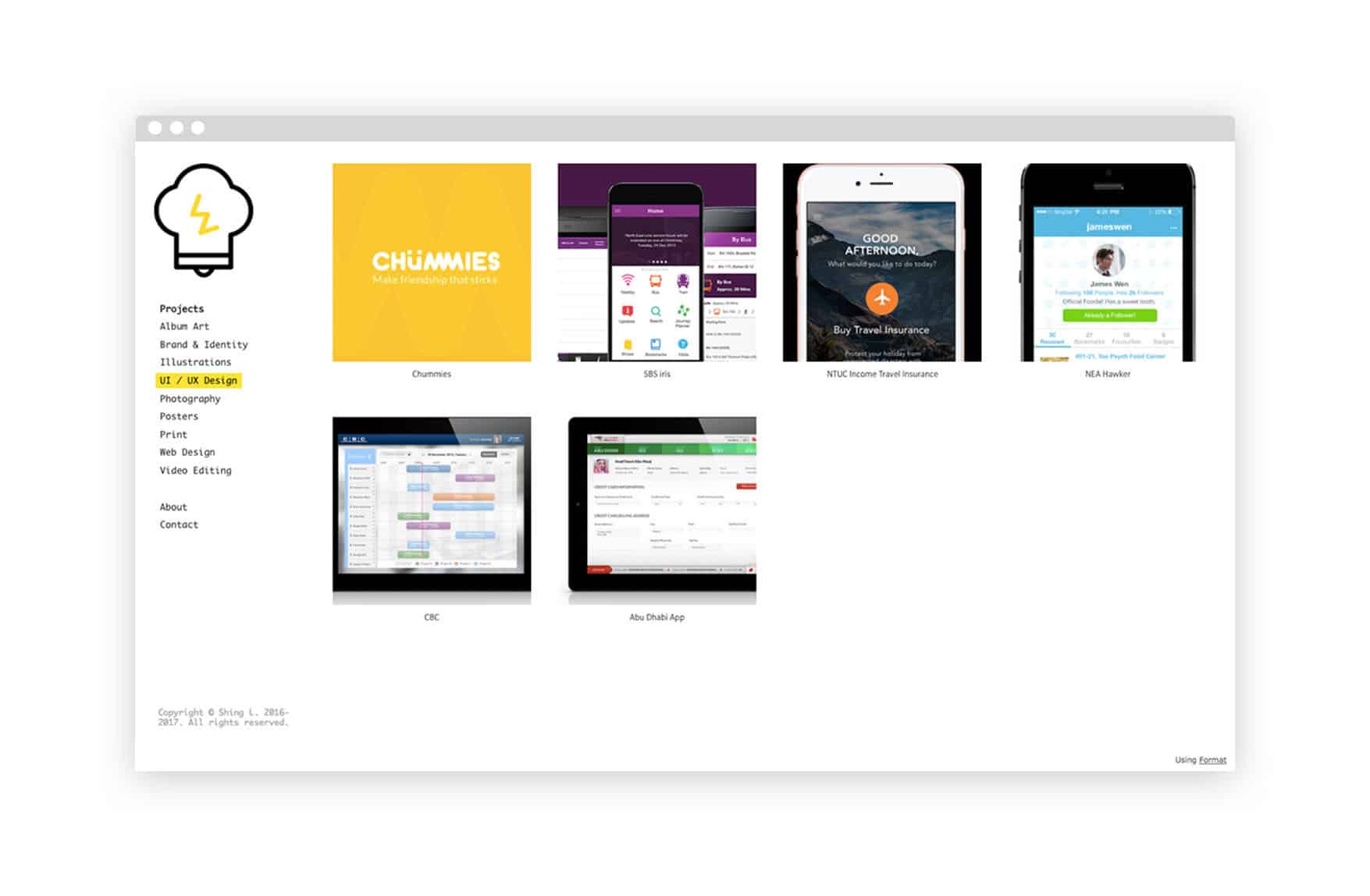 Shing L
Singapore-based designer Shing L has her design portfolio divided into sections based on her various talents, from photography to illustration to album art for bands. UX and UI design is also a focus of hers. She uses her UI/UX gallery to showcase a selection of projects, with each one leading to a more detailed gallery offering viewers a project case study. Her playful lightbulb logo adds personality to her website.
https://www.shingleong.me
Format Theme: Order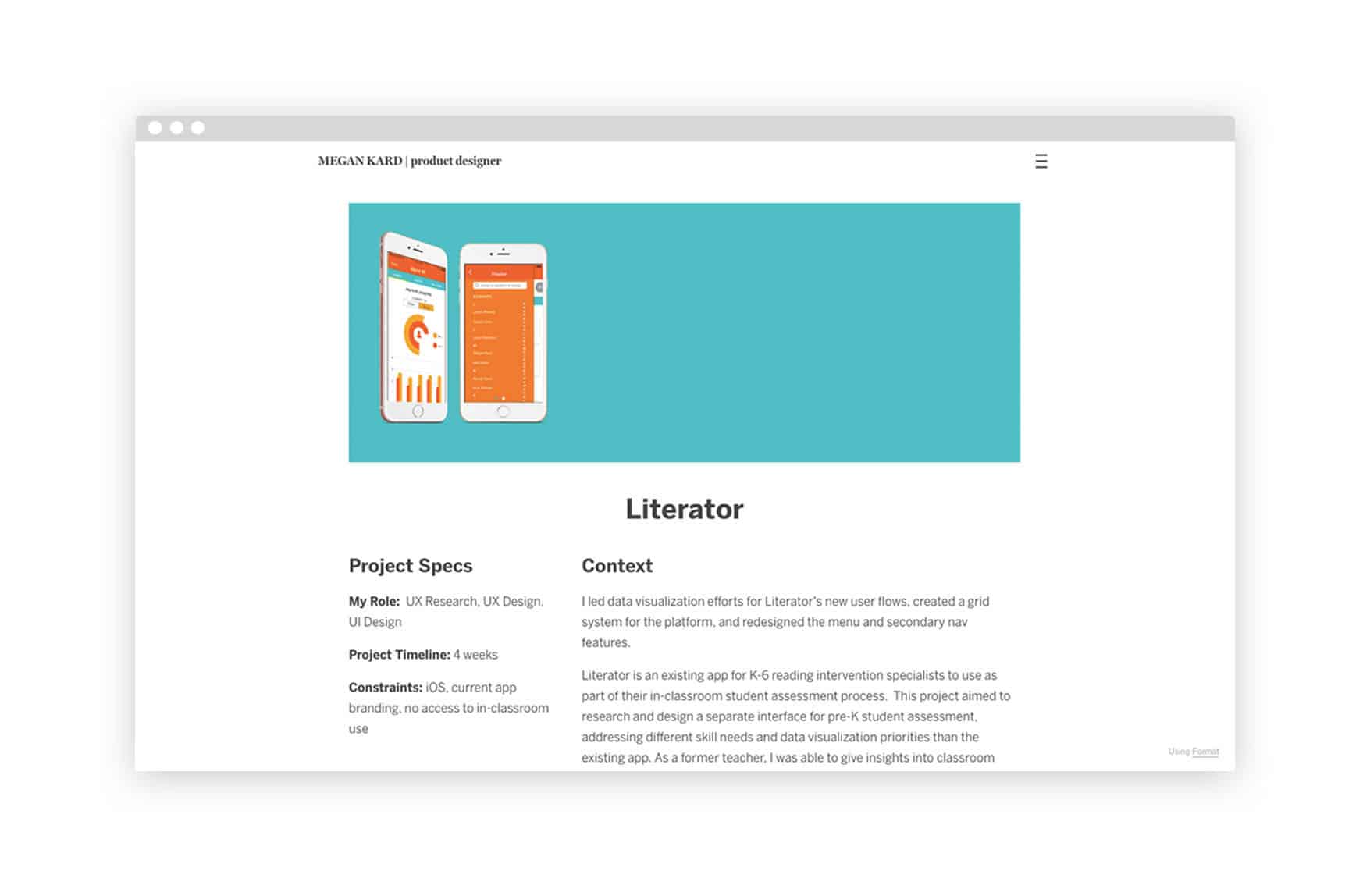 Megan Kard
Bay Area product designer Megan Kard uses her website as an online CV, listing a selection of recent projects and detailing her role in each one.
A well-organized menu makes it easy to browse through Kard's experience, and her thoughtful bio offers a look into her hobbies as well as her career, which is focused on user research and user experience design as well as UI design.
www.megan-kard.format.com
Format Theme: Albers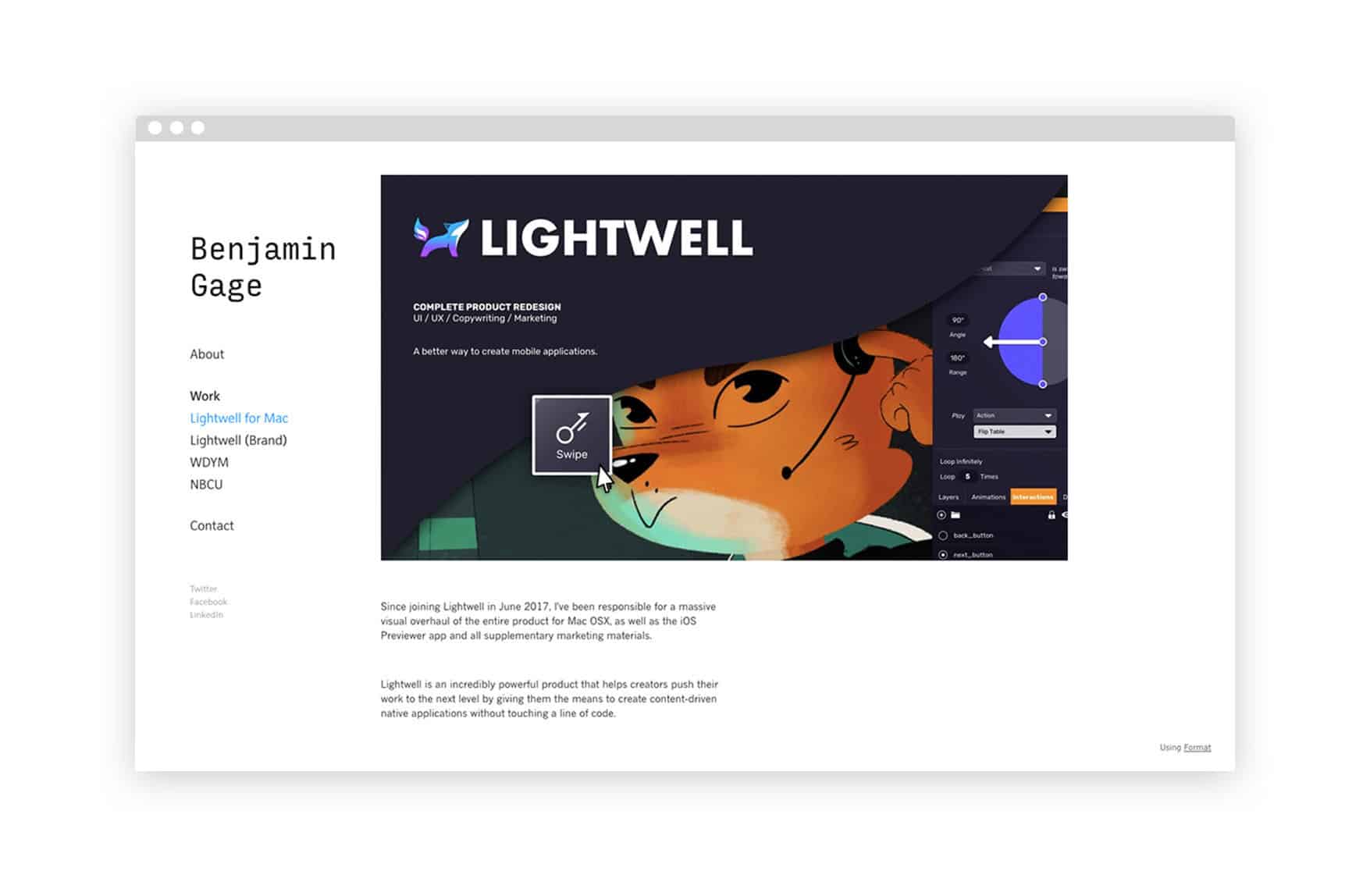 Benjamin Gage
Designer Benjamin Gage uses his online portfolio to showcase several UX design projects, walking viewers through each one. This includes a redesign of NBCUniversal's employee intranet, as well as extensive design work for Lightwell, a creative app building tool. Gage keeps his website simple with a vertical scroll that allows for easy reading.
www.benjamingage.com
Format Theme: Ora
Why You Should Consider Revamping Your UX Designer Portfolio
When was the last time you've updated your professional design portfolio?
If you can't remember the last time you've added new content to your website, it's time to change that—regularly updating your site with recent projects helps strengthen your portfolio in the eyes of prospective clients.
It also supports search engine optimization efforts that help get your website in front of more people organically through search traffic like Google and Bing.
The best product design portfolios evolve over time to show the designer's growth and experience. While LinkedIn, Behance, and AngelList are excellent professional social media tools, you have little control over how your work is presented and must often battle finicky algorithms.
After all, a website is your little corner of the web where you can control the user experience.
Most website builders allow you to update your portfolio with drag-and-drop tools. Even the best designers use templates to streamline their workflow. Beyond impressing clients, updating your user experience portfolios is a good way to reflect on your work and creative process.
See if you can improve your portfolio with a few small tweaks based on the provided portfolio website examples. If you've changed jobs or are looking for new opportunities, update your bio to reflect this.
How Often Should I Update My Design Portfolio?
How often you update your portfolio will depend on your workflow. Generally, you should update it every six months as new design trends are emerging every season, and if your goal is to attract new clients, you want to be on top of these trends.
As a regular practice, aim to update your design portfolio after every big project. From a prospective client's point of view, it's better to see a recently updated website than one that hasn't been touched in over a year.
Choosing A Website Platform To Host Yor UX Portfolio
Whether you're just starting out or have years of experience, a portfolio is essential. There are many website platforms that allow you to build a site in a few hours.
Format is more than a website builder—it's a community of creative professionals who are making an impact with their work.
Using Format, talented professionals can create a beautiful and functional portfolio website. The UX portfolio examples above are some of our favorite portfolios that have taken one of Format's easy-to-use templates and have made it completely their own with their customization and unique branding elements.
More than that, Format has built-in tools that turn your website into a powerful marketing tool and e-commerce shop—build your email list, launch a blog on your creative process, sell products and courses, and optimize your workflow.
Build Your Design Portfolio With Format Today
Why wait? If you need us to sweeten the deal, you can build your website with Format today, free for 14-days—no credit card required.
Over 70 mobile-responsive website themes are available for customization. Start with the one that best suits your style—no there's need to commit to one. It's simple to switch and update your site as you and your portfolio grow.
What are you waiting for? Get inspired by these top portfolio examples and get support from our Customer Success team.