A professional website is essential for any stylist, makeup artist, fashion photographer, or model to stand out to clients and collaborators. A well-designed portfolio, showcasing your best looks, can help advance your modeling career. Selecting images that highlight your strengths and abilities shows that you're serious about your modeling career.
These modeling portfolios are guaranteed to give you some inspiration when designing your own professional website with a website builder. Working all over the world, these models have created stunning online portfolios that reflect their unique looks—from alternative and quirky to polished and modern.
Keep scrolling to get inspired by modeling portfolio examples that caught the eye of prominent publications like i-D and Paper, plus campaigns that range from brands like American Apparel (RIP) to celebrity collaborative brands like Kanye West's Adidas Originals collection.
Ready to build your own portfolio on Format? Start your free 14-day trial today, no credit card is required.
Build your own model website using inspiration from these professionals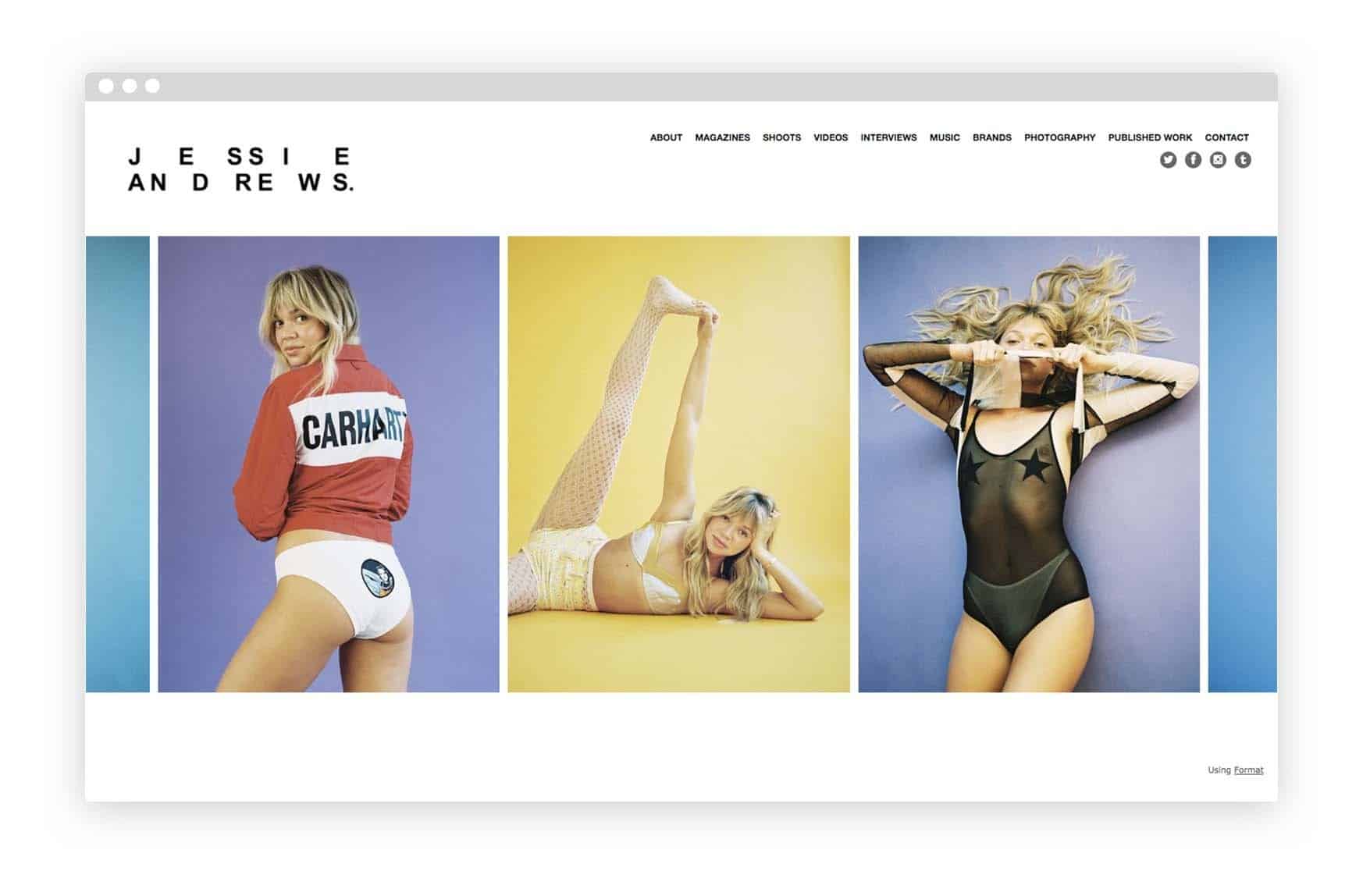 Jessie Andrews is hard to define. She got her start in adult film, but she's now been featured in fashion mags like Dazed and Paper, appearing in a slew of American Apparel ads. In addition to killing it as a model, Andrews also shoots photos, mixes tunes, and runs her own jewelry line, Bagatiba (the Kardashians are fans) as well as a swimsuit brand called Basic Swim.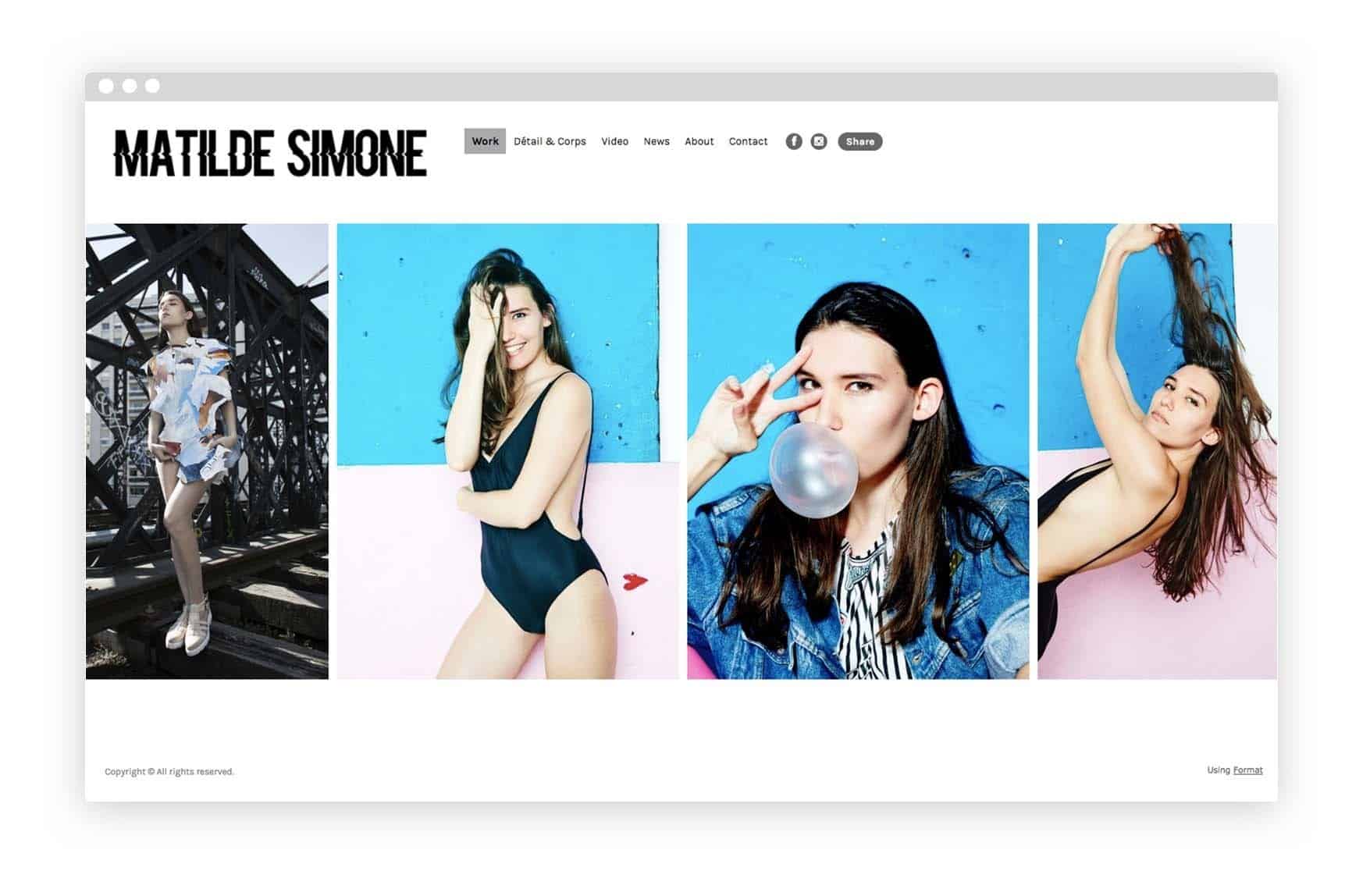 Based in Paris, Matilde Simone has done a variety of modeling work, from a detail-oriented shoot and beauty shot with Wallpaper magazine to more conventional commercial and editorial shoots. Simone utilizes a blog page on her modeling portfolio to share updates and the latest shots of her work.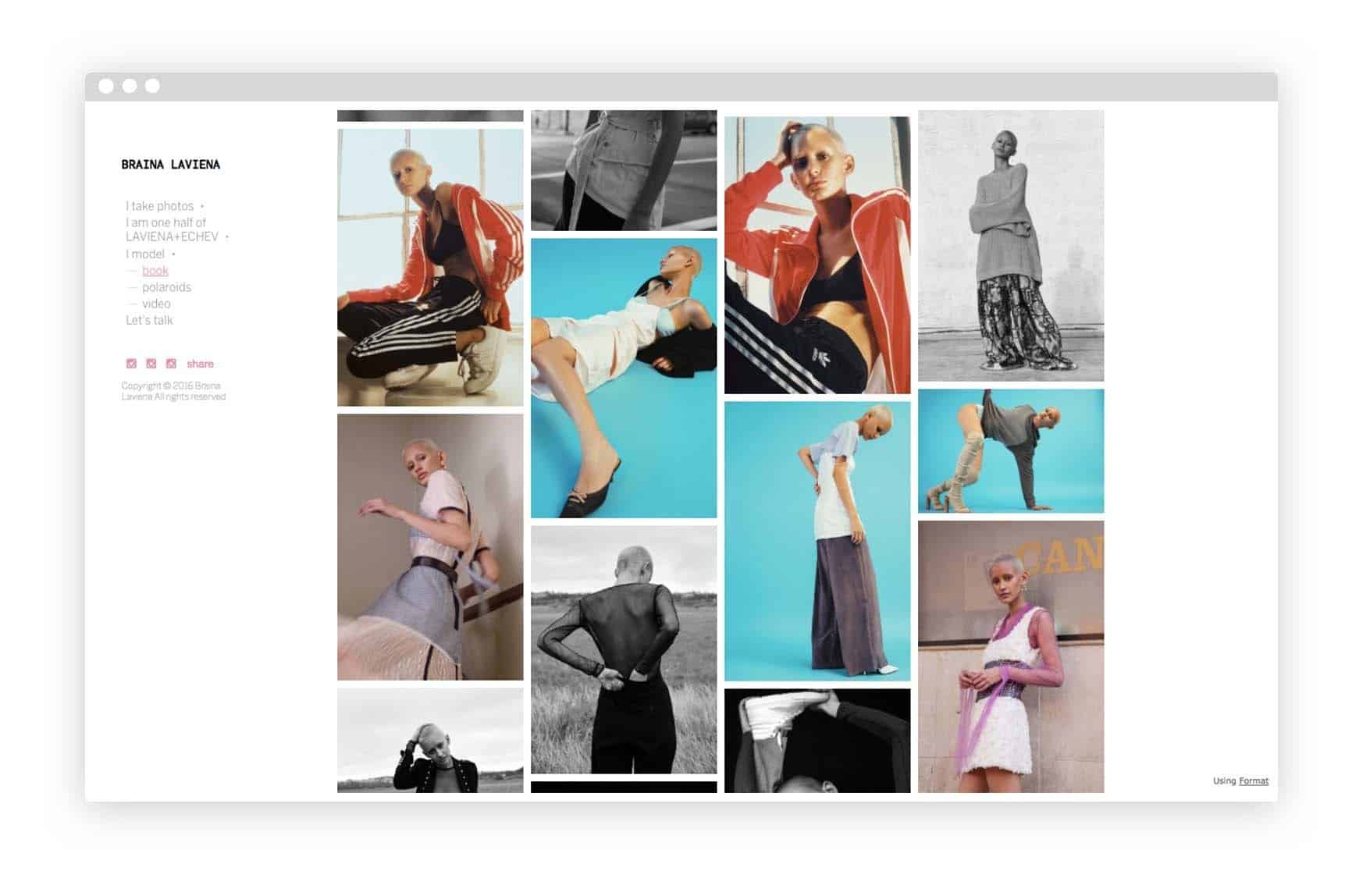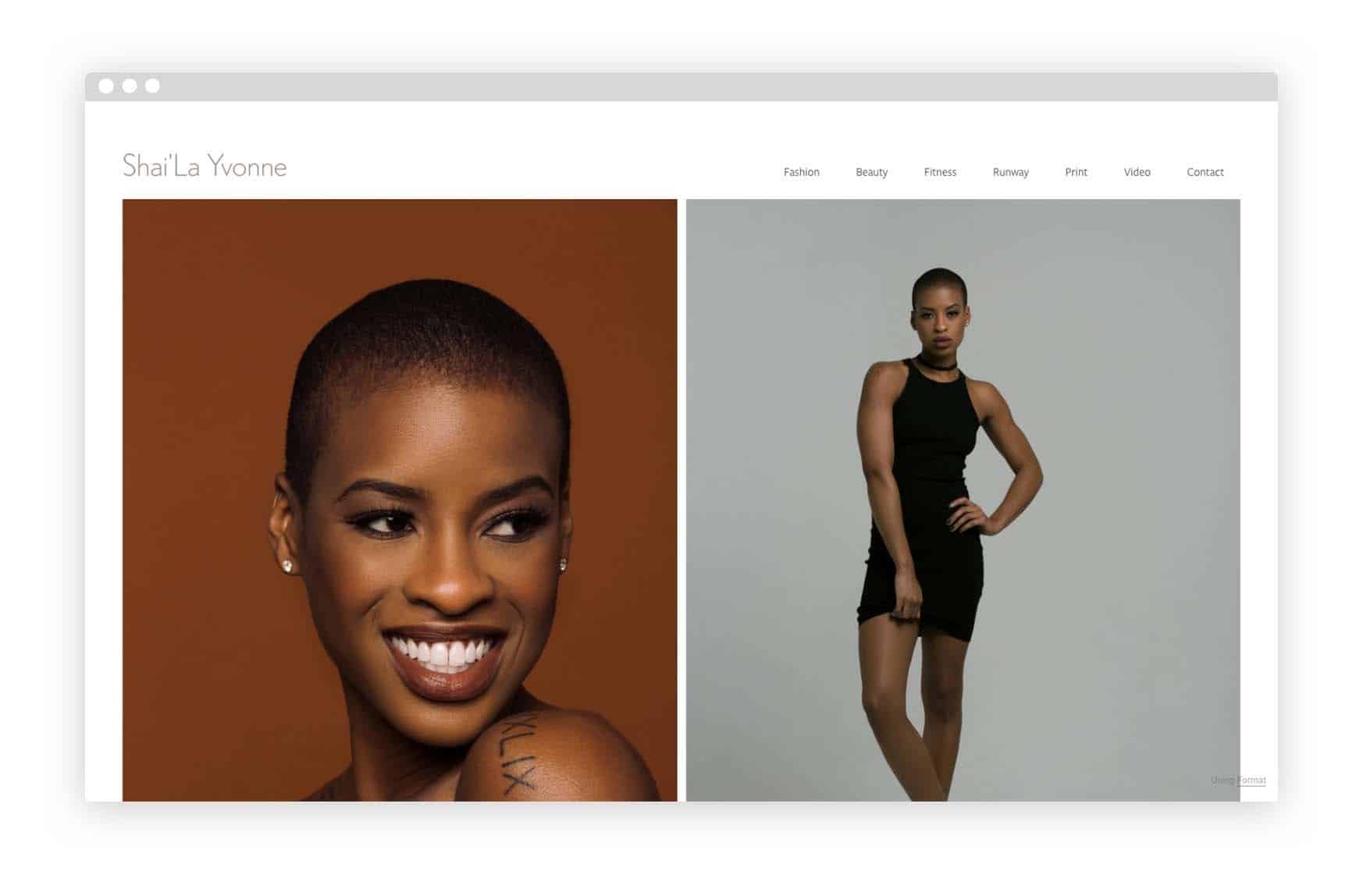 Working out of San Francisco and Los Angeles, Shai'La Yvonne is a DJ and model. She uses a vertically scrolling grid to display her modeling work in easy-to-navigate categories like Fitness and Beauty, demonstrating the versatility of her look.
Blueregard
Based in Paris, Blueregard has been modeling since 2011. With her septum piercing and close to full sleeves of tattoos, she describes herself as an "alternative model." Adding to her unconventional vibe, she tends to work with a selection of indie photographers and retailers rather than big fashion houses or brands.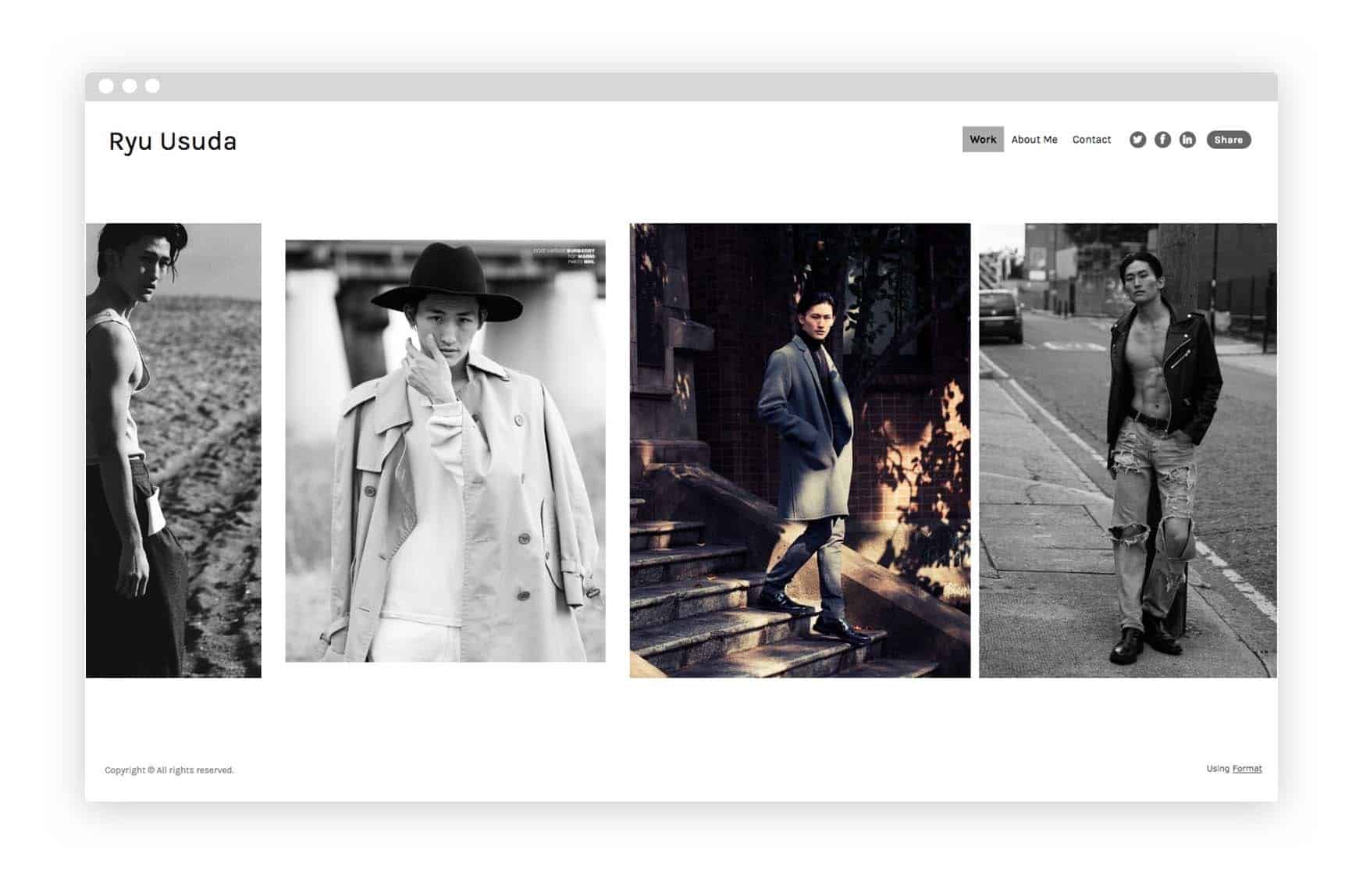 Counting Dolce & Gabbana among his fashion credits, model Ryu Usuda is represented by modeling agencies in Milan and Tokyo. He uses a simple horizontal theme to show off a small selection of his strongest work.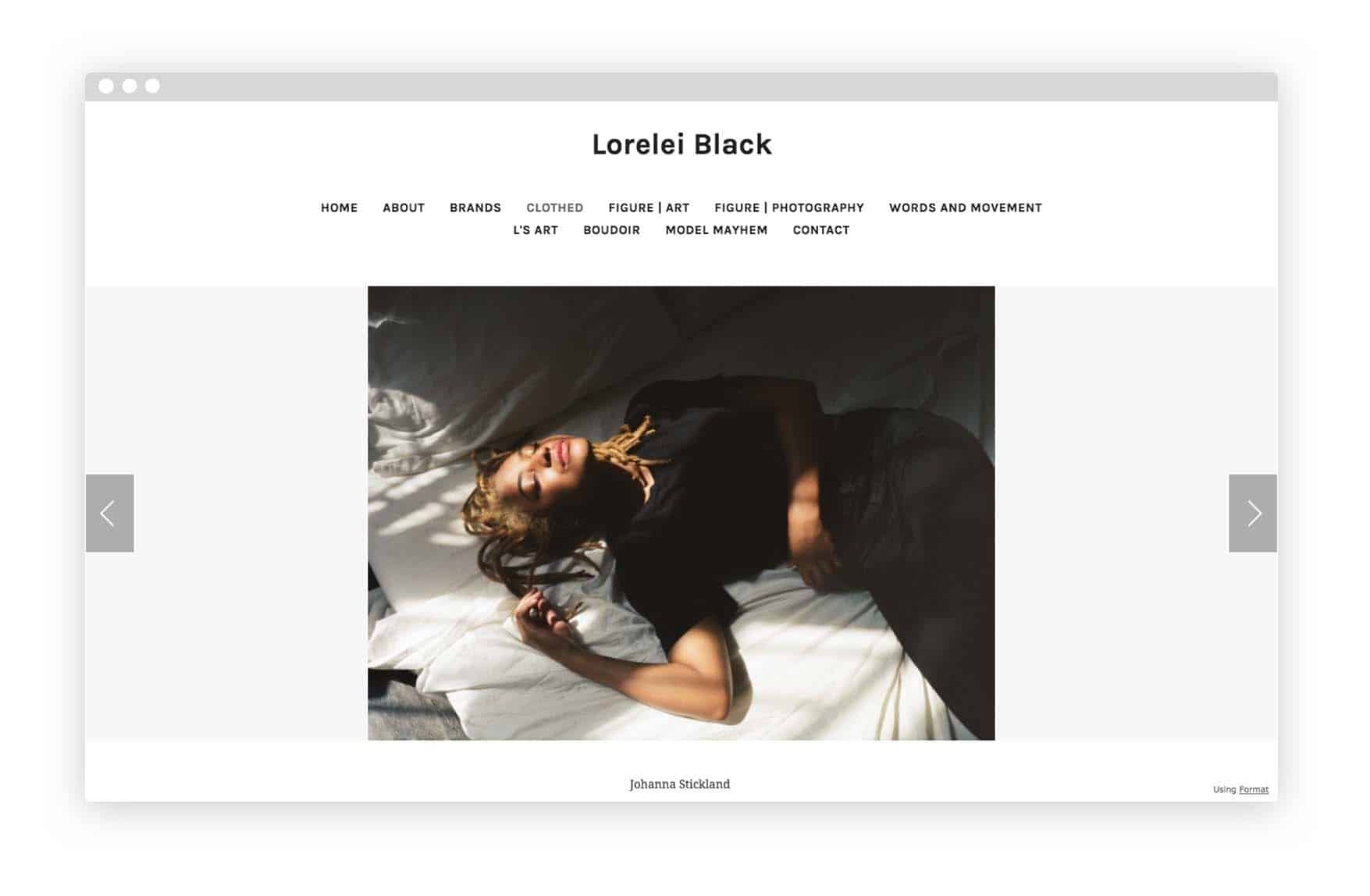 As a freelance model in her native Brooklyn, Lorelei Black works with brands, photographers, and fine artists, usually while rocking incredible natural hair looks. She displays images one at a time to put the viewer's full attention on each one.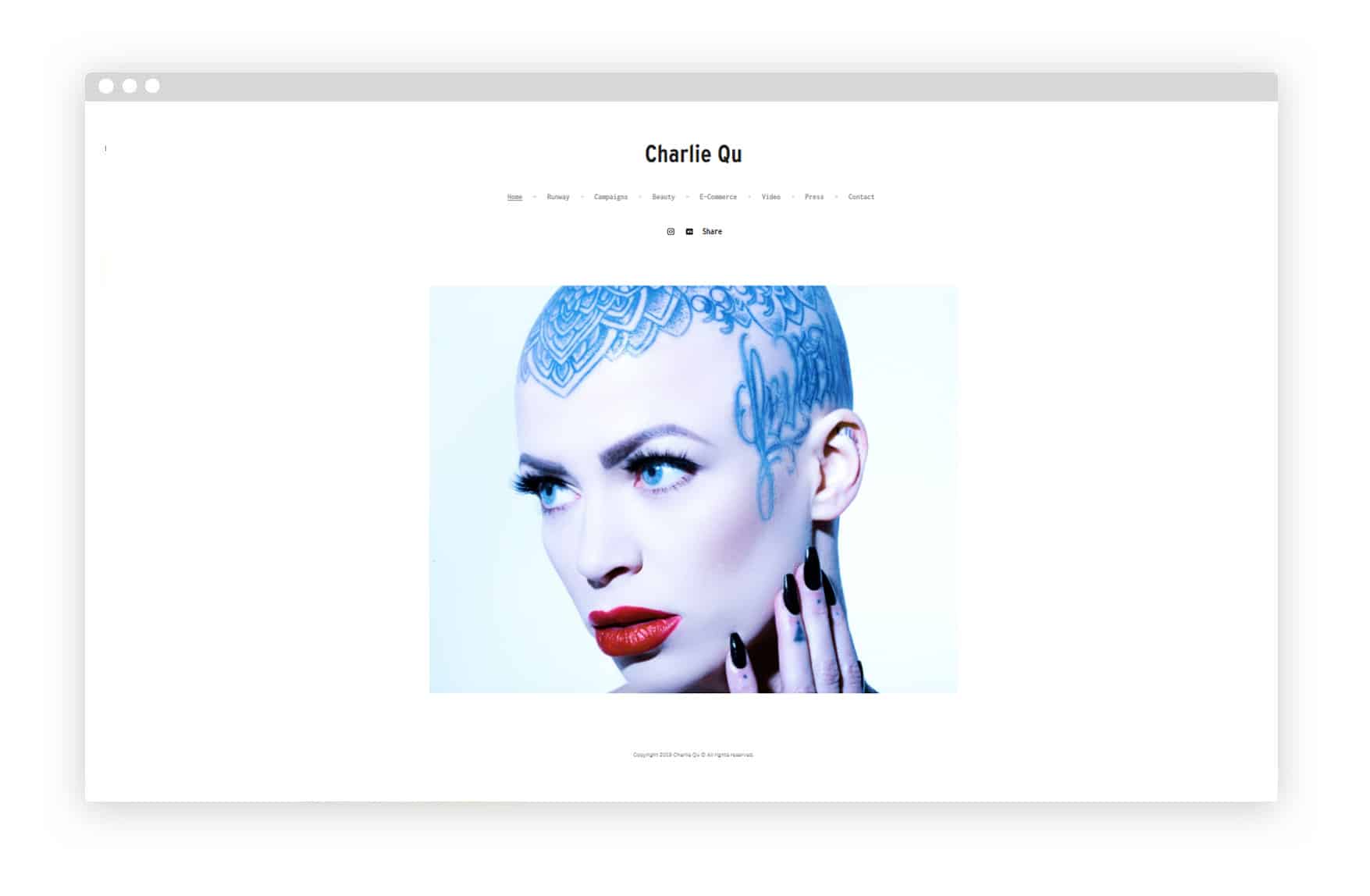 Charlie Qu is an L.A.-based fashion model and public figure. She has a global presence including social media, movies, television, music videos, fashion ad campaigns, e-commerce, editorials, print publications, and in art exhibitions.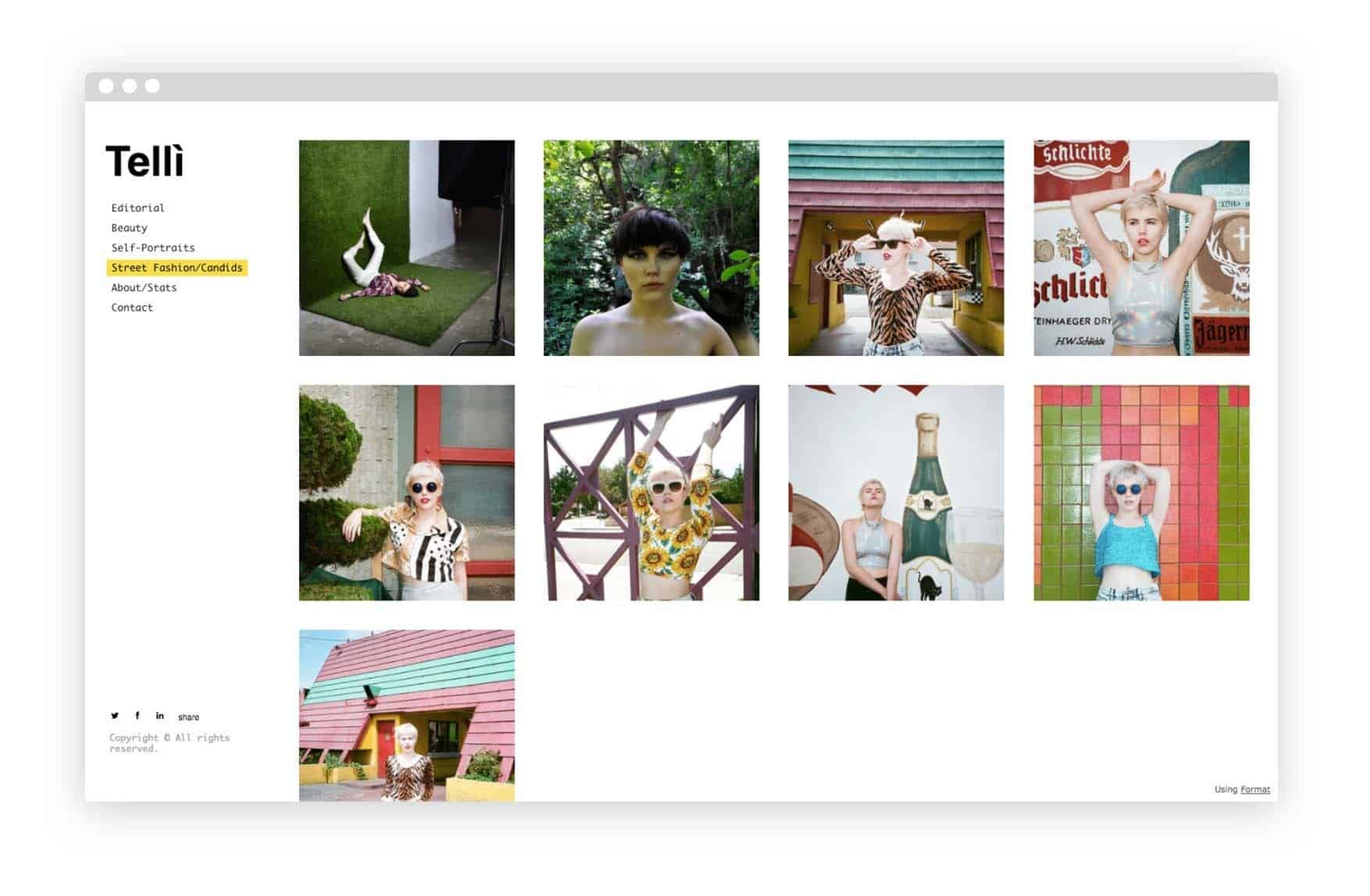 Tellì
Based between Philadelphia and Los Angeles, Tellì specializes in beauty and editorial modeling. She's added a candid gallery to display some of her everyday looks and unique style. Tellì uses a grid theme to display a variety of photoshoots and a beauty shot for each grid, adding text captions to images to give credit to photographers and makeup artists involved.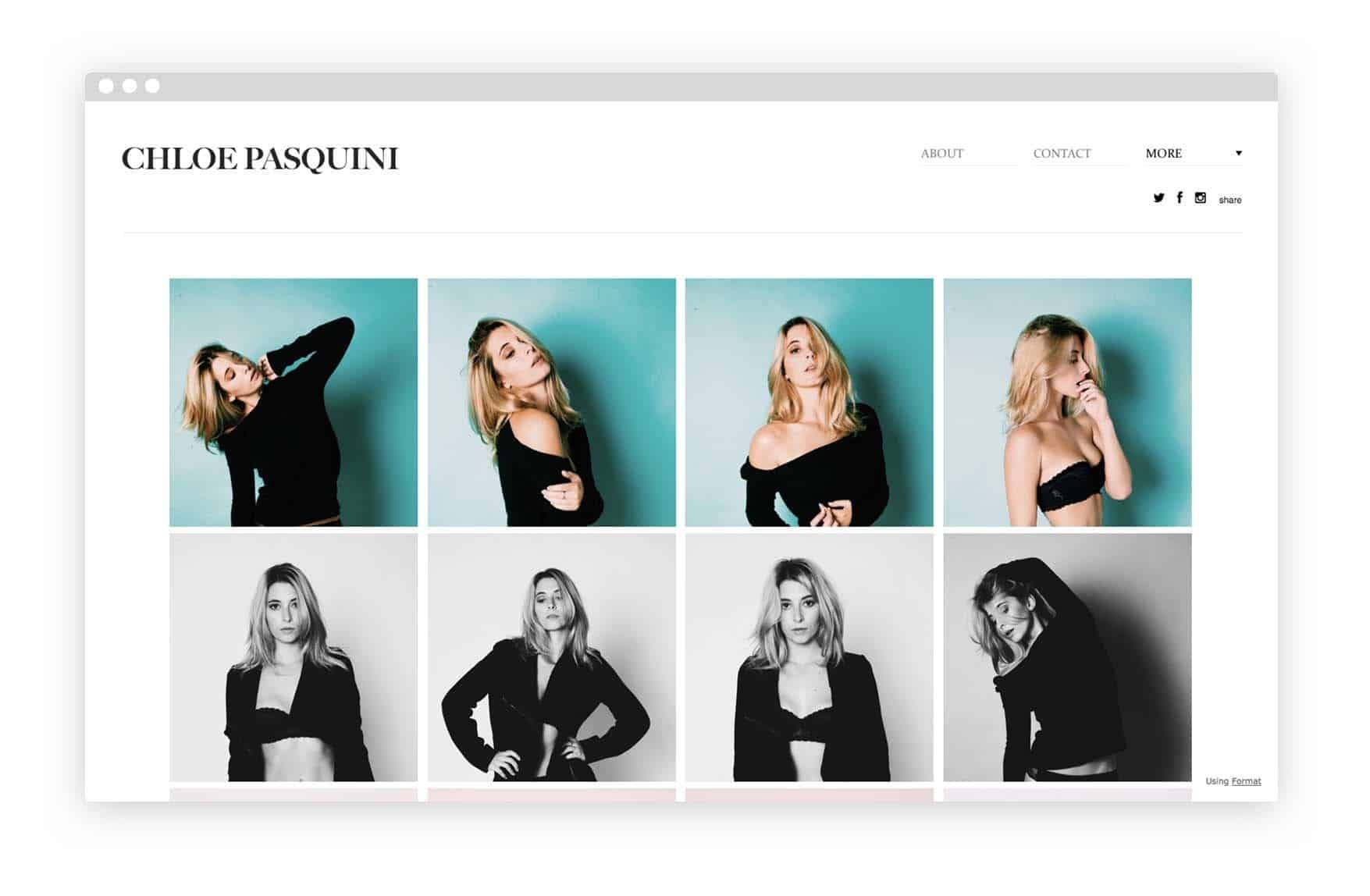 Model Chloe Pasquini uses a clean grid theme to display her portfolio. Links to her bio, contact info and social media sites stand out at the top right as easily clickable but not a distraction from her work.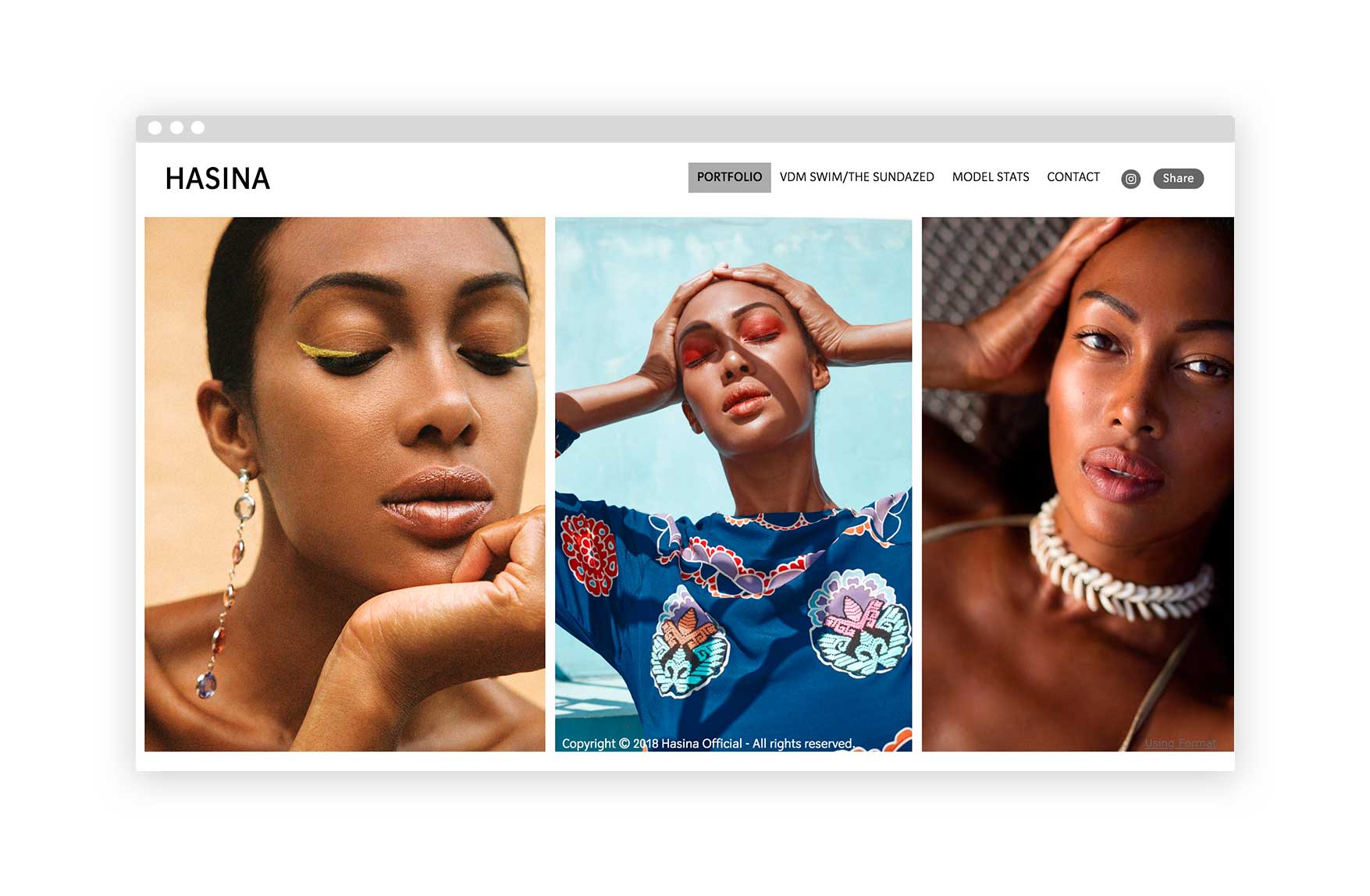 The Madagascar-born and Bali-based model Hasina showcases a fun and classy portfolio with a mix of editorial and fine art style photos. Signed with Bali Starz, Hasina is part of an agency that brings top talent and high-quality A-Z production to their clients.
Using a simple side-scrolling gallery theme, Hasina shows off her work beautifully. She also includes her model stats on a separate page to make sure that any prospective client knows right away if she might be right for their project.
French model Estelle shows off her versatile portfolio with experience in lookbooks, fashion, editorial, and agency work. Estelle's portfolio has a lot of consistency despite the use of different styles of modeling and photography. One of the key elements to the consistency in her portfolio is the film and vintage look of a lot of her photos. The choice of a simple horizontal scroll website allows you to easily scroll through her portfolio like a book.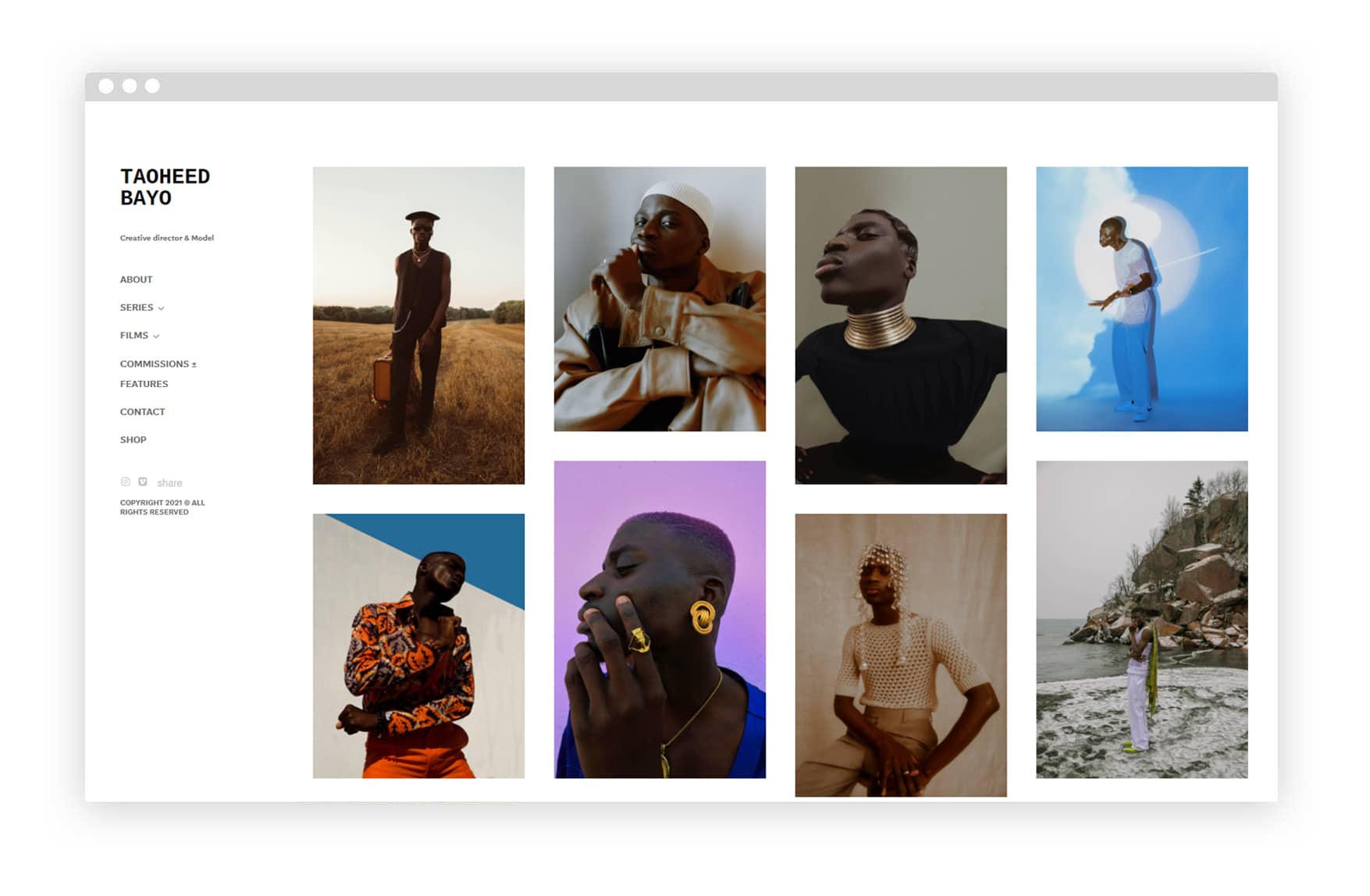 Taoheed Bayo storyteller, who sees modeling and creative arts as a form of expression. His expressions and movements record the transactions or experiences in his life as a young Black African man. Modeling and creative arts is a state of mind in which he experiences the most freedom. It is an avenue for him to reflect and represent himself and his people's development and struggles and a vehicle to talk about the bigger picture and culture.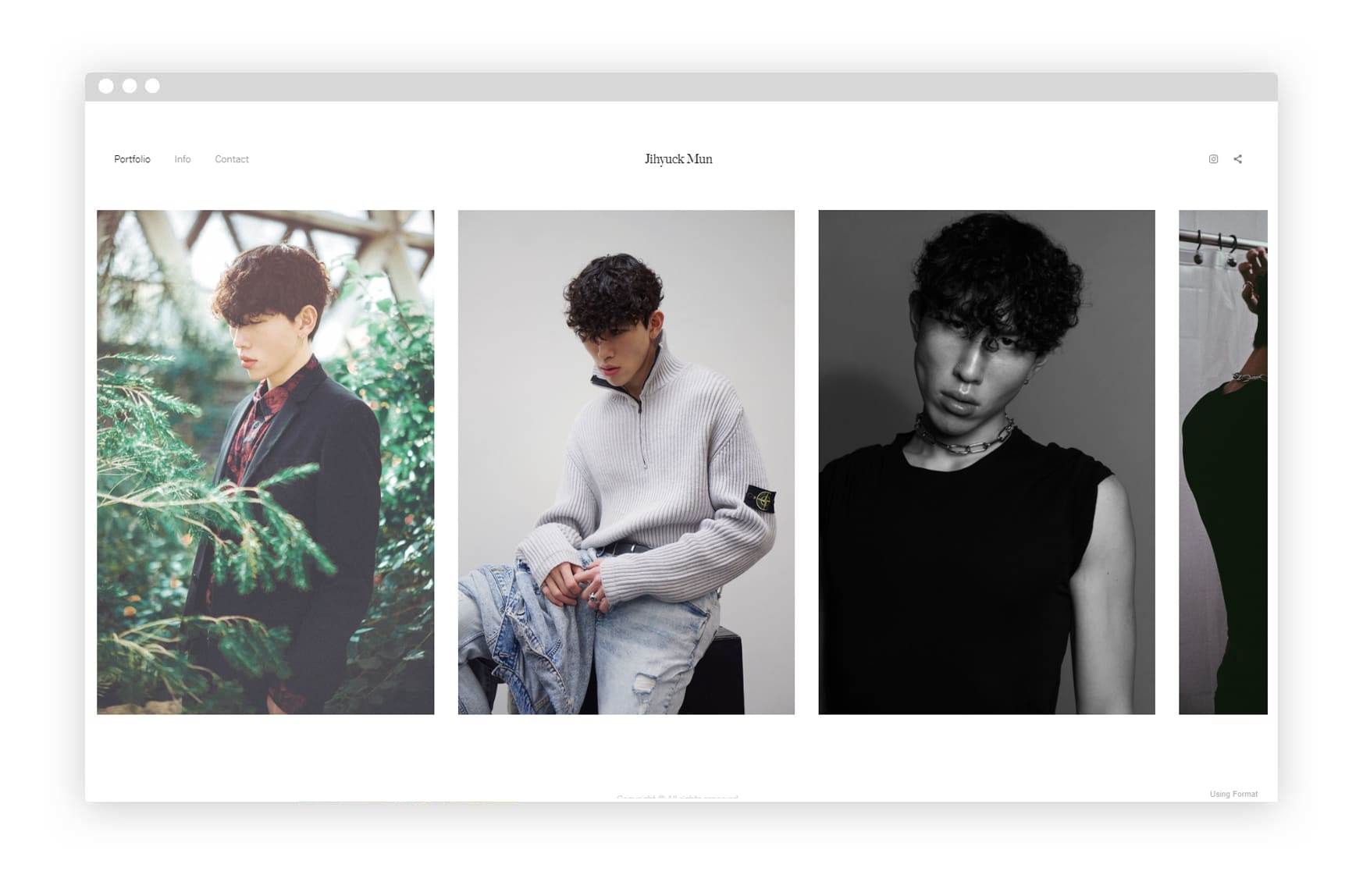 Jihyuck Mun is a London-based model. Jihyuck Mun has participated in different events, including the Walk Fashion Show NYFW 2020, House of iKons London FW 2020, as well as TME LAFW 2020.
How To Write Your Model Bio
If you've checked out these portfolio website models, it's likely obvious just how many different aspects go into creating a professional-looking website. However, one part of the model portfolio site we see people getting confused about is the model bio.
Here are some tips so you can have a stellar model bio:
Highlight key achievements. Listing important projects that you have completed is a good way to let others know about your modeling experience and your skills.
Keep your tone professional. While injecting personality into your writing is beneficial, it's essential that potential clients perceive you as a dependable professional. Proper spelling, grammar, and sentence structure are a must. Consider writing in the third person for a more professional feel.
Keep descriptions concise. Focus on key achievements in your modeling career, as well as points that demonstrate your passion, professionalism, and talent in the modeling industry.
Nearly all of the models listed above have an "about me" on their model website portfolio. Use these model portfolio websites to your advantage by inspiring yourself and looking at how the professionals do it.
Inspired To Create Your Own Model Portfolio?
When it comes to putting together a portfolio for modeling, it's no walk in the park. Trust us, we understand how overwhelming it can feel to put together an epic portfolio for a model that gets you the professional attention that you deserve.
Perhaps you're still confused about what to include in a beginner portfolio. Just knowing what portfolio pictures to include can be overwhelming. These are all real concerns and questions we hope the preceding resources have addressed when building your own professional modeling portfolio.
If you're still having issues setting up your modeling portfolio, check out our guide on modeling portfolio websites and putting together a modeling comp card.
If you already have both of these must-haves nailed down, it sounds like you're ready to start building your model portfolio site. Check out our guide on creating a model website portfolio with Format, and you'll be one step closer to booking all your dream modeling clients.