In a strange and unexpected turn, a new complaint filed by California's US Attorney's Office has resulted in Leonardo Dicaprio surrendering two paintings—a Picasso worth $3.2 million and a Basquiat worth $9 million. The story unfolding is a bizarre and sordid art scandal that also involves the Malaysian government and 23 bottles of Cristal for Lindsay Lohan.
It all begins with the 1Malaysia Development Berhad fund (also known as 1MDB). The 1MDB is Malaysia's "strategic development company" established to drive Malaysian economic growth through forging global partnerships and promoting foreign direct investment. Since 2015, the 1MDB has been at the center of a multi-layered money laundering investigation that has shed light on the corrupt spending habits of Malaysian Prime Minister Najib Razak and his associates. Razak and company allegedly funnelled $4.5 billion USD from the 1MDB into personal bank accounts and towards exorbitant personal spending. Their lavish international shopping sprees included the purchases of luxury apartments and real estate in Manhattan and Los Angeles, priceless works of art, 23 bottles of Cristal for Lindsay Lohan's 23rd birthday, and financing for The Wolf of Wall Street (2013). The last item, a film specifically about opulence and fraud, is artistically meta.
So how did $4.5 billion embezzled go unnoticed? It was laundered through fraudulent shell companies in offshore tax havens (the Seychelles, the British Virgin Islands) and bank accounts in countries around the world (Switzerland, Singapore and the United States among them). Former US attorney general Loretta Lynch calls it "the largest kleptocracy case" in US history.
The US Justice Department filed a lawsuit to seize US assets purchased with these ill-gotten funds, and is currently embroiled in tracking down where all of the funds and assets ended up. At the center of all of this is a young man who likes to party with Lindsay Lohan and Goldman Sachs bankers: the young financier and art collector known as Jho Low. He's a friend of Malaysian Prime Minister Najib's stepson, and also Leonardo DiCaprio's pal.
Jho Low allegedly gifted the two artworks to DiCaprio after working with him on The Wolf of Wall Street. Both Low and Najib's stepson Riza Shahriz Abdul Aziz were heavily involved in financing and producing the film. During DiCaprio's Golden Globe acceptance speech, he individually thanked them.
Although the Picasso painting was delivered with a "Happy Birthday" note, DiCaprio says that he didn't intend to keep it. It was going to be sold at an annual charity auction to benefit DiCaprio's eponymous foundation. The Basquiat was initially purchased from the Helly Nahmad Gallery in New York in March 2013 with funds controlled by Low, vis-à-vis a shadowy financial entity known as Tanore, before being gifted to DiCaprio.
Now Dicaprio is working in accordance with the US Justice Department to account for any embezzled funds that made their way into The Wolf of Wall Street budget. He's also offered to turn over both paintings right away. In a recently released statement regarding the Basquiat and the Picasso pieces, he expresses a commitment to being cooperative.
"Both Mr DiCaprio and [the Leonardo DiCaprio Foundation] continue to be entirely supportive of all efforts to assure that justice is done in this matter," the statement read. "Mr DiCaprio is grateful for the lead and instruction of the government on how to accomplish this."
What will become of these incredible paintings? Do they belong to the US government now? Maybe finding their way to the infamous CIA art collection. At the very least, DiCaprio's personal stash won't suffer too much. Over the years, the actor has collected notable works by Ed Ruscha, Frank Stella and Takashi Murakami.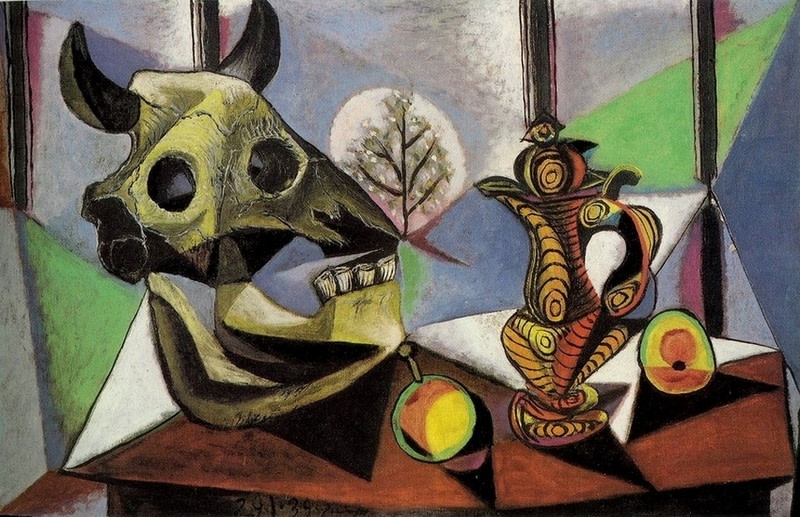 Pablo Picasso, Nature Morte au Crane de Taureau, 1939.
Jean-Michel Basquiat, Red Man, 1981.
A Guide to Amar'e Stoudemire's Favorite Artists
A Guide to David Bowie's Favorite Artists
What Your Favorite Artist Says About You